Happy Almost Valentine's Day! Or as I like to call it, Balemtime's Bay. It's . . . endearing?
I thought today we'd take a lil' stroll together through some old romanticalized posts, hand in hand, to get our hearts and souls in gear for what tomorrow brings. Oh you don't want to do this hand in hand? Well we don't have to. I just thought it would be nice. And Balemtimesy. It grosses you out? Okay, I get it. How 'bout holding my ponytail? Oh that's even more disgusting? Roger.
Boy I sure know how to get you in the mood, don't I?
Okay! Let's say you've not decided what to make for dinner tomorrow, and you want something delicate and flaky. But not dandruff. Enter, fishies!
1) Pan-Seared Salmon with a Pistachio Mint Cream Sauce – I mean, the name says it all. That salmon is so gorgeously seared underneath all that creamy minty pistachioness. Absolute insanity.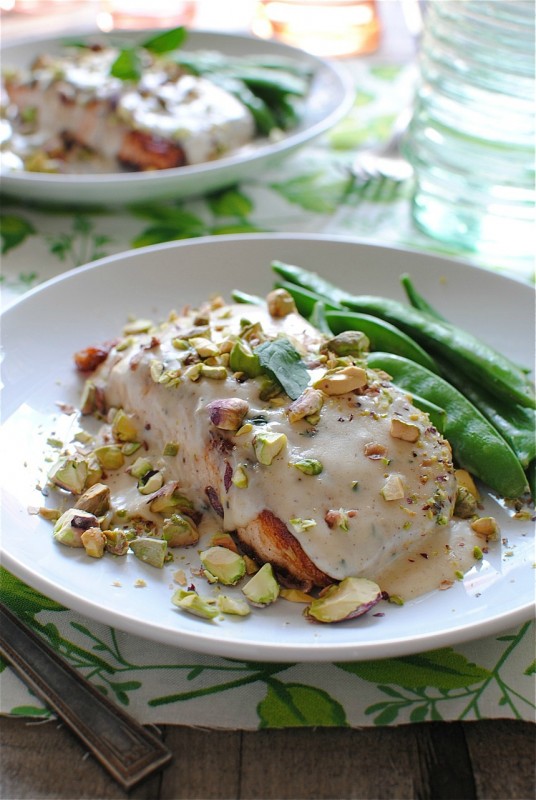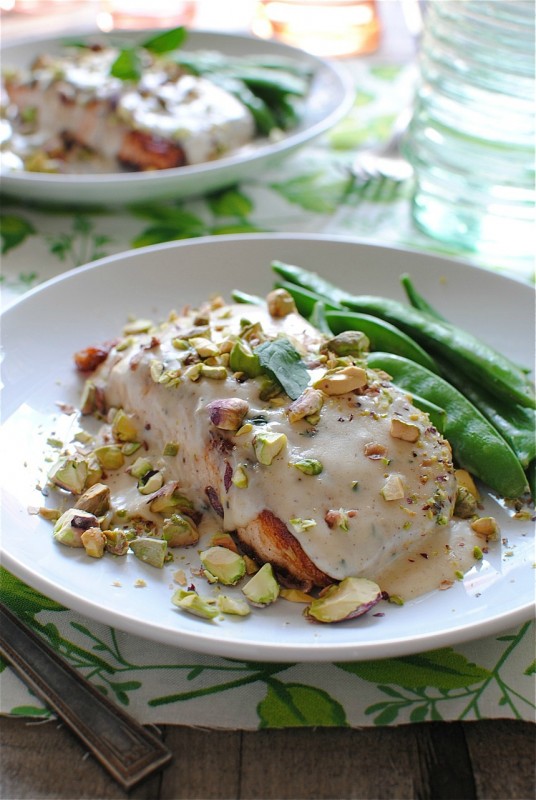 2) Pan-Seared Salmon with Wilted Greens and Tomatoes – If you don't want something creamy (which is kind of silly) but you still want salmon (which isn't silly) then you could always go for this super succulent salmon (also pan-seared!) dish with wilted greens, butter, tomatoes, capers and lemon. It's ridiculously divine.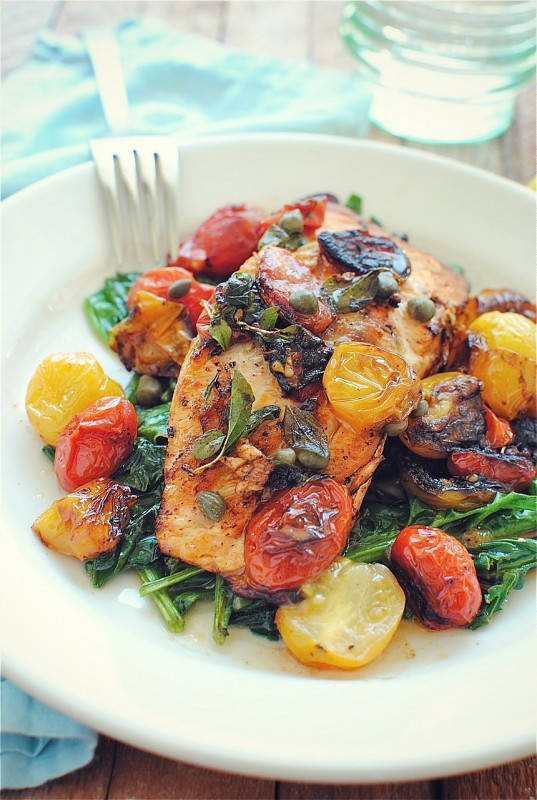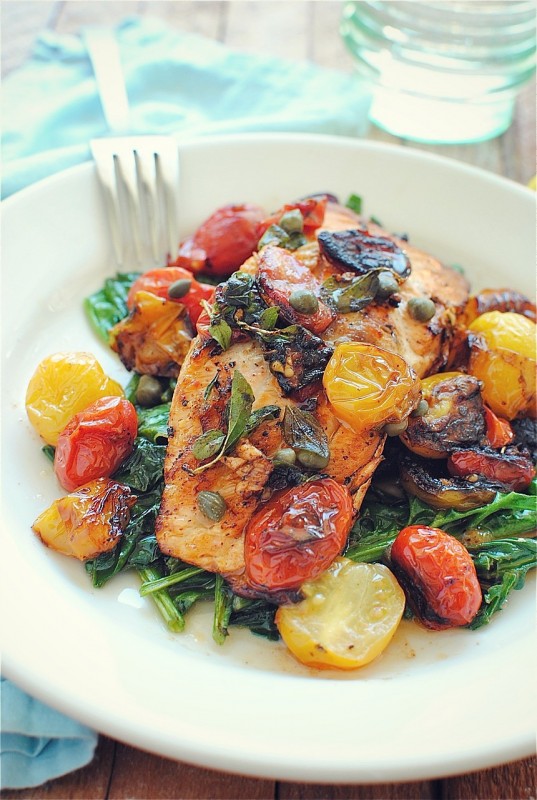 3) Grilled Citrus Tuna Steak with Avocado and Spinach – Say you don't want salmon, but you're feeling tuna, I can't even beg you hard enough to make this one. That tuna steak is nice and rare in the center, baby. Just the way your lovah will want it. (I'm talking about the food. No I really am.)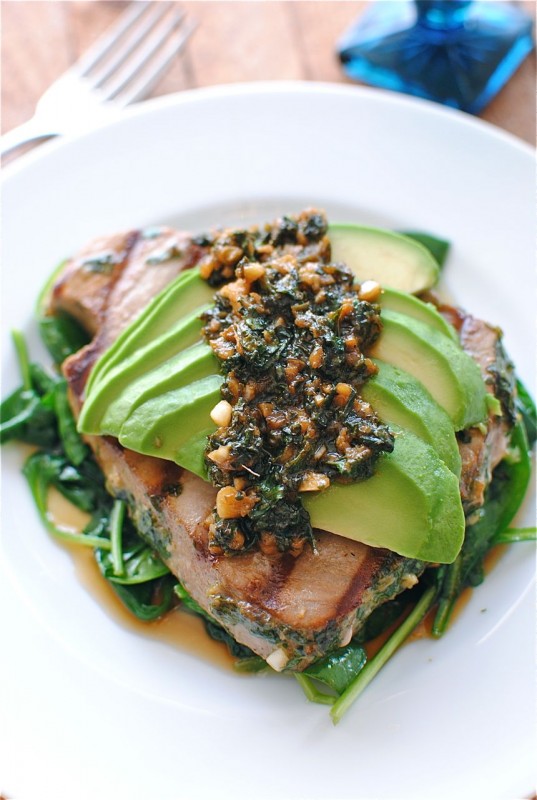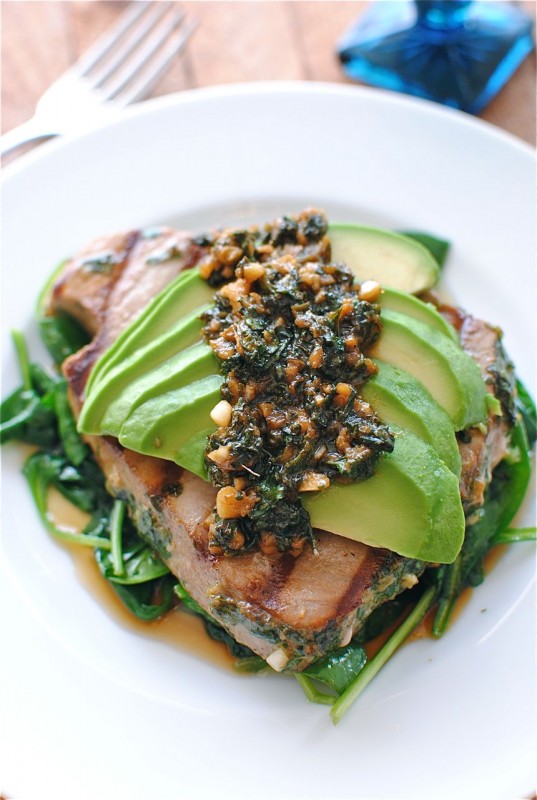 4) Fresh Lobster with Potatoes and Corn – Remember last year when I touched a live lobster!? If you've not read this post, you just must. I touched a live lobster! For only a quarter of a second, but it was a moment in my life I'll cherish forever. And by that I mean, never try it again.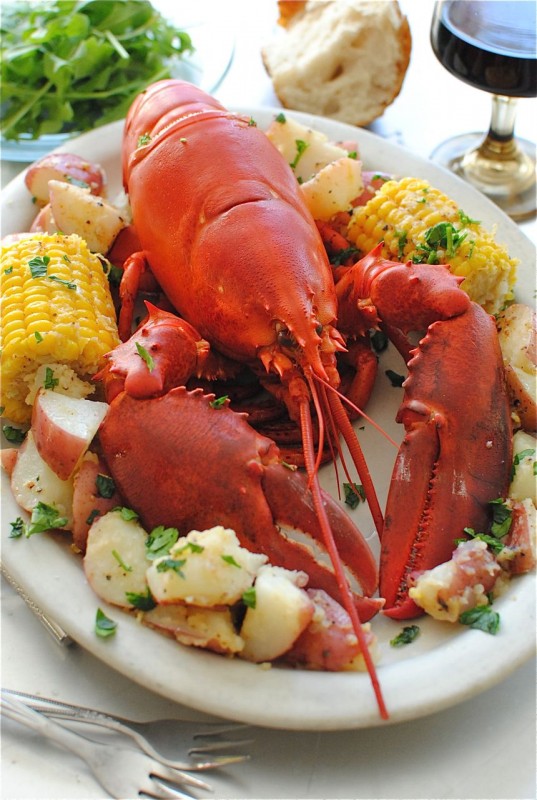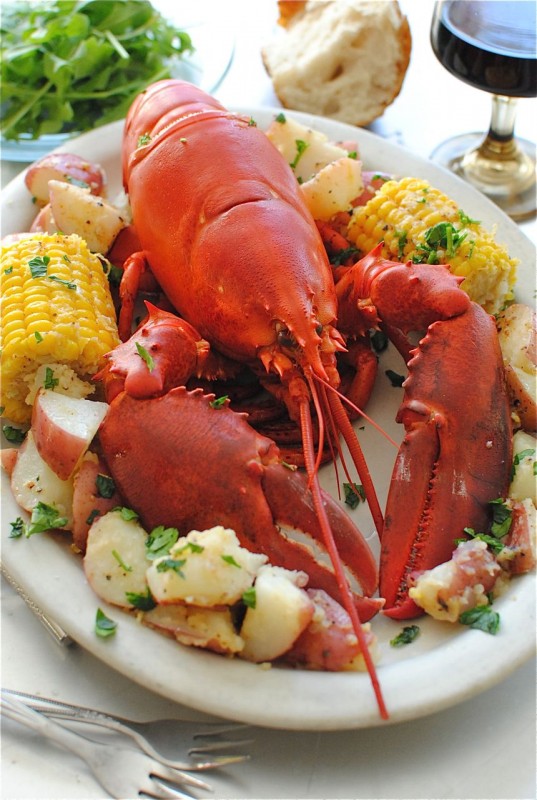 5) Seared Lobster Tails with a Vegetable Garden Sauté – Buuuut if the idea of taking on a living creature gives you hives, you can always just buy some tails and make this marrrvelous meal with sautéed veggies. I think it was summer when we made it, so you can always opt for winter greens and pasta underneath. Plus it gives you the chance to tell the meat guy you'd like some tail, hahahahah! Oh.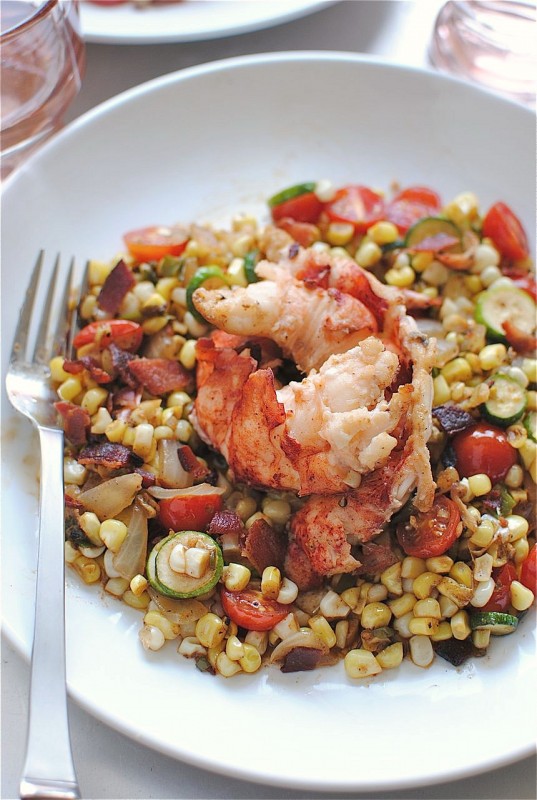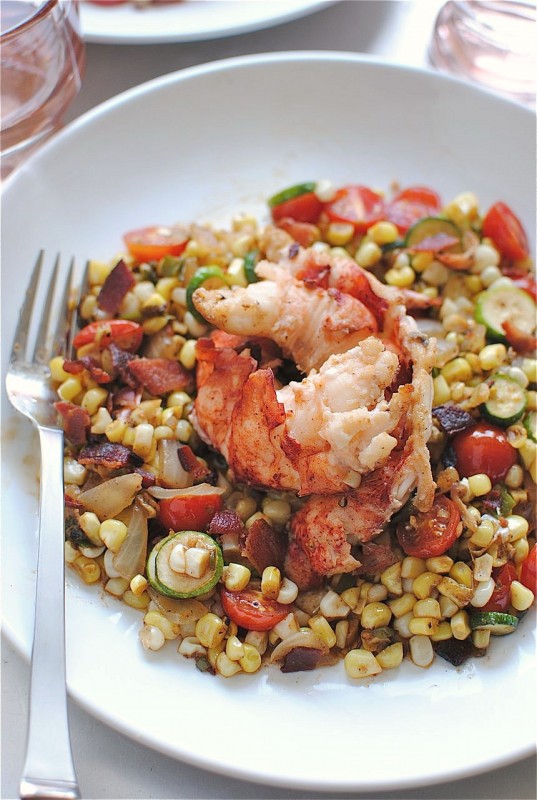 6) Spicy Tuna Hand Rolls – I know it doesn't seem very romanticalizationed, but it is! Fresh fish, hands-on, sushi, nori paper. You know what they say about eating nori paper, right? No I'm asking, what do they say?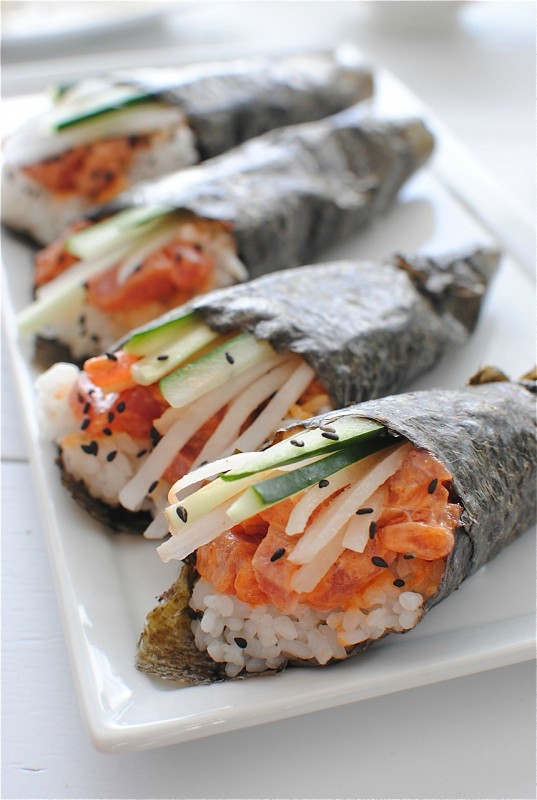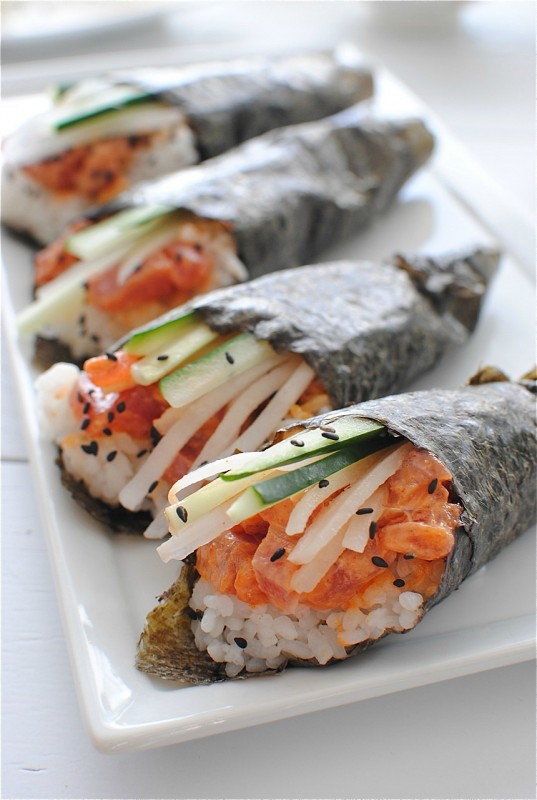 7) Lemon Chicken with Orzo – So seafood freaks your face out. No bigs. Chicken can be sexy. Especially baked with lemon and red onions and olives and served over buttery orzo. 'Swat I'm talking 'bout.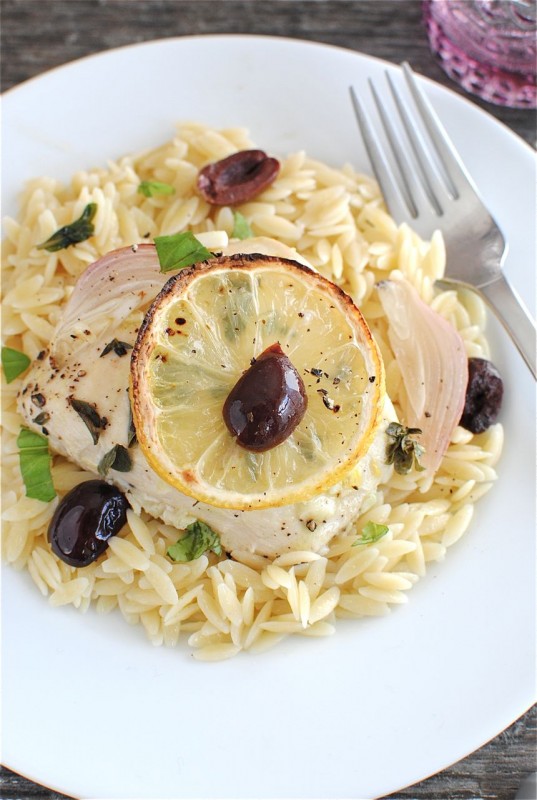 8) Seared Chicken Cutlets with Blue Cheese, Figs and Parsley – Or chicken with figs! You know what they say about eating figs, right? Especially with nori paper. I'm just kidding.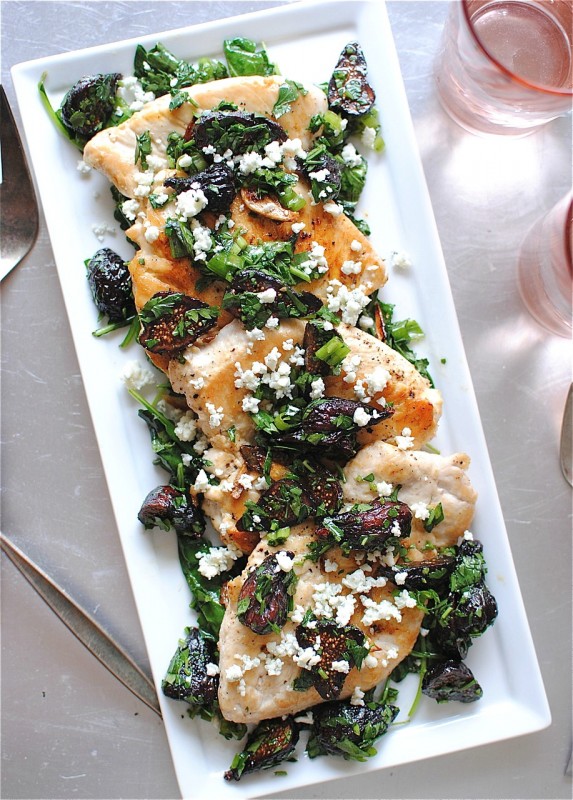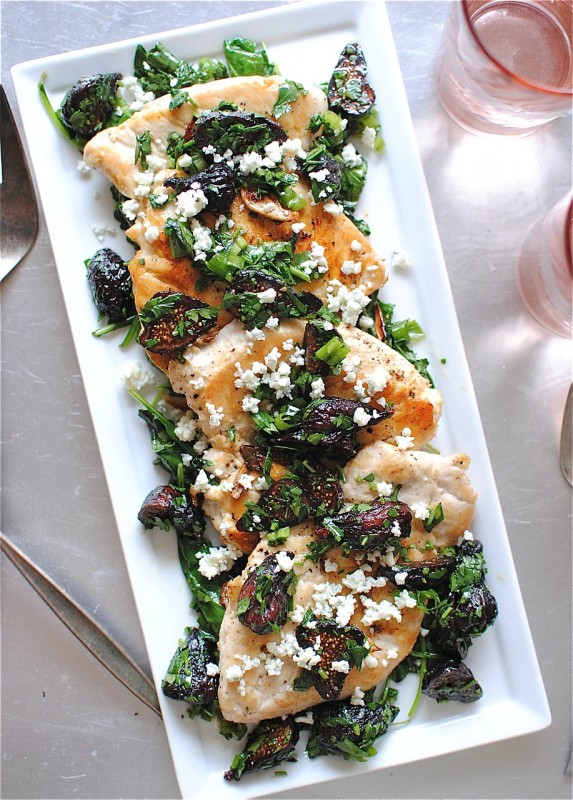 9) Chicken and Vegetable Fettuccine in a Light Cream Sauce – What we REALLY want though is pasta. I know how you people roll. (I'm doing that thing where I point at my eyes, then at yours, then back at mine, except I accidentally poke my eyes and have to run to the sink to splash water in them. I'm so graceful.)
Pasta with chicken and veggies and a cream sauce. Oh, papa bear.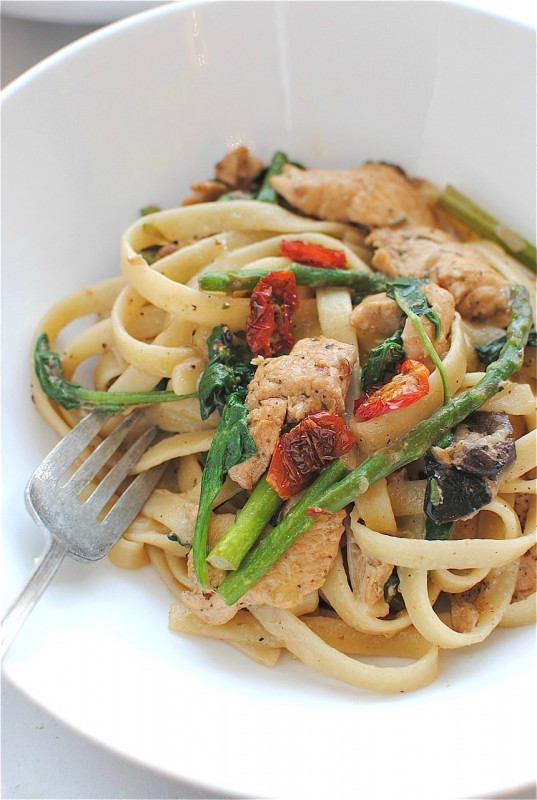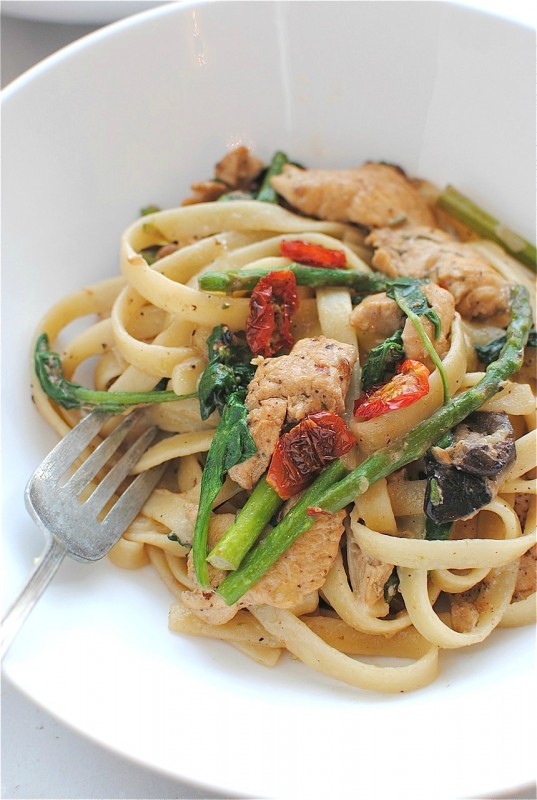 10) Bucatini with Sausage in a Roasted Red Pepper Sauce – I'd almost forgotten about this one! It's siiiiiiiick. Absolute BS. So delicious. It makes me furious. Just make it.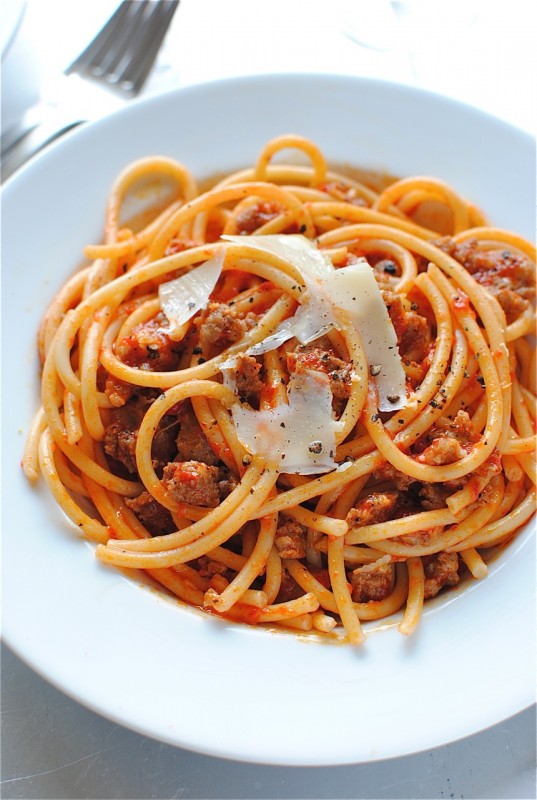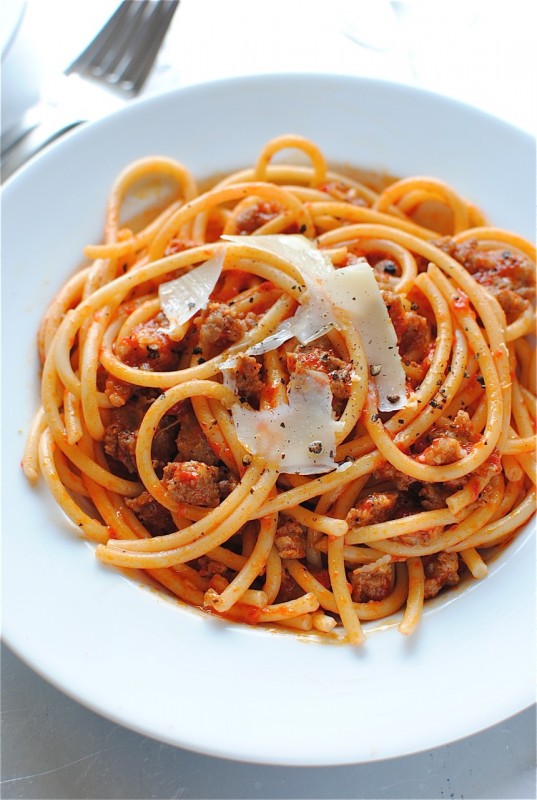 11) Creamy Tomato and Crab Fettuccine – Or this one, omg. Jumbo lump crab tossed in a light creamy tomato sauce and fettuccine. I'm losing the feeling in my torso right now.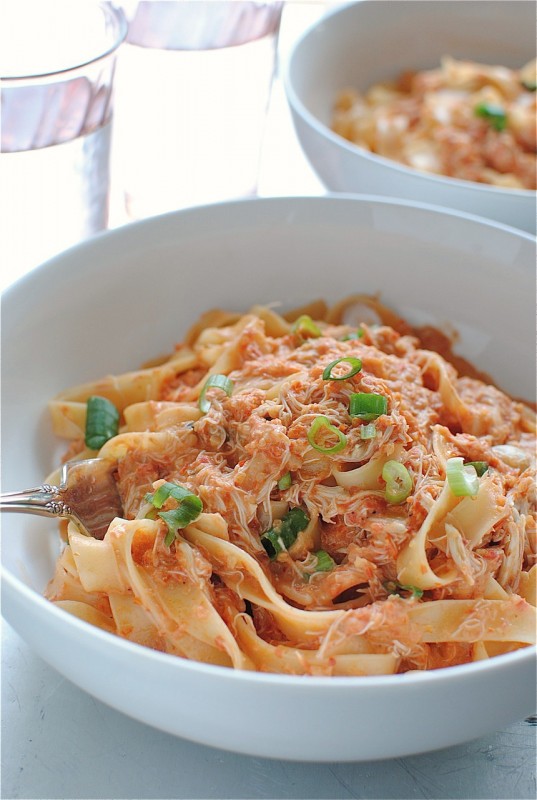 12) Penne Pasta in a Roasted Beet Pasta – Hiiiiiii. Yes. No words. Mental calamity unfoldeth. Signing off. Forever.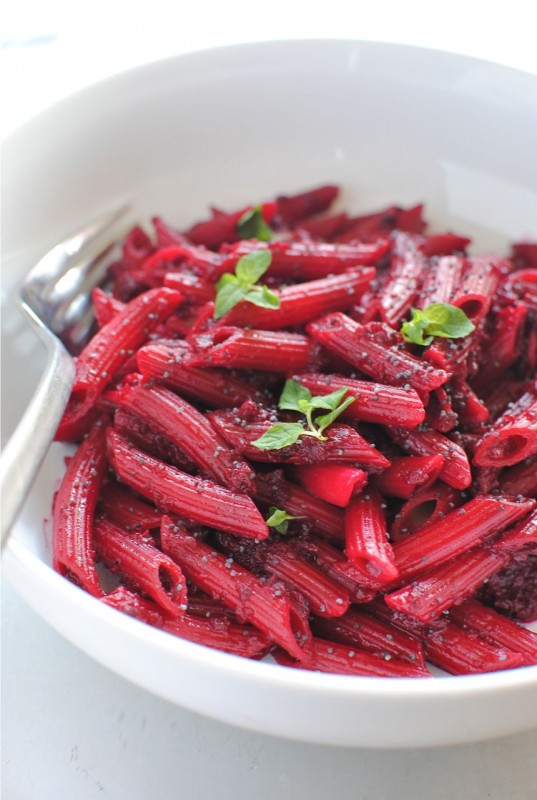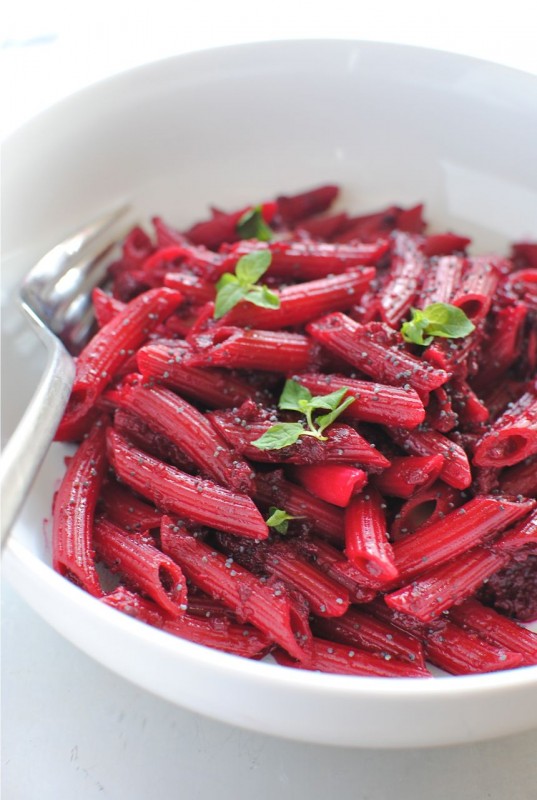 13) Spicy Mocha Pound Cake – But not without talking about dessert first! Have you made this yet? I really don't want to all caps you, and I won't today, but I'm prepared.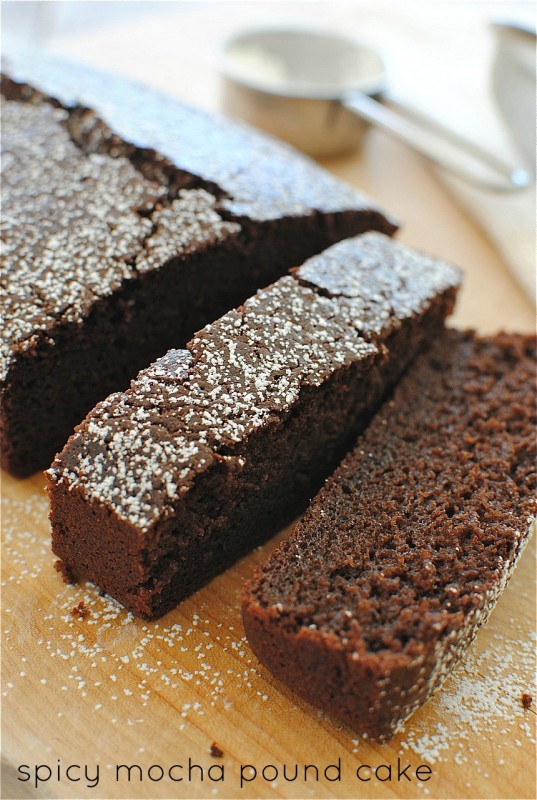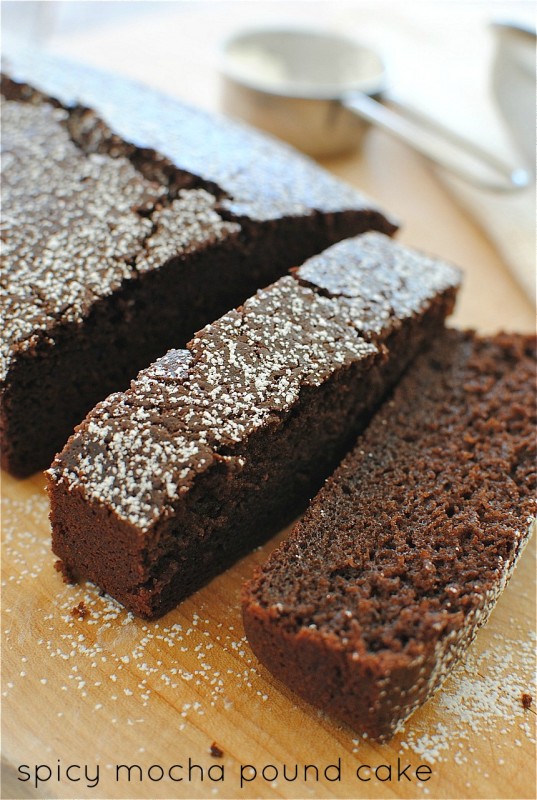 14) Homemade Chocolates and Fudgey Cognac Truffles – And the last stop on our lil' stroll together, hand in ponytail, is this chocolate candy post. And truffles! Yummy little bites to end your night. Or begin it. What you do behind closed doors is all you, 'mkay?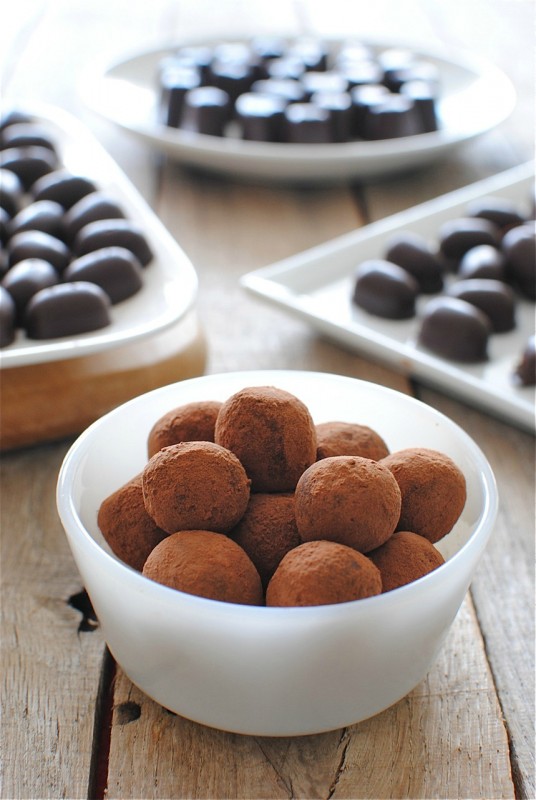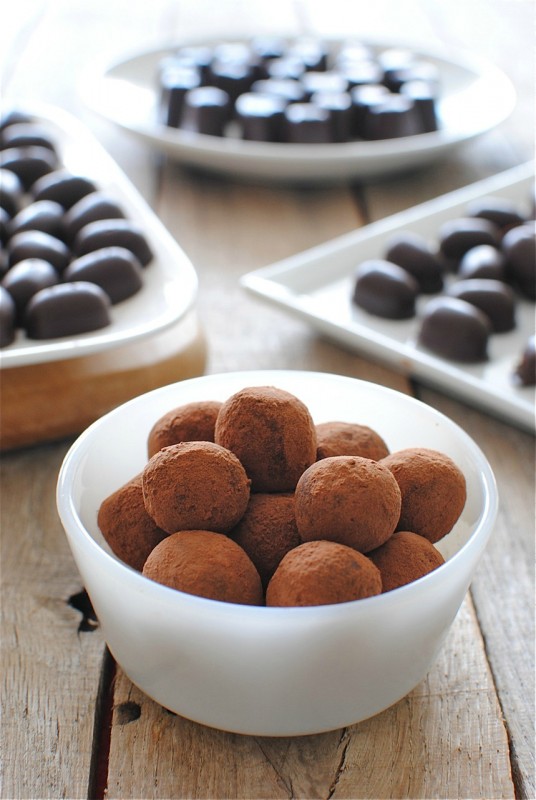 Hold on, is that a restraining order? I was semi-kidding about the ponytail!