I just don't think life would be rightly fair if bistro week didn't include ohhhh let's see, ANOTHER pasta dish.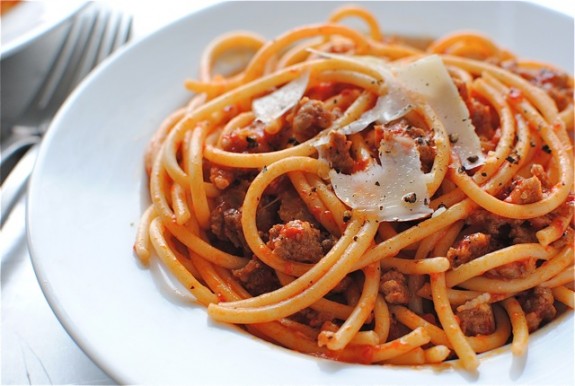 Ya know, I'm going to really miss bistro week. I'm starting to get used to my mustache.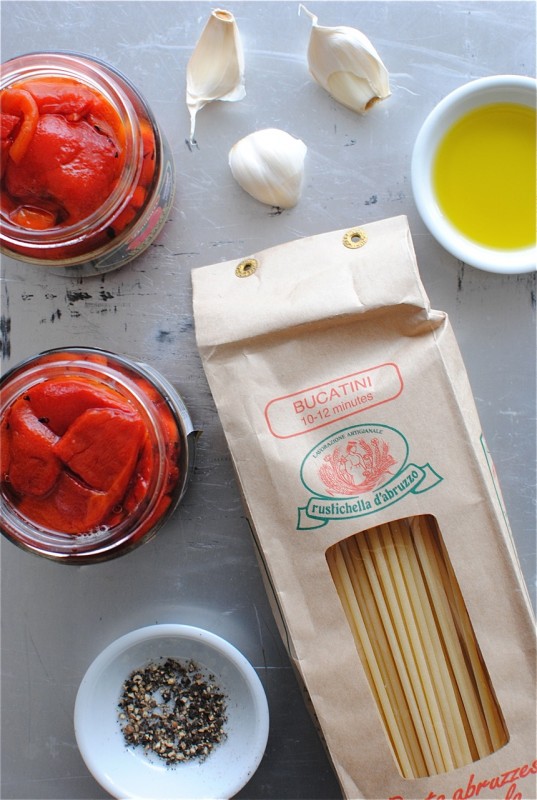 Okay so bucatini. Have you ever had it? It's like a thick spaghetti with a hole down the center. Just like the hole in the center of my heart.
Oh wait, that…wasn't meant for your ears. This is awkward.
Um, anyway, see those holes?! How on Earth do you think they did that? There has to be a special hole center making pasta Leprechaun running a highly successful business in the top of an oak tree or something. It's the only thing that makes sense.
Oh! I wonder if he's hiring.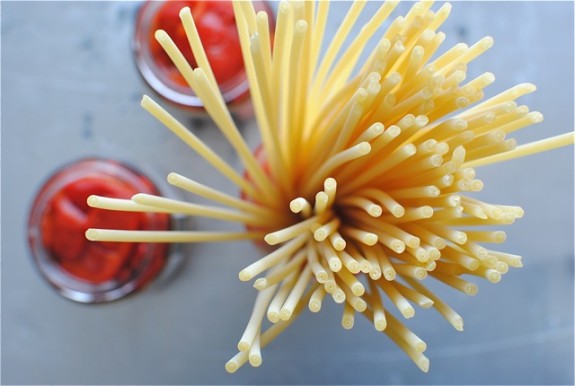 If the pasta wasn't enough to make you want to fly higher than Bette Midler's eagle, this sauce will. Pureed roasted red peppers simmering with sauteed garlic and perfectly browned Italian sausage?
SAID.                                                                                   KNOCK.
YOU.                                                                                   OUT.
Seeeeeeeeeriously. My face is hurting just imagining all of the glorious chewing.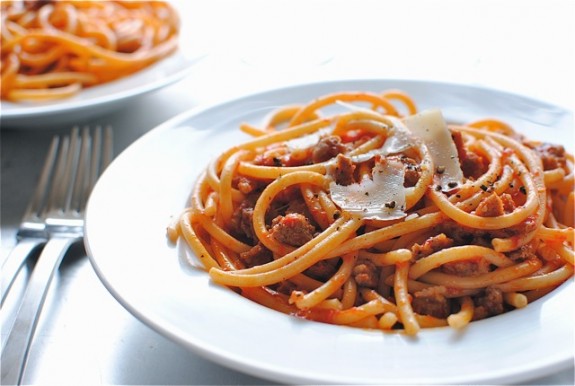 Ugh, I would arm wrestle a baby puppy for one more bite.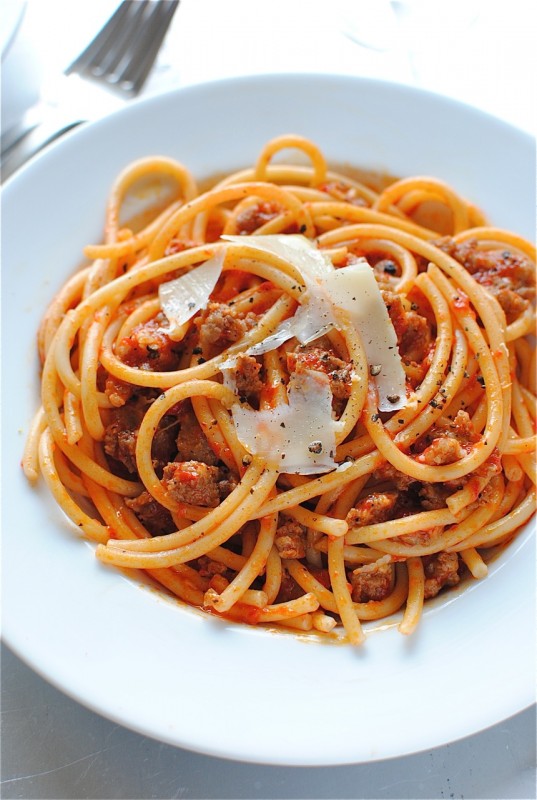 Bette Midler just called. She wants her eagle back.
What it took for 2:
* 2 Tbs. extra-virgin olive oil
* 3 cloves garlic, minced
* 3 Italian sausage links, casings removed
* 2 (7 oz) jars roasted red peppers
* 1/2 cup chicken stock
* 1/2 pound bucatini
* coarse salt and freshly ground pepper
Heat the oil in a medium skillet over medium-high. Add the garlic and bloom 30 seconds. Add the sausage and cook, breaking up with a spoon, until browned all over, 6 minutes.
In a small food processor, blitz the red peppers until combined and smooth. Pour the sauce into the sausage and stir until combined. Add the chicken stock, a good pinch of salt and pepper, and simmer for 20 minutes.
In the meantime, bring a large pot of salted water to a boil. Add the bucatini and cook until al dente, about 12 minutes.
Add the bucatini to the sauce and toss to combine.
Plate up and garnish with fresh parmesan shavings and another good grind of pepper. Aaaand freak.
* if you prefer a thicker sauce, add a little cornstarch and water mixture and you're good to go.