So this is kind of funny . . .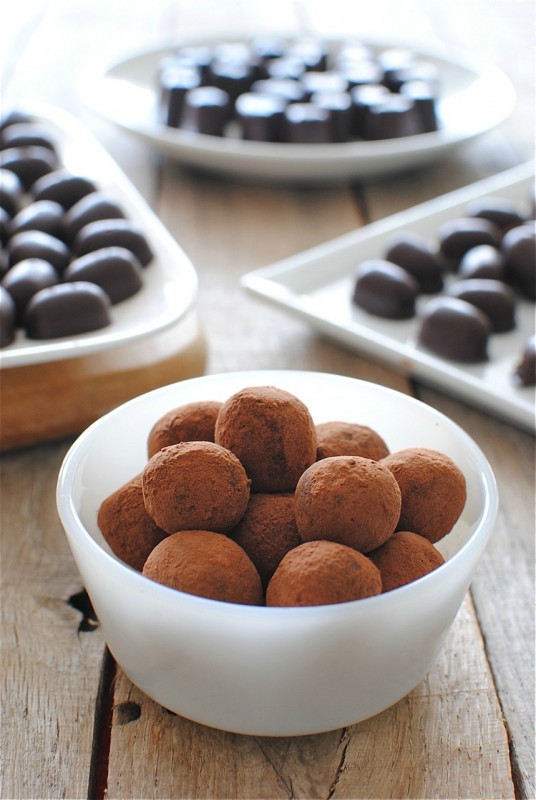 And yes, this is my FOURTH dessert post on my blog. What is even happening right now. Alert the authorities.
So a couple of weeks ago we were exchanging Christmas wish lists with ze family, and my Father-in-law made this hilaaaarious suggestion of bringing down some fancy chocolates from this local place that everyone in the universe knows and loves whatever whatever.
Which is great! On paper.
Me, "OH HE THINKS I CAN'T MAKE CHOCOLATE?"
Aaron, "Um, what? No I don't think he's thinking that at all. It was just a suggestion."
Me, "WHAT, IS THIS BLOG CALLED BEV COOKS EVERYTHING BUT CHOCOLATE DOT COM OR SOMETHIN'?"
Him, "Whoa. Hey, calm down. I'm sure you can make chocolate. He was just throwing it out there as something easy and fun for everyone. That's it."
Me, "YOU'RE TELLING ME . . . THAT THIS WISE GUY THINKS I'M INCAPABLE OF MAKING ITTY BITTY BITES OF CHOCOLATE HAPPINESS FOR NIBBLING ENJOYMENT?"
Aaron, "Why are you chest butting me right now? And is that seriously your best Jersey accent?"
Me, "I'M GOING TO MAKE HIM AN OFFER HE CAN'T REFUSE!"
Aaron, "What does that even mean?"
Me, "I have no idea."
Aaaaaand this is what happens when you're not a professional. I kind of like it though. It works for my life.
And p.s. That arm does not belong to me. Thank you.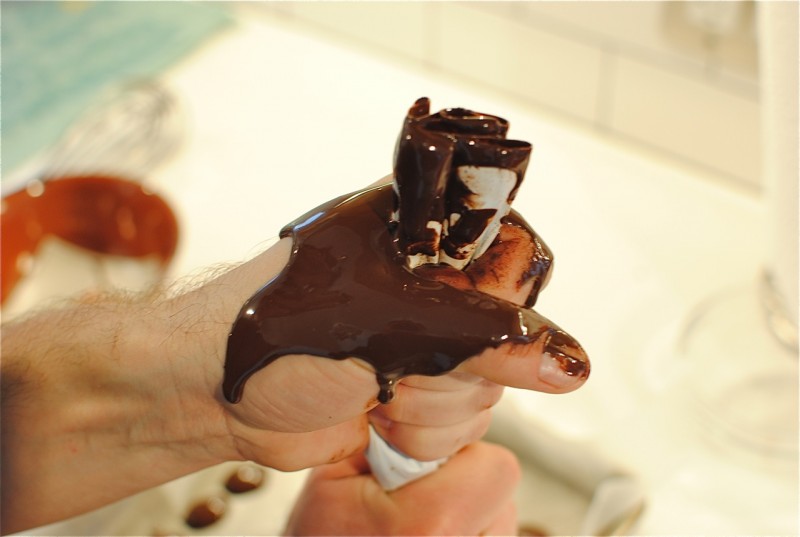 I think what I'm trying to tell you is that we made chocolates. Like, a lot of them. Some were spiced with cayenne, some were filled with pistachios, some had flavored salts in them, some were T-R-U-F-F-L-E-S.
Wait, I'm not done. W-I-T-H-C-O-G-N-A-C-I-N-T-H-E-M.
Wait I'm still not done. F-O-R-T-H-E-R-E-A-L.
Bad news bears.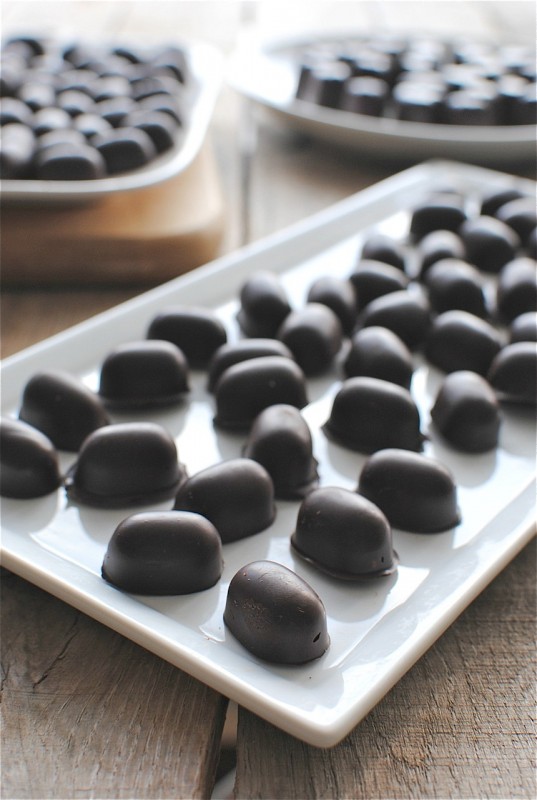 Also known as OH MY DEAR LORD.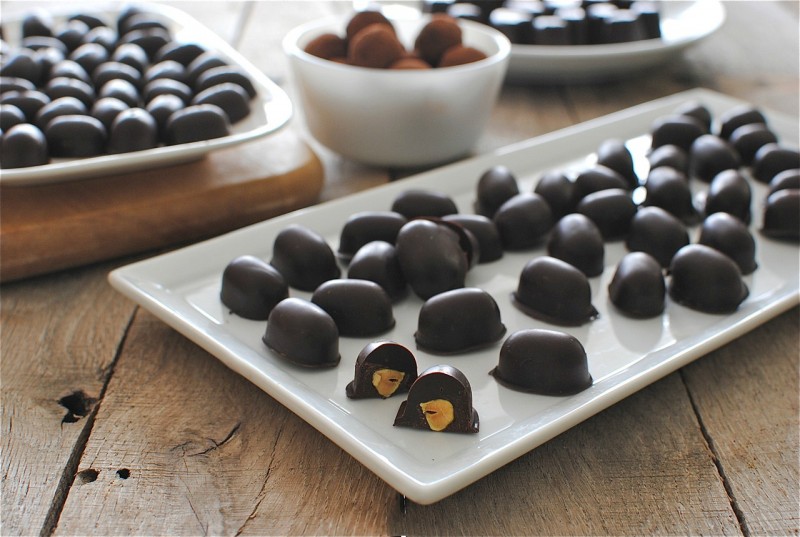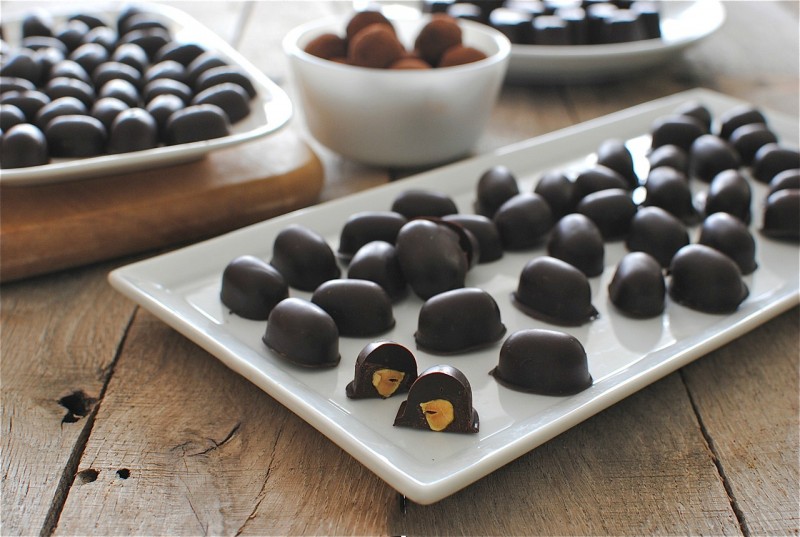 The clock starts now.
Homemade Chocolates and Chocolate Ganache Truffles:
What it took for like 5 hundred billion:
* 20 oz chocolate (roughly 8 bars) – you can mix and match darknesses to your liking
* 1 tsp cayenne
* 3/4 cup heavy cream
* flavored salts (I used chile and rosemary)
* roughly 25 shelled pistachios (or whatever nut you prefer)
* 1 shot cognac (or whatever liquor you dig)
* about a cup of cocoa powder
tools:
* any fun candy molds you can find
* pastry bag
Okay, give all that chocolate a good chop. And I mean good. Divide among 4 different bowls with 1 1/2 cup chopped chocolate in each bowl.
Now, you can melt the chocolate two different ways. You can pour it into a glass measuring cup and melt it in the microwave for about a minute. Maybe a minute and a half. Stir to fully melt. OR, you could bring a little bit of water to a light simmer in a large pot with a glass bowl in it. Faux double boiler, yo. Simply pour the chopped chocolate into the bowl and stir until it melts. That's that for the chocolate.
Now, let's flavor!
For the ganache truffles, simply pour the cognac into the cream and heat it to the point where it's right shy of a simmer. Pour the cream into the melted chocolate and whisk to combine. Place some parchment paper in a rimmed baking sheet and pour the creamy chocolate into the sheet. Tilt the sheet so the chocolate evenly spreads out. Stick it in the freezer for about 20 minutes.
When you're ready to make the truffles, pour the cocoa powder into a large bowl. Take a pizza cutter and cut the cooled ganache into small squares. Get your hands good and dusty with the powder, then pull each square from the sheet and quickly quickly roll it into a small ball. That stuff melts FAST, dudes. Toss the ball around in the cocoa powder and set aside. Keep your hands good and dusty (trust me) and repeat with the remaining truffles. Stick tray back into the freezer until you're ready to eat!
For the spicy chocolates, melt the chocolate (as mentioned above), and stir the cayenne pepper right into the melted chocolate. Then pour it into the pastry bag. Carefully squeeze out the chocolate into the mold of your choice. When complete, slide the mold tray into the fridge for quicker hardening. This should take about 15 minutes.
For the salted chocolates, melt the chocolate like mentionnnnned above. Okay, now one thing I learned through this experiment: next time I'll go ahead and squeeze the chocolate into the molds, and THEN lightly sprinkle the tops with the salt. But in my photos I placed a little salt in the bottom of the molds and squeezed the chocolate on top. The salts pretty much disappeared. It will be a nice surprise when you bite into it, but if you want to SEE the salts, just sprinkle them on top. Sweet. And mean salty.
For the pistachio-filled chocolate, melllllt the choooooocollaaa, yeah, you know. Squeeze just a LEETLE bit of chocolate in the bottom of each mold. Nestle a pistachio down in the chocolate, and then squeeze a little more on top. Done. Chill. Eat.
Christmas gifts? I think so. Selfie mouth gift? Duh.