Oh gosh these old things? They're just my big guns or whatever.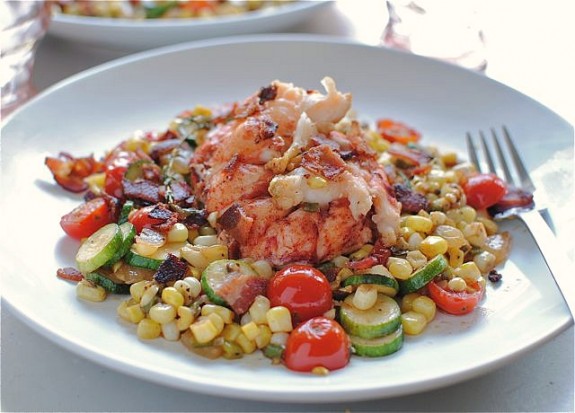 I'm totally kidding! I don't even own pink plastic water guns much less real guns that are big and scawy.
So you remember back in the Februarys when Aaron tried to make me a natural born killer? Wasn't that just a gas?! Yeah. Wasn't about to do that again. But tails? Already prepped, primed and prerequisited? (I couldn't think of another word that started with P, so just go with me. Plus it sort of works! It's the prerequisite to cooking and eating. Okay it doesn't work at all.) Tails I can handle.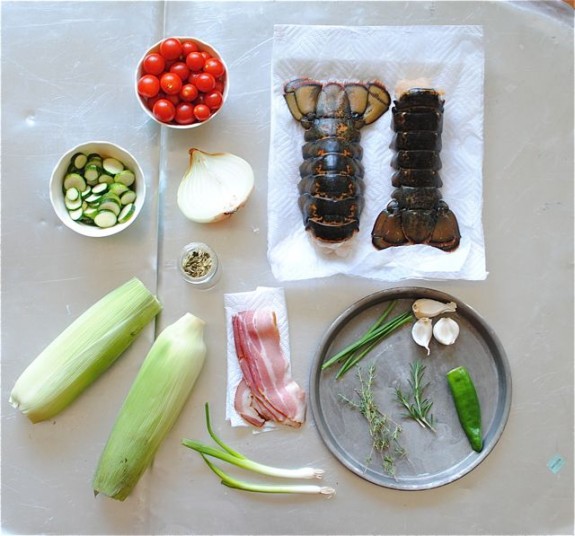 Plus I get to say, "I got so much tail last night." SERIOUSLY WHAT IS WRONG WITH ME.
Imma be honest with ya. This recipe creation was a tiny whisper outside the grasp of my fragile fingertips. El husbando had full control this time around. Hence, the bacon fat AND butter. I wanted to be all, "Whoooooa, chachi. Calm your cheelah." But he drained most of the fat off before adding the butter, which makes it a double negative, a loop hole in the system and totally legit.
And oh, that butter? It's roasted garlic and lemon compound butter. I'll peep you the recipe next week OH YES I WILL.
So for the lobstah. This technique is something Aaron learnt by watching Lidia Bastianich. Oh hey, remember that commercial in the '80s when the dad finds some drugs in his son's little box? And the kid goes, "I LEARNED IT BY WATCHING YOU." Remember?
This is exactly not like that.
You'll just take the knife and slice the tail right down the center, shell and all. And then you'll turn to your audience and pound your fists into your chest, Tarzan style, screaming, "AaaaaAAaaaaAAaaaaaAAAaaaa."
Oh and by the way, the bee outside my house? CICADA KILLER. It has the word KILLER in its name. I'm just overjoyed.
Okay so we have this freak-your-life relish/sauté with herbs and garlic and onion and corn and zucchini. And THEN we have some shut-your-face lightly floured and seared lobster tails with wilted cherry tomatoes.
And as if you weren't already weepy, you top the whole dang thing with bacon crumbles.
Go, Aaron.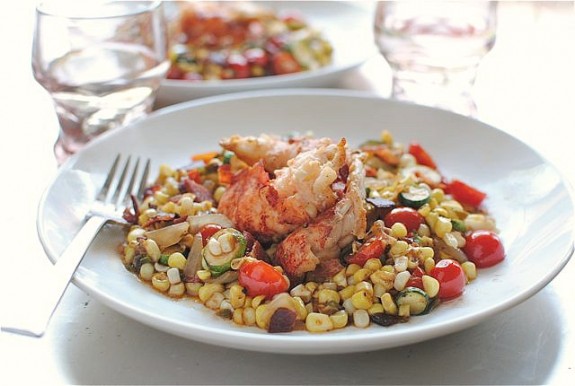 Cradle me?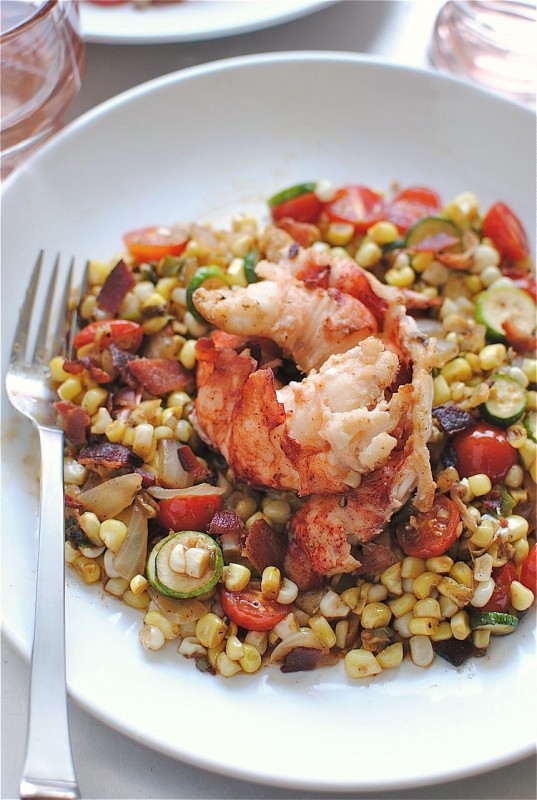 Now I really want some pink plastic water guns.
Seared Lobster Tails with a Garden Vegetable Sauté:
What it took for 2:
* 3 slices bacon
* 2 Tbs. butter
* 1/2 medium onion, diced
* 1 New Mexico chile (or a jalapeno is fine), seeded and minced (leave seeds in for more heat!)
* 3 cloves garlic, minced
* 1 tsp fresh rosemary, minced
* 2 sprigs fresh thyme
* 1 Tbs. chopped scallions
* 2 (8 oz) lobster tails
* 2 tsp all-purpose flour
* 2 ears corn, kernels removed
* 1 cup sliced zucchini
* 1 cup halved cherry tomatoes
* coarse salt and freshly ground pepper
Cook the bacon in a large skillet over medium heat until the fat has rendered and the bacon is crispy, about 7 minutes. Remove bacon from pan and set aside on paper towels to drain. Crumble once cooled. Drain all but 1 Tbs. bacon fat.
Add 1 Tbs. butter to the skillet and melt. Add the onions and sauté until they start to soften, 3 minutes. Add the garlic, minced pepper, herbs and scallions. Toss in a pinch of salt and pepper. Bloom another 30 seconds.
Add the corn and zucchini to the skillet and sauté until they start to brown, about 6 minutes. Season with a little salt as well. Remove relish from pan and set aside.
Take the lobster tails and slice right down the center, lengthwise. Sprinkle each tail piece with the flour.
Add the remaining butter to the skillet and get it melted. Place the lobster tails, meat side down into the pan. Go ahead and add the tomatoes at this point as well. Toss in a pinch of salt for the tomatoes. Sear the lobster tails until the shells turn bright red, about 5 minutes. Remove tails from pan.
Toss the wilted tomatoes with the rest of the vegetable sauté.
Pull the lobster meat right out of the tails.
Serve lobster tails over a bed of the sautéed garden vegetables. Sprinkle with bacon crumbles and fresh basil slivers if desired.
You. Don't. Even. Know.