Low carb, schmow schmarb.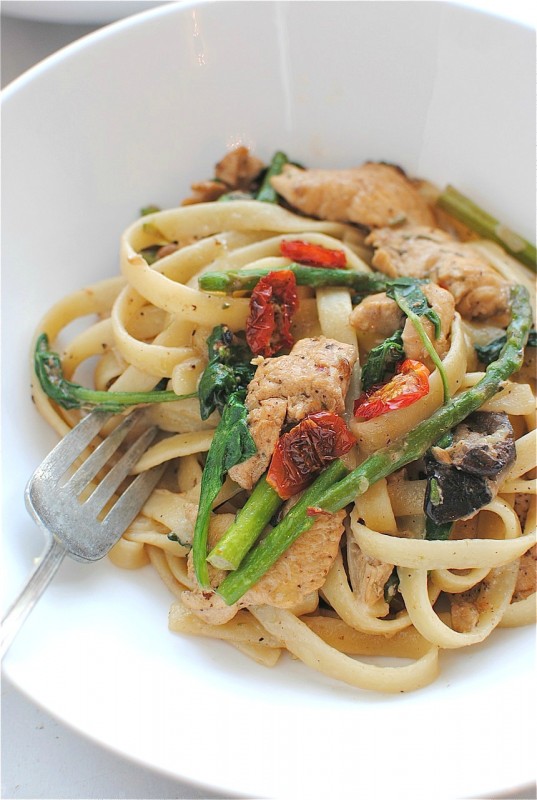 I'm done. I hold up my white flag. I throw in my towel. I SURRENDER ALL, Y'ALL.
And I'm such a freaking baby because I went, what, two entire meals without out them? Sheesh.
Okay real quick, I just scraped a piece of chocolate off my neck. A piece of chocolate. At first I thought it was a mole and that there would be bleeding and minor freaking. But nope, it was just chocolate.
I really should be fired from food blogging.
Let's talk about my favorite thing ever in the entire world, besides Laverne and Shirley, Wilson Phillips and jorts, obvi.
Pasta. 
Like, my face basically wants to put a ring on it.
Back in mine and Aaron's (my and Aaron's? Aaron's and my? Aaron's and mine? These things hurt meeeee) hometown, Fayetteville, Arkansas, there's this restaurant, where I used to frequent and Aaron used to work. But not at the same time. Wouldn't that have been romantic though? One of their customer favorites was this spinach fettuccine with chicken and asparagus, and this silky cream sauce so freakishly divine that it would rip your heart strings straight from your chest cavity, tie them together and form a limbo pole, and then demand everyone in the restaurant do the limbo dance for about 10 minutes. (But no longer because there's food to be eaten, ya know.)
YOU SEE WHERE THIS IS GOING, DON'T YOU, SMARTY PANTS.
But see, we had an issue. And it went a little bit like this:
Aaron, "Bev, you should recreate that spinach fettuccine dish from Bordinos. Man it was good."
Me, "Yeah, well the only problem with that is that no one makes spinach fettuccine anymore. Hello, it's so 1996."
Aaron, "What? No way. It's still made, I'm sure of it."
Me, "Seriously, the last time I ate spinach fettuccine I was wearing a chain wallet and my eyebrows were so thick they looked like caterpillars trying to decide whether or not to become butterflies or jump off a cliff."
Aaron, "They were pretty bad."
Me, "Your face is pretty bad."
Aaron and I are currently offering marriage classes specializing in maturity. Hurry and sign up now before it's too late!
I'd like to take this opportunity to tell you all that I called not one, not two, not three but FOUR stores and how many of them had spinach fettuccine? HOW MANY?
Okay one did, but she was mumbling and probably high.
So I used reg fett and threw in buckets of fresh spinach and badabing badaboom, word up to your mom.
What you can't see with the naked eye is just how slippery and lick-a-licious the sauce is. I wanted to stick my camera right in it so you can witness the pool of velvet, but my stomach was already eating my head.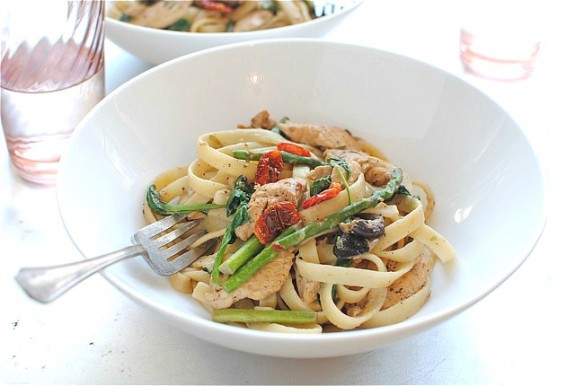 Every strand. Every piece of tender chicken. Every tiny spear of asparagus and slice of shiitake mushroom. Every crevice of dehydrated tomato. Every breath you taaaake. Every move you maaaaaake. Oh, oops.
Covered. Covered in that sauce I tell you.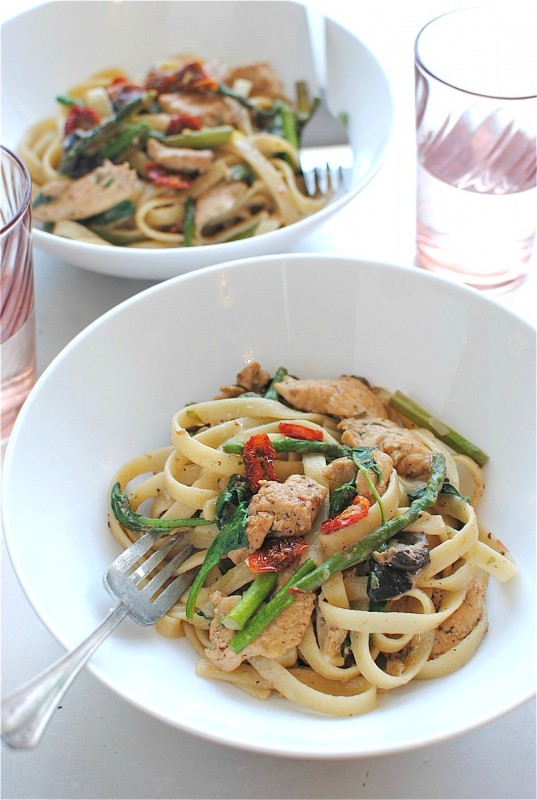 Ya know I'm a much better person with carbs in my life if you really stop and think about it.
Chicken and Vegetable Fettuccine in a Light Cream Sauce:
What it took for 4:
* 4 Tbs roasted garlic compound butter (or regular butter, or olive oil), divided
* 4 boneless, skinless chicken breasts, sliced thinly
* 2 cloves garlic, minced
* 1 medium shallot, minced
* 1 pinch crushed red pepper
* 8 oz shiitake mushrooms, sliced
* 1 bunch asparagus, ends trimmed and sliced into 2-inch pieces
* 3/4 cup dehydrated tomatoes (or sun-dried)
* 4 cups baby spinach
* 1/2 cup half & half (or cream)
* 1/2 cup chicken stock
* 1 pound fettuccine
* coarse salt and freshly ground pepper
Melt 2 Tbs. butter in a large skillet over medium heat. Add the chicken, season with a pinch of salt and pepper and sear until browned on both sides and cooked through, about 7 minutes total. You may have to do this in batches. Remove from pan, set aside and cover.
Back in the skillet, add the remaining butter. Once melted and bubbly, add the shallots and sauté for 3 minutes. Add the garlic and the pinch of crushed red pepper. Bloom another minute.
Add the mushrooms, asparagus and tomatoes. Season with a pinch of salt and pepper and continue to sauté until the mushrooms soften and the asparagus pops in color, about 4 minutes.
Add the chicken back to the skillet, along with any accumulated juices, the spinach, chicken stock and half & half. Reduce heat to medium and bring to a light simmer.
In the meantime, bring a large pot of salted water to boil. Cook the fettuccine until al dente. Reserve 1/3 cup pasta water and drain the rest.
Add the pasta to the skillet and toss with the chicken and vegetable mixture. Get everything coated with the sauce. Add as little or as much pasta water to get the sauce just right. Taste it. Maybe another pinch of salt?
Serve with freshly grated cheese! Duh.