What does bistro mean?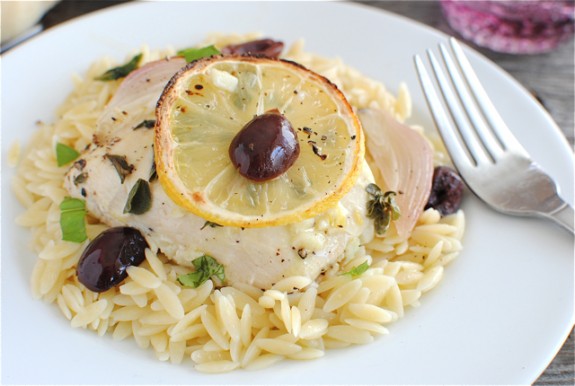 Because in a coffee-induced hyper episode on Saturday, I deemed this week as BLOG BISTRO WEEK. And then realized I have no idea what that means. And that I was talking to air. But I do know that it's one of those words that when you say more than thrice, it sounds jank. Bistro, bistro, bistro.
I wiki'd and Google imaged it, but of course didn't get anywhere because just looking at all those pictures of quaint bistros made me a little depressed that I've never been to Paris or London or anywhere that stripes actually look good on people. So I had to watch Amelie. Which led to me absolutely needing to practice my French and stick my fingers in dried beans. And then I realized the expiration dates on these bags of dried beans were before the crucifixion. So of course that led to a massive pantry overhaul. And finding my old fishbowl from college (RIP Mandarin), 47 nearly empty bottles of olive oil and an EARRING.
Oh weird. It looks like my words are FLOATING IN SPACE right here. See it? Did you see that?
Anyway, BEESTRO. Will you please tell me what it means because I'm exhausted and emotional after all that pantry/fishbowl business.
But I'm sticking with BLOG BISTRO WEEK. I think.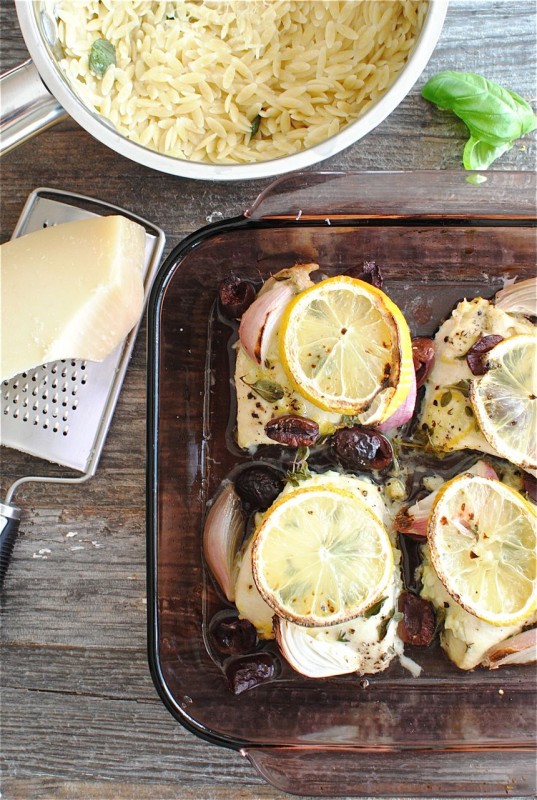 Because I feel like this DU-LICIOUS chicken dish is totally bistro-y. Lemons, olives, cheesy orzo, tender chicken…I am this close to passing out.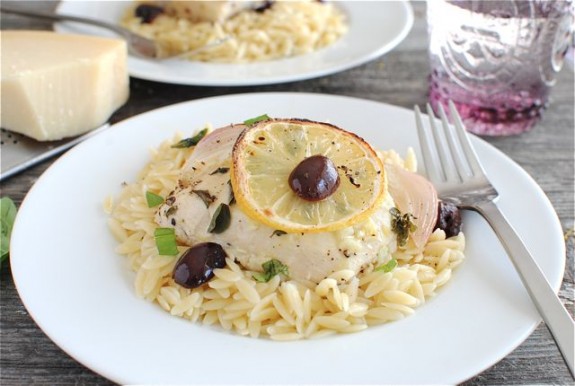 I don't even care anymore. It just needs to appear in my mouth again before ALL HELL BREAKS LOOSE.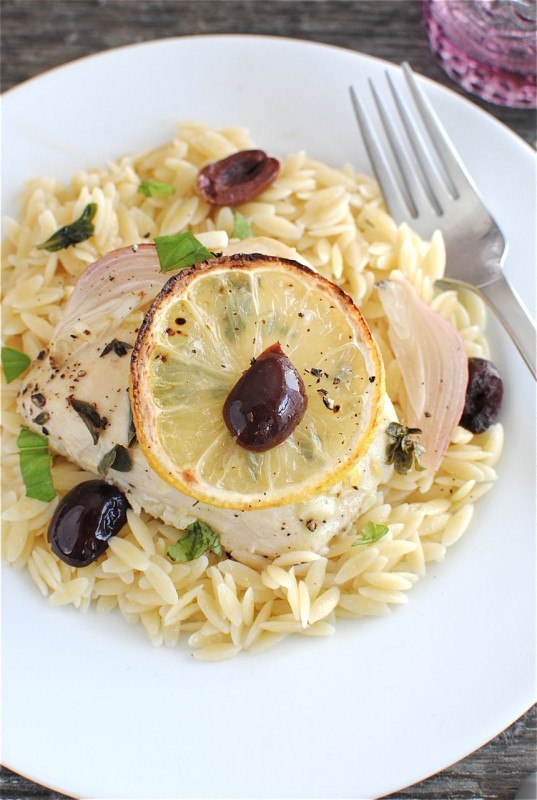 Bistro life is dangerous, you guys.
 What it took for 2:
(adapted from Cooking Light)
* 1 Tbs. lemon zest
* 1/4 cup lemon juice
* 2 Tbs. extra-virgin olive oil, divided
* 2 cloves garlic, minced
* 2 boneless, skinless chicken breasts halves, cut in half
* 2 tsp fresh oregano
* 1 tsp fresh thyme leaves
* 1/4 cup pitted black olives, sliced
* 1 shallot, sliced
* 4 lemon slices
* coarse salt and freshly ground pepper
* cooking spray
* 1 cup orzo
* 1/4 cup freshly grated parmesan cheese
* 1/2 tsp garlic salt
* 6 basil leaves, torn
Preheat oven to 400.
Combine the lemon zest, juice, oil, garlic and chicken in a small baggy. Seal and swish all around, coating the chicken. Marinate at room temperature for about 15 minutes.
Lightly coat a baking dish with cooking spray, and arrange the chicken (and marinade!) in the dish. Sprinkle the herbs over the chicken, along with the shallots, olives and lemon slices. Season with salt and pepper. Bake chicken for 20 minutes.
Take out of the oven, switch the oven to broil, and put the chicken back in for 3 minutes, until the lemon slices start to brown the chicken cooks through.
In the meantime, cook the orzo until al dente. Drain and add the remaining oil, cheese, garlic salt and basil.
Serve chicken over a bed of orzo and disappear into your plate.