Guess how incredibly lame we are!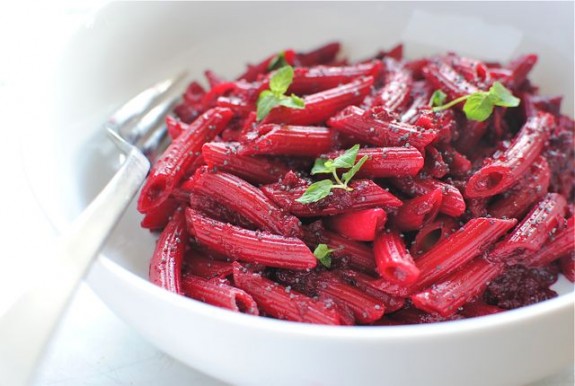 And by "we" I'm referring to myself and my husband, a pair of old, pathetic party animals who just can't hang with these kids today. And by "hang" I mean stay up past 9:30pm. This is embarrassing. Get ready.
So, okay. Today is our 7th wedding anniversary.
(Thank you! )
(Right? SO hard to believe.)
(Seven. long. ye – I MEAN, only seven years.)
(He only tried to hang himself twice!)
Well, with tonight being a school night, we got all gussied up on Saturday evening for an early celebratory dinner while watching the KU game at our favorite little neighborhood joint. You guys, I brushed my hair and even wore a bra that didn't involve the word SPORTS in front of it. YOU ARE SO HAWT FOR ME RIGHT NOW.
So this is us. Shoveling 17 wheelbarrows of pasta carbonara and stroganoff into our heads. Celebrizatin'. Clinkidy clink. Living the dream. As always, a pill will help. Cheering on the Jayhawks. Like, so amped up. And then the half time rolls around and Aaron leans over to me, "I have an idea. Let's head home and put the couch together like a big fort and watch the rest there." Me, "duuuuude yeeeessssssss."
And then the next thing we remember is waking up to the weatherman talking about how HOT it was on Mass Street in Lawrence because of the miraculous and unexpected win. And it was light outside.
WHUT.
Missed.The.Whole.Dad.Gum.Thing.
I blame the stupid fancy bra.
And you should know that I've since purchased little elves to hang out and splash coffee inside my eyelids for tonight's final game, say the issue arises again.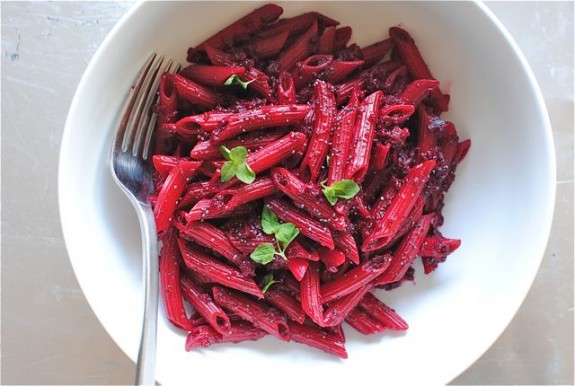 Now, let's talk about this penne pasta with roasted beet sauce action. Have you ever seen such COLOR? I almost died eating it. It is seriously so divine with all that roastedy beety flavor and those little crunches of poppy seeds and blasts of fresh mint.
Hip. Hop. You. Don't. Stop.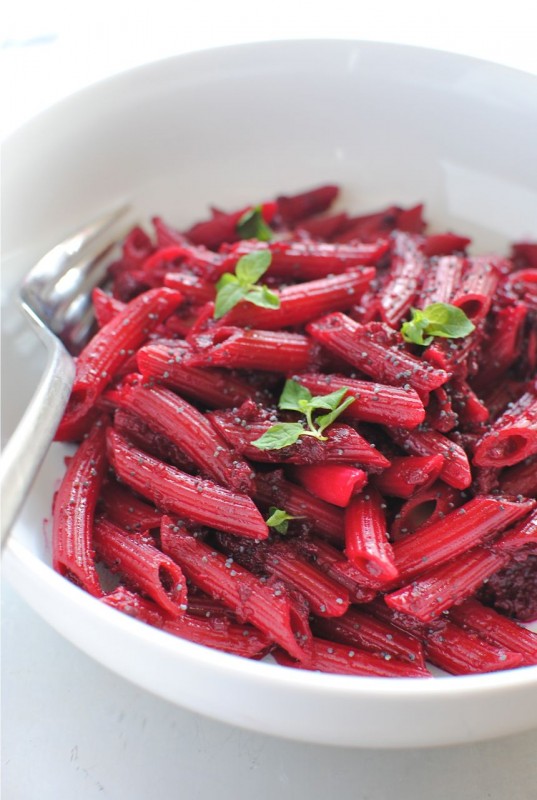 And then freshly grated cheese on top?
Daddy. Mac. Will. Make. Ya.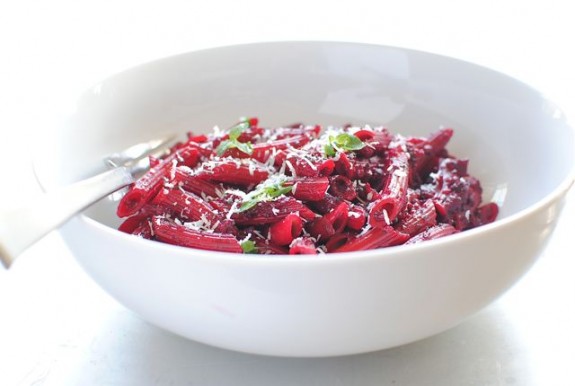 I died again just now.
Penne Pasta in a Roasted Beet Sauce:
What it took for 2:
* 3 medium-sized beets, cleaned and cut into a small dice
* 3 Tbs. extra-virgin olive oil, divided
* 3 sprigs thyme
* 3 cloves garlic
* 1 Tbs. balsamic vinegar
* 2 Tbs. vermouth
* 1/2 cup freshly grated parmesan cheese, plus more for garnish
* 1/2 cup chicken or vegetable stock
* 1/4 cup cream or milk
* 1 tsp. sugar
* 1/2 pound penne pasta
* coarse salt and freshly ground pepper
* 1 Tbs. poppy seeds
* mint leaves, for garnish
Preheat oven to 400.
On a rimmed baking sheet, toss the diced beets with 1 Tbs. oil, thyme sprigs and a good pinch of salt and pepper. Roast for 40 minutes. Check for doneness at the 30-minute mark.
Transfer beets to a food processor. Add the garlic, balsamic vinegar, vermouth, half of the cheese and the 2 remaining Tbs. oil. Pulse until it's as smooth as you can get it.
Transfer beet mixture to a small saucepan. Add the stock and cream and bring to a light simmer. Add the sugar, remaining cheese and another pinch of salt. Simmer on medium-low while you prepare the rest of the meal. Taste it. Oh I know.
Toast the poppy seeds in a small skillet until fragrant, about 2 minutes.
Cook the penne until al dente. Drain and return to skillet. Pour the sauce over the pasta and toss to combine. Look. At. That. Color. Give it one more taste. Season accordingly.
Serve pasta garnished with a good sprinkle of the poppy seeds and the mint leaves. And more cheese. Absolutely more cheese.
*Quick Note* One thing I SHOULD have done and will do next time is roast the garlic along with the beets. That would have taken this over the moon. That is all.