Can you even begin to believe it's Friday? It doesn't feel like Friday.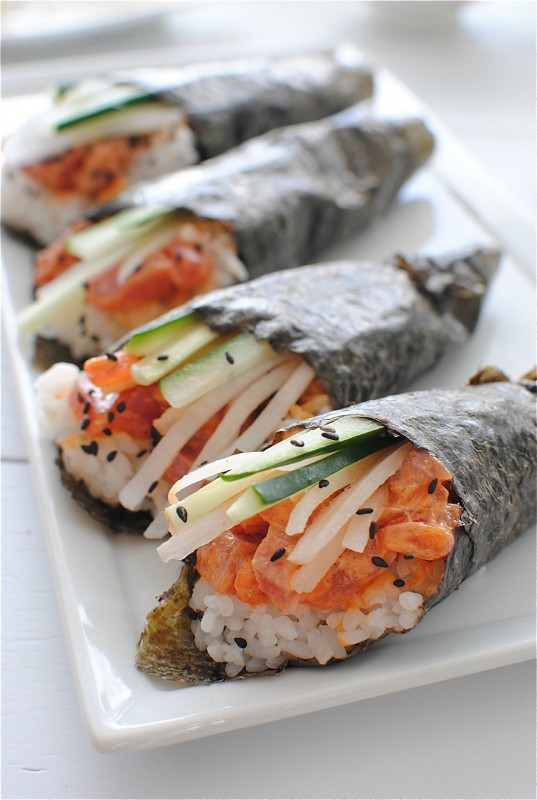 I don't know what day it feels like, but certainly not Friday. Maybe Wednesday, since the world went back to work two days ago? Actually, I know a lot of people who went back yesterday, so it might feel like a Tuesday. But a lot of you still have kiddies at home, so it might not feel like a Tuesday or Wednesday at all to you. Maybe it feels like a Thursday since trash day was pushed back a day this week? Whatever the case, it does not feel like a Friday.
My crystal clear message in all of this is, it's time to throw down because I made spicy tuna hand rolls!
Otherwise known in my head as, spawcy tewna hayand rawls.
But I don't really talk like that in real life. I feel like I should clarify that right now. I don't really have that kind of accent. Unless I'm joking around. Which unfortunately for everyone in my life is 99.999999999% of the time.
So, the hand rolls!
Remember my young, hip 23 year old brother-in-law I was telling you about? Well, for Christmas he gave me this rad to the bone "Simply Sushi" kit with all these cool sushi-making utensils and what not, and I squealed at 45,927 decibels and broke all the windows in the house.
It even came with a DVD, which was insanely helpful because I'm a total visual gal. Give me verbal instructions to bone a duck and I'll bone a picnic table. And that totally came out wrong.
Aaron and I made spicy tuna hand rolls once about 87 years ago, and they were wonk.a.lonk. I won't lie, dudes. It's pretty intimidating the first time. Since you're eating raw fish you have to maaaaake suuuuuure you buy the freeeeeeshest sushi graaaaade tuna or else you'll grow a 7-foot checkered scaly tail by morn'.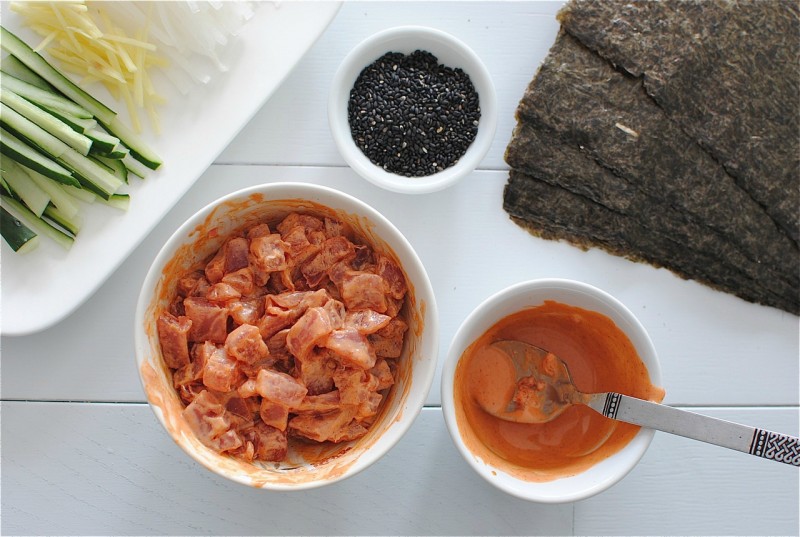 But you can do it! And here's how:
Okay there's the sushi rice, which to prepare will require some TLC, but I hear that if you have a glass of sauv blanc on hand, it helps. Then you place it in the nori paper (the rice, not the wine), and make a little well with your middle finger, like a weirdo. Why I didn't use my index finger I have no idea. Okay smear a little wasabi down in it. There ya go.
Now scoop some spicy tuna down in der. Then lightly place some thinly sliced cucumber, maybe some fresh ginger slices, and some daikon radishes on top. Whatever you want really. Just not a steak. That would be weird.
Then you'll fold her over like this, and wrap it up into a little roll! By the way, I'm trying to decide if I should become a watch person this year. What do you think? I used to wear a watch in junior high, but it fell off all the time. My wrists are weird. I'm also trying to decide if I should become a banana clip person, but I won't put that burden on you.
Seriously. Once these were complete I giggled at 86,235 decibels and broke all the windows in our house.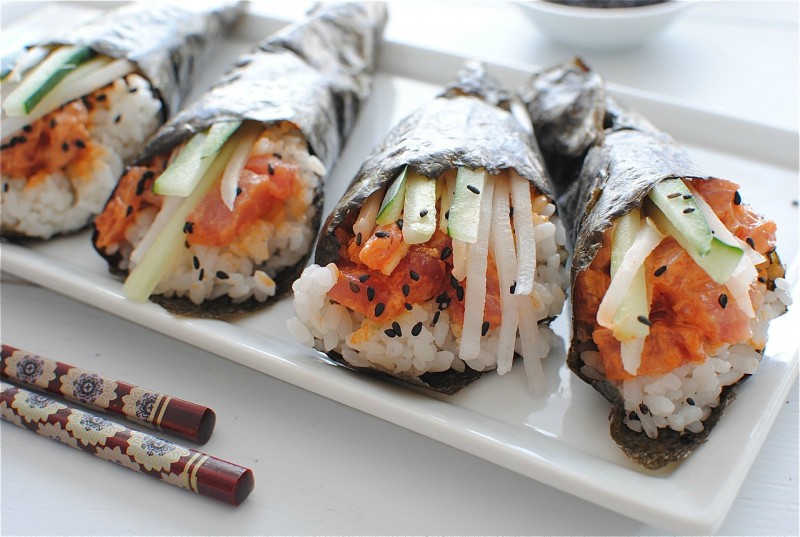 I want more.
Spicy Tuna Hand Rolls:
What it took for 6 hand rolls:
for the rice:
* 1 cup sushi rice
* 1 1/2 Tbs. rice vinegar
* 1 Tbs. sugar
* 1 tsp salt
for the tezu:
* 1 tsp vinegar
* 5 Tbs. water
for the rest:
* 1/2 pound sushi grade fresh tuna, cut into a small dice
* 1 Tbs. mayonnaise
* 1 Tbs. sriracha sauce
* 1/2 cucumber, julienned
* 1/2 small daikon radish, julienned
* 1 Tbs. julienned fresh ginger root
* 3 nori paper sheets, cut in half (making six 4×7 sheets)
* black sesame seeds (for garnish)
* wasabi sauce (which is wasabi powder from a jar and water mixed together. you'll see on the jar.)
Place rice in a large bowl. Add about 2 cups of water and gently massage the rice for about a minute, releasing a TON of starch. Drain the water and then add more. Massage, drain, add, massage, drain, add, you know. Do this about 5 times until the water is nearly clear.
Add the rice to a rice cooker. Cover with 1 cup of water. Turn her on and fugget it.
In the meantime, add the rice vinegar, sugar and salt to a small saucepan. Heat it over medium until the granules have dissolved, a couple of minutes. Set aside.
When the rice is done, transfer it to a large shallow bowl or dish. Hold a flat, wide wooden spoon over the rice and pour the vinegar mixture over the spoon, letting it gently fall over the rice. Then lightly toss the rice around the bowl, letting the vinegar mixture coat the rice. Then with the spoon, scoot the rice to one side of the bowl. Little by little, sort of "cut" the rice with the spoon and fan it across the bowl. Keep going until each grain of rice is nice and separated in the bowl. Does this make sense? If not, watch this video. Cover with a damp cloth and set aside.
Okay, the rice is good and ready.
Now, in a small bowl, whisk the mayo and sriracha sauce together until combined. Toss it with the diced tuna.
Prepare the tezu mixture, which is seriously just combining the vinegar and water. Done. This is going to keep your hands from sticking to the rice.
Place a nori sheet in your left hand, shiny side down. Dip your right hand in the tezu mixture. Grab a fist-size mound of sushi rice and compact it in your hand. See how sticky it is?! I know. But that tezu sure helps.
Okay place it on the left side of the nori sheet. Take a finger and make a slight indention in the center of the rice. Then dip your finger in the wasabi sauce and wipe it down the little well you made in the rice.
Then you're gonna spoon some of that awesome spicy tuna into the well. Then top it with sliced cucumber, ginger and daikon radishes.
Now, take the bottom left-hand corner of the nori and fold it over the filling until it's lined up evenly with the top edge of the nori paper. Then just wrap wrap wrap until you have a hand roll!
Garnish those muthas with black sesame seeds and just stare at them for like, ever. Look whachew DEED.
Dip them in a little soy sauce/wasabi mixture, and hellloooooo, euphoria.
Ignore how the ends look. I'm no pro, yo. Oh that rhymed.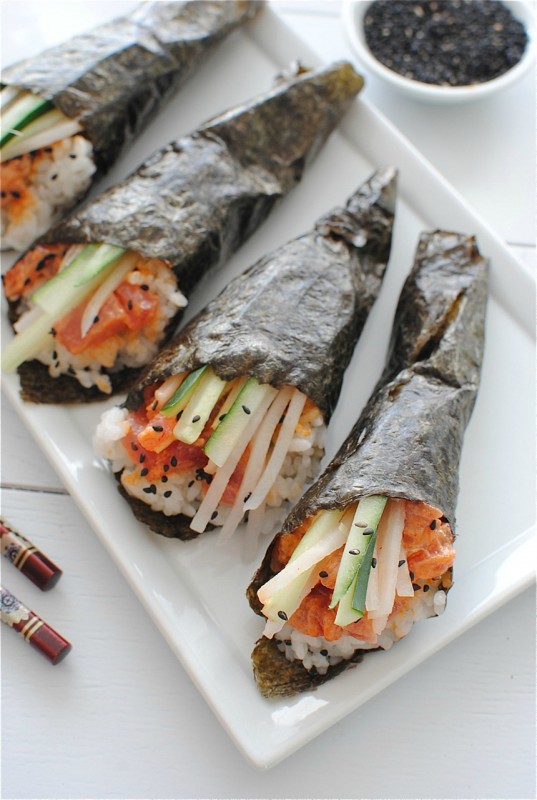 Okay I'm definitely going for the banana clip.