I need to tell you something real quick: I WANT TO MARRY TUNA STEAKS.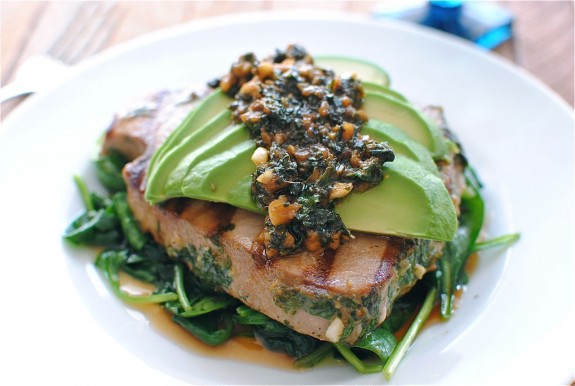 As I mentioned yesterday, I'm cooking a few recipes out of this super duper book I just finished. And as a mega mama lover of fish, this recipe jumped off the page, slapped my face into next week and then kissed me like Rhett Butler does to Scarlett O'Hara on a dangerously long red staircase.
And as if good tuna wasn't enough to seal the deal for 10 thousand romantical slow dances in your heart, the marinade slash topping for this dish will FREAK. YOUR. FACE. RIGHT. OFF.
Ginger? Good gosh yes.
Garlic? Feed me a billion cloves.
Cilantro? Make me an edible scarf, please.
Lime juice and soy sauce? Draw me a bath now, would ya, dear?
Add slices of creamy avocado to the mix and OH. Oh, ohohohohoh. Ican'tevenstandit.
The only willy-nillying I did was to tweak the measurements a tad to fit my taste buds, and I served the tuna over wilted spinach. Which in my opinion everything in LIFE should be served over wilted spinach. Including wilted spinach.
One more thing and I'll totes leave you alone. This is good tuna. PA-LEASE don't cook it all the way through. You want it rare in the middle. Don't be skeered.
Now please go make this and invite me over so I can steal it from you.
Grilled Citrus Tuna Steak With Avocado and Spinach: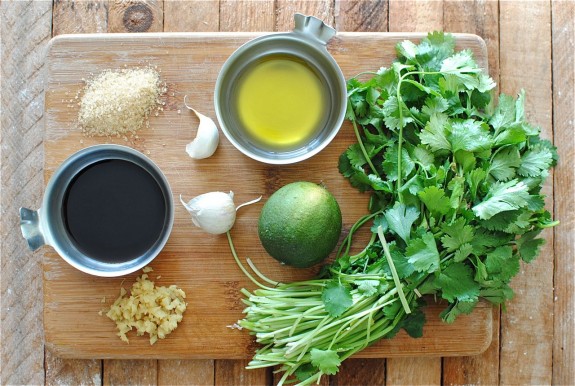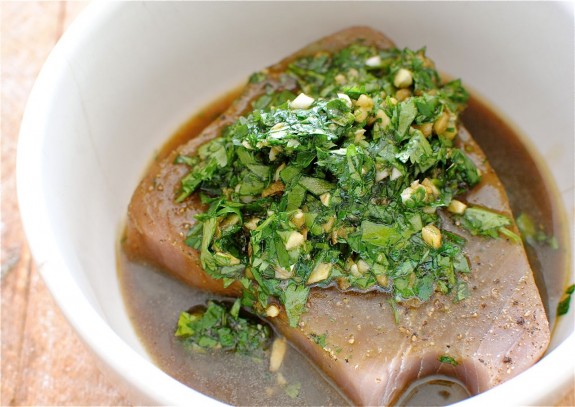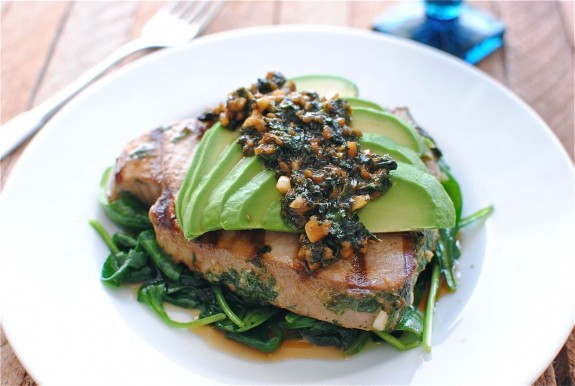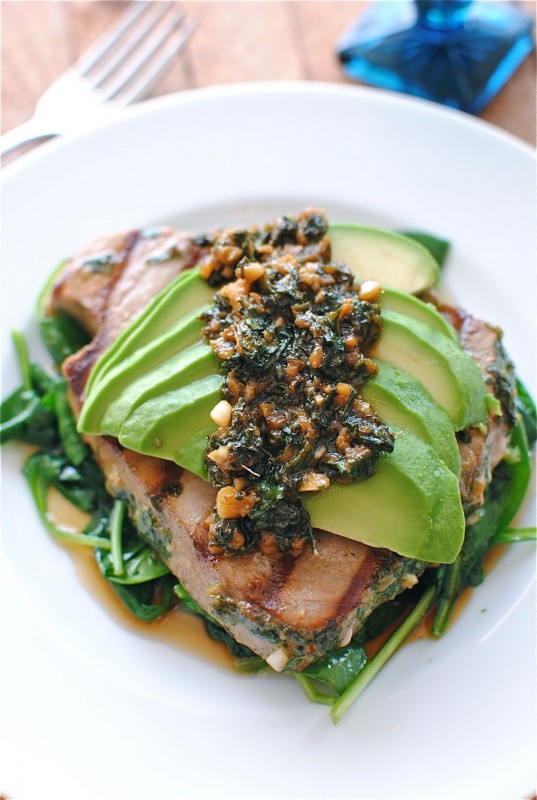 What it took for 1: (hubs was on a plane and missed out. poor sucker.)

* 1 tuna steak (ahí or yellowfin)
* pinch of salt and pepper
* 3 Tbs. extra-virgin olive oil, divided
* 2 Tbs. soy sauce
* 1 tsp freshly minced ginger
* 2 cloves garlic, minced
* 1/2 cup chopped cilantro
* juice of 1 lime, plus the zest
* 1 tsp sugar
* 1/2 avocado, thinly sliced
* 4 cups spinach
Season both sides of the tuna with salt and pepper.
In a small bowl, whisk together 2 Tbs. oil, soy sauce, ginger, garlic, cilantro, lime juice, zest and sugar. Add the fish and marinate for at least 2 hours in the fridge.
In a small skillet heat the last Tbs of oil. Add the spinach and wilt slightly. Toss in a teeny pinch of salt and pepper. Remove from heat and set aside.
Remove the fish from the marinade and grill (or sear) for 2 minutes on each side. Keep it rare in the center. PLEASE!
Pour the remaining marinade into a small saucepan and reduce until it becomes thick, 2 minutes.
Top the wilted spinach with the grilled fish, followed by the sliced avocado and a nice drizzle of the reduction.
Dear goodness me.