Moooore creaaaaaaam.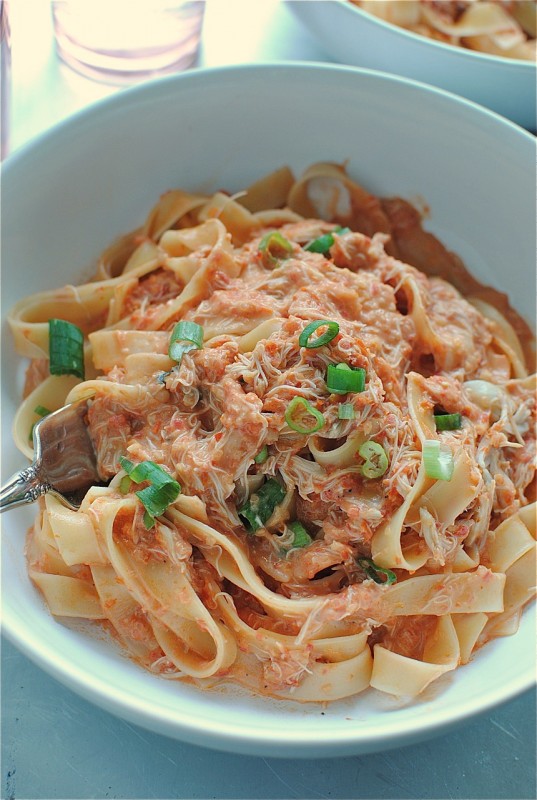 I don't know what's gotten into me with all the dreamy creamy hoopla this week. Perhaps it's a result of all the rain we got last weekend, causing our grass to green up a few shades, causing me to soar into spasticsphere for a mental hoedown, causing me to discover a rather new frisky side of myself.
You're like, PLEASE DO NOT GO INTO IT. PLEASE DO NOT GO INTO IT.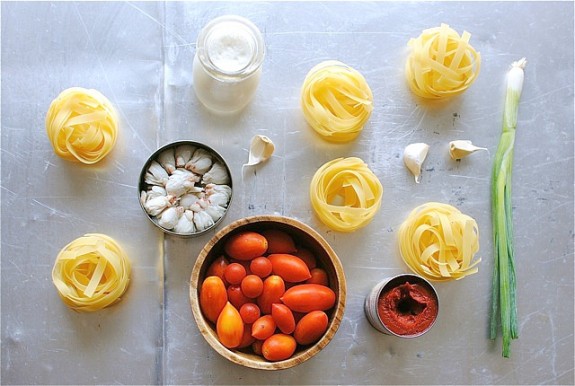 Hey real quick – look at my scallion. You can see where the rubber band was tightly wrapped around it towards the top, like it's a neck. And it makes me think of Dexter. Scallion crime scene!
You're giving me that look again. I'll move on.
It had been a few hours since I'd eaten pasta, so I was oooobviously starting to twitch and completely lose my mind. Aaron had picked up these fettuccine "nests" at the store while I was not washing my hair I think, so upon finding them in the pantry, I felt he basically paved the way for me to chirp, "little nests! little baby birdie pasta nests!" whilst flapping imaginary wings and pecking my imaginary beak into his jaw.
He disagreed.
And um, riddle me this. Have you ever added delicate jumbo lump crab meat (you have no idea how many times I've nearly typed crap) into a rich, creamy, fresh tomato sauce and twirled it around 45 pounds of fettuccine and flown it into your mouth like the frickin' Air Force One?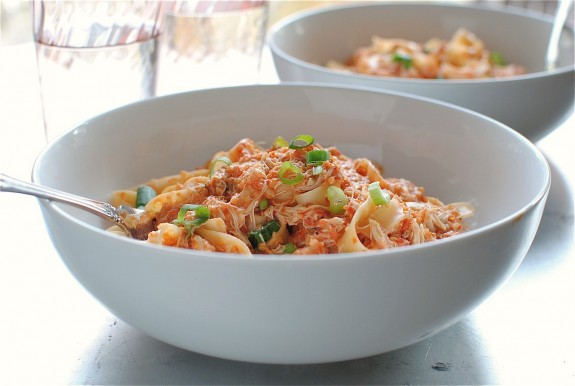 Oh.
Oh hohohoh oh.
OH OH OHOHOHOHOH OH.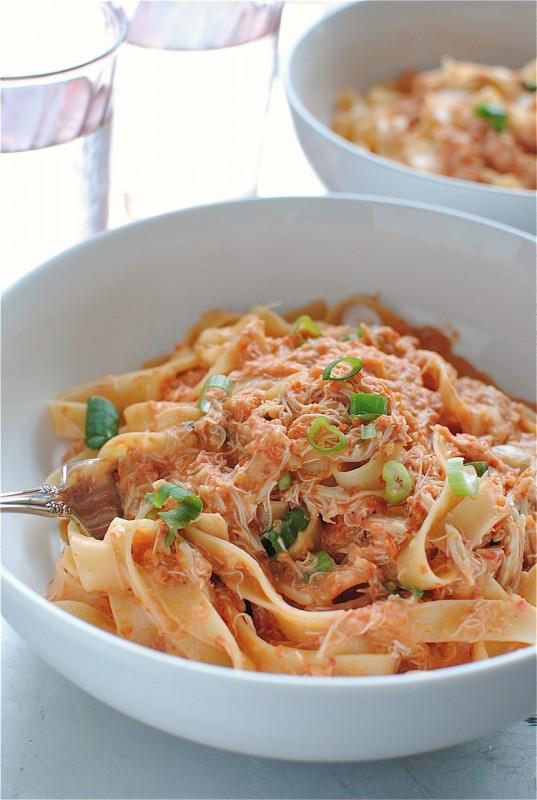 Your face wants to be riddled.
Creamy Tomato and Crab Fettuccine:
What it took for 2-4 (depending on how big you make your bowls, ahem):
* 1 Tbs. extra-virgin olive oil
* 3 cloves garlic, minced
* 2 Tbs. tomato paste
* 3 cups cherry tomatoes, blitzed in a food processor until smooth
* 1/2 cup heavy cream
* 5 basil leaves, torn
* 1 (6.5 oz) can jumbo lump crab meat
* 1/2 pound fettuccine
* pinch of coarse salt and freshly ground pepper
Heat oil in a medium sauce pan over medium high. Add the garlic and bloom 30 seconds. Add the tomato paste and continue to press down with the spatula, blooming another 30 seconds.
Add the pureed tomatoes to the pot and whisk to combine. Add the basil and a pinch of salt and pepper. Simmer 5 minutes.
Add the heavy cream and crab meat; simmer another 5 minutes.
In the meantime, bring a large pot of salted water to a boil. Cook the fettuccine until al dente. Drain and add to the the sauce pot. Stir to combine. Taste it. Maybe another tiny pinch of salt? Sure, go ahead.
Serve garnished with the sliced scallions and freshly grated parmesan for a happy, happy life.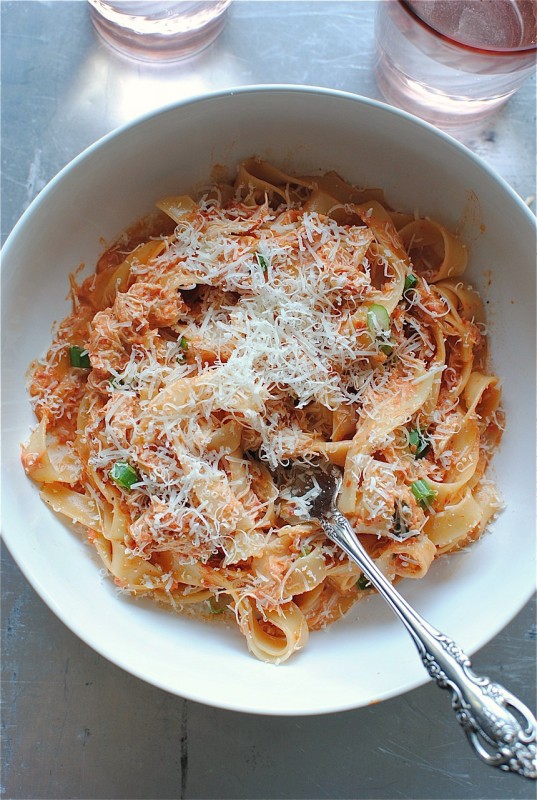 p.s. doesn't it totally feel like Tuesday?