It's really just shrimp, but when you say seafood you're going places.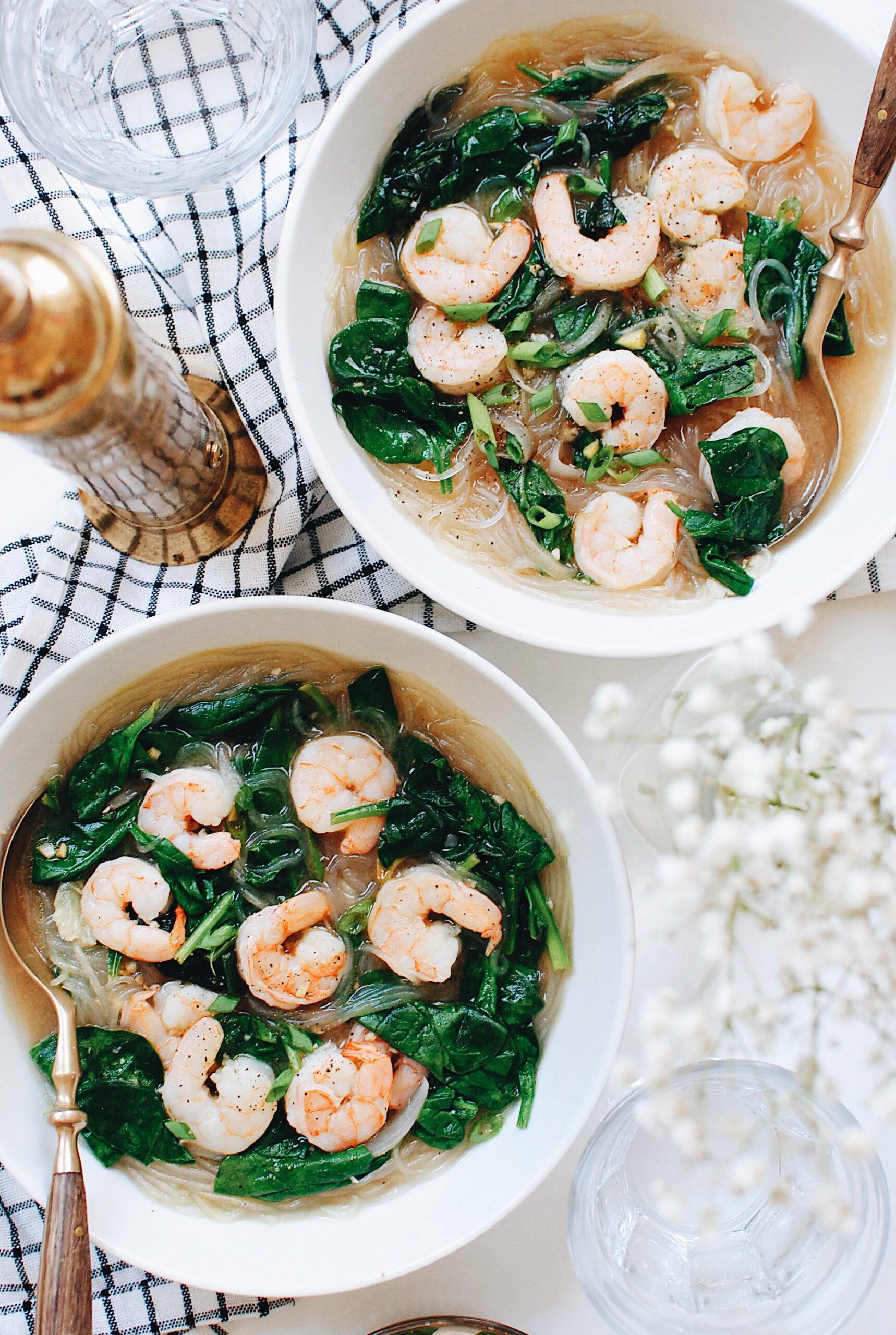 I made this soup a couple times leading up to deciding I needed to shoot and slap it on the blog for you. I'm not sure what took me so long because it's totally a this blog type of recipe. Simple, vibrant, not that weird.
It reminds me of a seafood soup that Aaron and I used to get at this Vietnamese restaurant in the River Market. Noodles and spinach for days. Mussels, clams and shrimp. But the secret is – seafood stock. GET THAT because that's what's going to make you want to slap a kitten.
That and all of this other delish stuff. Let's look.
I kept it simple with shrimp, but honestly – if you want to throw in some mussels or clams, it will be other level. But this roundup still gets ya there.
So much fresh mint and basil, you'll scream. And the garlic and ginger root and red onion gives us base. The fish sauce – you have some, right? Get a little bottle next time you're out. Do NOT smell it. I can't have you stabbing a Bev Cooks voodoo doll today. Just close your eyes, dump it in and trust me.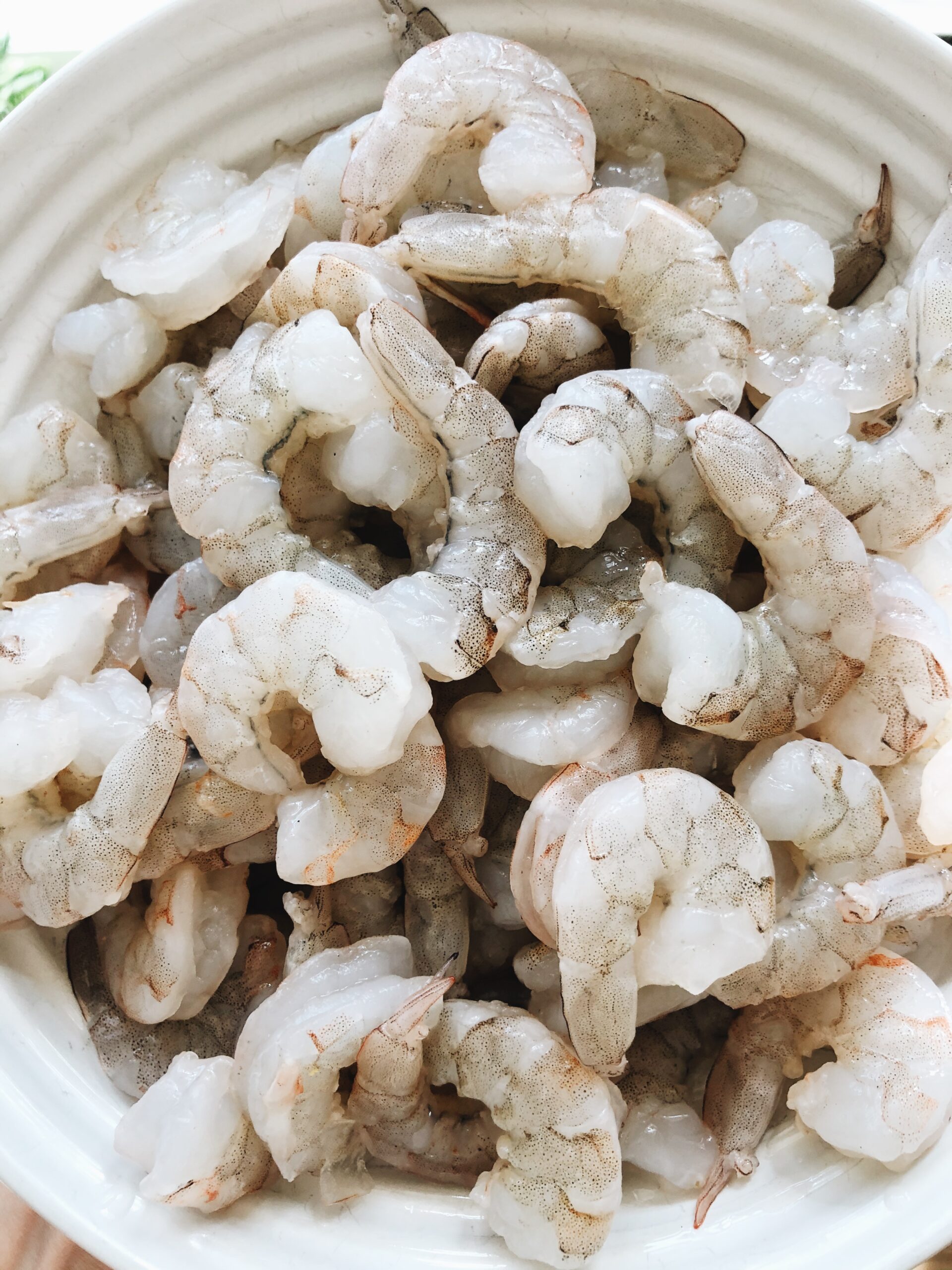 So, the shrimp. We're honestly not going to do anything special to it. Its purpose will be to gently poach in the soup, plump up and turn pink. The end. See how I take care of you?
Don't answer that.
I had two 12 oz bags, which made quiiiite a bit of shrimp. They're small, so I let it slide. If you want to throw a one-pound bag in, that absolutely works. We're not here to make ish difficult.
It's going to be 66 degrees today, so.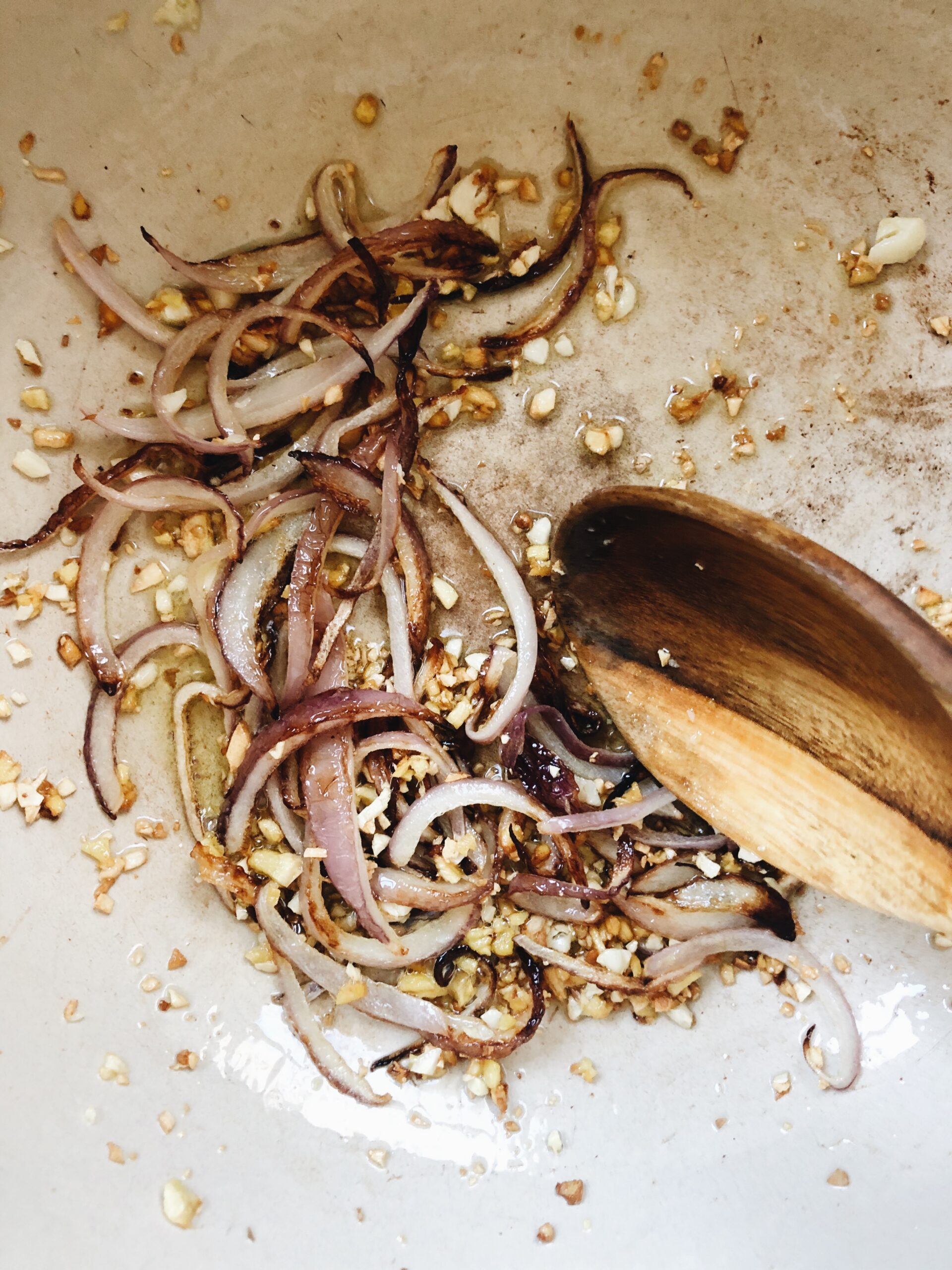 Sauté that red onion, garlic and ginger root. Get it fragrant and lightly browned and gorgeously tender. 'Atta goil.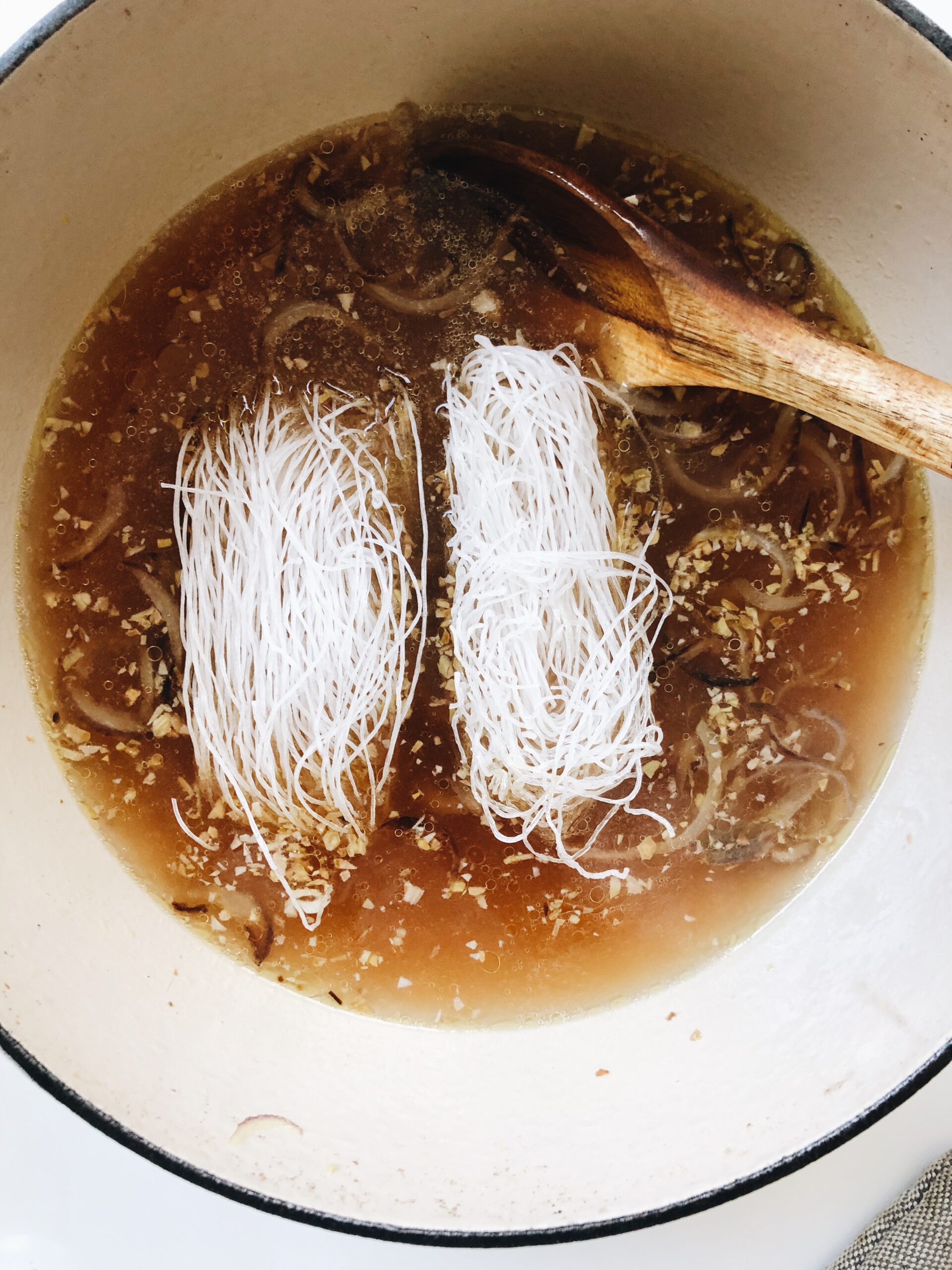 Then it all happens so quickly! (Also, totally spaced on having the little cellophane noodles in the ingredient photo up there. I blame it on . . . the rain, I dunno.)
You'll add the quart of seafood stock, two cups of water, the fish sauce and a pinch of salt. Let it come to a gentle boil, then reduce it to a simmer. Add the little bundles right in and use some tongs (not thongs) to wiggle them around in the soup (sorry) so that they begin to soften.
Then add your shrimp! It cooks fairly quickly, so we're gonna get on in that with our spinach and herbs, okay?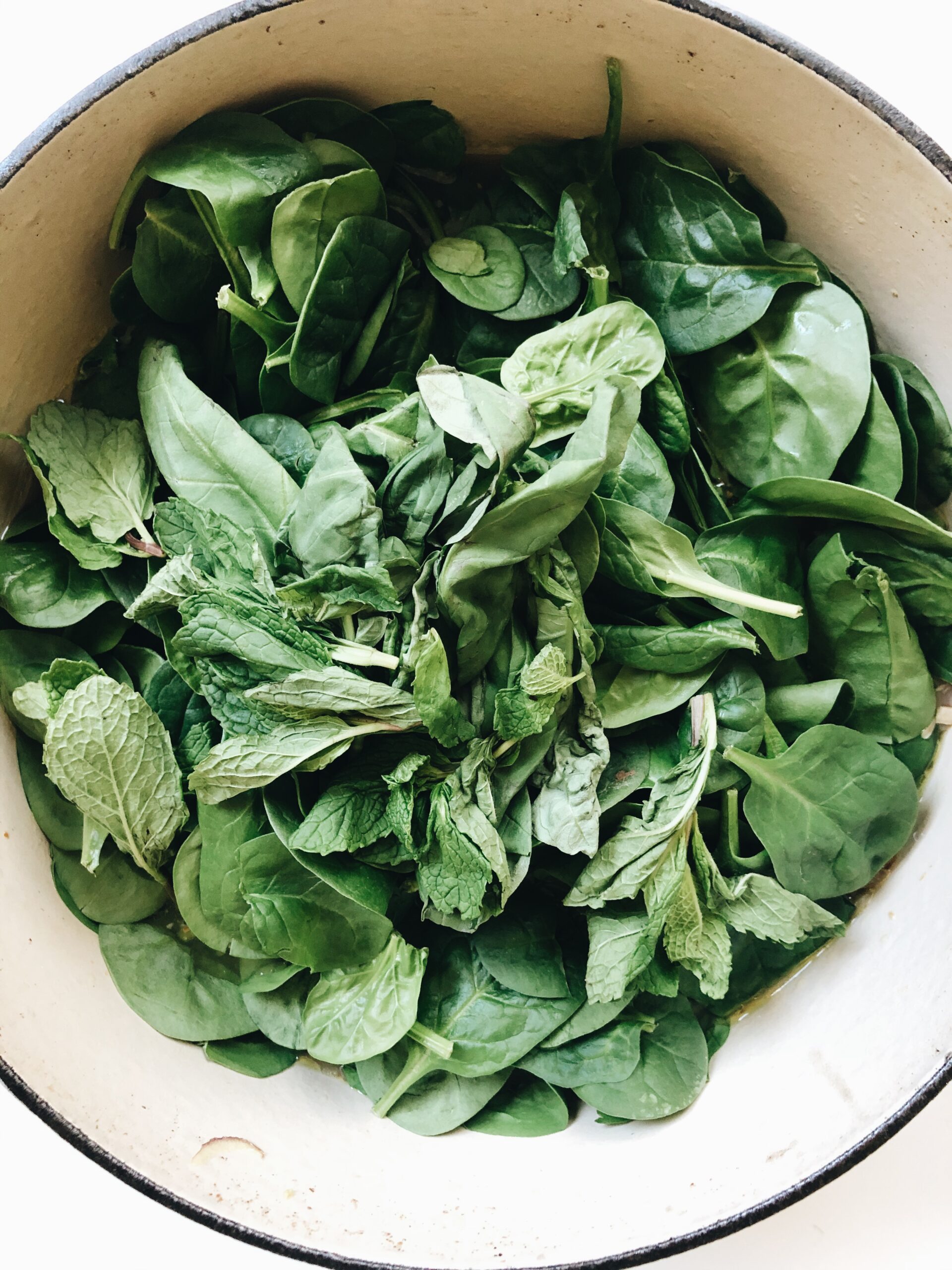 Just violently dump it all in. It wilts within five seconds, you know this. I know you know this. I just feel like talking.
66 degrees, can you believe that?! I'm totally taking some pillows out to our outdoor sofa with a can of wine later. DEWIN' EET.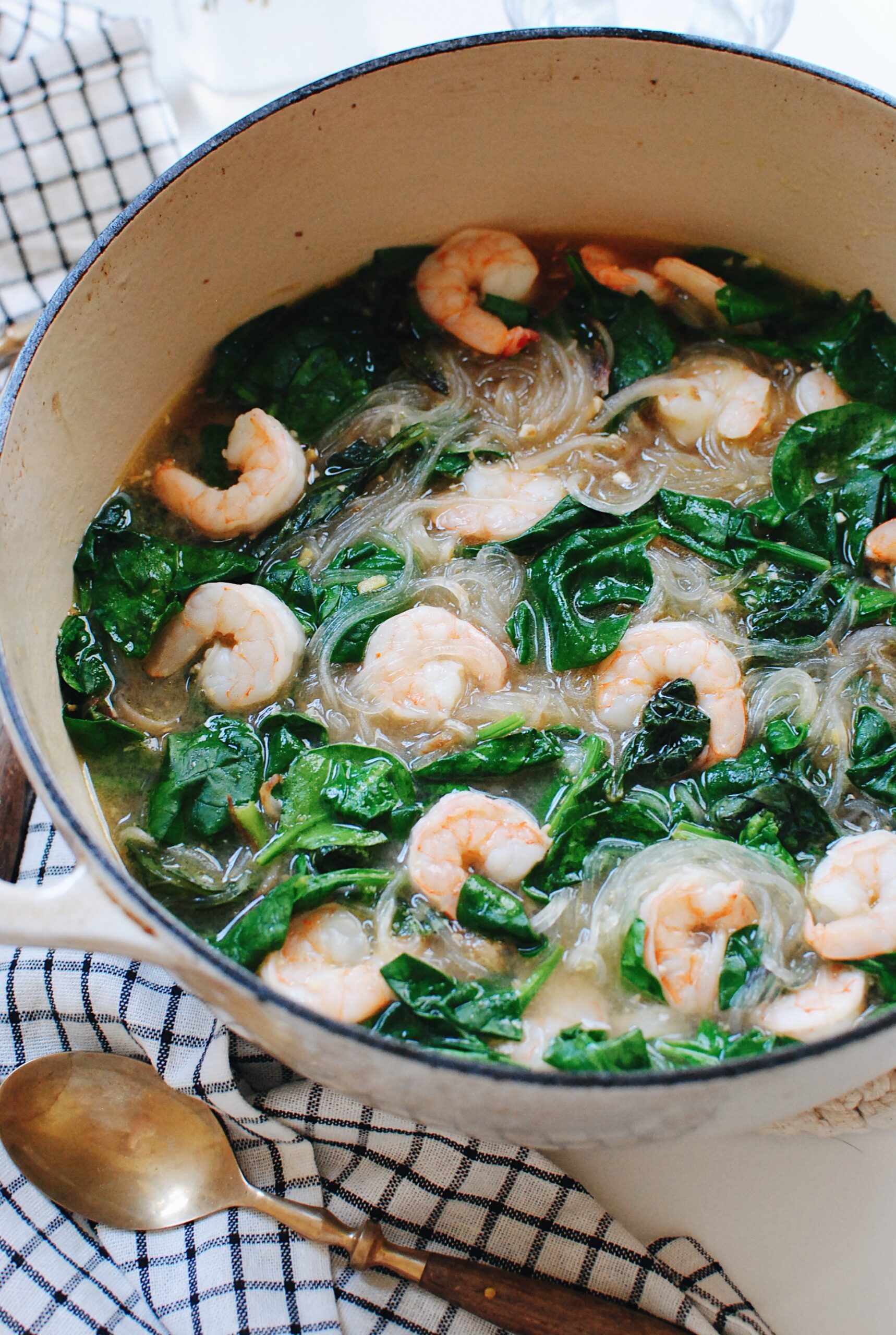 Loooook.
Listen, this is what happens. Taste it. It probably needs another pinch of salt, so throw that in. Juice half a lime (also left out of my ingredient photo, BEV) and watch it come to life. The greens are greener than gardens. The shrimp is plump and gently toothy. The noodles are glassy and perfectly cooked. The herbs are so vibrant your head will fall off. And that broth is to die for. So much flavor. (it's the fish sauce I tell ya)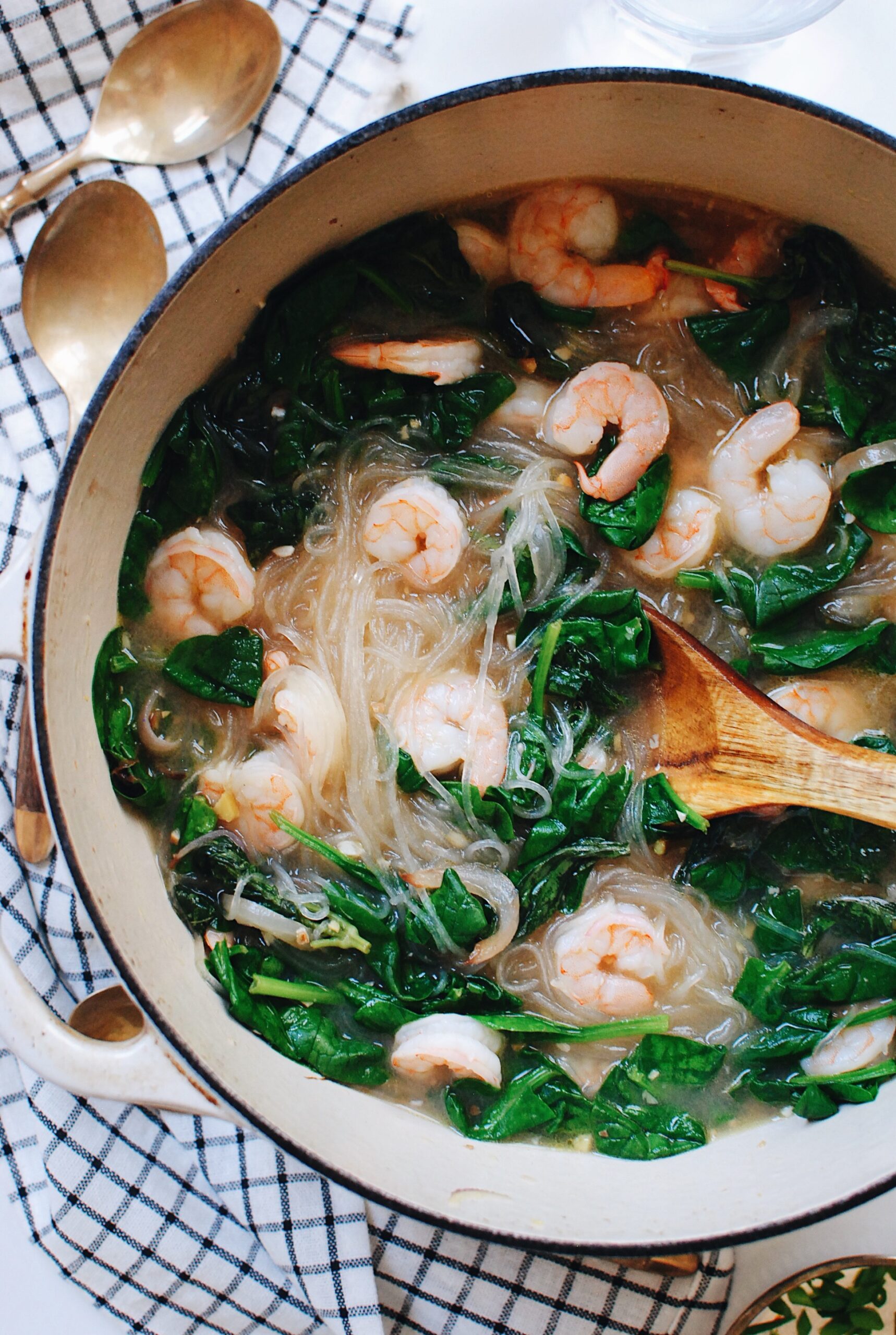 You did notice how little time this took, right? I'd say the shrimp took the longest, to thaw and peel. But you can find already-peeled shrimp in the freezer section. You can. That'll cut down on your time like whoa.
Little bit of freshly cracked pepper and scallion on top? Well, it's a must.
And if you have any leftover smaller basil or mint leaves for garnish, also a must.
And the other half of that lime sliced, also also a must.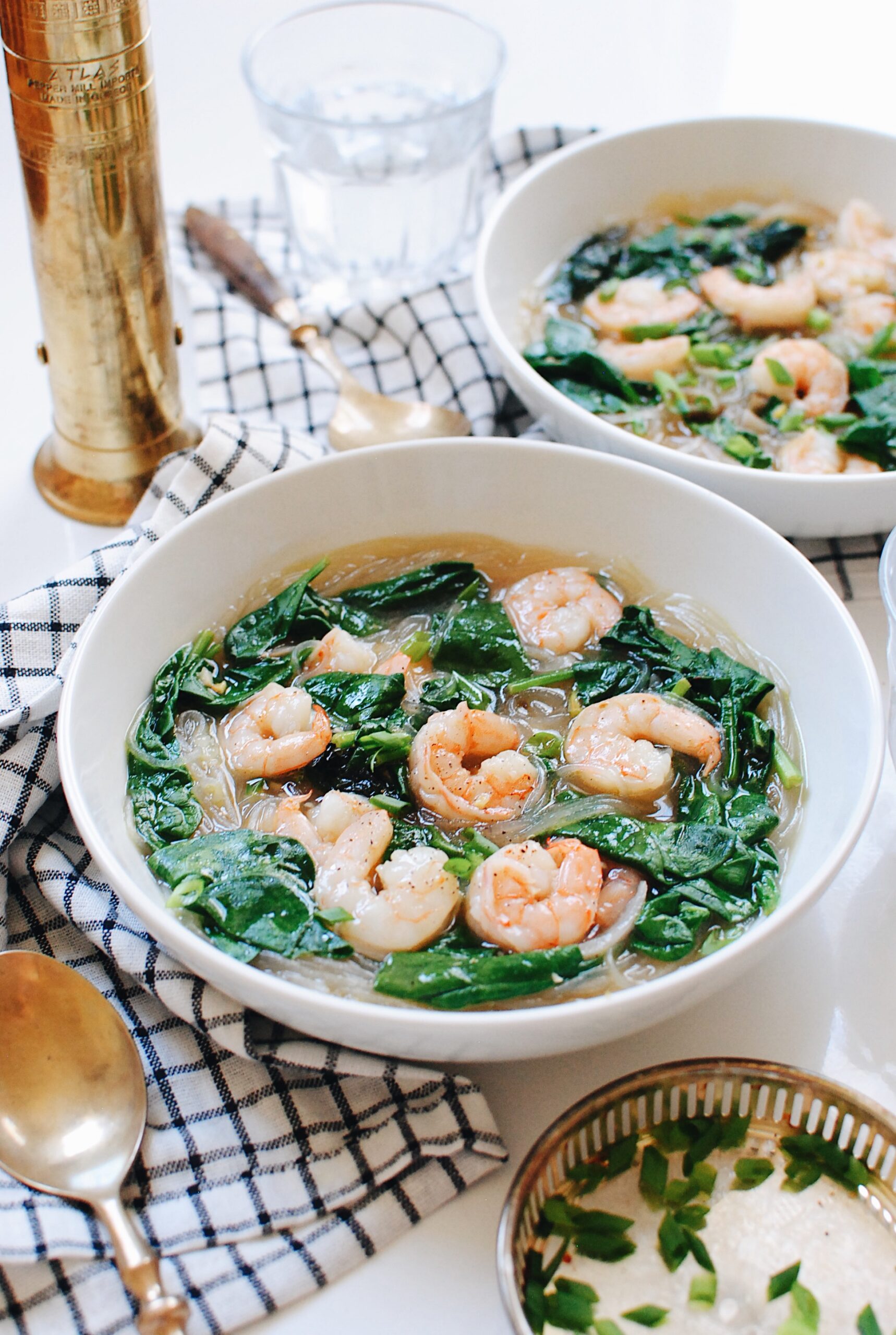 The kids slurped it down. Aaron raved. I fell apart at the table. So simple, but sassy. Gently sassy. It's a thing.
You see that slurp fest begging for your face, right?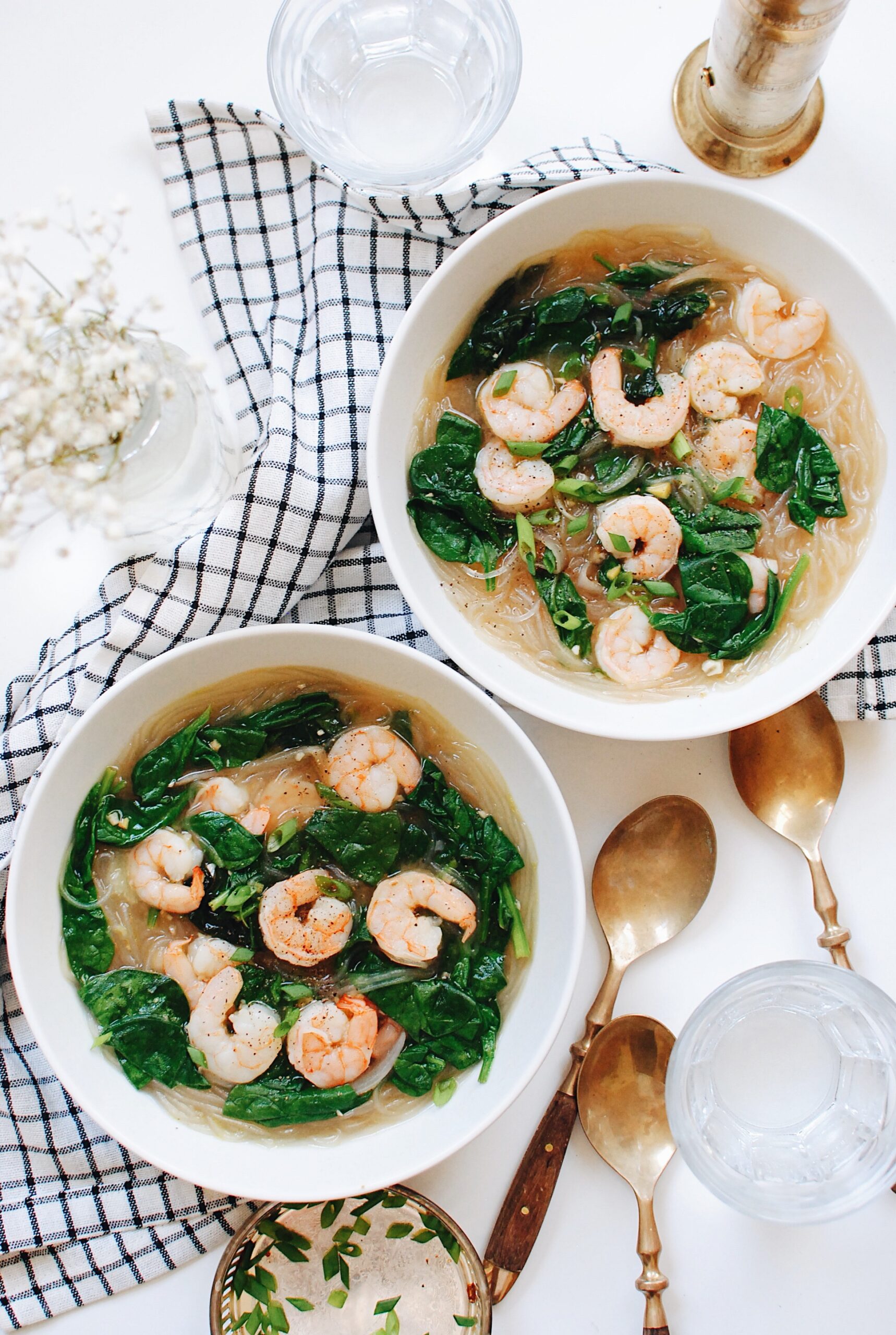 Right.
Ingredients
24 oz shrimp, peeled and deveined (a pound is fine, too. I just had a big bag. My size was 41/50, but anything works)
2 Tbs. extra-virgin olive oil
3-4 cloves garlic, minced
1 Tbs. freshly minced ginger root
1/2 cup thinly sliced red onion
4 cups seafood stock
2 cups water
1 Tbs. fish sauce (trust me)
5 oz baby spinach (roughly four loose cups)
.8 oz fresh mint (half a loose cup)
.8 oz fresh basil (same)
2 (3 oz) bundles cellophane noodles
1 lime
Coarse salt
Instructions
Heat the oil in a large soup pot over medium. Add the thinly sliced red onion and sauté for three minutes. Add the ginger and garlic to the pot and bloom the aromatics, about another minute. Give this a small pinch of salt.
Add the seafood stock and water to the pot and bring to a boil, then reduce to a simmer. Add the fish sauce and stir it in. Add the bundles of noodles and stir, letting them lightly soften for two minutes. Add the shrimp to the pot. Right after, immediately add the spinach and herbs to the pot, in batches if needed. Give this a pinch of salt and simmer for about five minutes. If that. You just want the shrimp to poach, the greens to wilt and the noodles to soften. Doesn't take long at all! Off the heat, juice half the lime into the soup and give it a stir.
Ladle the quick soup into bowls, garnish with any remaining herbs and serve with leftover lime wedges!
Simple and vibrant. Perfect.
Serves 4-6.
7.8.1.2
483
https://bevcooks.com/2021/02/seafood-noodle-soup/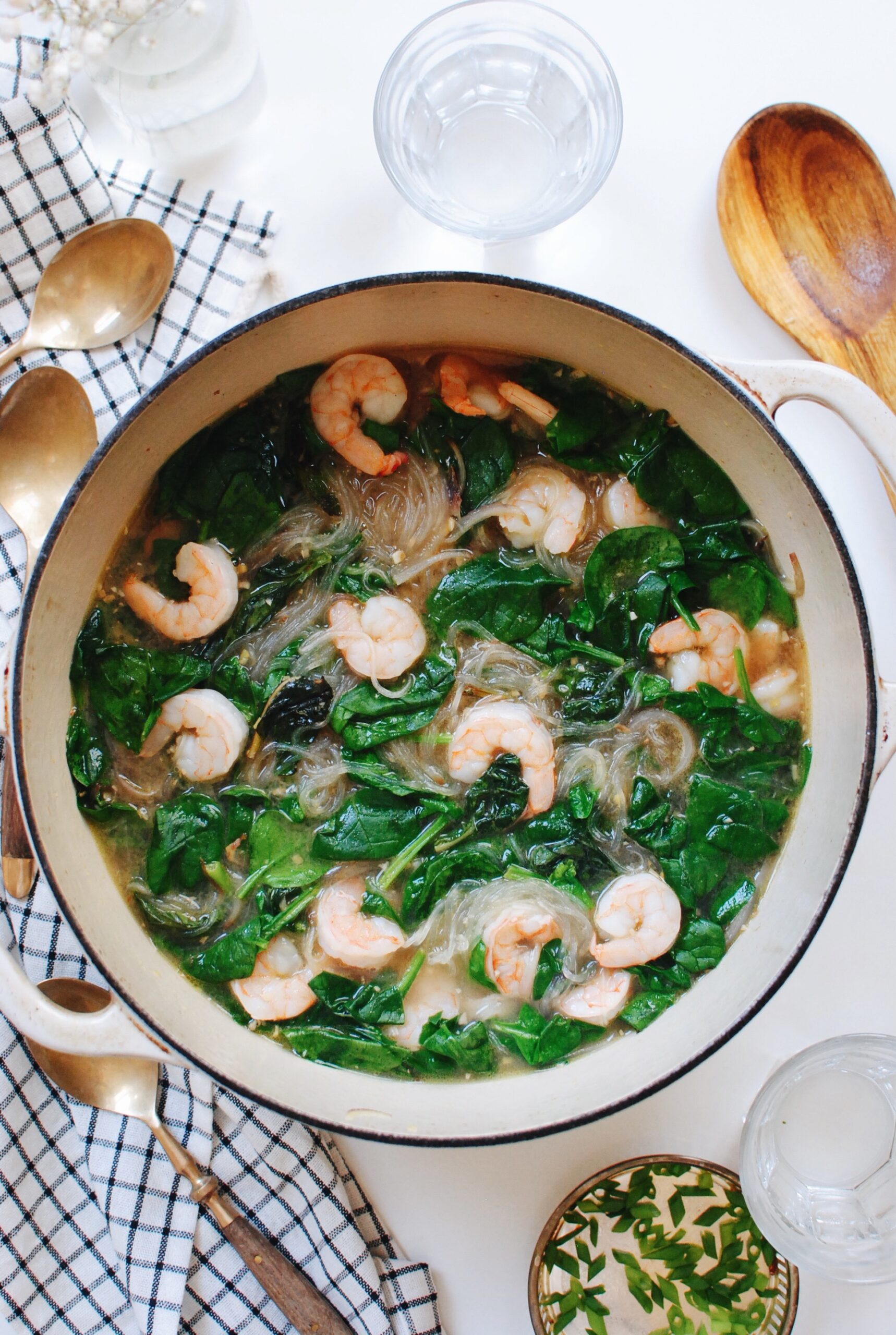 Homey vibrancy. Silky seduction. All of it. Get in that.