Will you punch me if I say the slurping is real?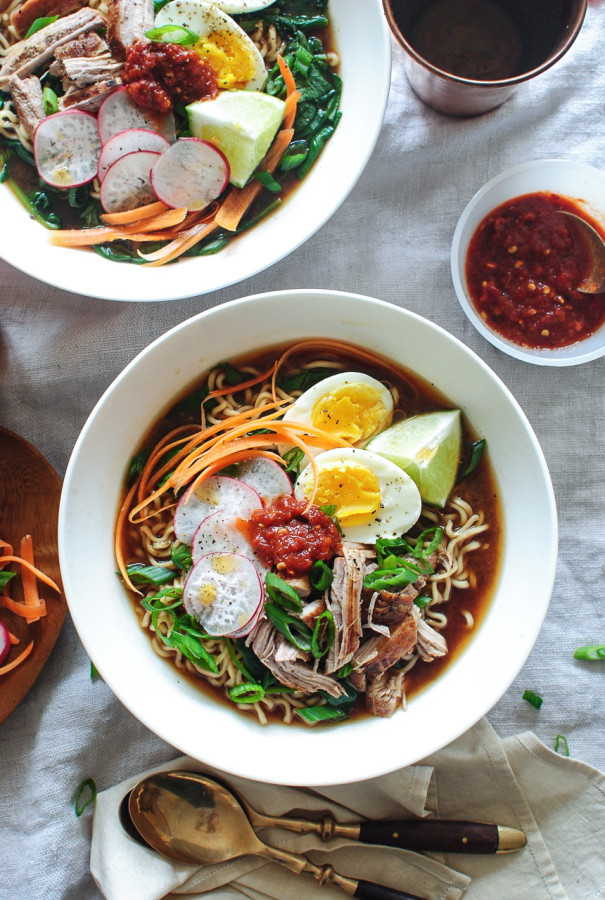 I'm sort of falling apart over this soup. Within the short span of an hour, this here concoction landed a high profile spot in our heavy meal rotation.
Not that the meals are heavy! The rotation is. Heavy rotation of meals. I guess some of the meals are a little heavy. Depending on portion size, really. Or how big your mouth is. Never mind.
Have you ever made a ramen noodle bowl? These slurpalicious recipes are eeerrrrrwhere. But what makes them so fantastic are the variations of toppings and fillers you can switch out and pile on. We're talking endless opportunities here.
Let's dissect this mutha.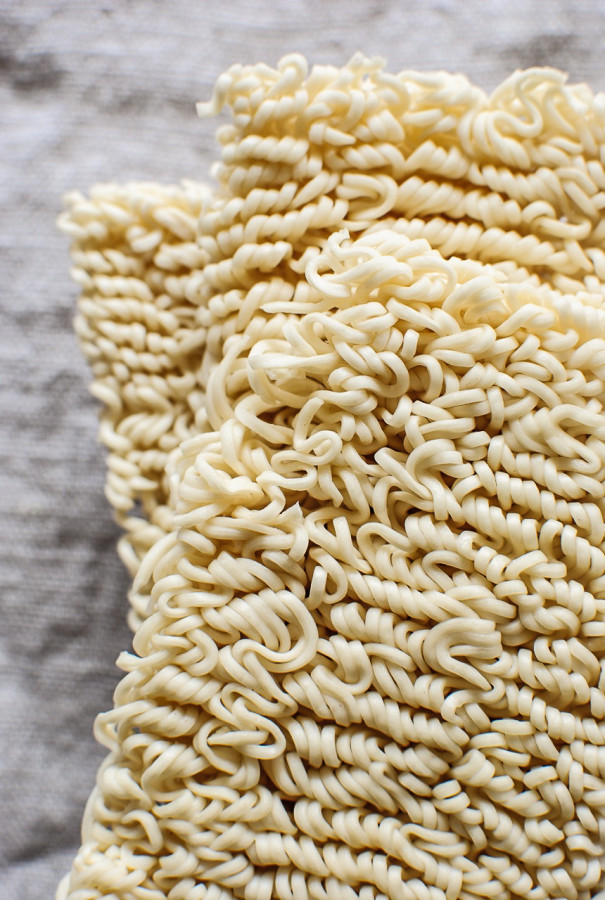 The noodles. I bought your basic bag of Chinese curly noodles. You can seriously even buy the little dorm-room packets of ramen if you want. Just toss the seasoning packet.
These noodles give me giggle pants. They'll look like an '80s perm when you cook them. Springy, spirally, bouncy, like Kenny G just stuck his head in a bathtub. Why all meals can't have Kenny G's mane in it, we'll never understand.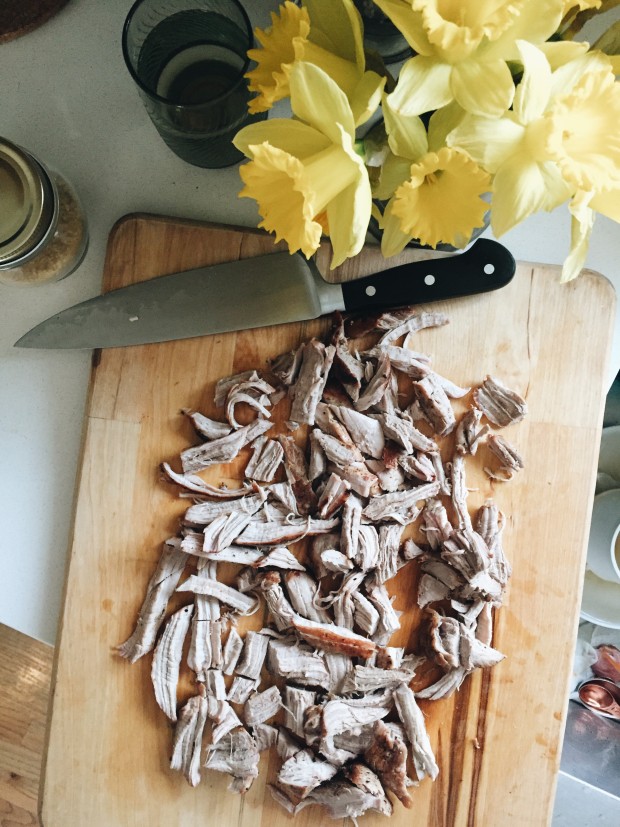 I chose roasted and shredded pork as my protein. But chicken'll work. Beef'll work. Tofu'll even work. Anythang'll work! (I just got an army of angry red squiggly lines just now.)
What your MAIN focus with this soup will be, is the broth! You've got to have the broth in a solid place before you go adding toppings all willy nilly.
The broth is where that special umami rests. It's what gives it its je ne sais quoi! And you know the secret is? MISO PASTE.
Miso excited to share that secret with you just now. (<–you're officially allowed to punch me over and over.)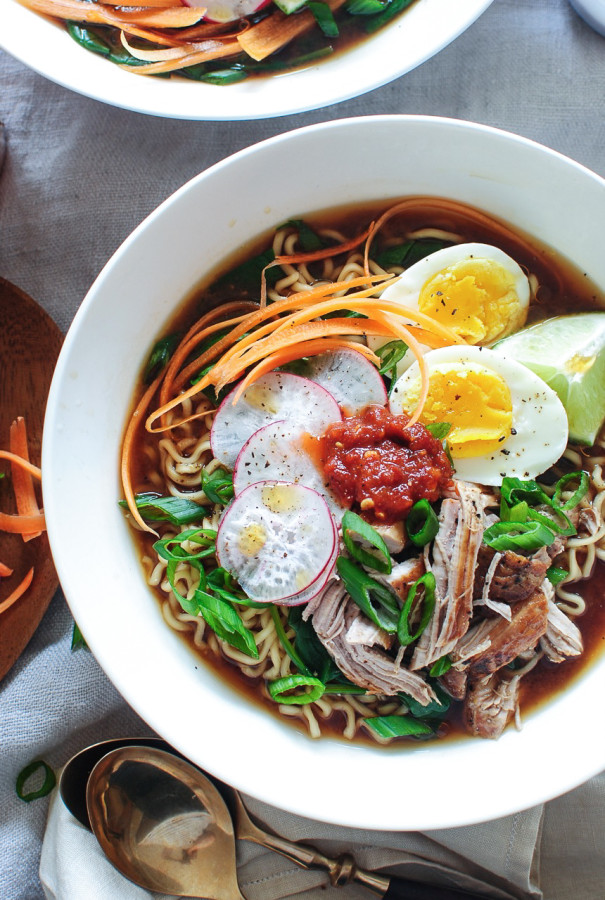 My broth went down like this: chicken stock + miso paste + soy sauce + fish sauce (just a little! don't lose your mind) + lime juice = your new beautiful life.
Once you get that sippage in a good spot, theeeen you can boil your noodles, ladle up and go bonkidy bonkers with the toppings.
That's part two. And where it gets gud. (besides all the stuff about the broth I said just now.)
Hard boiled eggs are a traditional topping garnish thingy. Radishes are fantastic, thinly sliced carrots, lots of chopped scallions, more fresh lime, and something hot to finish it off! A huge sriracha drizzle is good, or a fat dollop of Sambal Oelek? Good grief.
Despite how loaded this feels with ingredients, this is actually quite simple to pull together. Easy garnish prep while the pork roasts. Broth building and noodle boiling takes just a sec.
Face planting is actually what takes the longest. Thank GAWD.
Well, and Kenny G.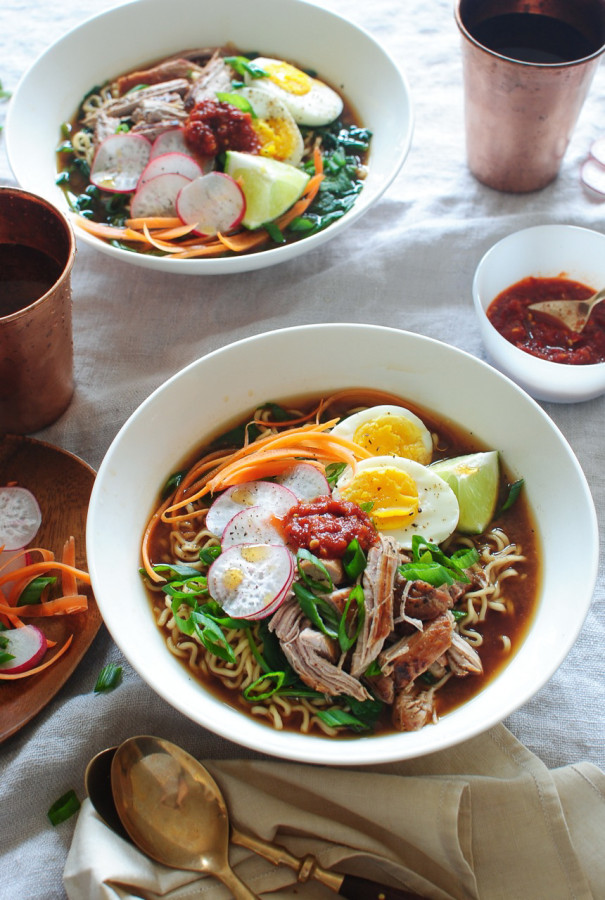 You will absolutely freak your face.
Ingredients
1 pound pork tenderloin, excess fat trimmed
8 cups chicken stock
1 1/2 Tbs. miso paste
2 Tbs. soy sauce
1/2 tsp fish sauce
juice from half a lime
1 (10 oz package) Chinese noodles (mine came with three bundles in the package. I used two. so probably a little over 6 ounces of noodles. watch out. I've got math skills.)
3 cups baby spinach
garnishes: thinly sliced radishes, julienned carrots, hardboiled eggs, sliced scallions, lime wedges, sambal oelek or sriracha, a tiny sesame oil drizzle at the very end
Instructions
Preheat your oven to 450.
Heat a little olive oil in a cast iron skillet. Season the pork all over with salt and pepper. Sear the pork in the pan, until browned on all sides, about two sides per minute. Then slide the pan into the hot oven and roast for 15 minutes, flipping the meat at the 7-minute mark. Let rest for about 10 minutes, then shred and chop into bite-sized pieces. *if you've got leftover pork, slide them into tacos the next night
To a large pot, add the chicken stock, miso paste, soy sauce, fish sauce and lime juice. Bring to a light boil; taste to make sure that flavor is gorgeous. Add more miso or soy sauce if you want!
Add the noodles and cook until al dente, just a few minutes. Add the spinach and cook until wilted, about a minute.
Using tongs, divide the noodles among 4 bowls, then ladle the broth over them. Nestle the shredded pork right on top of the soup, and garnish with as much or as little of the toppings as you what. Finish with a tiny drizzle of sesame oil, and get your slurp on like whoa.
7.8.1.2
9
https://bevcooks.com/2016/02/pork-ramen-noodle-bowls/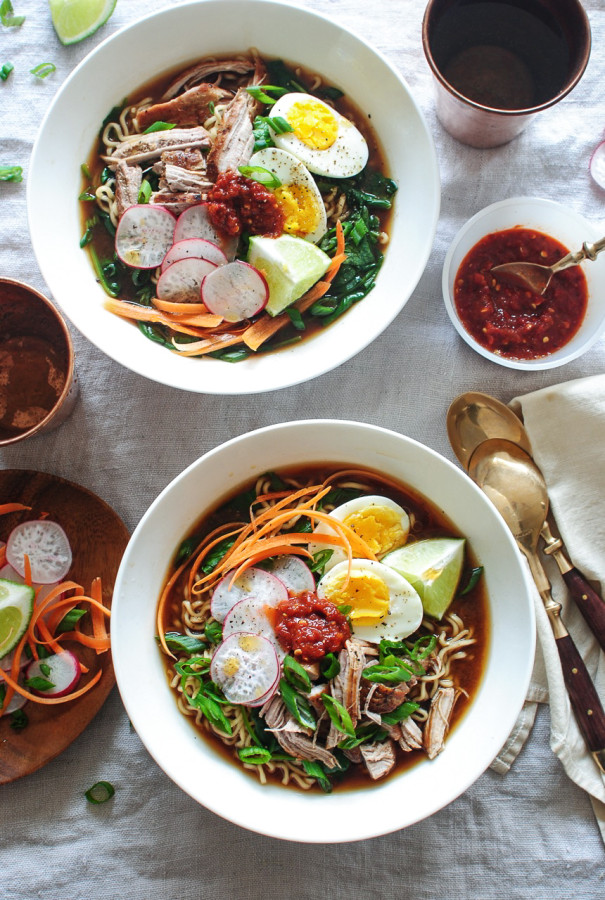 I mentioned your new beautiful life, right?