The secret is in the lemon.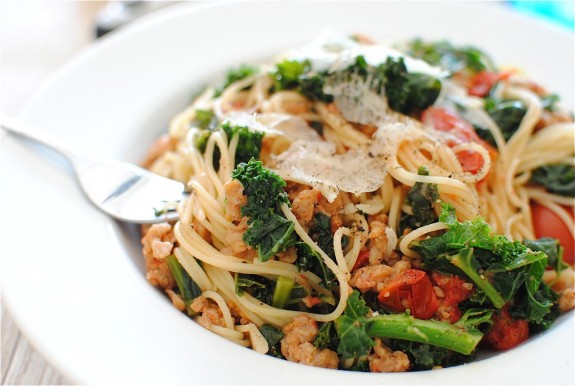 But before you scroll down looking for the beauty shot of the lemon, let me break it to you, it's not there.
You see, I didn't even think about adding lemon juice when I was making this dish and then all of a sudden as I was about to serve it I thought, "oh, lemon! I should add the lemon!" And so I added the lemon.
This just put you to sleep, didn't it?
Throw some coffee into your eyes real quick.
This is the deal, you guys. It's the lemon juice having a little meet 'n' greet with fresh parmesan shavings. And then it's the parmesan getting all cuddly and slightly melty over the angel hair noodles. And then it's the noodles giving a deep tissue massage to the silky wilted kale. And then it's the kale necking on some gorgeous garlicky cherry tomatoes. And then it's that whole naughty mess doing the mambo with Al Fresco's hot Italian chicken sausages and Y.O.U. W.I.L.L. B.E. P.A.R.A.L.Y.Z.E.D. F.O.R. L.I.F.E. W.I.T.H. U.L.T.I.M.A.T.E. J.U.B.I.L.A.N.C.E.
This is no laughing matter.
And actually, just go ahead and quadruple this recipe. Your soul might drop-kick you if you don't.
* This is not a sponsored post. I was not compensated, other than the free Al Fresco products. All opinions expressed are my own, dudes.*
Angel Hair with Chicken Sausages, Tomatoes and Kale: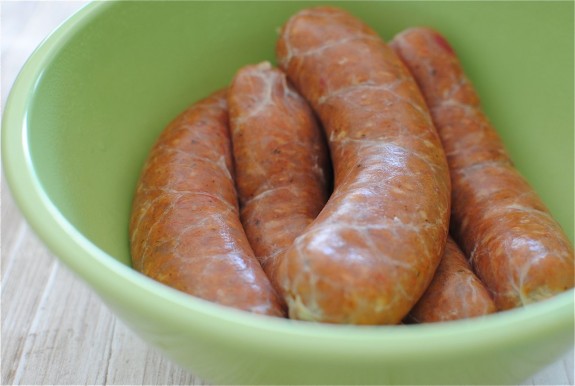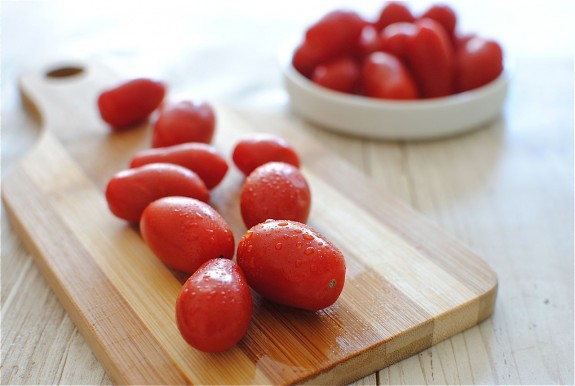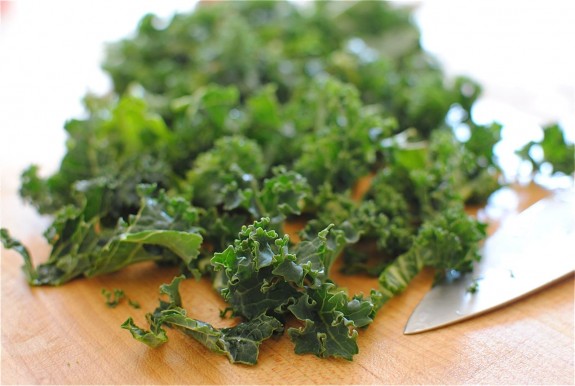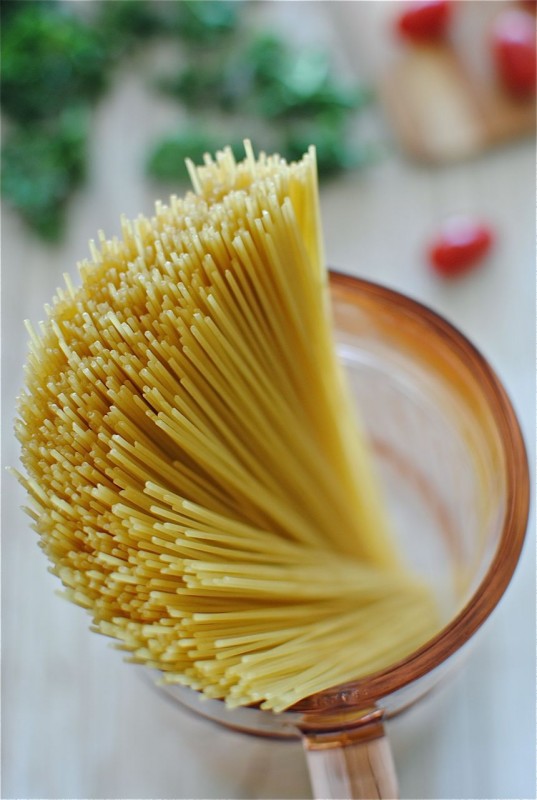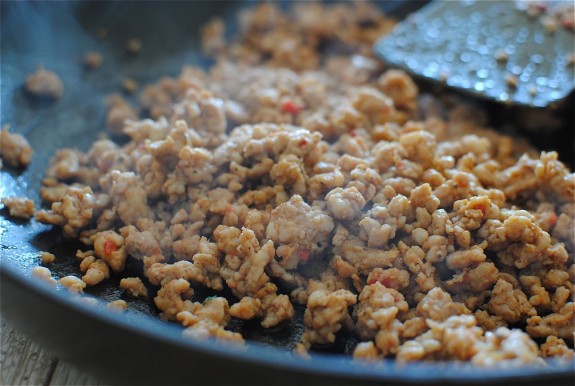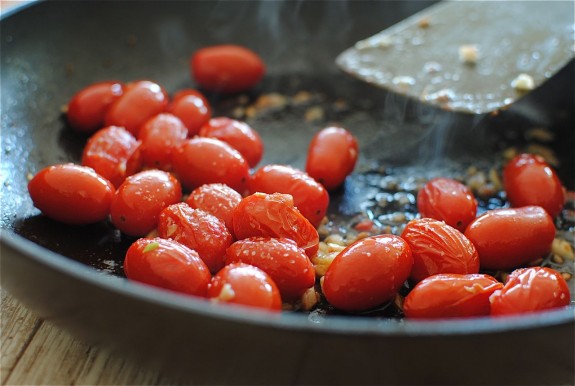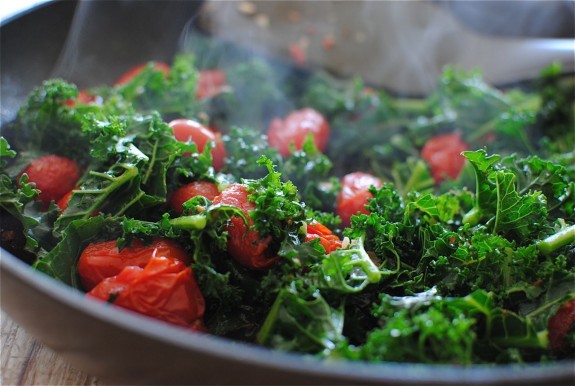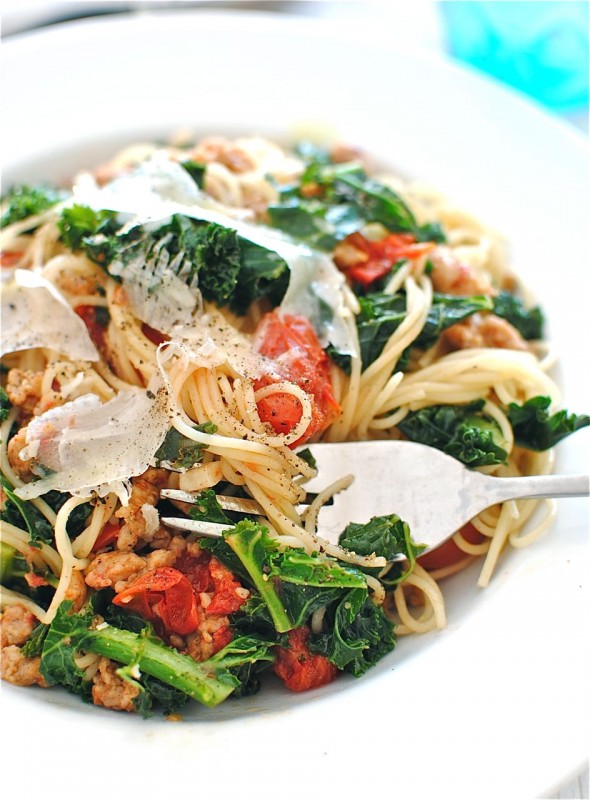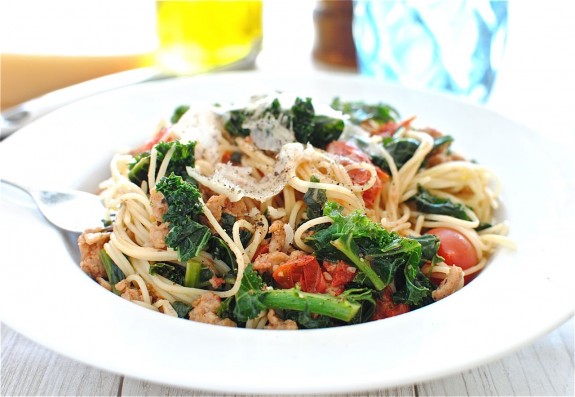 I'm going to eat 6 more helpings right now. WATCH ME.
What it took for 4:
* 2 Tbs. extra-virgin olive oil, divided
* 1 pound (5 links) Al Fresco Hot Italian chicken sausages (with chili peppers and roasted red peppers)
* 2 cloves garlic, minced
* 10.5 oz cherry tomatoes
* 1 bunch kale, roughly chopped
* 1 lemon
* freshly grated parmesan cheese, for garnish
* coarse salt and freshly ground pepper
* 1 pound angel hair pasta
Heat the oil in a medium skillet. Remove the casings from the chicken sausages and add them to the pan. Cook until browned all over, 6 minutes. Remove from the pan and set aside.
Add a little more oil to the pan and toss in the garlic. Bloom 30 seconds. Add the cherry tomatoes and 1/4 cup water (or oh – vermouth!) and cook the tomatoes for 3 minutes.
Add the kale, a pinch of salt and cook until the kale has wilted and pops in color, 3 minutes.
Add the chicken sausage back to the pan and toss to combine.
In the meantime, cook the pasta until it reaches al dente, and drain. Reserve 1/2 cup pasta water. Add the pasta to the pan and toss to combine. Add enough reserved water to create a thin sauce.
Give a big squeeze of lemon juice over the whole beautiful mess. Serve a good helping with fresh parmesan shavings. And would you like more lemon? Of course you do.