Hi, I think I've posted this recipe before! Great.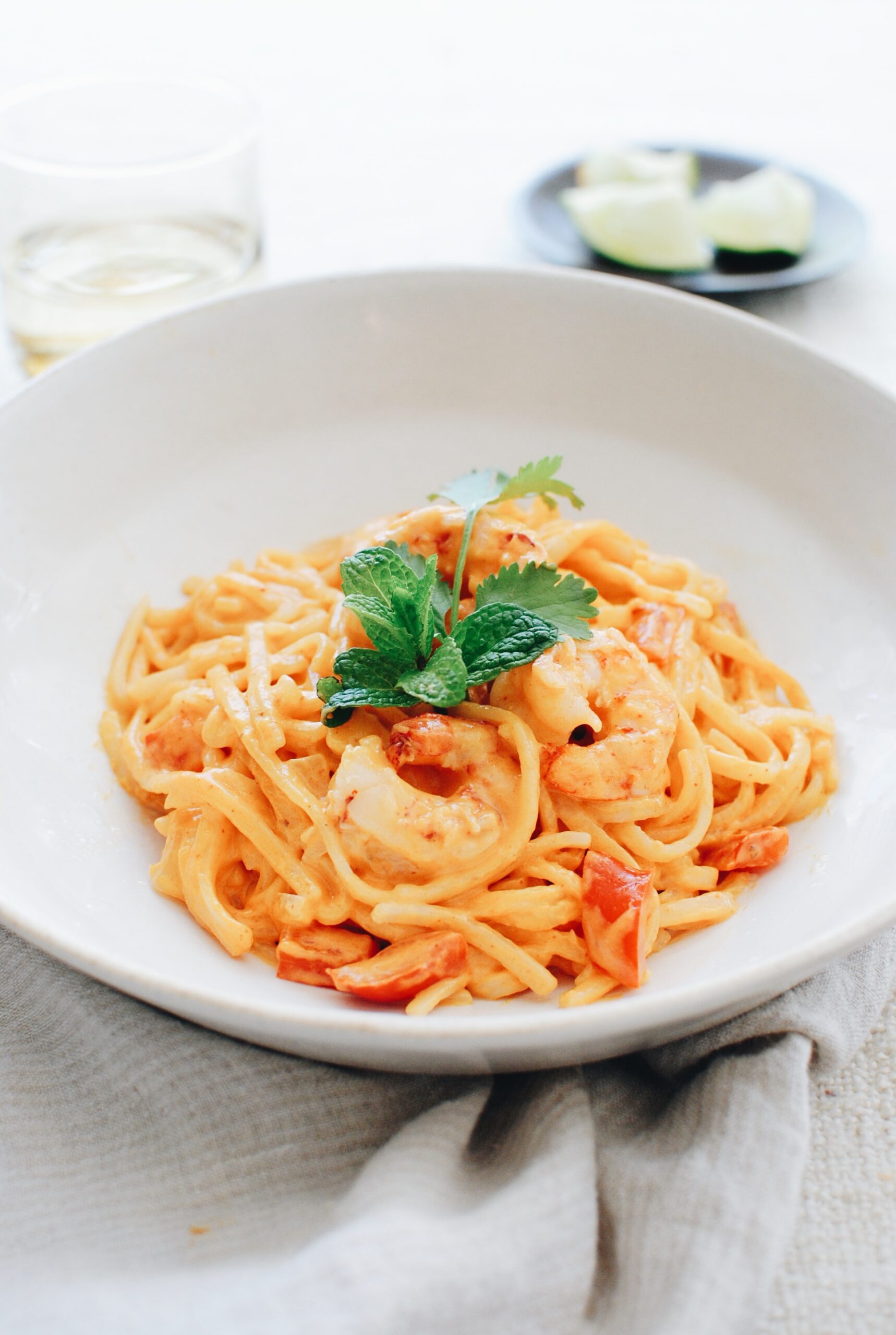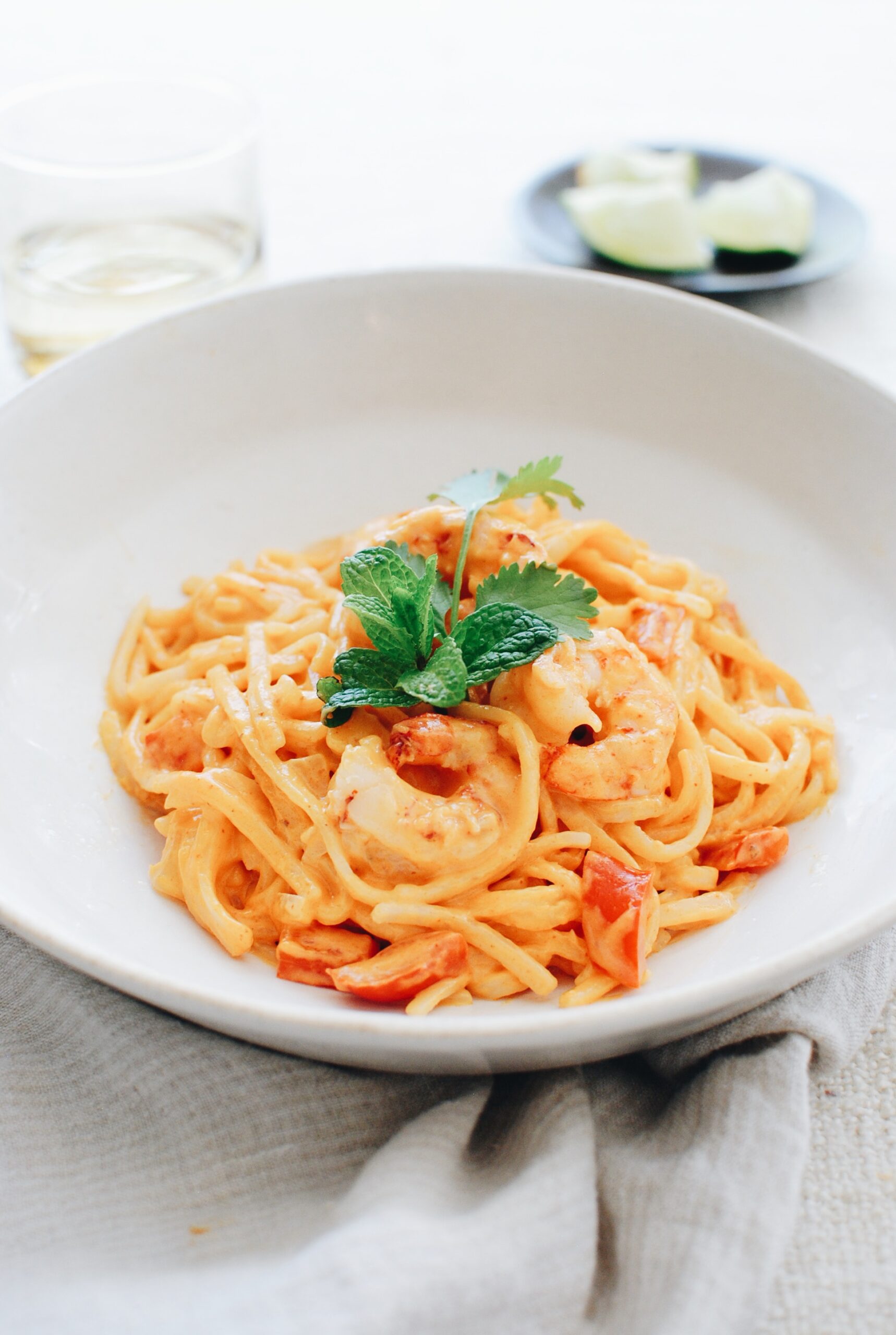 I'm not even going to look back through the archives and check, though. But it feels so familiar. It's probably a weeeee bit different, so let's pretend it's brand new. Because it is! Brand new! I think.
Okay I went back and looked. It's a little different. Just a hair, though. Apparently I really love shrimp coconut curry noodles, so let's make it again! Ugh. Just love?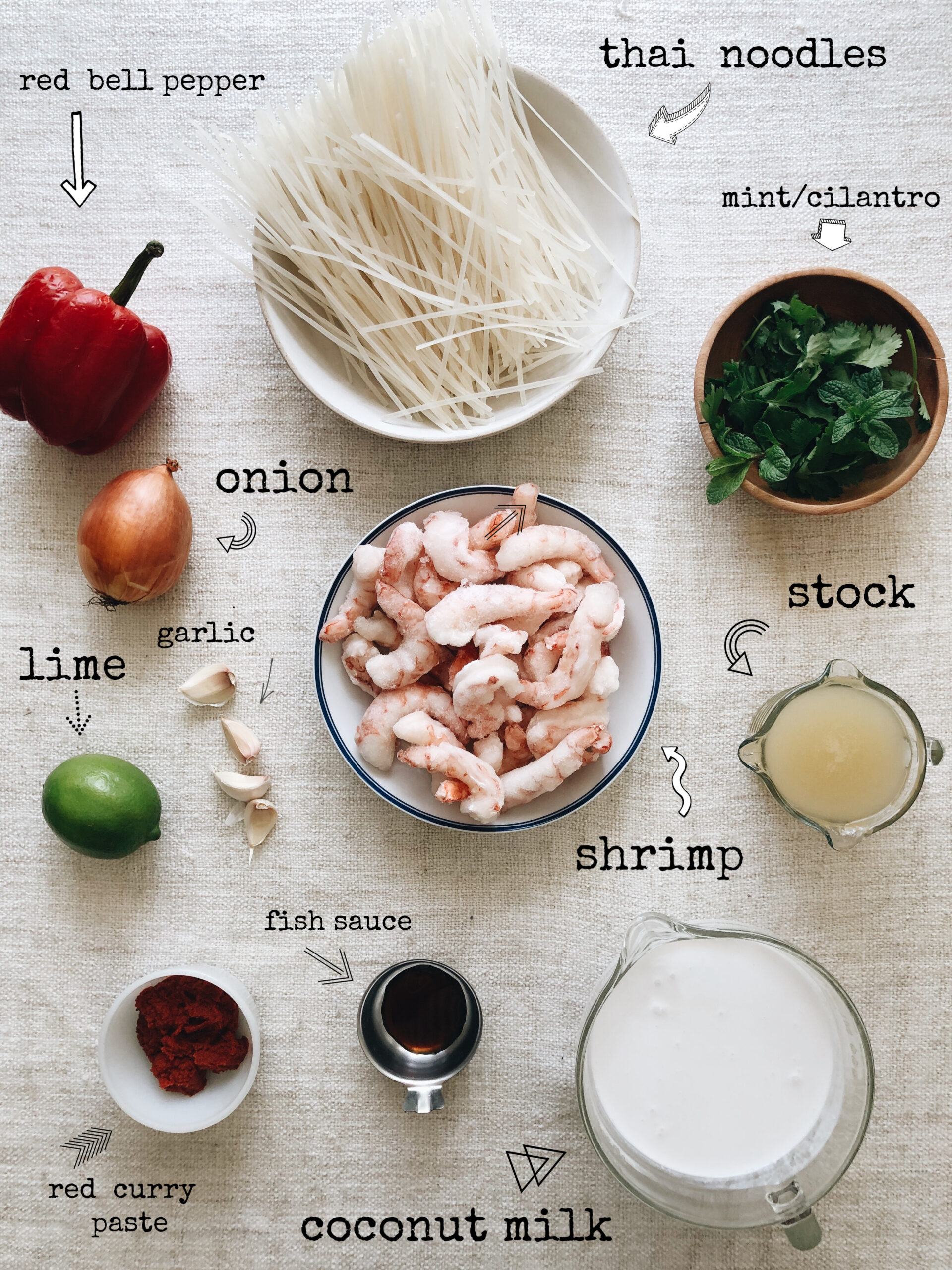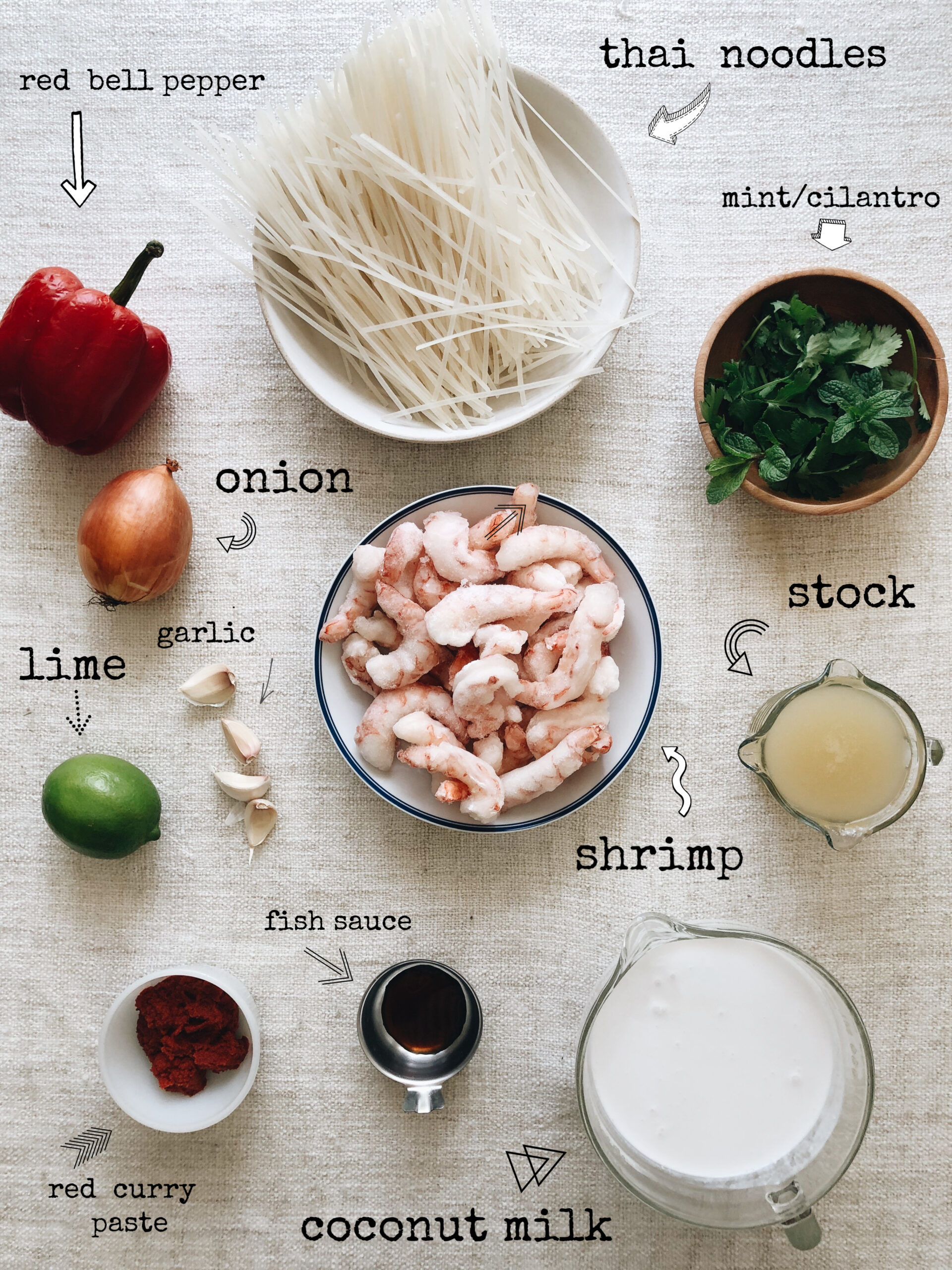 It's quick, and that's what I dig about this recipe. Lots of authentic curries (which are magnificent and totally worth it) are time-takers in the flavor building departments. And you remember how much patience I have, yes?
Right.
So this is what we have! (again.)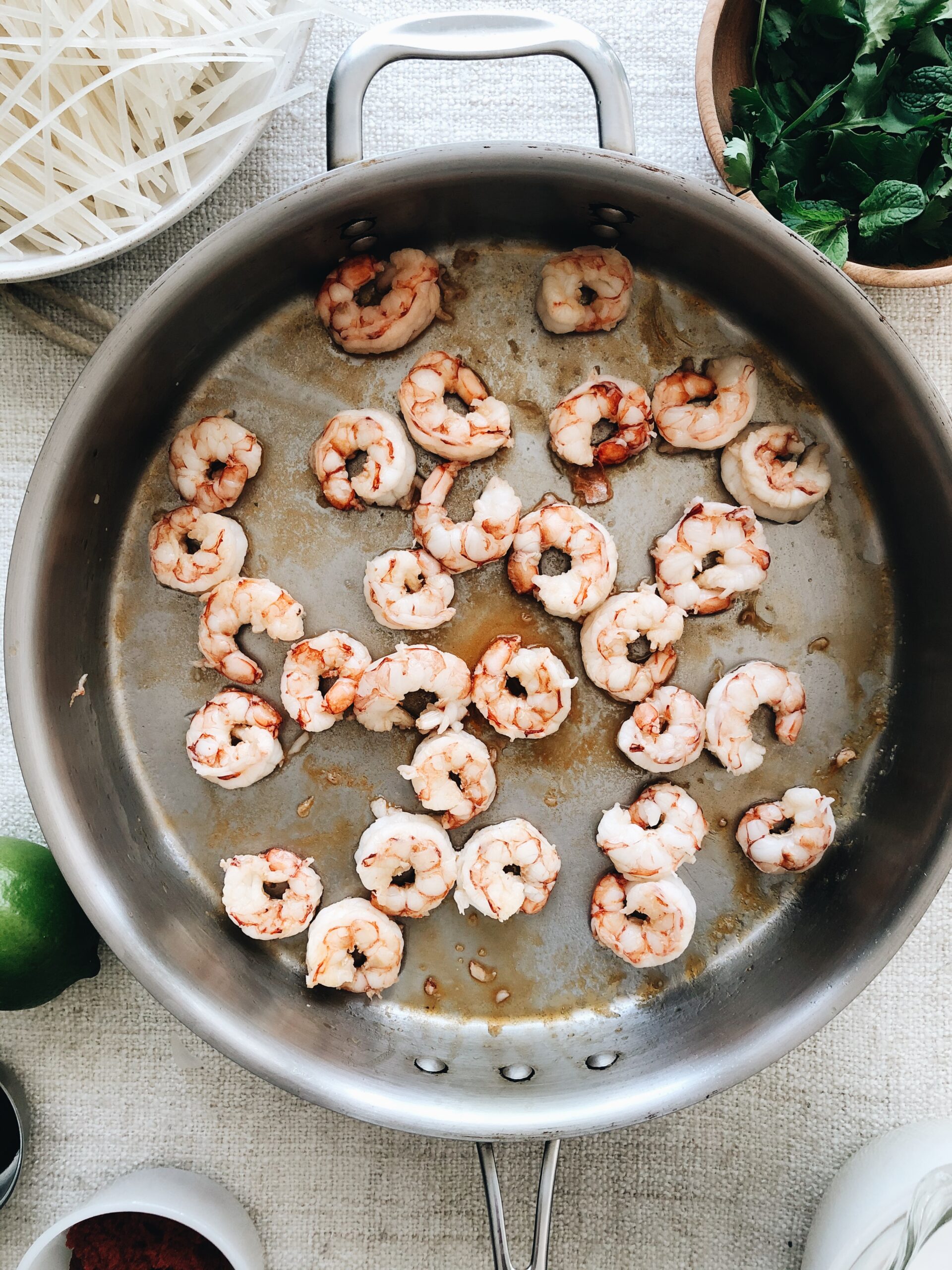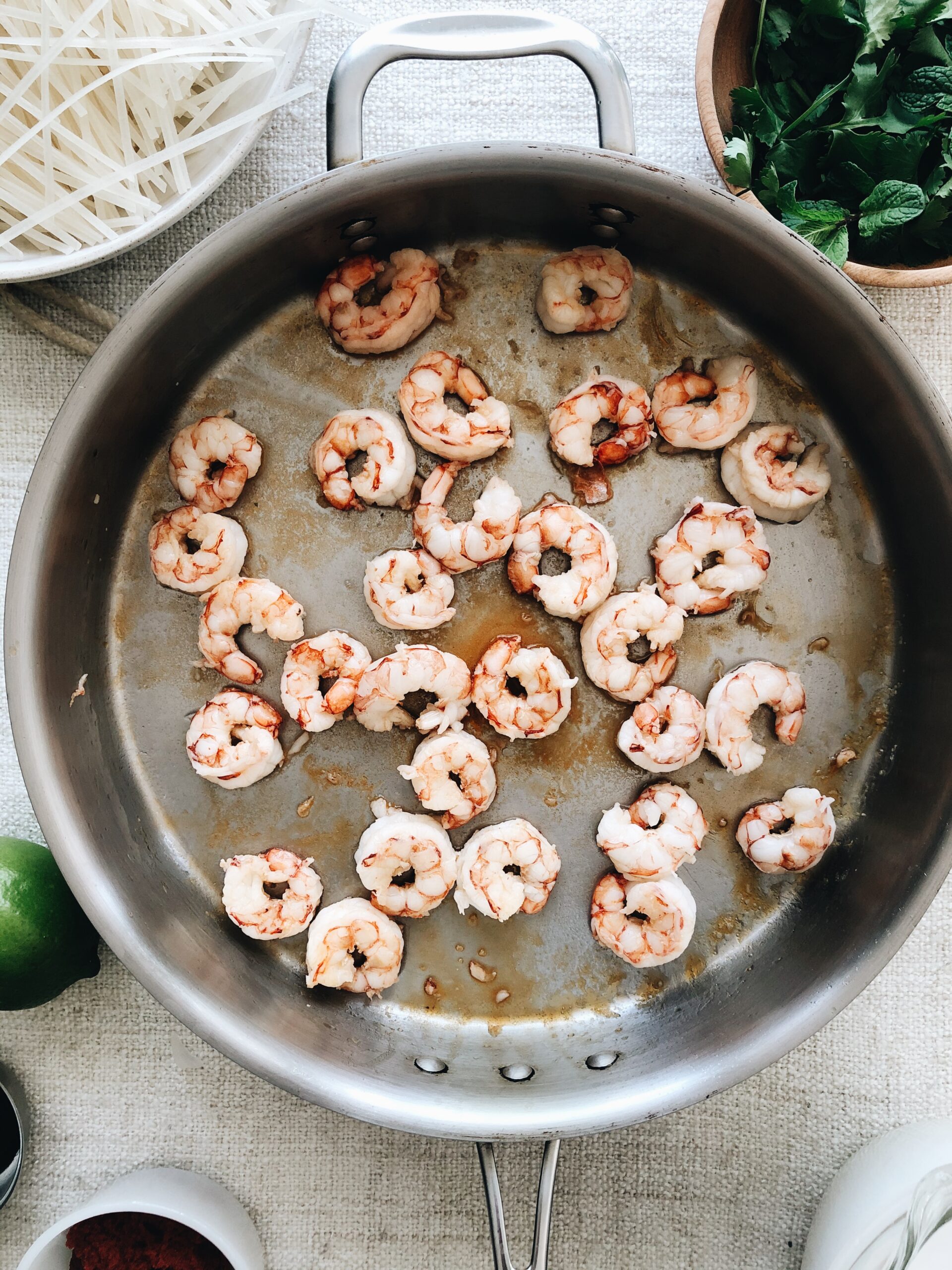 And it's one pan! (again)
Sear the shrimp. (you know, I've never said this, but I think I should at some point, which is now – buy frozen RAW shrimp. Not the frozen cooked shrimp. Mega difference. The raw will sear and plump up nicely, and you run less risk with overcooking and spongin' these bruhs out.)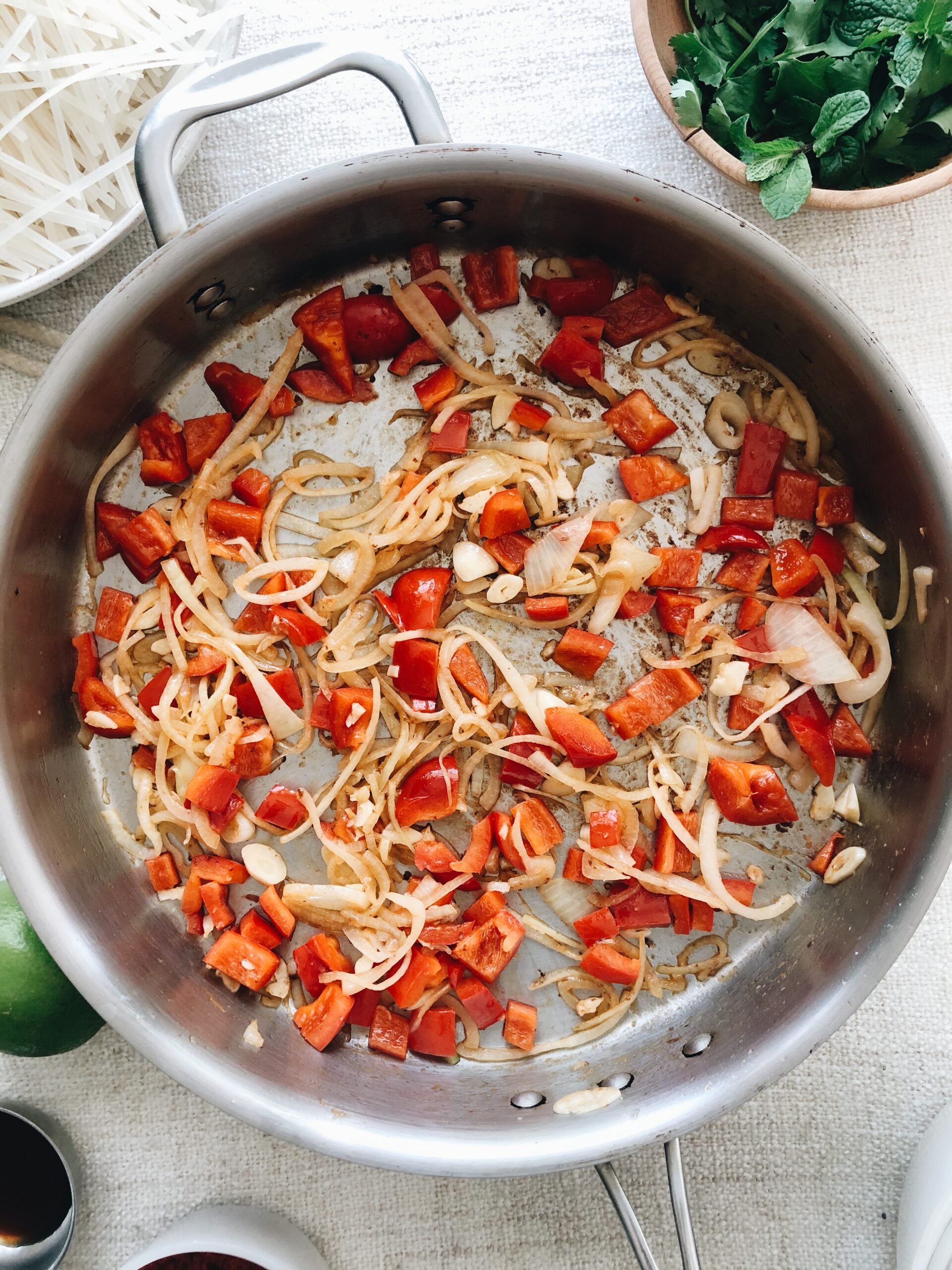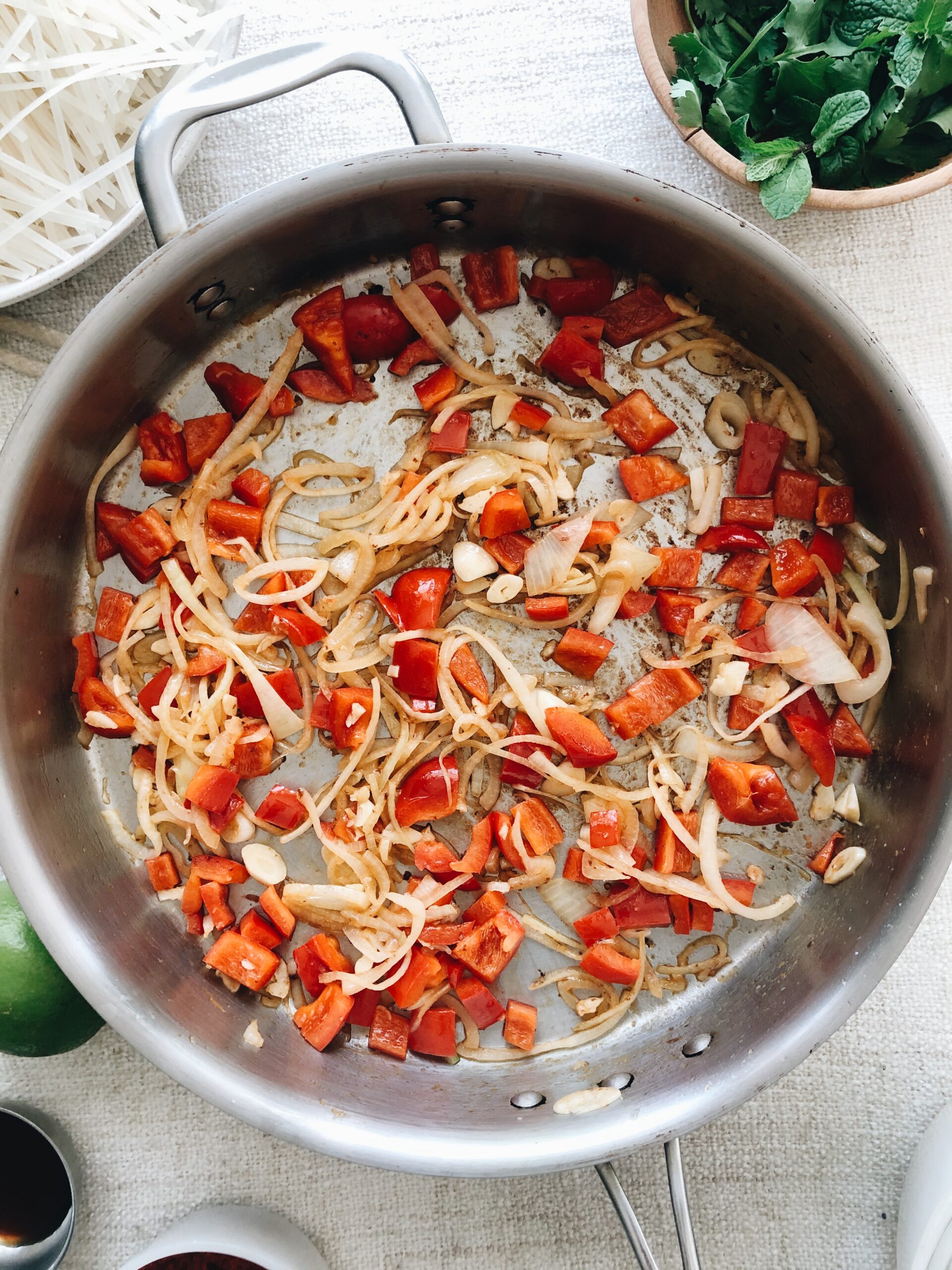 Take the shrimp out and sauté some sliced onion (different than the other recipe!) along with sliced garlic and diced red bell pepper. (also different! see, I'm okay.)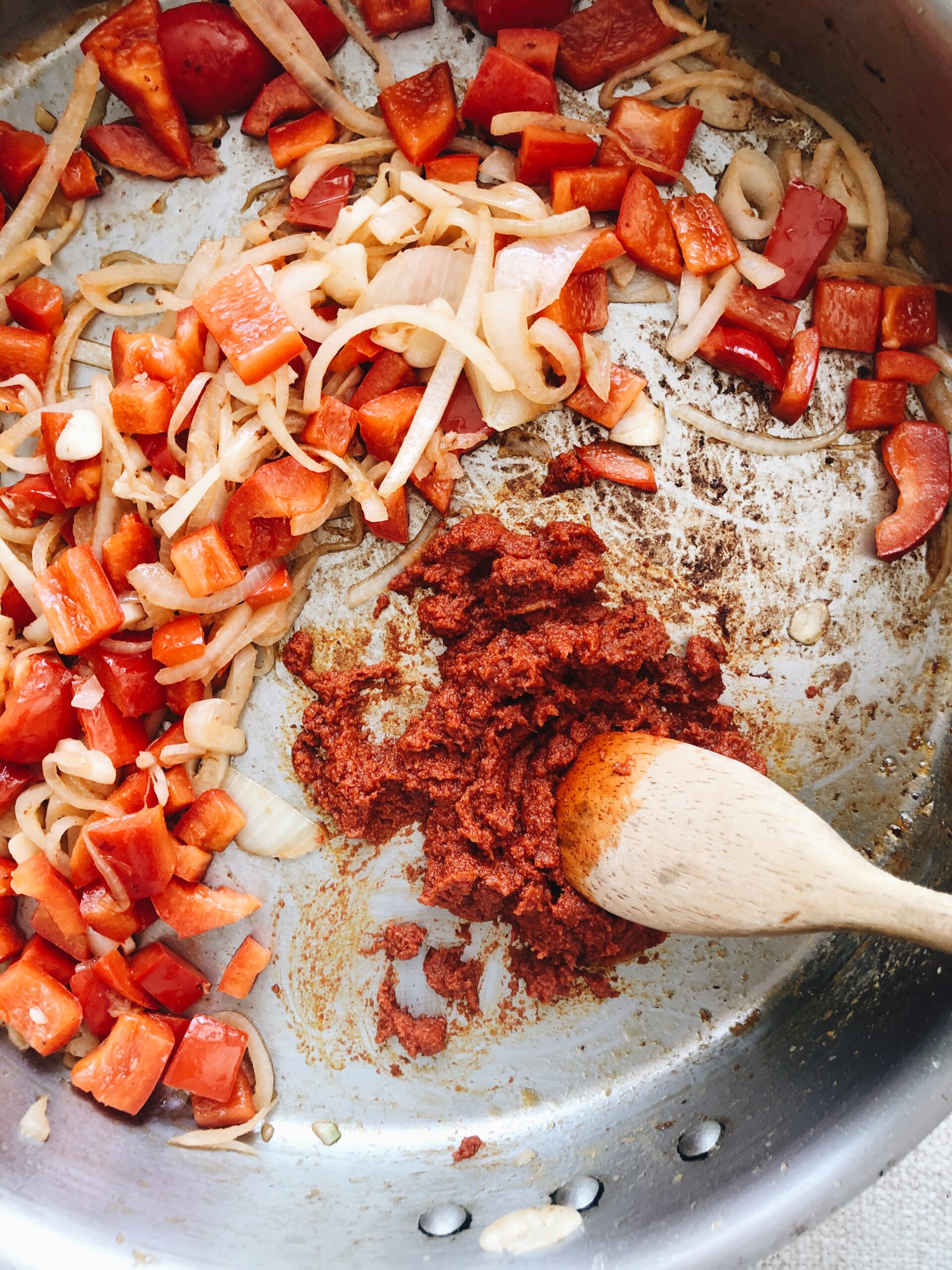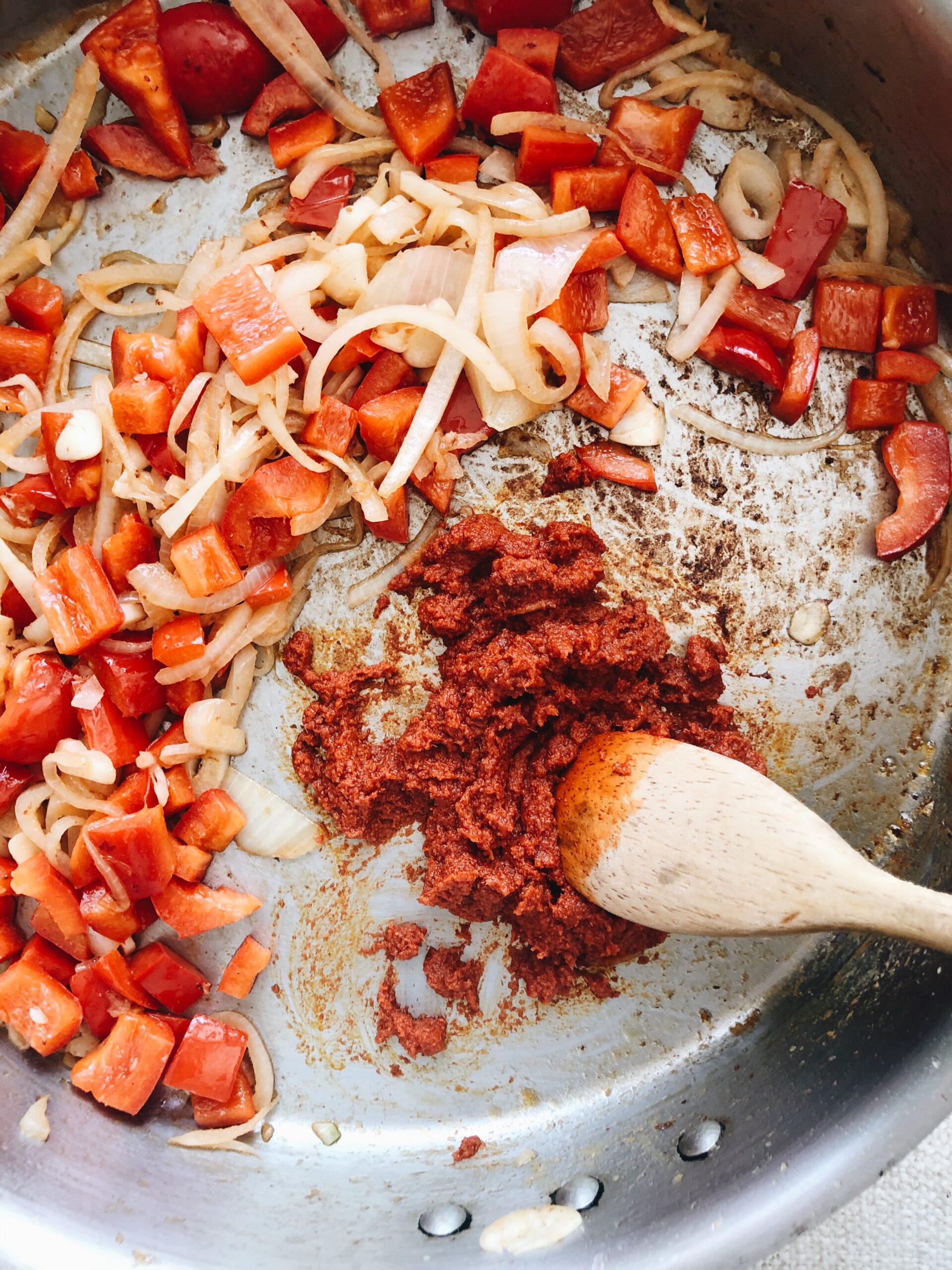 Then you'll scoot the veggies over and bloom the paste. We're starting a band called Bloom the Paste.
Just press it into the pan with a little oil to release its goodness. Fragrance galore, guys.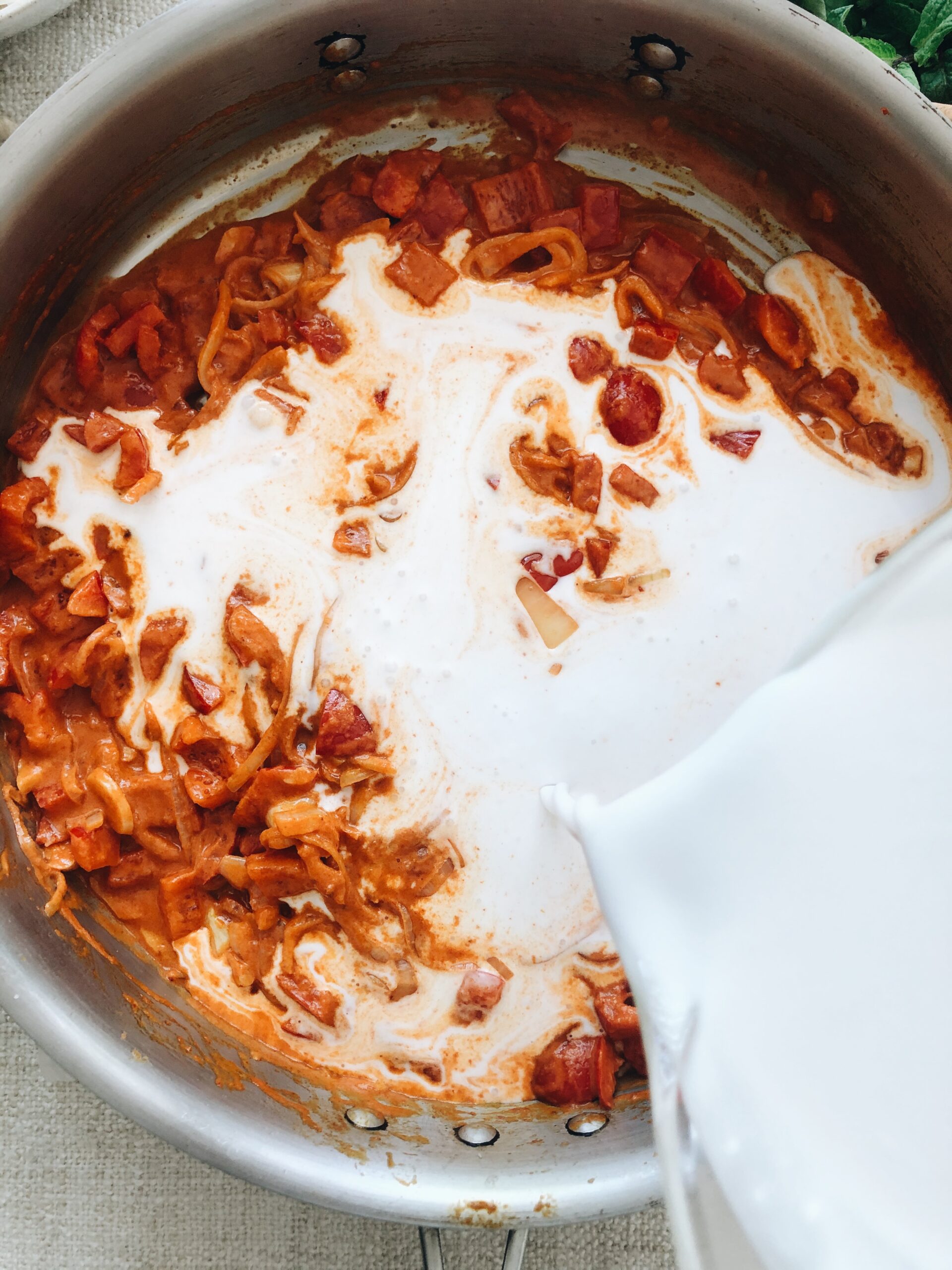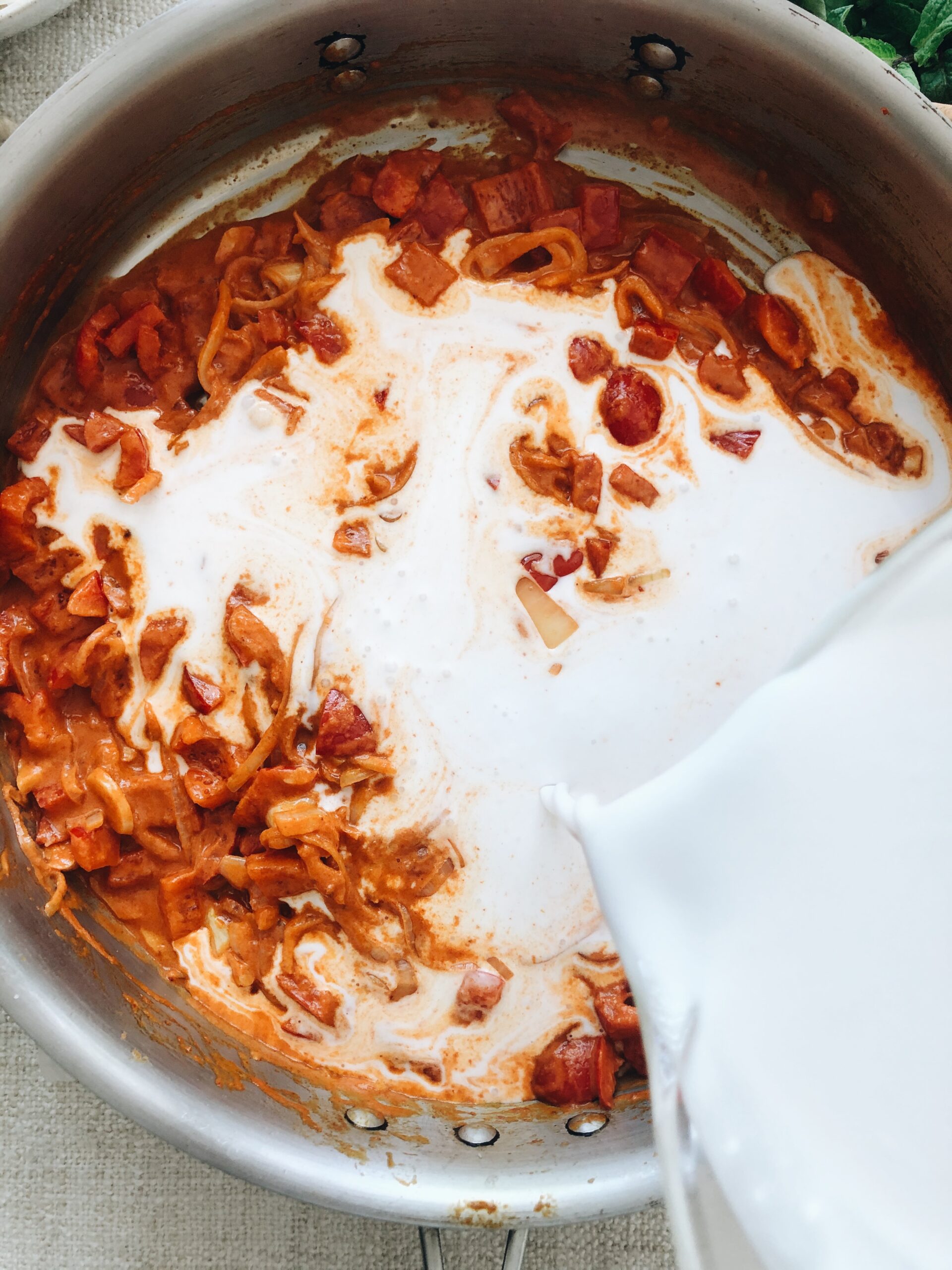 Then you'll add two cans coconut milk, two cups chicken stock, and the fish sauce. (fish stock is fabulous here, if you happen to have it!) Listen, don't SMELL the fish sauce. Just add it, and move on with your life, okay?
Simmer simmer for a just a minute.
Yes I meant to write simmer twice. It's a visual.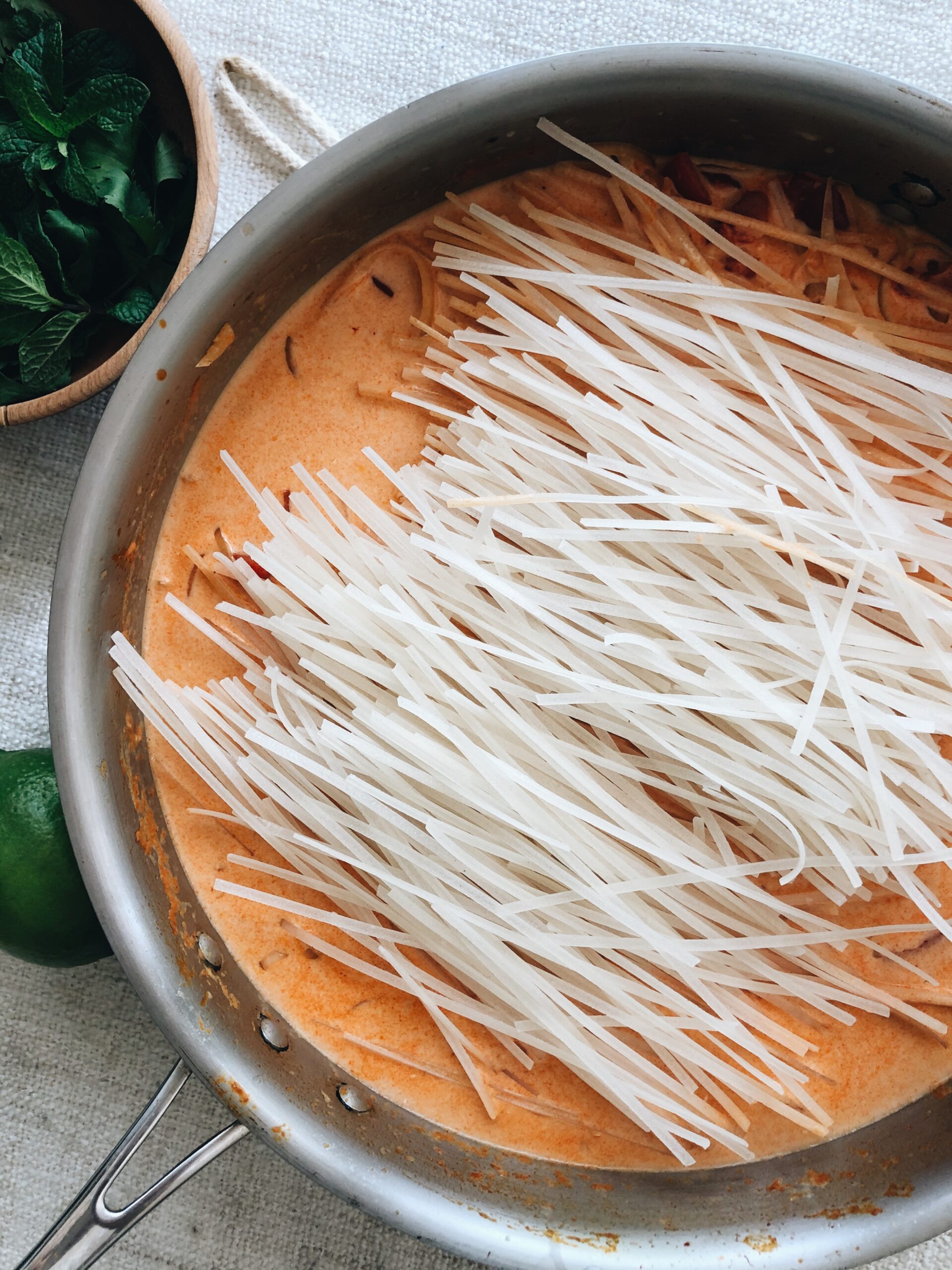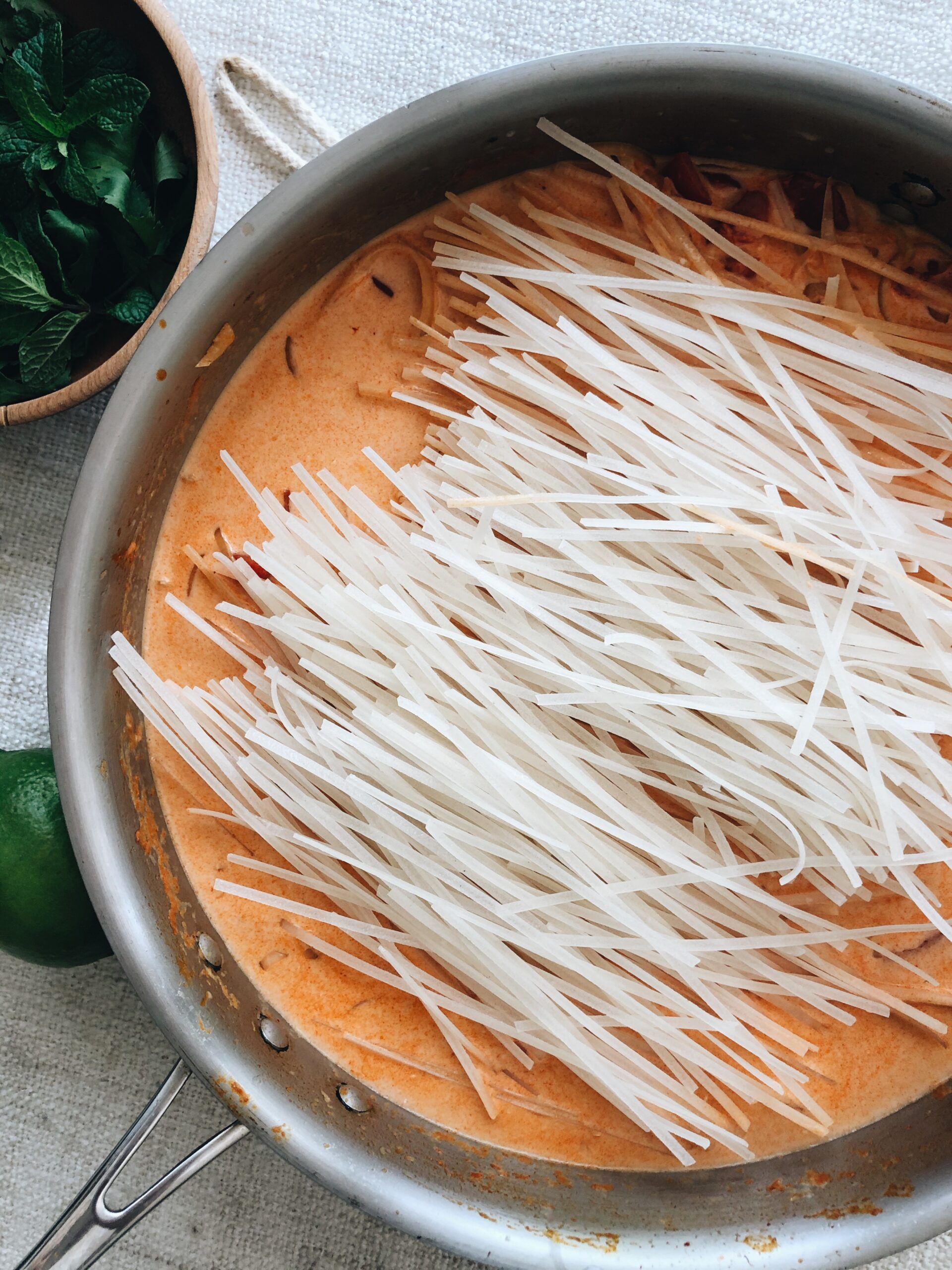 Then add half a box of pad Thai noodles to the pan! A little more than half a box is fine, too. They reaaaaaaaally soak up the sauce, and you don't want it gloopy. You want it silky and luscious.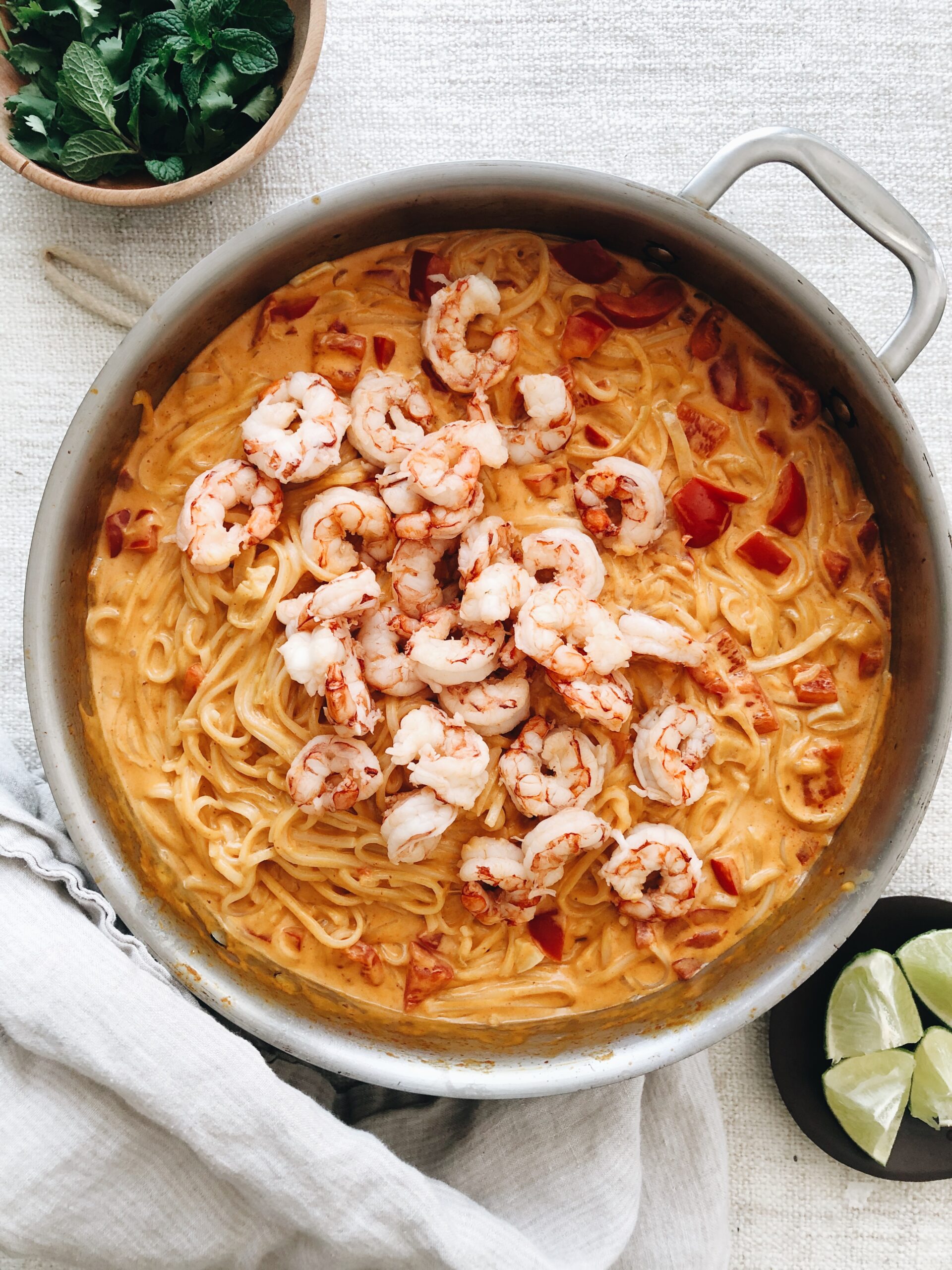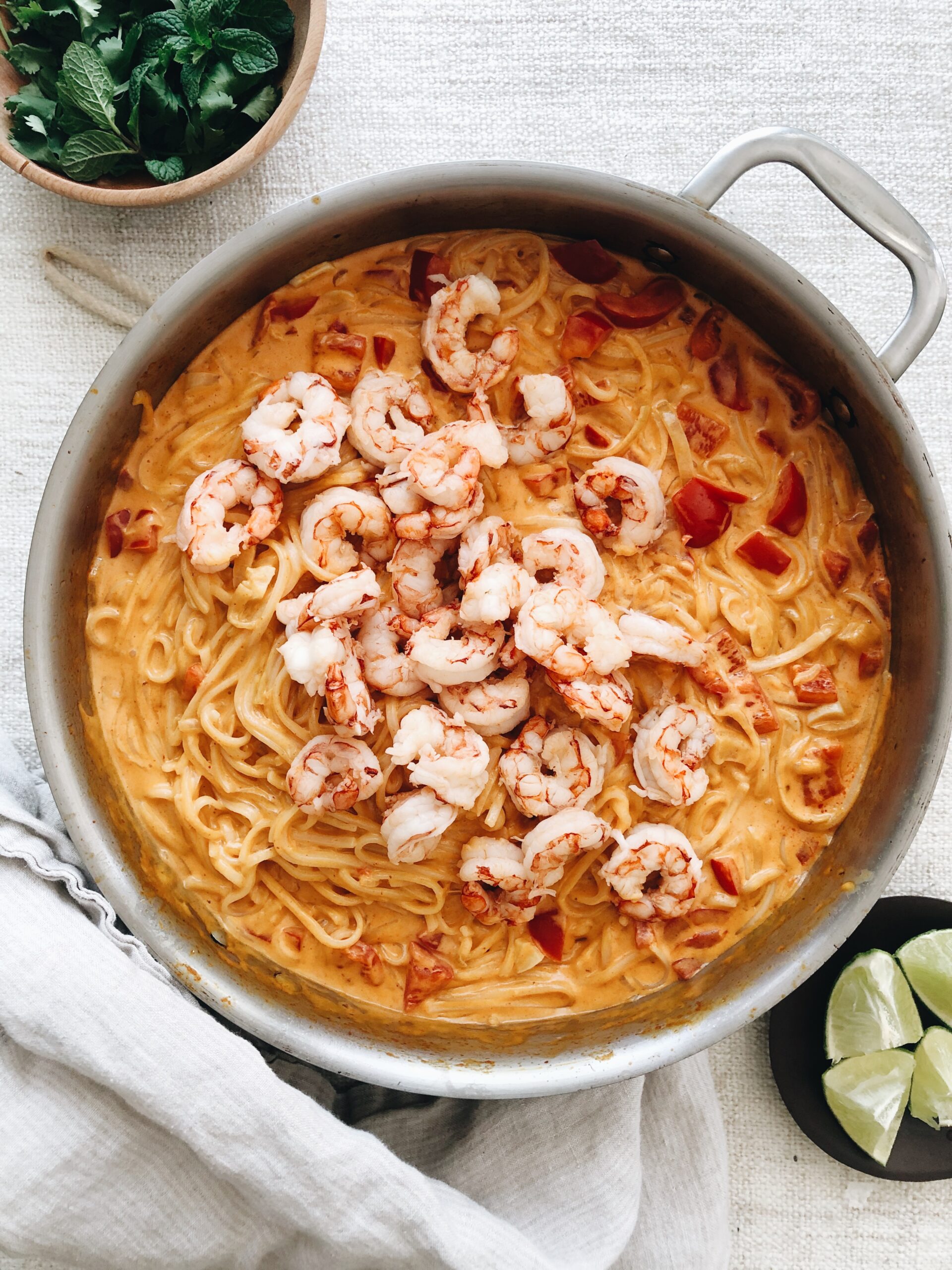 Then you'll just add the shrimp back, along with a healthy squeeze of lime juice. That acidity wakes it up! And we need to wake it up. No sleepy heads allowed in our curry.
That was odd. Pretend I never wrote that.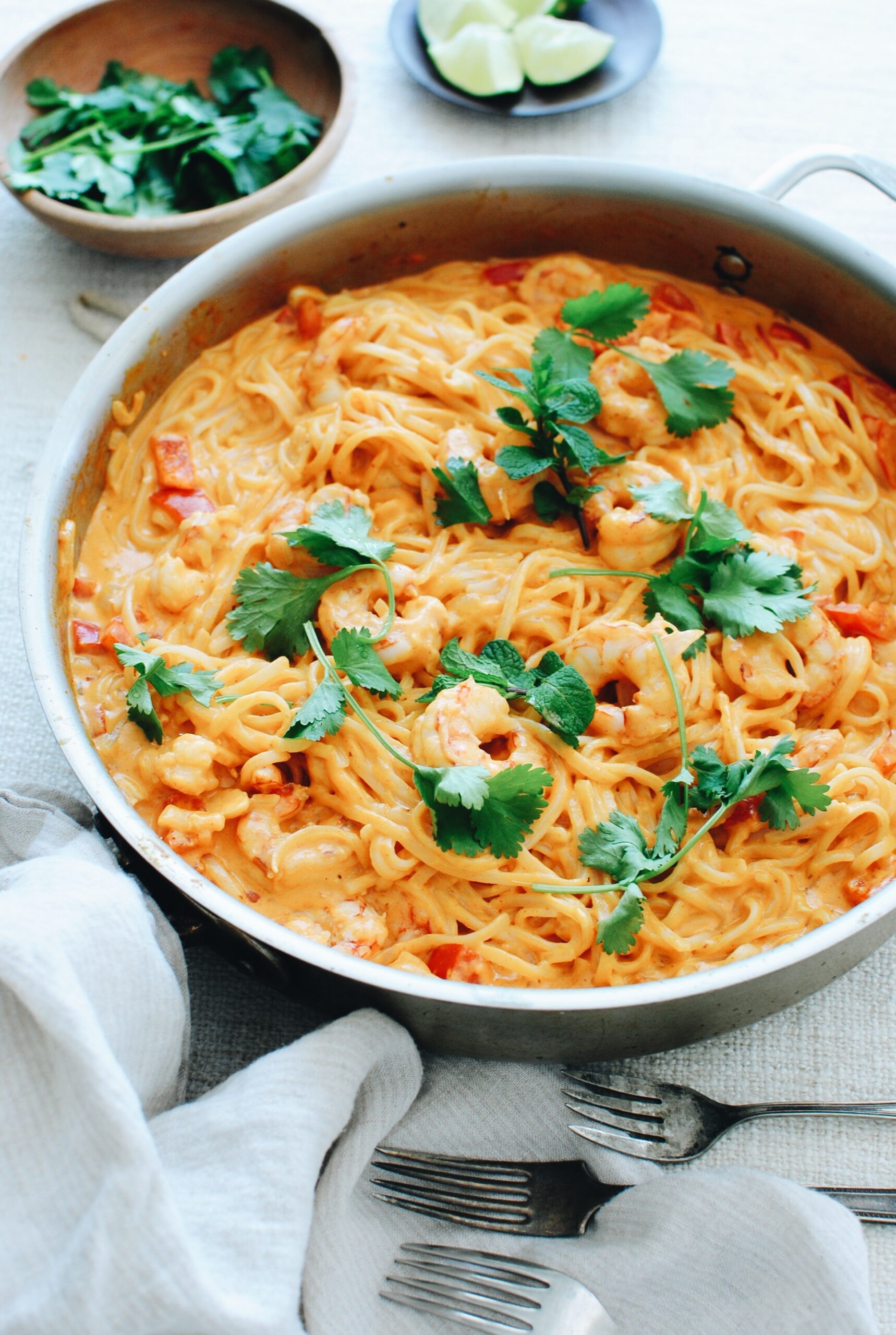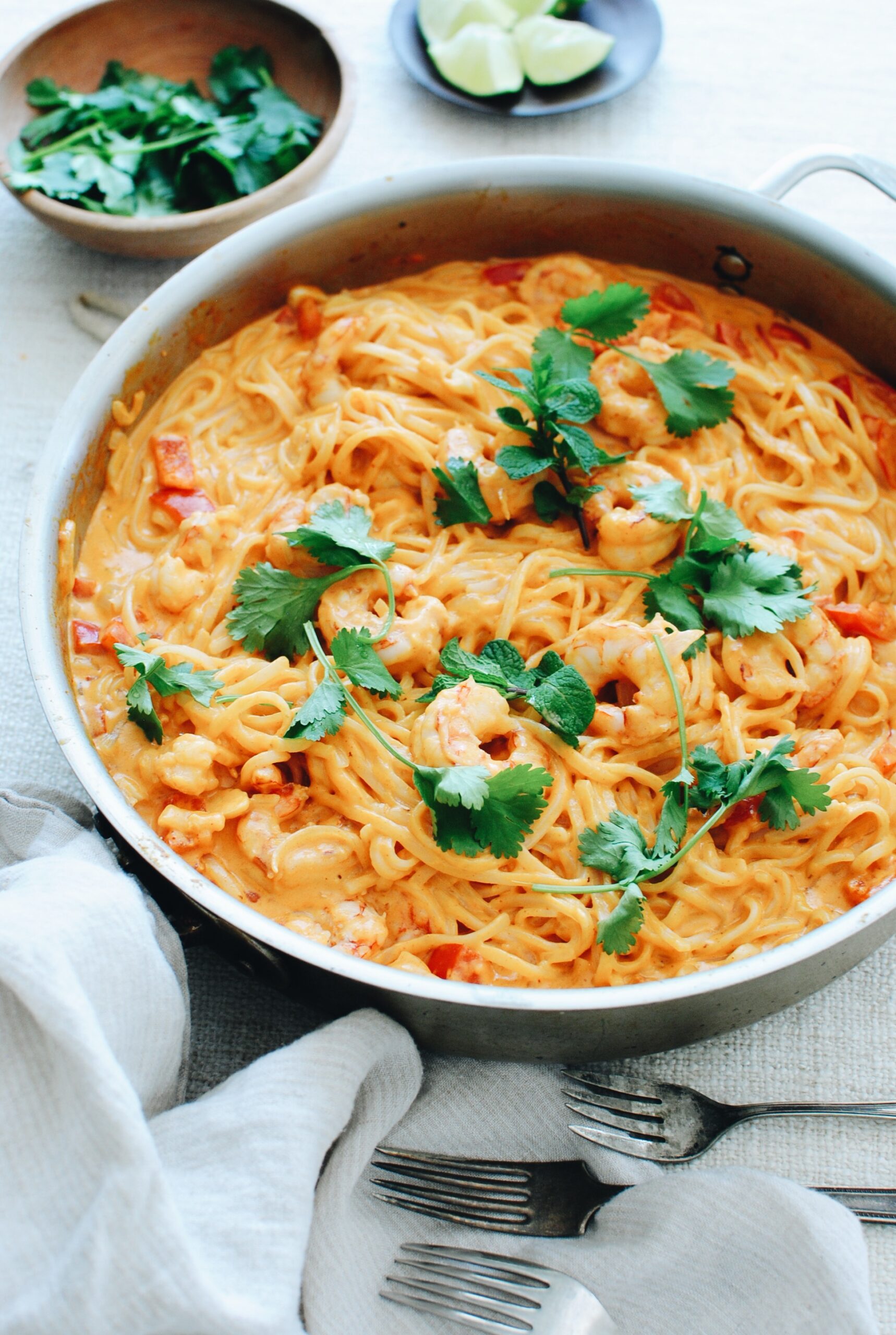 And here we have it! Add a bunch of fresh cilantro and mint as a garnish, and you're good to go. Little things like the curry paste + creamy coconut milk + fish sauce add up to sooo much flavor. And you've salted this whole thing early on, so boom. It's quick, and it's simple. And apparently I needed to show you again.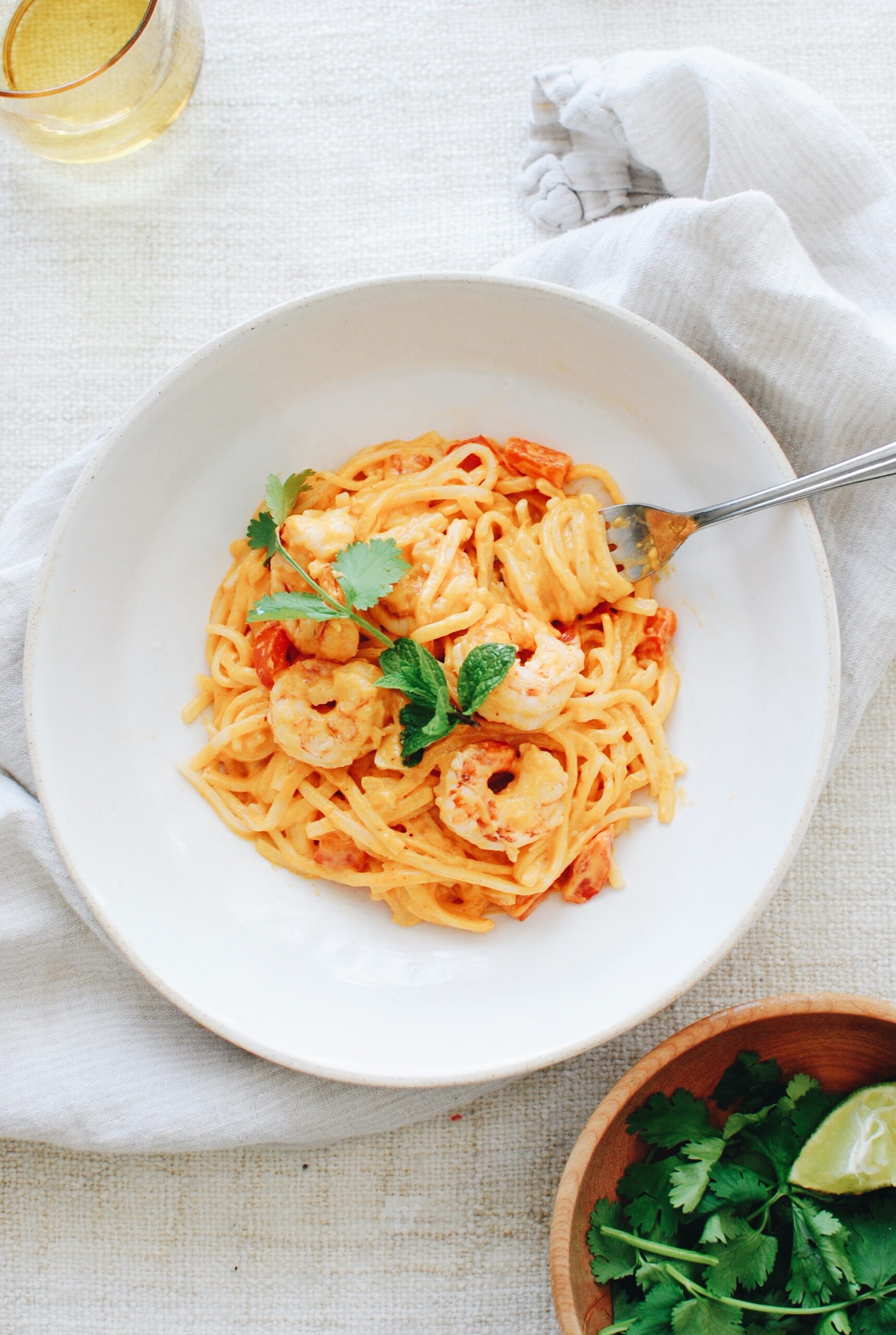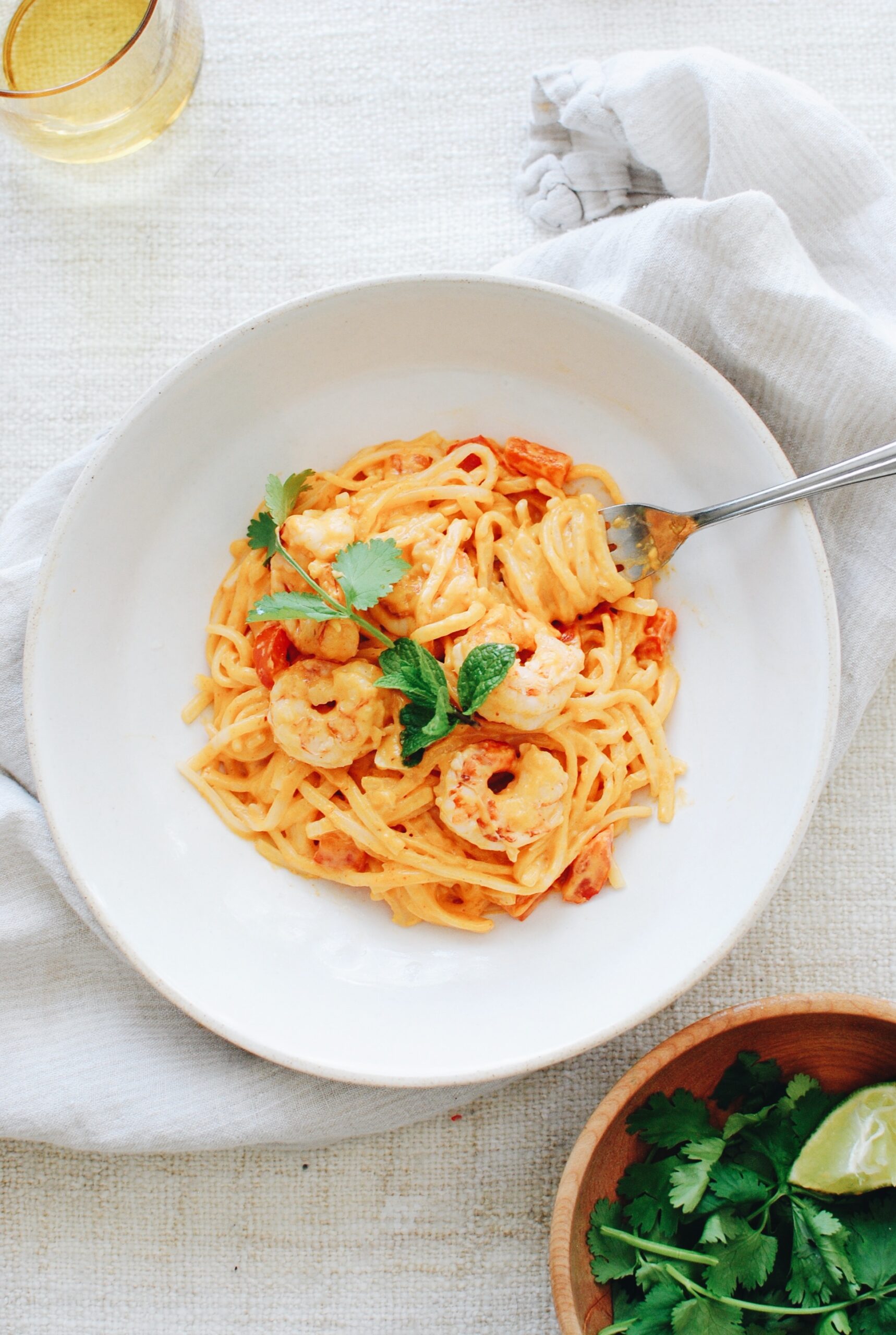 SLURP.
Quick Coconut Curry Shrimp Noodles
Ingredients
1 pound shrimp, peeled and deveined
1 Tbs. extra-virgin olive oil
1 Tbs. sesame oil
1 small onion, thinly sliced
4 garlic cloves, sliced
1 red bell pepper, diced
3 Tbs. red curry paste
2 (13.5 oz) cans coconut milk
2 cups chicken stock
2 tsp fish sauce
1/2 box (or a little more - around 10 oz) pad Thai noodles (also called stir fry noodles)
1/2 cup cilantro and mint leaves (or more!)
Lime
Coarse salt
Instructions
Heat both oils in a large skillet over medium-high. Add the shrimp and season with salt; sear on one side for a minute and a half. Flip and sear another minute, until the shrimp are opaque and show sear marks here and there. Remove from the pan and set aside.
To the pan, add a little more oil if needed, and add the red bell pepper, garlic and onions. Sauté these for about five minutes, until they begin to brown in places and soften. Give them a pinch of salt as well. Scoot the veggies over and add the curry paste to a small space in the pan. Press the paste into the pan, releasing its oils and fragrance. This is called blooming! Do this for about 30 seconds, then add the coconut milk, stock and fish sauce. Add a good pinch of salt right now. Let this barely come to a simmer for a few minutes, then add the noodles. Simmer until the noodles are tender, just a few minutes.
Add the shrimp back to the pan and toss to combine. Add the juice from half the lime, and wedge the other half for serving. Garnish with mint and cilantro and serve immediately!
Serves 4.
7.8.1.2
424
https://bevcooks.com/2020/05/quick-coconut-curry-shrimp-noodles/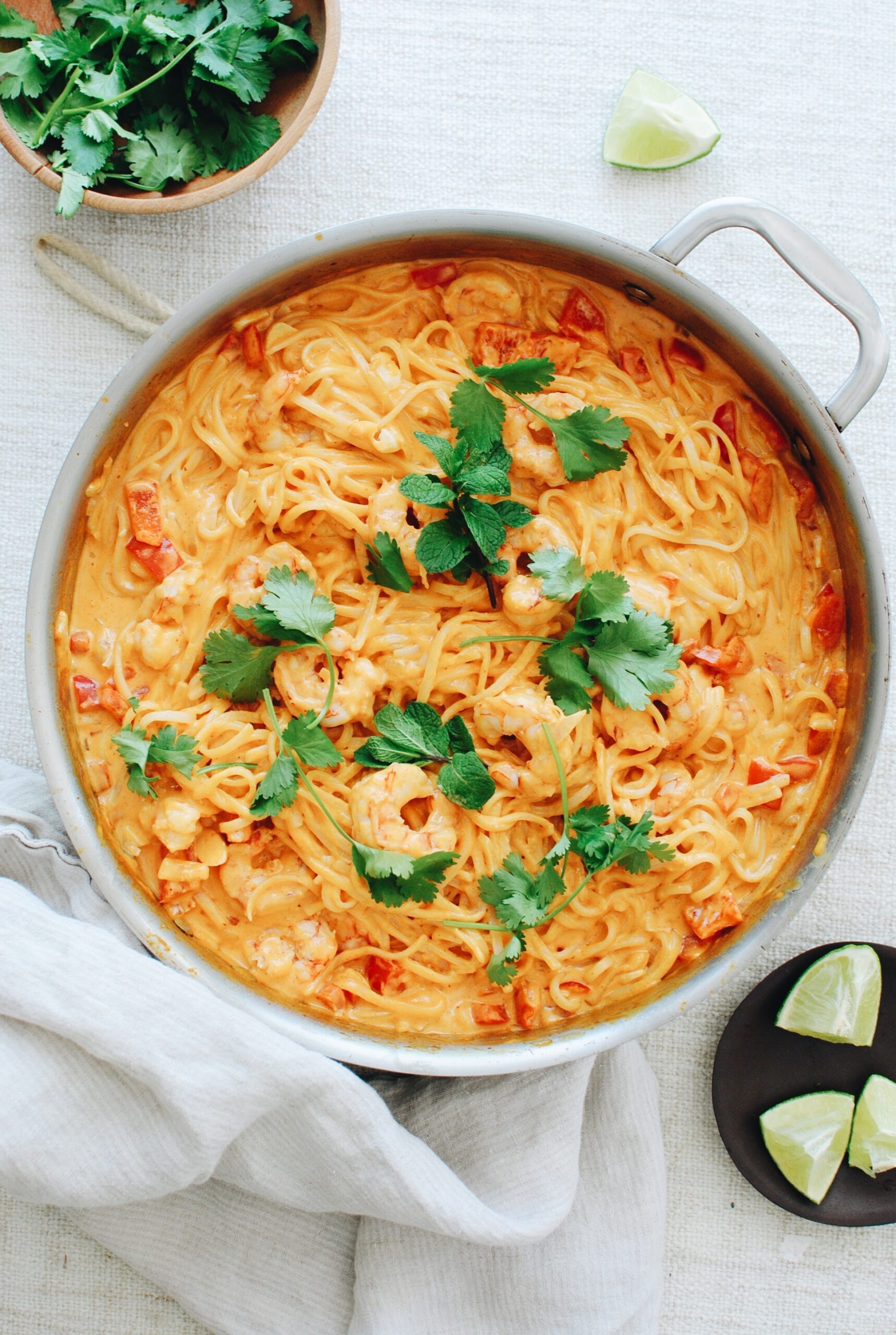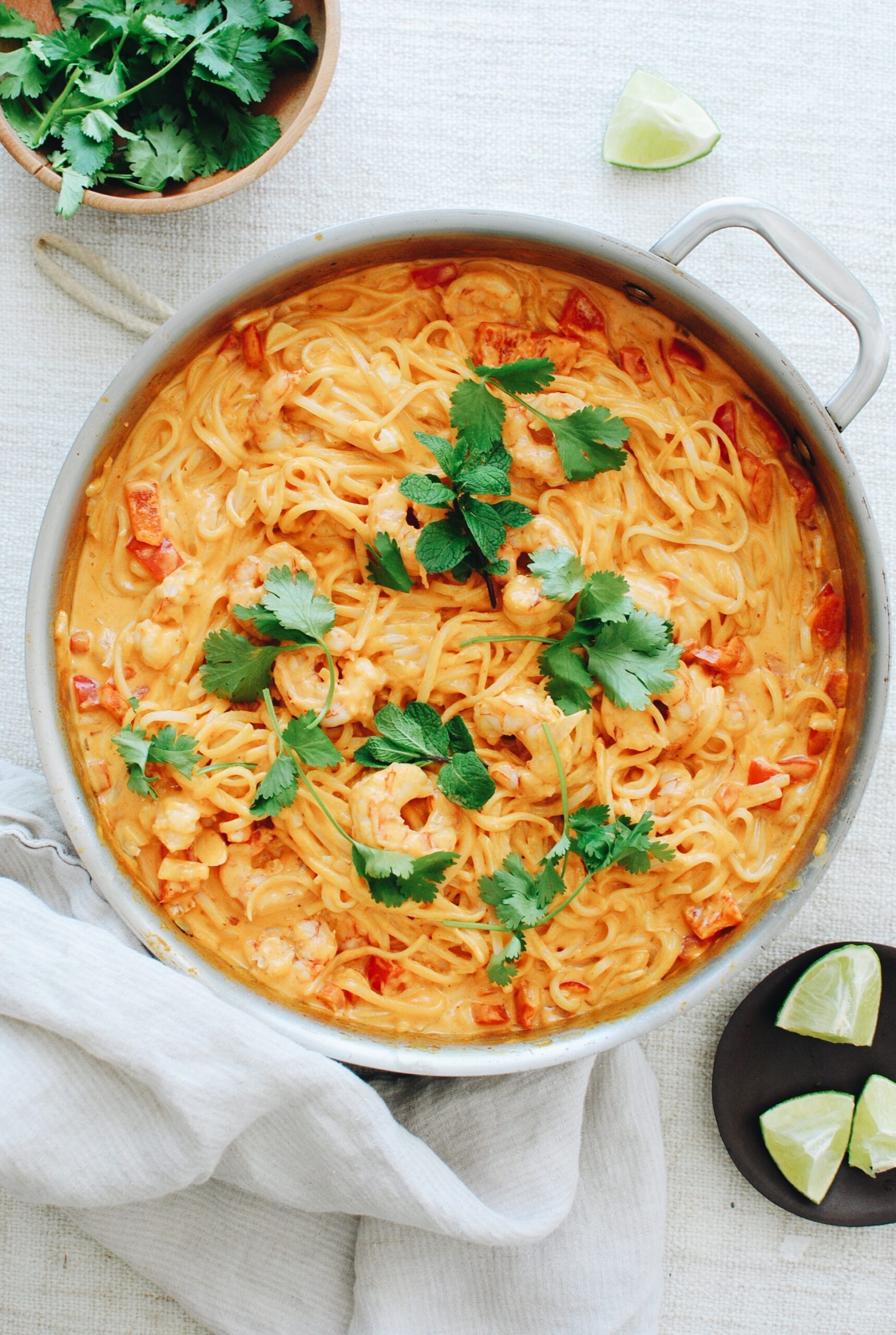 Second time's a . . . charm?