The first time I heard about this dish, I didn't botch the name at all.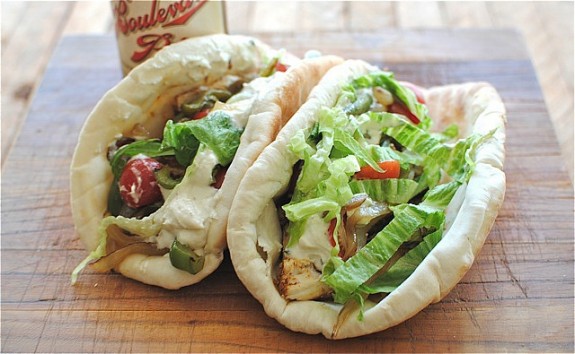 Me, "I'll have the chicken sharmwaramaramlarmawahllalrwah, please." The waiter thought I was such a darling that he wiggled his naked toes right in my food.
Have you shawarmalarama'd before? It's basically a popular Middle Eastern wrap where you grill all kinds of meat on a huge vertical rotating spit for like, ever. And then you shave the meat off and wrap it all up in warm pita bread with grilled veggies and this piiiimp dressing with tahini and yogurt and lemon. I mean, technically this isn't a TRUE shalarwarewalugh because I don't own a spit. Well, I almost did. It was between that and a life-sized glow-in-the-dark blow-up giraffe AND WE BOTH KNOW WHAT THE OBVIOUS CHOICE IS HERE.
BTW, this dressing? y-o-u-w-i-l-l-s-e-e-s-t-a-r-s.
And I'm sorry but three a's in a row is really confusing, ARABIA. This is why I've taken the liberty to abbreviate the name to sharma-larma-ding-dong.
Works much better for my mouth. And brain.
So yeah, check it: you'll marinate the chicken in a stellar mix of spices, oil and lemon juice. I let mine sit overnight, because I'm exercising my patience skills this summer like a good girl.
(You should probably stick your finger in that marinade <before you add the chicken!> and taste it and freak your face and annoy your husband for the 20th time that hour. I mean day…okay hour.)
And then sauté some onions and peppers. Do a little dance. Grill the chicken. Slap ya mama.
Dollop this super creamy, tangy dressing over the shawerjslfserwerj and deaaaaath becomes me.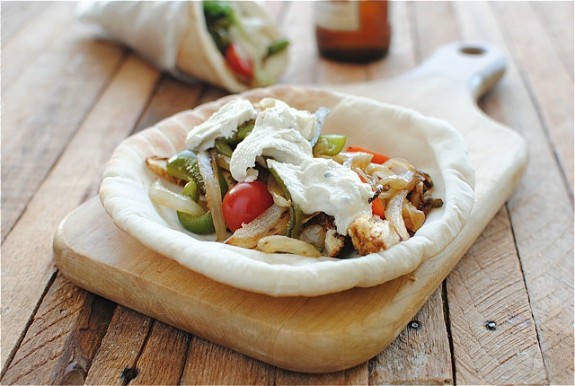 Oh! Be sure and wrap them up in parchment paper like they do in the restaurants or you'll be haunted by ghosts for the rest of your life.
Oh my gosh I'm sorry for saying that just now.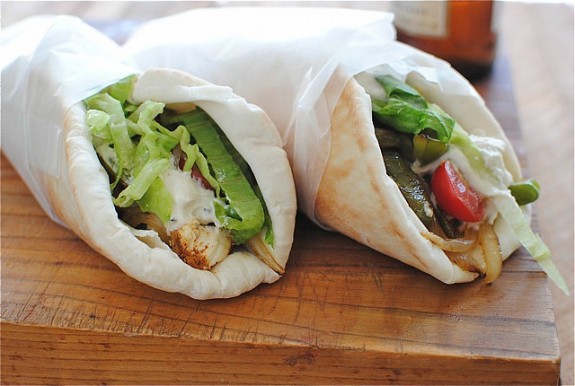 Really. Really, really really. The warm, soft pitas cradling all of the spicy, tender chicken and veggies, coated in a smooth, bright yogurt sauce with fresh tomatoes and crisp lettuce? Saddle up, kittens.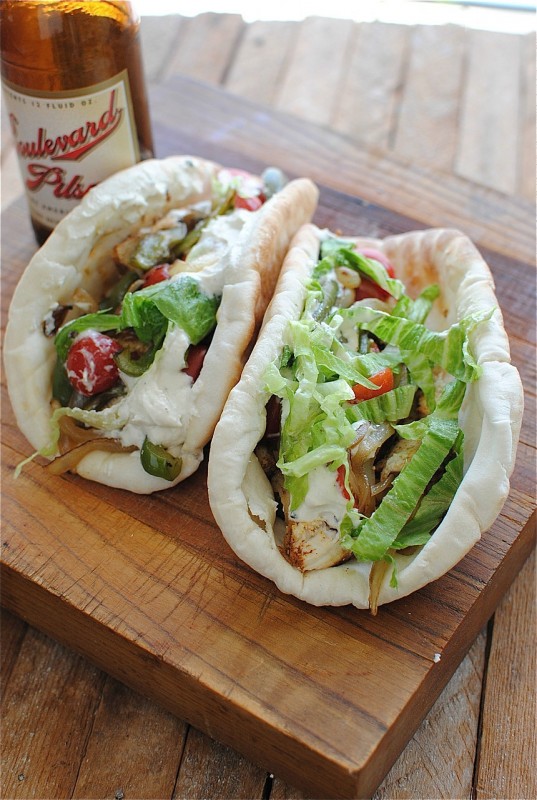 Maybe the ghosts could teach me how to say the dang word right.
Chicken Shawarma (adapted from Arabic Food):
What it took for 4 wraps:
* 1 Tbs. smoked paprika
* 1 Tbs. ground cumin
* 1 Tbs. ground cardamom
* 1 Tbs. chili powder
* 1 Tbs. ground coriander
* 3 cloves garlic, minced
* 5 Tbs. extra-virgin olive oil, divided
* 1 lemon
* 2 boneless, skinless chicken breasts
* 1 white onion, sliced
* 1 green bell pepper, sliced
* 1/2 cup cherry tomatoes, halved
* 1/4 cup tahini
* 1/2 cup plain Greek yogurt
* 1/2 cup shredded romaine lettuce
* 4 pitas
* coarse salt and freshly ground pepper
In a bowl, combine the paprika, cumin, cardamom, chili powder, coriander, garlic, juice from half the lemon, a pinch of salt and 3 Tbs. oil. Using a fork, whisk until it becomes a paste. Add the chicken and toss to coat. Cover and marinate in fridge for at least 4 hours, or overnight.
Using an indoor or outdoor grill, grill the chicken until cooked through and browned on both sides, about 10 minutes. Cover and let rest 5 minutes. Thinly slice.
In the meantime, heat the remaining 2 Tbs. oil in a medium skillet over medium-high. Add the onions and sauté 3 minutes, until they start to brown on both sides. Add the peppers and sauté another 3 to 5 minutes. Season with salt and pepper.
In a small bowl, combine the tahini, yogurt, juice from the other half of the lemon, a good pinch of salt and pepper. Whisk to full combine.
Heat your pitas on the grill, microwave, oven, whatevs.
Layer some grilled veggies, sliced chicken, tomatoes, and a good dollop of the tahini sauce in each pita. Top with cherry tomatoes and shredded lettuce and get to eatin'.