I've just made the greatest discovery of all time.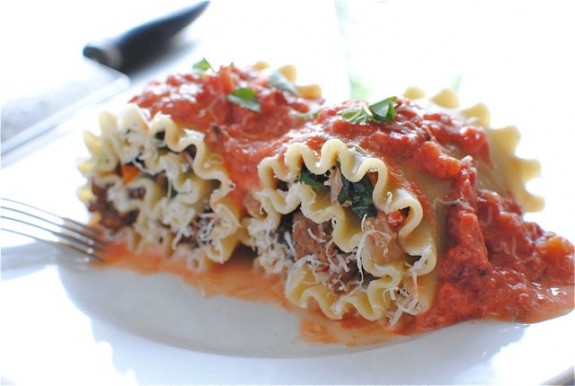 Okay, not of ALL time because obviously the talents of Penny Marshall and Cindy Williams have long been bestowed upon us.
But close! Let me just start from the very beginning.
I've been mega mama craving some sort of lasagna roll up since always. I was going to make them 2 weeks ago, but I forgot. I was going to make them last week, but I had to wash my hair. This was the week. The week that my face would birth endless giggles (gross?) with each bite of delicious, creamy lasagna roll up utopia.
As I was making my grocery list and checking inventory, I spotted the ricotta in the fridge, "Sweet mother! No need to buy." and I was on my way.
The next day arrived. And it was time for lasagna roll up madness. I got ta brownin', ta simmering', ta boilin', ta groovin'. And then it was time to add the ricotta. I open the lid…
AND ALL THE TIRES IN MY HEAD CAME TO A SCREECHING HALT.
It was like a thriving metropolis in there! Little green fuzzy families walking fuzzy dogs along fuzzy streets. One dude even gave me the fuzzy bird!
Craaaaap. Okay so, no ricotta? I guess no ricotta. OMG these aren't even REAL ANYMORE. Just keep going. It's fine. Wipe the sweat from your face and neck and arms and back and adapt. Who needs ricotta anyway!? It's totally fine. I think.
y.o.u.g.u.y.s.
I didn't even MISS the ricotta! I know that's crazy talk and I've lost the last of my 3 marbles, but really! I stirred in a little of the creamy tomato sauce as a binder and they were FUH-BUH-LUUUUS. Drop dead serious. I'm a changed person. A NEW person.
It's like. . . a new way.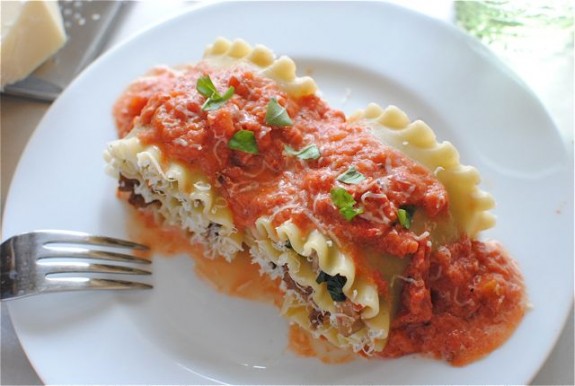 May I teach you about this. . . new way?
Sausage, Mushroom and Spinach Lasagna Roll Ups:
What it took for 6 Roll Ups (8 if you add 1 cup ricotta) :
* 6 curly-edged lasagna noodles
* 1 (14.5 oz) can fire-roasted tomatoes
* 1/4 cup heavy cream
* 2 Italian sausage links, casings removed
* 1 tsp ground cinnamon
* 1/2 tsp freshly ground nutmeg
* 8 oz baby bella mushrooms, chopped
* 4 cups baby spinach
* 1/2 cup freshly grated parmesan cheese
* coarse salt and freshly ground pepper
Heat a medium skillet over medium-high. Add the sausage and break up with a wooden spoon. Brown all over, about 6 minutes. Add the cinnamon and nutmeg and saute 30 seconds. Add the diced mushrooms and saute until they brown a little, 5 minutes. Add the spinach and toss to wilt, 2 minutes. Toss in a pinch of salt and pepper about now.
If your ricotta doesn't have mold on it, go ahead and stir in a cup.
In the meantime, blitz the tomatoes in a small food processor until smooth, transfer to a small sauce pan and simmer on low while you make the filling. Pour in the cream and stir to combine. Toss in a tiny pinch of salt and pepper. Keep it on a low simmer.
I stirred a couple of Tbs of the sauce into the filling, just to bind it a tad.
In the meantime, bring a large pot of salted water to a boil and cook the noodles until al dente, about 10 minutes. Drain and lay side by side on a work surface.
Evenly layer the filling down the center of each lasagna noodle. Roll up the noodle tightly and push any filling back in the sides if they fall out. They shouldn't though.
Drizzle with the creamy tomato sauce and garnish with basil if desired!
*please tell me you've seen Wet Hot American Summer, please*