This is why I'm not a cakestress.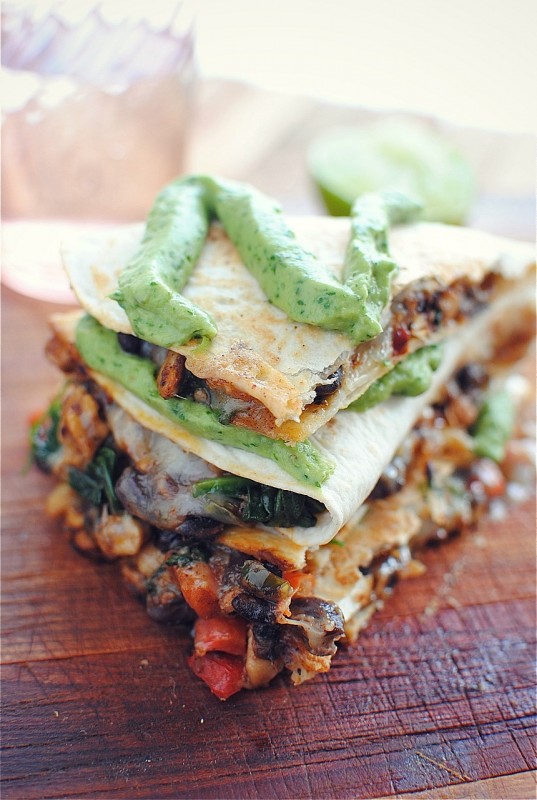 Do you see my "awwww isn't she just precious" attempt to "drizzle" a seductively smooth guacamole sauce on my quesadillas? Right. It started off as this brilliant idea that was going to change the FACE of this blog. I got so excited, jumping up and down to Aaron, "Ooooo I'm gonna make a DRIZZLE, Aaron! A guacamole DRIZZLE. Like in cake places where they use that little white cone pastry bag thingy with the tiny hole in corner? I'm gonna do that, but with a plastic bag! I've seen it done before. It works!"
He was equally thrilled for me and my genius plan with his response, "okay."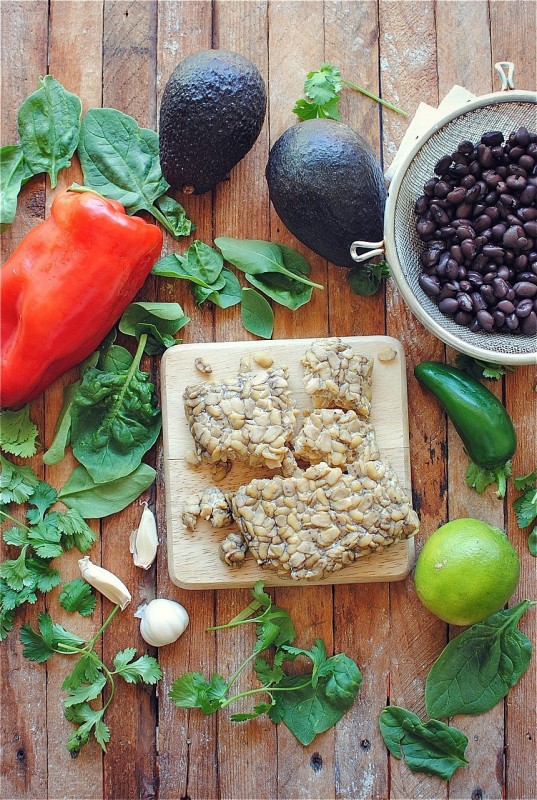 Before I continue, let me just pause for a moment to talk about that weirdotron block of bean mush in the photo above. And you probably already know what it is, especially if you're vegetarian or vegan. But for the rest of you massaging your gag reflex, it's tempeh. And it's actually really good. It's fermented soybeans, which I know those words do NOT help start the mouthal sprinkler system, but really, once you crumble it all up and season it right and sauté it all good and nice, Laaaaaaawdy bean. Lawdy soybean. Lawdy fermented soybea- OKAY.
So, as I was saying, the DRIZZLE. I had such high hopes and aspirations, you guys. Such ambition. (My fist is on my heart right now.)
Okay, so watch this. Two avocados, tons of grassy cilantro and a bunch of lime juice. Sprinkle of salt and bliiiiiiitzy blitz blitz. I tasted it. I danced. So smooth, so sexy. Even Barry White himself would get pregnant with one lick.
I spoon it into my plastic bag like a good girl. But then I went to cut the corner and, not ever having done it before, I cut what I thought would be the ideal-sized hole for my exquisite, dainty drizzle. Um….
CATERPILLAR DRIZZLE. That's the thickest drizzle I've ever seen! It's a drizzle on steroids. A drizzle that's pumped IRON. It's not even a drizzle! It's…it's…it's a guacamole PYTHON about to unhinge its jaw and inhale my dang dinner in one single breath!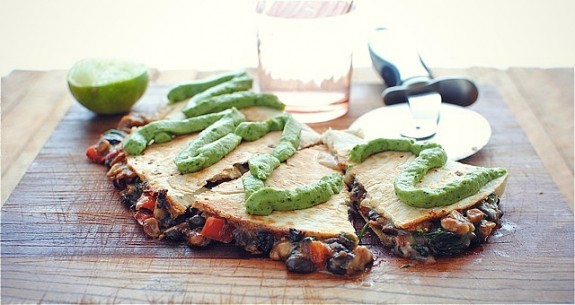 I laughed. For 35 rock solid minutes. Through salty tears, busted ribs and damaged eardrums. And then I started eating and forgot all about the tree log drizzle because it was sliding down my throat and everything tasted like a Tex-Mex wet dream and I was set for eternity.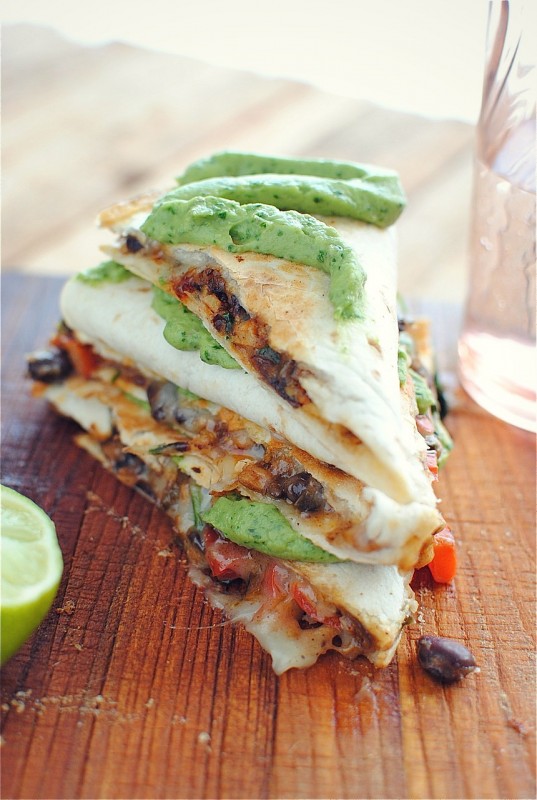 So I guess the hole has to be REALLY tiny, right?
Black Bean and Tempeh Quesadillas:
What it took for 2:
* 2 Tbs. extra-virgin olive oil
* 3 cloves garlic, minced
* 1 jalapeno pepper, diced (seeds removed if heat makes you sad)
* 2 Tbs. chili powder
* 1 Tbs. cumin
* 1 red bell pepper, diced (seeds, stem and ribs removed)
* 1 (8 oz) block tempeh
* 1 (14.5 oz) can black beans, drained and rinsed
* 2 cups spinach
* 1 cup (or more!) shredded aged white cheddar cheese
* 2 avocados
* 1/2 cup cilantro
* 1 lime
* 2 large tortillas
* coarse salt and freshly ground pepper
Heat the oil in a large skillet over medium-high. Add the garlic and jalapeno peppers; sauté for 30 seconds. Add the chili powder and cumin and bloom 30 more seconds.
Add the red bell pepper and continue to sauté for 2 minutes. Break up the tempeh with your fingers (it will crumble easily) and toss into the pan. Add the black beans and continue to sauté another 5 minutes. Season with salt and pepper. Taste it. Squeeze in a Tbs. of lime juice? I think so. Finally, add the spinach and toss to wilt, 2 minutes.
In the meantime, add the two avocados, another 2 Tbs. lime juice and the cilantro to a food processor. Sprinkle in a little salt. Blitz blitz blitz until you get a smooth mixture. OR, if going smooth ain't your bag, just whip up some easy guac and you're set.
Remove the filling from the skillet and set aside in a bowl.
Keep the skillet at a medium temperature. Arrange one tortilla in the skillet. Sprinkle some cheese over one half of the tortilla and then spoon the filling on top. Sprinkle more cheese on top of the filling. Fold the tortilla over and "cook" until the cheese is melty and the tortilla is golden brown. Flip and continue to "sear?" WHAT IS THE WORD? Sorry.
Repeat with the second tortilla. If you have filling leftover (and you might!) just store it for lunch tacos later. Or make another quesadilla. Or spoon it into your mouth as is. I won't tell.
Finally, and this was supposed to be cute, but spoon the smooth gauc into a plastic bag. With scissors, cut the tiniest hole in one tip of the bag, allowing to decorate your quesadillas with guacamole caterpillars. Laugh at how hilarious it looks, then eat.