Oh look it's July and I turned my crock pot on.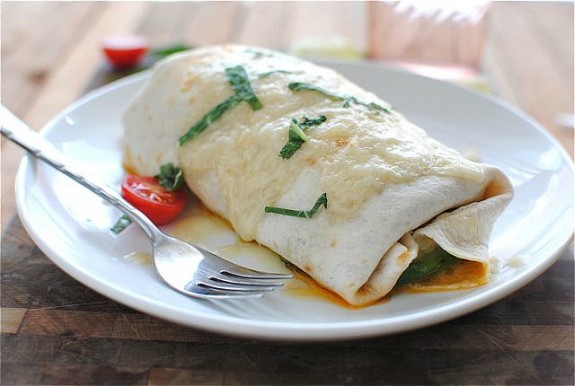 AAAW LAAWWD.
Actually, I think I might declare crock pots to be the new summer appliance of choice. BECAUSE, I would put my hands all around it from time to time to test just how much heat it emits and it's basically nil, you guys. It's all so heavily concentrated INSIDE the machine that we don't have to worry about bursting into human flesh flames on the outside in July. Word up.
That's what the manual said, I think. "Heat so heavily concentrated INSIDE the machine so that you don't have to worry about bursting into human flesh flames on the outside in July. Word up."
I should so apply to be their manual copywriter.
So, pork bur-tos. I don't know why but lately I've been craving a giant sloppy burrito with shredded meat and all the fixins falling straight into my mouthal pocket.
I'll also tell you what I do NOT crave. Okay, and maybe you can help me. There's this huge dragon bee thing that swarms and zooms and bumps into my back porch windows and torments the daylights out of me every single flippin' day. It's like 3 inches long and skinny. And filled with the devil's nectar. And sort of looks like Nick Nolte.
What do I do? Windex it? Lasso? Paper cut it?
Ohhhhh-ho-ho-ho man, these burritos. I threw in half a can of hatch green chile enchilada sauce because the gravitational pull of my heart told me to.
And check out the garnishes. We've got baby kale for hayealth, GRUYERE CHEESE (check yo'self!), avocado and cherry toms.
I will not say bomb.com. I will not say bomb.com I will not say bomb.com.
And then I threw some more gruyere on top and popped her under the broiler for a quick sec because the lighthouse of my soul brought me safely to shore.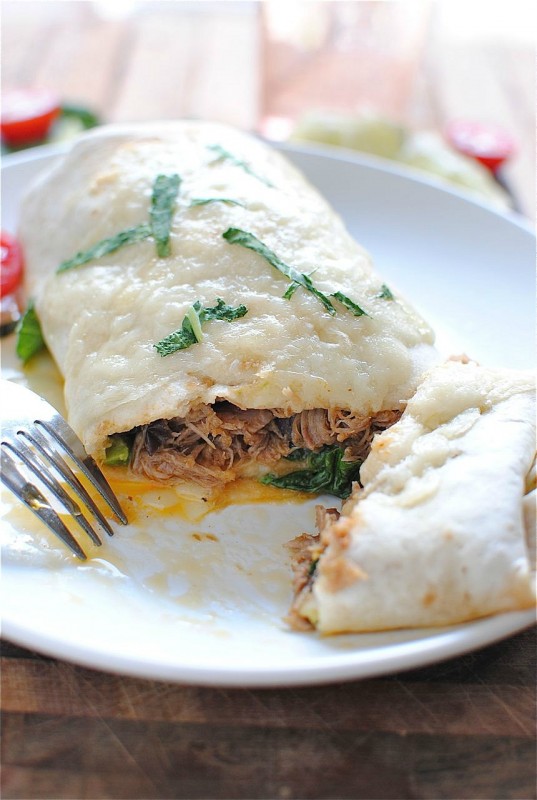 Don't you want to just crawl up in that and never come out?
Slow Cooker Pork Burritos:
What it took for 6:
* 1 (3.5 pound) pork butt roast, heavily trimmed of any excess fat
* 2 Tbs. cumin
* 2 Tbs. chili powder
* 1 pinch crushed red pepper
* 1/2 (14.5 oz) can hatch green enchilada sauce
* coarse salt and freshly ground pepper
* 1 (14.5 oz) can black beans, drained and rinsed
* 3 cups baby kale leaves, divided
* 2-4 cups shredded gruyere cheese (or whatever kind of cheese you love!), divided
* 1 avocado, sliced
* 1 cup halved cherry tomatoes
* 1 lime
* 6 large flour tortillas
Place the pork roast in a slow cooker. Add the cumin, chili powder, crushed red pepper, a good pinch of salt and pepper, and the enchilada sauce. Cook on low for 6 hours.
During the last hour, take two forks and shred the meat in its collected juices. Add the black beans, stir to combine and let it finish cooking.
Heat the tortillas in the microwave, oven, toaster, whatevs.
Layer the meat, a little bit of kale, a couple Tbs. shredded cheese, a few cherry tomatoes and slices of avocado inside each warmed tortilla. Spritz with a little bit of lime juice and roll the burrito up.
Serve as is. OR, you could sprinkle a little more cheese on top of the burrito and throw it under the broiler for a few seconds like I did.
Yeah, definitely do that.