Can you believe I'm not wrapping something up in a goldarned tortilla?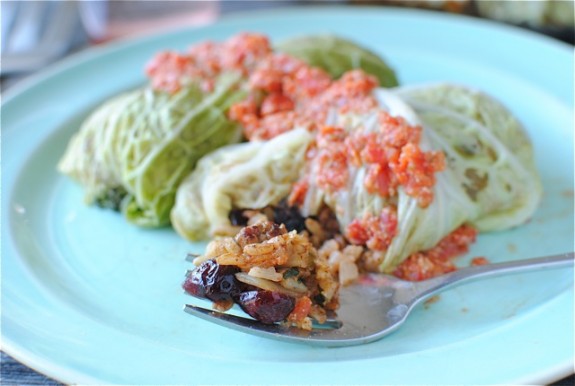 I know!
But before we begin, did you see my boyfriend sing last night right after having kidney stone surgery? Uh, surgery made him hotter. Something about the removal of the kidney stones definitely made his eyes even more piercing and sparkly and breathtaking. And I'm absolutely certain that something happened during the sewing him up that positively caused his boyish yet rugged southern charm to increase by about 2 hundred thousand notches. And it made his hair even sexier. And I can't breathe right now.
Aaron is totally not sick of me obsessing over him.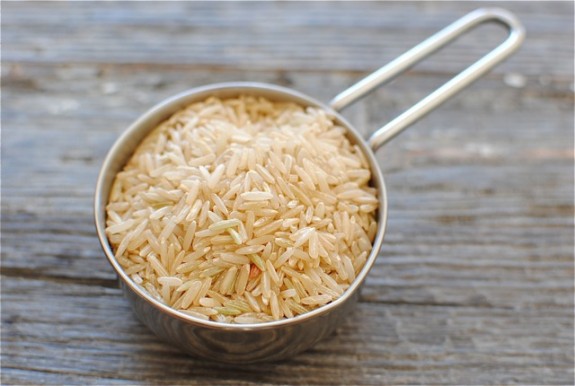 Sooo, Moroccan stuffed cabbage rolls! Ya know, sometimes I forget about Moroccan flavors. As a matter of fact, the only time I really think of them is when I'm watching CBS Sunday Morning or listening to Wait Wait…Don't Tell Me! and Mo Rocca is on and I'm all, "Hey, it's like Moroccan!" And Aaron looks back at me and says nothing. And then gets up and leaves the room. Forever.
Man, that Mo Rocca is so talented. I'd love to get a drink with him sometime. And then 7 more with Phillip Phillips, yeaaaaah.
THE CABBAGE ROLLS. So sorry.
So yeah, these are pretty awesome. They're loaded with brown rice, lean ground turkey breast, fruit, herbs, freakin' cinnamon and nutmeg and SMOKED PAPRIKA. All wrapped up in a cruciferous cradle. I'm kind of serious about this.
See the rip in the cabbage right there? Sometimes these things hap–oh ew! All that open space below makes me weak in my knees. I'm afraid to type anymore letters because they'll just fall into the ABYSS. So I'm stopping right now to save the letters.
That was too close for comfort if you ask me.
THE ROLLS. Okay, so you bake them for about a half an hour and top them with a quick tomato drizzle. But I'll give it to straight, you don't even have to make the drizzle. You can do whatevs ya like. There's so much delicious moisture inside that if you wanted to skip the drizzle, skip it. OR, if you wanted to make a different sort of drizzle, like wilted greens or a little bit of oil and parsley, fantabz.
ORRR if you're like me, the saliva pouring from your head will be enough drizzle for every single serving times 30.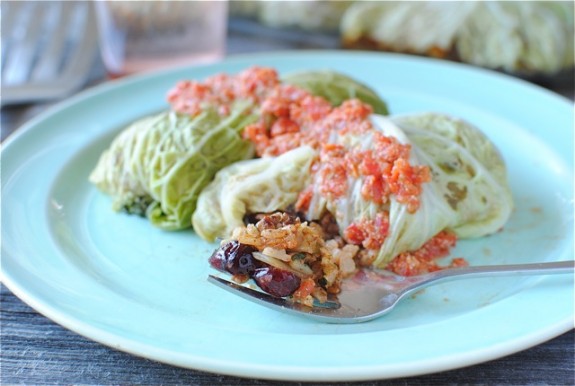 Or you could just go with the tomato drizzle.
Moroccan Stuffed Cabbage Rolls:
What it took for 9 rolls:
* 1 savoy or regular green head of green cabbage
* 1 Tbs. extra-virgin olive oil
* 1/2 medium onion, finely diced
* 3 cloves garlic, minced
* 1 pound ground turkey breast
* 1 Tbs. ground cinnamon
* 1 Tbs. smoked paprika
* 1 tsp freshly grated nutmeg
* 1/3 cup dried cranberries
* 1/3 cup freshly chopped parsley
* 1/2 cup cherry tomatoes
* 1/4 cup milk
* 1/2 cup brown jasmine rice
* coarse salt and freshly ground pepper
Preheat oven to 400.
Cook your rice in a rice cooker or in a pot. Whatever makes you happy in life.
Separate nine leaves from the head of cabbage, and using a rolling pin, roll out the stem so that it becomes pliable to roll.
Heat the oil in a medium skillet over medium high. Add the onions and saute until soft, 4 minutes. Add the garlic and sauté another minute.
Add the turkey and cook, breaking up with a wooden spoon, until cooked through, 6 minutes.
Add the cinnamon, nutmeg and paprika. Toss to combine. Add the parsley and dried cranberries, along with the cooked brown rice. Toss to combine and cook another couple of minutes. Season generously with salt and pepper, to taste.
Spoon the turkey filling into each cabbage cup, and roll up. Place in a baking dish, seam side down. Repeat 8 more times. Pour a glass of wine because that was pretty exhausting.
Pour 1/4 cup water over the rolls, cover with foil and bake for 30 minutes.
In the meantime, pulse the tomatoes in a food processor until you have a puree. Pour into a small saucepan and simmer on low while the cabbage rolls cook. Add a splash of milk at the end, if ya want, along with a pinch of salt and pepper.
Serve stuffed cabbage rolls with a drizzle of the tomato sauce.
Oh my goodness! How on earth did this get here? So weird…