I guess I'm not a . . . total liar.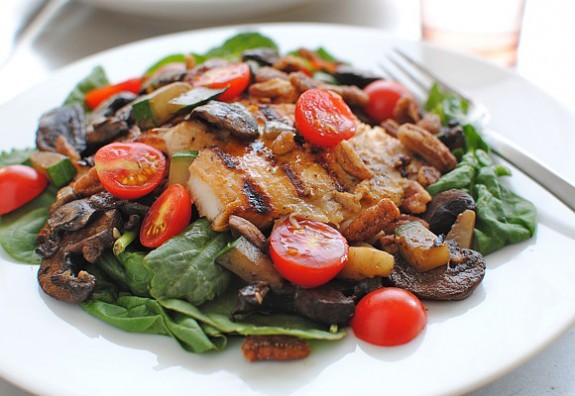 After all, I guess it is possible to have too many bites of chewy on the inside, crusty on the outside pizza with melted, stringy mozzarella, or flaky biscuits with warm butter and jam . . . ugh, or freshly baked loaves of bread straight out of the oven . . . or, or long strands of pasta lightly coated in olive oil all slurpy-like and seductive on the lips . . . oh geez, or perfectly cooked rice coated with rich sauc – OKAY NO IT IS NOT. NO. IT. IS. NOT.
Oh that felt good. I hope I didn't hurt your ears.
But! If you're a person who exercises self-control, diligence of the mind, balance of the soul, and overall stellar behavioral homo sapien habits as a citizen of the world AND BEYOND, well, good luck with that.
But I do have some food for you.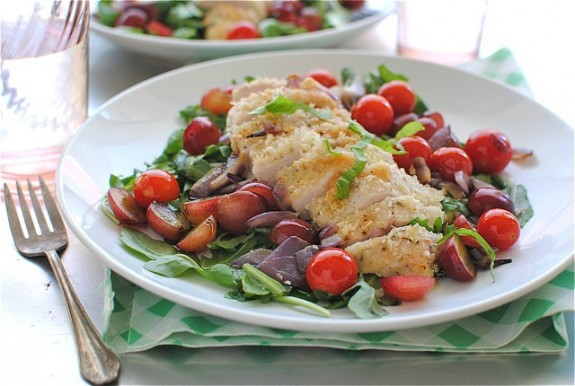 Yes, that is a chicken parmesan salad. And you hate me.
Hey! I swear on . . . this pile of grocery receipts right next to me that I continue to ignore for some reason and actually, it's weird because I'm normally really good about tidying up after myself in a timely manner so I have no idea why these are still on the table giving me the bird, and I should probably throw these totally dead flowers away while I'm just now noticing how horribly dirty this table is . . . these salads will make you a BELIEVER. In what, is up to you. I mean, I can't do ALL the work around here.
Get 'em on them there diddly do dad Tablespoons, y'all.
Grilled Tilapia and Spinach Salad – Party in the USA.
Chicken Parmesan Salad – Yeah you laugh now. Just you wait, Henry Higgins. (name that movie)
P.S. The Huffington Post just did a little feature on preparing your own lobster at home, and they included my little lobster recipe! Ain't that a hoot? I'm a little bit squealy over it. (I'm number 8 in the slideshow.)
Okay bye.