You know how David Spade says the word "salon" in the old SNL skit, with the accent on the first syllable? Like, SAlon? That's the way I like to say salad. SAlad.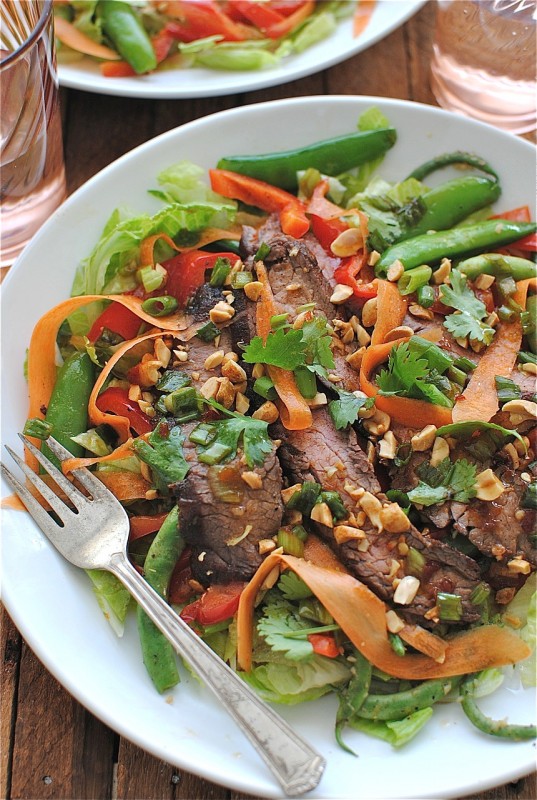 But you have to say it like SAlod and change the way the second syllable sounds, sort of hollowing it out a little, because if you don't you're simply saying salad, the normal way.
Thaaaat was only a little bit annoying for a Monday morning.
So I've become smidgely obsessed with this spicy soy/lime dressing lately. I'm sure it's not at all obvious as I've shoved it in your face here, here and here. And there's a tiny chance I'm making it again tomorrow. I think it's like the law of the land or something. I'm basically just watching out for myself because I do NOT like the way handcuffs look/feel on my wrists, hello.
So this time, instead of plunging noodles of the sort into the face wash, I MEAN DRESSING, I introduced a slab of juicy medium-rare flank steak to her. And it was love at first sight. (I almost typed site. It was love at first internet website.)
We need to talk about the steak real quick. Okay this is what you'll do. I'm so excited to tell you, I have no idea why I'm not typing the words yet. I keep giggling, thinking about saying to my pretend friends, "It's time, everyone! Time for some Asian Steak SAlod," raising one eyebrow with my chin tucked.
HEY, MY IMAGINATION IS ALL I HAVE.
So you'll press some crazy pungent Chinese 5-Spice into the meat on both sides, like a dry rub. And THEN, as if that's not already insane, you'll reserve some of the soy dressing and brush it on the steak while it's grilling.
Hip, hop, you don't stop.
Then you'll just drizzle the rest over a bed of crisp romaine, slices of tender steak, delicate carrot ribbons, and lightly sautéed vegetables. AND chopped peanuts, not. even. kidding. right. now.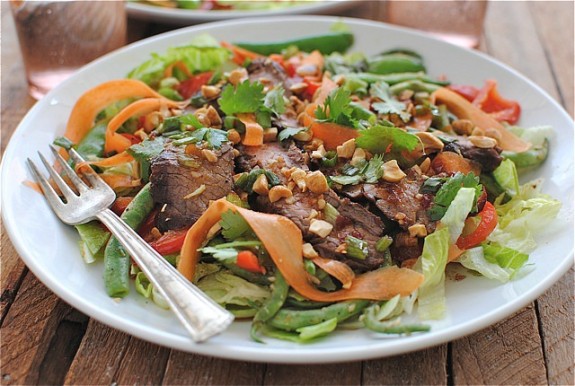 Don't you just want to take those strips of steak and wrap them around your shoulder like a shawl and nibble on it like a bunch of juicy loose threads?
. . . Too much?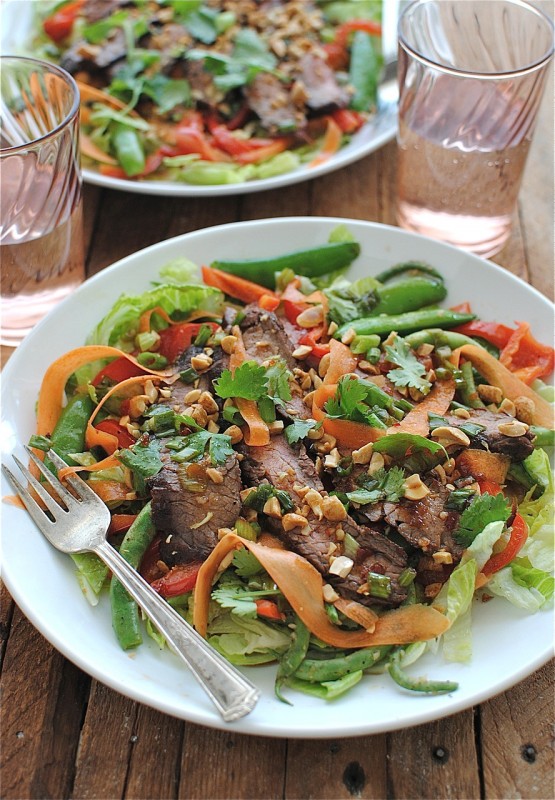 SAlod!
Grilled Asian Steak Salad:
What it took for 2-3:
* 1 pound flank steak
* 1-2 Tbs. Chinese 5-Spice
* 4 Tbs. extra-virgin olive oil, divided
* 2 Tbs. soy sauce
* 1 tsp brown sugar
* 1 tsp sambal oelek
* 1 lime
* 2 scallions, thinly sliced
* 2 cloves garlic, minced
* 1/2 cup green beans
* 1/2 cup snow peas
* 1 cup thin carrot ribbons (use a vegetable peeler to create ribbons)
* 1/2 cup thinly sliced red bell pepper
* 4 cups thinly sliced romaine lettuce
* 1/4 cup fresh cilantro
* 1/4 cup chopped peanuts
* coarse salt and freshly ground pepper
Lightly rub the 5-Spice into both sides of the steak and let sit as long as you like. I think ours sat around 3 hours.
In a small bowl, whisk together 2 Tbs. oil, soy sauce, brown sugar, sambal oelek, juice from half the lime, and half of the sliced scallions. Pour about 1/4 cup into another small bowl. You'll use this to glaze the steak while it grills.
Heat the remaining oil in a large skillet. Add the green beans, snow peas, red bell pepper and minced garlic. Sauté until veggies are crisp-tender, about 3 minutes. Season with a pinch of salt and pepper.
In the meantime, grill your steak on an indoor or outdoor grill, until your preferred doneness. Ours was medium rare, which took about 5 minutes per side. Be sure and brush the meat on both sides with the reserved dressing. Tent meat and let rest 10 minutes, then thinly slice.
Arrange your salad! Evenly divide the romaine over two dinner plates. Loosely arrange the sautéed veggies on top of the lettuce, along with the sliced steak and carrot ribbons. Garnish with cilantro, the rest of the scallions and chopped peanuts. Drizzle with soy dressing and serve with the remaining lime!
Yep.