Sert it and ferggert it.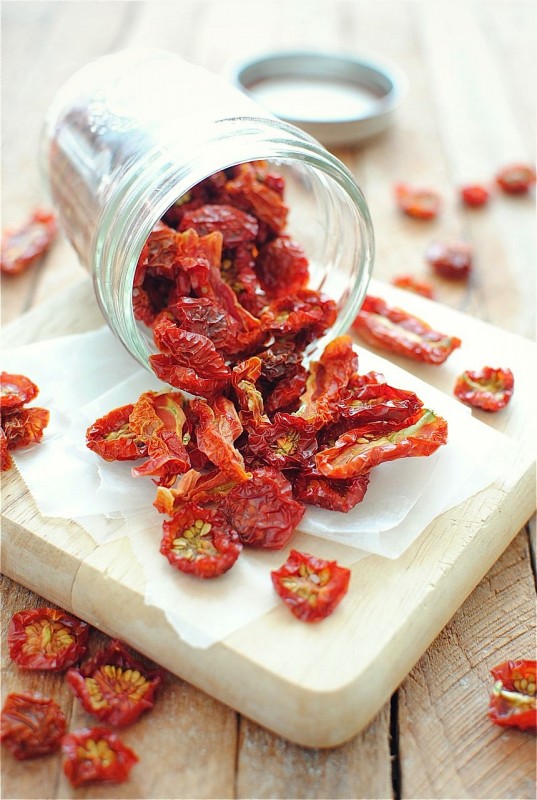 That's set and it forget it, MOM. She's like, WHAT WENT WRONG AT CHILDBIRTH?
So, do you guys have a dehydrator? I'm only 1,025% obsessed with mine. Get this, we found ours about a hundred years ago at a thrift store! It was like $.06 with no dead rats in it. SOLD.
What you see in this basket is a complete joke compared to what's going on in the garden now. I can't keep up. And today is only the FIRST DAY OF SUMMER, haaayelp.
So, we dehydrate. Just like my hair.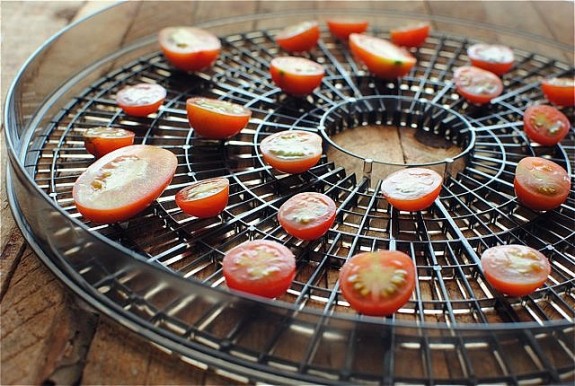 The process is so simple you're going to slap your knee and exclaim, "SAY!" all Mayberry-like.
1) De-stem the stems.
2) Photograph them. (I'm just kidding.)
3) Rinse your tomatoes.
4) Photograph it. (You don't have to.)
5) Slice them in half.
6) Layer cut side up on the dehydration trays.
7) Photograph it. (Not really)
8 ) Lightly sprinkle with sea salt. (We did ours over the sink to avoid messes that I would complain about for hours)
9) Turn the dehydrator on.
10) Photograph it. (I'm just kidding again.)
11) Live your life to the fullest over the next 24-36 hours.
Wrinkle City! Just like my clothes.
Three vitally important things to remember:
1) They don't need to be so brittle that they snap in half. You still want them a little flexible and chewy.
2) If you want to pack them in oil and garlic, that's fine! I just get worried about botulism and chicken pox.
3) Don't buy clothes that you have to iron if ironing makes you want to saw your hands off.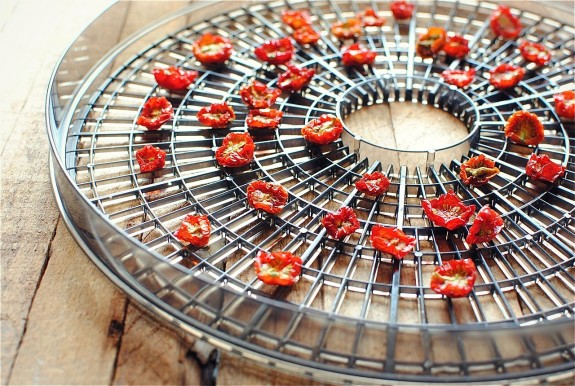 OH BUT WAIT. It doesn't stop here! Are you asking yourself, "but Beeeeev what do I doooo with theeeeesssseeee?" Guess what, pigeons. I have a few posts coming up showcasing the JOYS, FUN and PLEASURE of using dehydrated tomatoes in your meals.
P.S. I have the oven version for drying yer 'maters at the bottom of this here post. See, there's a place for everyone on www.bevcooks.com!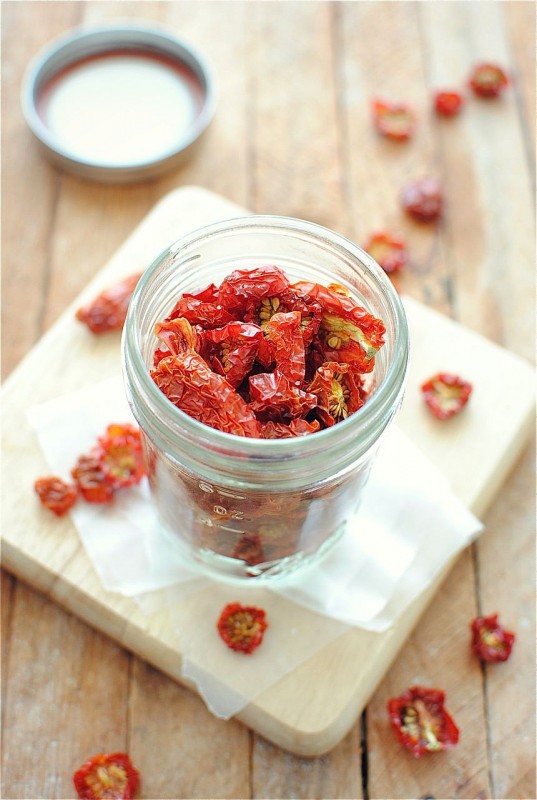 Now, what to do with the remaining 496 pounds of tomatoes on my counter.
Dehydrating Tomatoes 101:
What it took to roughly fill a 12-oz mason jar:
* dehydrator
* 4-6 cups mixed tomatoes (I had cherry and roma on hand), halved or sliced
* coarse salt
Seriously, you simply arrange the sliced tomato halves cut side up on each dehydrator tray. Lightly salt the tomatoes. Aaron held the racks over the sink while I did the sprinkling, to catch any salt though the cracks. And then he threw a ton over his shoulder because he thinks THAT'S THE RULE.
Now, mine has a basic on/off switch, no settings, so I turned it on and left it alone for  24 hours. Check on them. The larger slices will probably need another 6-12 hours. They should be slightly flexible and not so brittle they'll break. Just nice and dried.
Store in a tightly sealed jar in the fridge or freezer or 6-9 months! You can of course add oil to it, but I get nervous about funky stuff appearing in it, so I keep mine as is.
If you're going the oven route, simply preheat your oven to 200, or the lowest setting. Arrange the tomatoes, cut side up, on a cake rack. Season with salt and bake for roughly 6-12 hours. You should be good to go!