Project recipe!
You have to pretend that I sounded like Alicia Silverstone in Clueless just then.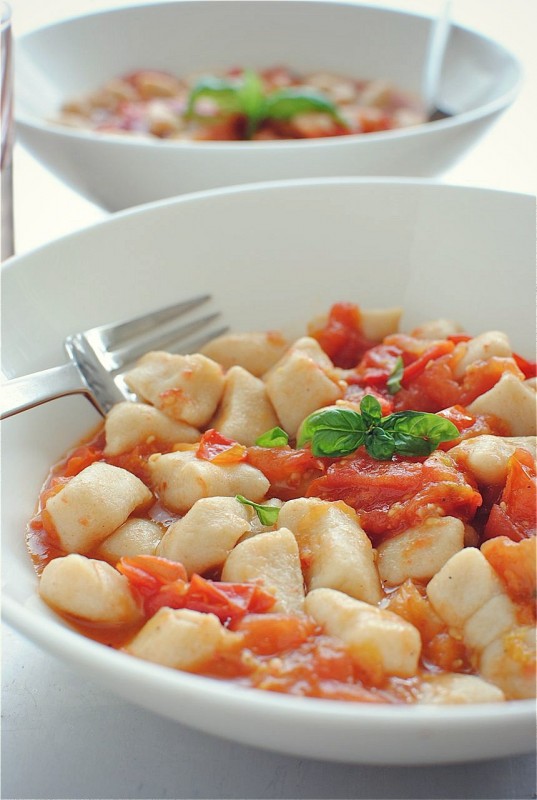 A lot of what I give ya on this here internet blog website URL www.bevcooks.com is pretty easy. Minimal willy nilly. Light on the rigamaroo.
But not today! Actually, making gnocchi from scratch isn't difficult at all. I'm confusing myself already.
However, I will say this. Okay I will say two things:
1) Buy a ricer.
2) I slept in a low braid last night and my hair actually looks kind of hip today.
See that ricer in the picture right above this next word right now? It's totally cheap and worth it. Buy it. Otherwise your gnocchi will end up being gn-haha-occ-guess-again-sucker-hi.
Also, just so you know, these are not my hands in the next few photos. That would be pretty much gross and awkward.
So gnocchi, you basically boil some potatoes until nawz and tender. Run them through the ricer that I just talked you into buying. Mix with flour and egg aaaaaand, well, let's just take a look together. (but you don't have to hold my hand or anything):
1) Oh hi, taters, flour and egg.                                  2) That's Aaron, stirring the egg into the flour.
3). Miiiiix, mix, mix.                                                        4) Kneaaaaaaad, knead knead.
5) Rooooooll it out, roll it out, waaay out.       6) Little gnocchi pillows! You just use a pastry cutter for this.
So then what I do is just place them on a baking sheet tossed with a little flour until I'm ready to cook 'em. And what I also do is get extremely lazy halfway through the cutting and just put the remaining dough in the freezer for lates. Because I'm telling you now, this makes A LOT of freaking gnocchi and you might lose your you know what if you have to make pillows until kingdom come.
Oh and about the sauce! I just roasted some cherry tomatoes with garlic and oil, then smashed them up with more oil and basil and kept them on a low simmer until ready to activate.
I'm not sure what that last part meant but I like it.
And you'll want to boil your gnocchi in batches so as to prevent stickage. I'm getting a red squiggly line under stickage and I so don't even care.
But the deal is, there's just nothing like fresh gnocchi. They don't have to be perfect either! Just rustic little pillows of comfort and devotion and emotional support and I'm probably saying too much right now.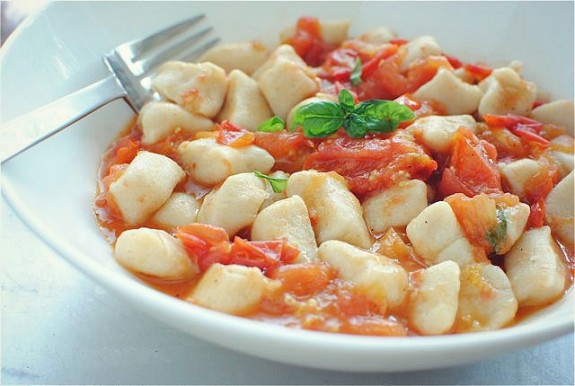 And I really want to watch Clueless probably all day.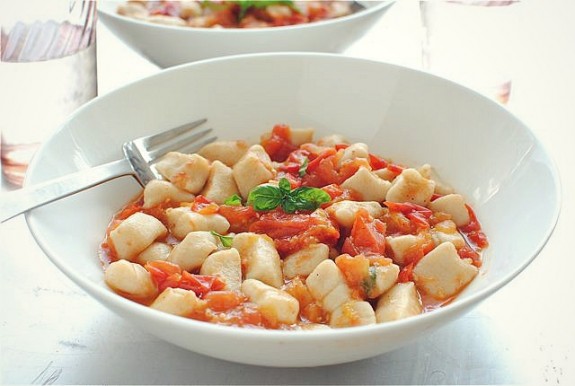 You should gnocchi your face.
Homemade Gnocchi with a Roasted Tomato Sauce:
What it took for 4:
* 2 russet potatoes, rinsed and scrubbed
* 1 cup all-purpose flour
* 1/2 cup whole wheat flour
* 1 egg
* 4 cups cherry or grape tomatoes
* 3 cloves garlic, sliced
* 4 Tbs. extra-virgin olive oil, divided
* coarse salt and freshly ground pepper
* fresh basil for garnish, optional
Preheat the oven to 400.
Arrange the tomatoes on a baking sheet with the garlic slices. Toss with the olive oil and a good pinch of salt and pepper. Roast for 20-25 minutes, until the tomatoes are slightly blistered and wilted.
In the meantime, give the potatoes a rough dice and boil for about 20 minutes, or until cooked and tender. Rinse under cool water in a large colander for about 15 seconds, to get rid of the starchiness. Pull the skins off.
Using a ricer, press the potatoes into a large bowl.
On a clean work surface, dump the potatoes. Create a well in the center and throw most of the flour on top. Crack the egg into the well and season with a good pinch of salt. Using a fork, start incorporating the egg into the flour and potatoes, about two minutes. Then use your hands to continue kneading until the dough mound is soft and pliable. If you need to add more flour, do so.
Pull apart a small section and roll it out into a thin, long log. Using a pastry cutter, slice each log into tiny pillows, creating the gnocchi.
Continue with the entire mound of dough, or freeze as much as you want for later use. I froze about half of the mound.
Toss the gnocchi lightly with flour until you cook them, keeping them from sticking to each other.
Bring a large pot of salted water to a boil. Using a spider, boil the gnocchi in batches to avoid sticking. They'll float to the top after about two minutes, which means they're done. Transfer them to the tomato sauce until ready to serve.
Speaking of the sauce:
In the meantime, transfer the roasted tomatoes to a medium saucepan. Using a potato masher, mash the tomatoes until it becomes saucy. Now, if you don't like tomato skins, feel free to pull them off of the tomatoes before you mash. They'll come off easily. I don't mind the skins, so we left them in. Add a few leaves of torn fresh basil, along with the remaining 2 Tbs. of oil and simmer on low until ready to serve. Season with salt and pepper.
Serve gnocchi with freshly grated parmesan and more fresh basil, if desired. And you should probably definitely desire.