You know what the old saying is, don't you? "When your garden has a high birthrate, immediately add to carbohydrates."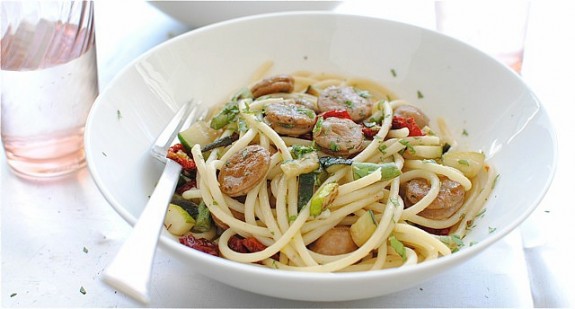 Oh you didn't learn that in the school of lessons and life? Yeah, it was right after we learned that throwing empty locust shells on your little sister at bath time would prooooobably land you in time-out until, oh, NOW.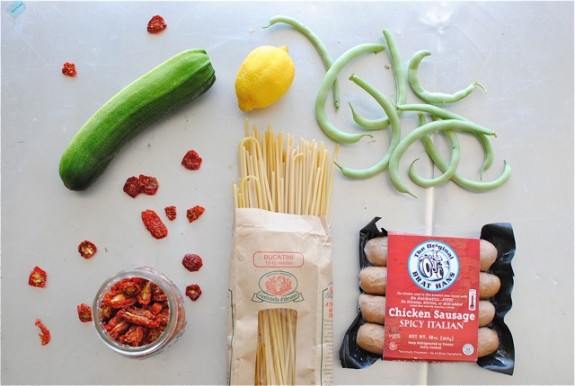 But it was right BEFORE we learned that plucking too many of your eyebrow hairs because you really want to look "old Hollywood" and glamorous like Greta Garbo would proooooobably end up having you look like a terrified hooker.
Yes, and it was a little bit after we learned that getting stuck in a bathroom because you can't turn the knob due to the hand lotion you just applied and you panic like a total dimwit until your voice goes completely hoarse because you think you'll be spending the last of your days in this tiny room, is not smart. Just wipe the hand lotion off and exit the room, for crying out loud.
But it was also before we learned that climbing on top of the performance arts building on your college campus in the middle of the night and changing the letters on the marque from "Guys and Dolls" to "That Gerbil Just Goosed Me" is highly frowned upon by the authorities.
Not that I would know about any of the above lessons mentioned.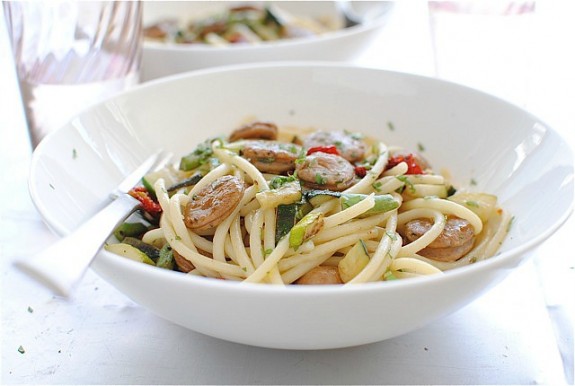 I want to learn this lesson over and over and over. And over.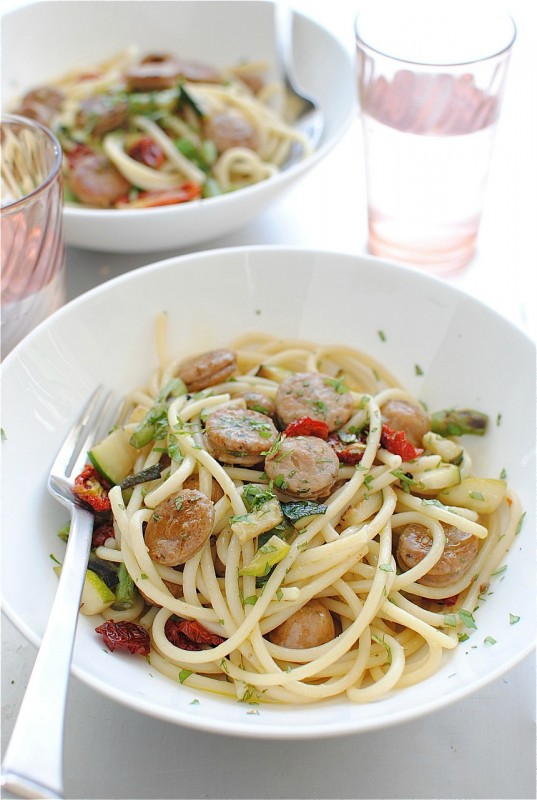 And over.
Bucatini with Chicken Sausage and Garden Veggies:
What it took for 4:
* 2 Tbs. extra-virgin olive oil, plus more for drizzling
* 4 links chicken sausage (I used Spicy Italian), sliced into 1/4-inch pieces
* 1 medium zucchini, diced
* 1 cup green beans, diced
* 1 cup dehydrated tomatoes
* 1 pound bucatini pasta
* 1/4 cup freshly grated parmesan cheese
* 1 lemon
* coarse salt and freshly ground pepper
* fresh basil for garnish (optional)
Heat 1 Tbs. oil in a medium skillet over medium-high. Add the chicken sausages and sauté until browned on both sides, about 7 minutes. Remove from skillet and set aside.
Add the remaining Tbs. oil to the pan. Add the zucchini and green beans. Season with salt and pepper and sauté for about 6 minutes, until you see browning.
Add the tomatoes and toss to coat.
In the meantime, cook the bucatini until al dente. Reserve 1/2 cup pasta water and drain the rest. Add the pasta to the skillet and toss with the veggies. Add the chicken sausages back in (along with any accumulated juices), cheese and lemon juice; toss to coat. Add some pasta water to create a thin sauce if desired. Just eyeball it until you love what you see. Then give it one more final drizzle of oil and sprinkle of salt and pepper, I MEAN WHY NOT.
Serve with freshly chopped basil and more cheese and lemon and I'm starving.