I really want to act out the famous scene in Lady and the Tramp with this pasta right now.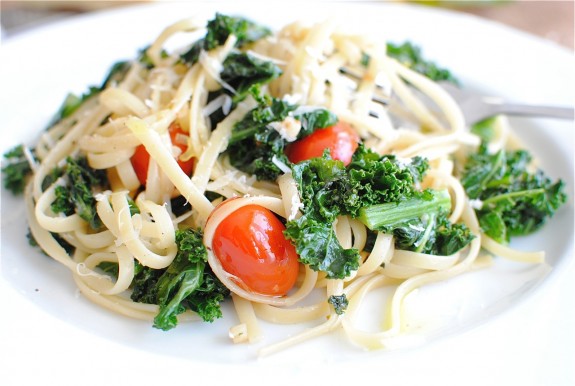 Except I don't want to share, so I'd look pretty dumb sucking up strands of linguine into my face with a look of "oh my! how did that happ–?!" with no one on the other side.
But let's be honest here, we both know I'd totally act out that scene by myself. In the bathroom. At midnight.
This pasta has super powers. No, seriously. Did you know kale is like one of top anti-aging foods EVAR? Yeppers. And tomatoes are filled with some healthy agent that I can't pronounce, so that's a new year's bonus for ya. After I finished this plate I looked in the mirror and I found a 17-year old staring right back at me!
OH I'M JUST JOSHING WITH YOU.
It was more like 17 and a half.
And I'm rethinking this whole Lady and the Tramp thing. I don't want you guys to think I'm mental or something, so I'm going to go ahead and forego the act.
Instead I'll pretend the pasta is a wig and the tomatoes are earrings and I'll eat it all straight off my head!
PROBLEM SOLVED.
Linguine with Kale and Tomatoes: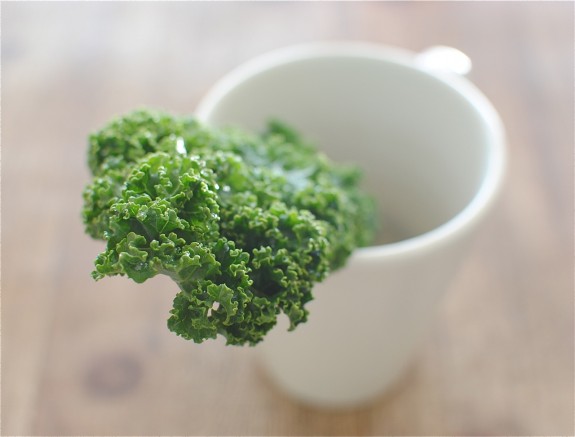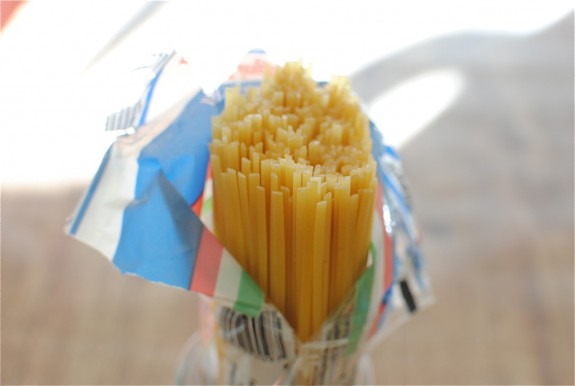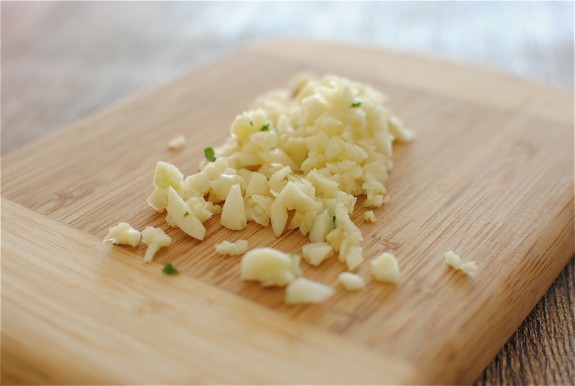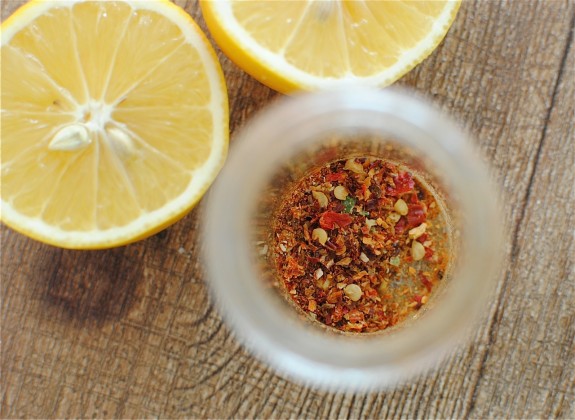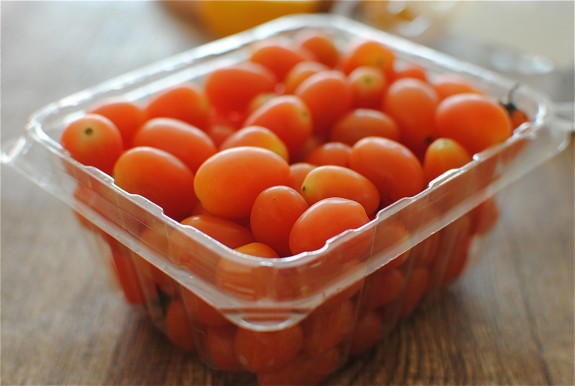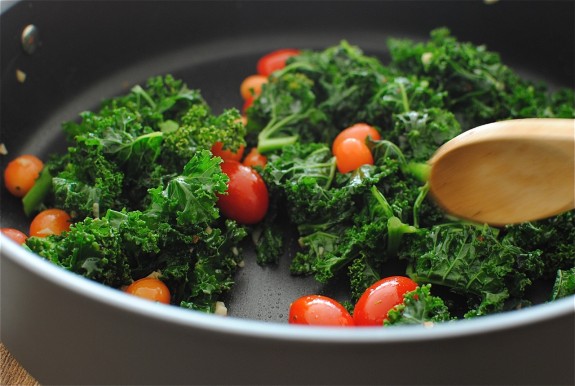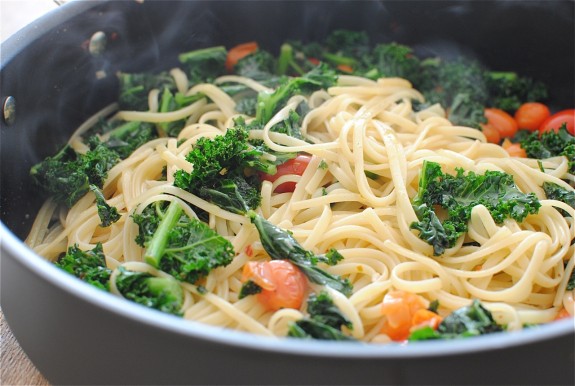 I lied. THIS is the last time you'll have to see my jank polish job.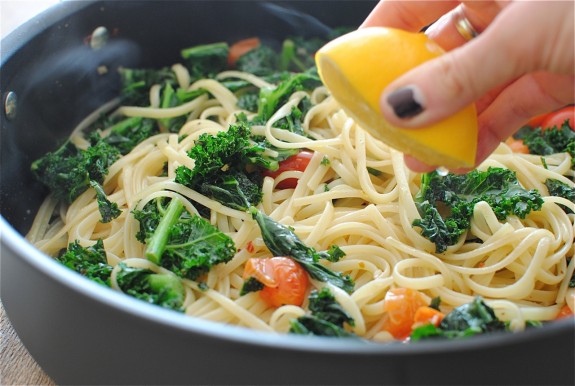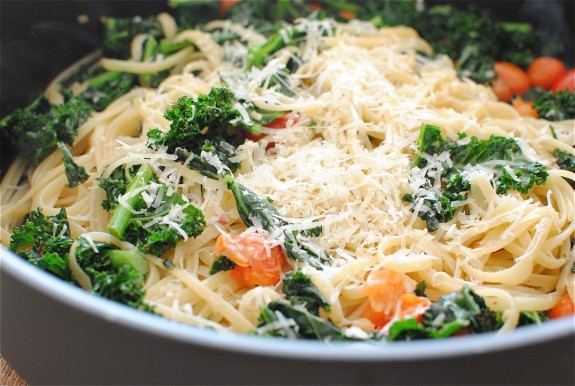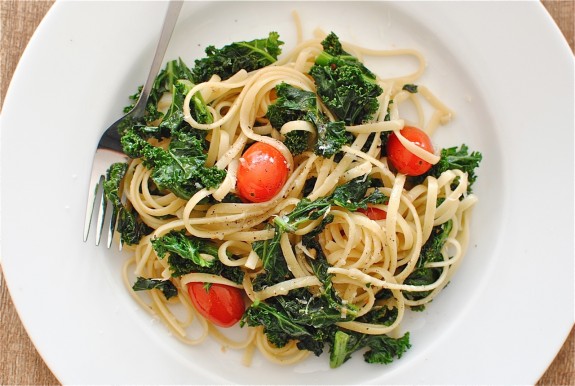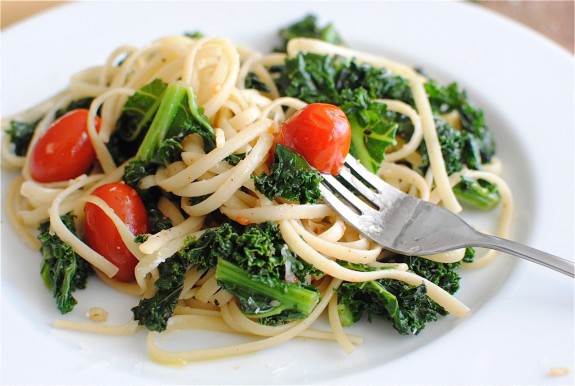 Okay so I still want to act out Lady and the Tramp. UGH.
What it took for 2:
* 2 Tbs. extra-virgin olive, plus more for drizzling
* 1 bunch curly kale, cut into chunks
* 4 oz cherry tomatoes
* 3 cloves garlic, minced
* 1 pinch crushed red pepper
* 1/2 pound linguine
* 1 lemon
* 1/2 cup freshly grated parmesan
* coarse salt and freshly ground pepper
Heat the oil in a large saute pan over medium-high. Add the garlic and crushed red pepper flakes; bloom 30 seconds. Add the kale and wilt, about a minute.
Toss in the cherry tomatoes and cook another minute or so. Season with salt and pepper.
In the meantime, cook the pasta until it reaches al dente. Reserve 1/4 cup of the pasta water.
Toss the pasta into the kale and tomatoes. Toss, toss to combine. Squeeze the lemon juice in, add the cheese and the reserved pasta water.
Plate her up and toss with more cheese and a good drizzle of olive oil. And more lemon? Heck. Freaking. Yes.
*Here's a little Friday outtake to carry you through the….well, next 3 seconds.
AND I'm going to go self tan now.