I'm working a double SHIFT, you guys. Giving you not one BUT TWO recipes to read today.
Ohhh, she's so crazaay!
Are you looking at that photo wondering what the heck that white shreddedy stuff is on it? It's CRAB MEAT. The good kind. The fancy kind. The kind that makes you go mmmmm holy cr*p I'm seriously going to die right now from jubilitory explosions. That kind.
I paired it with roasted vegetables, IN A SALAD.
Did she reaaaallly?
Oh, I did. Don't even try and stop me.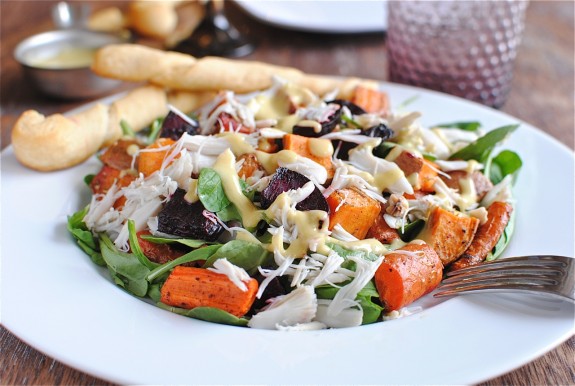 Before you have a conniption, go ahead and peep this!
Oh, but wait – THERE'S MORE.
Remember when my face was fighting my head in a wrestling match due to congestion a couple of weeks ago? And how I shoved my body into a vat of sriracha sauce via these wraps and all was right in the world and in my nose again?
Remember that?
Didn't you want the recipe? I feel like you did. On the Instagrams at least.
Well you're GETTING IT ANYWAY. Peeeeepy peepidey peeperton!
I need friends.