I've been dying to show you this recipe FOR LAHK, MONTHS.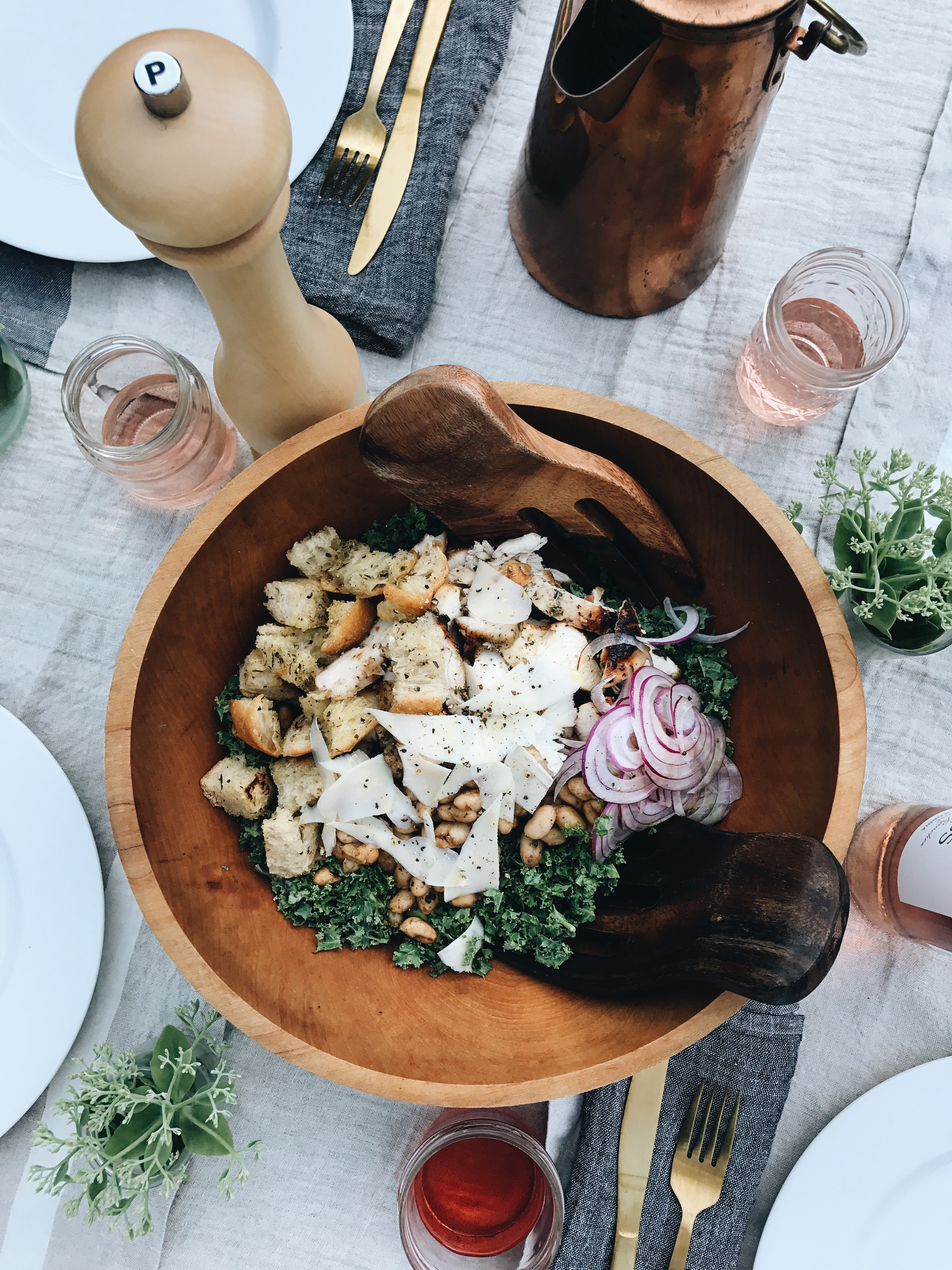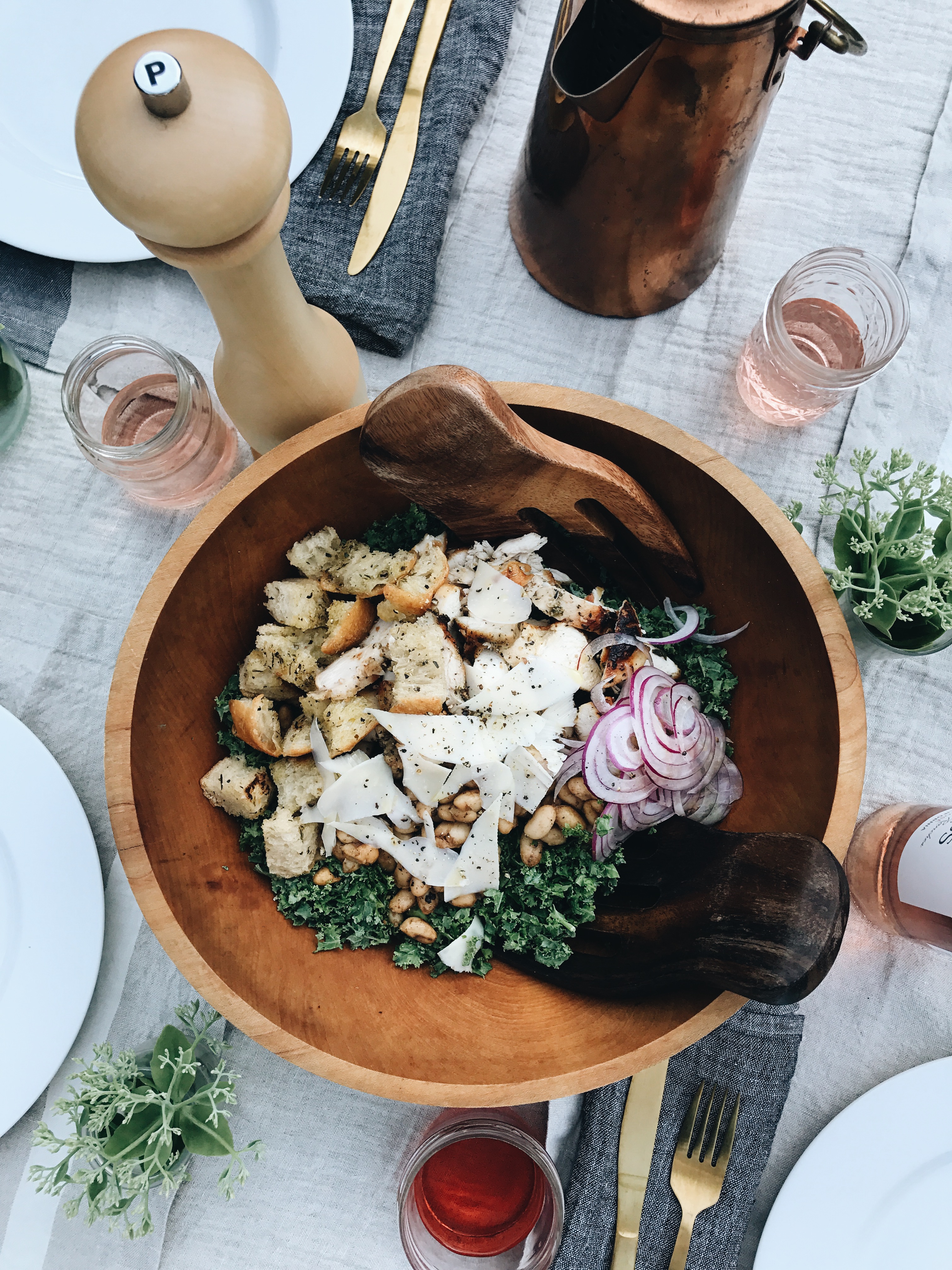 I make it almost every Monday night. Remember how I was in a habit of making Chicken Caesars every Monday night? We still do that from time to time, but I've been making THIS nutso Tuscan version for the better part of the summer and Lawdy LOU, it's high time I share it with you. (oh that rhymed.)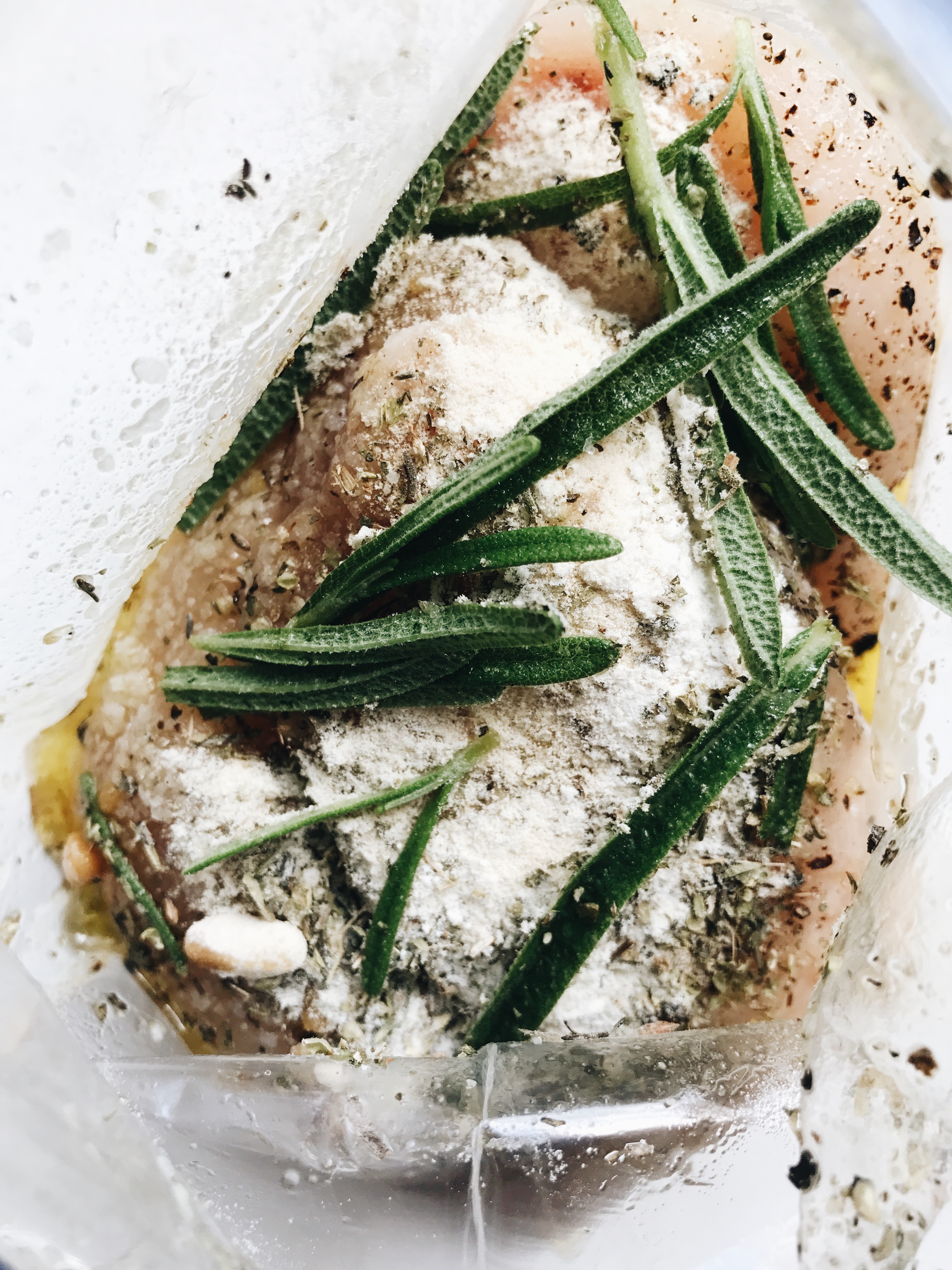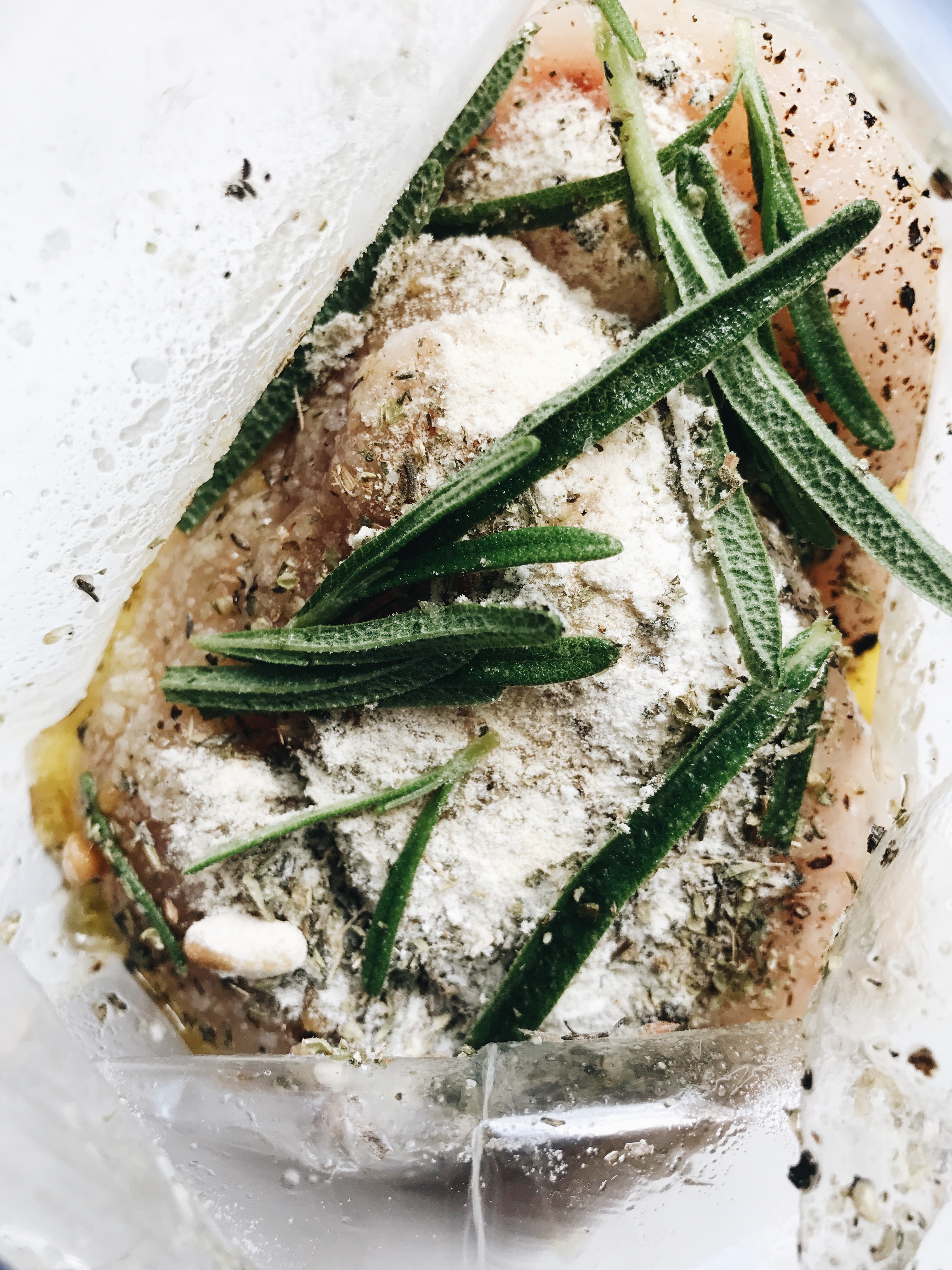 Let's start at the very beginning. A very good place to start. (<–name that movie.)
The chicken: Okay. So. I use garlic powder and onion powder on EVERYTHING. Don't try to understand it. Just accept it and love me. The marinade is: two chicken breasts, extra-virgin olive oil, lemon juice, garlic and onion powder, dried Italian seasoning, salt and pepper, fresh rosemary.
I DON'T KNOW what that strange-looking bean is in that bag. I'm weirded out, because I don't remember it being in the bag in real life. There are beans in this recipe, but later on. I don't think the can was even open yet. IT'S A PHANTOM BEAN FROM THE FUTURE.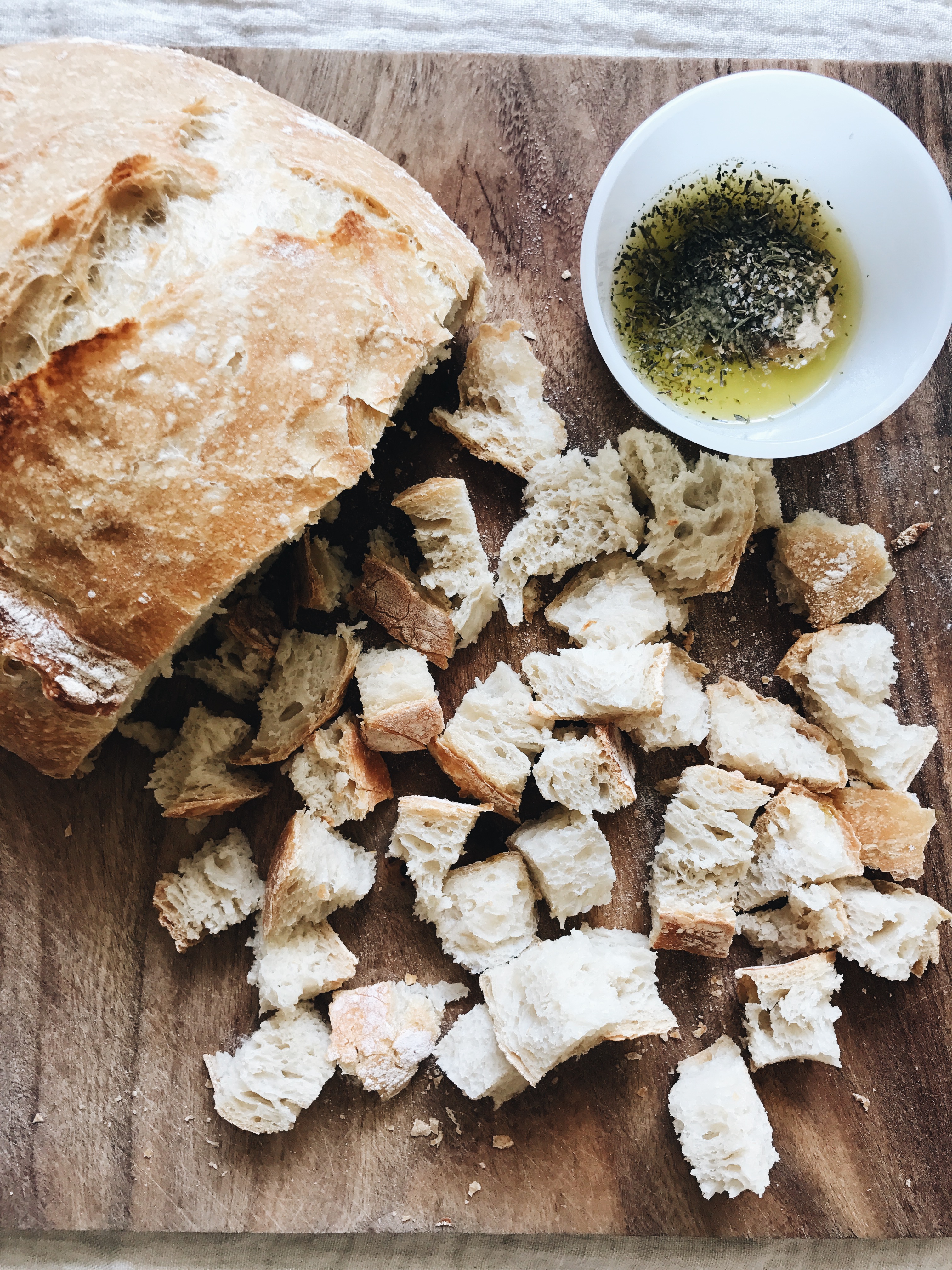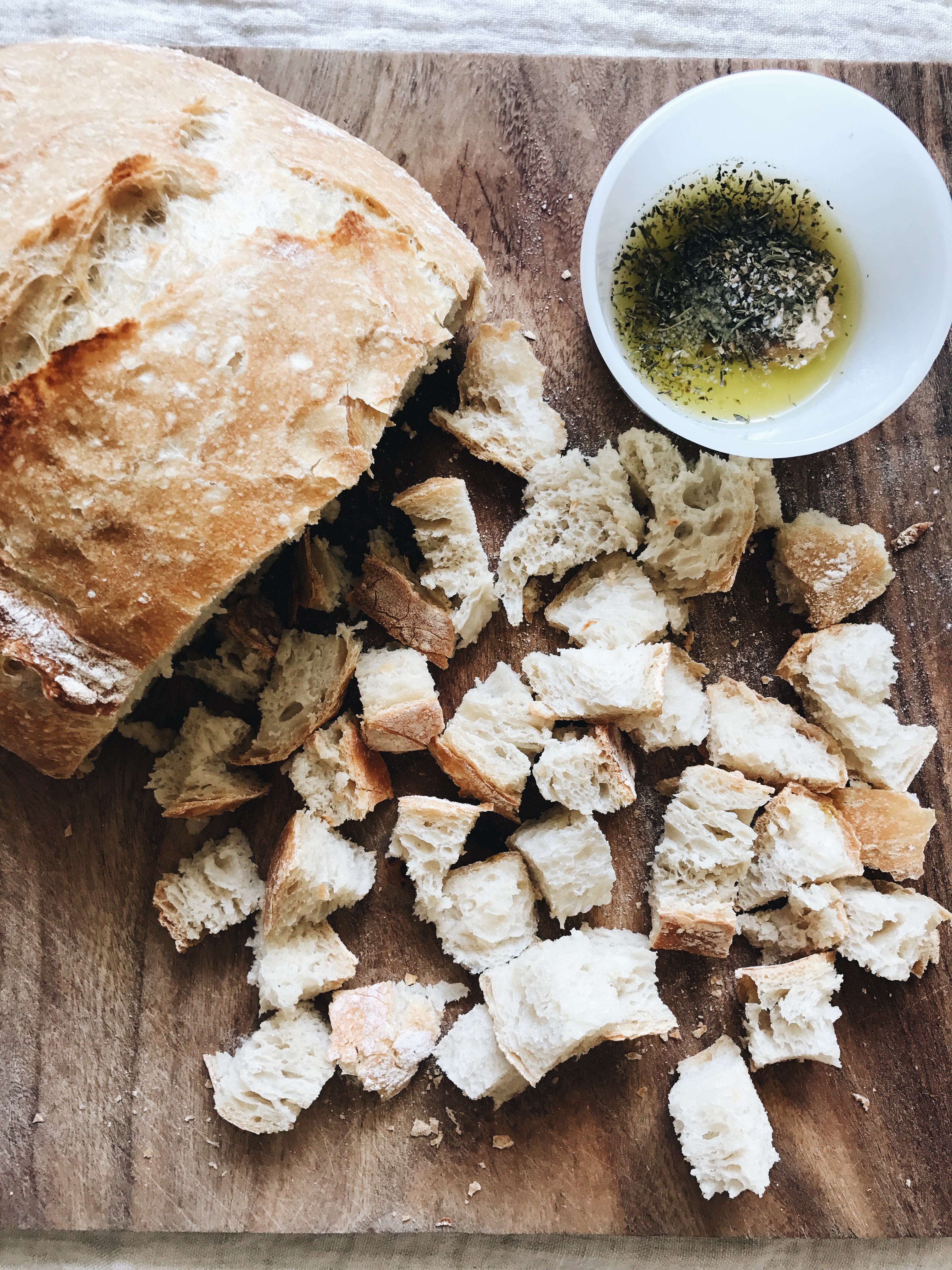 The croutons: I make Mark Bittman's no-knead bread recipe 47 zillion times a year and it gives me joy and happiness like nothing else in this world. (besides my children and husband blah blah BLAH yawn.)
You can either start incorporating this brilliant life decision into regular rotation, or buy a loaf of your favorite crusty bread! You're still a good person. Cut the bread into chunks, and toss them with an almost-identical version of the chicken marinade. Olive oil, garlic and onion powder (just love), dried Italian seasoning, salt and pepper. You could EVEN add some finely grated or powdered parmesan and I would not be upset about it.
Toast 'em up all crouton-y like.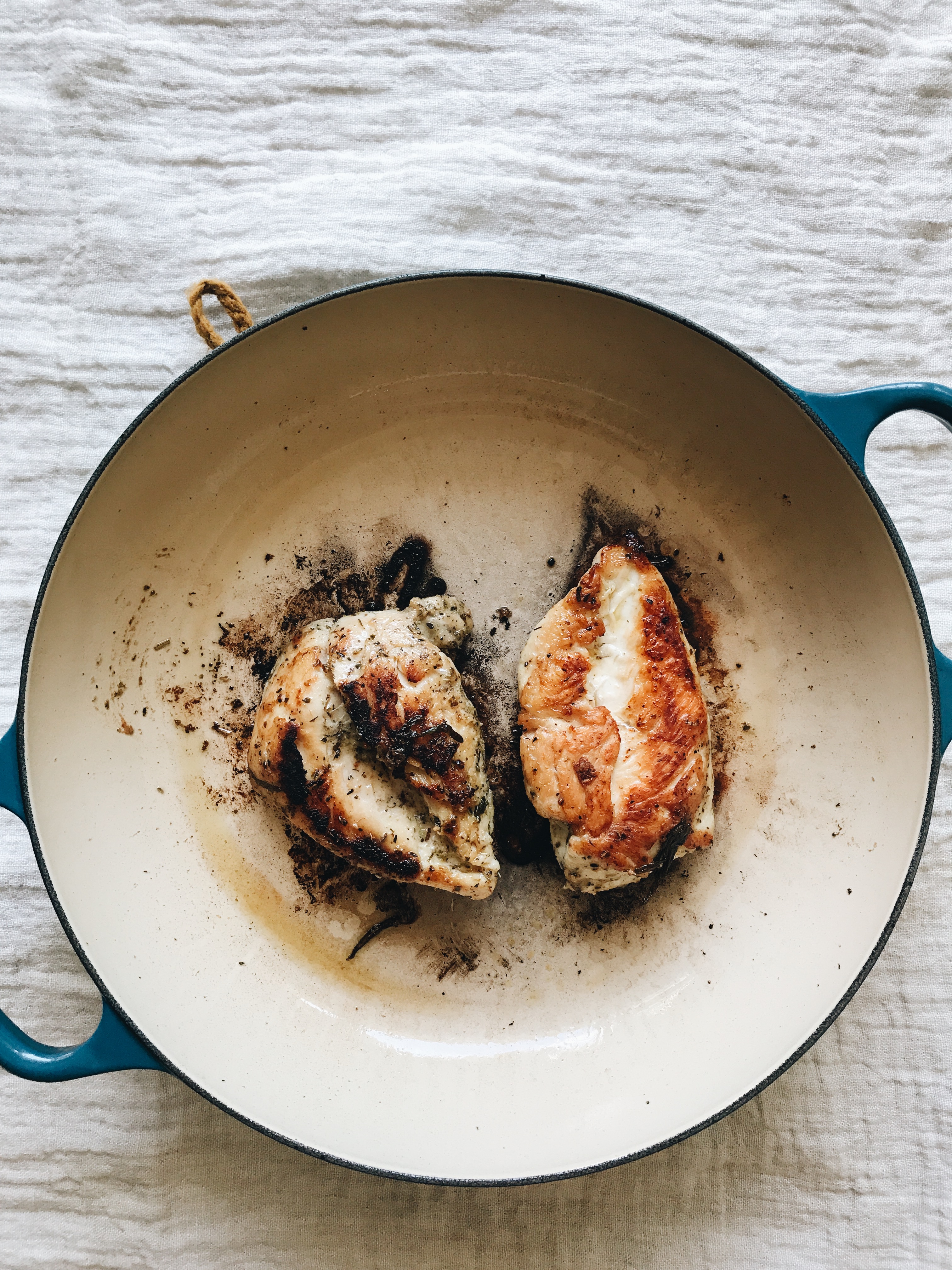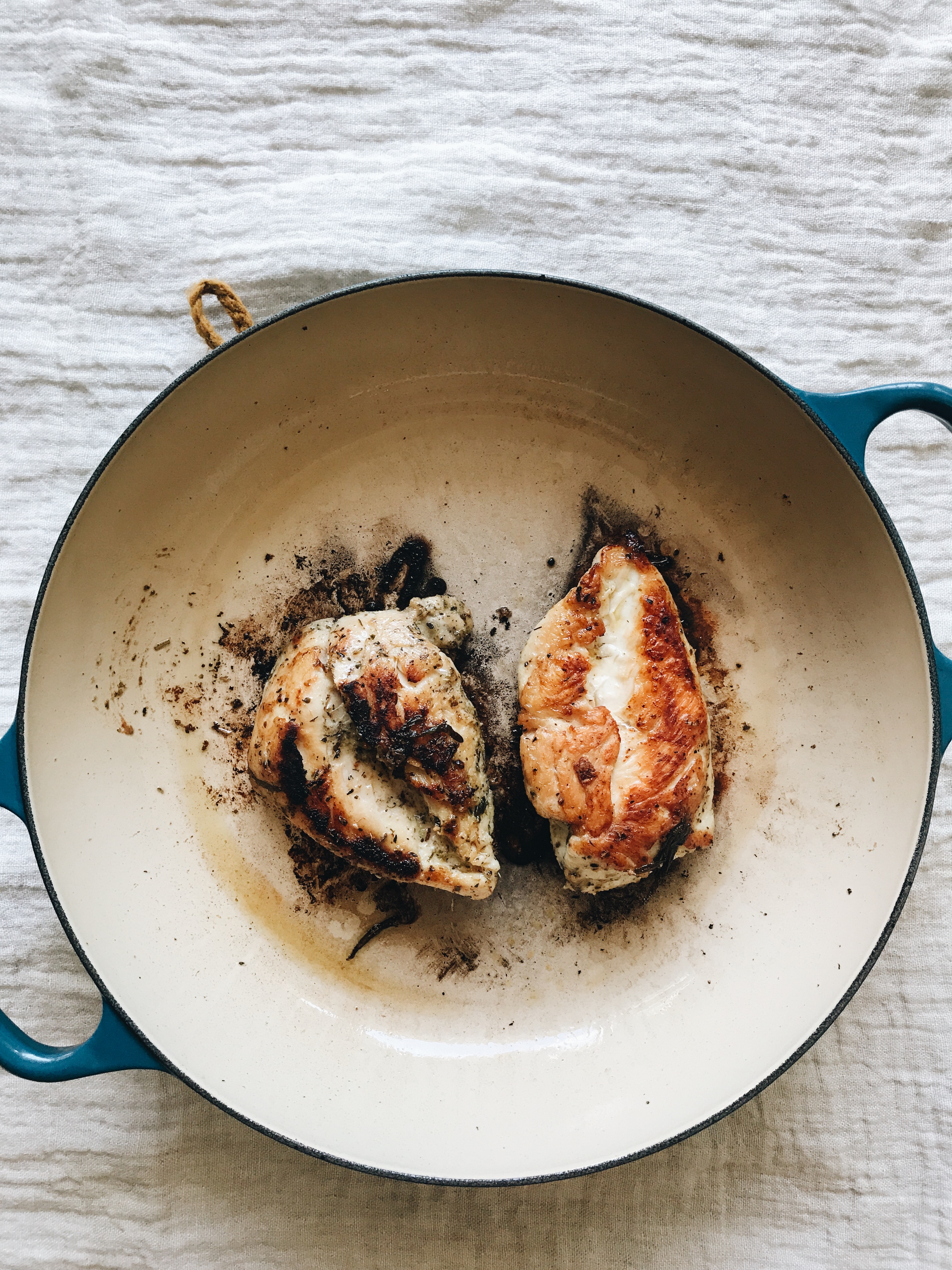 Sear your chicken on both sides for five minutes each. Covered. Dunzo.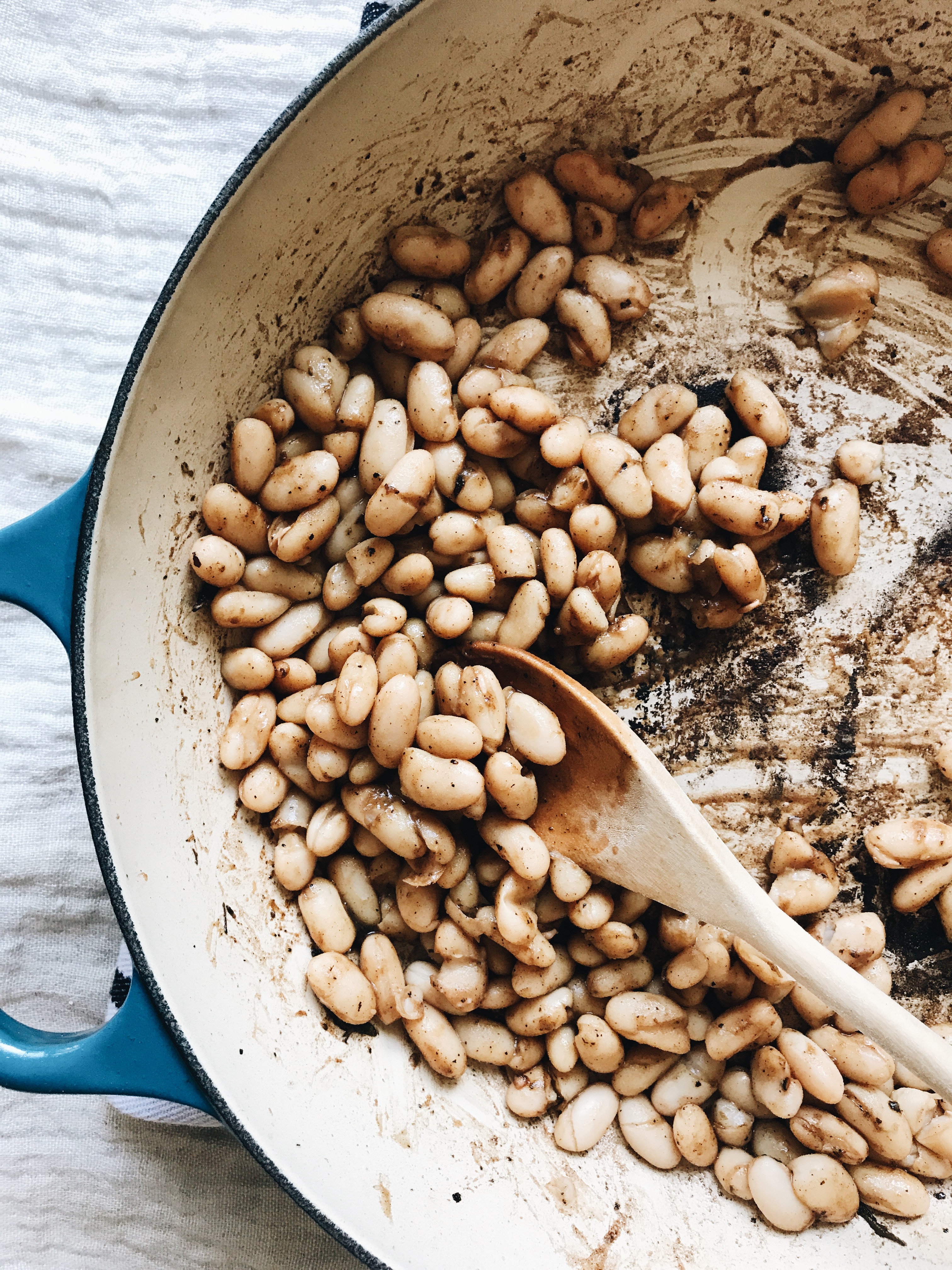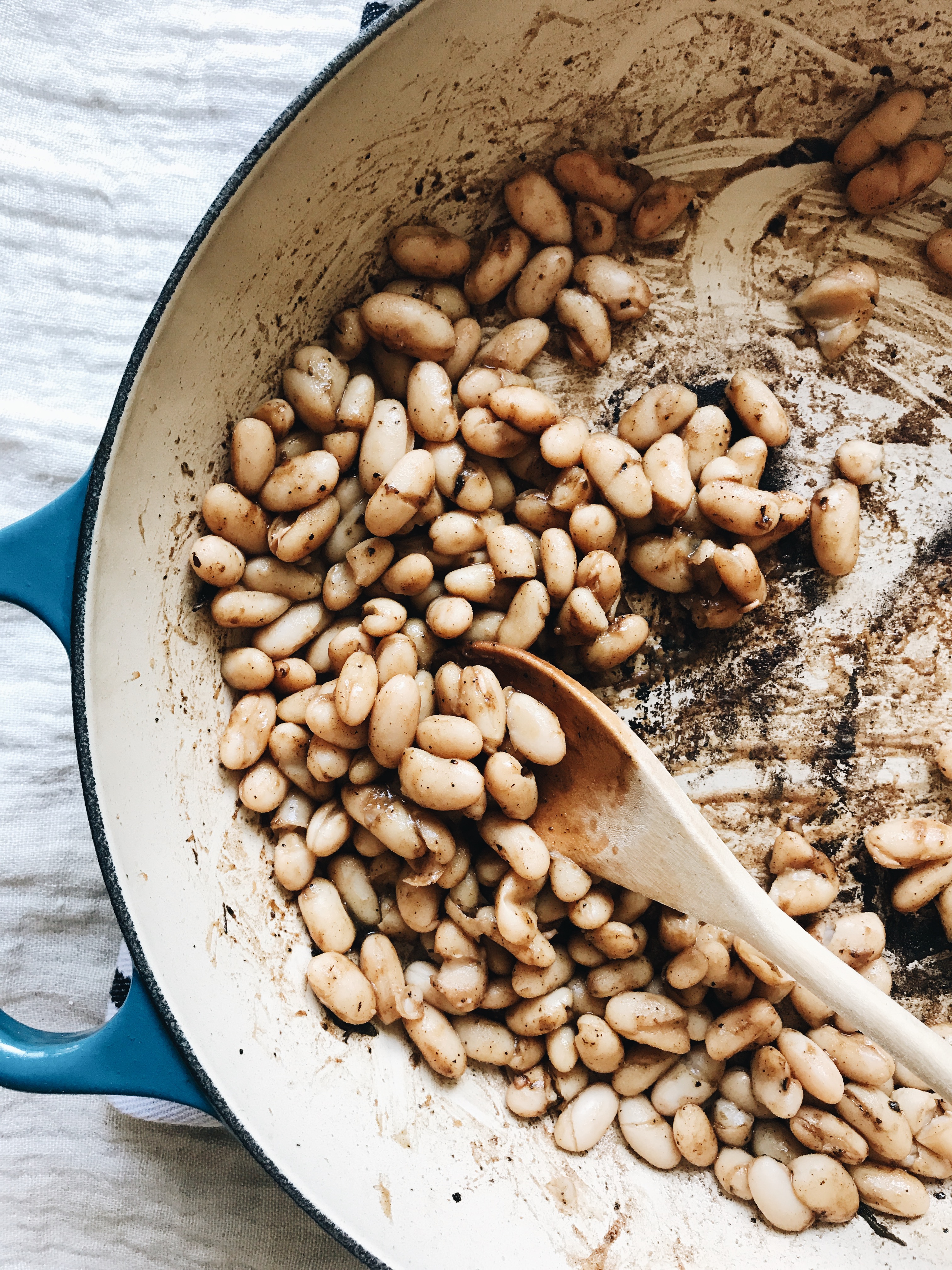 Back in the skillet with all the sinful flavors from the seared chicken, add a can of (drained and rinsed!) cannellini beans. And more garlic powder! I'm awesome, just say it.
Give it a quick sauté and call her good.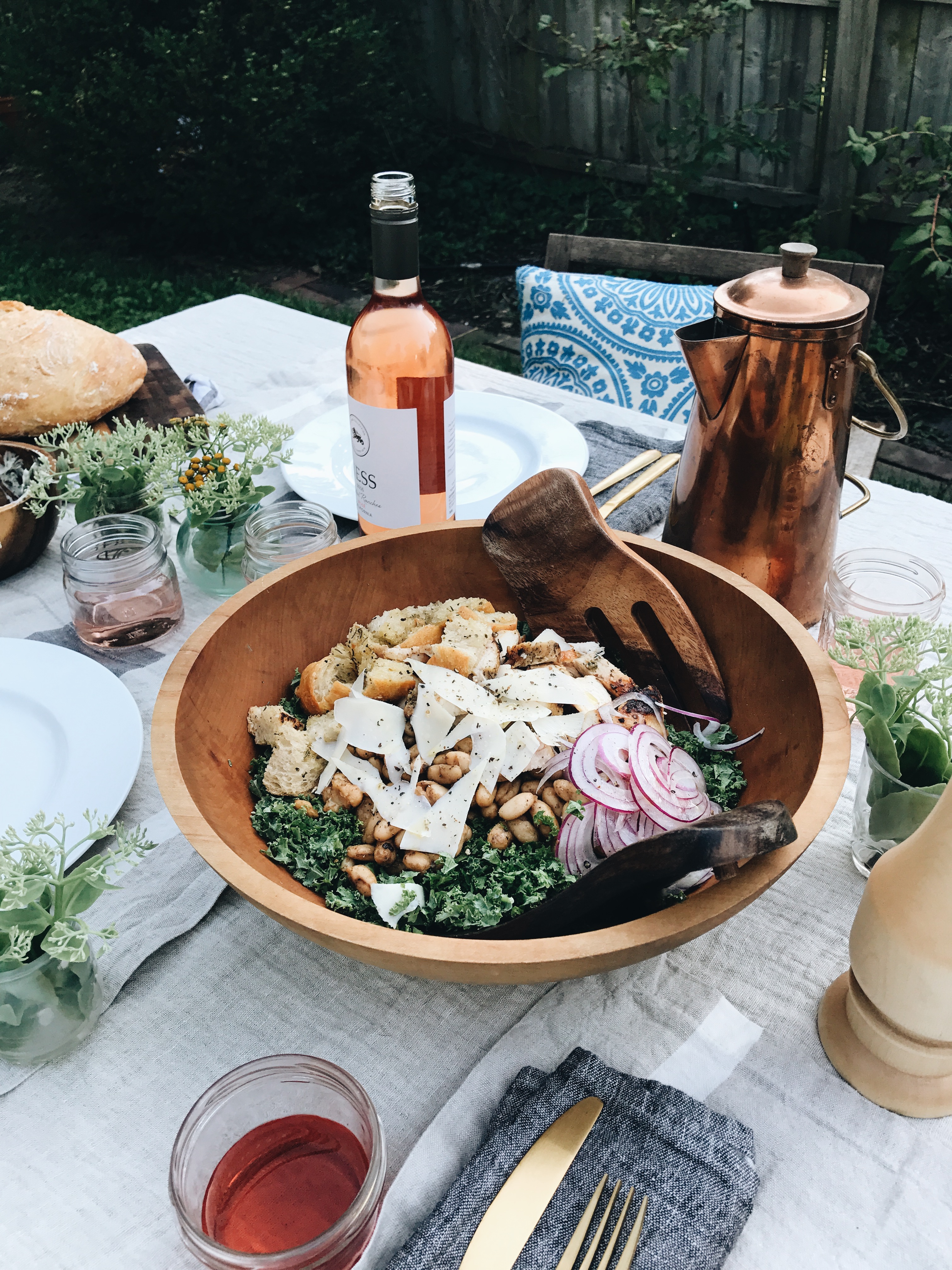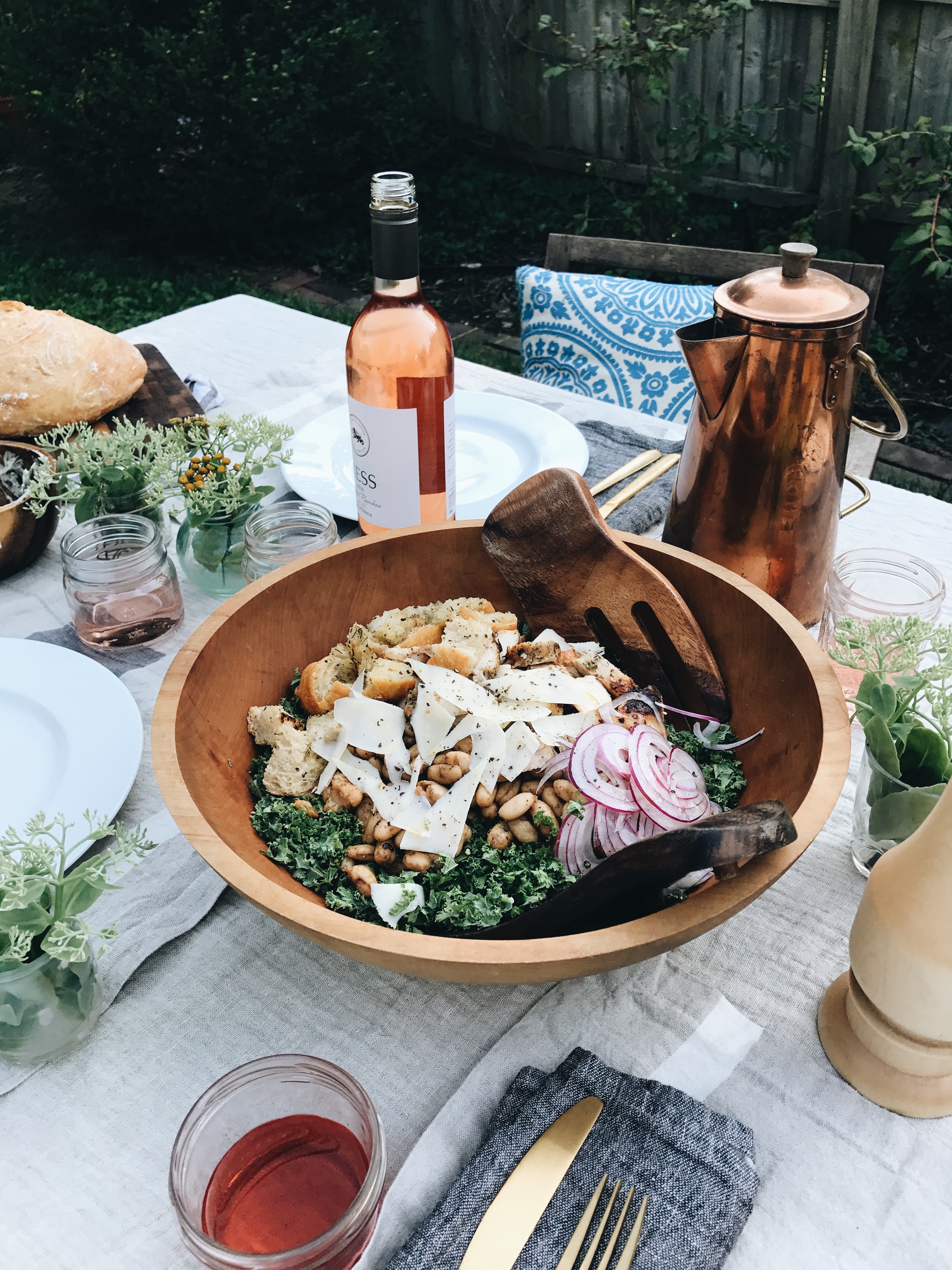 THE GREENS. This is where I change it up based on what mood my soul fairies are in that day. Sometimes it's romaine. For the crunch. Sometimes I add in baby spinach, for a little bit of velvet. Today? CHOPPED KALE.
But like, really really chopped.
Matter of fact, let me give you a tip I just discovered, as a bi-product nubby of knowledge, learnt from my obsessive morning juicing ritual.
Throw a bag of chopped kale in a food processor and pulse it a few times. Um, it makes the kale perfectly chopped. Like, almost minced! Tiny kale CRUMBLES sort of. But not in a weird way. In a divine way. You're going to want to wiggle your fingers in it and have a total Amélie moment. Swearsies. (<–gross.)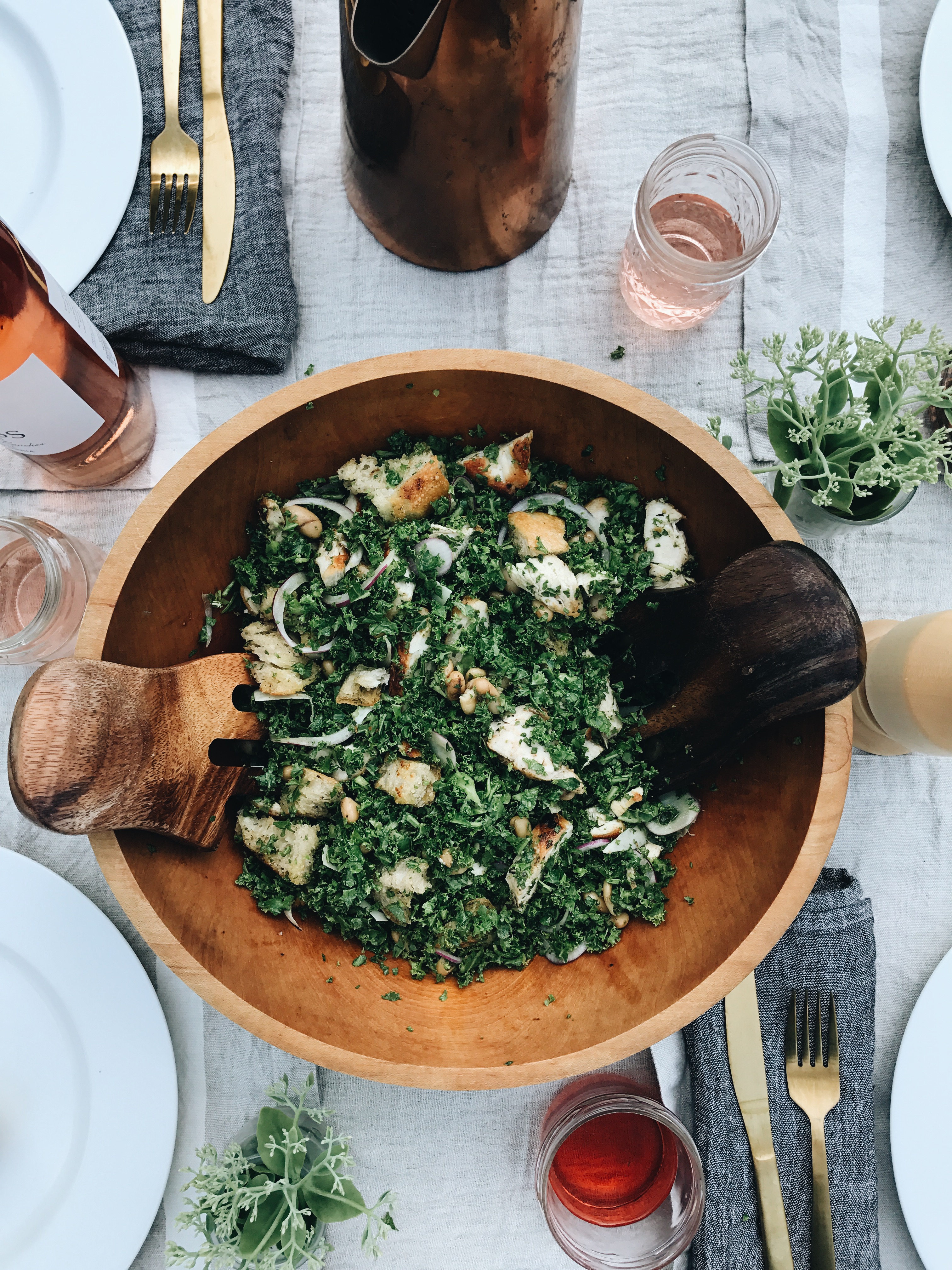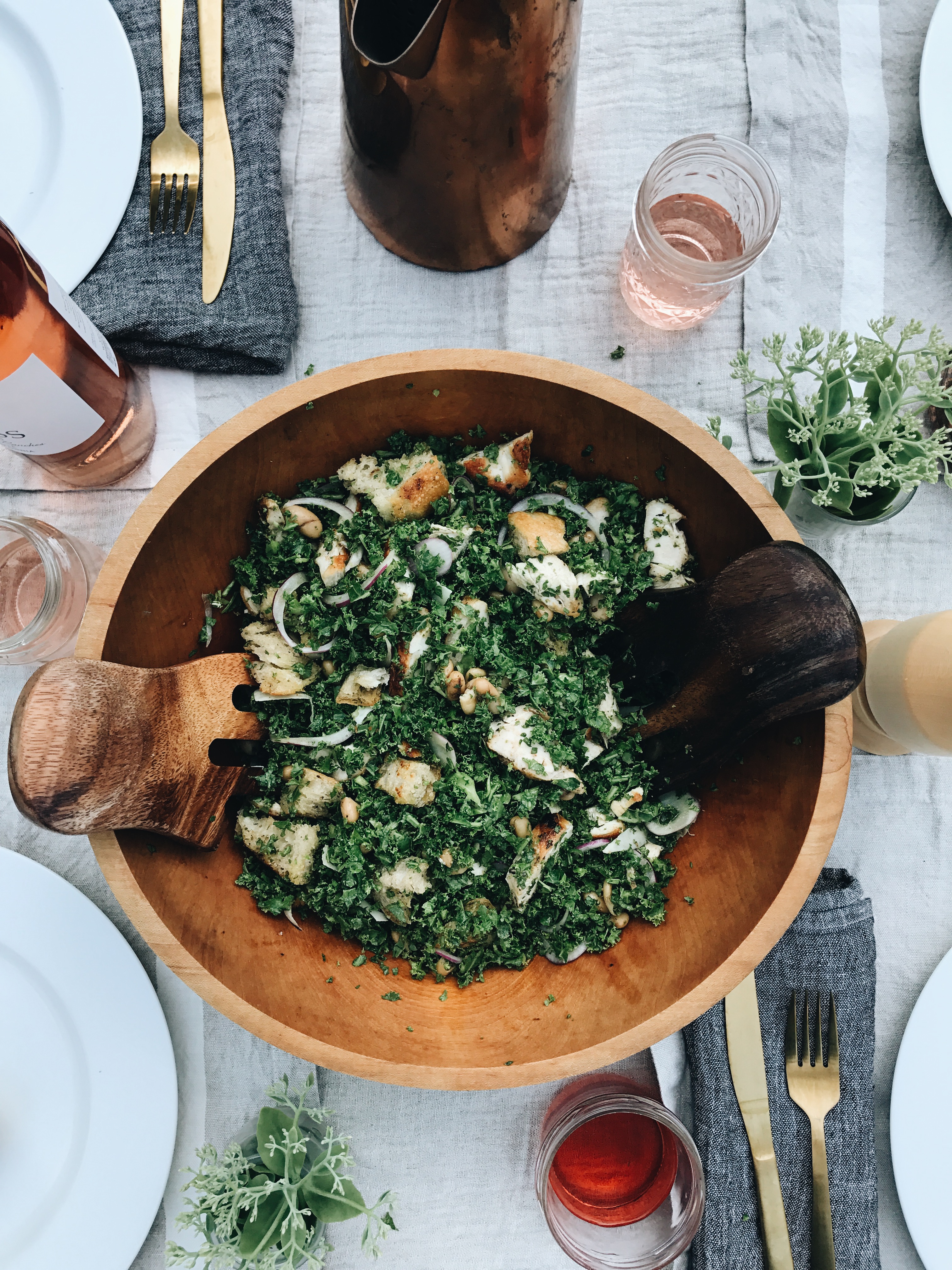 The dressing is straight extra-virgin olive oil, lemon juice and a splash of white wine vinegar. And salt. Simple and exquisite.
The toppings are chopped chicken, crusty croutons, thiiiiinly sliced raw red onion, sautéed cannellini beans, and rustic shavings of fresh parmesan cheese. Boom.
This SALAD, you guys. Let me tell you, it's wonderful as is, but it also makes a quick, fancy lunch option, if you under dress it, and have chilled leftovers. I did that yesterday after some shopping and I couldn't shut up about it. Aaron loved that.
It's hefty, undeniably flavorful, with a bit of crunch, pops of creamy beans, but not a total gut bomb. IT IS LIFE.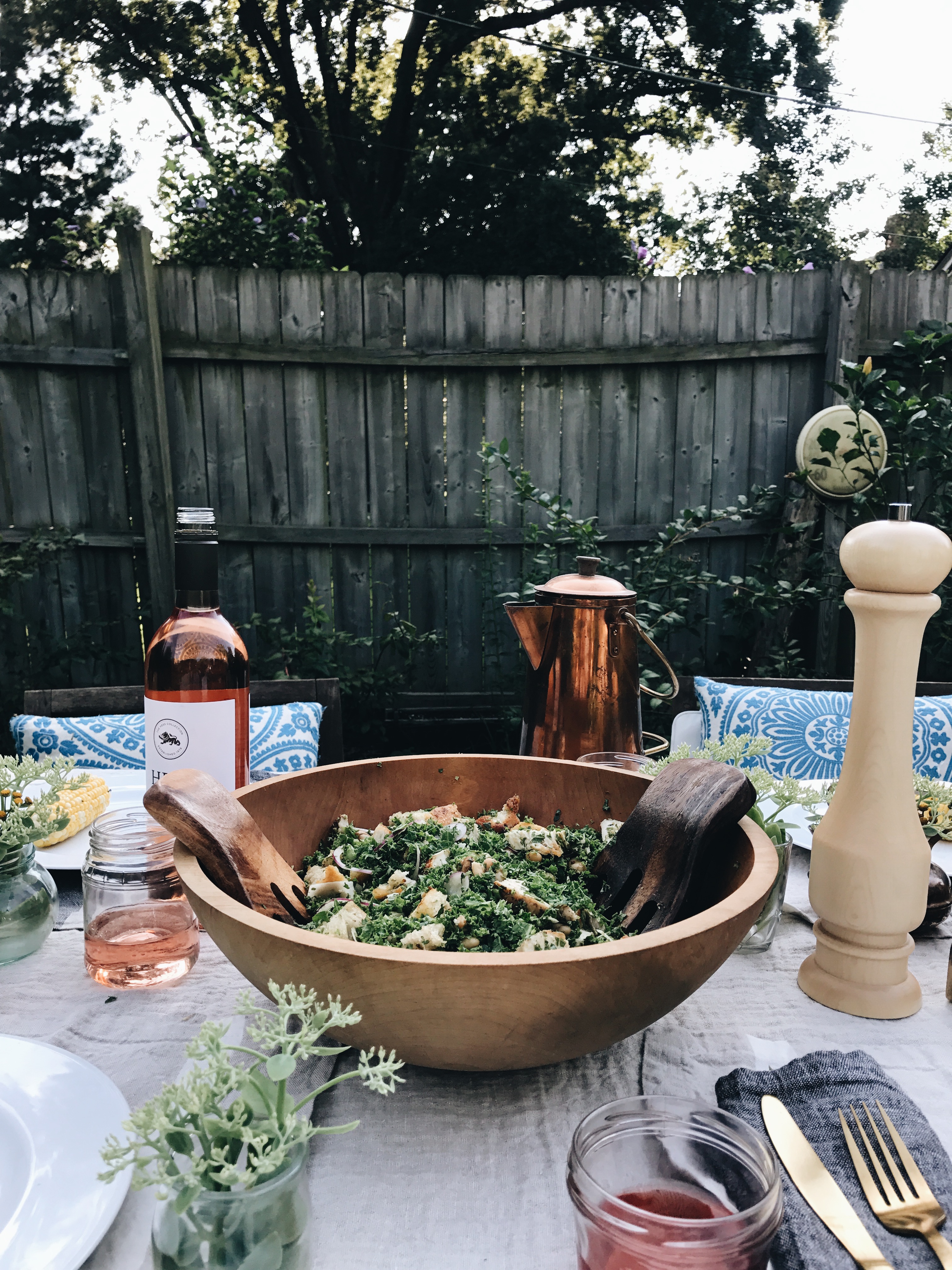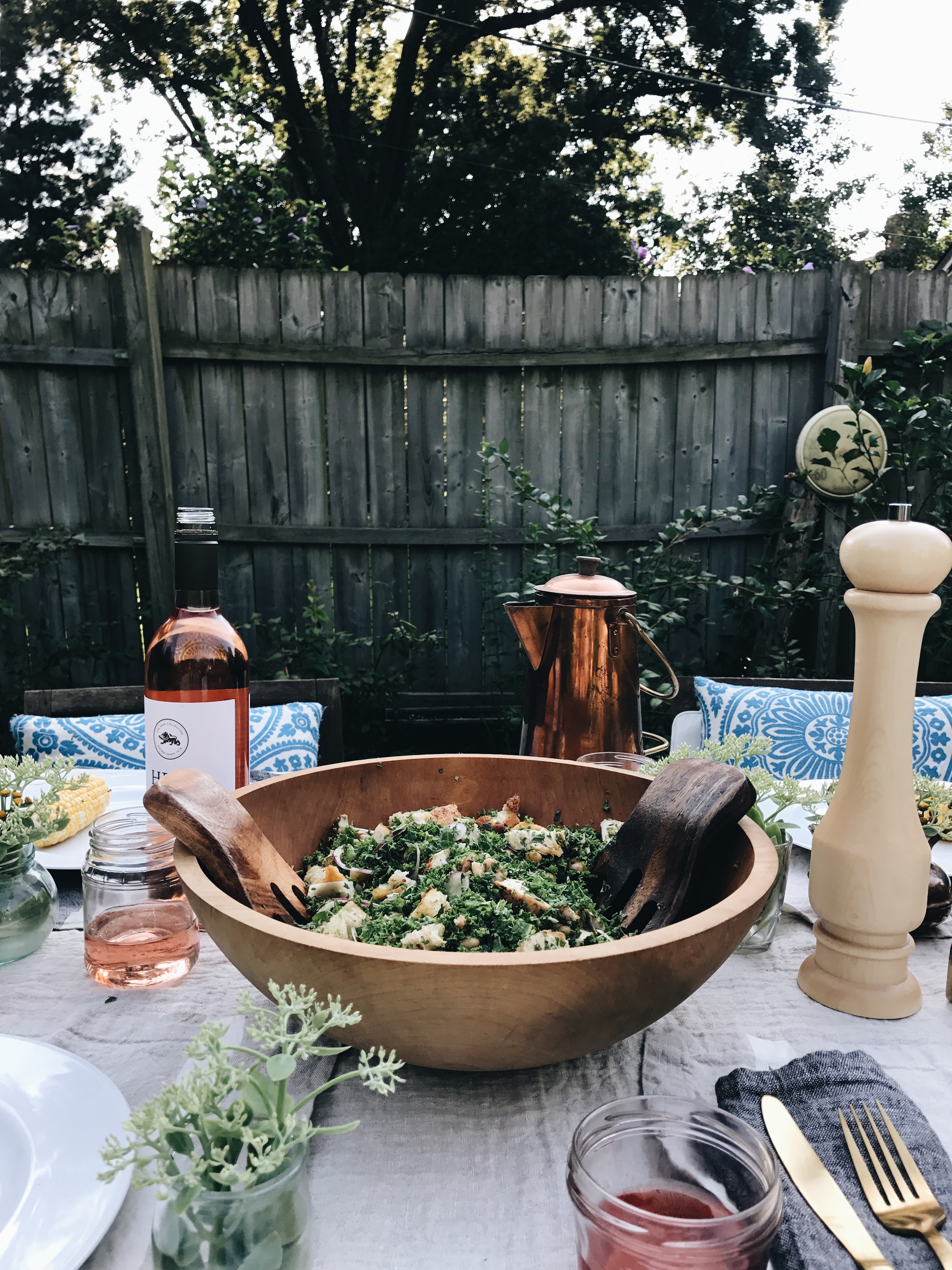 I served mine with buttered corn, extra crusty bread, grapes, and wine. Not upset about it.
Tuscan Chicken Kale Salad
Ingredients
For the chicken:
2 chicken breasts
2 Tbs. extra-virgin olive oil
1 Tbs. fresh lemon juice
1 tsp garlic powder
1 tsp onion powder
1 tsp dried Italian seasoning
1 Tbs. fresh rosemary leaves
Salt and pepper
For the croutons:
2 -3 cups chunks of crusty bread
2 Tbs. extra virgin olive oil
1 tsp garlic powder
1 tsp onion powder
1 tsp dried Italian seasoning
Salt and pepper
For the dressing:
3 Tbs. extra-virgin olive oil
2 Tbs. fresh lemon juice
2 tsp white wine vinegar
A good pinch of salt and pepper
1 (10 oz) bag chopped kale, pulsed in a food processor until finely chopped (you can do this in batches)
1 (15 oz) can cannellini beans, drained and rinsed
1 tsp garlic powder
Salt
Thinly sliced red onion (about 1/4 cup)
Parmesan shavings, for garnish (go nuts)
Instructions
Place the chicken with its marinade ingredients in a plastic bag. Marinate in the fridge for an hour up to 3 hours.
Place the chicken in a preheated (medium-high) sauté pan, cover and sear for five minutes on one side. Flip and sear another five minutes. Remove and let chicken rest for about five minutes. Chop it up!
Toss the bread chunks with the oil and seasonings, and toast until warm and crispy, just a few minutes.
Back in the sauté pan, add the beans and sauté with the garlic powder, a pinch of salt, and all the browned bits in the pan. THIS IS GOOD.
Whisk the dressing ingredients together in a small bowl.
Place chopped kale in a large salad bowl; top with chopped chicken, croutons, sautéed beans, thinly sliced red onion, and parmesan shavings. Gaze at it lovingly, then give it a huge violent toss and watch all of your dreams come to life.
Serves 4!
7.8.1.2
102
https://bevcooks.com/2017/08/tuscan-chicken-kale-salad/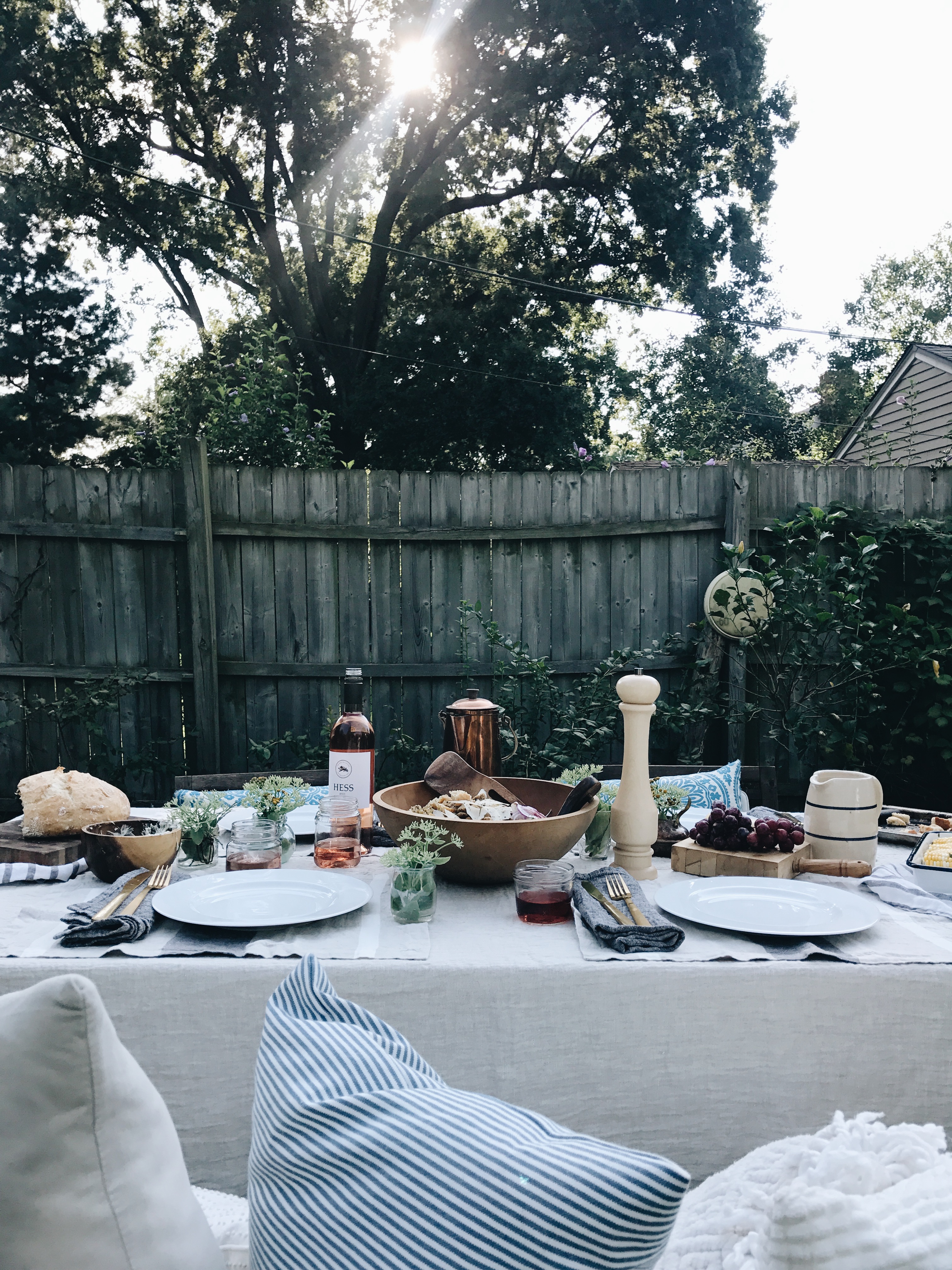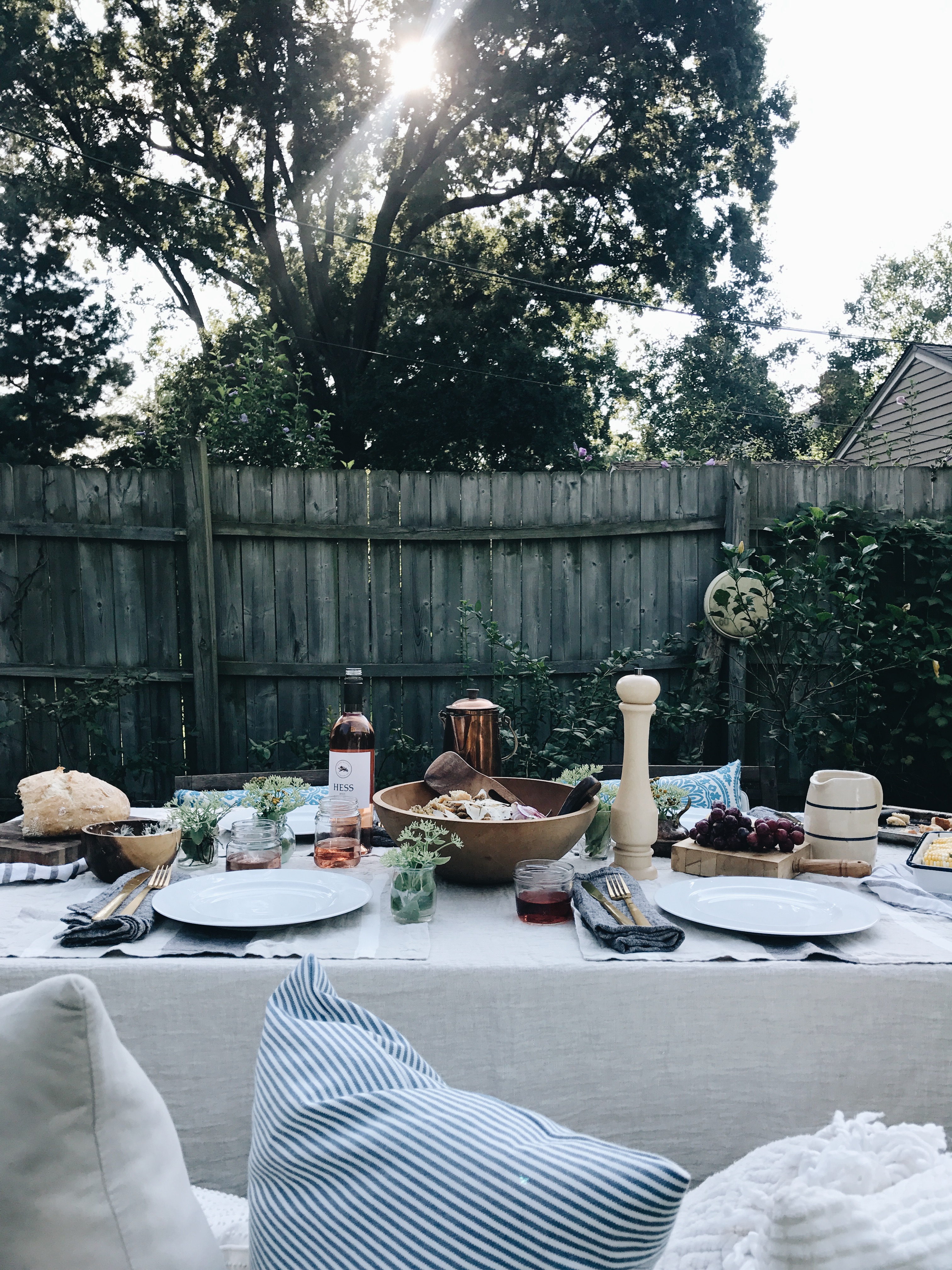 Wanna come over?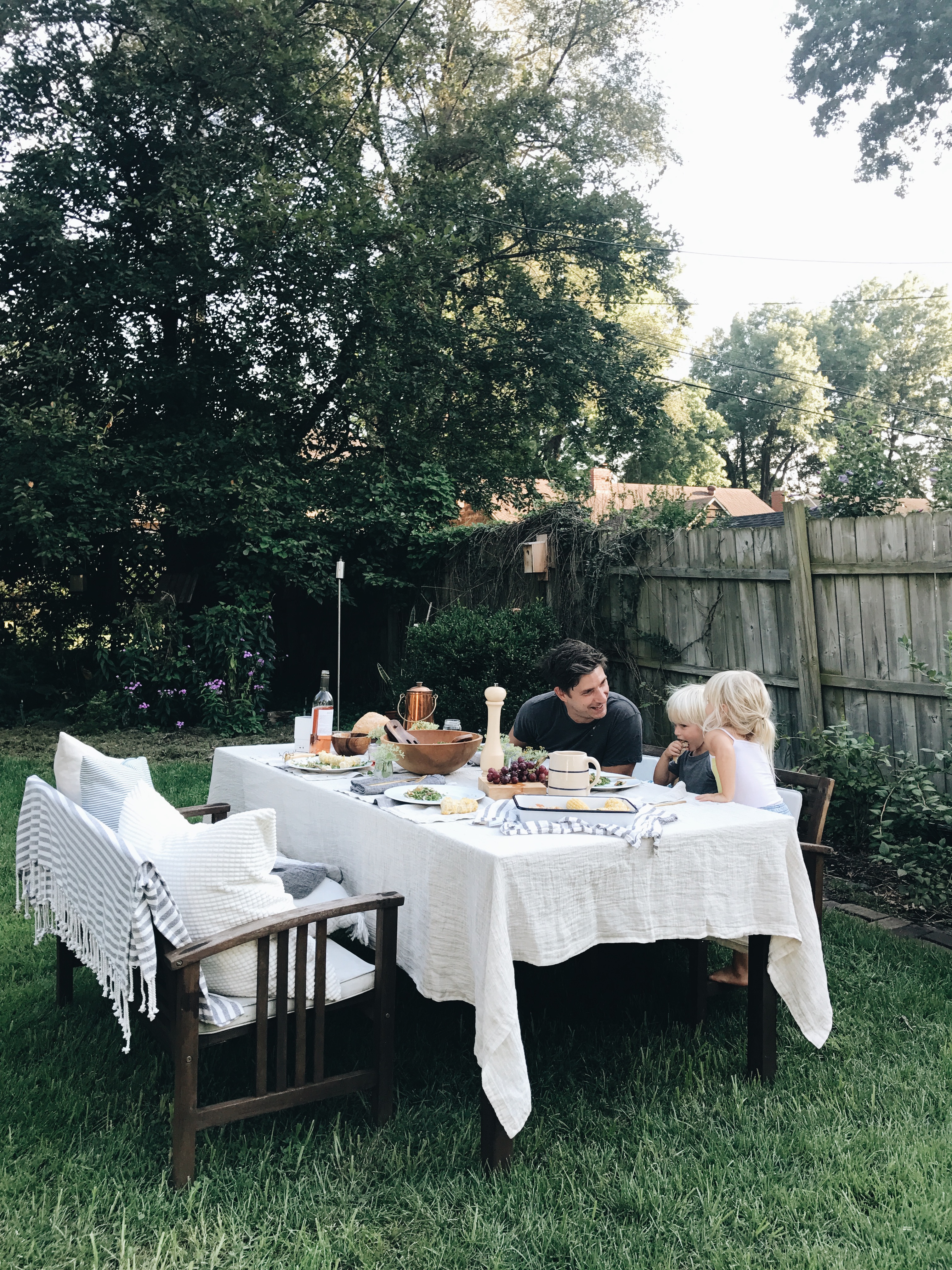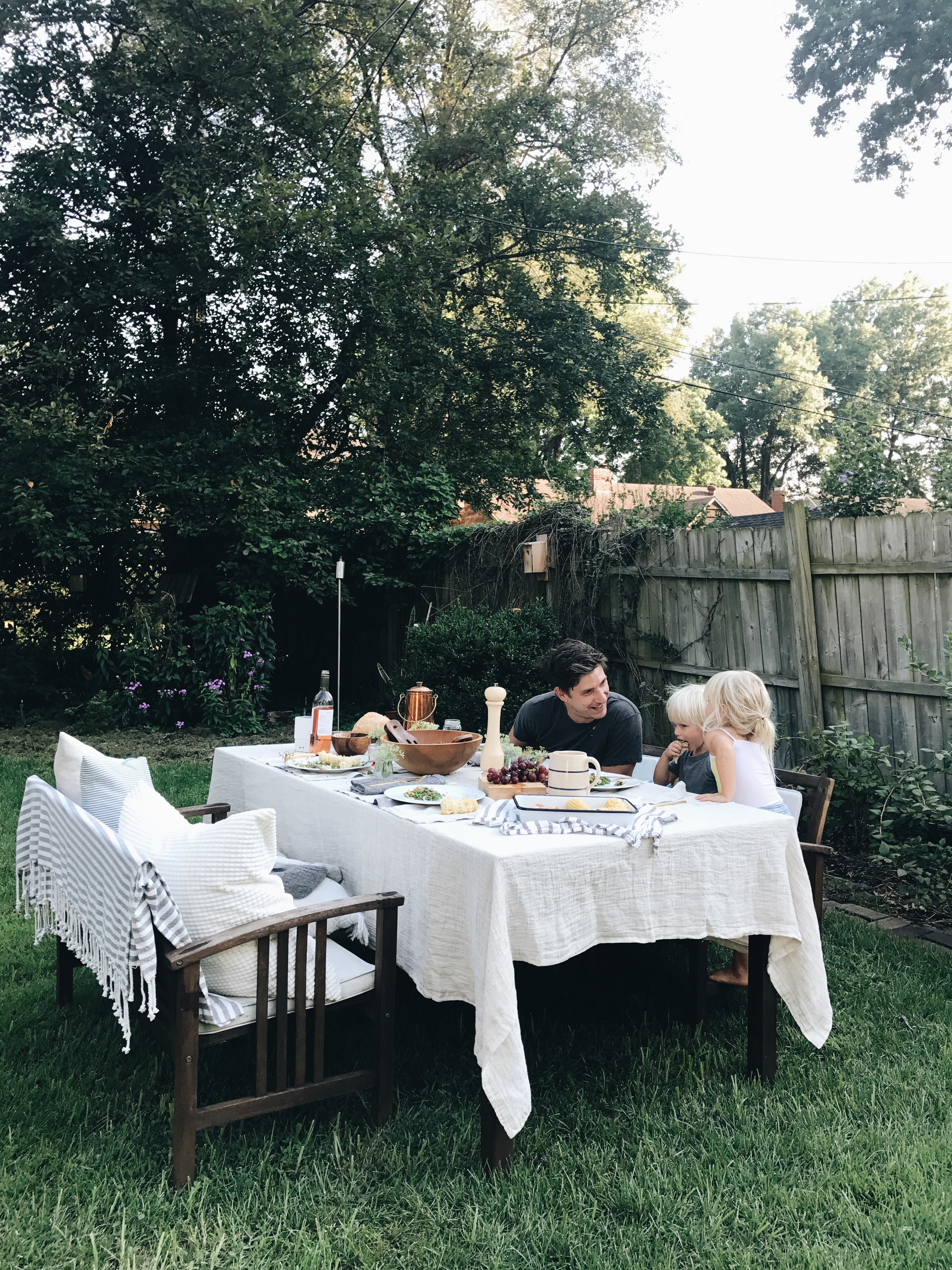 One more photo because UGH.