First recipe of the year! Of course we're slurpin'.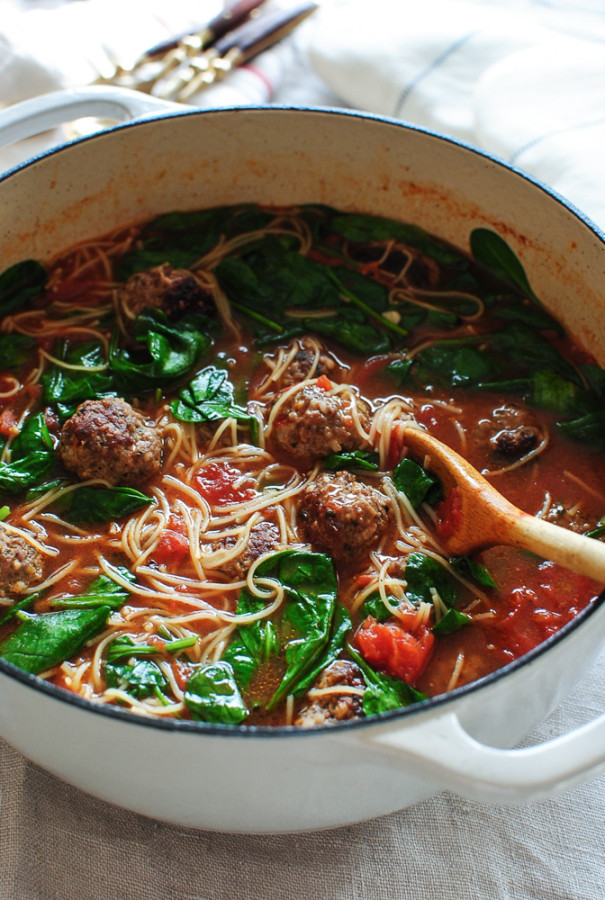 Spaghetti and Meatball Soup. You guys, I thought I was inventing something BRAND NEW to the world, until I googled it and saw exactly 2934834674234o352y3248347342 recipes for it.
Oh.
But! As I sifted through a few recipes, I found that they really ranged from WAY SIMPLE (like pre-made meatballs + water + marinara + pasta = the end) to WAY COMPLICATED (like raise your cow, name him Frank, grow your everything else, make the pasta from scratch, dance half-naked under the full moon and howl into the night.)
I'd say my recipe sort of meets everyone in the middle. You can call me Malcolm. Just kidding.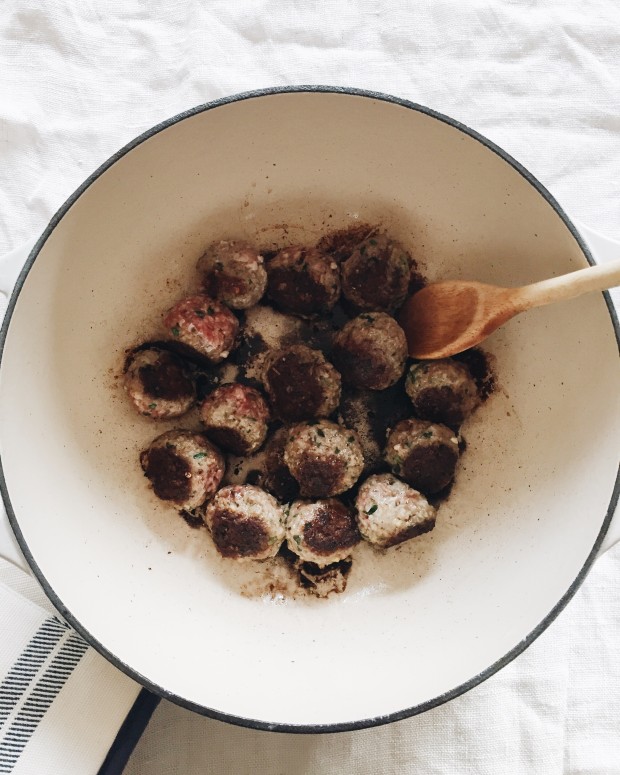 The shortcuts are in the soup, but the legwork is in the meatballs. But not too much! You know me. It's just a mix of ground beef and pork, some dried Italian seasoning, fresh parsley, lots of garlic, a little panko, and a smooch of milk. Das all. You could even add some fresh parmesan! I forgot because the new year has me all wonky-doo.
So yeah, make the balls way ahead of time and let them chill as long as you want. Or not! I don't want to be bossy.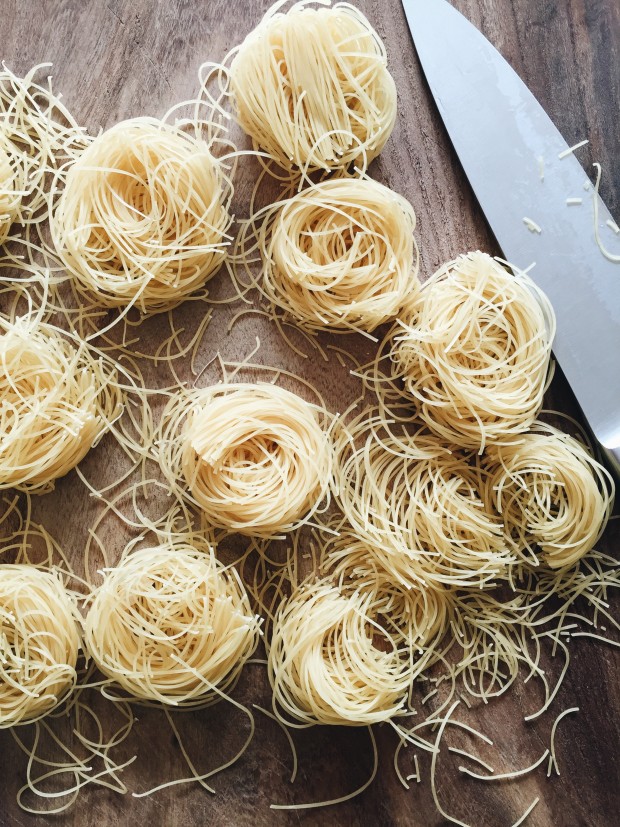 As for the pasta, this is where it gets fun. I had these little nests of angel hair in my pantry, so I just cut them in half to make cute little strands for the soup. Because you don't want to look all insane slurpin' a two-foot rope of pasta out of a SOUP. No no no. This is a delicate operation. You can always sub for a smaller, toothier pasta if you want. Rings, shells, whatever makes you sob. But since I'm calling this SPAGHETTI and Meatball Soup, I wanted to keep the pasta as noodle-y as I could. Angel hair = noodles. Broken angel hair = sweet little baby darling noodles. We in bidness.
But you should know something! At first you're going to think, "This isn't enough pasta. We need more pasta. GET ME MORE PASTA." But just wait, Henry Higgins, just you wait. Once it cooks it will seriously soak up the liquid and be the perfect amount. And you'll be like, "Ohhhh. Yeah."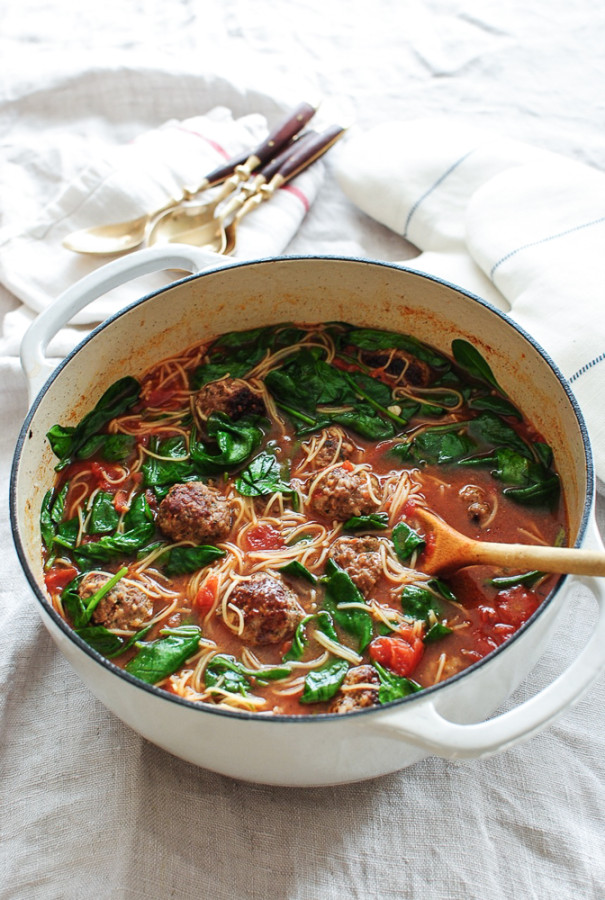 I went ahead and added baby spinach because I just can't not put a green in a soup. It's the rules of life and living.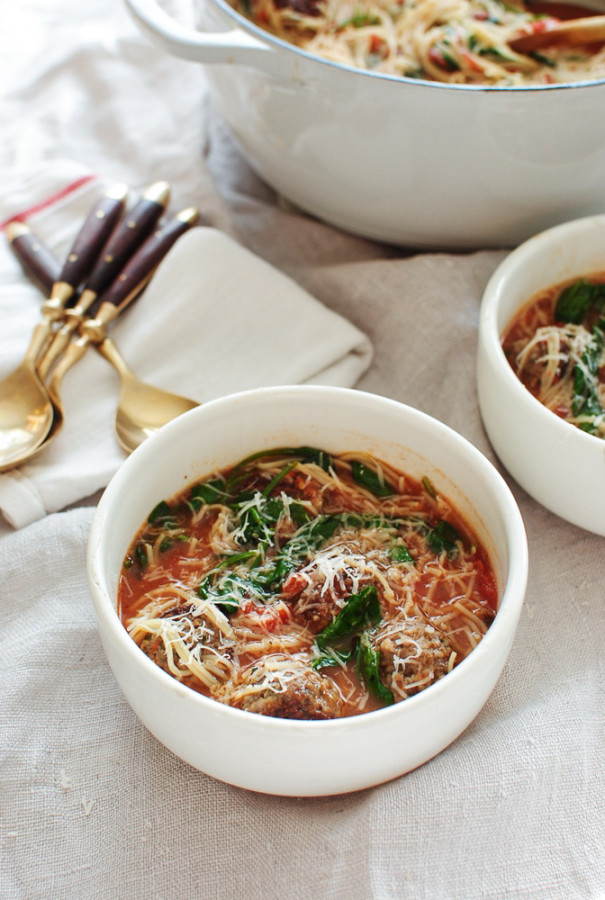 And that's it! About 20 minutes or so of simmering, and you've got one heckuva slurp sesh ahead of you. This is a good thing.
Hahaha! You can see me in the spoon. Great, I'm not wearing any makeup.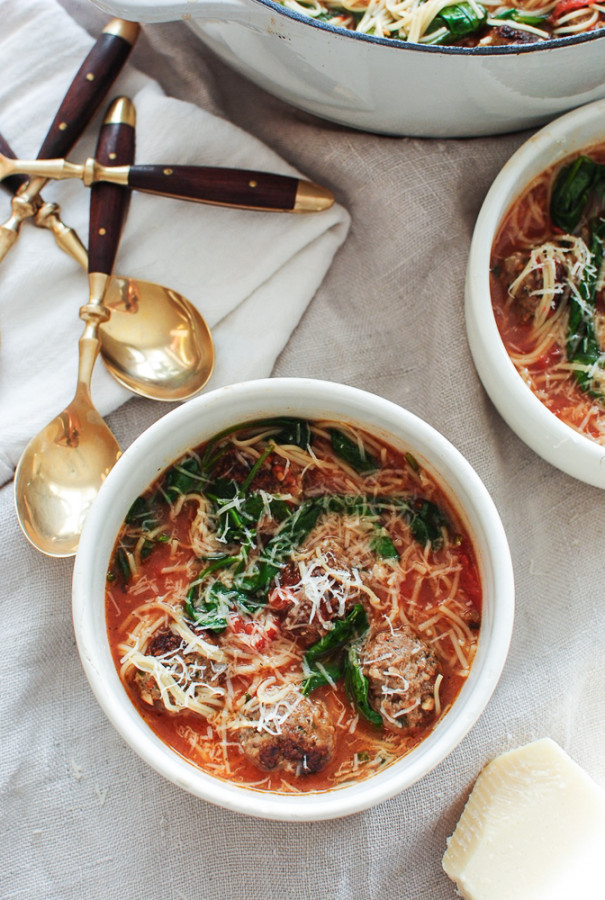 Heavy winter soup rotation begiiiiins now.
Spaghetti and Meatball Soup:
for the meatballs:
1 lb lean ground beef (I used 93% for this)
1 lb ground pork
5 cloves garlic, minced
1/2 cup finely chopped parsley (start with about a cup of parsley and chop it down)
1/2 cup panko breadcrumbs
2 Tbs. Italian seasoning
1/4 cup milk
big pinch of coarse salt and pepper
for the rest:
6 cups chicken stock (or a quart of stock + two cups water)
1 (28oz) can whole peeled tomatoes, crushed with your hands
1 cup of broken angel hair pasta (cut with a knife, or broken under a tea towel)
1 (5 oz) package baby spinach
fresh parmesan for garnish?
maybe a little fresh lemon juice if you dare
Let's make some meatballs. Combine all the ball ingredients in a large bowl and mix with your hands. Then roll the mix into 1-inch meatballs. Place them on a plate and chill for as long as you want. I started mine mid-morning and let them sit for maybe 3 hours.
Heat a large pot or dutch oven over medium-high. Add a Tbs of oil to the pot and swirl it. In two batches, brown your meatballs all over. You don't have to cook them through, just get some good color all over. Once the balls are browned, add the stock and tomatoes. Bring to a boil, then reduce the heat to medium and let simmer for about 20 minutes.
After 20 minutes, add the pasta and spinach. You won't feel like it's a lot of pasta, but WAIT. It will really soak up the liquid and thicken up. But you still want it soupy! Once the spinach has wilted, give it a taste. You may need to add a little more salt. I always like to add fresh lemon right at the end of soups. So, if you want a tad more acidity, go for it!
You're ready to serve. Ladle and up and garnish with an obscene amount of fresh parmesan. Slurp!
Serves 6.
You're welcome to just nosedive right in.