Presents!!
I almost don't want to call this a Mother's Day gift guide, because I very much remember the excruciating era of my life when I wasn't a mom. And wasn't able to be a mom. And I very much remember that lingering ache in my stomach.
I promise I'm not going to get all depressing and cheesy and weird.
But! I just think this guide should be for all of us hard-working women who deserve a little sumpin' sumpin'. All the single ladies, all the hopeful mamas, all the mamas-to-be, all the current mamas, the vet mamas and even the women who don't want kids! You're awesome, too, you know. This world is filled with incredible women who do SO much that goes unnoticed, so my sunhat goes off to every single one of you.
(That is basically as Beyoncé as I will ever get.)
But because Mother's Day is in like twenty minutes, why not a little push this way or that, eh? Let's look at some pretty things, already.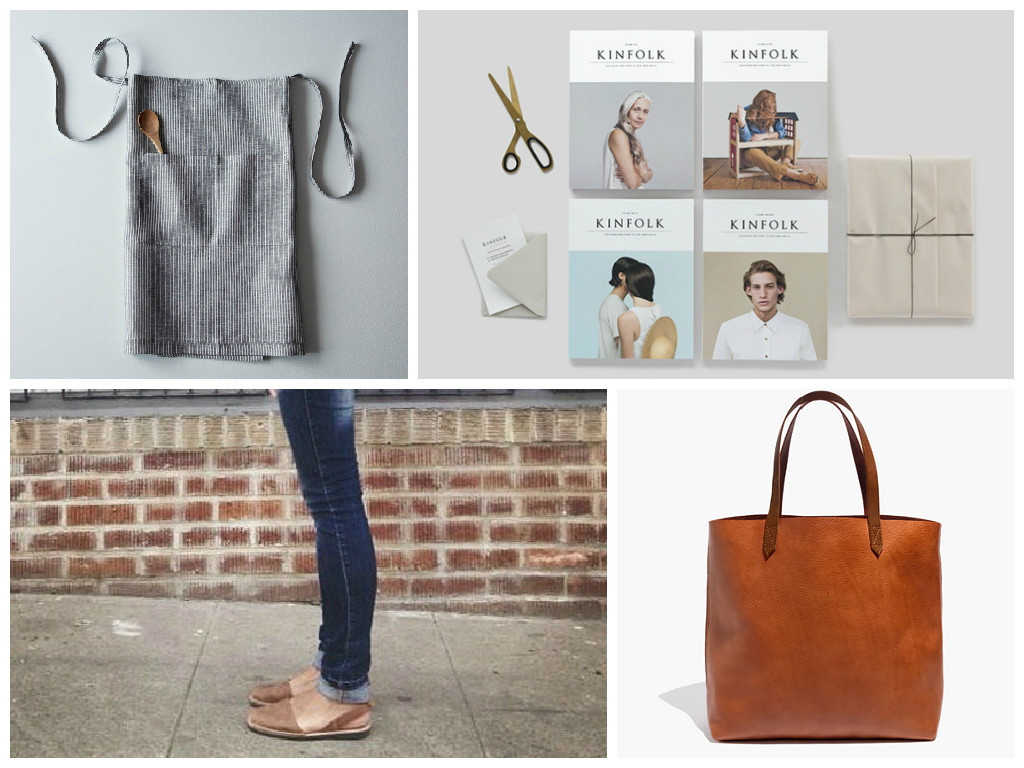 1) This Midi Fog Linen Apron – Are you even kidding me? I actually don't have this, but I can't stop staring at it. Did you know that, Aaron? I don't have this. And as if that apron isn't enough to completely do you in, check out the Bark apron. WAT. If your lady/mom/whatever is into cooking or baking, she needs this. I need this. Aaron? . . . hello?
2) Kinfolk! I know I've annoyed you about this magazine before, so I'll just go ahead and do it again. It's my favorite magazine ever in the history of ever. It's all about slow living, being more communal, taking it easy, blah blah. The photography is soothing and the writing is nothing short of inspiring. Get into it!
3) Pons shoes by Avarcas – UGH. Seriously what female doesn't love shoes? If your lady/mom/whatever is in need of some new summer sandals, just gawk at these, will ya. That classic tan kills me. I don't have these shoes. Hey, Aaron, did you know I don't have these shoes? . . . Aaron?
4) Madewell Transport Tote – I LIVE BY THIS THING. I've had mine most of this year and it is theee best tote I've ever owned. It has one little zip pocket inside, which is pawfect for your phone and lipstick, but the rest of open. Which might be a nightmare for some, but I love it. And the camel color makes me timbers shiver.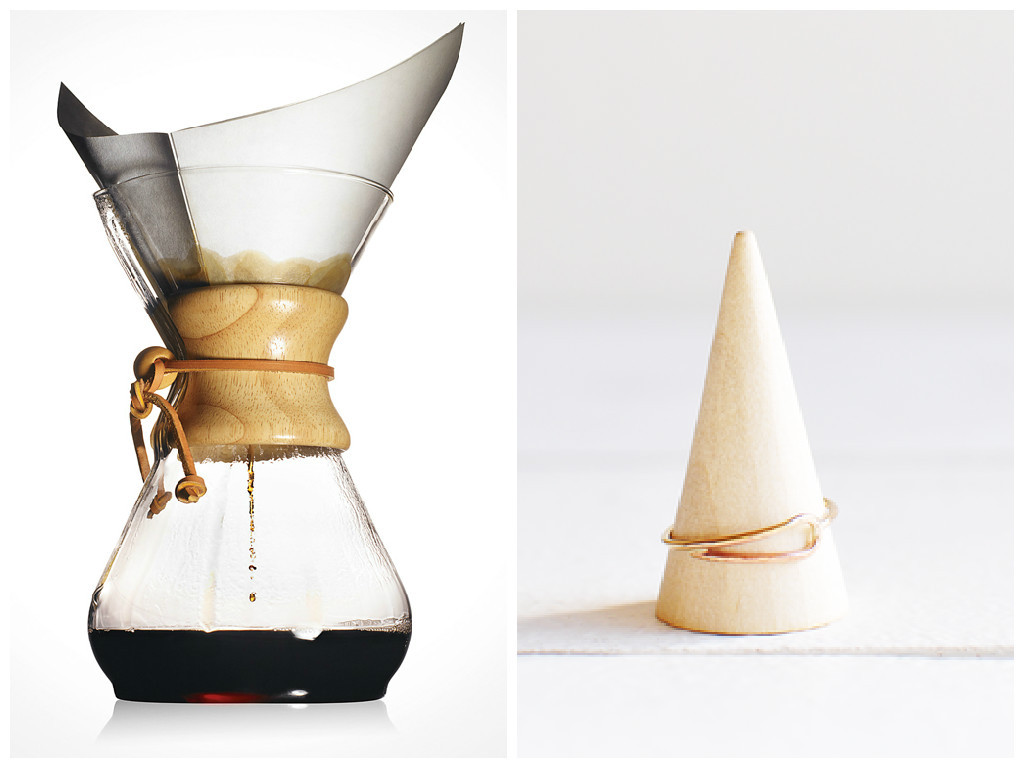 5) Chemex Coffee Maker – Sooooo obsessed with this. I've gone on and on about it before, but let me just tell you, the flavor is ridic-town. So smooth, so clean. If your lady/mom/whatever is into gourmet coffee making at home, deeewwweeetttt.
6) Drip Ring – I just adore this simple, stunning ring. I basically love everything at Fine Life Co, but if your lady/mom/whatever is a jewelry lover, but she keeps it simple, check out that ring! Actually, just look at everything under that accessories category. You'll bawl your eyes out.
Warning: there are a lot of bottles and jars in this last category. Isn't it wonderful?
7) Cold Spring Apothecary – (upper left) I want to live at this place. I'm not even going to direct you to a specific item or product because it's all so perfect. They have everything from body care to home goods. I actually don't have anything from this store! Did you know that, Aaron? . . . A . . . Aaron?
8) Heirloom Seed Kit – I always get squealy over this kind of stuff! If your lady/mom/whatever is into gardening, or wants to get into gardening, this is a super cute kit to get her started. That little wooden box gives me reason to live.
9) Season + Square – (lower left) Foooor the locals! If you live in the KC area, I could not recommend this quaint little shop more. It's the type of place that you want to look at every last little detail, but the shop itself is simple and beautifully organized. They have EVERYTHING. Oils, spices, coffee, breads, syrups, bitters, cookbooks, handcrafted kitchen goods, sweets, onnnn and onnnn and onnnn. Go in as soon as you can and begin your new life.
10) Hatchery – Last but not least, Hatchery! You guys, if you've not heard of this yet, ugh. It's like Birchbox for foodies. You get a monthly subscription, and they'll send you an assortment of small-batch artisan goodies. I'm super into it. I bet your lady/mom/whatever would be, too!
And there we have it. My top ten faves of the moment that I feel would sweeten up your lady's/mom's/whatever's life a lil' bit.
And you know what, if none of this sounds good to you, order yourself a dang pizza and take a four-hour nap. Whiiiich sounds kind of perfect.
What's on your wish list!? Besides the nap.