And sweet potatoes! There are sweet potatoes in that thar pan.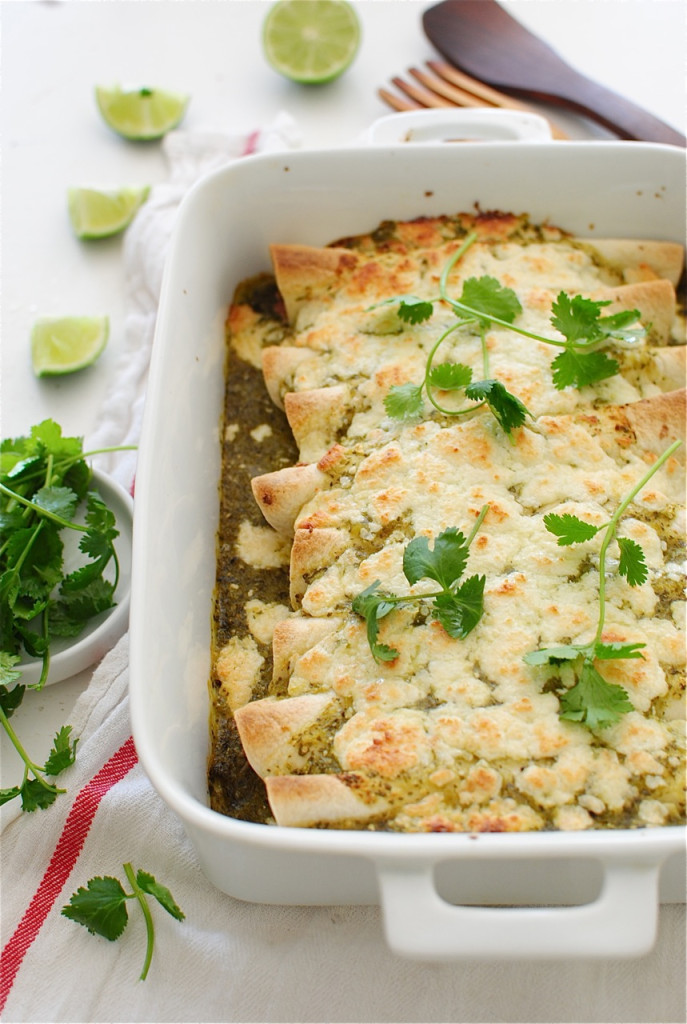 I feel like it's been a while since I made and posted anything MexiBev. I say "MexiBev" because I'm pretty sure any authentic Mexican food maker would punch me in the shins for mixing canned green enchilada sauce with salsa verde. But hey, the salsa verde is homemade! But is it prison work to mix it with a canned sauce? We'll never know. Unless the police come busting up in here later today. And if they do I'll definitely keep you posted. Will you write me in prison?
This is a three-parter, so it may be best to save it for a lazy Sunday. Or any ol' day if you stay home!
Part one is ze slow cookah. Throw a slab of pork shoulder (butt? shoulder? armpit? groin? I have no idea) into a slow cooker. Add a chopped onion, some garlic cloves, a few spices and some chicken stock. Boom. I recently saw on Sara Moulton's Weeknight Meals that the PROPER way to use a slow cooker is to always add enough liquid to fill 3/4th of the pot. Do you do this? I guess I never really do. So I added a full four cups in the attempt to reach that magic mark. If you want to add more, feel free. You're going to remove and shred the pork later anyway, so.
Step one, section b: it's later, so remove and shred the pork.
Step two: So yeah, close to the end of the pork simmer, dice and roast a huge sweet potato. No fancy seasonings here. Just salt and peppah, bae.
Step le fwee: Am I driving you batty right now? Good. Make your sauce! Like I said earlier, I combined a can of green enchilada sauce with a few fresh salsa verde ingredients in the food processor. It's pretty cool because it TASTES like salsa verde, but has this HINT of enchilada sauce. Did I invent something? No? Okay.
After a bit of assembling and baking, the heavens open their gates to you.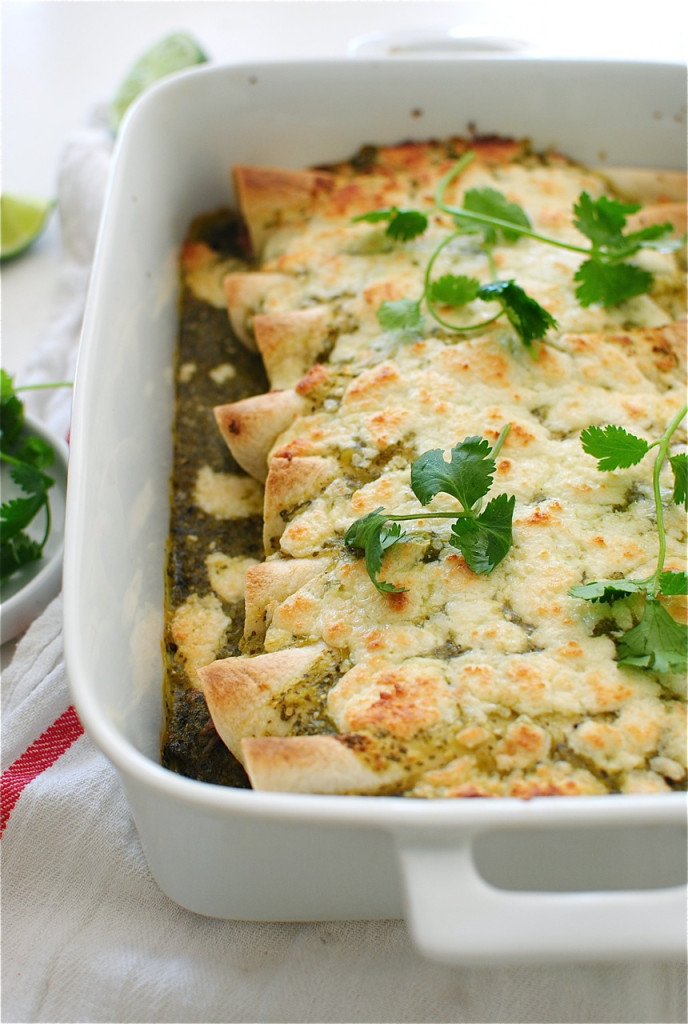 Maaaaama.
A note about the cheese! You're probably like, "uhhh why do I not see delicious melty action?" Because I changed it up! I used cotija this time, which is a hard, salty crumbly cheese. The only reason I did was because my store was out of queso fresco, which is a bit more moist (sorry) and easier to manage. So I suggest using that! But if you dig a robust salty punch, the cotija will be right up your alley. ORRRRR, use a creamy white cheddar and all is right in the world.
ORRRRRRR Pepper Jack.
ORRRRRRRRRRRR Monterey Jack.
I wonder if I'll wear orange in prison, or stripes? Can I put in a request early?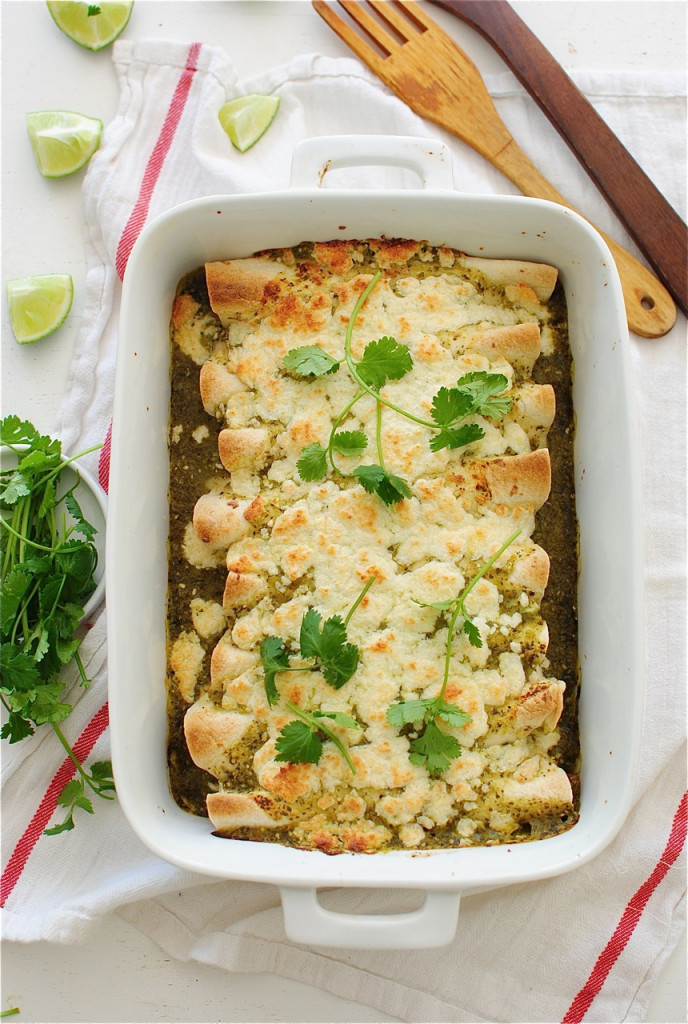 Don't forget the sweet potatoes.
Pulled Pork Salsa Verde Enchiladas:
What it took for 12 enchiladas:
for the pork:
*  2 1/2 – 3 pound pork shoulder, trimmed of any major excess fat
* 1 small white onion, chopped
* 3 cloves chopped garlic
* 1 Tbs. dried Mexican oregano (regular is fine, too)
* 2 tsp cumin
* 1 Tbs. chili powder
* 1 pinch crushed red pepper flakes
* 1 pinch coarse salt and freshly ground pepper
* 1 quart chicken stock
for the salsa verde:
* 1 (10 oz) can green enchilada sauce
* 1 (11 oz) can tomatillos, drained
* 3 cloves garlic
* 1 small onion, halved
* 1 jalapeno pepper, stemmed
* 1 cup cilantro leaves
* juice of one lime
for the rest:
* 1 large sweet potato
* 1 Tbs. extra-virgin olive oil
* 12 small flour (or corn!) tortillas
* 1 cup crumbled queso fresco cheese
* extra cilantro and lime wedges for garnish
Place the pork shoulder in a large slow cooker. Add the rest of the ingredients (in that top section) and cook on high for four hours. After that, cook on low while you prep the rest.
Dice the sweet potato into cubes and place on a baking sheet. Drizzle with the oil and season with salt and pepper. Roast for 30 minutes in a 400 degree oven.
In the meantime, place all the salsa verde ingredients in a food processor and blend until smooth.
Adjust the oven to 350.
Remove the pork from the slow cooker and shred with two forks. Remove any lingering fat you may spot.
Layer each tortilla with the shredded pork and sweet potatoes. Fold up and arrange in a baking dish, seam-side down. But before you do that, pour a little of the salsa verde along the bottom of the dish. I was able to get eight enchiladas in one baking dish, and four more in another smaller one. Evenly pour the remaining sauce over the dish, sprinkle with the cheese, and bake about 30 minutes. Flip the oven to broil for a nice golden brown, bubbly cheese on top. Lawd.
Serve with extra cilantro and lime wedges!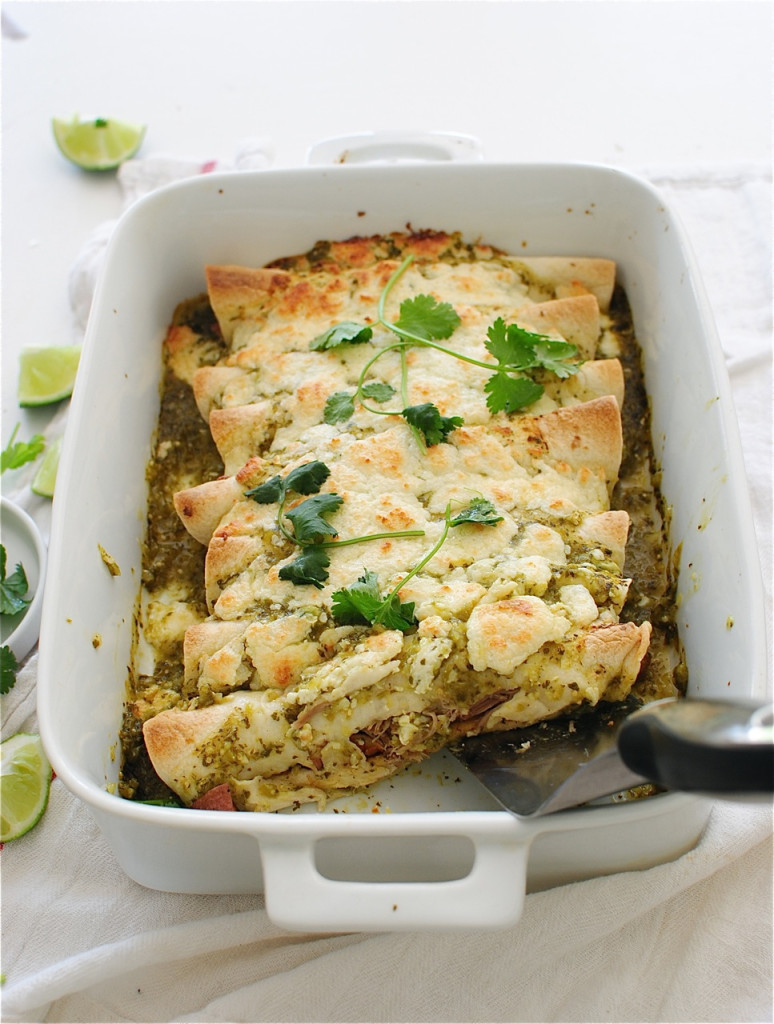 This isn't the most exciting photo ever, because my tortilla ripped. But that's hashtag life. Look at that pork!
Okay bye.