Sometimes I wish it was 1955.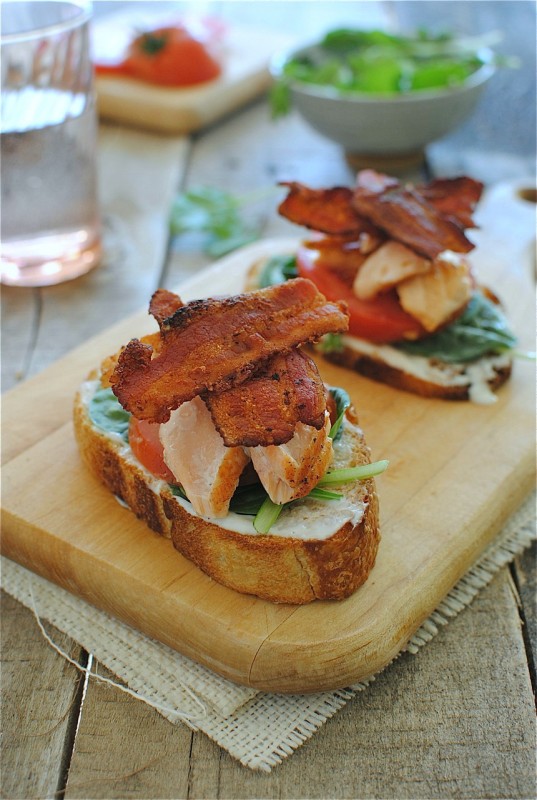 But for like, just a week.
Do you ever wish you could go back to a specific era of your life and relive it? But not actually relive it, but instead sort of hover over yourself like a little friendly ghost from the future? Oh man I totally do. Ghost me would have a cape, I'm sure of it.
Sometimes I think about going back to my sophomore year in high school and just watching myself putz around like a naive tool in those 5-inch bangs, that long baggy denim skirt and County Seat striped sweater (the one that had the deep V in the back! The one that Bill Case unexpectedly popped my bra in choir and I just died!!) and just sit back and marvel at the hilarious reality that was 1992.
But I'm talking about 1955.
I'm seriously jealous that I never got to experience the arrival of the milkman (and the lingering of him hey-ohhhhh! oh.), the young paper boy with crooked teeth on his little rickety bike throwing the daily papers right over the white picket fence and into the freshly trimmed bright green lawn in the early mornings, cooling a homemade apple pie on the little open window ledge in the kitchen (complete with cartoon birds chirping tunes of love and happiness), inviting my best next door neighbor gal pal over for mid-morning (spiked) tea and bridge, and rocking some horn-rimmed glasses and a heavily sprayed bouffant like nerbrahdeez brizzznizzz.
It was such a simple time! (so Lucy Ricardo tells me)
WHICH BRINGS ME TO THIS BLT. Sorry to scream.
Don't you think BLTs are just so classic? They're like, the quintessential (which, by the way, you should hear me try to say this word. my mouth has no idea what to do or how to make it happen) lunch of AMERICA and LIFE.
But listen to what I did. And I hope you're not sore about it. But instead of mayo, I made a simple yogurt/lemon/honey spread, which gooooolly jeepers had just the right amount of tang and cream.
And of course a little seared salmon was just the swellest addition. Maaaaade in the shade.
Won't you be my neighbor?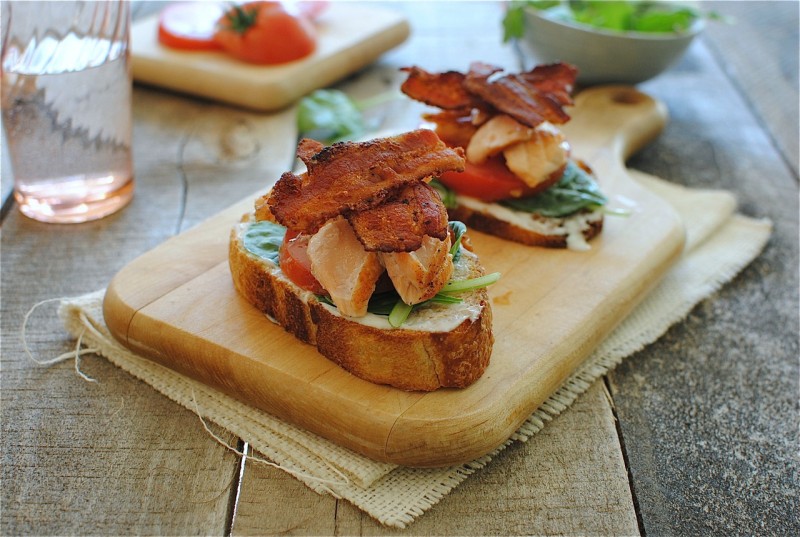 I really need to figure out how to get my hair in that bouffant thing.
Open-Faced Salmon BLTs:
What it took for 2 halves:
* 2 slices bacon, cut in half
* 1 salmon fillet
* 1/3 cup Greek plain yogurt
* 2 Tbs. honey
* 1 Tbs. lemon juice
* 1/2 cup spinach leaves
* 2 large slices tomato
* 2 slices crusty baguette, toasted
* 1 pinch coarse salt and freshly ground pepper
Render the bacon in a cast iron until crispy. Remove bacon and set on some paper towels to drain.
Drain all but about a Tbs. of the bacon fat.
Add the salmon to the skillet and season with salt and pepper. On a medium high heat, sear the salmon on one side for 3 minutes. Flip and sear 3 more minutes. Remove from the skillet. Let cool a few minutes, then pull the salmon apart with your fingers. It should flake easily. Like dandruff. Okay what is wrong with me.
In a small bowl, whisk together the Greek yogurt, honey and lemon juice. Throw in a small pinch of salt.
Spread the honey lemon yogurt sauce over each slice of crusty bread. Top with spinach leaves, tomato slices, pieces of salmon, and finally the bacon.
Brinnerunch is served.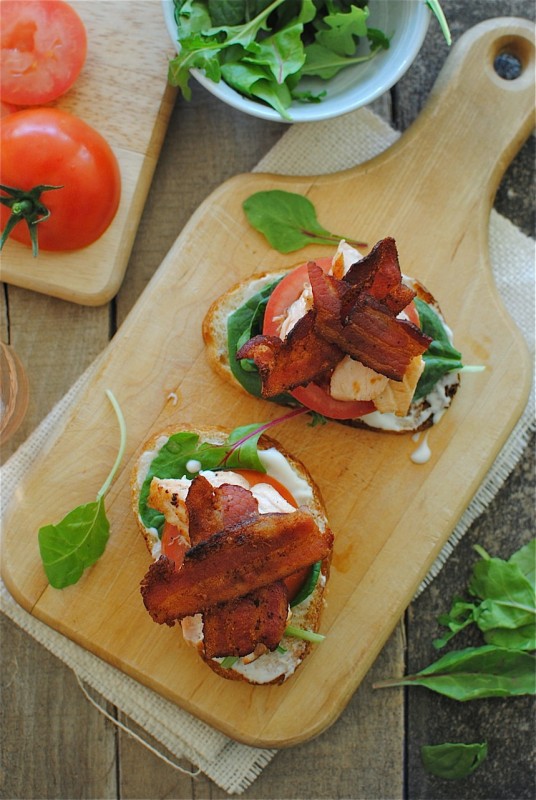 So long, now!