Salad! We're having salad. And we're going to be greedy with it if that's okay with you.
Becauuuuse this is purely a lunch salad. But it's huge, so if you feel like sharing, I suppose you could. (don't)
I guess I should say it's MY lunch salad. You could absolutely eat this for dinner. And get two servings out of it. I normally eat sandwiches for lunch, but when I'm feeling like a salad, this is what I jump face first into.
Let us peepeth.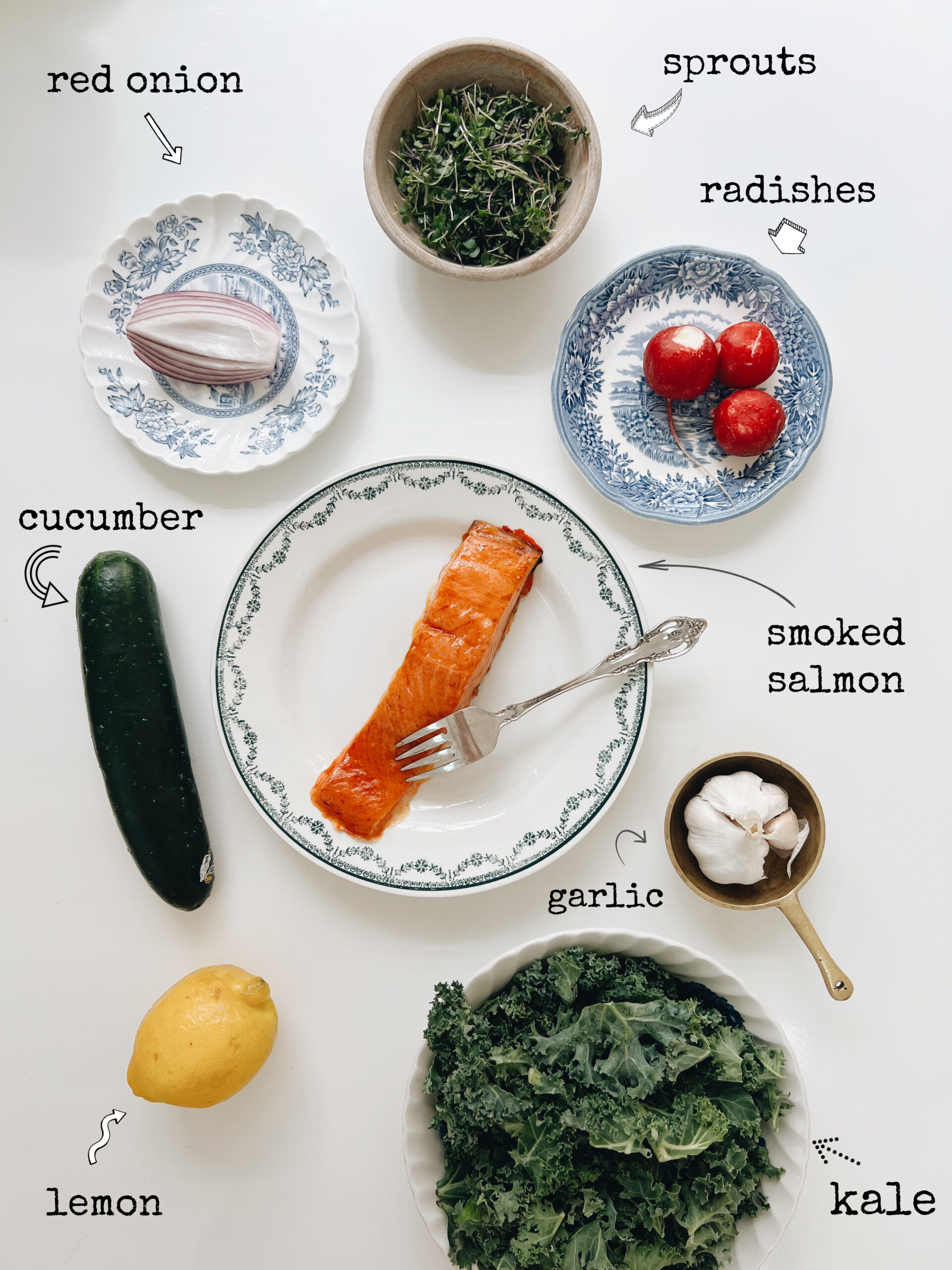 Okay, the salmon. When I say smoked salmon I don't mean lox. As you can see. It's like, cold smoked, ya know? On a smoker. They come vacuum packed at any grocery store. Find you one! They're creamy and salty and perfect.
And the rest are just crunchy and crispy salad add-ins. Aromatics and sprouts and citrus and all the happy.
We need to talk about the kale though. Let's do this.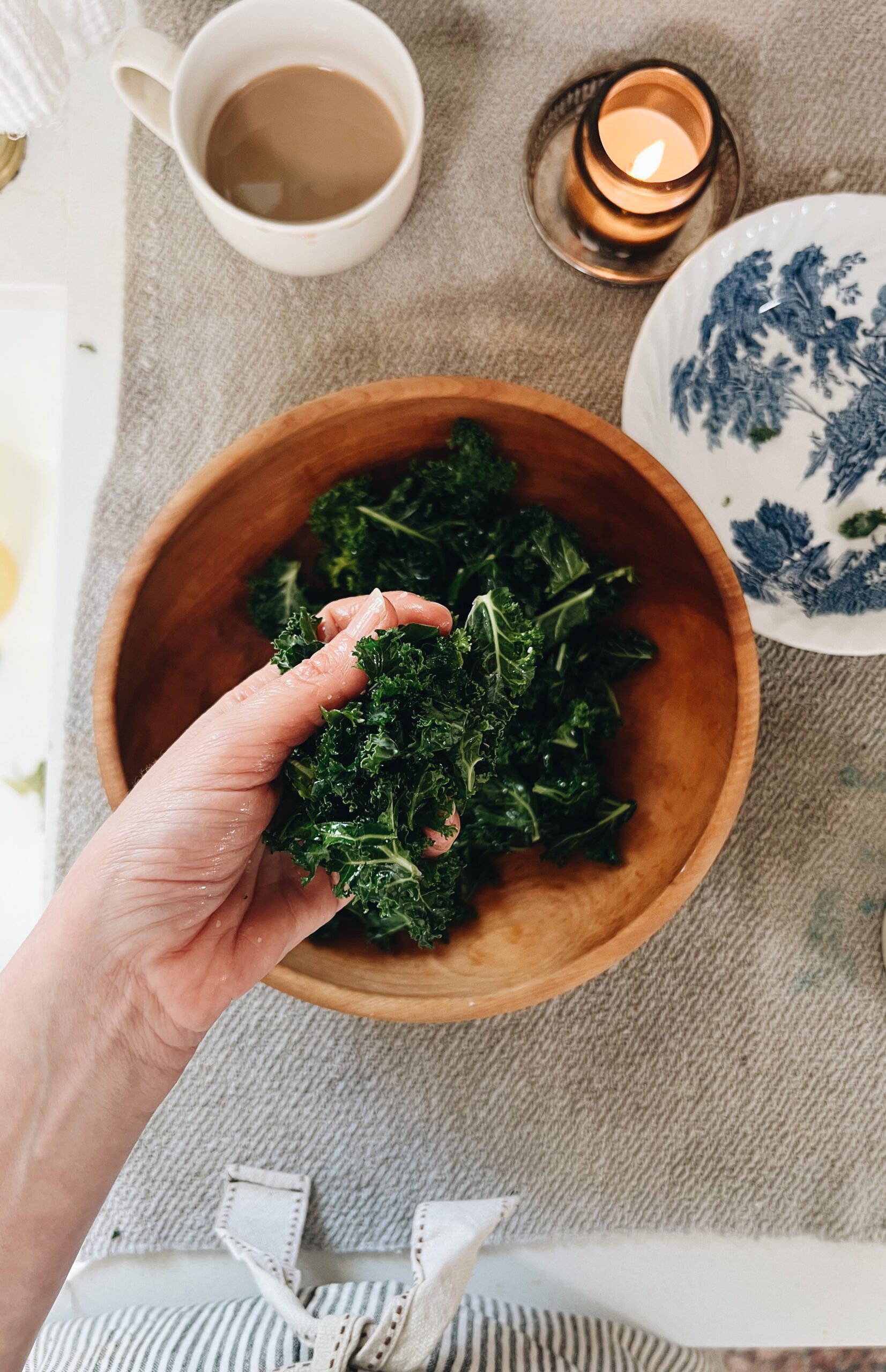 We're going to massage it. Sorry for making this uncomfortable, but it's just the way it has to be. If you've never massaged kale for a salad before – GIRL. Make this your new life. It's very simple. You'll drizzle a little oil over the chopped kale, plus a little pinch of salt and then just massage it with your fingers. You'll truly feel the fibers slightly break down and begin to tenderize. It's magic. Just do this a minute or two, then prep the rest of the salad.
And make your dressing! I went with oil + lemon juice + grated garlic + salt. You'll see it in the reel!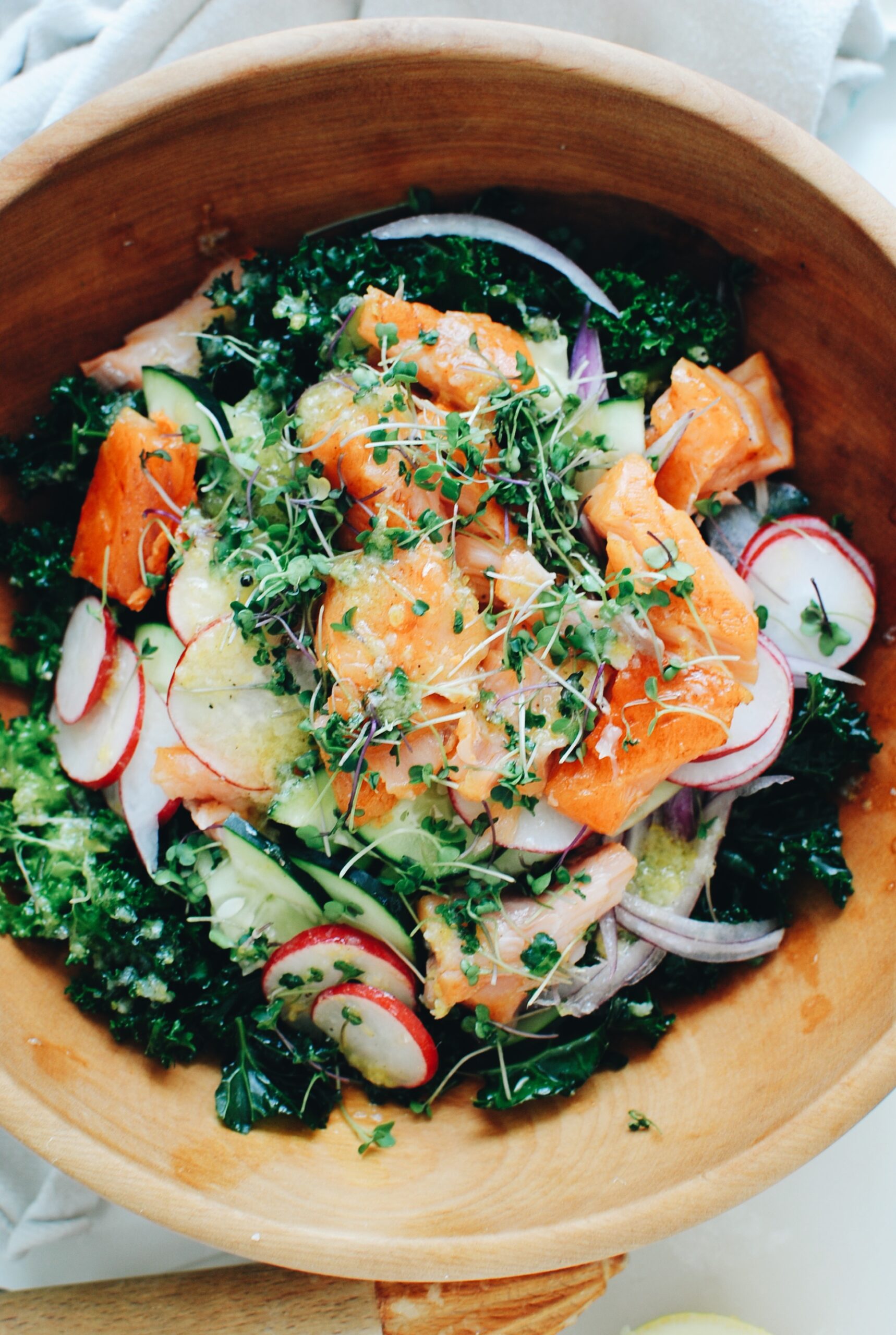 And honestly that's it. Flake the salmon, slice the veggies and onions and get it all violently topped on the kale. Add the sprouts and drizzle the dressing all over. It's sharp and vibrant and absolutely delicious.
The salmon is almost a creamy addition next to all the crunch. You know how we dig the textures. This is a rager of textures. Don't call the cops.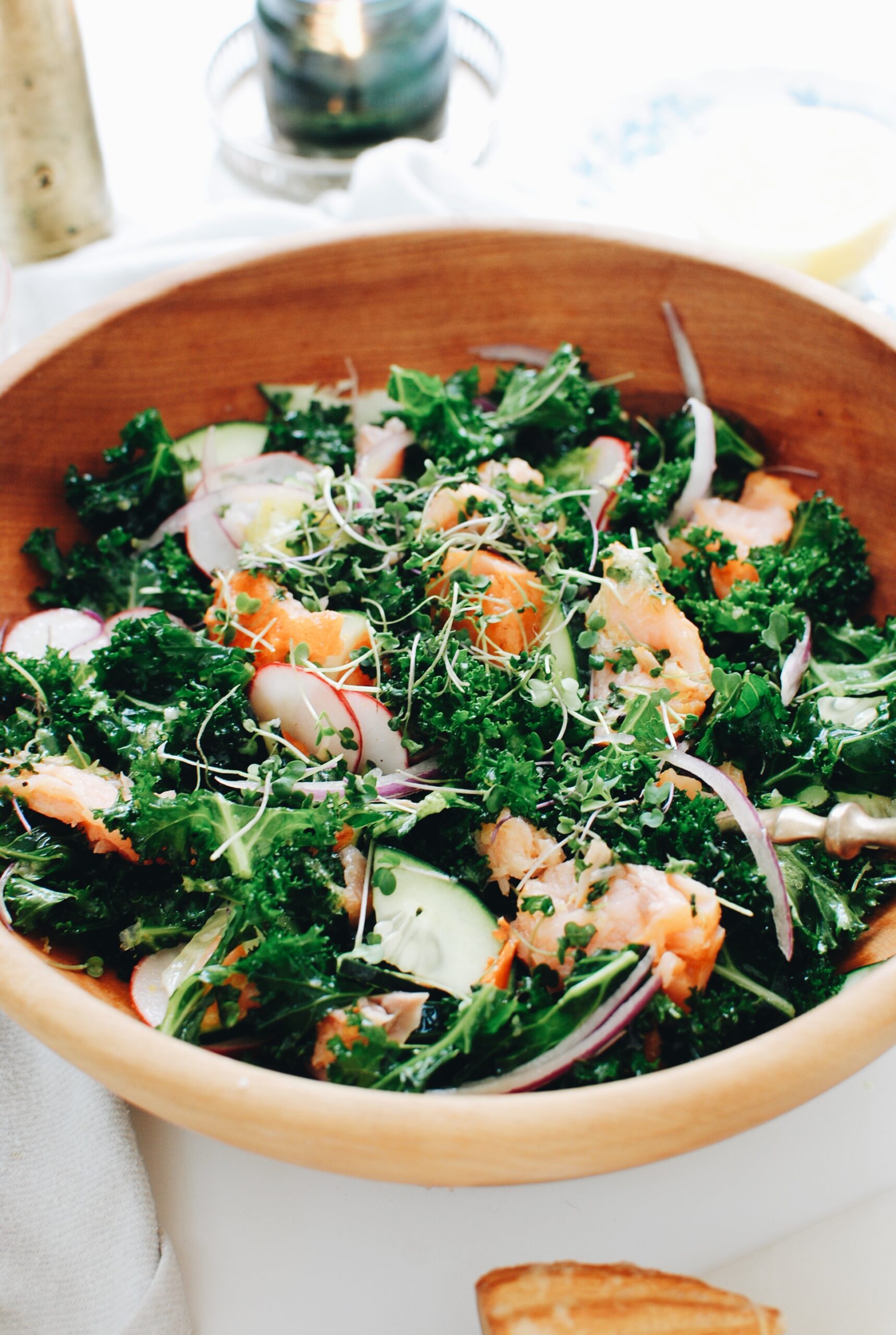 You can mix it all together of course, or just nibble away at it however you want to. It's salty and acidic and peppery and earthy. And that kale has softened ever so slightly so it won't feel like a cheese grater against your mouth. See how I take care of you?
Don't answer that.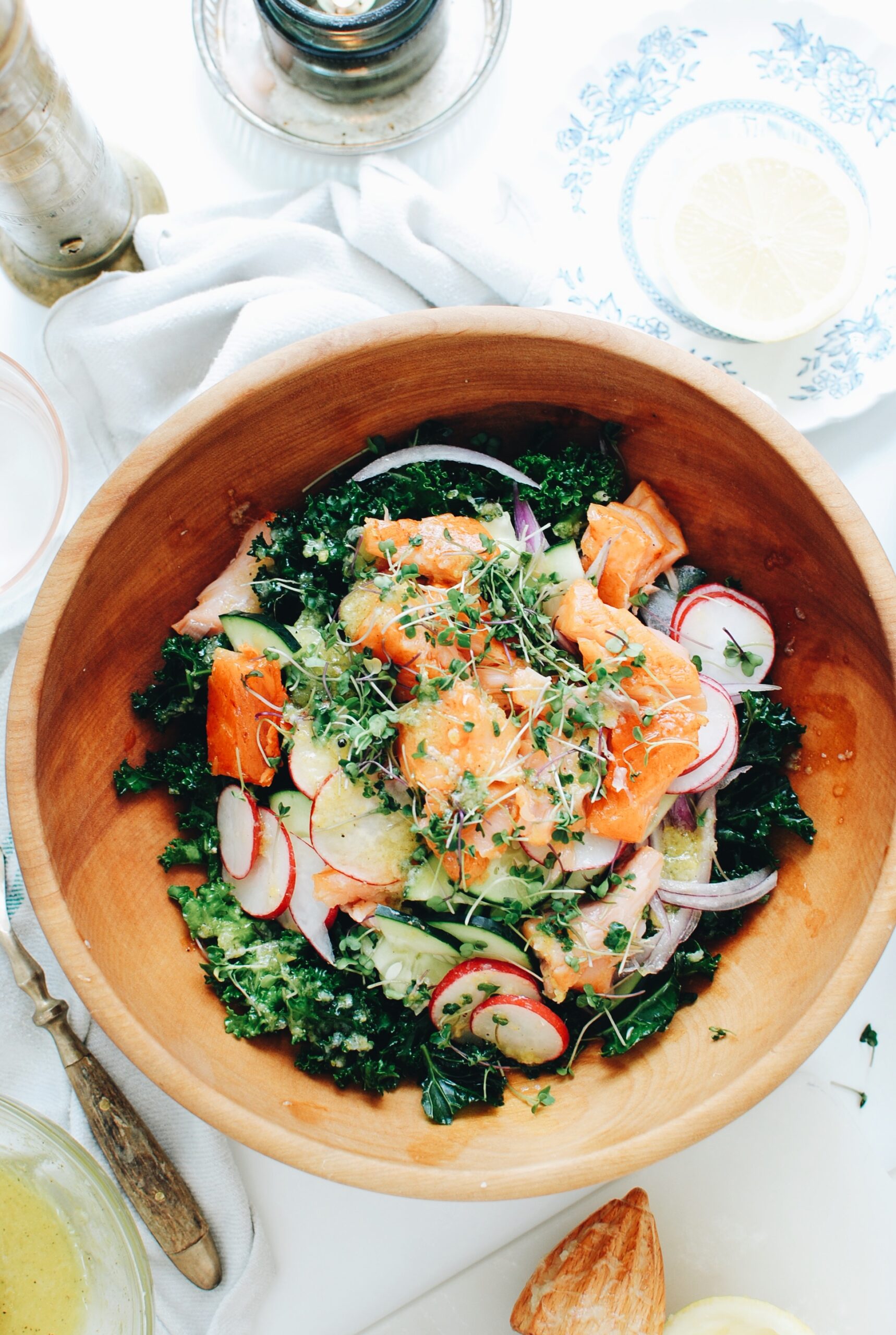 Salad! Lunch or dinner. Solo or shared. Get in that.
Kale Salad with Smoked Salmon, Radishes and Cucumber
Ingredients
3 cups chopped kale
4 oz smoked salmon, lightly flaked with a fork
1/2 cup thinly sliced cucumber
2-3 radishes, thinly sliced
1/3 cup thinly sliced red onion
sprouts, to garnish
3 Tbs. Extra virgin olive oil
1 garlic clove, grated
1 lemon
Tiny pinch of coarse salt
Instructions
Let's start the kale. We'll want this slightly wilted so it's easier to chew once the salad is all together. In a medium bowl you'll drizzle a Tbs. of oil over the kale. Season with the small pinch of salt and use your fingers to massage the kale for about a minute. Feel how the fibers start to break down and become softer right in your hands. Let that sit while you prep the rest of the salad.
In a small bowl, whisk together the remaining 2 Tbs. oil along with the juice from half the lemon, the grated garlic and a pinch of salt. Get that nice and emulsified.
To the bowl with the kale, add the flaked salmon, cucumber, sliced radishes and red onion. Garnish with the sprouts and drizzle the dressing over the top. Use a fork or tongs to combine all together and dig in.
Serves 1-2, depending on how greedy you're feeling.
7.8.1.2
639
https://bevcooks.com/2023/05/kale-salad-with-smoked-salmon-radishes-and-cucumber/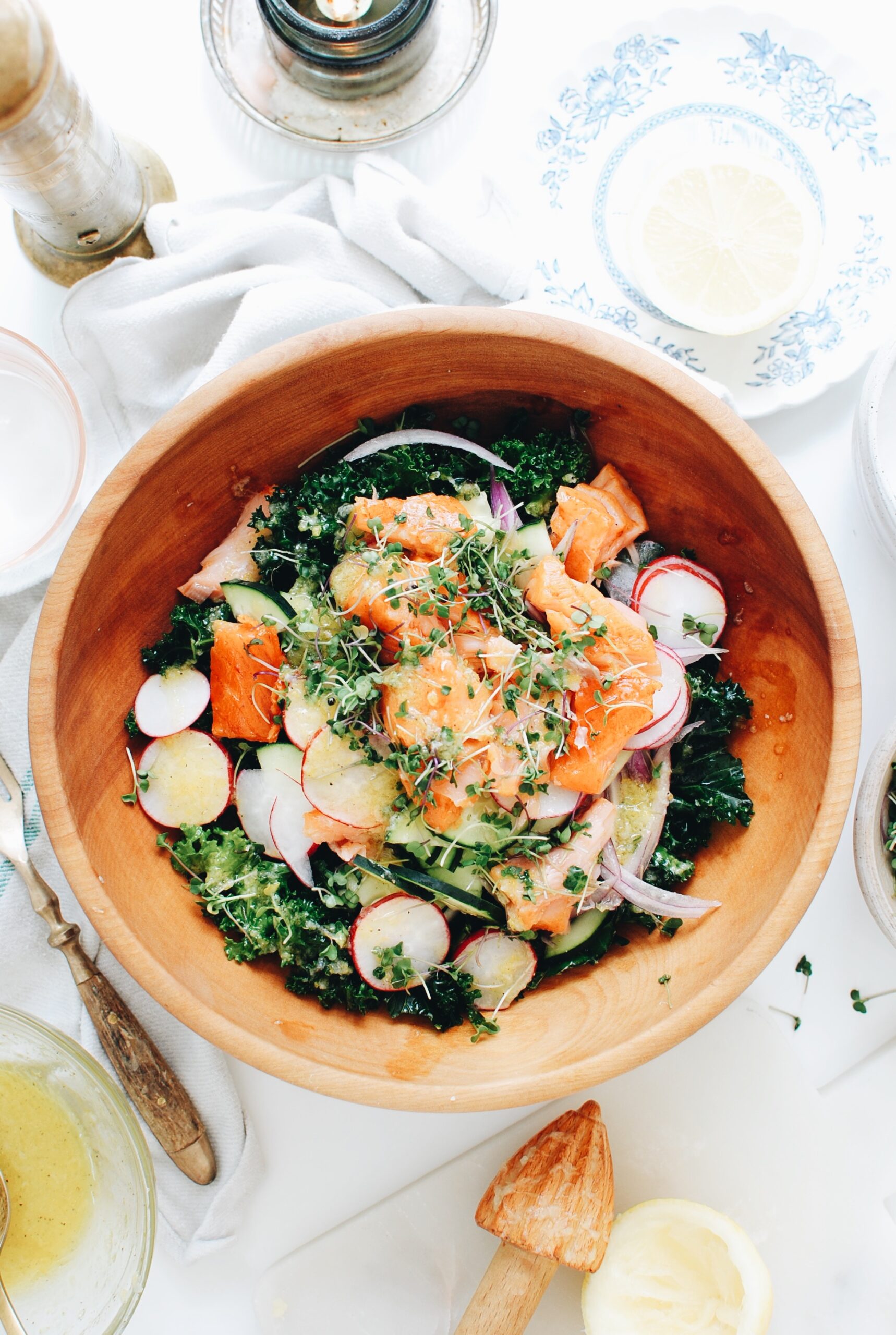 Try this and I dare you not to tell me your life has changed.