I could eat like this all.the.time. You too?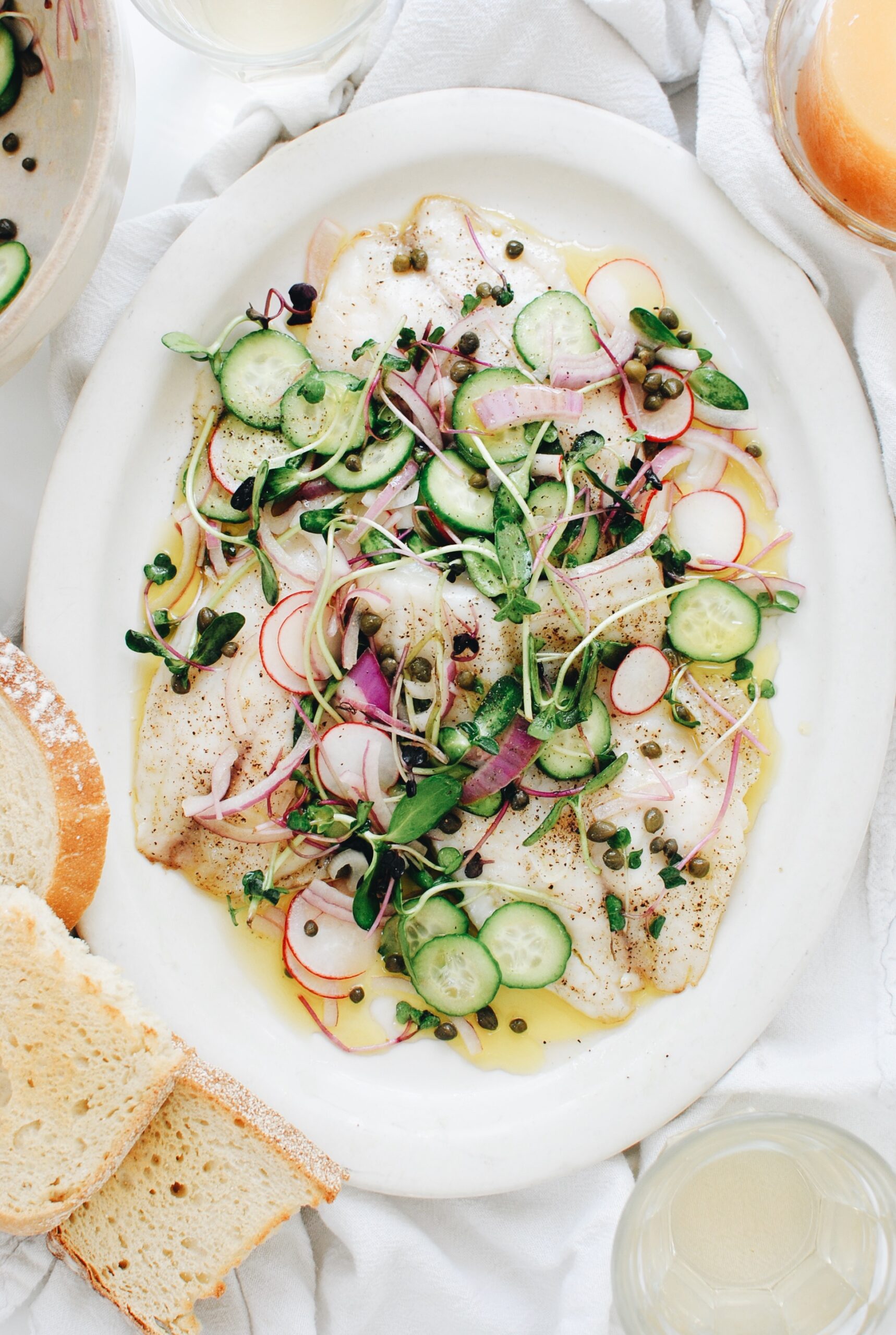 What a better gateway into summer break than a vibrant, crunchy cucumber and red onion salad over roasted tilapia. It's light! It's simple. It's very pretty and festive and we're serving it with toasted crusty bread, so go ahead and lose your mind.
Let us peepeth.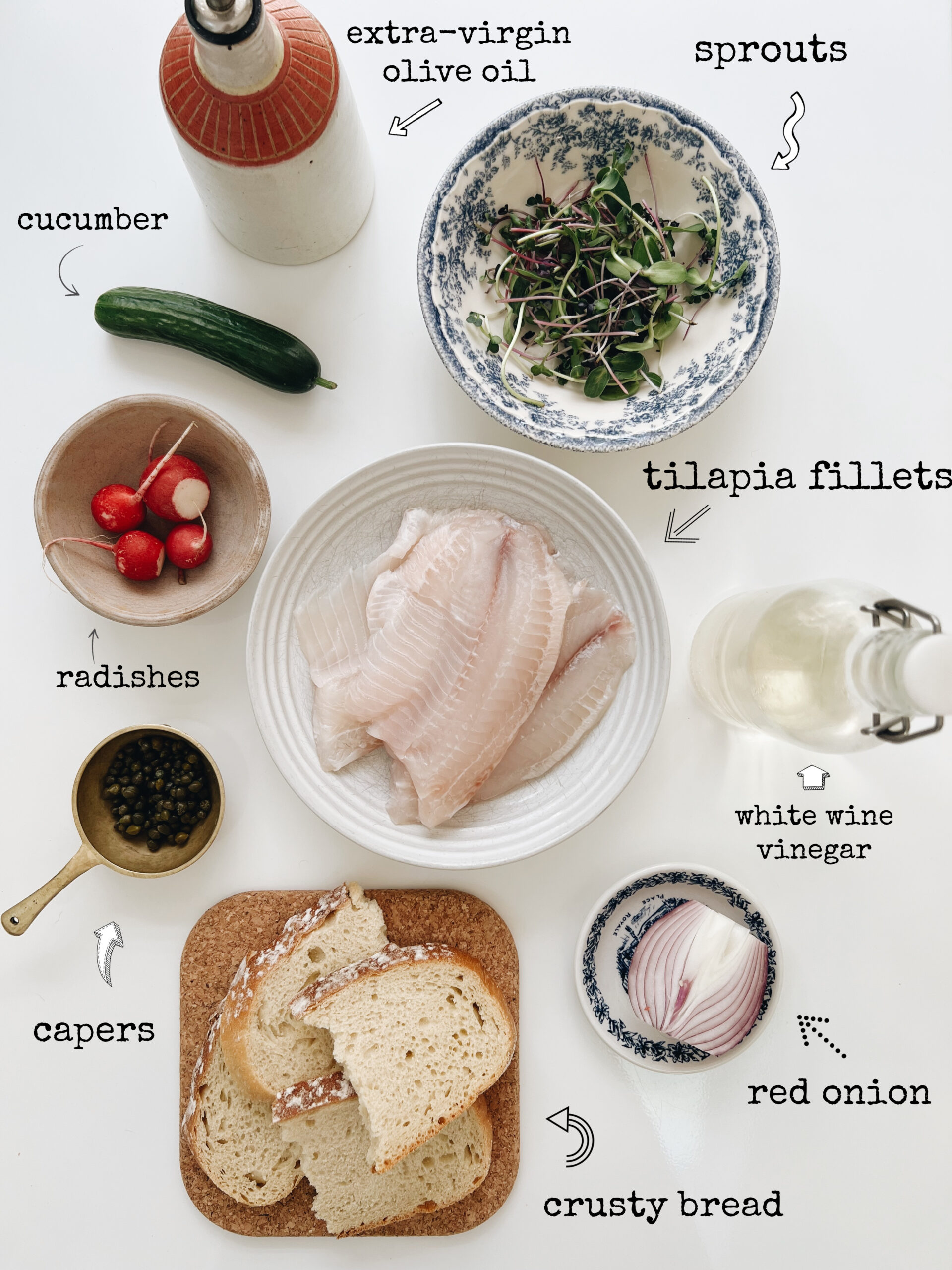 There are two thin- three things that happen here. But you can do them all at the same time so it will truly take fifteen minutes to get that meal on your table. Kid ya not.
The tilapia was frozen, so I thawed it overnight. It's also affordable, which I'm always into. If you prefer cod or halibut or even salmon, all good. Do it. We'll just roast it for seven entire minutes while the salad gets whipped up and the bread gets toasted.
Like, look at this.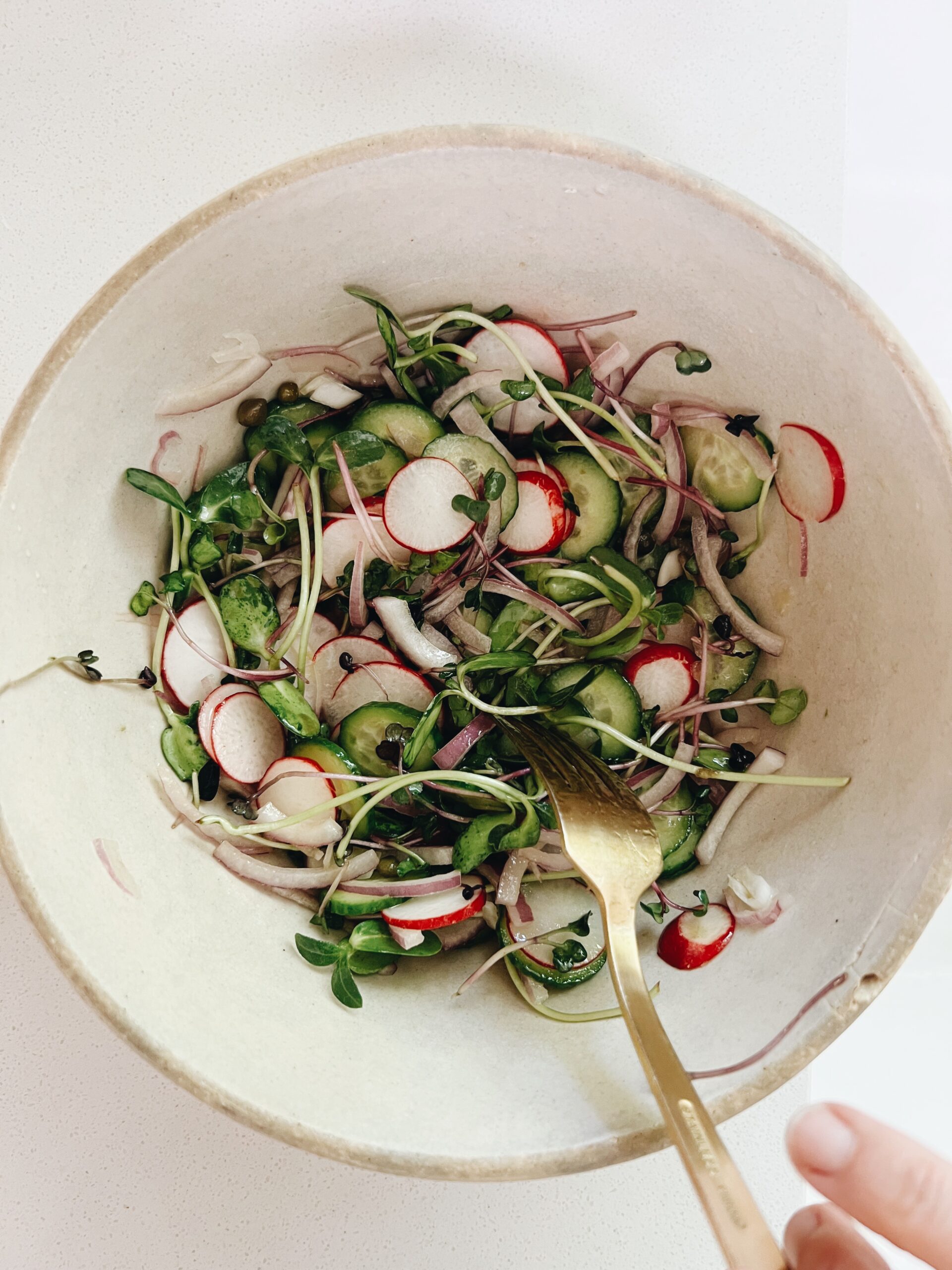 Is it a salad? Is it a relish? Is it a crunchy topping that I plan on putting on E V E R Y T H I N G all summer? Yeah, sure. In.
We thinly slice a few radishes, a small cucumber, a bit of red onion. Then we'll add it to a bowl with capers, sprouts, white wine vinegar and olive oil. Use a fork to just toss it together and taste that. It's so freaking good. So much crunch! Make this relish thingy all summer, I dare you.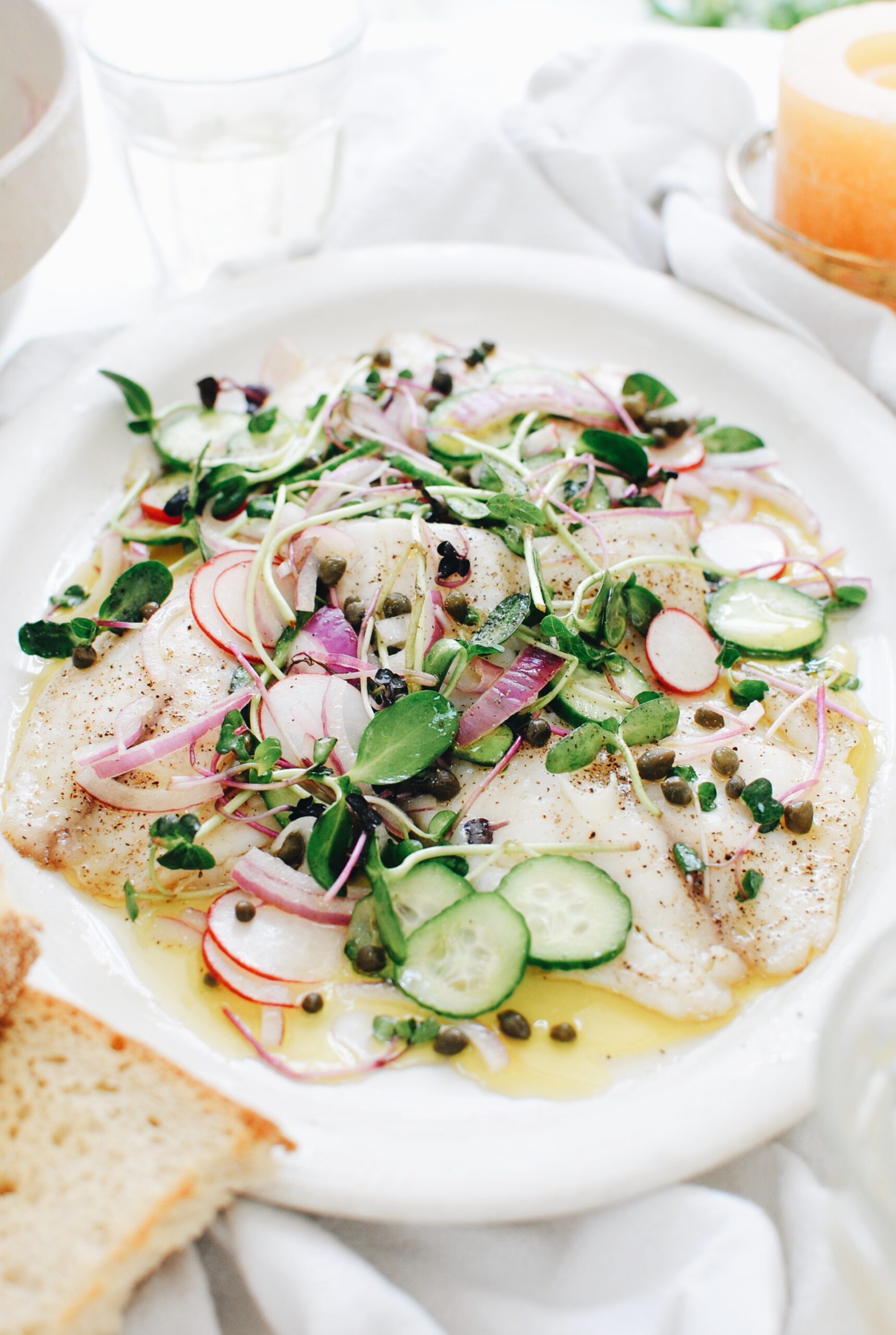 Hi, hello, she's gorgeous. The fish is flakey and rich, but light.
The crusty bread is toasted and the perfect pairing to such a vibrant main event. You can dredge it through that vinegary oil for extra life bliss.
The capers add that salty, briny bite, and the sprouts add that earthiness that I crave with every single thing I eat.
You could even grill that fish to amp up your summer vibe. Either way, make this happen as soon as you can. I'll join you.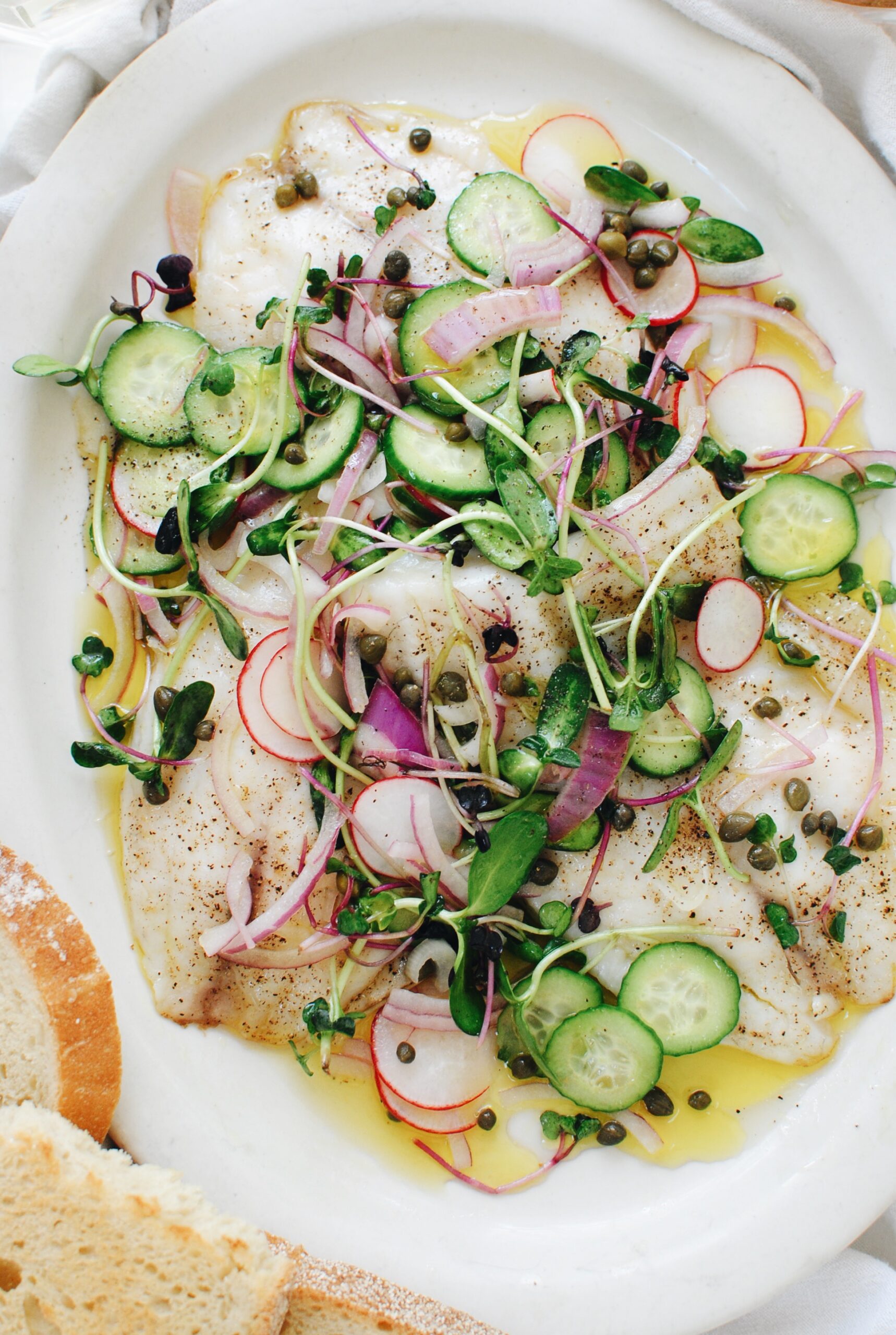 Like even tonight.
Roasted Tilapia with a Cucumber, Capers and Red Onion Salad
Ingredients
3 large tilapia fillets, thawed if frozen
3-4 radishes, thinly sliced
1 small cucumber, thinly sliced
1/2 cup thinly sliced red onion
2 Tbs. Capers
2 tsp white wine vinegar
2 Tbs. Extra-virgin olive oil
1/2 cup sprouts
Coarse salt and freshly ground pepper
Instructions
Preheat your oven to 400.
Arrange the tilapia on a baking sheet and brush with olive oil. Season with salt and pepper and roast for seven minutes, until it flakes easily.
In a medium bowl, combine the sliced radishes, cucumber, red onion, capers, vinegar, oil, and sprouts. Toss lightly with a fork until everything is vibrant and coated.
Place the fish on a serving tray and top with the cucumber salad. Drizzle with your best oil for a final finish. Serve with crusty bread!
Serves four.
7.8.1.2
642
https://bevcooks.com/2023/05/roasted-tilapia-with-a-cucumber-capers-and-red-onion-salad/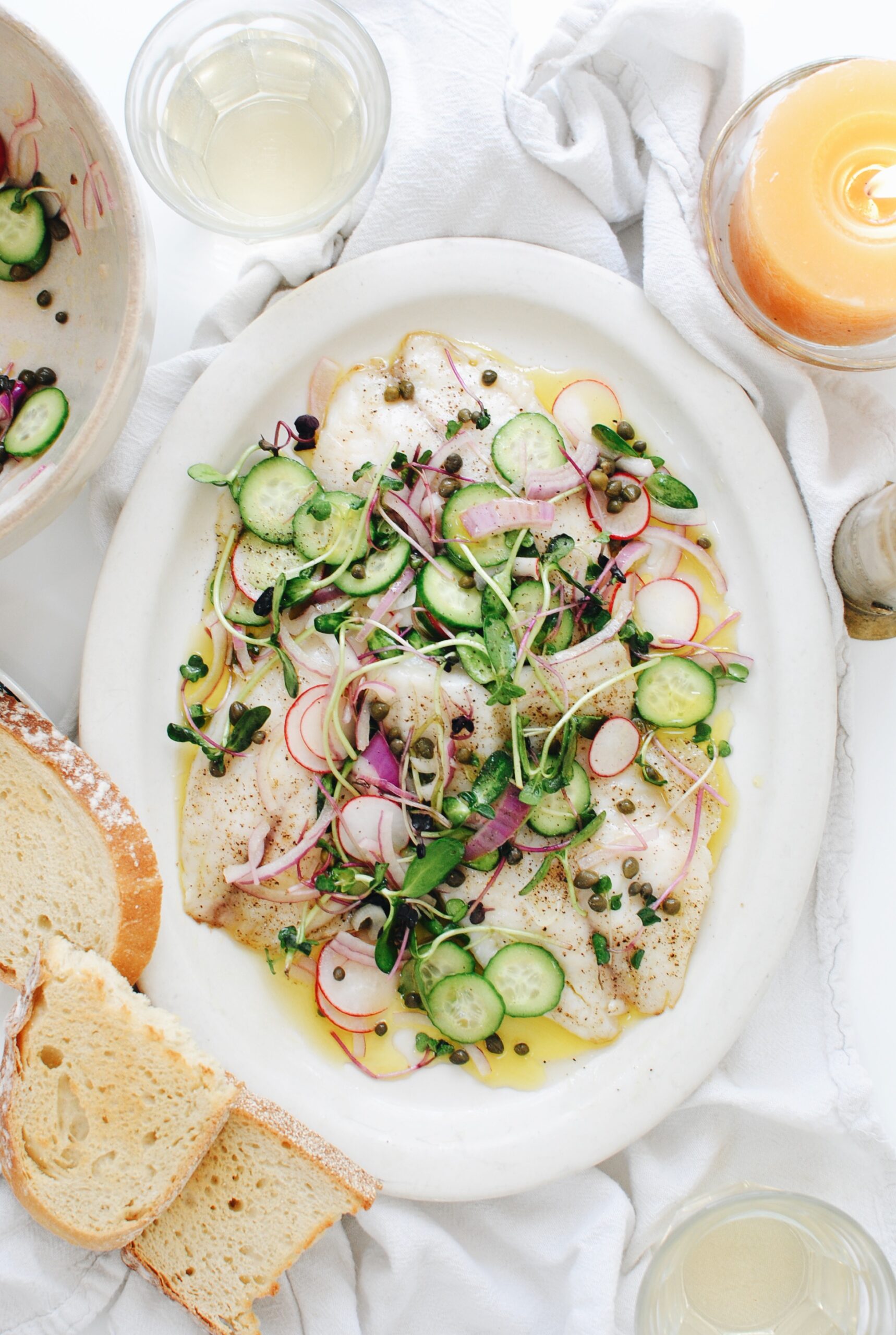 Get your life on track already.