It's summer in a wrap, bay-buh!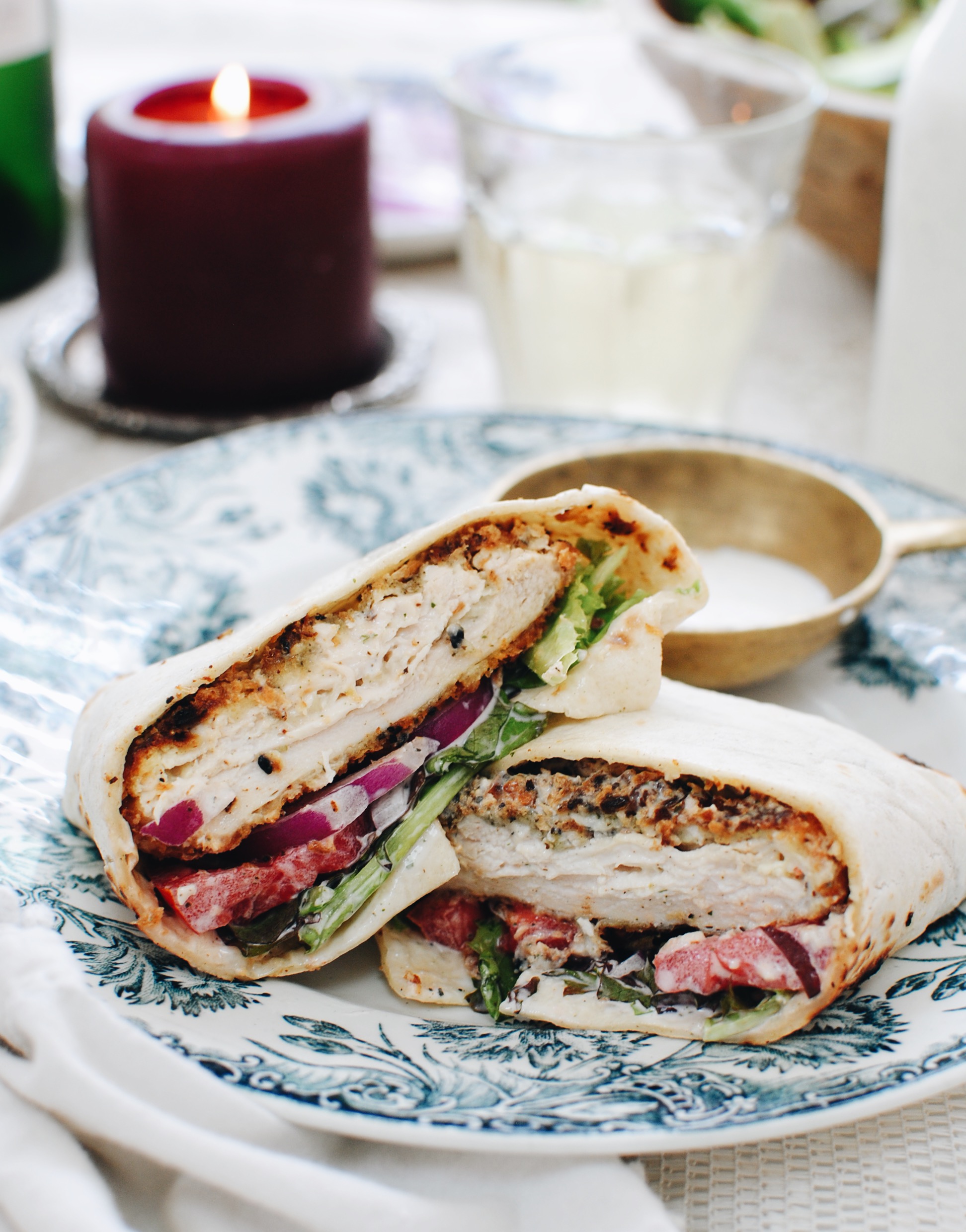 And I'll tell you this now, it's everything you've ever needed. It has CRUNCH. It has cool and creamy. It has toasted tortillas. I don't even need to mention the tomatoes and red onion, right? I'm telling you, summer perfection.
Let us peepeth.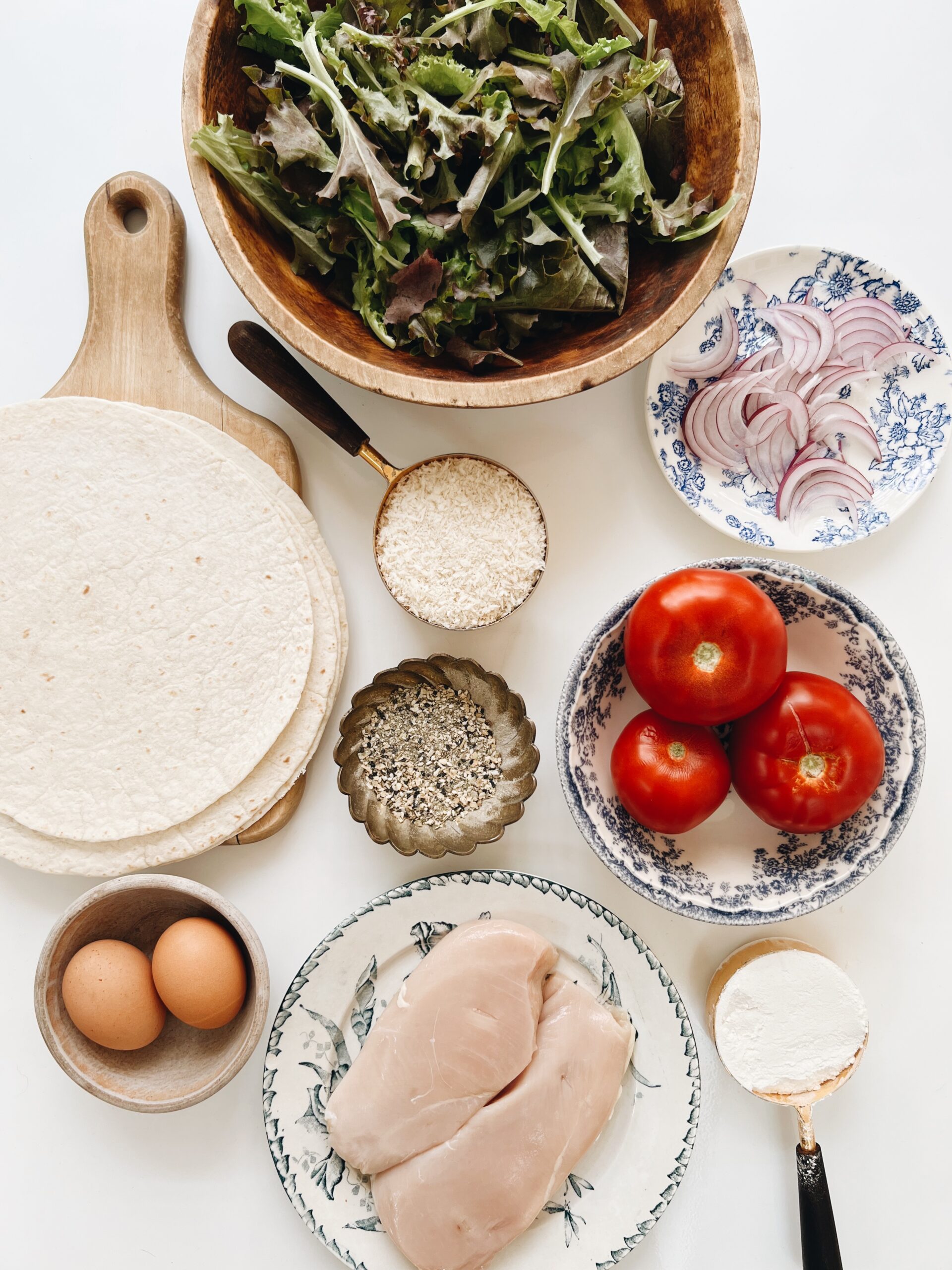 I didn't get a chance to add all the words and arrows because I'm easing back into recipes after two weeks off and a Taylor Swift concert. We'll be just fine.
But this is a pretty simple operation here. We'll slice, pound and crisp up some chicken. Also, if you want to just use tenders in place of chicken breasts/cutlets, totally fine. I've done it both ways based on what I had, and it all works. Just make it happen.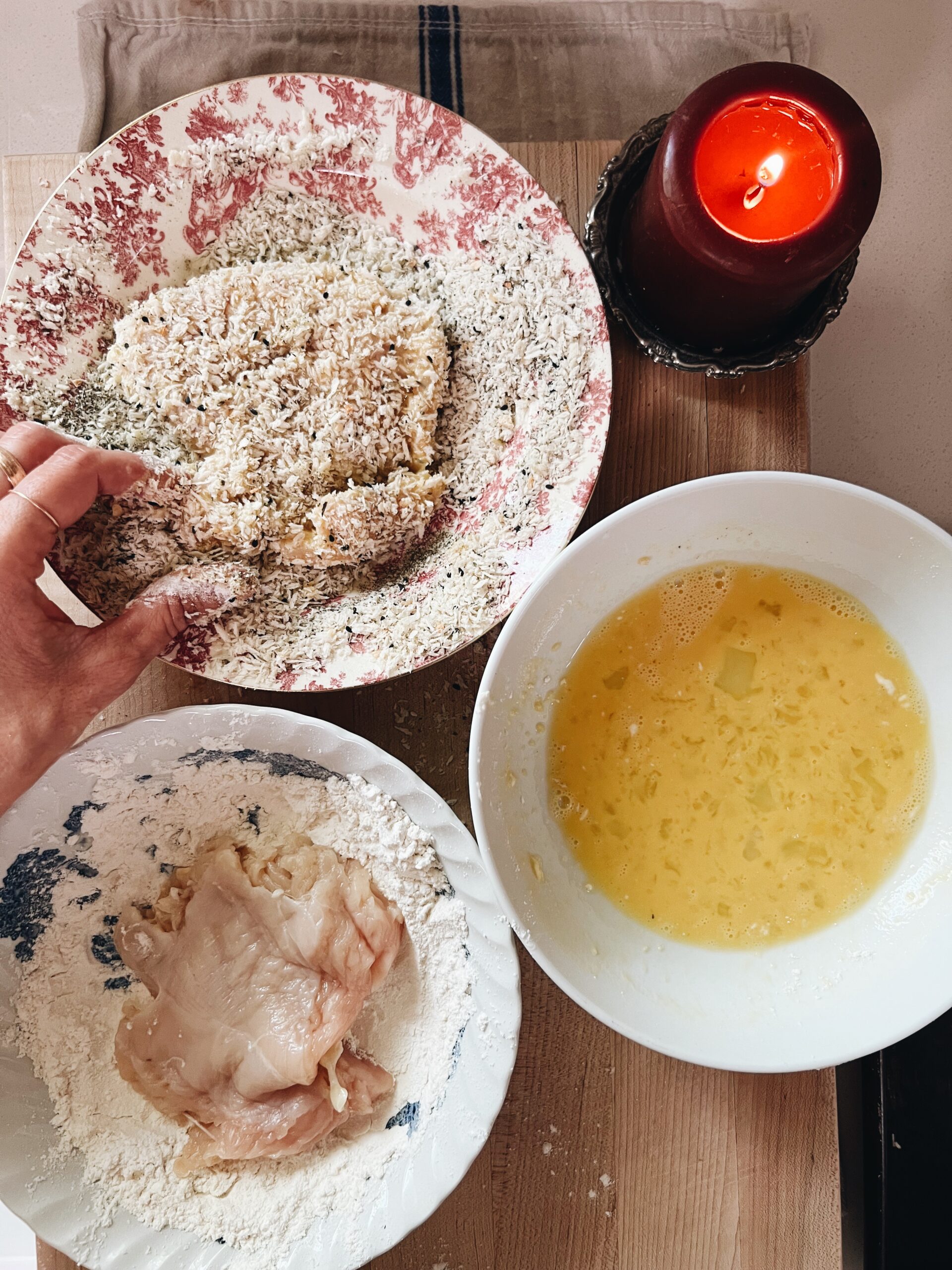 We're going to season the panko and I'll tell you how. Everything bagel seasoning + dried Italian seasoning + garlic and onion powders. Pinch of salt. Simple but will carry this thing to no end.
And you know the dredging situation: into the flour, into the egg wash, into the panko. She done.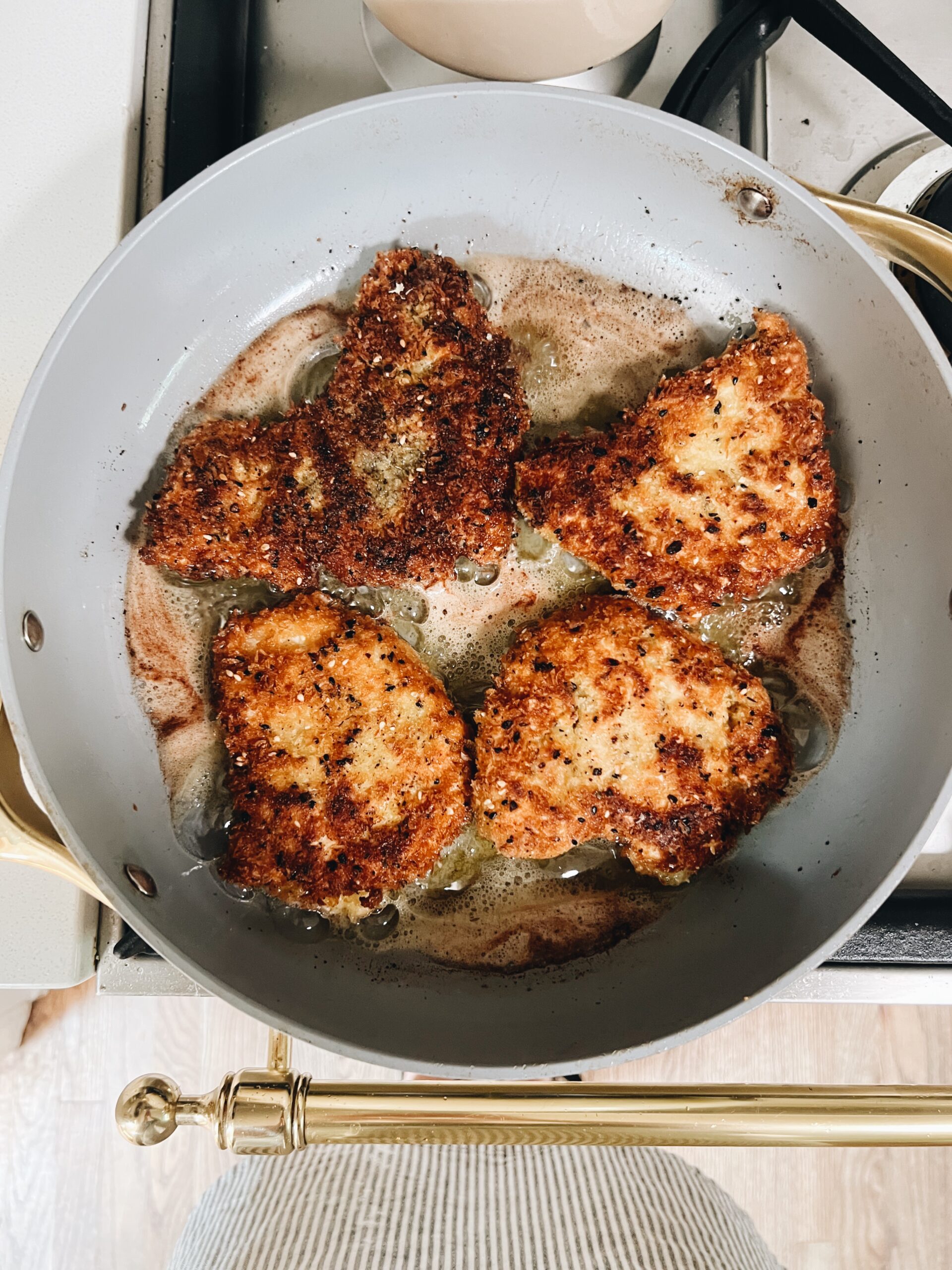 Into some oil for about four minutes per side. Crispy and crunchy and your mouth is so excited right now.
Let these rest for a few minutes and then slice them up! If you need to dip a slice into some ranch dressing, this is called living.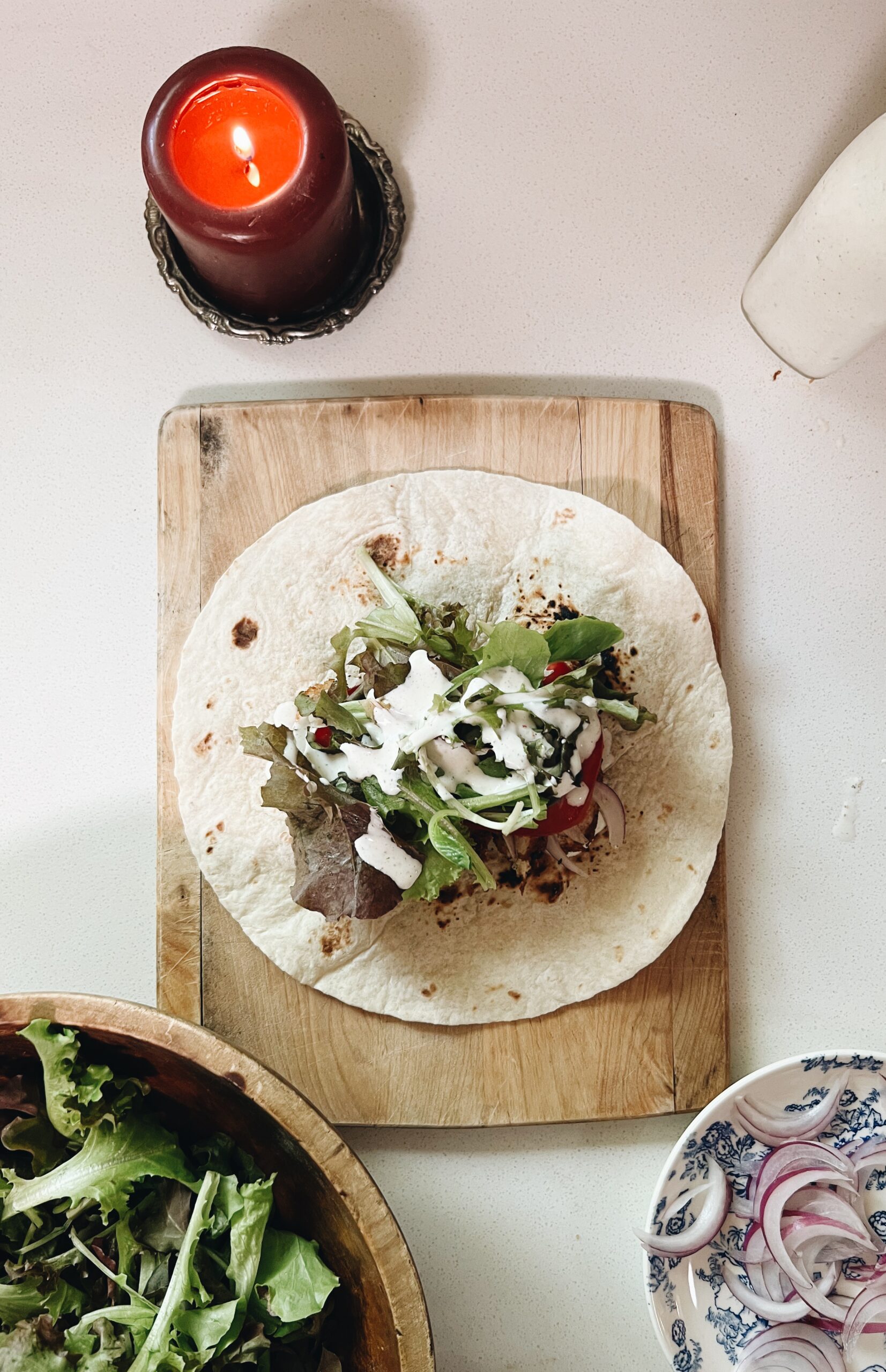 Next up, we layer! I lightly toasted the tortillas over an open flame, but if you want to simply warm them, absolutely fine. It's some ranch dressing (the recipe is in the recipe card!) down the center of each tortilla, some sliced chicken, sliced tomato and onion, lettuce greens and more ranch. And if you want to add cheese, go for it! Tuck in the sides and roll her up.
And omg.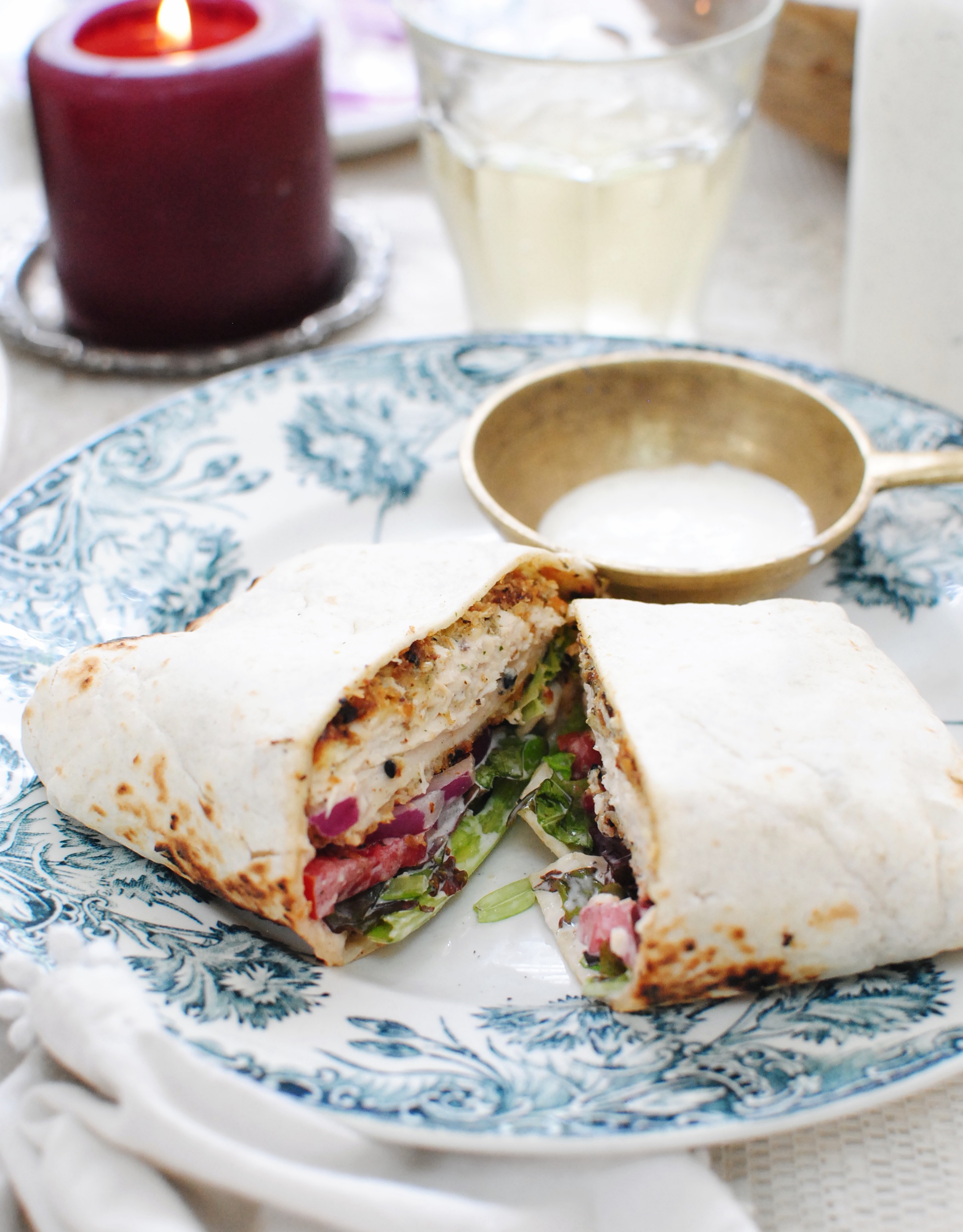 Just perfect. Go light on the ranch or go obnoxiously heavy if you're anything like me and are living your truth.
The texture is an absolute party. Crispy chicken, vibrant tomatoes, crunchy onions, delicate greens and plenty of tangy ranch. All tucked into a warm and delicious toasted tortilla.
YOU CAN'T NOT.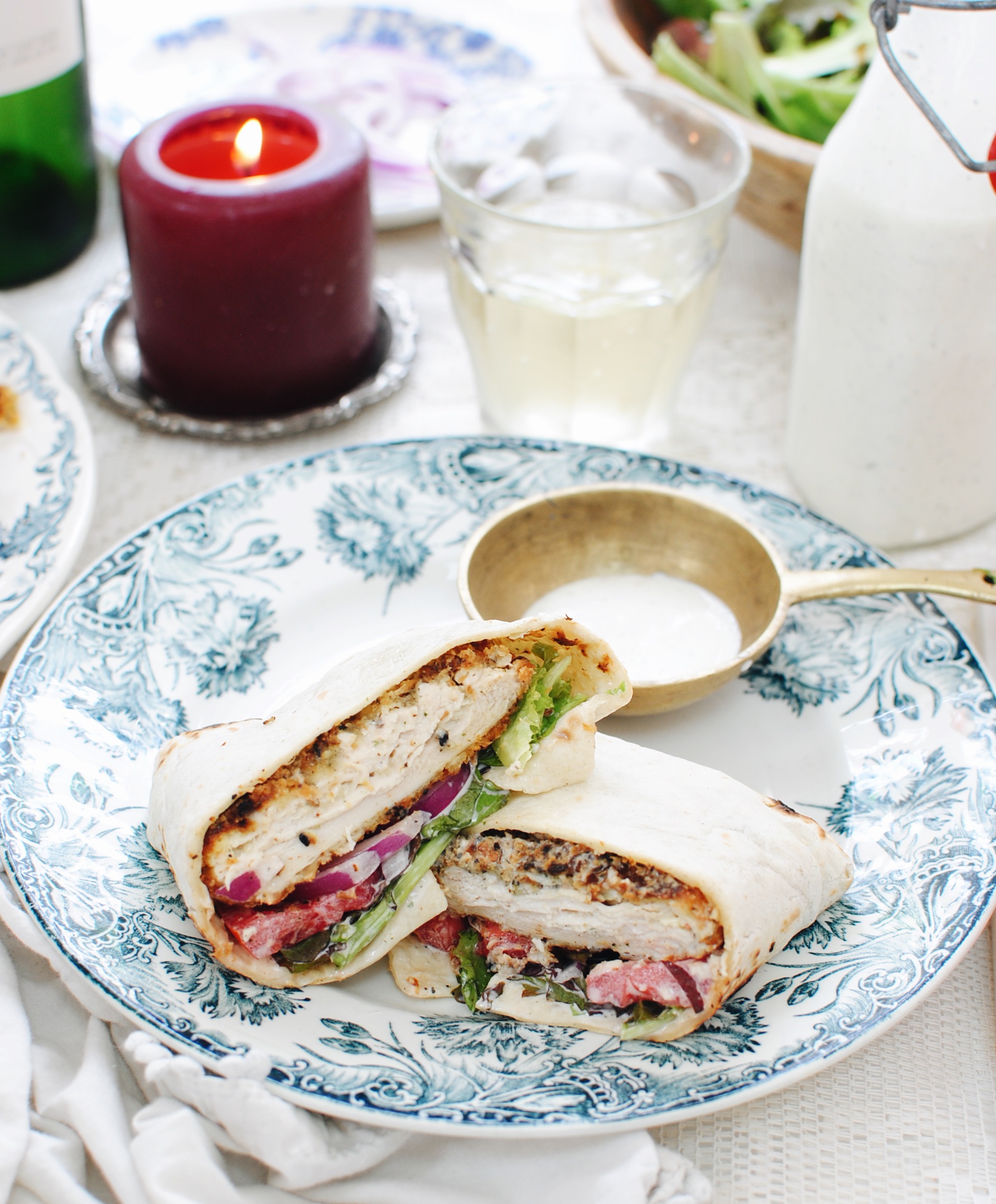 I'll warn you now, be prepared to hear, "Can we have this again tomorrow, Mom?"
So yeah, you'll be having this tomorrow.
And the next day. And the next…
…and the next.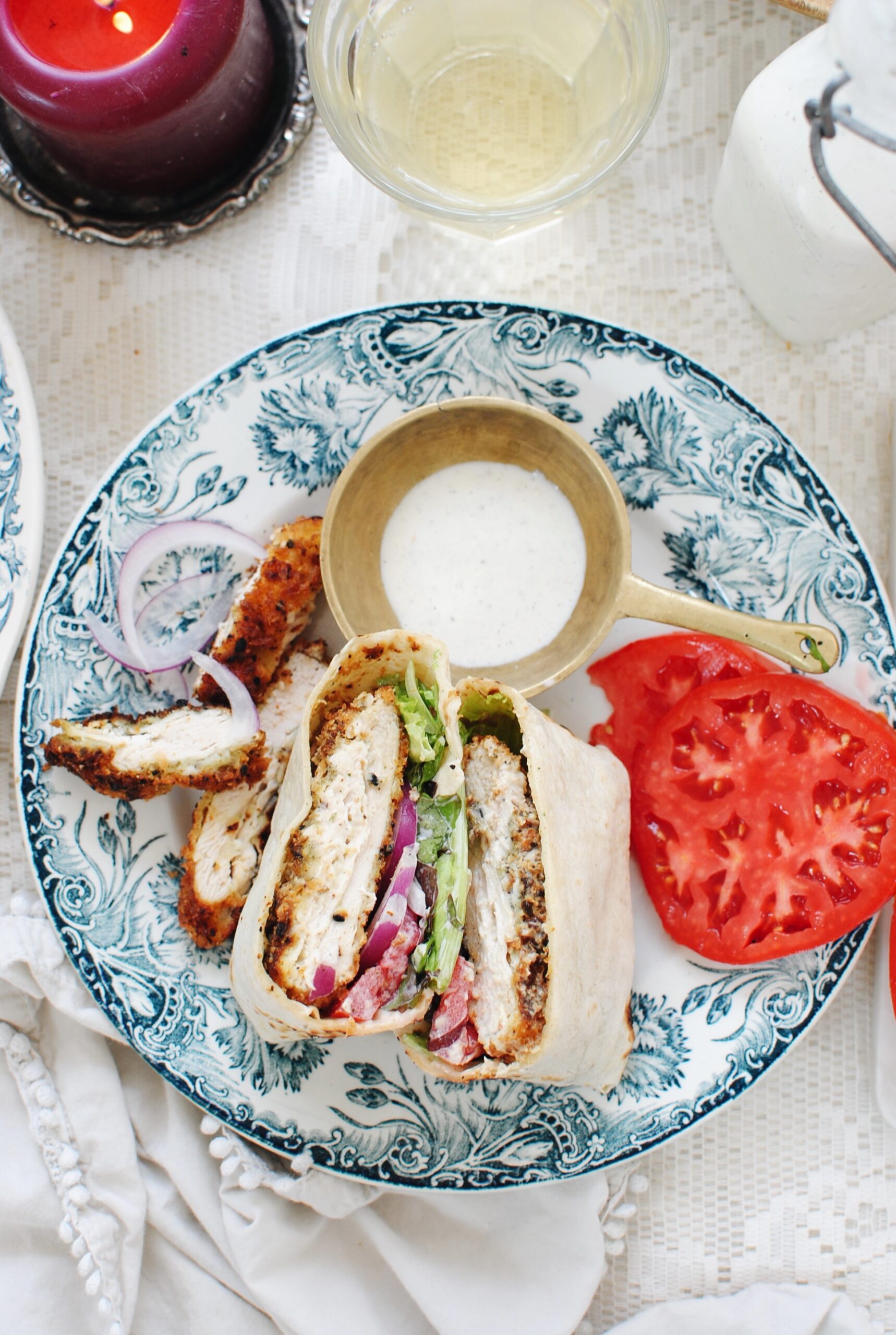 Summer chicken wraps! Just make your entire life about these.
Crispy Chicken Sandwiches with Tomatoes and Ranch
Ingredients
2 chicken breasts, cut in half and pounded into cutlets
1/2 cup flour
1 cup panko
1 Tbs. Everything bagel seasoning
1 Tbs. Dried Italian seasoning
1 tsp garlic powder
1 tsp onion powder
2 eggs
1 medium tomato, sliced
1/3 cup thinly sliced red onion (as much as you want really)
Mixed greens or romaine lettuce, about two cups
Ranch dressing, about 1/3 of a cup (homemade or your favorite)
4 large tortillas
1 cup vegetable or canola oil
Instructions
Place the panko in a shallow bowl and add the everything bagel seasoning, Italian seasoning, garlic and onion powder. Add a pinch of salt and toss with your fingers. Add the flour to another shallow bowl, and whisk the two eggs together in another shallow bowl.
Dredge each chicken cutlet through the flour, then the egg wash, then the panko to fully coat. Place on a baking sheet while you get the rest of the chicken prepped.
Heat the oil in a wide pan to a medium-high. Sear the chicken on one side for five minutes, then flip and sear another four, until golden brown on both sides. Place on a cooling rack to cool while you prep the rest. Slice the chicken into strips. Look at that! If you need to dip it into ranch right now, you should. Quality control.
Lightly toast the tortillas (or warm them) and drizzle a bit of ranch in the center. Top with sliced chicken, tomato, red onion and lettuce greens. Drizzle more ranch over the lettuce and wrap them up! Now you can either pop in them a hot (dry) skillet for a minute to get the tortilla even more toasted, or enjoy as is.
Slice and serve!
The ranch dressing: I make the recipe on the Penzeys bottle! It's 1 Tbs. Buttermilk ranch seasoning plus a tiny tiny splash of water in a bowl. Let that sit for five minutes. Then add 1/2 cup mayonnaise and 1/2 cup buttermilk. Whisk and transfer to a jar. It's perfect.
Serves four!
7.8.1.2
647
https://bevcooks.com/2023/07/crispy-chicken-wraps-with-tomatoes-and-ranch-dressing/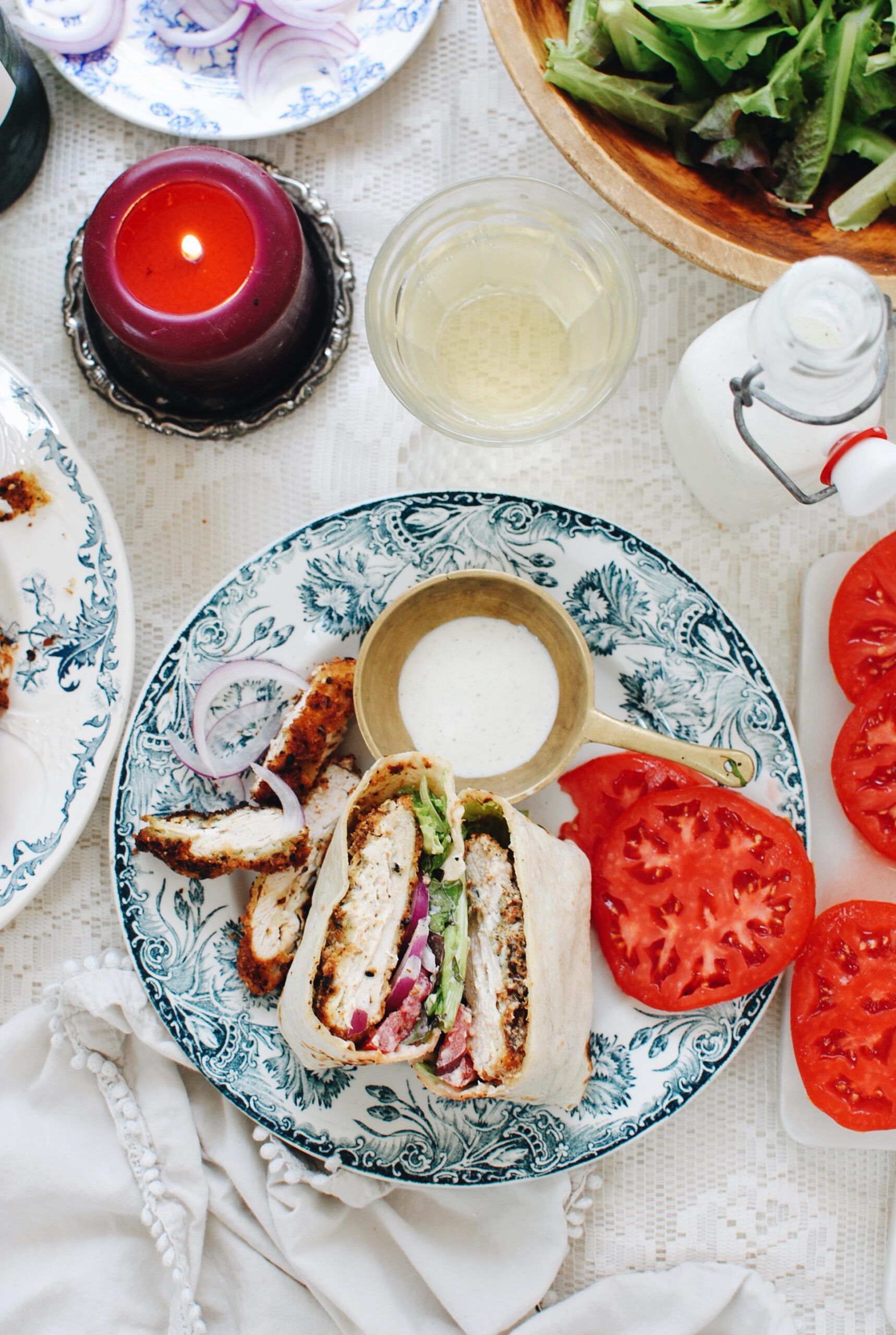 And more ranch for dipping, natch. Here's the video for you!