Whoa, Nelli Gemelli! (I know it's really Nelly, but just go with me here.)
Do you ever plan a meal based on a color you have in your head? Like a certain color palate? Or a little mental paint swatch? You're shaking your head. Okay.
A couple of weeks ago Jamie Oliver posted this shot on the Instagram of some pasta that might have been gemelli? . . . I think? . . . and it was being tossed and glossed with oil in this enormous parmesan wheel from probably 1855, and was gorgeously speckled with red pepper flakes and there were so many shades of buttery rustic-ness and earthy tones and I'm POSITIVELY SURE he noticed my "like" and "omg, dude."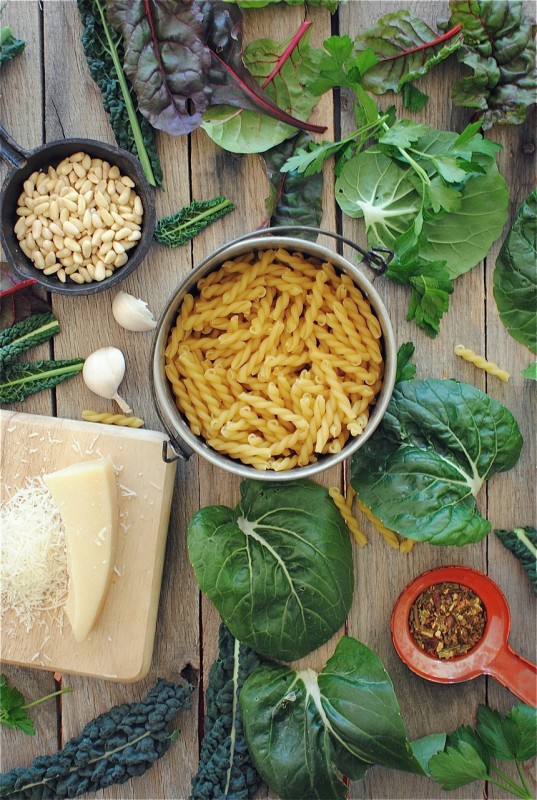 Well, as luck would have it, my 2-foot parmesan wheel from Italy is currently on loan with the mayor of HA HA HA YOU WISH, so I had to wing it. Bummer for me.
Y'alls, that image got so stuck in my head like Elmer's glue to every single kid ever, I just had to make it. Or whatever I thought it was. Because you can't zoom in on Instagram. Which is kind of lame but whatever. SPEAKING OF, have you noticed how we now have our own little Instagram profiles on the interflex?! And is it embarrassing that I pull mine up and look at it more than I care to admit but just did in a way because I love the rotating pictures at the top? It's like a little '80s movie montage of your life!
It's all I've ever wanted really.
I don't think Jamie had any greens in his pasta, but the Great Freeze Boogie Man of 2012 was about to come get my garden, so I did some rescuing with my scissors and mouth.
And then I toasted a lot of pine nuts in butter. Yes.
And then a lot of garlic and crushed red pepper in the same butter. Oh mmmm.
And then all those pungent greens in that same butter. Can't feel my face.
And then the cooked gemelli pasta went into the butter. And 37 F150 truck loads of parmesan went in.
And things were tossed. And they were tossed some more.
Songs were sung. Booties shaken. Roofs raised.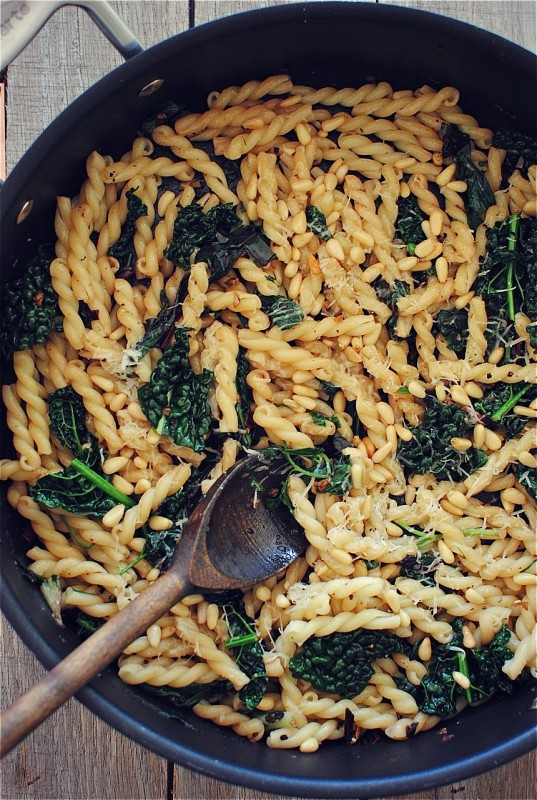 If you need to sit down, it's okay.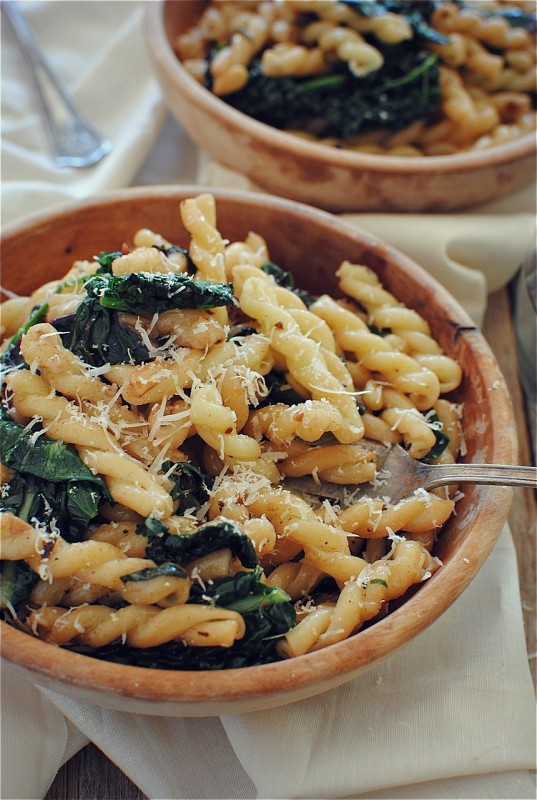 If you need to lie down, do it now.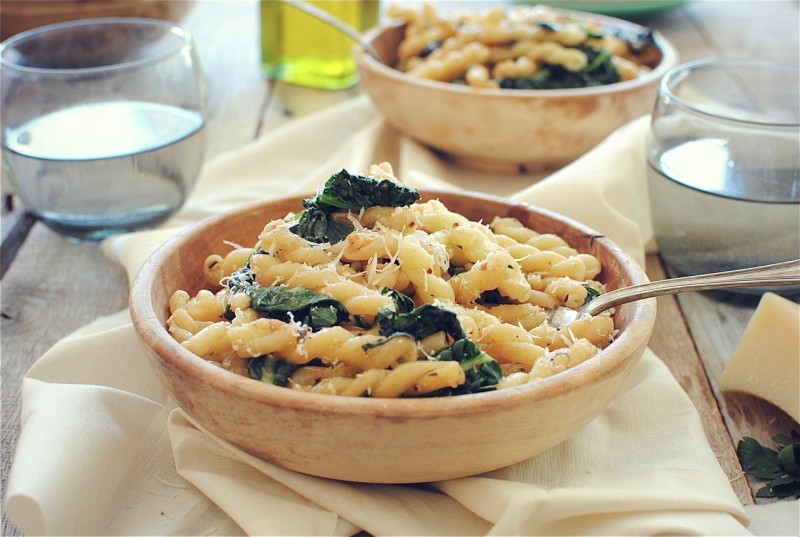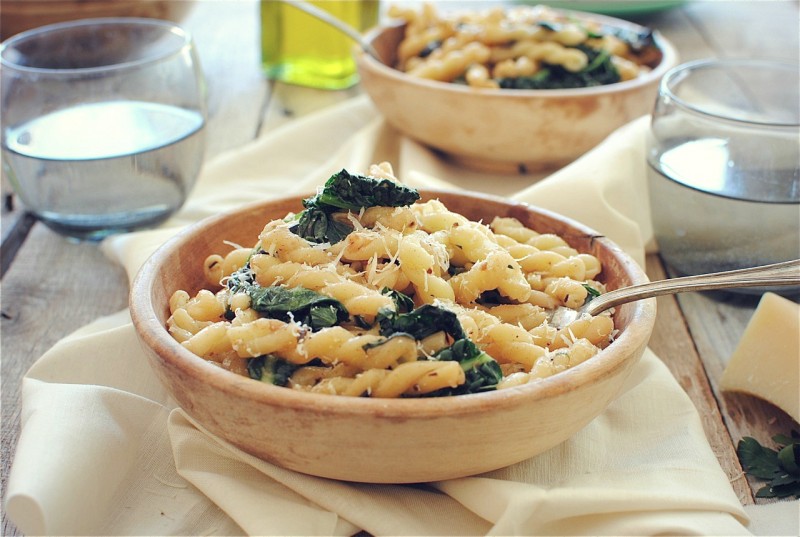 If you need to locate the nearest cement pouring chute for your mouth, you're on your own, sailor.
Gemelli Pasta with Garden Greens and Pine Nuts:
What it took for 2 (rather large portions, so what):
* 2 cups gemelli pasta
* 2 Tbs. butter
* 2 Tbs. pine nuts
* 3 cloves garlic, minced
* 1 Tbs. crushed red pepper (or a little less if you don't prefer so much heat)
* 4 cups chopped mixed greens (I used kale, swiss chard and bok choy)
* 1 cup freshly grated parmesan cheese (or less if I'm totally freaking you out)
* 1 Tbs. extra-virgin olive oil
* coarse salt and freshly ground pepper
Bring a large pot of salted water to a boil. Add the pasta and cook until al dente. Reserve 1/3 cup pasta water and drain the rest.
In the meantime, melt the butter in a large skillet. Add the pine nuts and toast until slightly brown, about 3 minutes. KEEP YOUR EYES on them. They're expensive little boogers and you don't want to burn them while watching some rando win a Hawaiian trip on Wheel of Fortune. Remove the nuts from the skillet and set aside.
Back in the skillet, add the garlic and crushed red pepper; sauté 1 minute.
Add the garden greens to the skillet and sauté until wilted, about 2 minutes. Season with salt and pepper.
Add the cooked pasta to the skillet and take it off the heat. Add the parmesan and as much pasta water as needed to make a thin sauce. Then add that olive oil and the reserved pine nuts. Toss, toss, toss. Season with a pinch of salt and pepper.
Taste it. Thy heart RIIIIIIISETH.
Serve and sing.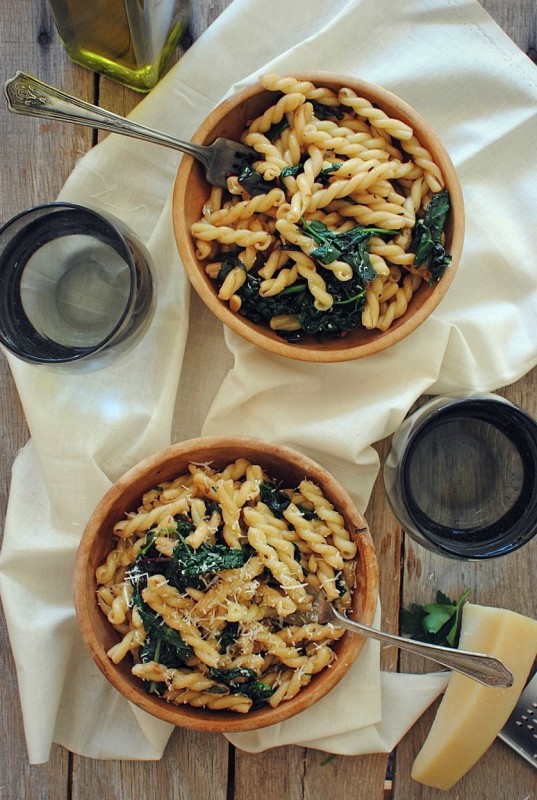 GIT IN IT.