(I need to take this moment to tell you that WordPress will not allow me to put tabs and spaces where I so desire, like in a research paper, so this entire post might look jank to the naked eye. A bottle of aspirin is advised. Thank you.)
It's AUGUST!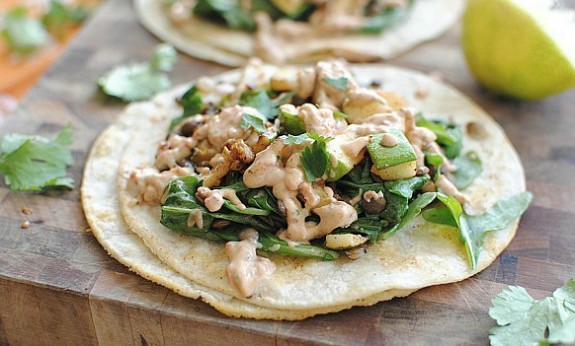 Which normally I wouldn't be so !!! about, BUT do you know what this means? Let me tell you.
I) We're one step closer to:
A) Cooler temperatures.
1) Duh.
B) Football season.
1) Hawd on, hawd on, listen. I didn't just randomly become a sports weirdo. I just like the sounds of "aaaahhhh" in the background as I noodle around in the kitchen over a pot of soup or something with the air conditioning OFF and the back door OPEN.
2) Remember these little outline breakdowns back in school? The back and forth between the ABSs and 123s? Little graphs?
a) I do.
b) Little bullet points.
c) I like bullet points.
d) Sorry.
C) The sweet, sweet disappearance of cicadas.
1) Which meaaaaans, the sweet, sweet disappearance of CICADA KILLEEEEERS.
a) Can I get a woot, woot?
b) Are you just so sick of me talking about these bloomin' cicada killers yet?
c) Plus, you know the constant cicada humming can be quite deafening and I'm sure it's not the healthiest buzz of death for our delicate ears. I'm JUST SAYIN'.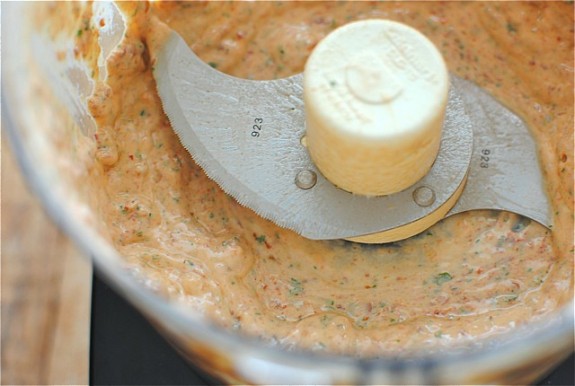 D) Oh hey, are you watching the Olympics? Of course you are, what am I thinking. More specifically, are you watching women's gymnastics? That is, if your heart can even bear the stress of watching them ON THOSE BEAMS I MEAN ARE YOU KIDDING ME.
1) Guess whose song is like, their theme song? Any guesses?
a) That's riiiiiight, my dreaaaaambooooaaaaat Phillip Philliiiiiiips.
b) Oh you felt that? Yes, that was a shooting star from my eyeball that just landed on your life.
E) With the dragon bees out of my way, I will be able to go outside without wearing astronaut gear and work in my pathetic, crispy, dried up yard and garden. Baby needs some TLC, y'all.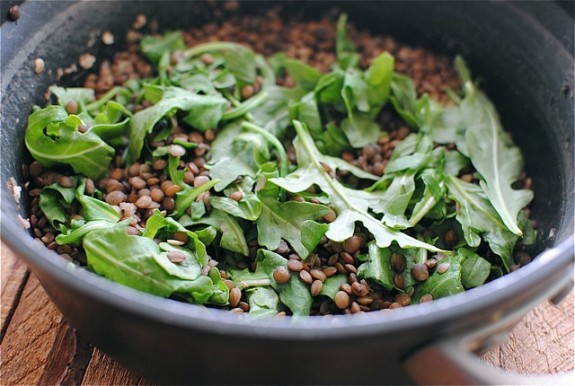 II) We're going on vacation!
A) Which in true form I have anxiety because I'm a total homebody and a freakishly nervous traveler.
1) But there will be a wedding.
2) And a beach.
3) And family.
4) And my cute new bag and aviator sunglasses I bought yesterday.
a) I almost said "shades" but I didn't want you to take an ice pick to my aorta.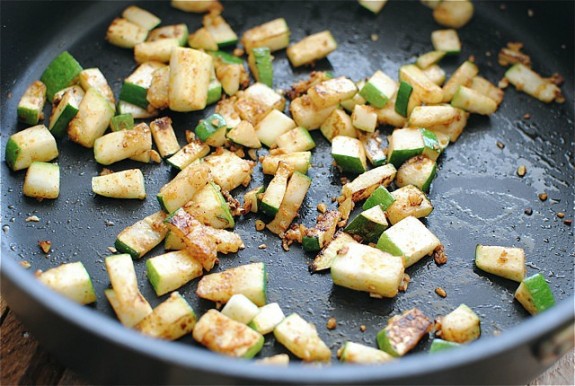 III) And lastly, it's my birthday month!
A) Noooo, I'm not one of those people who celebrate all month long. I just needed a 3rd bullet point and OH CRAP, THESE TACOS.
Okay in short, your mouth is nothing but lost without them. The soft but toothy lentils, velvety arugula and lightly sautéed zucchini is one thing, but that cilantro-lime-chipotle-yogurt sauce is like, the very reason babies are made.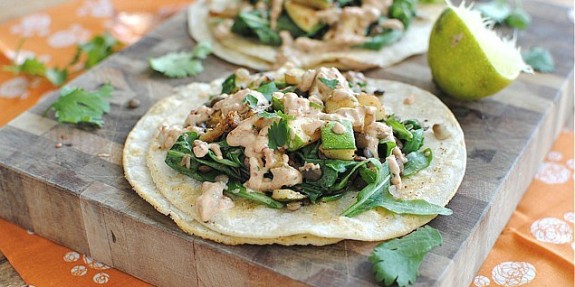 IV) Eat with caution. Or reckless abandon.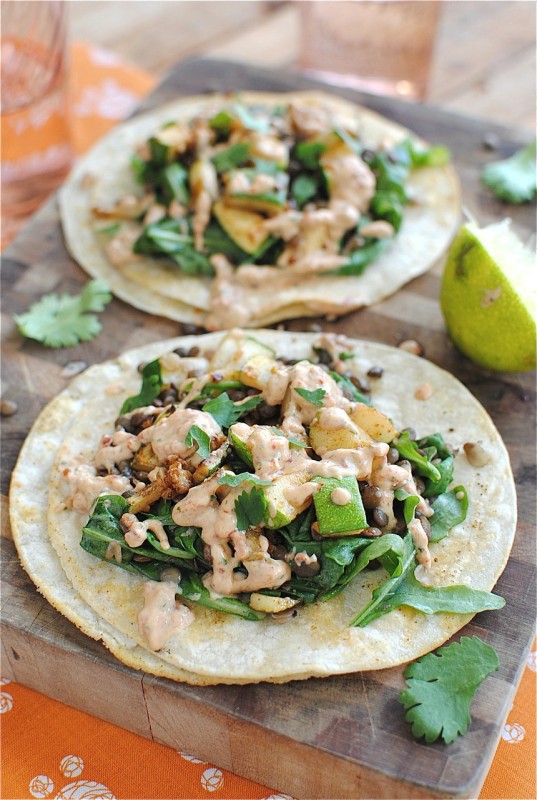 A) Definitely reckless abandon.
1) Class dismissed.
Lentil and Zucchini Tacos with a Chipotle Cream Sauce:
What it took for 4 humans:
* 1 cup green lentils
* 2 Tbs. extra-virgin olive oil
* 2 cloves garlic, minced
* 2 cups diced zucchini
* 4 cups arugula
* 1 (6 oz) container plain Greek yogurt
* 2 or 3 chipotle peppers with a little adobo sauce
* 1/2 cup cilantro
* juice of one lime
* 16 white corn tortillas
* coarse salt and freshly ground pepper
In a food processor, combine the yogurt, chipotle peppers, their adobo sauce, cilantro and lime juice. Blitz until smooth. Set aside.
Bring a pot of salted water to a boil. Add the lentils and cook until tender, but not broken, roughly 25 minutes. Test at the 20-minute mark. Drain the water if needed. Add the arugula to the lentils and stir to wilt. Cover and keep warm.
In the meantime, heat the olive oil to medium high. Add the garlic and bloom 15 seconds. Add the zucchini and a pinch of salt and pepper. Sauté until it starts to brown on both sides, about 7 minutes. Remove zucchini from pan and set aside for a hot second.
Back in the pan, with the heat on medium, add the corn tortillas a few at a time and heat them until they slightly char on both sides.
Layer two corn tortillas at a time. Spoon the lentil/arugula mixture on the bottom, followed by the sautéed zucchini. Drizzle with the chipotle cream sauce.
Serve tacos with more cilantro and lime slices on hand!
Fo' da real.