I don't know how else to say this.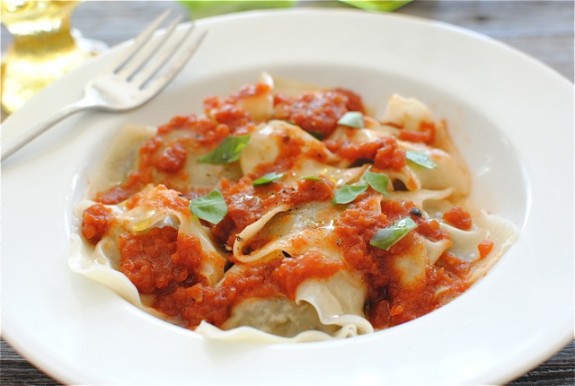 But I would almost 100% rather have this meal coursing through my veins than blood. Okay wait, I take that back. I wouldn't be able to taste it. What I really want is for a single ravioli with a light coating of tomato sauce to sit on my tongue for the rest of my life. Wait! Not quite that. I want to tenderly chew the ravioli so that the delicate flavors of the roasted brussels sprouts and the sweet garlic against the tang of the tomato sauce continually burst and massage every single taste bud of mine until Kingdom come.
On repeat.
You know I'm all.about. using Won Ton wrappers in place of pasta. Remember this? And this? (You won't remember that second link because it was my very first post ever on Tumblr and it was before you and I were in love.) Total cheerleader for them. Leaves more room in life for things like miming.
But then I saw Joy making cute little purses out of them the other day and I thought, "Ugh! That's cute. I want to be cute."
And with the last of my 400 pound bag of brussels sprouts hissing at me from the crisper, my shining moment in life had arrived.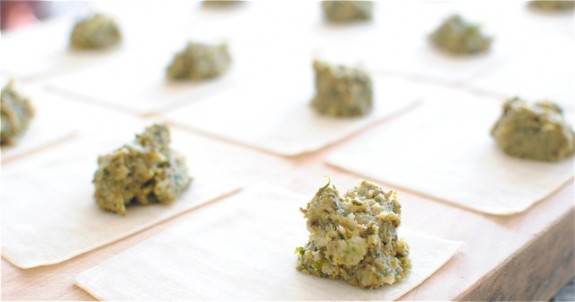 Look at all that shining right there.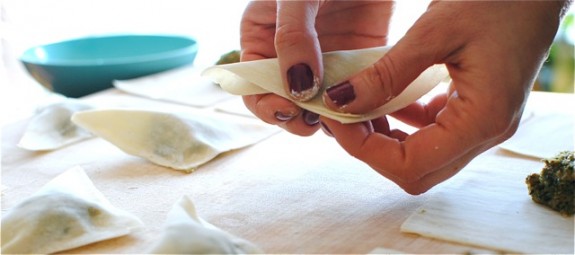 Shine. Shine. Shine.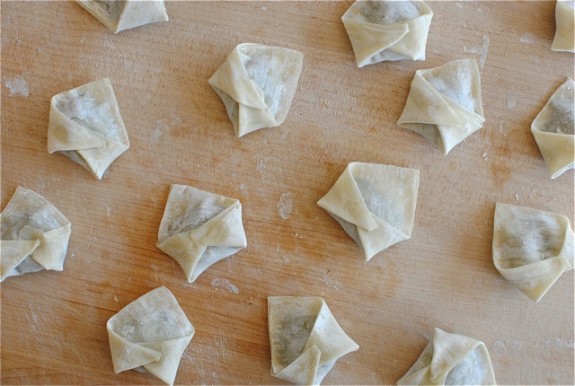 If I could pin you down and Chinese ravioli torture you with this meal, it would undoubtedly be the best moment of your life.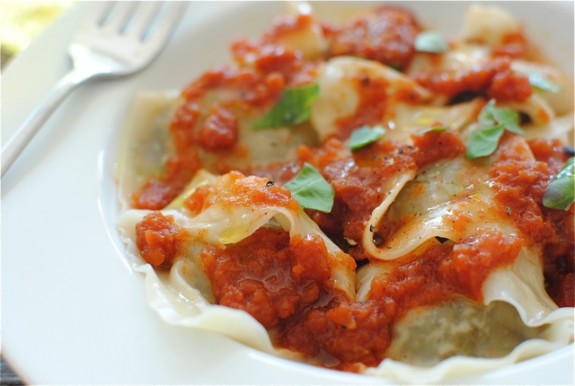 I am on my hands and knees. . .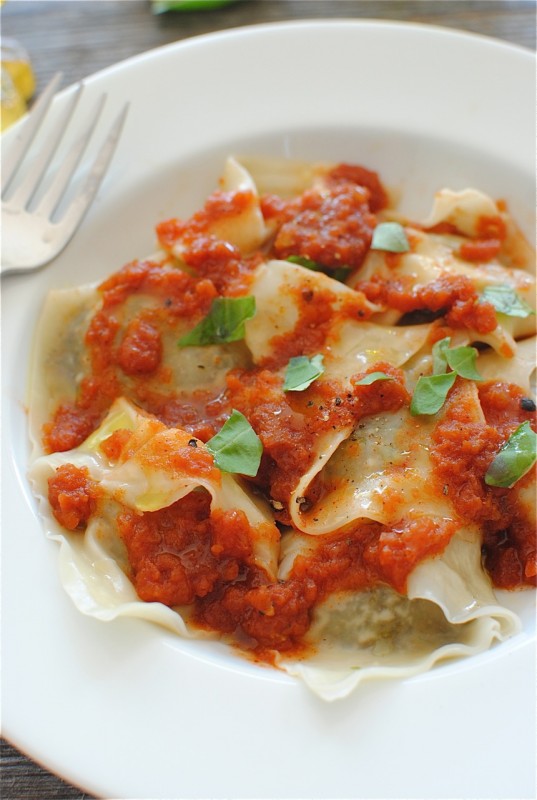 BEEEEEGGING YOU to make this as soon as you regain vision.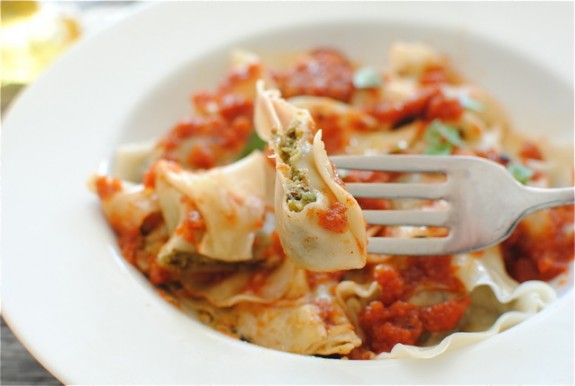 I hope they serve this in heaven, because I just fell to my death.
 Roasted Brussels Sprouts Ravioli:
 What it took for 4:
* 1 pound brussels sprouts, sliced in half lengthwise
* 6 cloves garlic, in the skin
* 3 Tbs extra-virgin olive oil, divided
* 1 pinch coarse salt and freshly ground pepper
* 1/4 cup freshly grated parmesan cheese
* 40 Won Ton wrappers
* 1 (14.5 oz) can diced tomatoes, blitzed in a mini food processor
Preheat oven to 400.
Toss the sliced sprouts and garlic cloves with 2 Tbs. oil and a good pinch of salt and pepper on a baking sheet. Roast for 30 minutes.
Place the roasted sprouts into a food processor. Squeeze the roasted garlic out of each skin and toss them in. Add the cheese and the last Tbs oil. Pulse until combined, just shy of a puree. Taste it. Need salt? Add a pinch.
Place a little dollop of the sprout mixture in the corner of each Won Ton wrapper. Wet the edges of the wrapper (I had a little bowl of water so I wasn't constantly licking and licking) and fold the wrapper over to form a triangle. Then take two corners and fold them in, wetting to close and form little purses. You can't say these aren't adorable.
Bring the tomato sauce to a light simmer, toss in a little pinch of salt and pepper and keep it going on medium-low.
Bring a pot of salted water to a boil. Slide each ravioli into the water, a few at a time and boil for only 30 seconds. Using a spider or slotted spoon, transfer raviolis to a plate.
Top with a light coating of tomato sauce, garnish with basil and experience serious salvation.