Whooooa, Nellie!
I'm going to warn you now, I got a little picture happy with this post. I'm going to blame it on the fact that it's a lasagna. And lasagnas call for layering. And layering calls for pictures. Lots and lots of pictures.
Ya know, I find that some food bloggers are super awesome about showing every process shot. And others are super awesome at highlighting certain ingredients. I'd like to think I'm a little bit of both.
I'm part Laverne, part Shirley.
Part Amy Grant, part Ozzy Ozbourne.
Part denim jacket, part straight jacket.
STOP AGREEING WITH THAT LAST PART.
Okay, so. Without any more jibber jabber from me, I'm going to (try to) let the pictures do the talkin'.
….This is going to be a challenge for me. Hold my hand?
Turkey, Mushroom and Spinach Lasagna:
Not kidding when I say these came from our garden.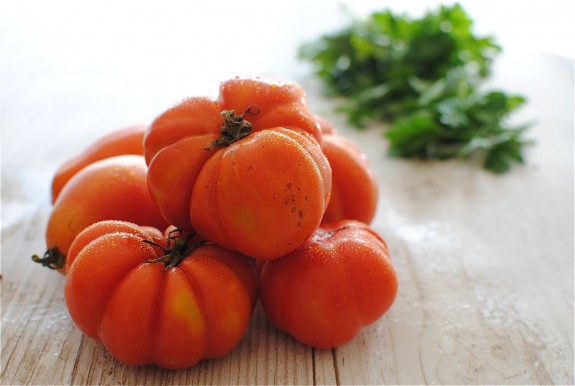 Aren't wonton wrappers so cute?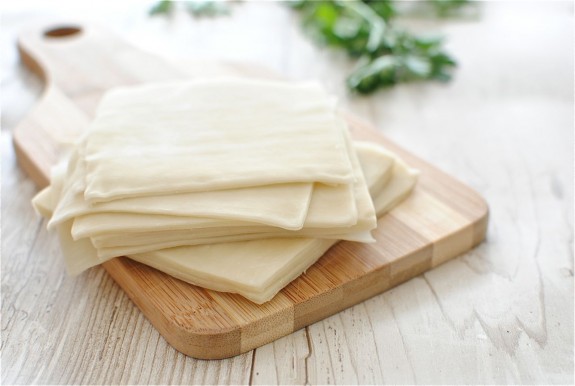 Okay so maybe I'm already failing at the quiet game. But you need to know something. This turkey is seasoned with SMOKED PAPRIKA (my boyfriend) and crushed red pepper.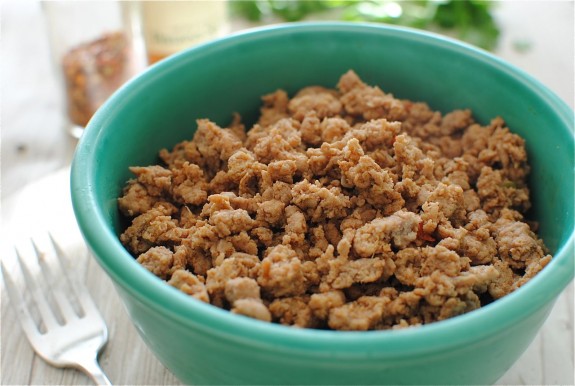 The sauce is pretty pimp in this lasagna because I used fire roasted tomatoes ALONG WITH the fresh ones. It's totally a different taste. Swear it.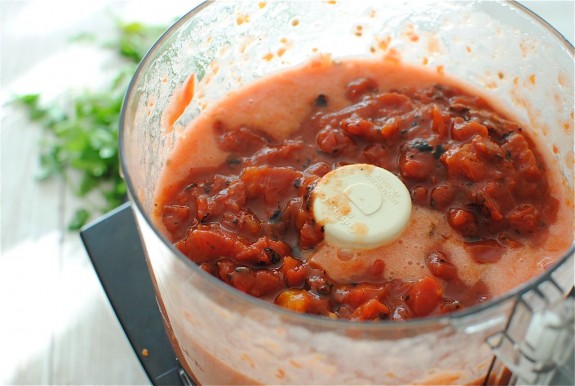 I love sauteed mushrooms. OKAY, TRYING TO SHUT UP NOW.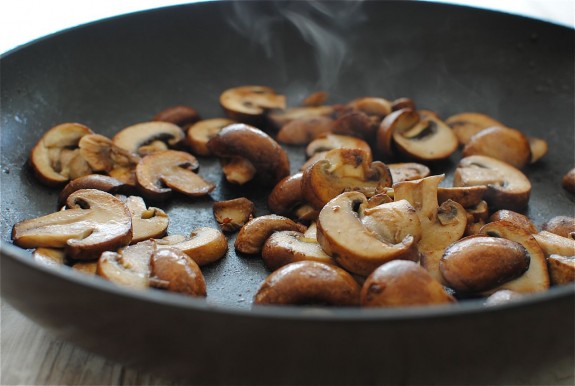 Omg.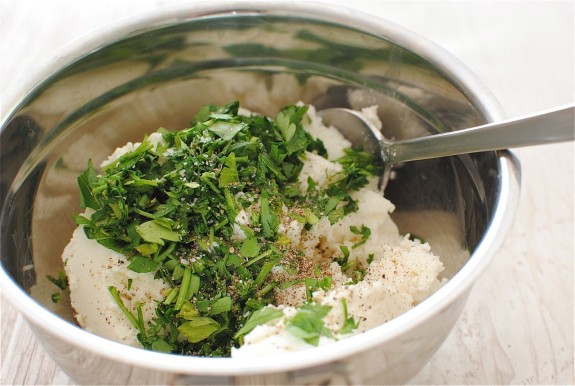 Well hello, health.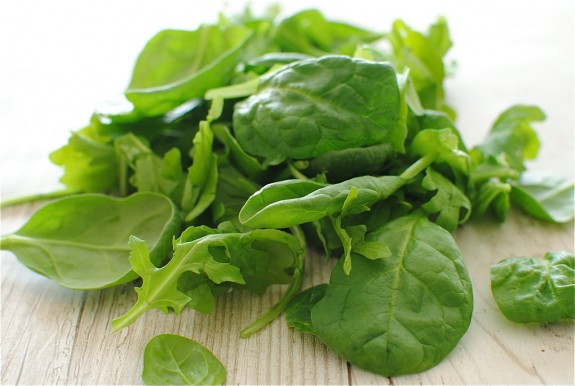 And the layering begins.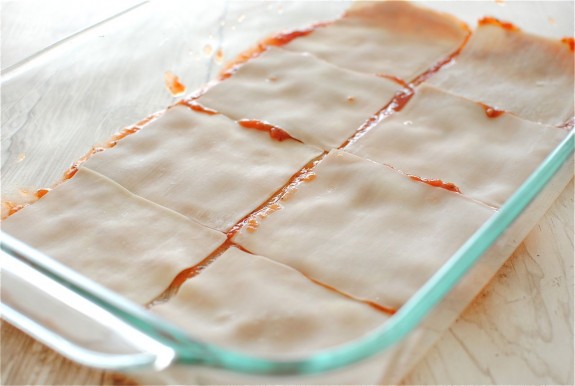 Lick, lick, lick.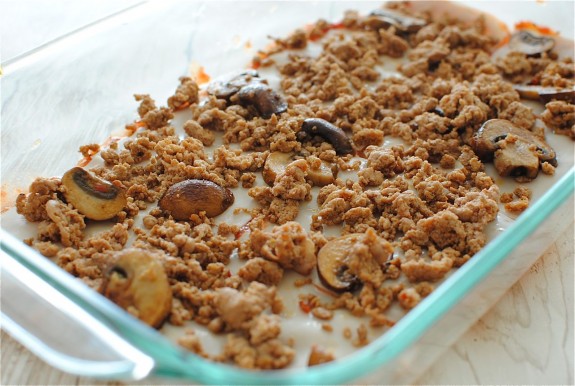 Wow.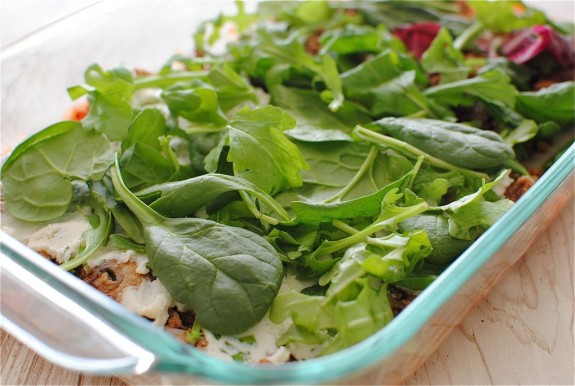 Mommy…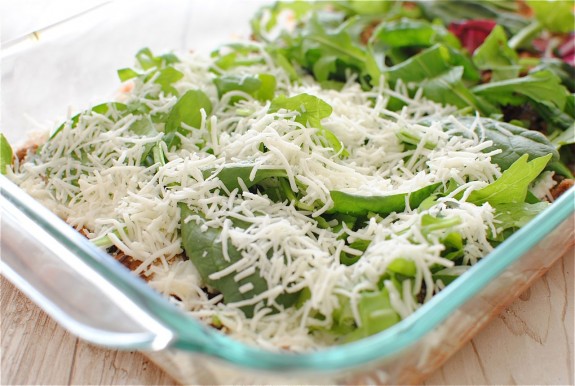 I need to sit down.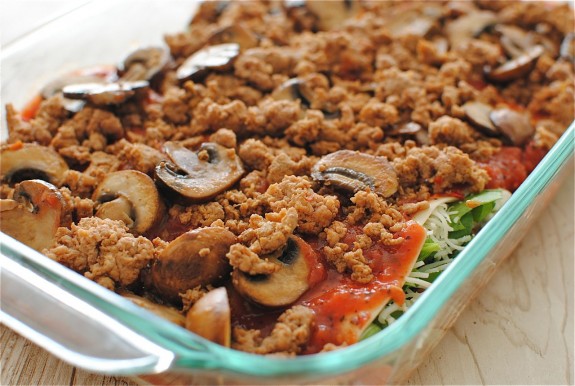 I've lost my vision.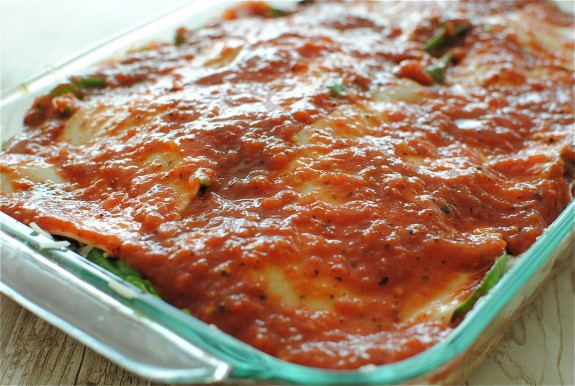 I can't move.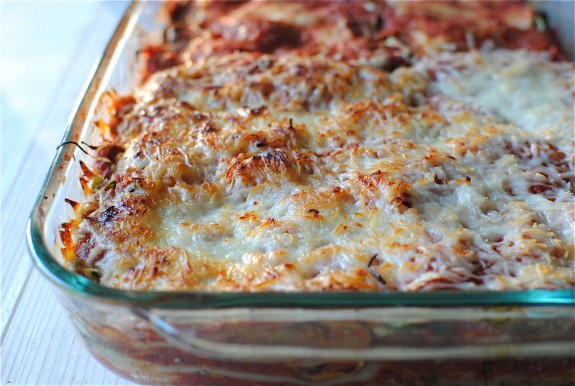 GET IN MY FACE.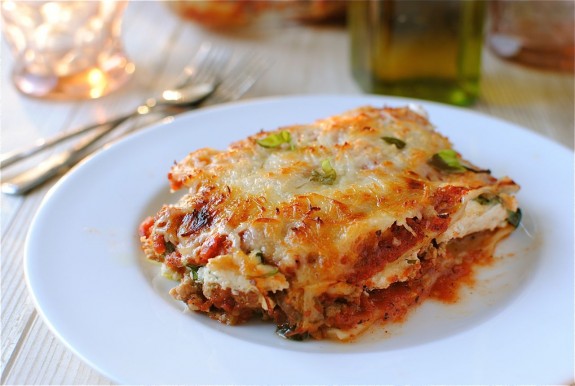 I didn't do too bad, did I?!
Don't answer that.
What it took for 8 servings:
* 48 wonton wrappers
* 1 pound fresh tomatoes
* 1 (14.5 oz) can fire roasted tomatoes with chipotle peppers
* 1 pound ground turkey
* 1 Tbs. smoked paprika
* 1 tsp crushed red pepper
* 1 Tbs. extra-virgin olive oil
* 8 oz baby bella mushrooms, sliced
* 2 (15 oz) containers of part skim ricotta cheese
* 1/2 cup freshly chopped parsley
* 4 cups baby spinach
* 1 cup shredded mozzarella
* coarse salt and freshly ground pepper
Preheat oven to 375.
Give the tomatoes a rough chop and toss them into a food processor. Blitz, blitz. Add the canned tomatoes and process them together until combined. No need to season – the fire roasted tomatoes have HEAT, baby.
Bring a medium skillet to medium-high heat and add the ground turkey. Break it up with a wooden spoon and brown all over. Add the smoked paprika, crushed red  pepper and a pinch of salt and pepper.  More smoky heat, uh huh. Remove from pan and set aside.
Add the oil to the pan and toss the mushrooms in. Saute until mushrooms are browned and super yummy looking. Throw a pinch of salt in. Toss the turkey back in and toss to combine.
In a medium bowl, combine the ricotta with the chopped parsley and a little salt and pepper.
Take a 9×13 baking dish and spread a little tomato sauce along the bottom. Layering 2 stacked wonton wrappers at a time, arrange 12 wrappers on top of the sauce.
Then add half of the meat/mushroom mixture.
Then half of the ricotta.
Then half of spinach.
Then some shredded mozzarella.
Start over with the wontons, a little sauce, the rest of the meat, ricotta, spinach, cheese, one more layer of wontons, the rest of the sauce and a LOT of shredded mozzarella!
Bake for 30 minutes. Switch the oven to broil so the cheese gets brown and bubbly.
Oh my goodness.
If you can, let rest 5 minutes before you inhale half of the dish before anyone notices.