This time tomorrow morning, a couple of bloggy girlfriend bloggy bloggers and I will be well on our way to a city where country stars are born every 5 minutes. A city that we thought would be chilly, allowing us to sport our new sweaters and scarfs we purchased for the trip, but instead decided to give us days with temperatures in THE EIGHTIES. (I better bring more deodorant.)
We're headed to Nashville, baby!
This is what I'm gonna be dern:

It's a food blog forum where we'll learn food photography tips, blogging business tips, etiquette tips, network with other bloggers, and hug the new friends we've made via interwebs but have never met in person.
Ican'twaitIcan'twaitIcan'twait!
Are you going? Will I finally get to meet you? Will we do the wave at the welcome party tomorrow night? Because I think we might need to.
Seriously, don't make me do it alone.
Oh, and Nashville? I swear to have my hair washed by the time I see you. But these roots? I'm not able to get to them just yet. Am I still allowed within the city limits? What if I pretend to be an upcoming country star? Yes?
I'll leave you now with a simple chicken pasta thingy with broccoli and green beans. We're STILL harvesting this stuff from our garden. WHAA? I know.
Chicken Pasta with Broccoli and Green Beans: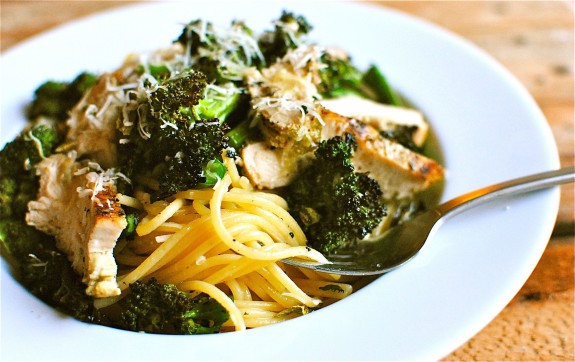 What it took for 2:
* 1/2 pound spaghetti
* 2 cups broccoli florets
* 3 Tbs. extra virgin olive oil, divided
* 2 cups green beans, ends trimmed and cut into 2-inch chunks
* 1 chicken breast, grilled and sliced thinly
* pinch of salt
* pinch of pepper
* pinch of garlic salt
Bring a large pot of salted water to a boil. Toss in the green beans and cook 2 minutes. Remove with a slotted spoon and set aside.
Add the pasta to the water and cook until al dente. Reserve 1/4 cup pasta water and drain the rest.
Toss the broccoli florets with 1 Tbs. oil and a good pinch of salt and pepper. Using a grill basket, grill 5 minutes, or until it pops green and is slightly charred.
Toss the pasta with the beans, broccoli, garlic salt and grilled chicken. Drizzle with remaining oil and pasta water.
Garnish with some freshly grated parmesan cheese and oh. dear.