And it's not spicy! Not at all. The kids ate it. Snarfed it down. Asked for more. For real.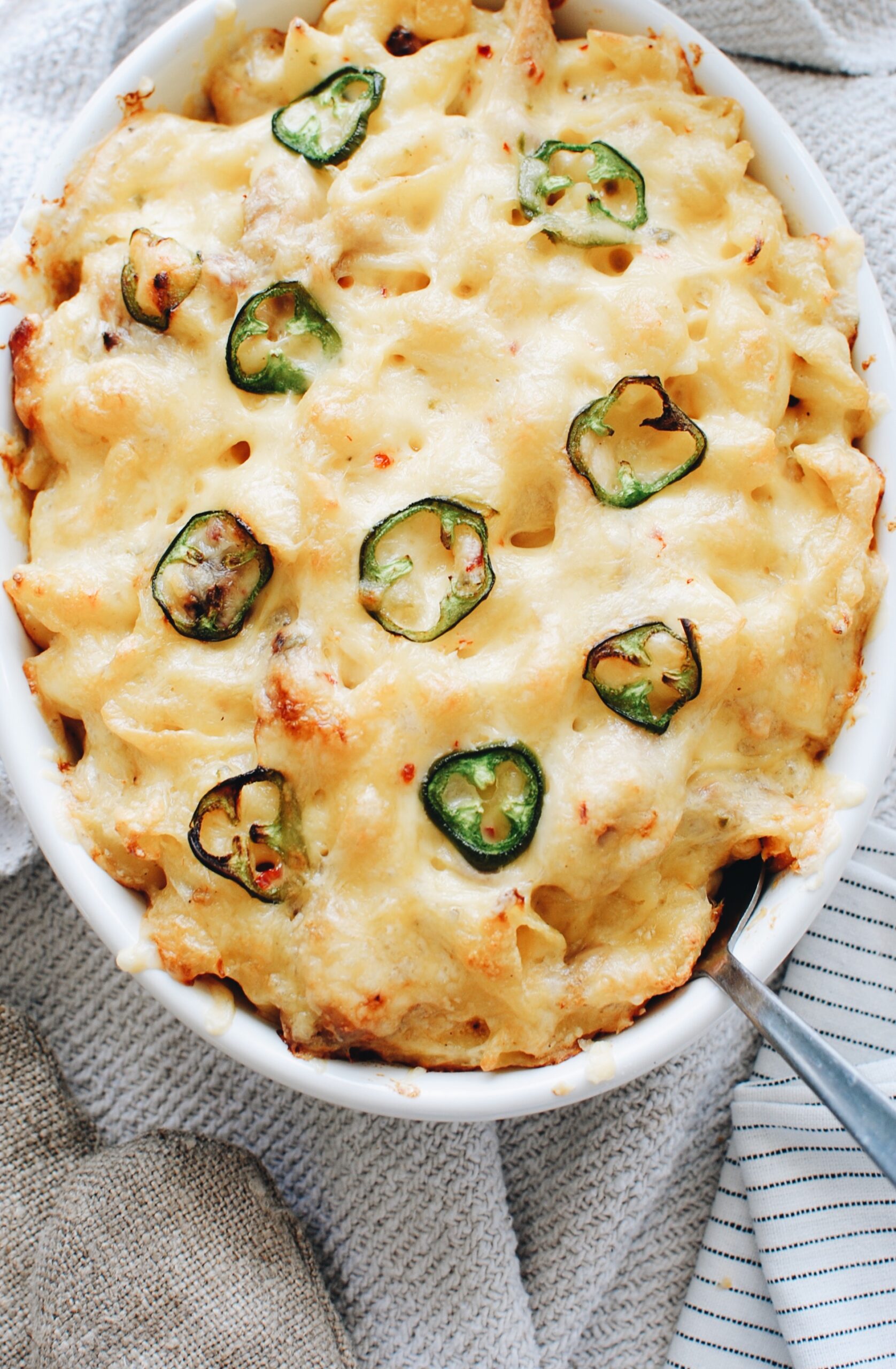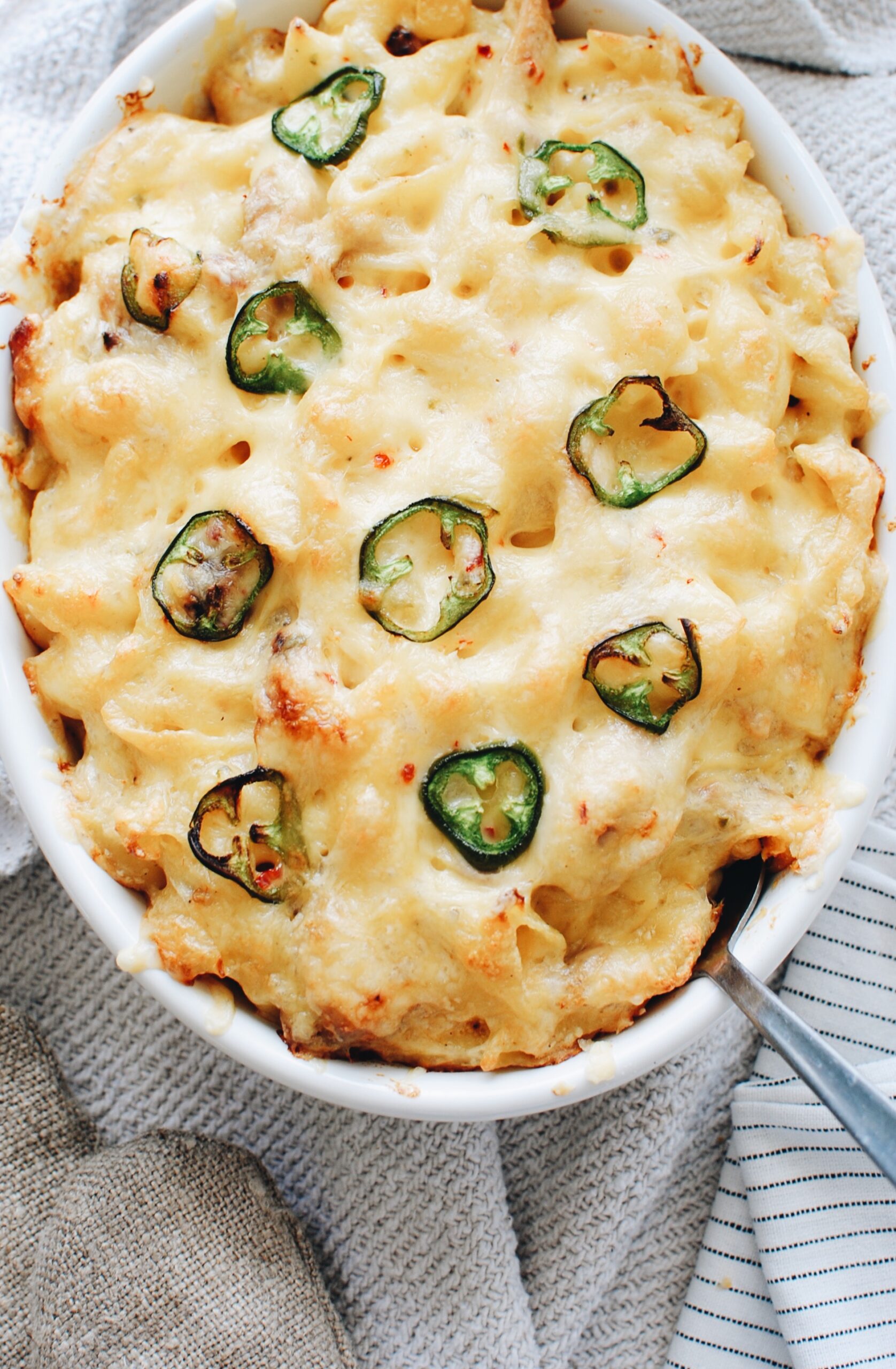 Also, there's a Roth Cheese giveaway in this post, so I highly suggest you stay put, child and read through the recipe AND get to the cheesy loot o' mania galore.
Before we do that, this Mac and Cheese is EXTRA.
And I mean, whoa territory. Eyes wide, are-you-kidding-me-with-this type of grub.
I'll show you.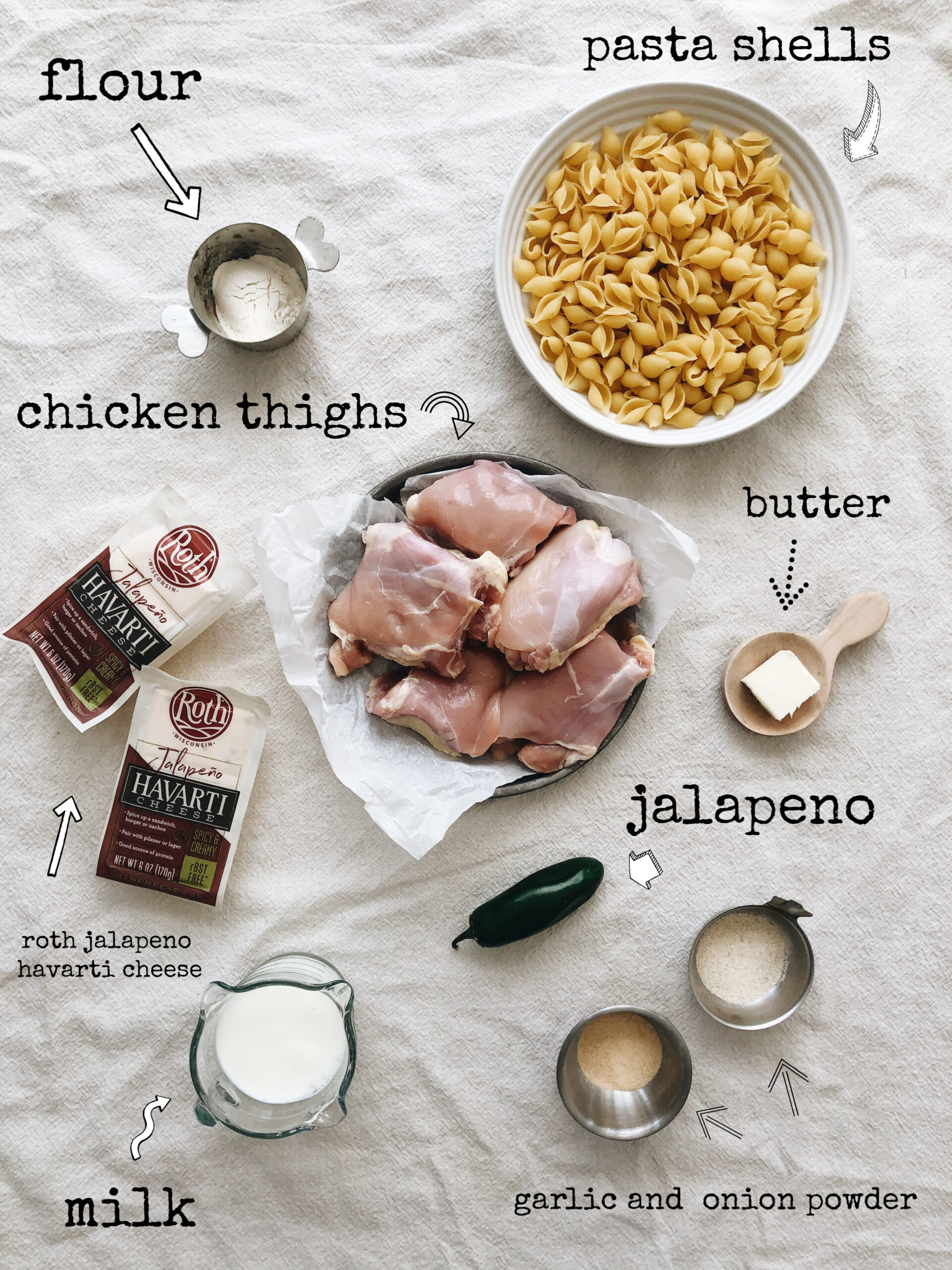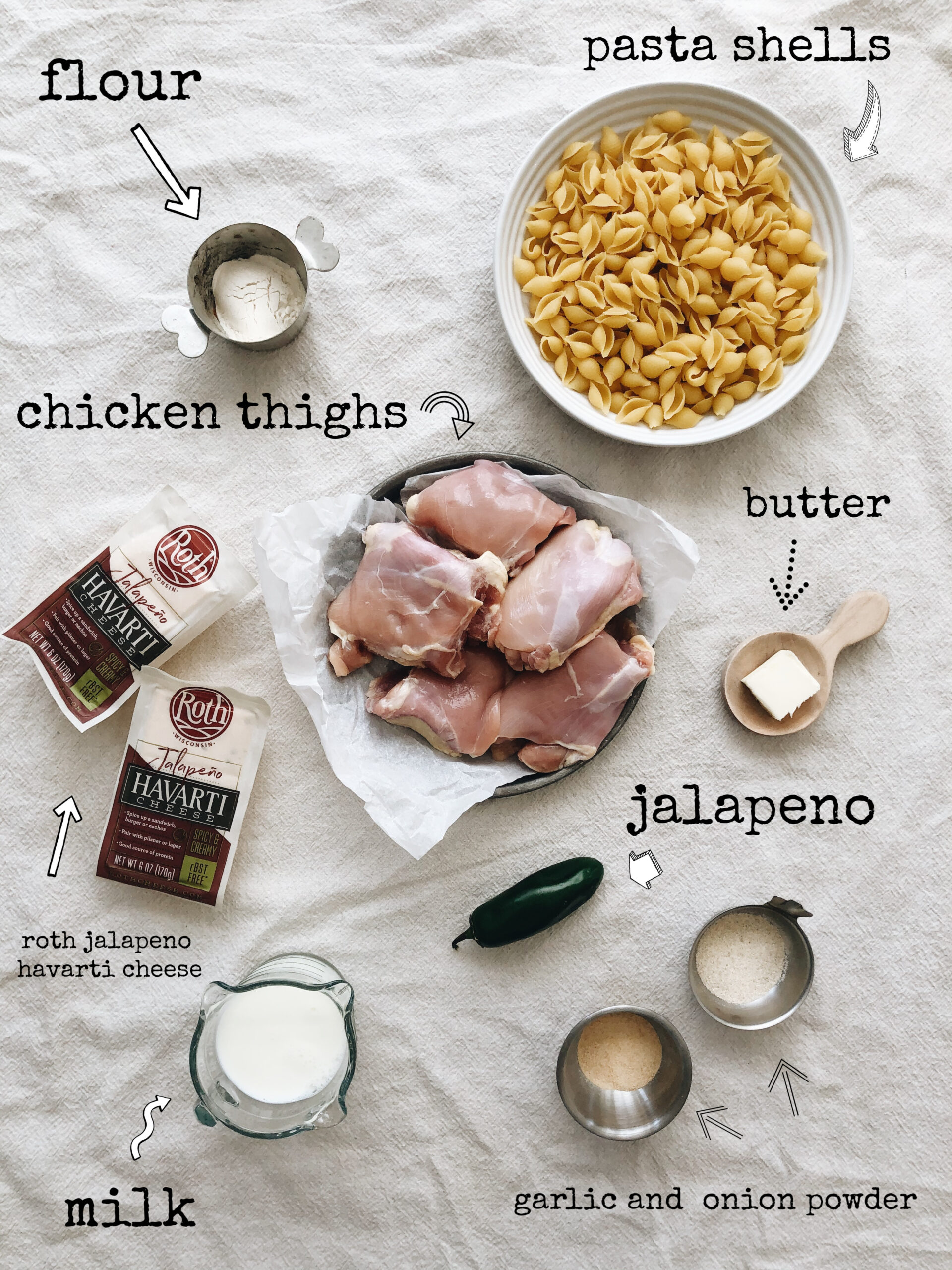 Right off the bat you can see the flavor is going to slay. First of all, the chicken thighs are dusted ("dusted" being used lightly here) with onion and garlic powder. So much yes.
On top of that, we're using Roth Jalapeno Havarti cheese IN A SAUCE. IN THE CASSEROLE. It's not just a topping here. It's the base of flavor under, in and throughout. And you are going to freak your ever lovin' face.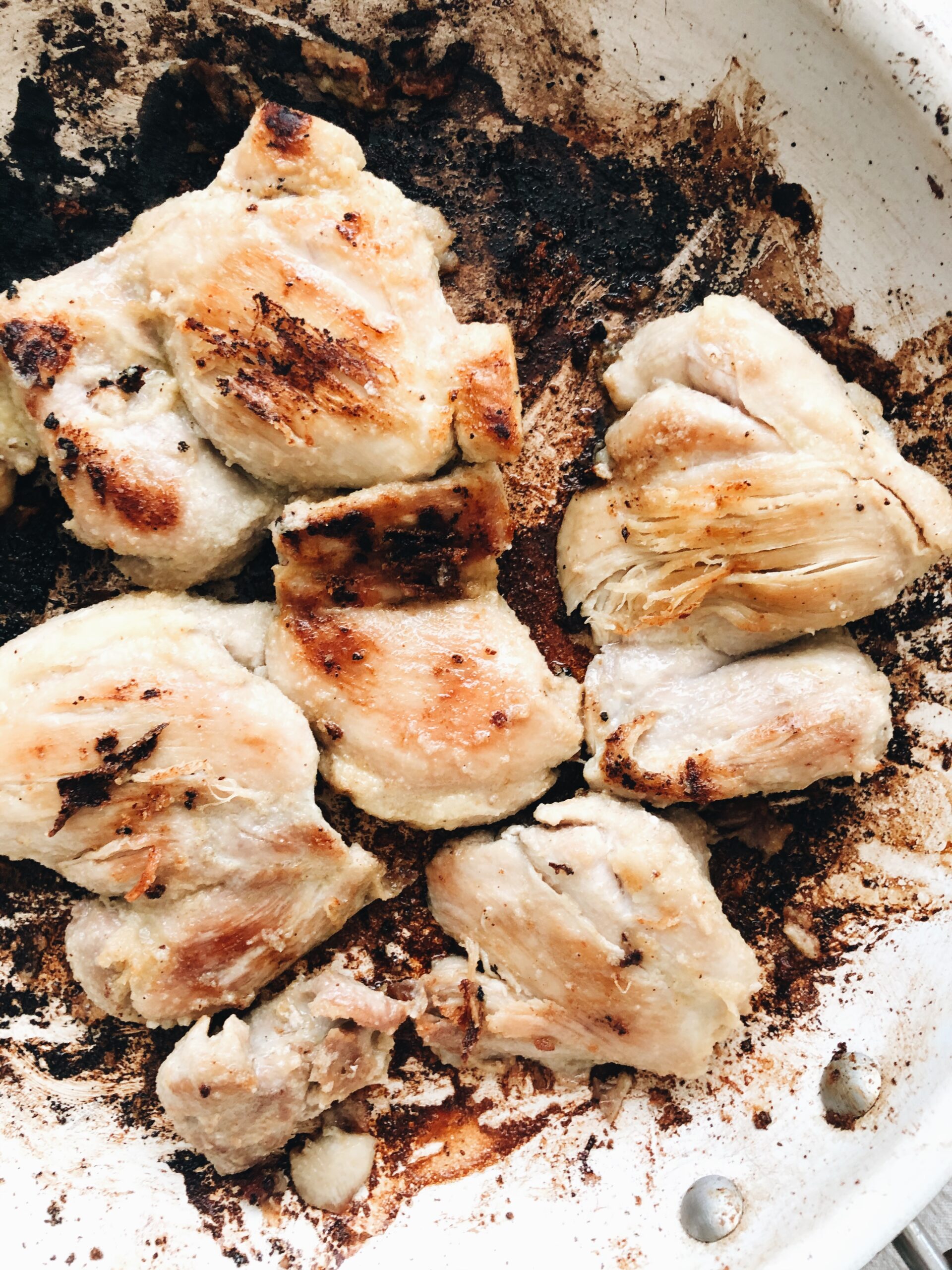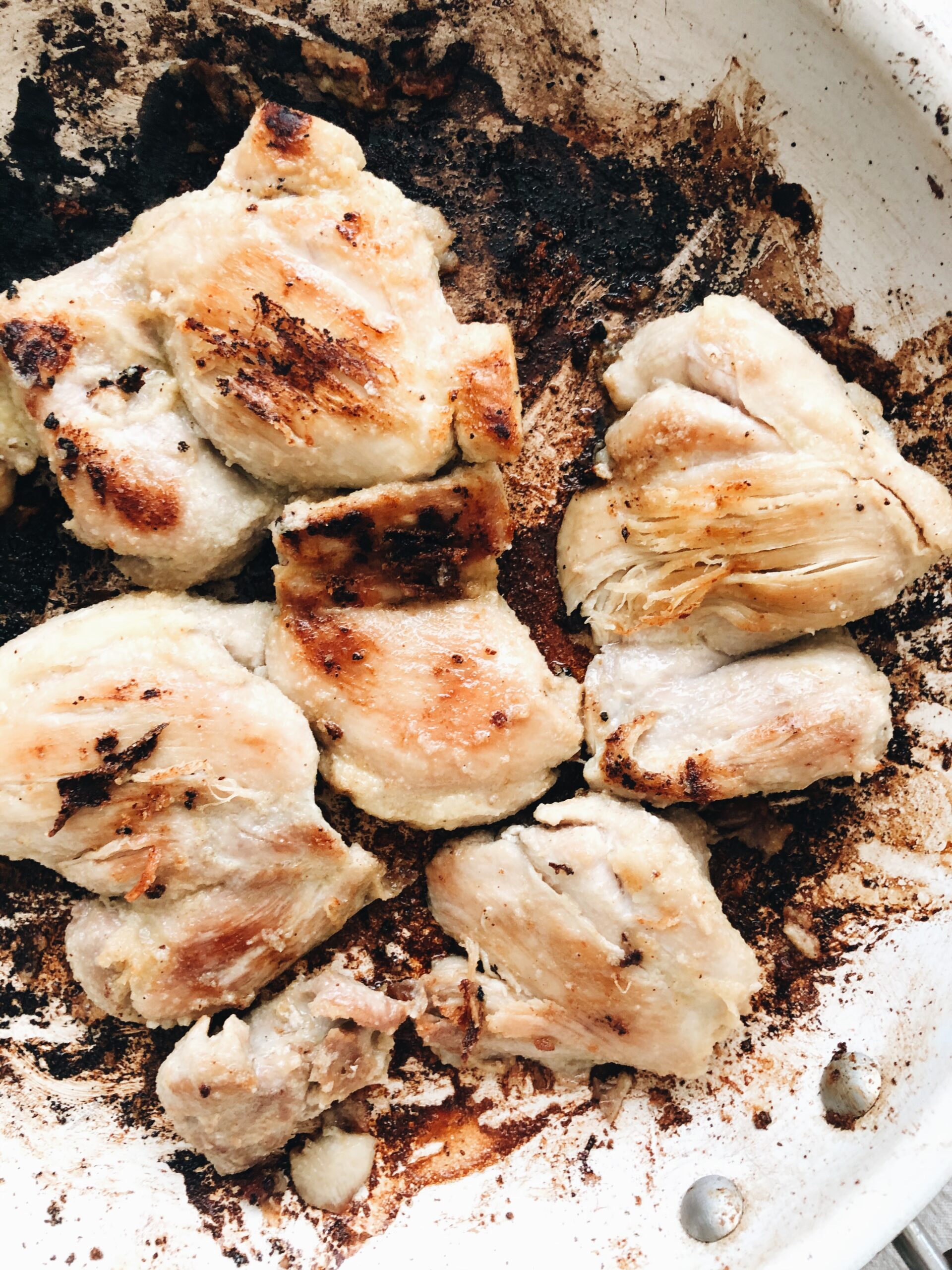 Get those thighs seared. (the chicken, not yours.)
My pan got a little too hot so the spices burned in one area, but that's life and I'm showing you and it's 2020 and it happens and I'm still a good person.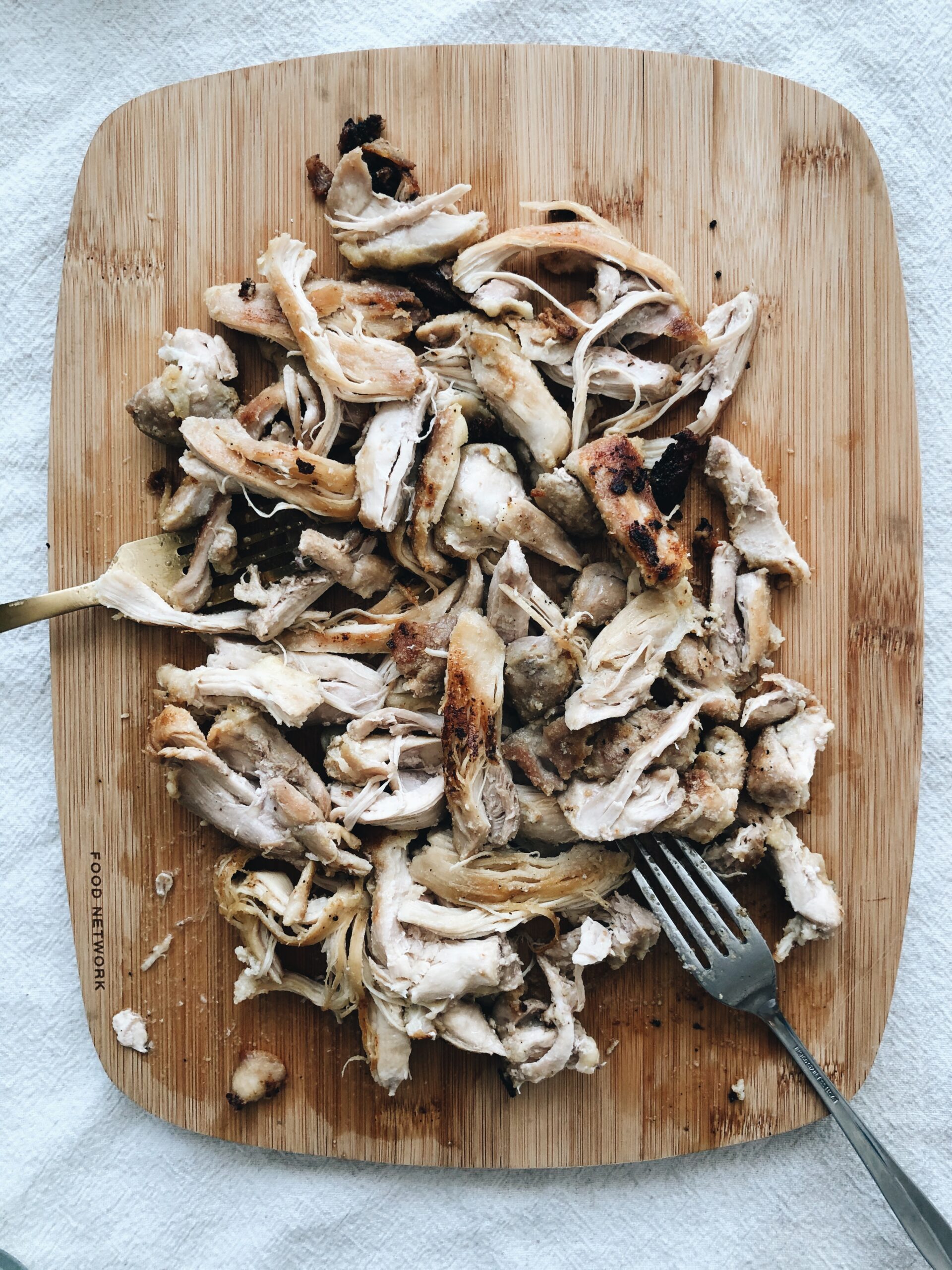 Shred her up! And you'll see it's a gentle shred. Nothing too ambitious to the point of it looking like hair. Just get you some nice chunky shreds and call it good.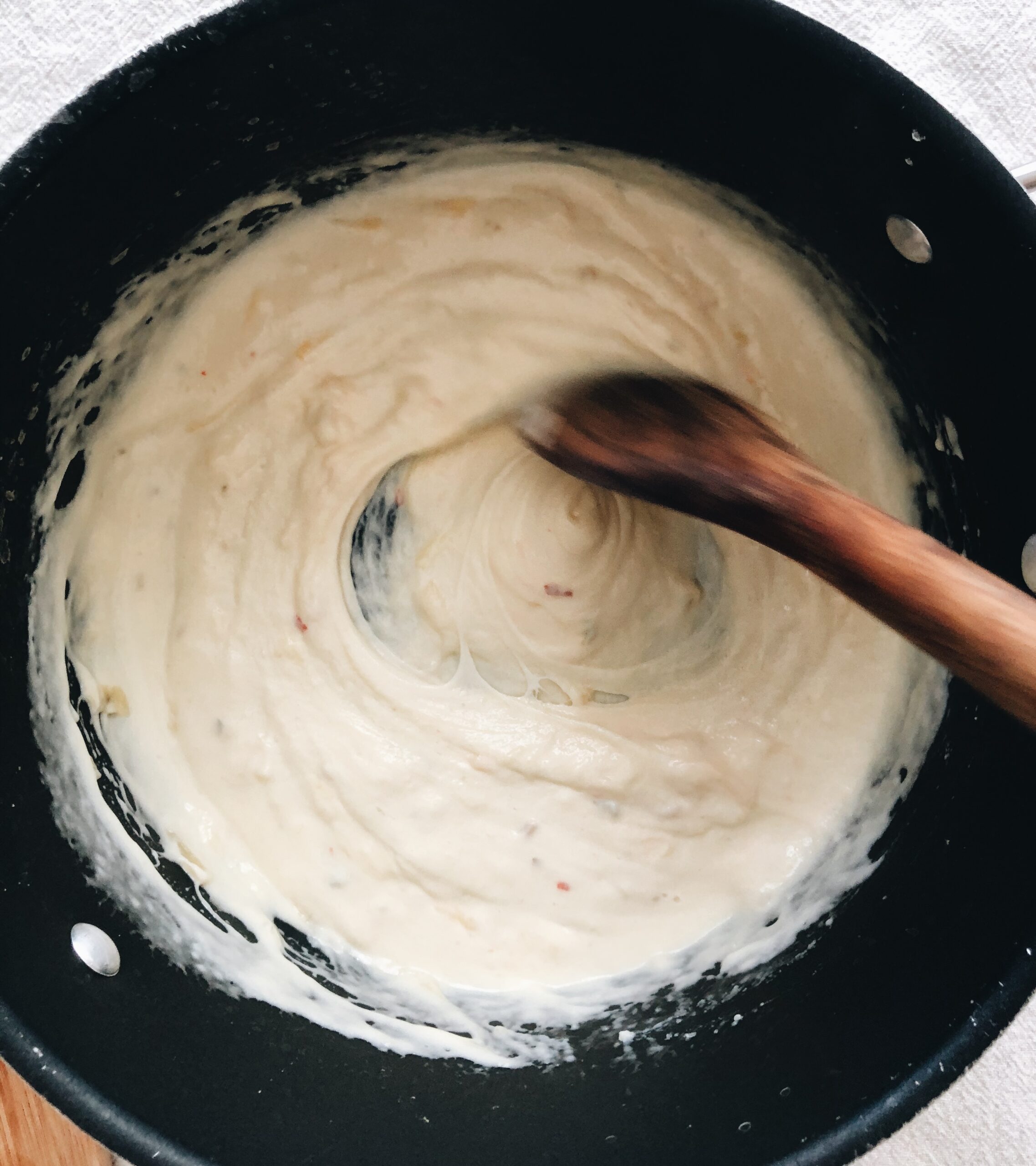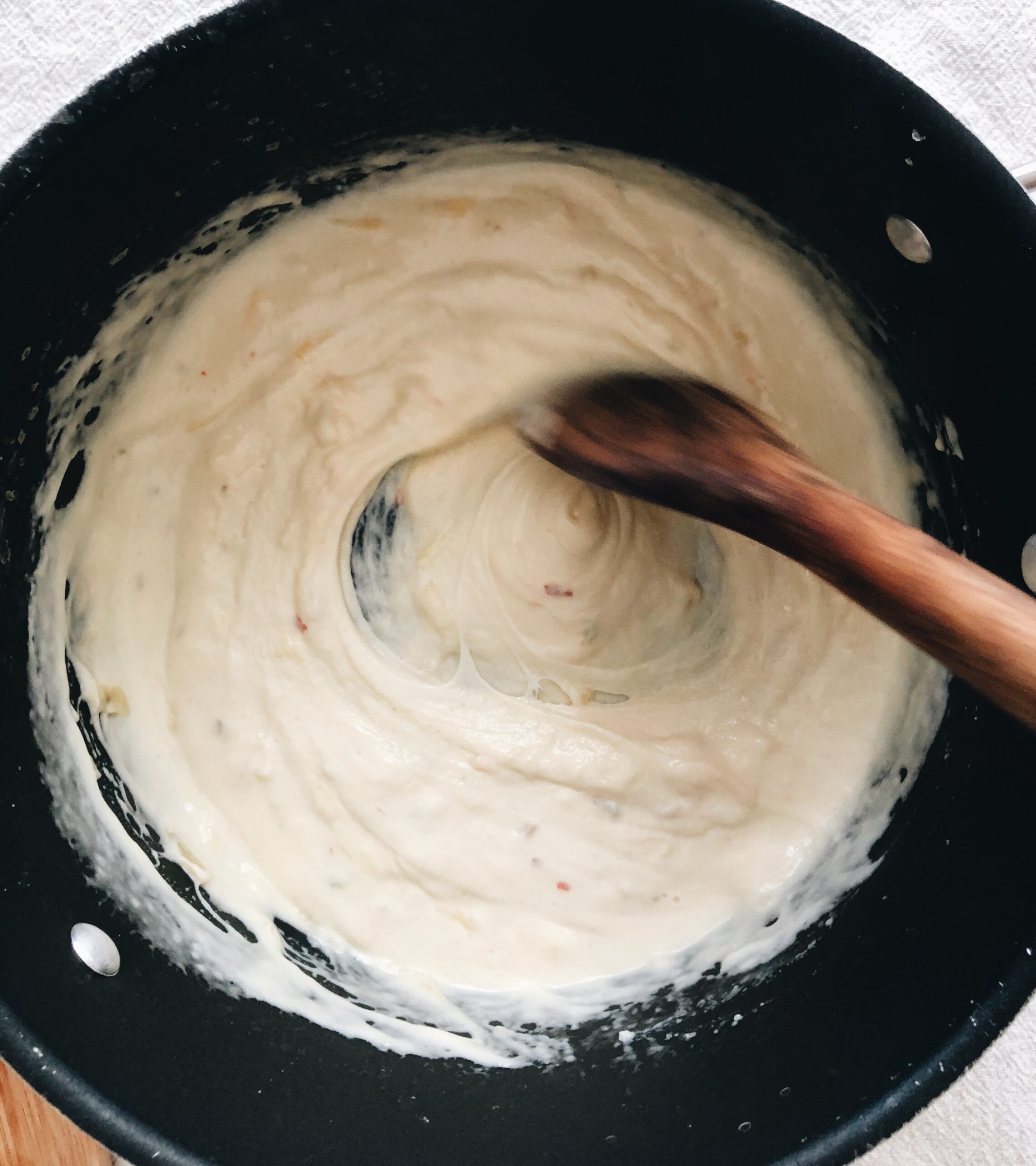 Oh! You've boiled some pasta shells in this pot. Get them to the point of being just shy of al dente, because you don't want them to mush up in the baking. Get 'em toothy and tender, yo.
But in this pot you'd made a simple mini roux (that's what I call 1 Tbs. of butter + 1 Tbs. flour. The mini roux. Should I patent pend it? Why are you looking at me that way?)
You're like, JUST GET TO THE GIVEAWAY, WOMAN.
Simmer down.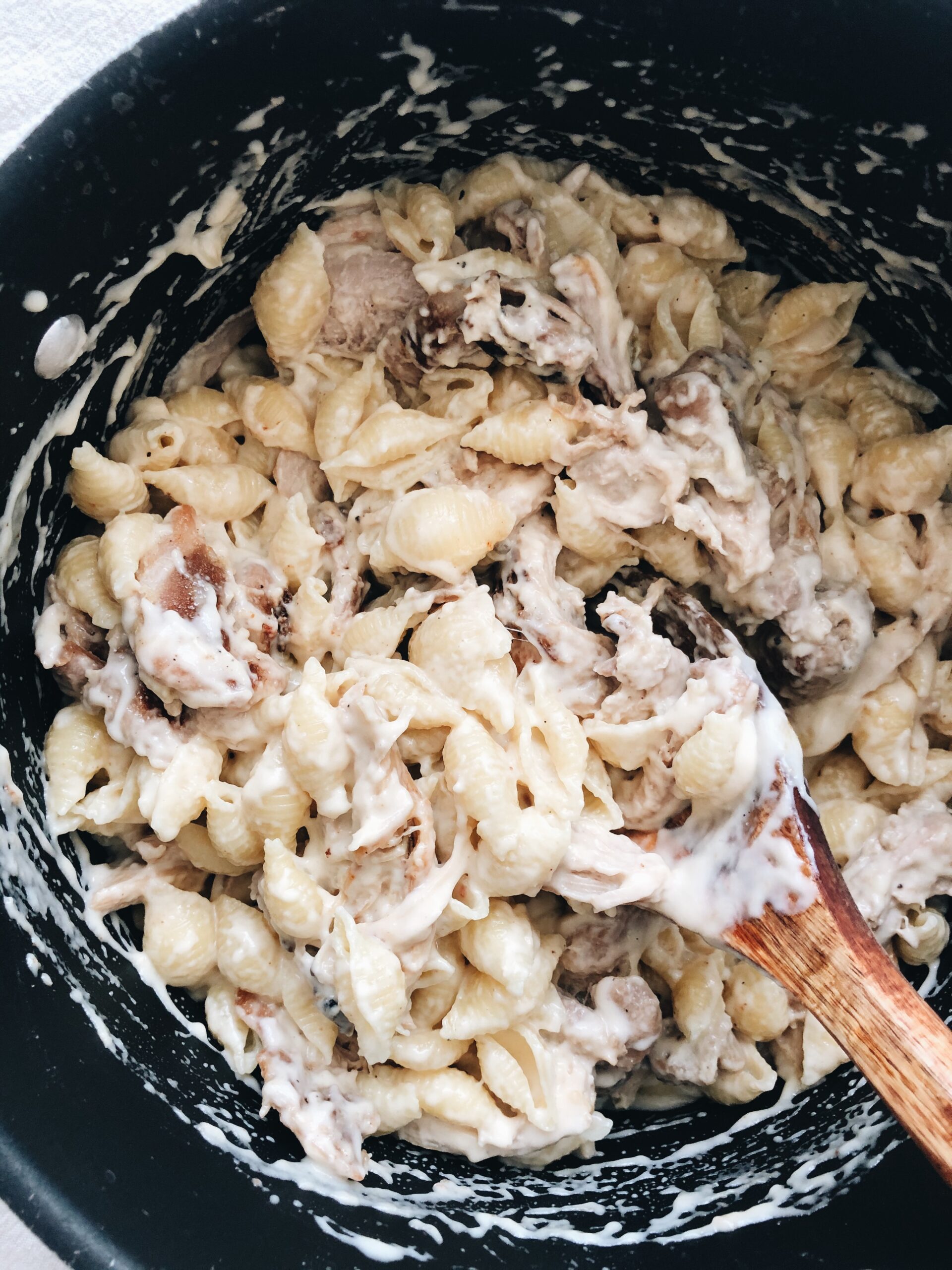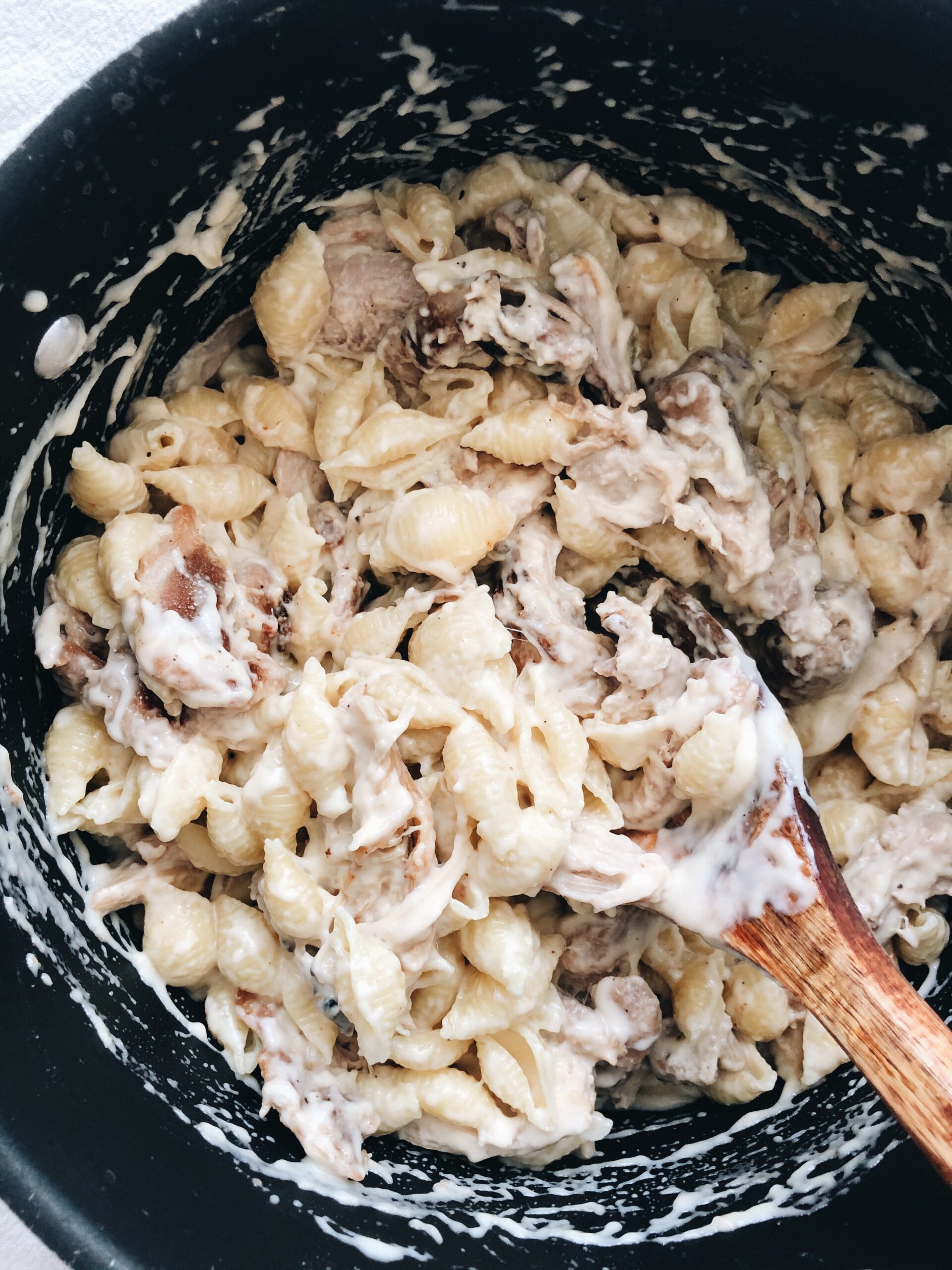 To the Jalapeno Havarti cream sauce (which again, is SO not spicy. Honestly it's just f l a v o r. It's got a depth to it that a regular cheese sauce doesn't have. You'll weep, I swear it.) go the chicken and the shells. Stir stir stir. Maybe taste one now to see where we stand with salt. I don't think it needs any, do you?
Naw, we good.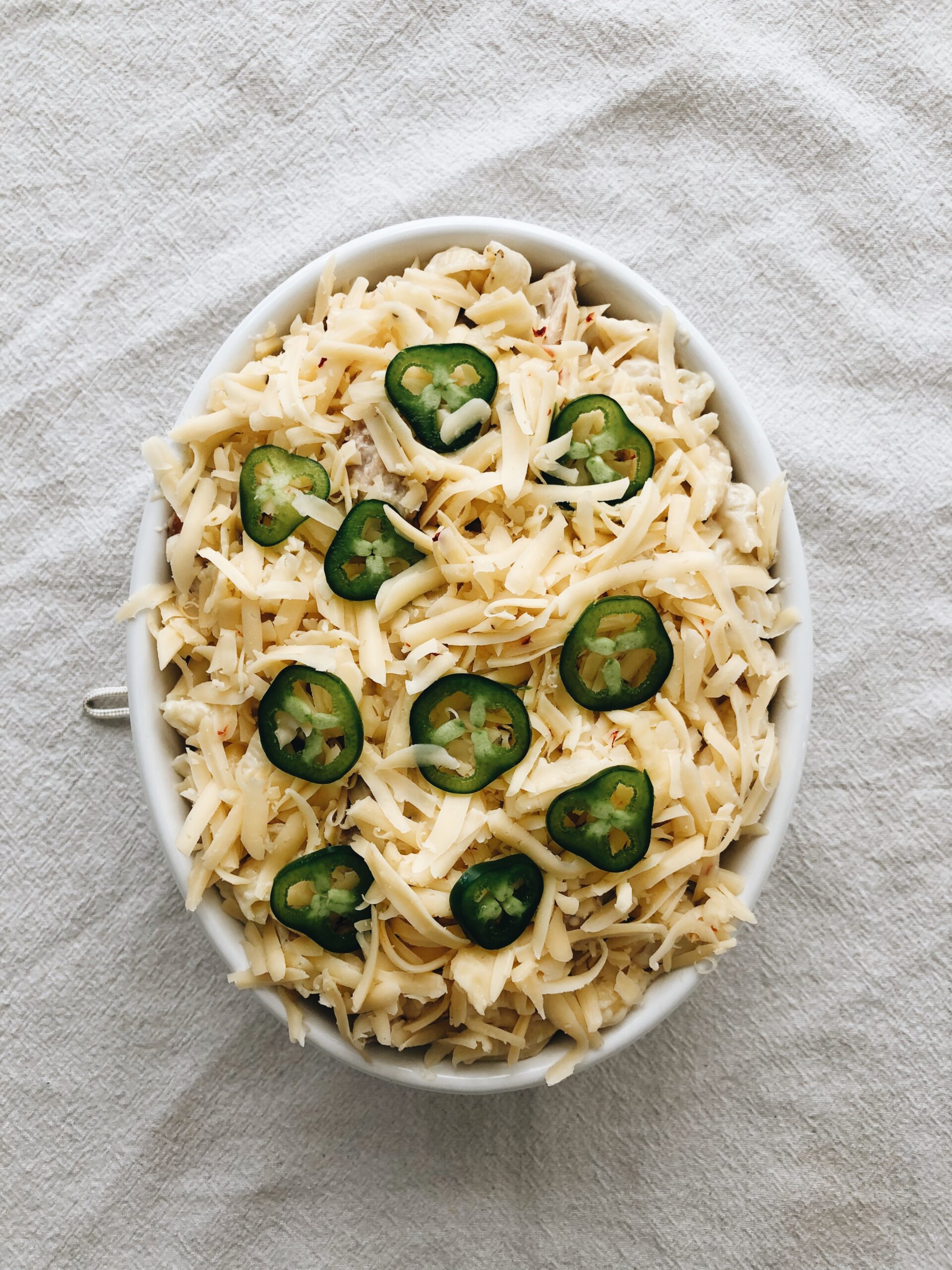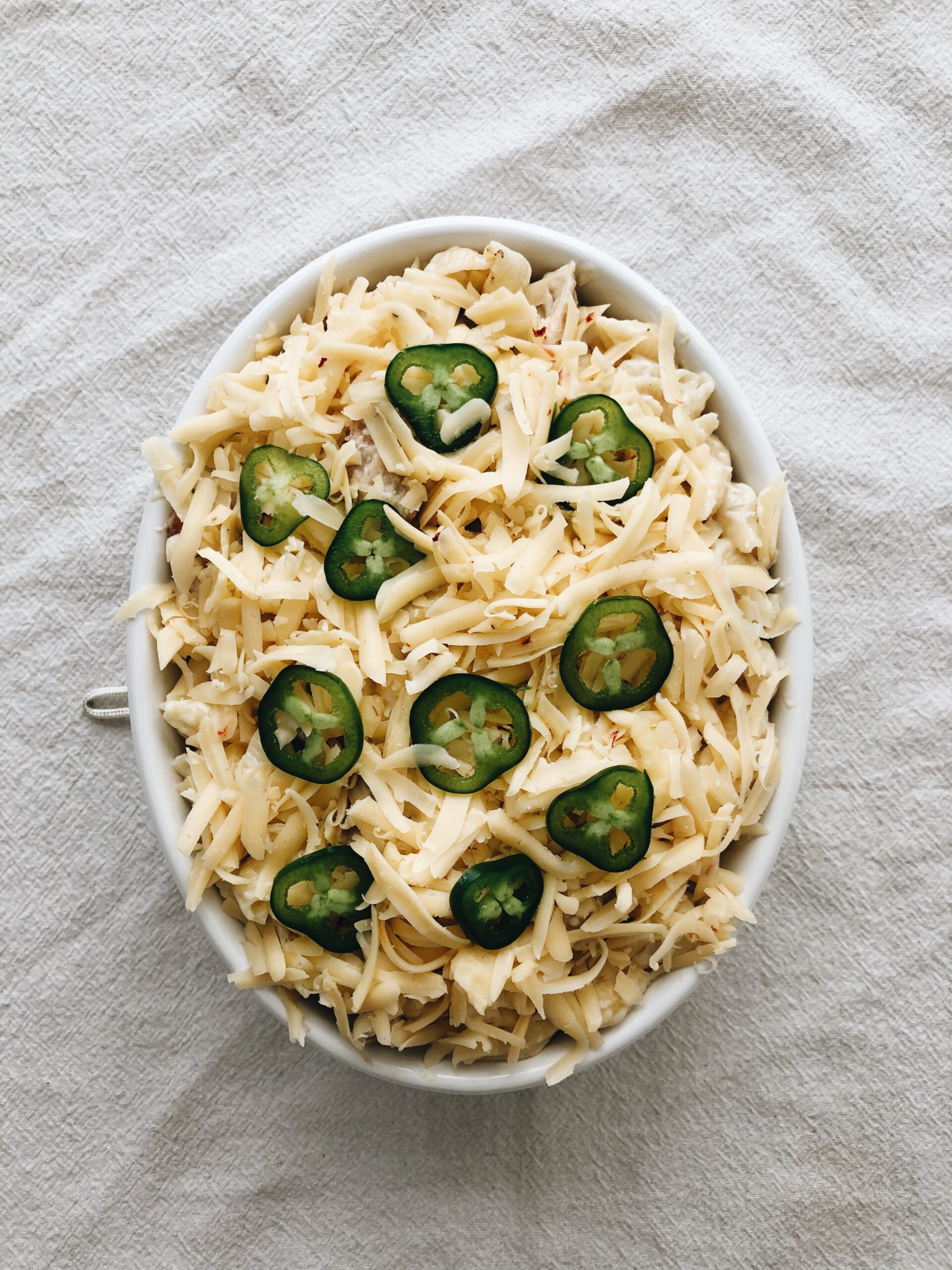 To a casserole dish it goes!
And listen, you'll see this in the recipe, but I'll tell you here, too – save about half a block of grated cheese for the top. Most will go into the sauce, but you want some on top, right? Duh, you do. And then add some thinly sliced jalapeno while you're at it because YOU DEVIL, YOU.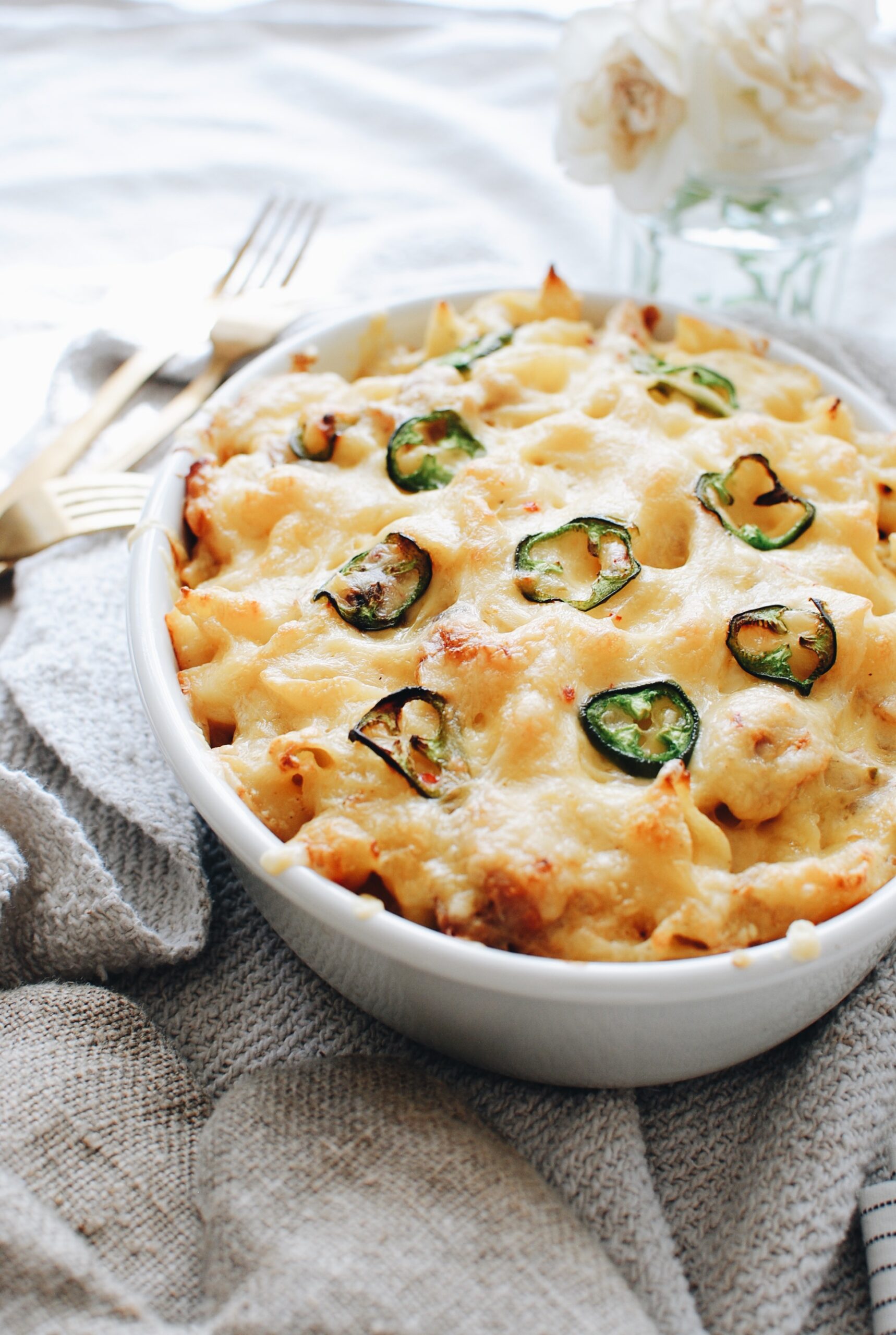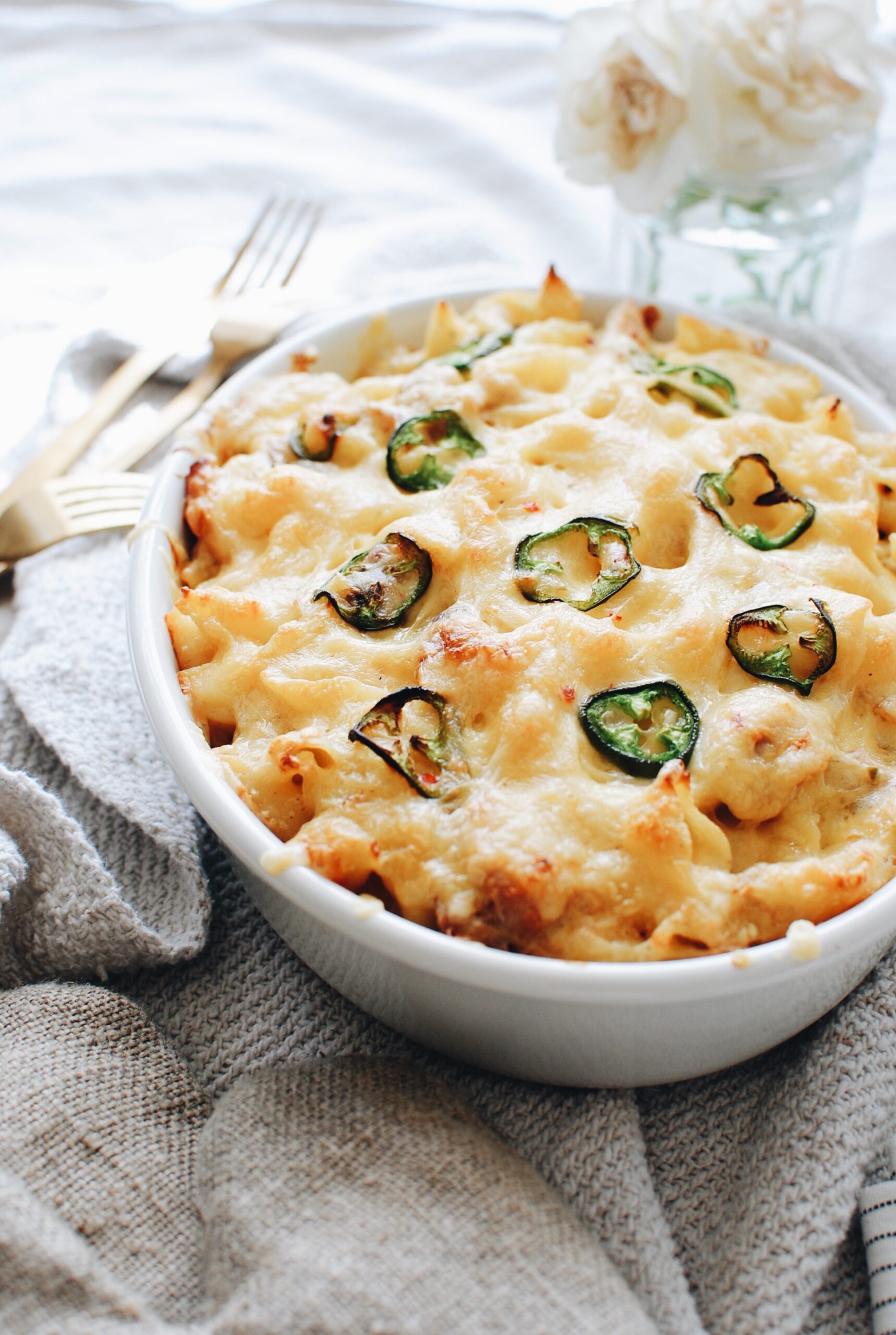 And I mean, hi. Hello. Goodbye. In love. Stick it in my face, please and pronto.
Protein heavy with all that chicken, rich in flavor with that jalapeno havarti cream sauce, a carb lover's dream.
And 100% kid friendly if you scoot the jalapeno garnish over!
But enough about this riff raff, can we talk about a year's worth of FREE CHEESE?
If you didn't already know (but I feel like you already know, if you didn't already know), Jan 20th is National Cheese Lover's Day! Yes this is real life. And to celebrate that, Roth is giving away (and I ish you not), a year's worth of FREE. CHEESE. Just to one of you, don't go getting sweaty all over your computer, now.
All you have to do is click on that link I just link but will link again, and enter the giveaway! Roth will announce a winner on Monday, January 20th, and one of you guys will be receiving 35 pounds of dairy in the form of Roth fromage. Is there anything better? No. No there is not.
So go! Go enter! Go eat all the cheese!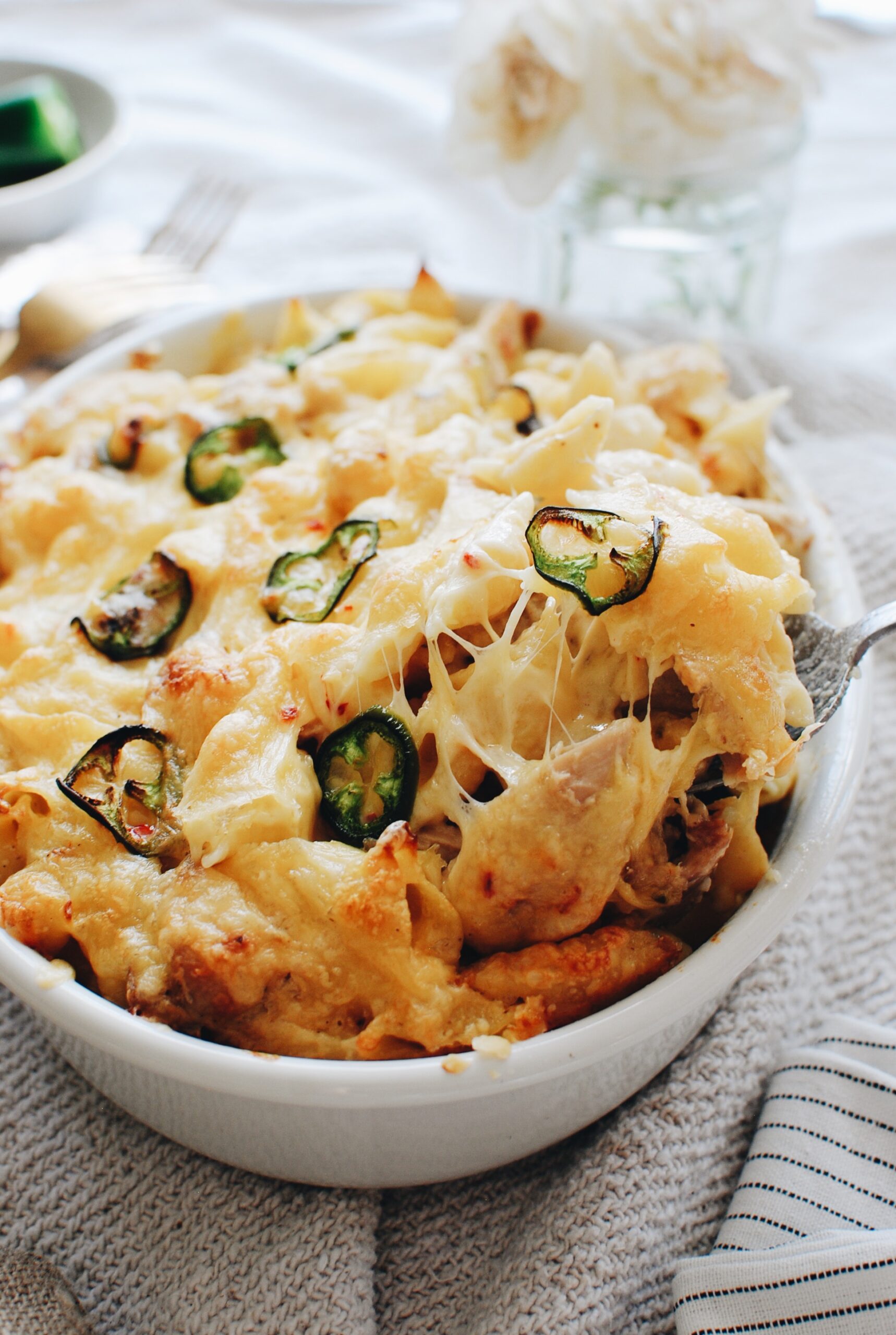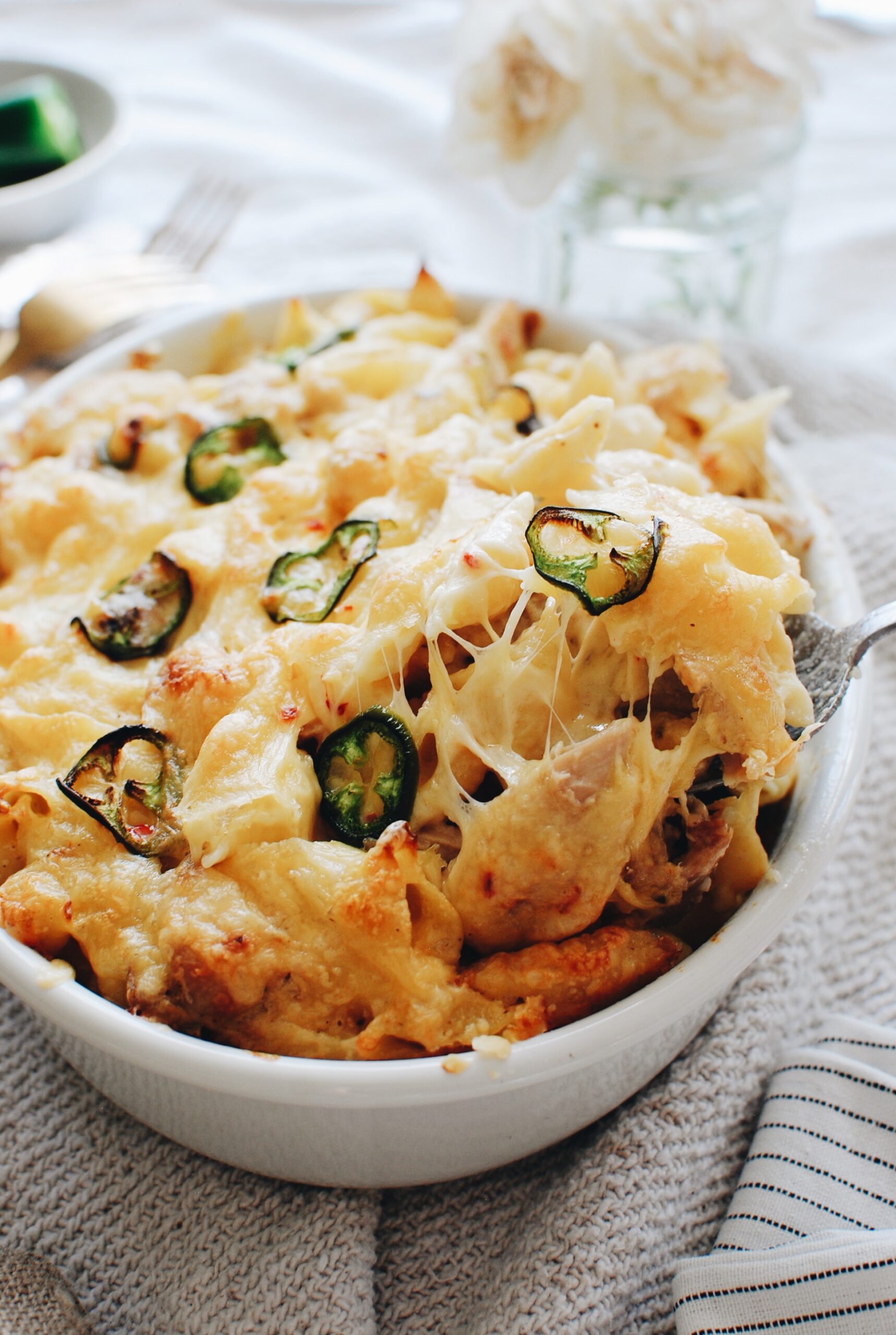 In the meantime though, make this to tide you over.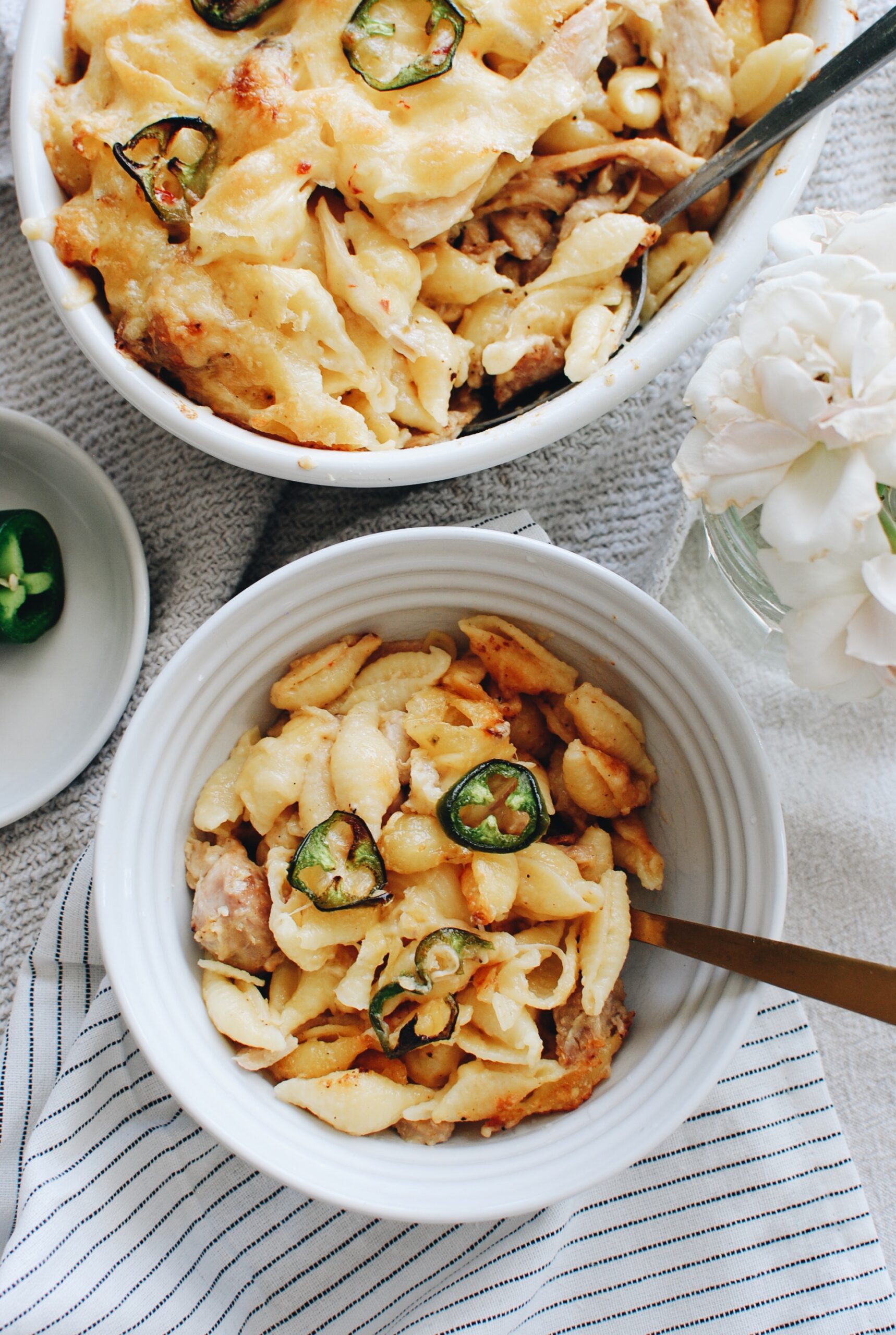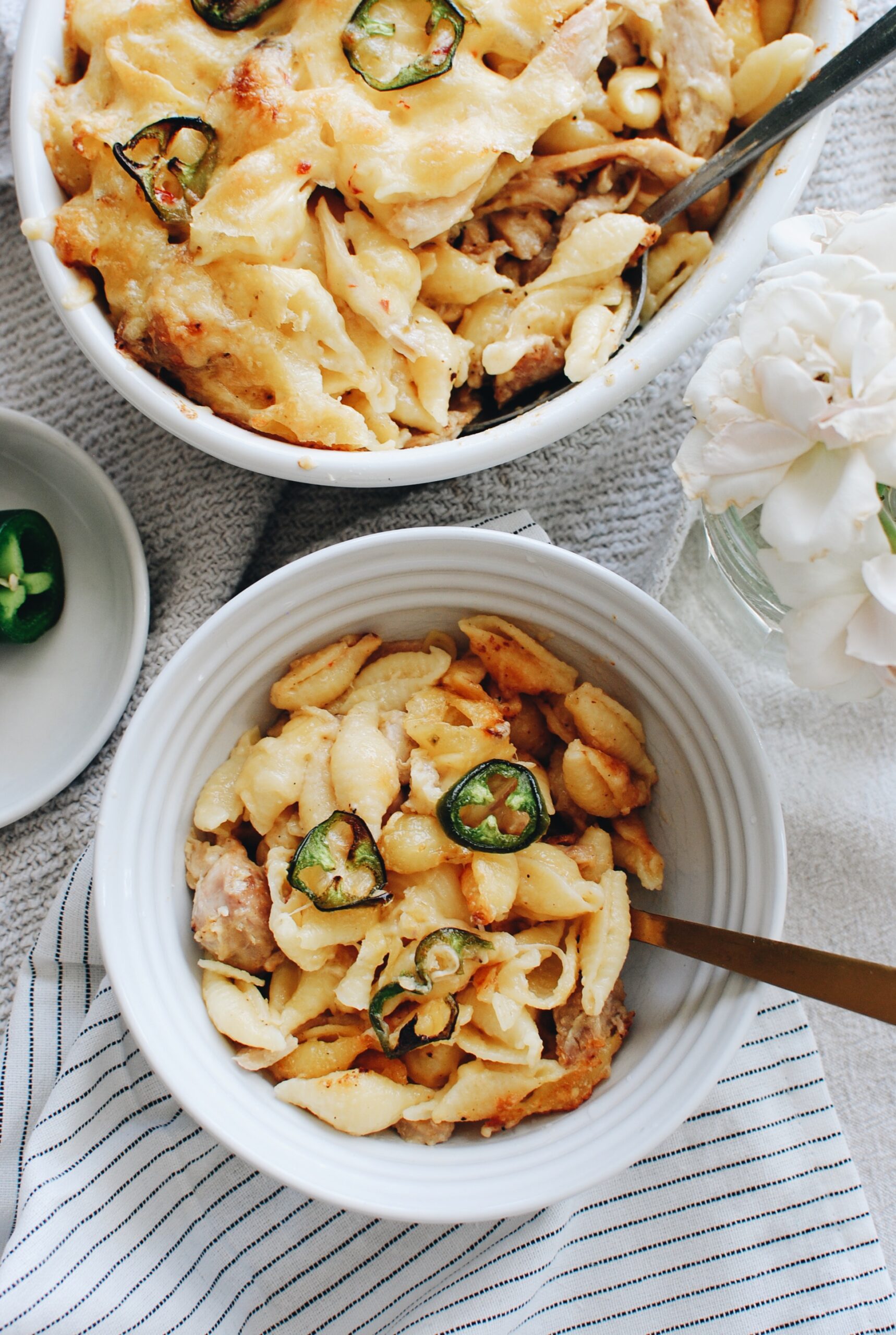 Help me.
Jalapeno Havarti Mac and Cheese with Shredded Chicken
Ingredients
1-2 Tbs. extra-virgin olive oil
5 chicken thighs (about a pound and a half)
2 tsp garlic powder
2 tsp onion powder
3 cups pasta shells
1 Tbs. butter
1 Tbs. All purpose flour
1 cup milk
2 (6 oz) blocks Roth Jalapeño Havarti cheese, grated
1/2 jalapeño pepper, thinly sliced
Coarse salt
Instructions
Preheat your oven to 375.
Combine the garlic powder, onion powder and pinch of salt in a small bowl. Rub the spices all over the chicken thighs.
Heat the olive oil in a medium skillet over medium to medium-high. Add the chicken to the pan (sort of splayed out so that a lot of the under surface touches the pan) and sear for six minutes. Flip and sear another six minutes. Flip the chicken once more and go another minute or two, until completely cooked through. (If you need to flip once more and go one more minute, totally fine. Thighs take a little longer than breasts, man!) Remove from the pan, let cool about five minutes and then shred with two forks.
In the meantime, bring a medium pot of salted water to a boil. Cook the shells until nearly al dente, just shy of it, about 8 minutes. (Package directions will guide you!) Drain the pasta in a colander and place the pot back on the warm burner.
Heat the Tbs. of butter in the pot. Once foaming, add the flour and whisk until it starts to become a nice golden brown, about two minutes. Add the milk in a slow stream, whisking as it thickens ever so slightly. Now, add one full block of grated havarti cheese, plus half of another grated block. Stir until the cheese melts into the sauce and becomes thick and stringy and soft and perfect. To the pot, add the shredded chicken and cooked pasta shells, giving it all a good stir to combine.
Now pour this into a casserole dish (deep, shallow, anything works here) and top with the remaining grated cheese. Top with a small scattering of sliced jalapeño peppers, and bake for 30 minutes, until the cheese is browning and starting to bubble. It SMELLS SO GOOD IN YOUR LIFE.
Serve immediately!
You'll get about six servings. Enjoy!
7.8.1.2
398
https://bevcooks.com/2020/01/jalapeno-havarti-mac-and-cheese-with-shredded-chicken/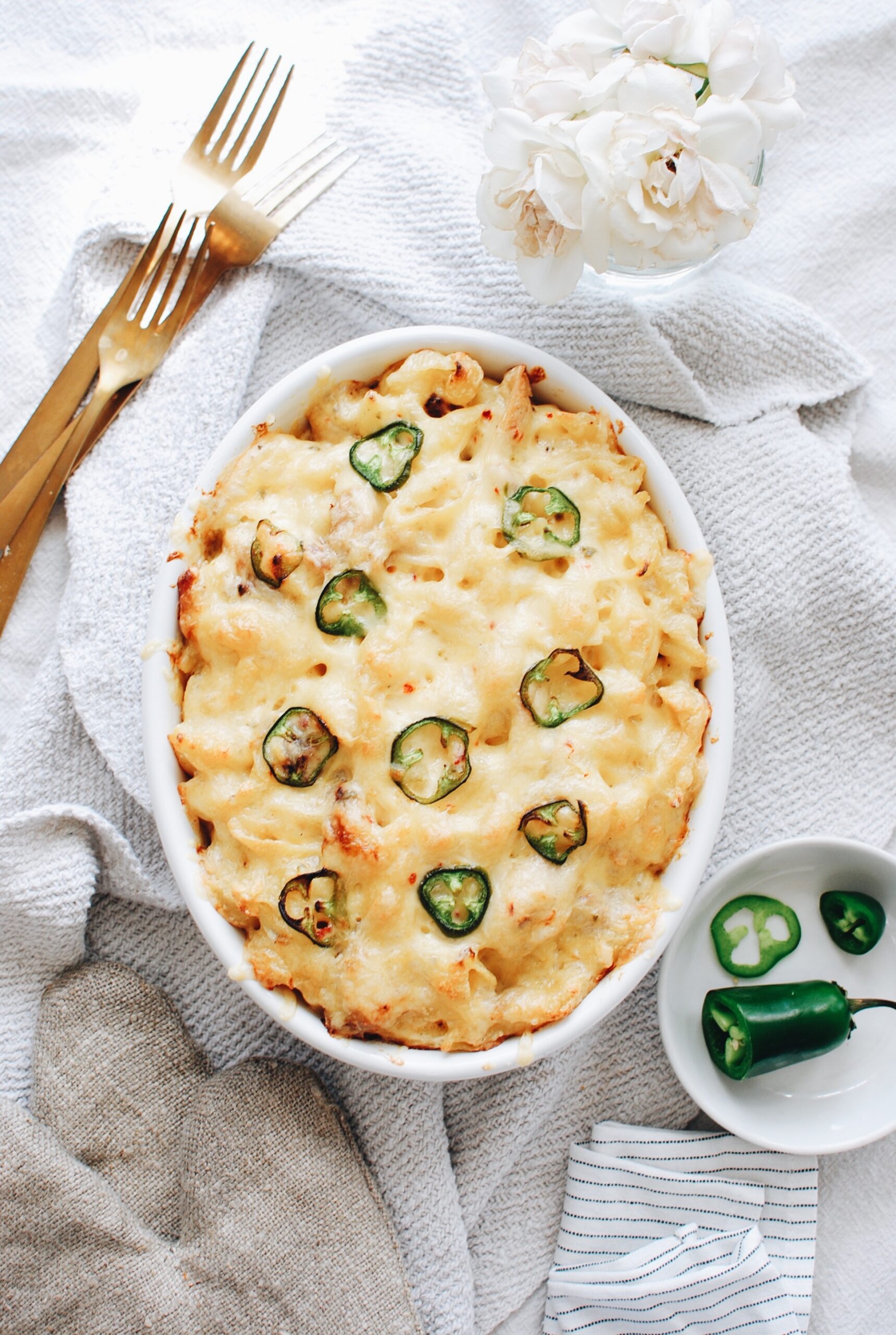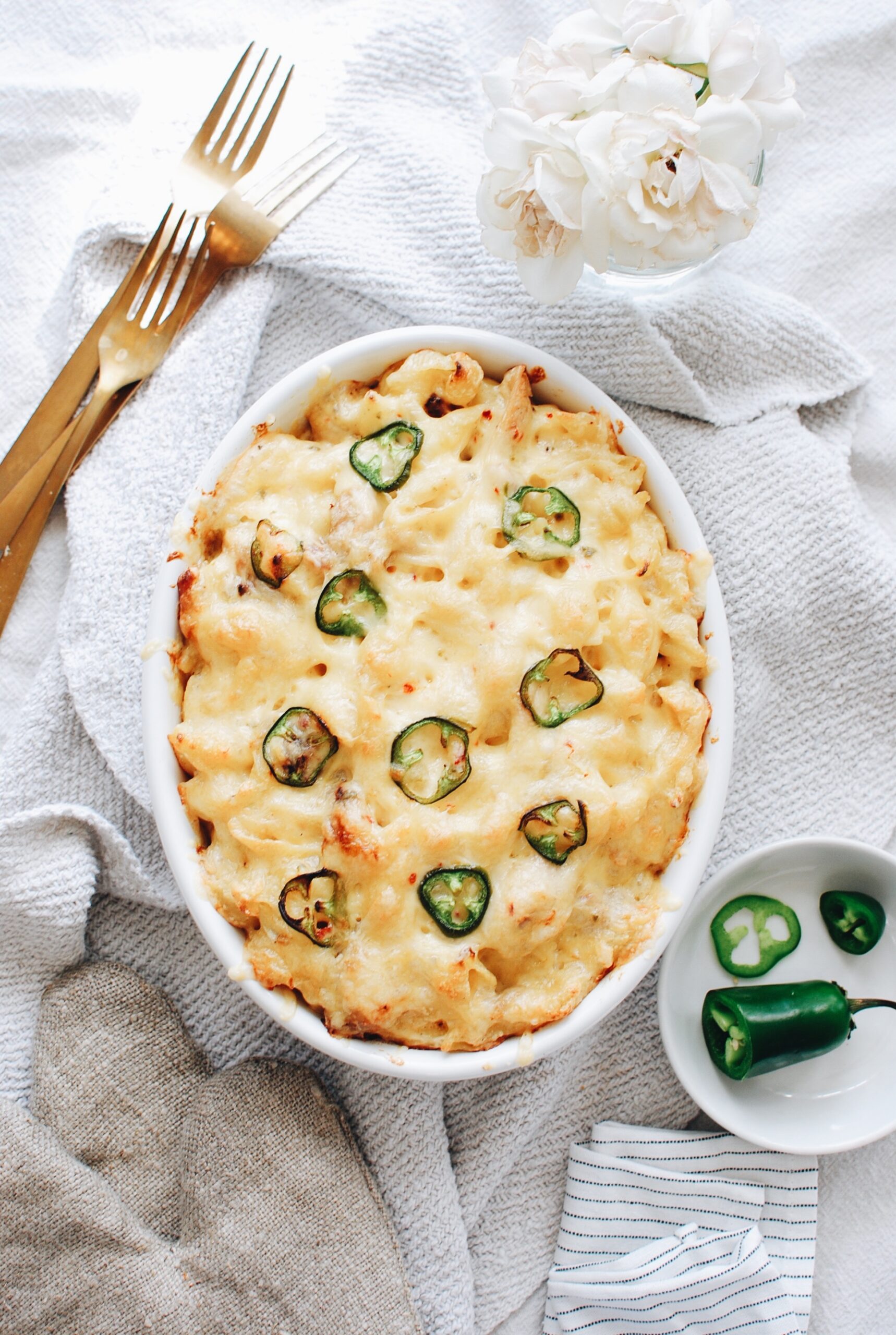 If you need me, I'm right in the center of that.
(This post is definitely in partnership with my lover Roth Cheese, but all ramblings and cheese inhalings are totally my own. We coo?)