Chiliiiii! Okay, listen.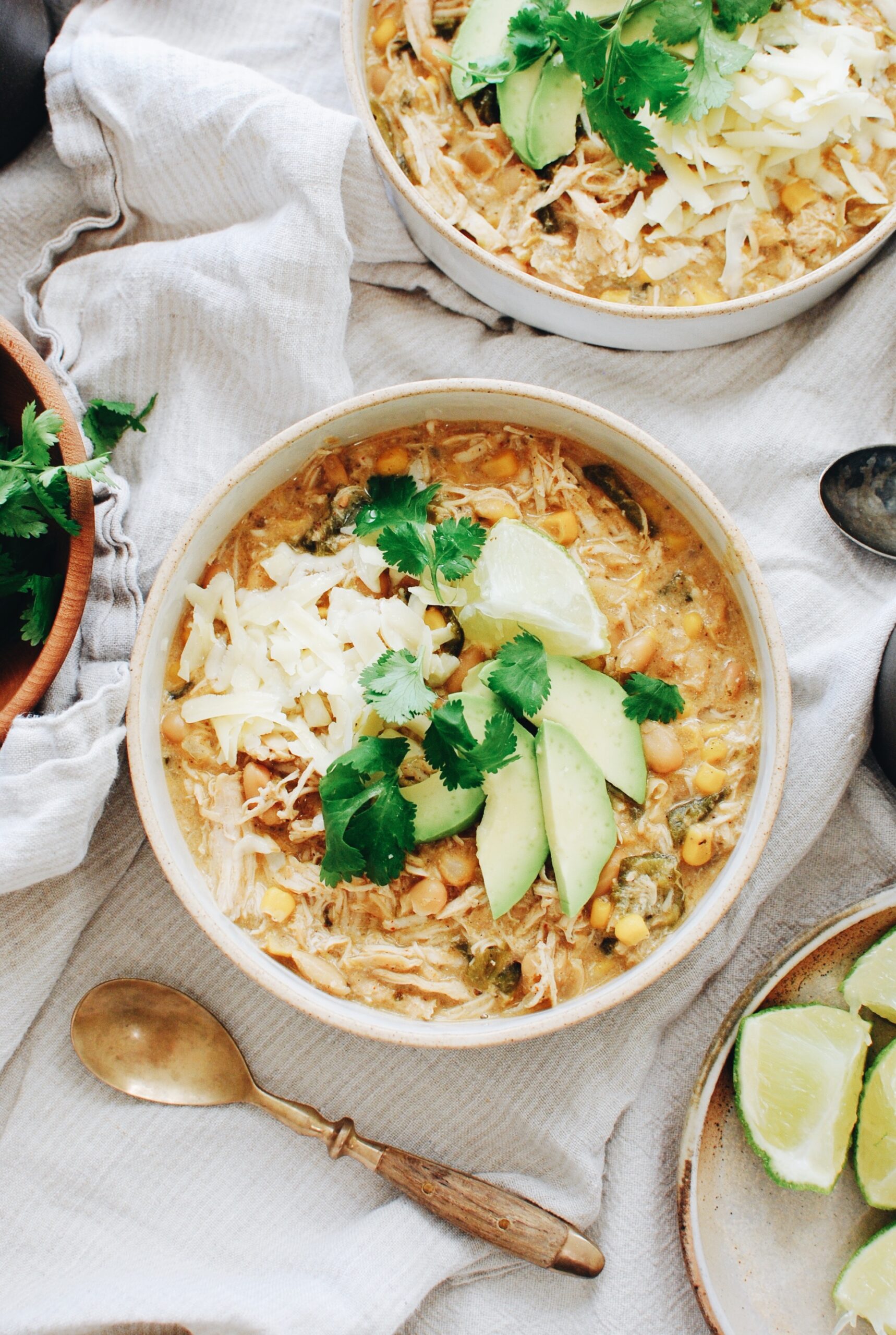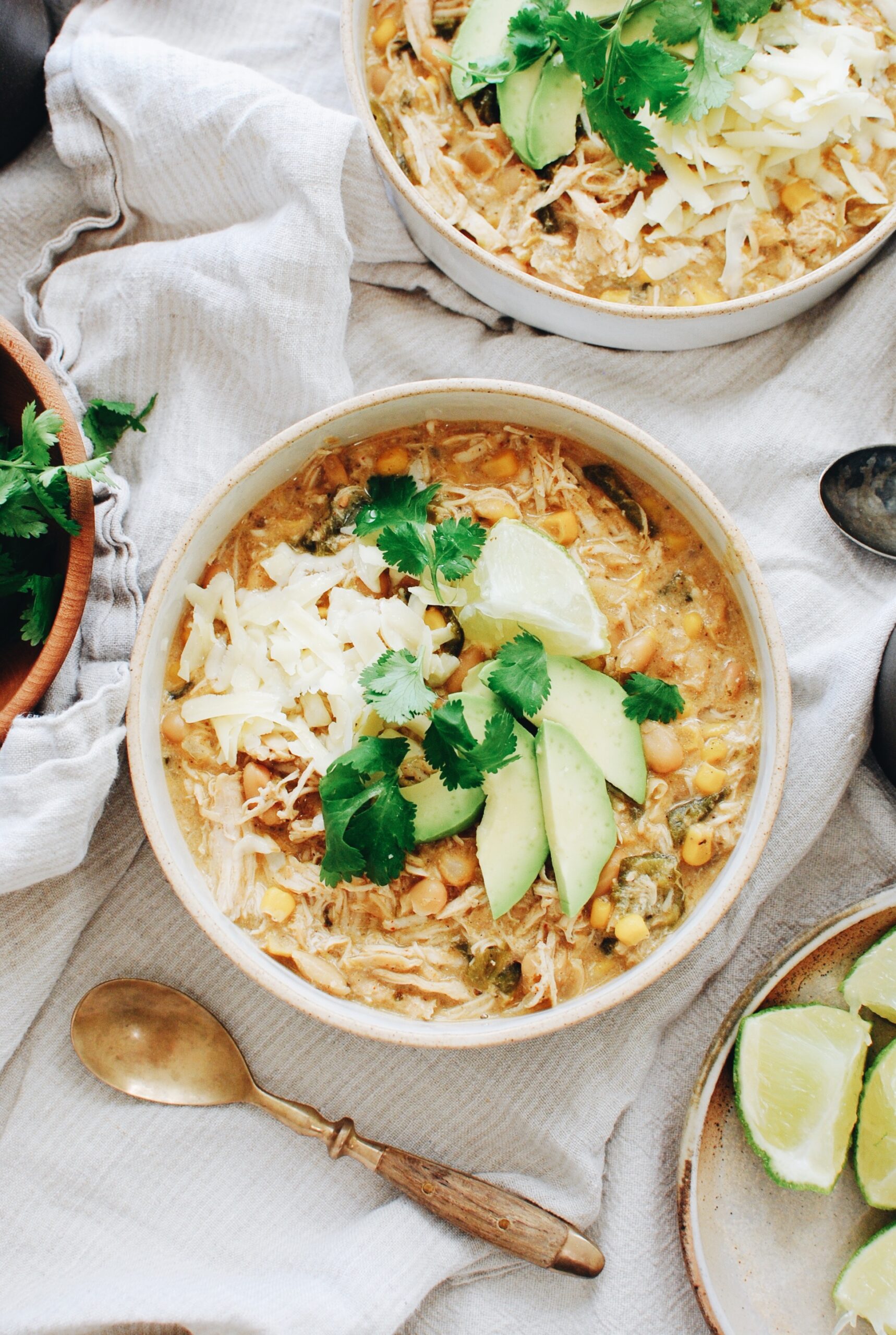 I know there are tragillions of white chicken chili recipes out there. I ain't trying to reinvent the white chicken chili wheel. But! I've been fine tunin' this har thang for a while now, and it's ready for you, my chinchillas.
I mean, it's chili. But it's good! Like, super good. And it's slow cooker. Amen. Let's peep it.
Also we're starting a band called White Chicken Chili Wheel. (I need to start that list!)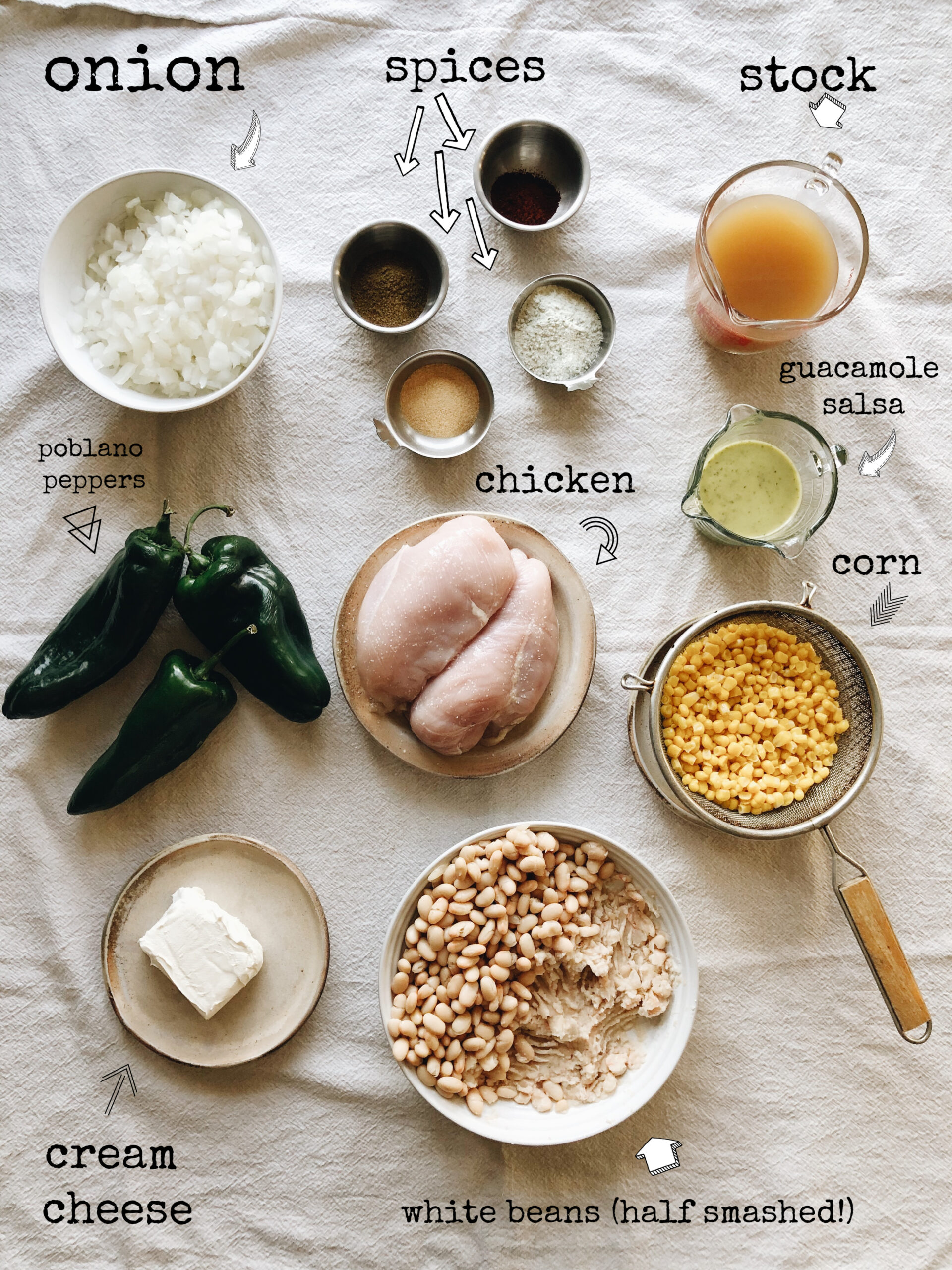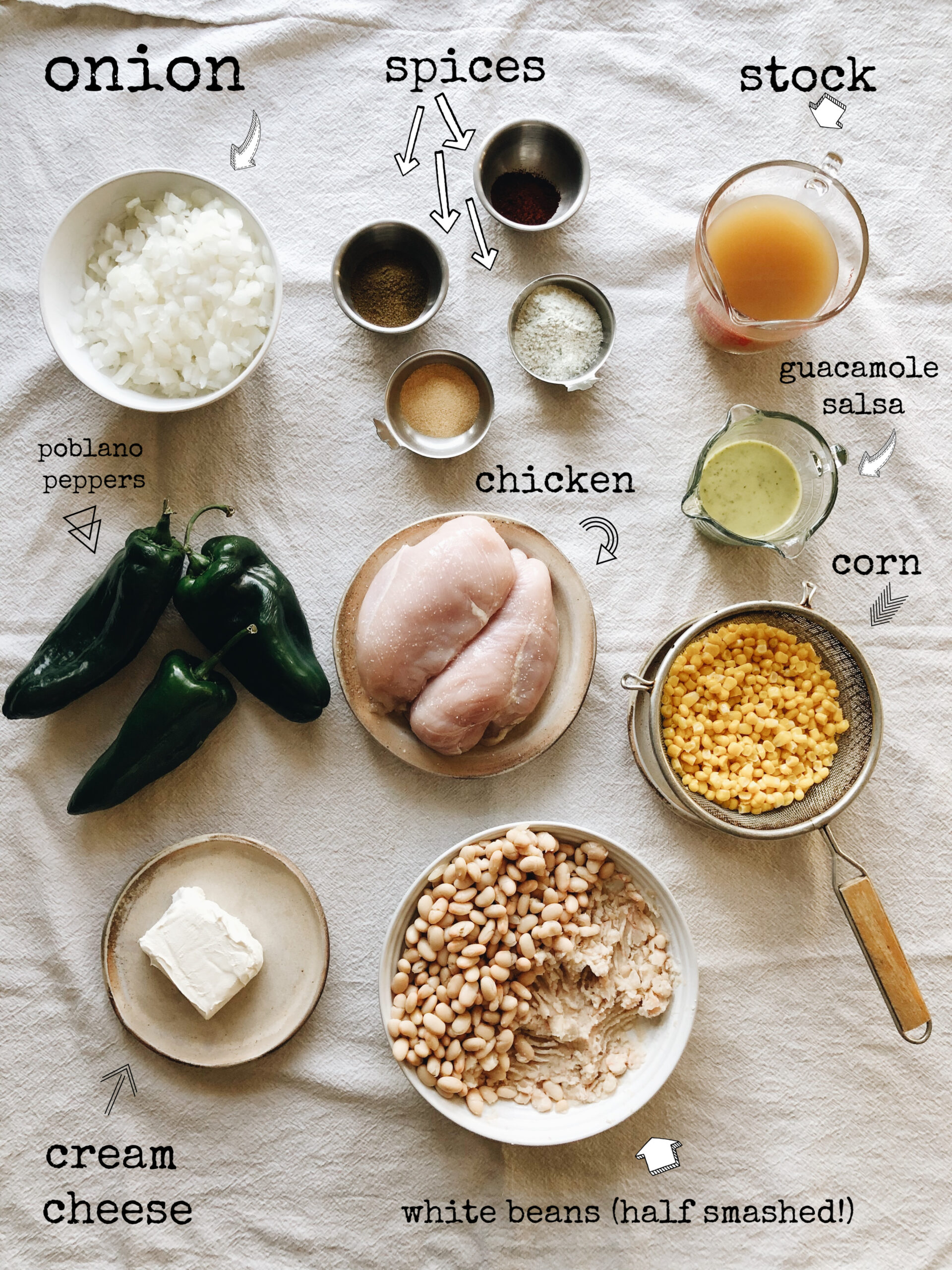 I want to say the magic comes from two places – besides every single ingredient that you're seeing.
The cream cheese! Key is to have it at EXTREME room temp. Otherwise it may clump and look like curdled milk boogers and you'll curse my name and I have to wash my hair this week and can't have you upset with me.
The guacamole salsa. This is absolutely, most definitely not sponsored by this brand, but THIS is what I used. (the mild, not medium. it's got a kick!) And you can seriously find it anywhere. Right in with the salsas. Either look up or down, it won't be eye level. Sneaksters!
Let's see what else, the poblano peppers, spices (hi, RANCH DRESSING PACKET), onion, chicken, mashy mash white beans, corn, stock, ummmmmm, yeah it's all pimp in this.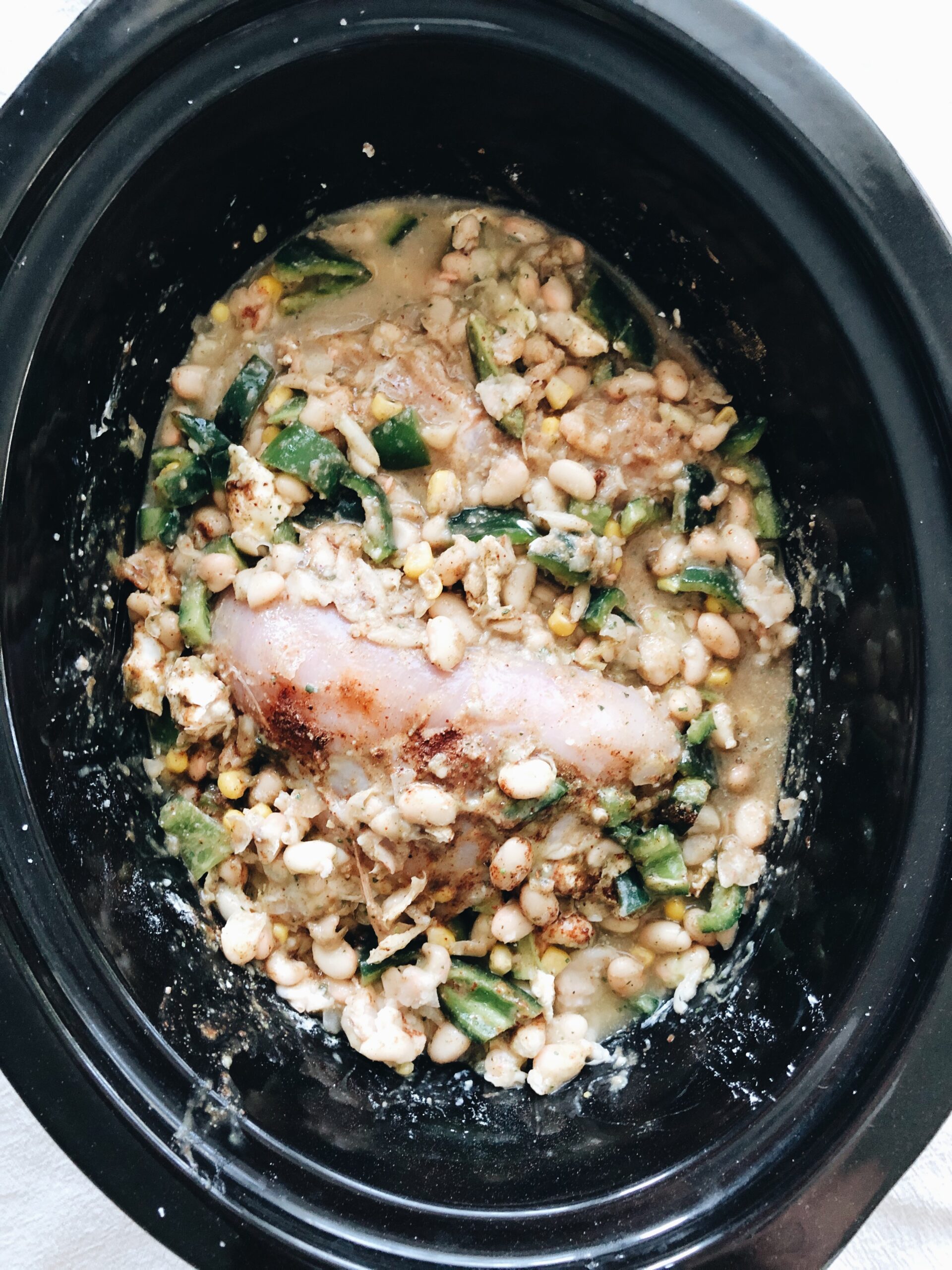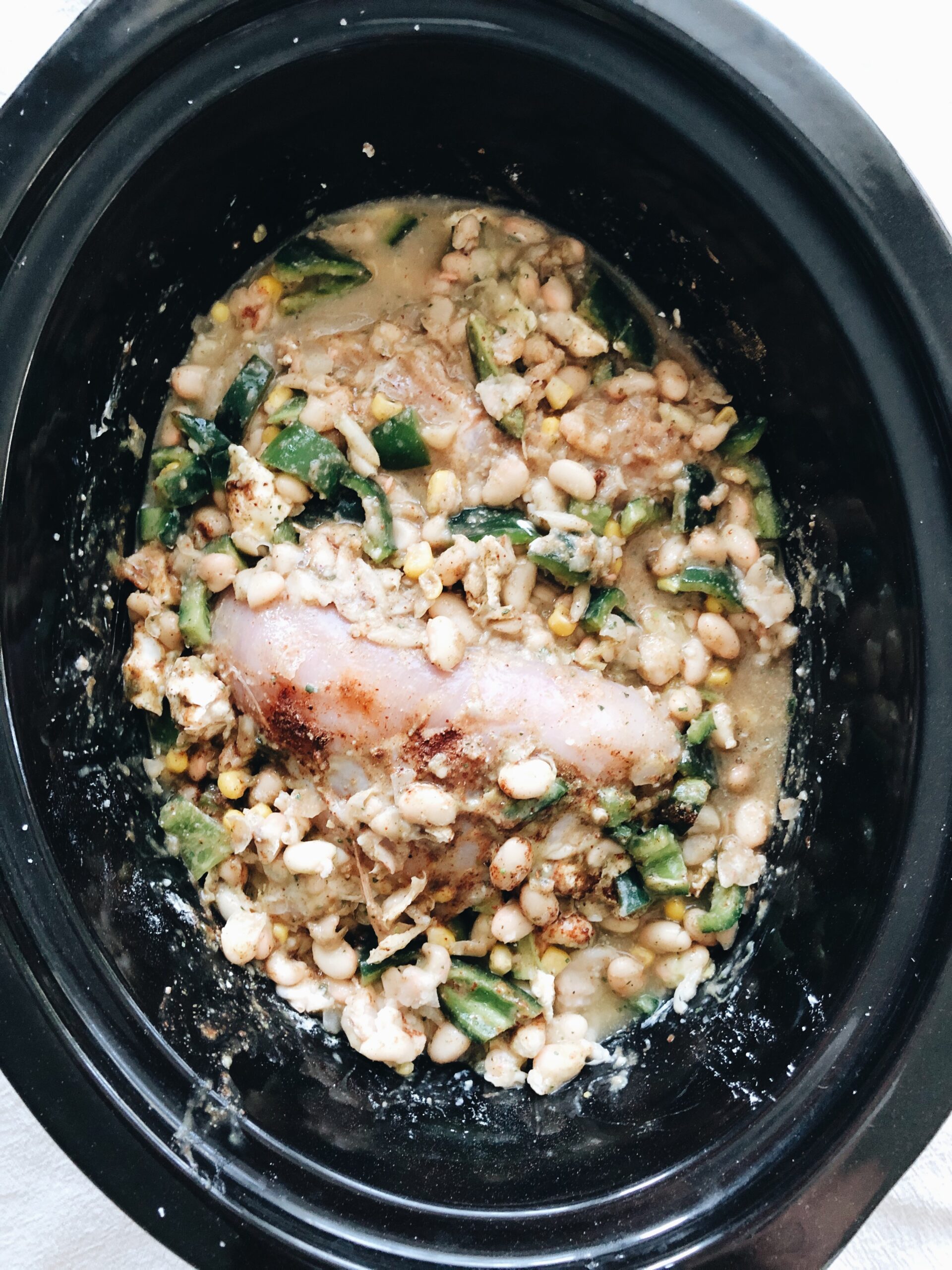 Did I mention it's slow cooker?
It's totally slow cooker.
You'll do the leg work up front, and then zhush it up later on with a few cilantro leaves and a hit of lime.
And shredded sharp cheddar. Der.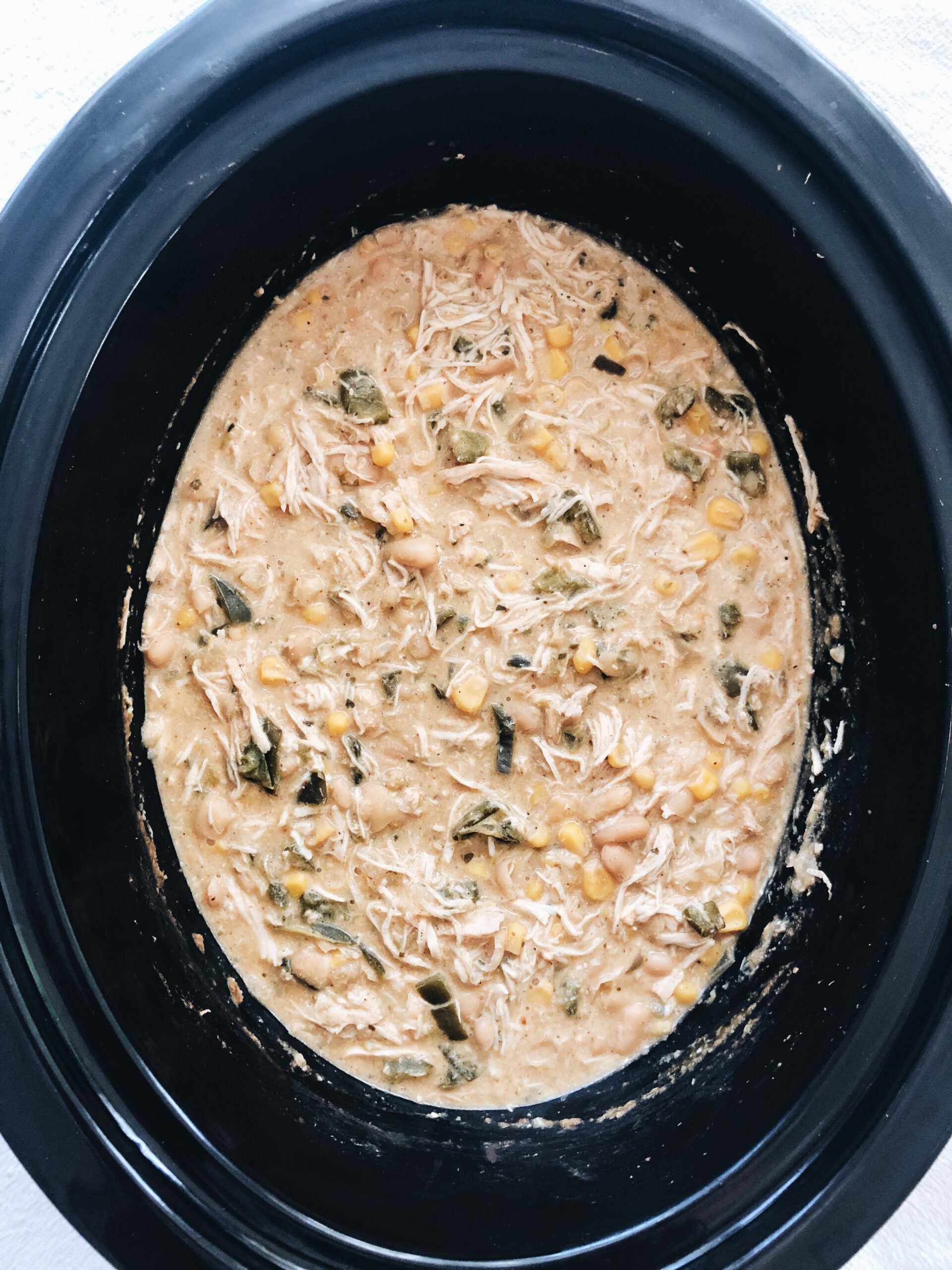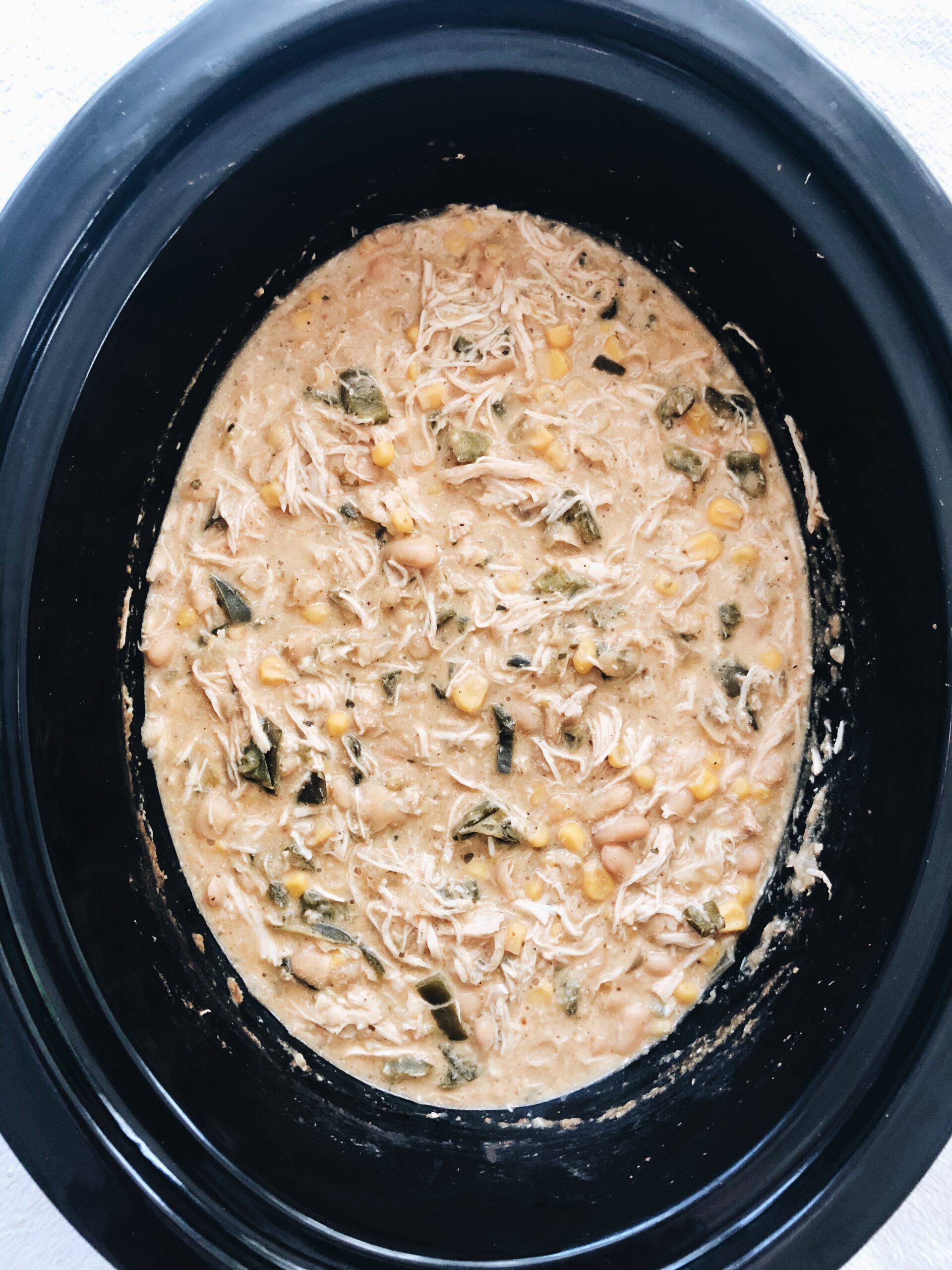 Also! You can absolutely use chicken thighs in this. I used breasts because that's what I had in the fridge, and I know so many of you dig the breasts (wait what?), but my peeeeersonal choice here would be thighs. So just use what your raging inner soul fairies demand of you.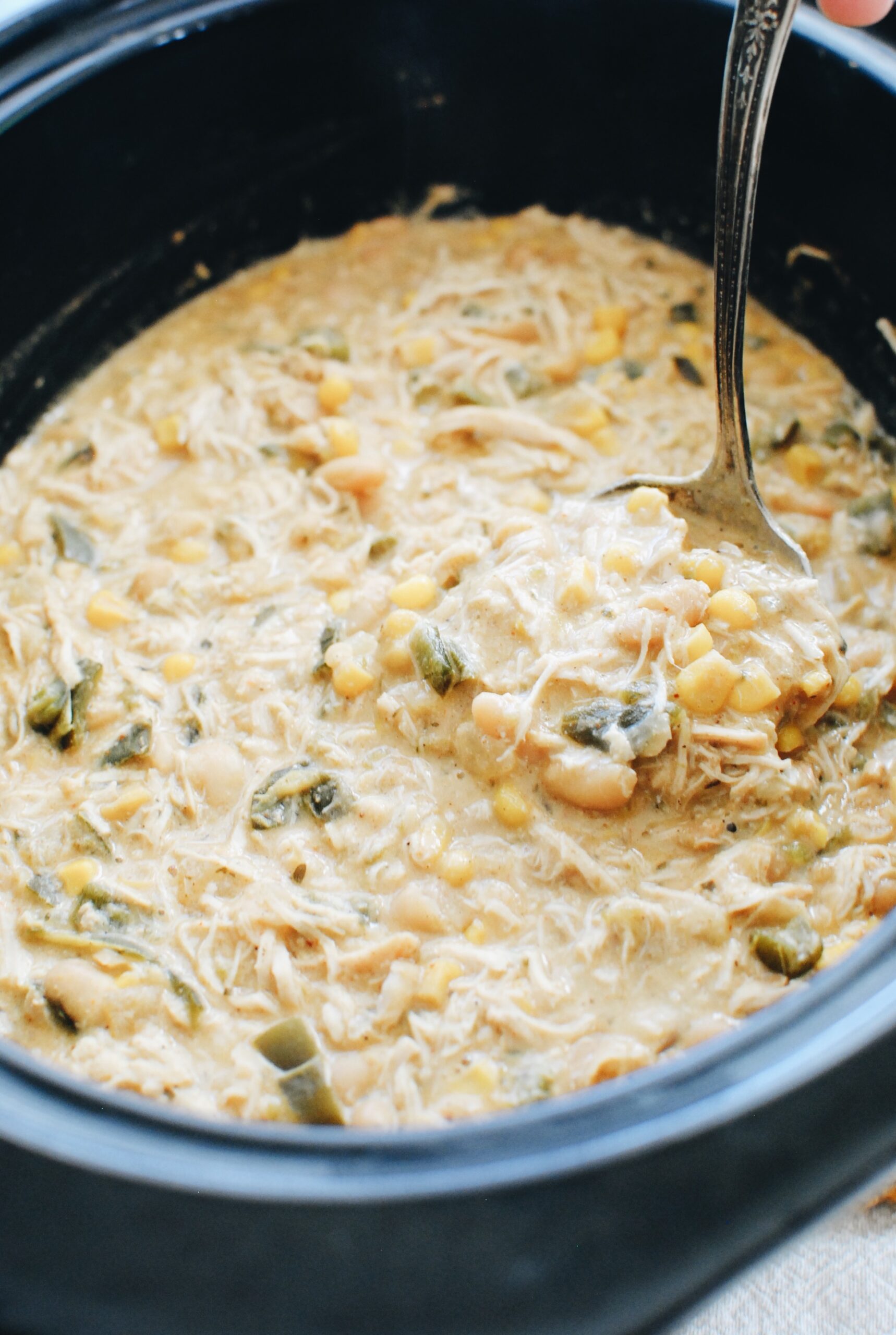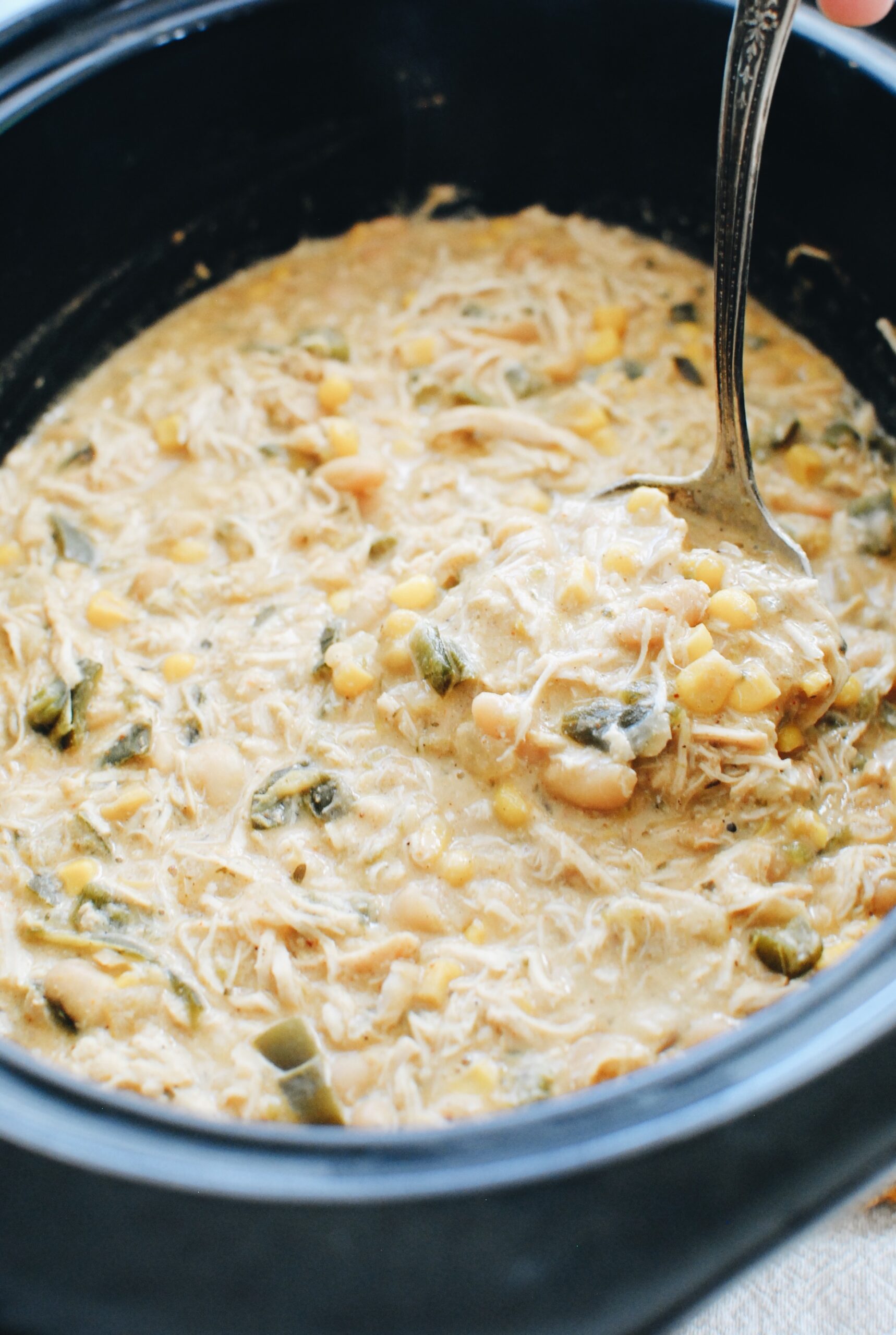 Helloooooo, honey child of creamy love babies.
So listen. The poblano peppers, you're probably thinking, "Holy moles, Bev. Three of those? Will my face erupt in flame?" Naw. They've got a little bit of heat, but more than anything they just add that good solid earthy pepper flavor to the whole thing.
Honestly, it's all just lovely and scrumptious and creamy and flavorful and not too spicy yet a little sweet with the corn and comforting and slurpilicious and perfect for winter and you like run-on sentences as much I do, right?
Top with cheese. Top with lime. Top with cilantro. Top with avocado. Top with your face.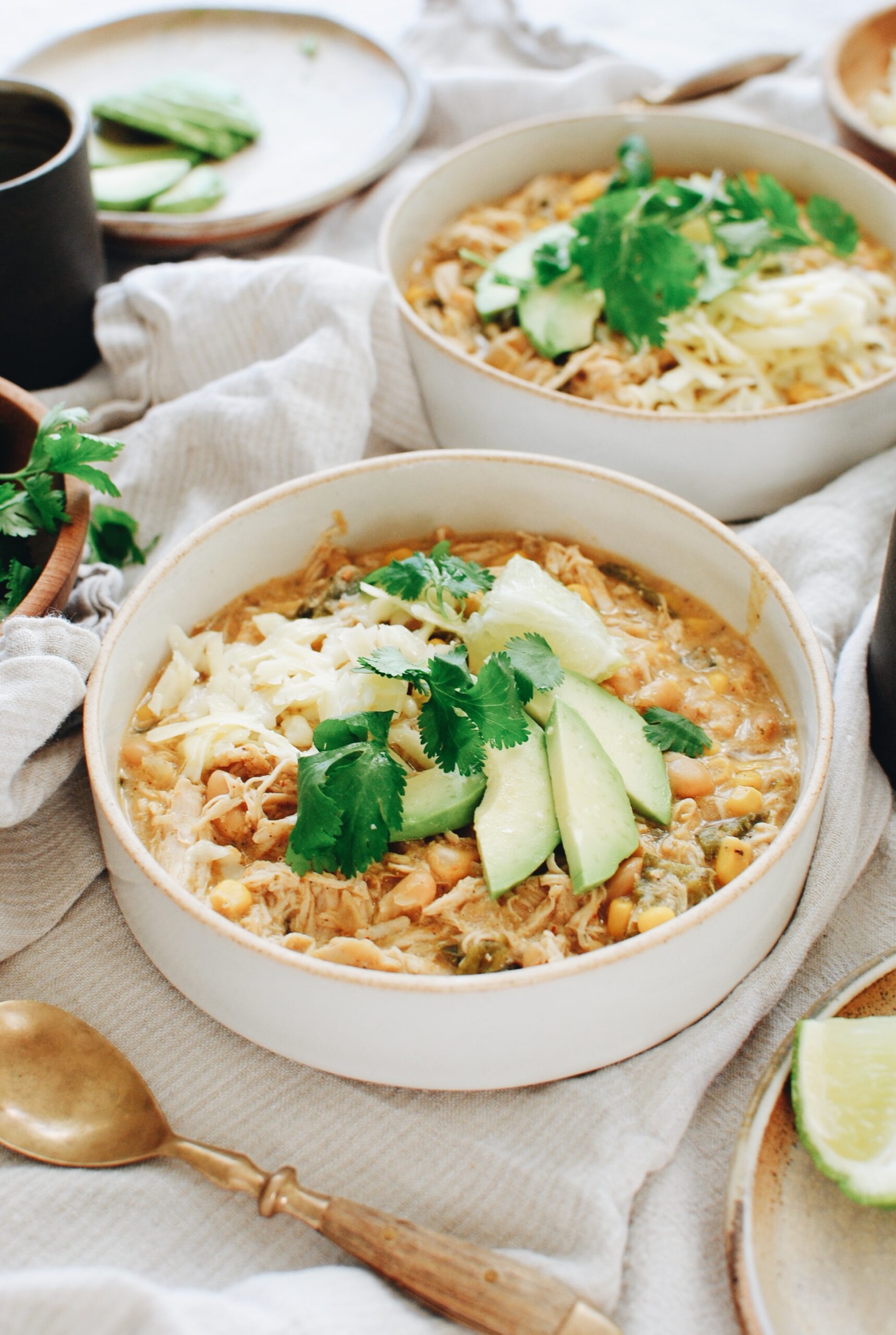 My work here is done.
Ingredients
1 1/2 pounds chicken breast (or thighs)
1 1/2 cup chicken stock
1/2 cup guacamole salsa (salsa verde works, too)
1 (15 oz) can corn, drained and rinsed
3 poblano peppers, stemmed, seeded and chopped
1 (10 oz) bag frozen diced onion (or 1 large white onion, diced)
2 (15 oz) cans white kidney beans, drained and rinsed (half smashed with a fork)
2 tsp garlic powder
1 (1 oz) ranch dressing packet
1 Tbs. cumin
1 tsp chili powder
1/2 block very softened room temp cream cheese, torn into little chunks
coarse salt
Fresh cilantro, grated cheddar cheese, avocado and lime wedges for garnish
Instructions
Combine everything (from the chicken breast through a good pinch of coarse salt) in a slow cooker. Cook on high for four hours, or low for six hours (even eight is fine.) Using two forks, shred the chicken right in the pot and stir it all together, making sure the cream cheese is blended beautifully into the chili. Taste it now to adjust anything. Need more salt? Some lime juice for a hit of acidity? Add away!
Ladle and serve with plenty of cilantro, sliced avocado and extra lime wedges. Sickly delish.
Serves about 6!
7.8.1.2
397
https://bevcooks.com/2020/01/white-chicken-chili/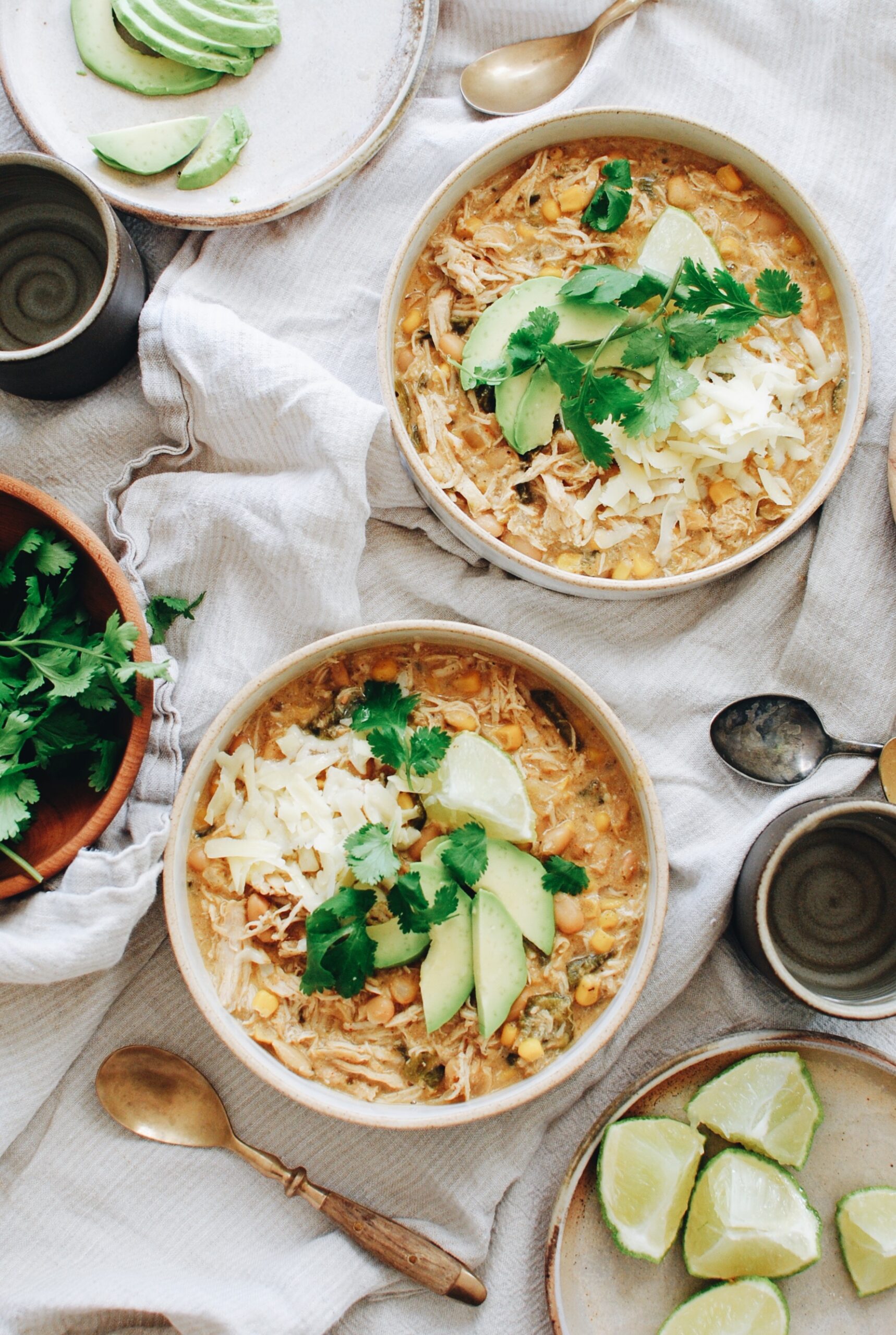 There can never be too many white chicken chili recipes in this world, truly.