And avocado and feta and garlic and lemon! But you know that title would have sent me straight to BLOG PRISON.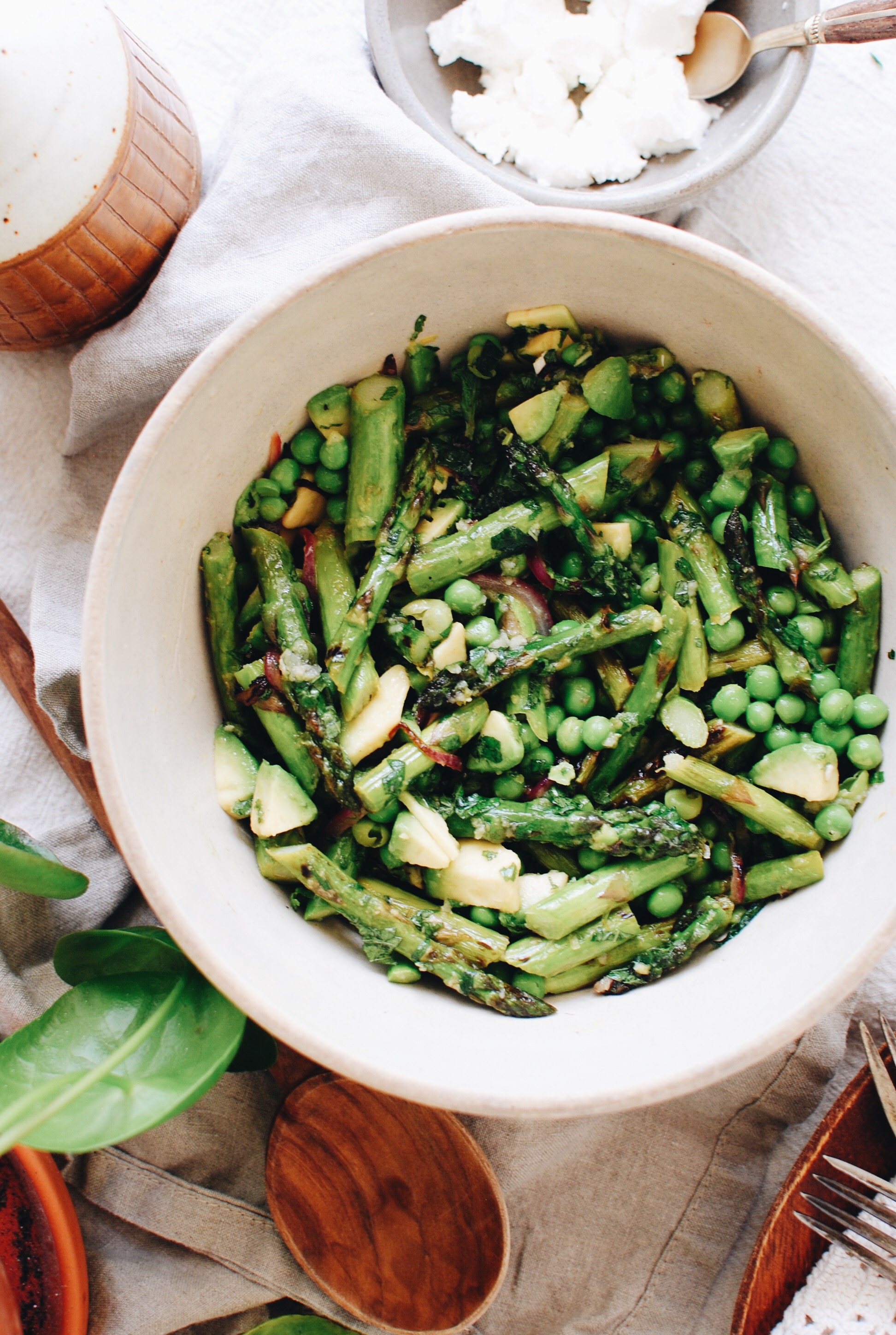 You guys remember this grilled summer deliciousness from Oregon? Yeah, finally getting around to posting it. Man, blog prison must have its front door open. I think the guard is even waving at me. Crap.
It's a side dish. And vegetarian. And SO (rachel) GREEN. And summery. And let's get our faces in it.
Guys we still have SO MUCH SUMMER left. Even if school starts in 20 minutes, the heat won't leave us for what, 23 years? 32? Something? (I've had coffee.)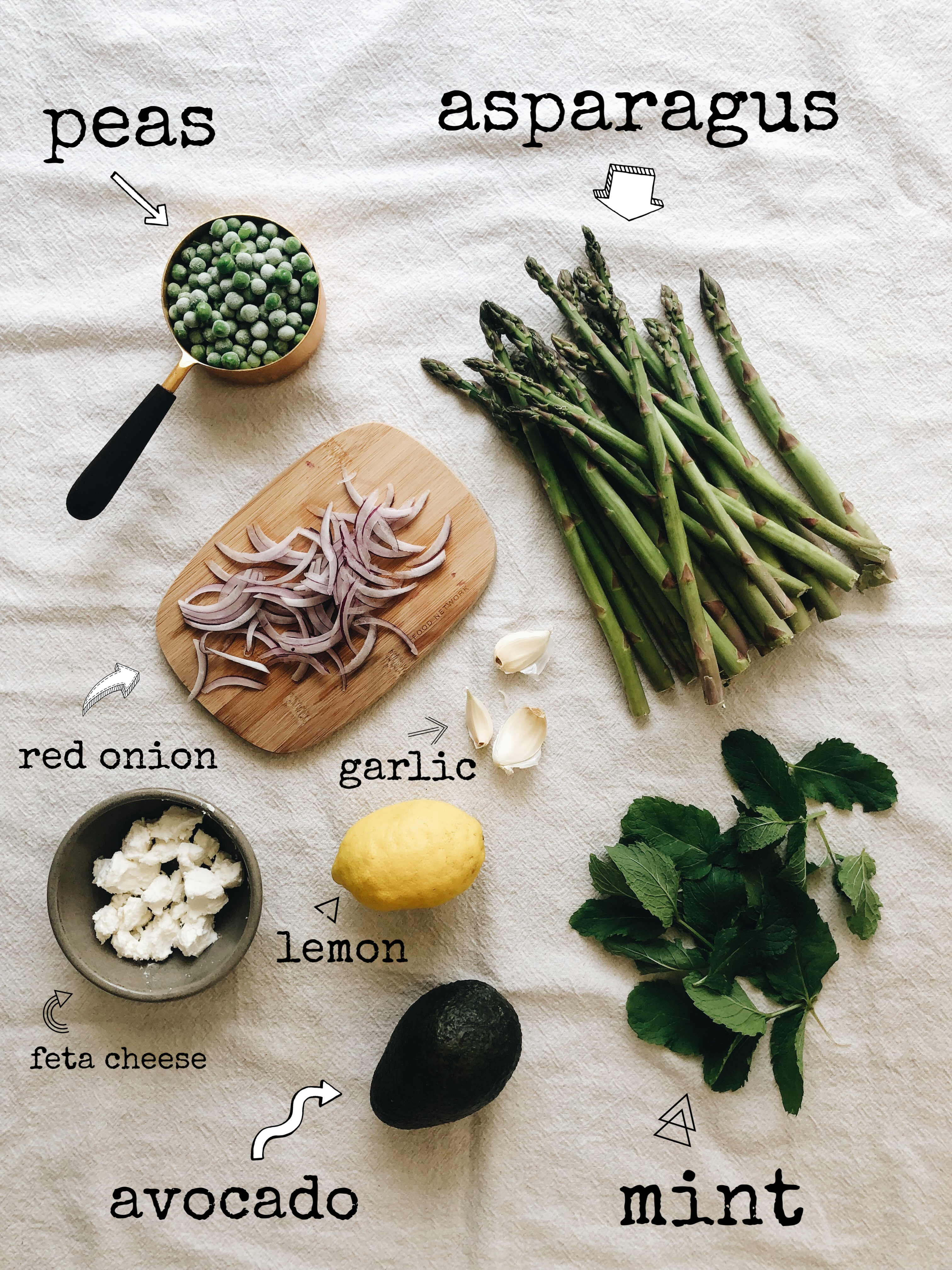 This salad sings to me because of the texture layers. You know how I am about texture layers. I have to have them all OR SOMEONE WILL PAY.
And this one has it. Creamy cubes of avocado. The slight crunch of raw red onion (don't be scared of this. thinly sliced red onion is the essence of life. Just like moisture is the essence of wetness. And wetness . . . is the essence . . . of beauty. <–name that movie.)
And we have the pop of barely-cooked peas, the crisp-tenderness of the grilled asparagus. It's all there! IT IS ALL THERE.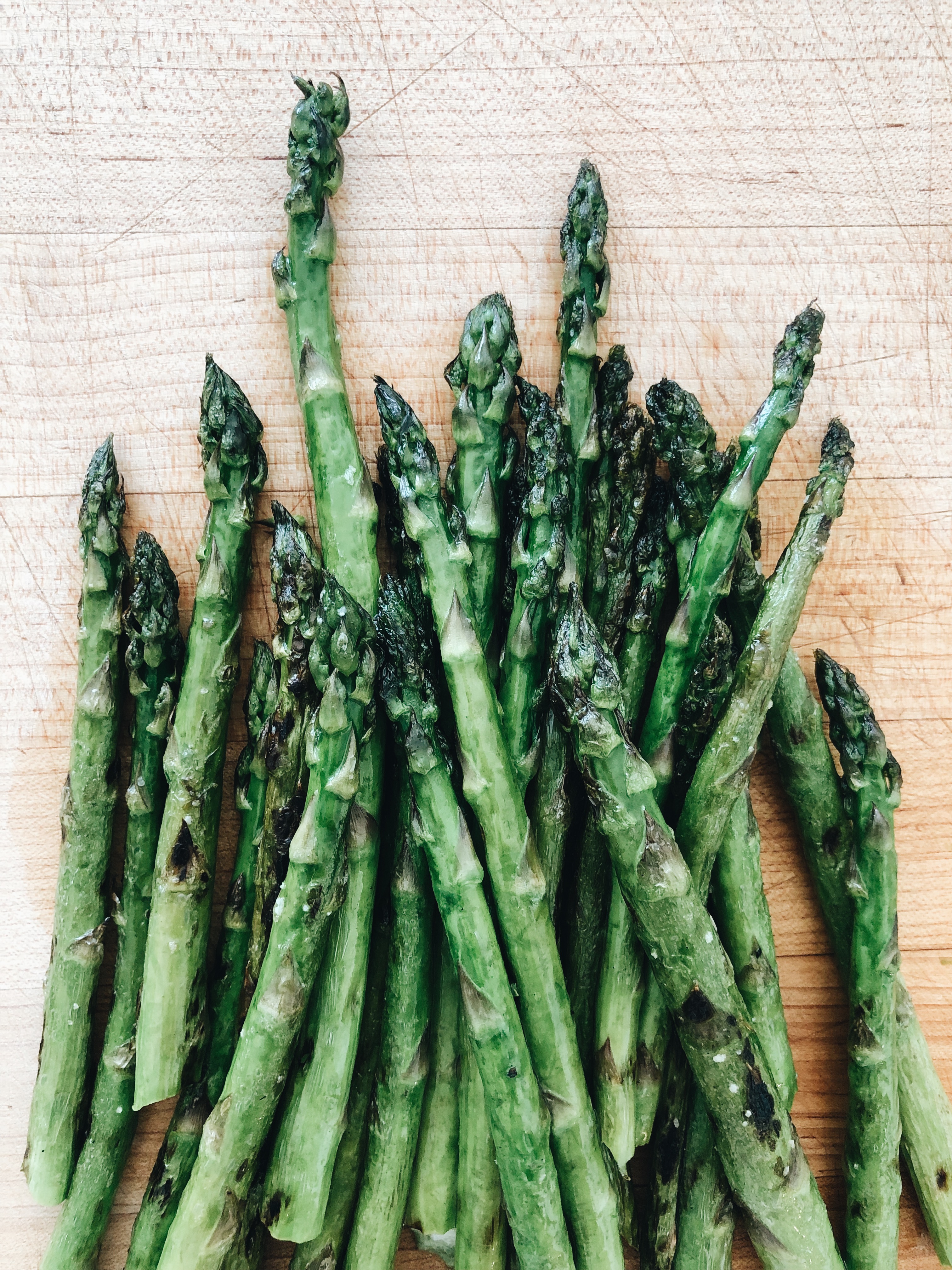 I grilled these on an indoor grill because it was 10,823 degrees outside that day and my smoke alarm went off 36 times and traumatized the kids for life. But it's fine. I'm fine.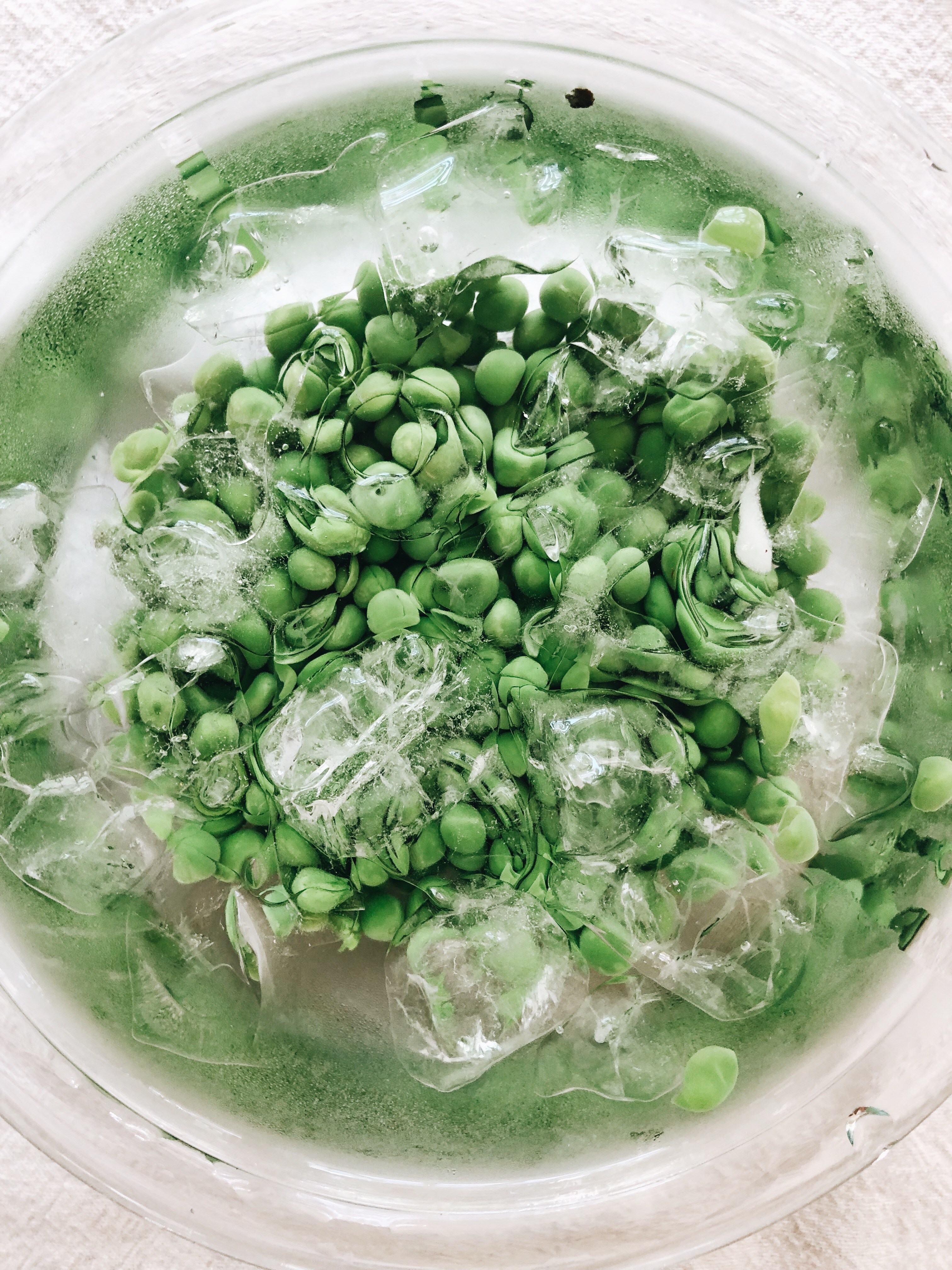 The peas – totally frozen! Just pop them into some boiling water for seriously 30 seconds to a minute. Just enough to soften them and for the green to pop. This is blanching! But I like to say Blanche-ing for obvious golden reasons.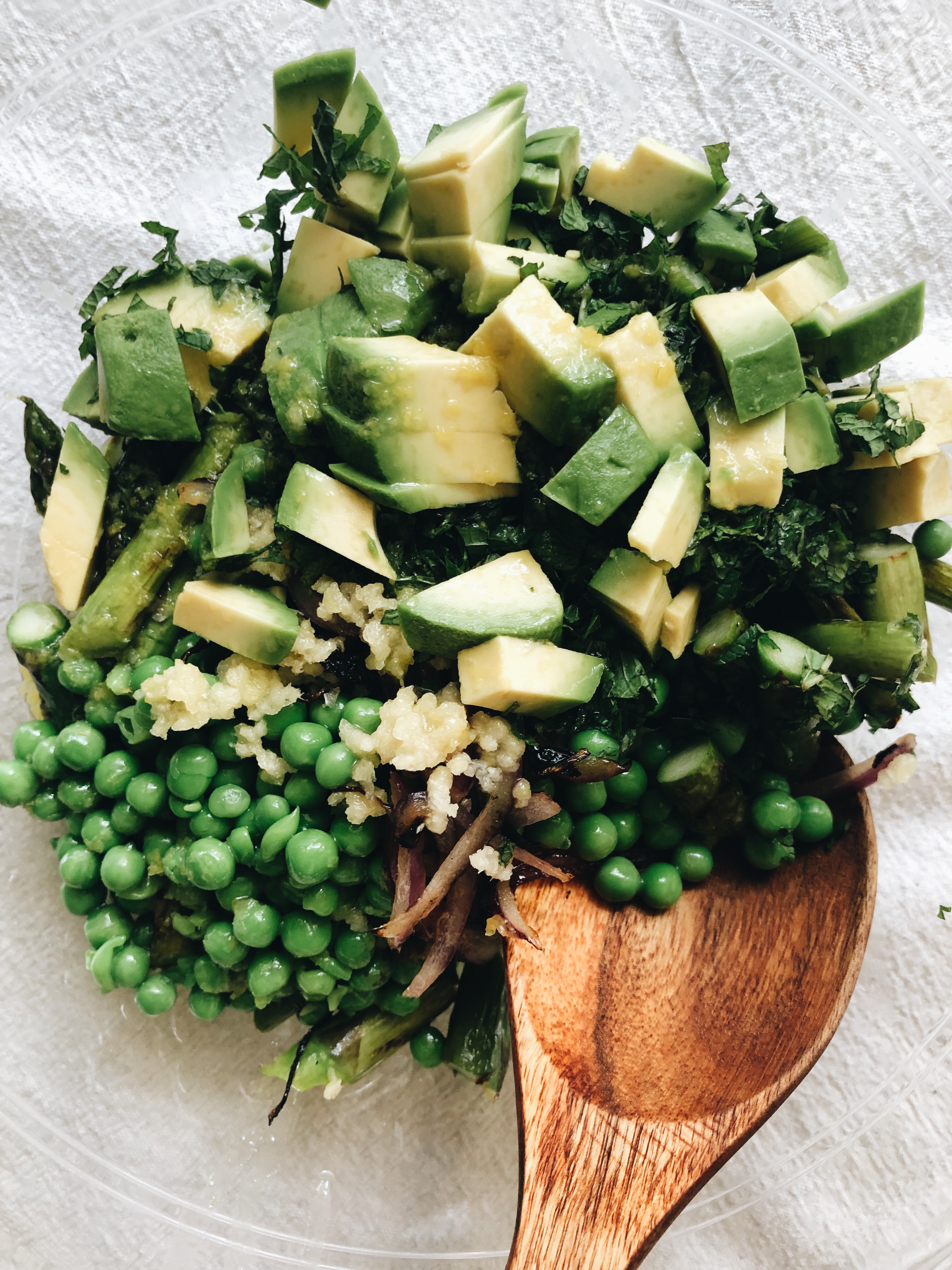 Then it all comes together like a breeze. Give the grilled spears a two-inch cut on the diagonal, and toss it in a bowl with the (drained) peas, avoca-OMG HOLD UP.
I just realized I grilled the red onion. Because I remember now. Aaron said, "Would you grill the onion for this? I'd prefer it grilled. And leave out the cheese for me?"
To which I responded, "What is wrong with you, sir."
So listen. Grill the onions if you wish! Leave them raw if you wish. This is your life and I give you permission to govern it how you see fit. (but, leave them raw)
(and keep the cheese in)
(still trying to figure out the movie?)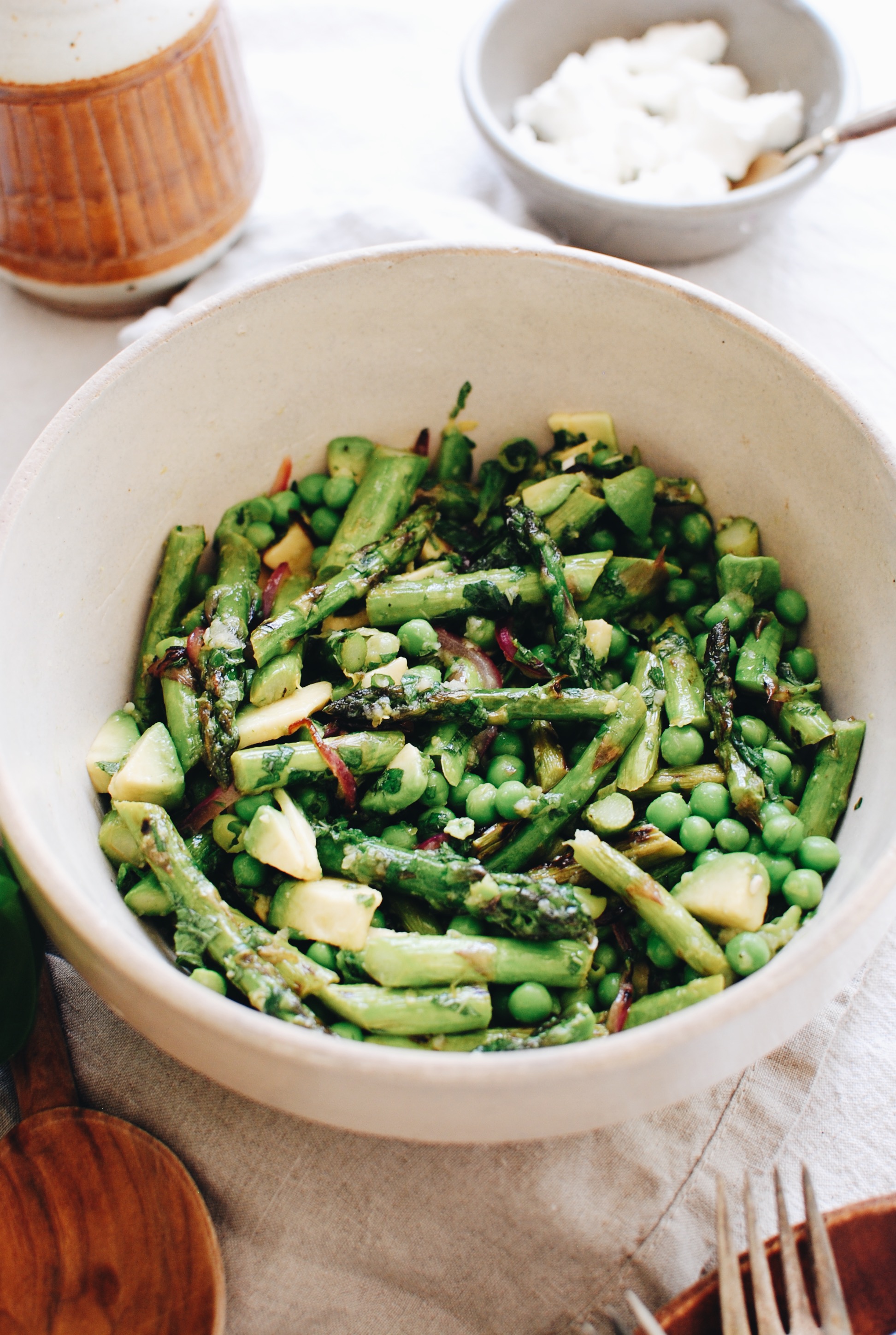 What makes this salad so special is raw garlic and lemon. Hands down. Top not-so secret. If you grate the garlic right reaaaaally finely into the salad, it coats everything in this aromatic earthy blanket of heaven. And of course you know the magic of lemon.
What's left to say?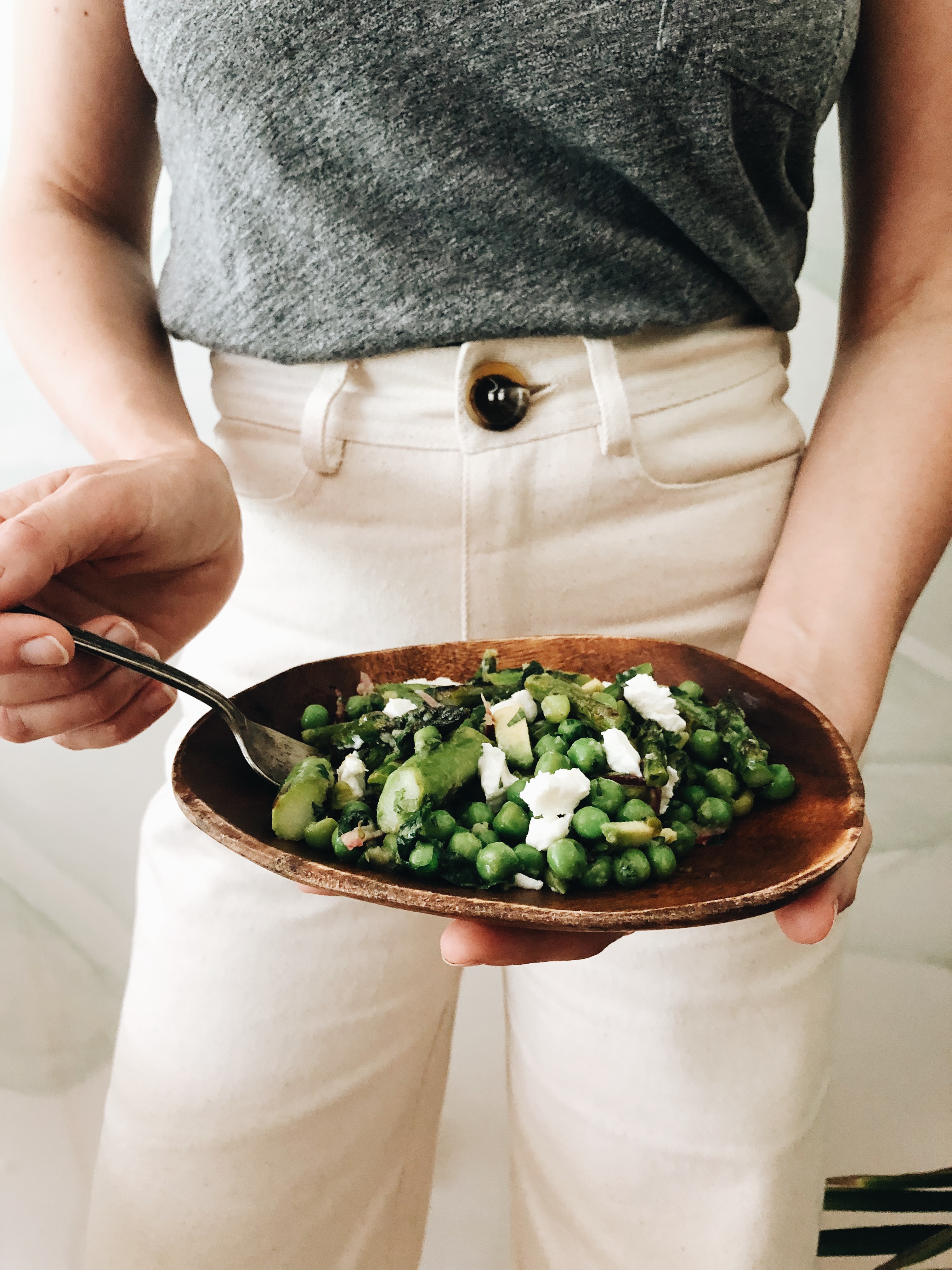 This weekend. Tonight. Now.
Grilled Asparagus Salad with Peas and Mint
Ingredients
1 bunch asparagus, ends trimmed
1/2 cup frozen peas
1/3 cup thinly sliced red onion
2 Tbs. extra virgin olive oil
1 cup mint leaves, chopped
1 avocado, cubed
1 lemon (for the zest and juice)
3 cloves garlic, finely grated
1/2 cup crumbed feta cheese
Coarse salt
Instructions
Heat your grill to a medium high heat. Lightly oil the grates, then grill the asparagus on all sides until charred and crisp-tender, anywhere from 5-8 minutes. Remove from the grill and slice into 2-inch pieces.(If you have a grill pan, go ahead and grill the onion sliced until they char and wilt, just a few minutes.) Or leave them raw! Anything goes.
Bring a small pot of water to a boil, and plunge the peas into the water for 30 seconds to a minute. Using a sieve, transfer the peas to an ice bath to stop the cooking.
In a larger bowl, combine the asparagus, onions, avocado, peas, grated garlic, chopped mint, the zest and juice from the lemon, the crumbed feta and a good pinch of salt. Toss until combined. You can serve this immediately! The peas will be cool and the asparagus warm, so it's a delightful combo of temperatures and flavors.
Serves four!
7.8.1.2
360
https://bevcooks.com/2019/07/grilled-asparagus-salad-with-peas-and-mint/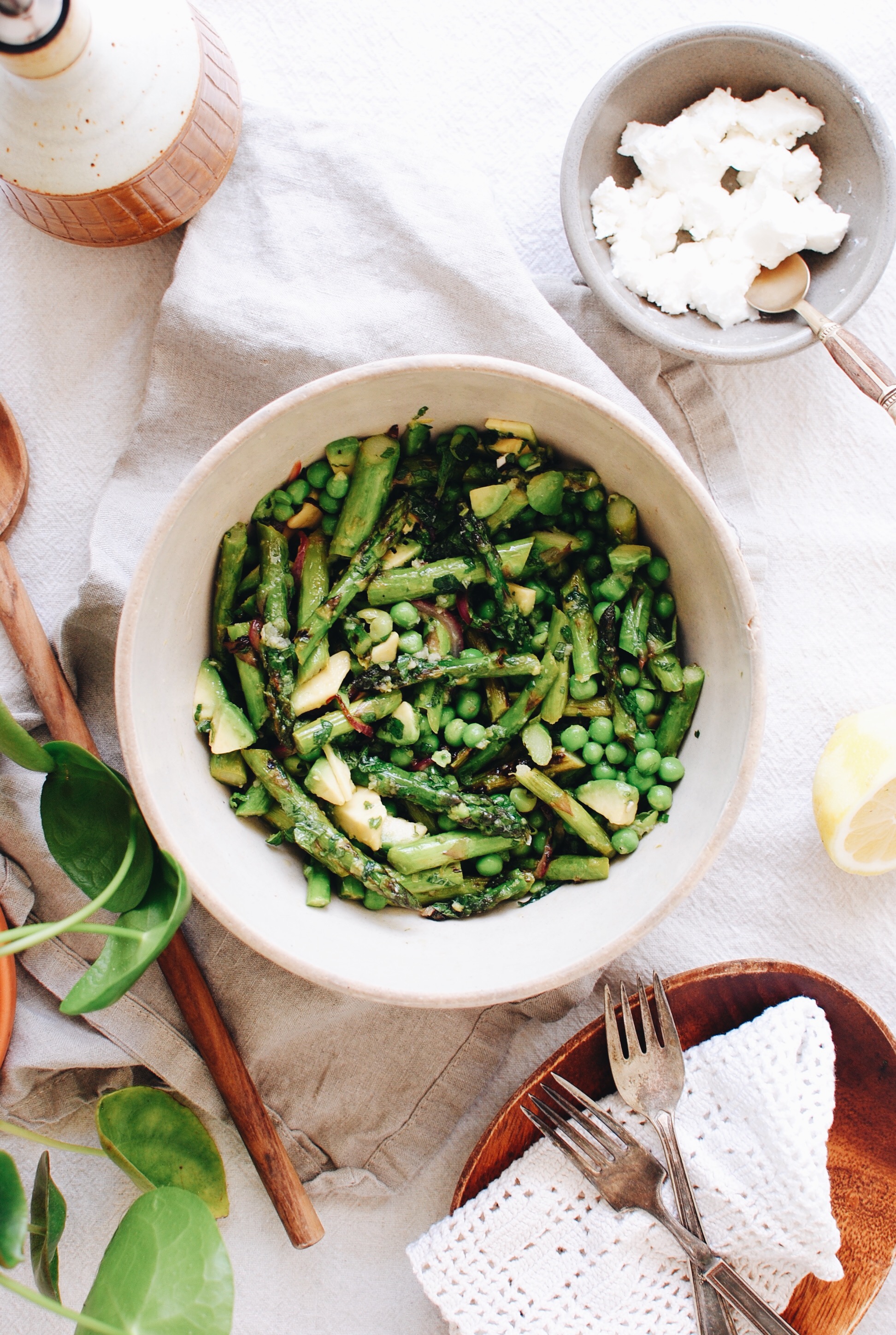 Can't even look at this without wanting to punch it with my mouth.