Vegetarian dish comin' at ya loud and cheesy! (that was way less dorky in my head.)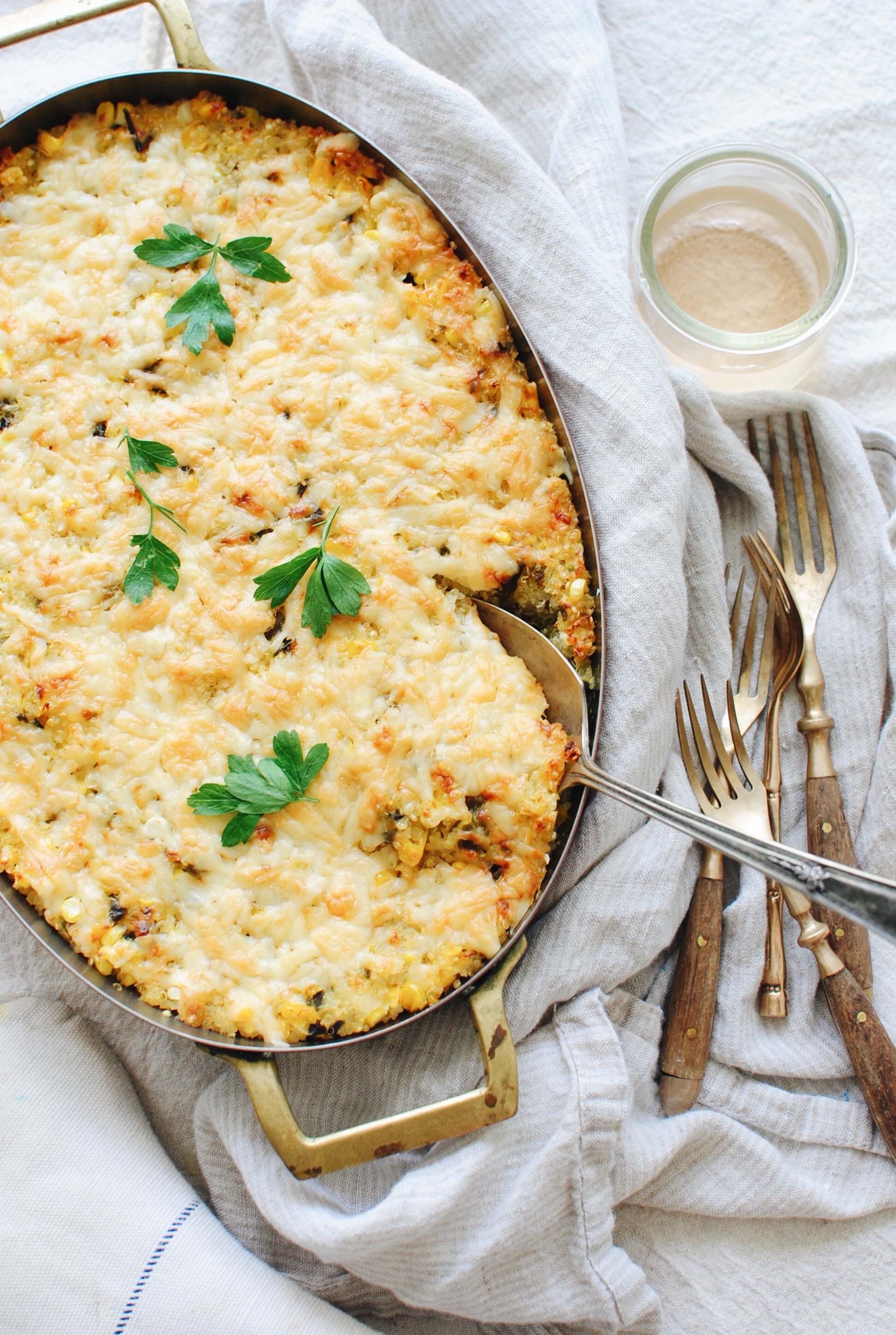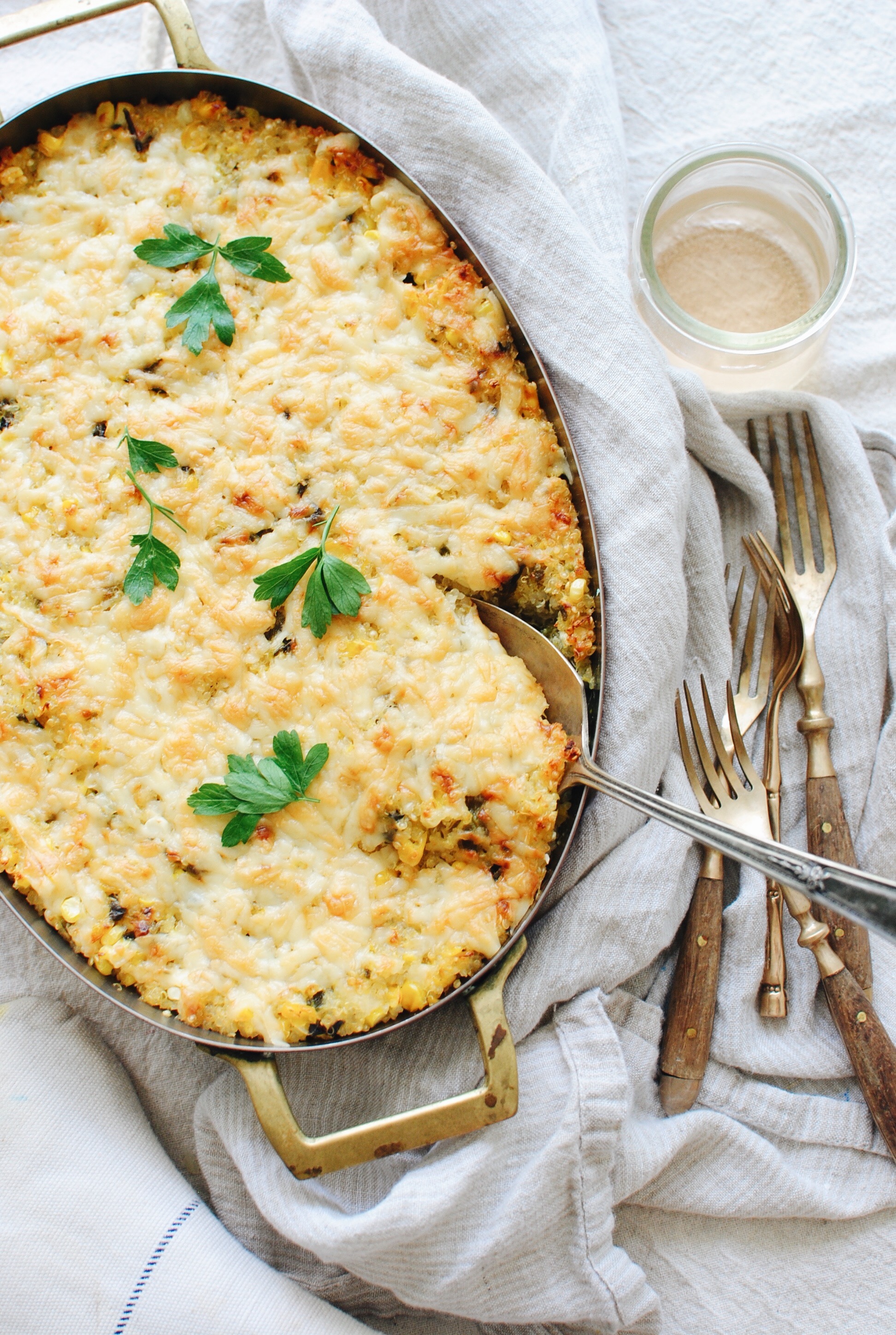 I've been dyyying to play around with corn and quinoa and cheese and my face for some time now. We actually have this little neighborhood restaurant that has a corn and quinoa casserole on the menu, and it's PHENOMENAL. So I played around. And mine was . . . eh.
THEN I went back and reread the description of theirs, and it has yogurt in it. YOGURT. Okay, right. Yogurt. And then I added a lot of cheese that theirs didn't have because I'm not an idiot.
But also.
Also.
Look.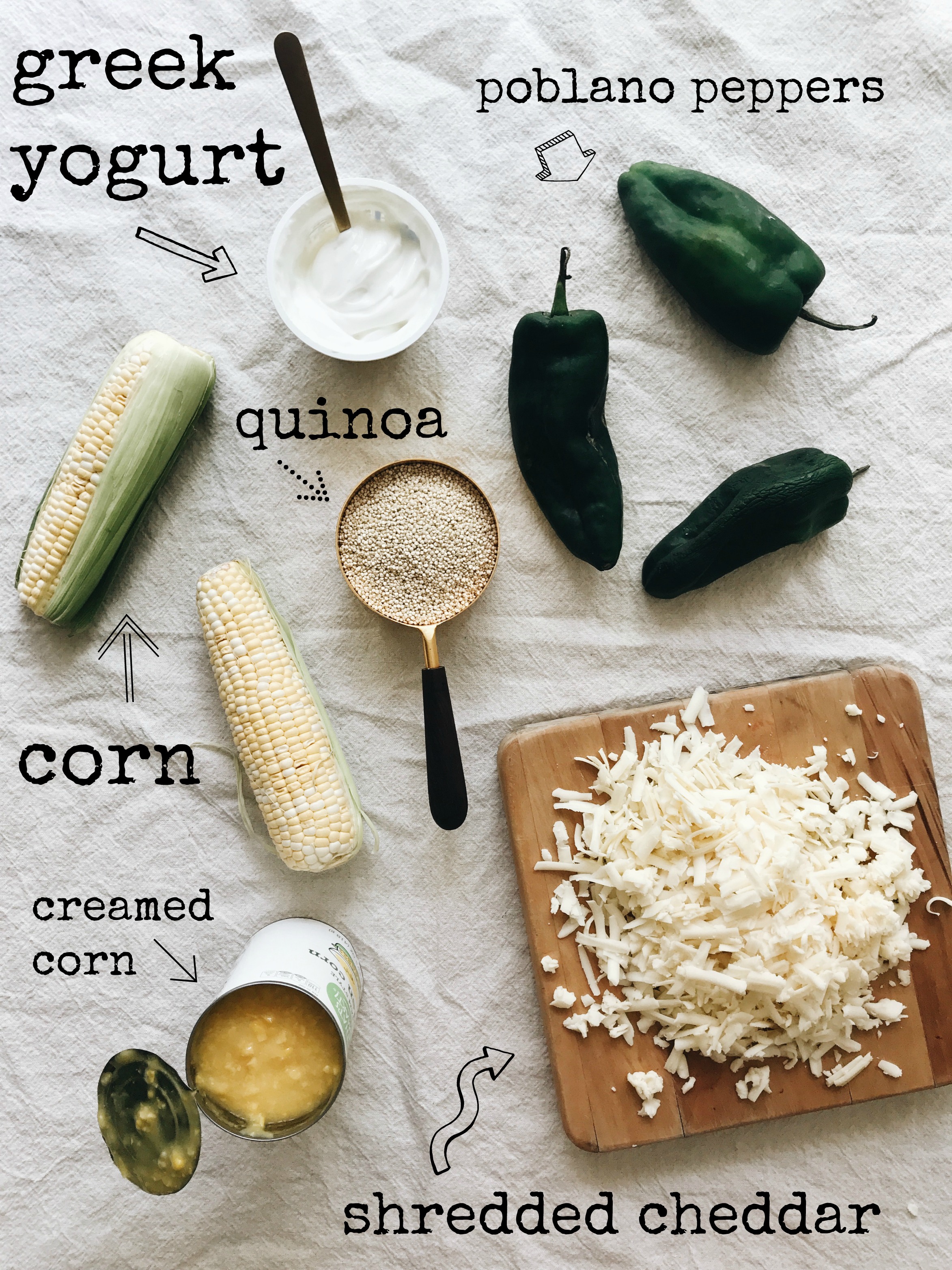 Okay. You're either going to be in the camp that HATES canned food, or embraces its glory. Specifically creamed corn. Just like grandma used to use. I'm sorry but creamed corn is basically what dreams are made of. Sweet, lusciously binding, adds that layer of creamy corn velvet. I'm in. Don't hate me.
ALSO, roasted poblano peppers. Because I wanted a little sumpin' sumpin' to make my face rain. But listen! Leave it out if you a) have tiny eaters, or b) can't stand the heat wave.
Speaking of heat wave, WHAT ARE THESE 92 DEGREE TEMPERATURES we're having? Mama Nay Nay is drunk.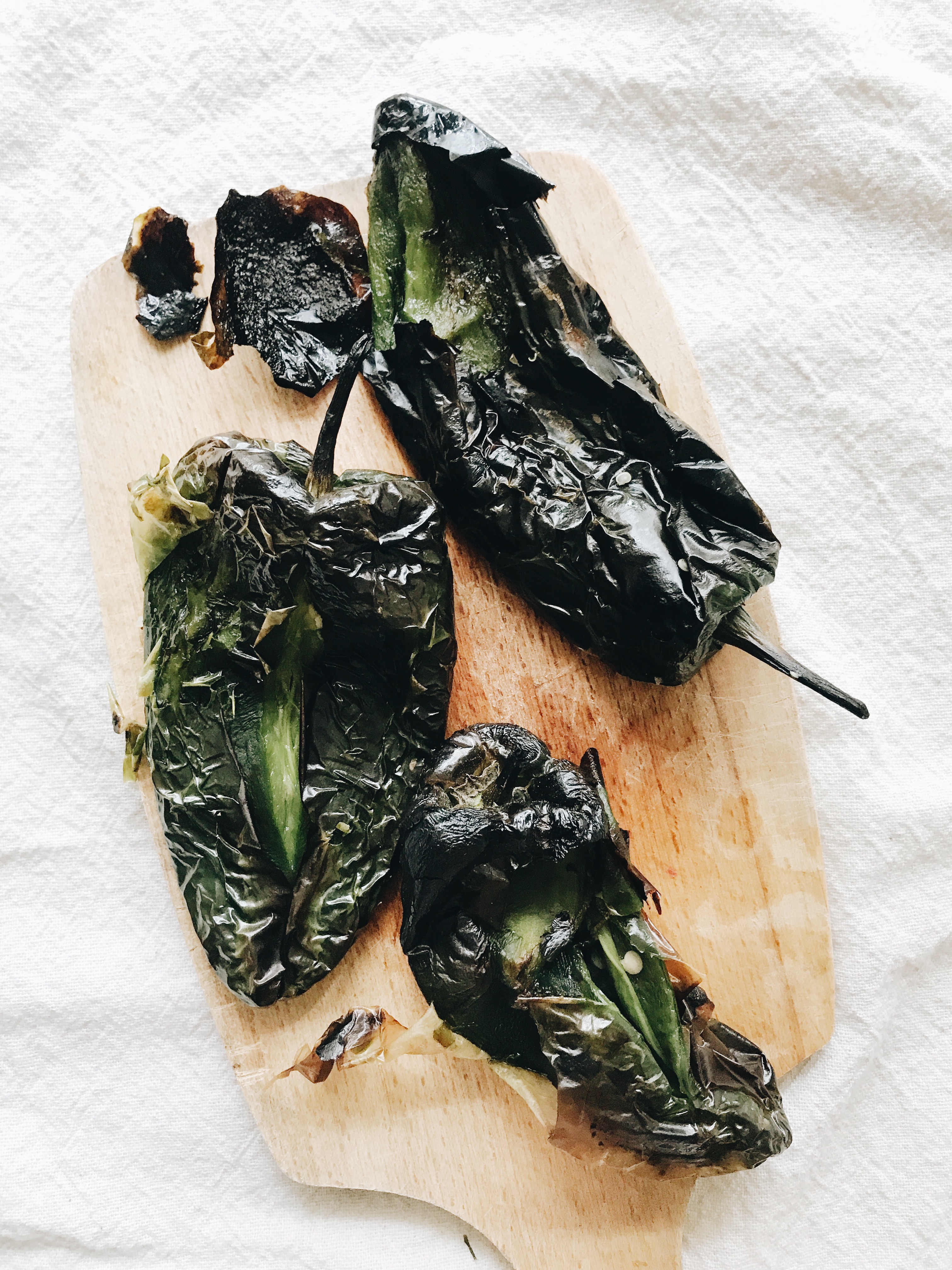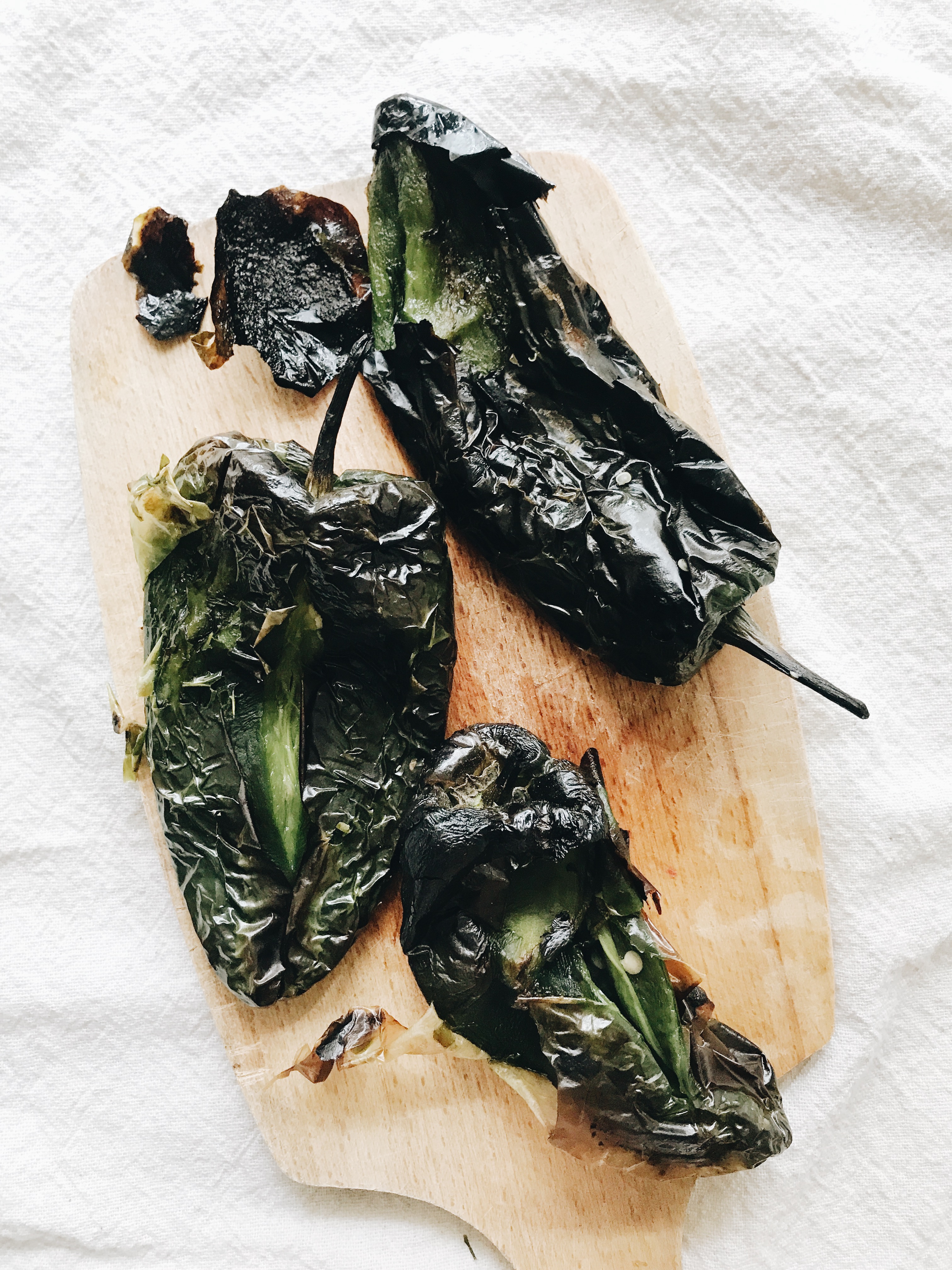 First up! Roast those peppas. Not Peppa Pig. Do not roast her. I repeat, do not stick a child's cartoon in a hot oven (although you may actually want to.)
Char and broil and blacken and blister those poblanos until Kingdom come. Then let them steam in a baggie for a few minutes. Then pull the skins off, stem away and scrape out the seeds. Chop chop chop to the peppers. All done.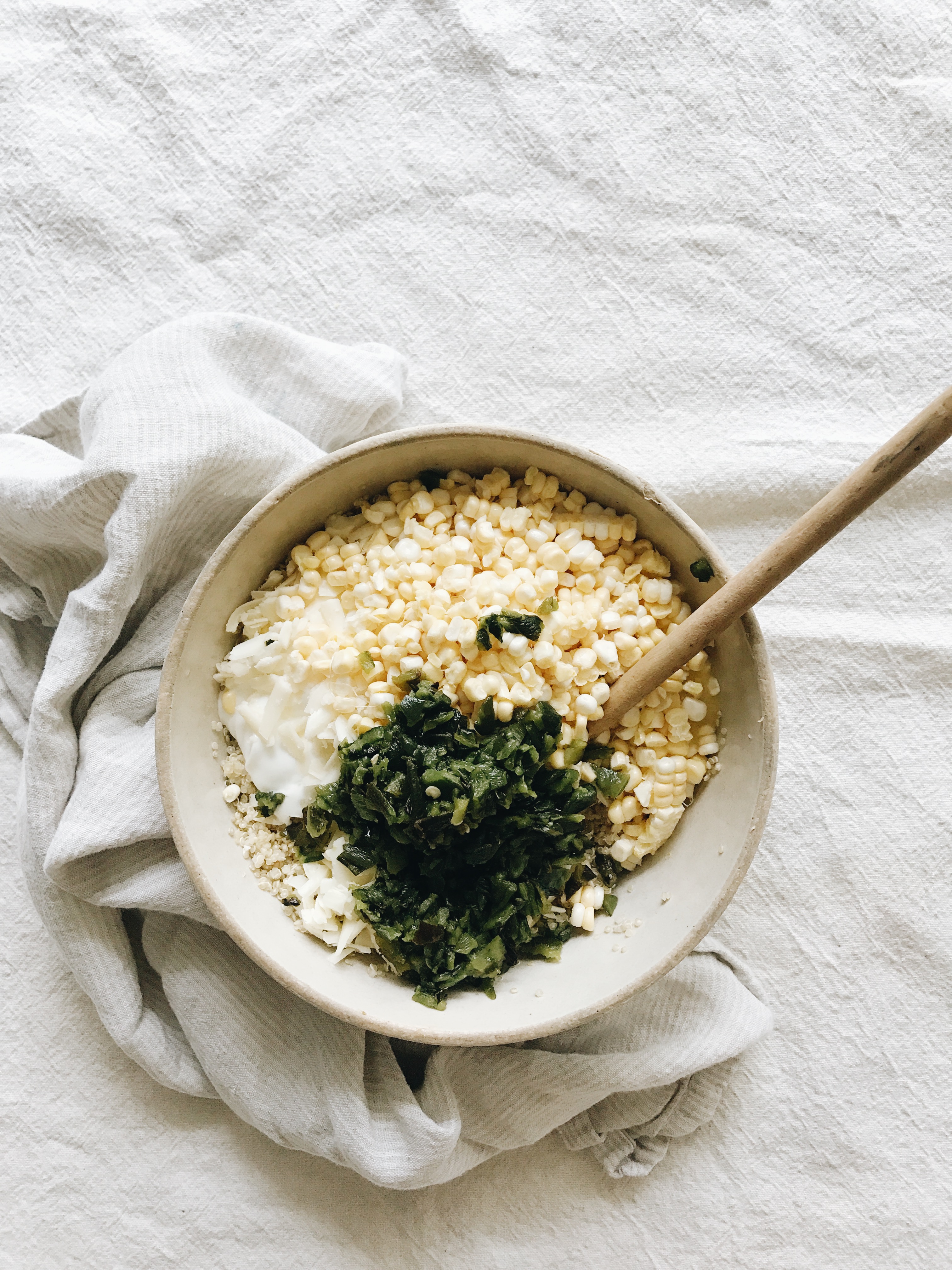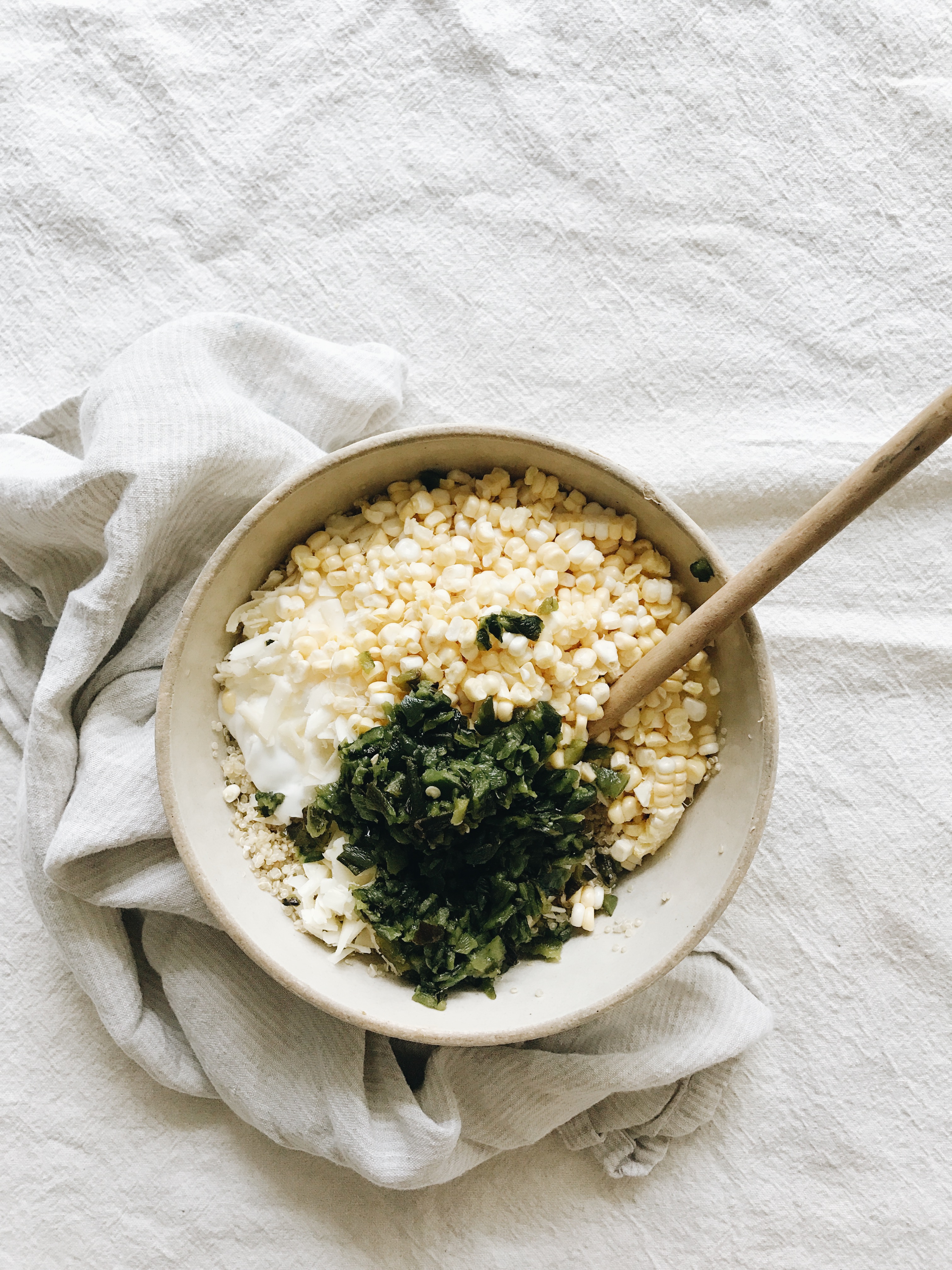 You'll seriously just combine everything in a bowl. The cooked quinoa, fresh corn, creamed corn, yogurt, about a third of the cheese, and a pinch of salt. Miiiiiiix her up.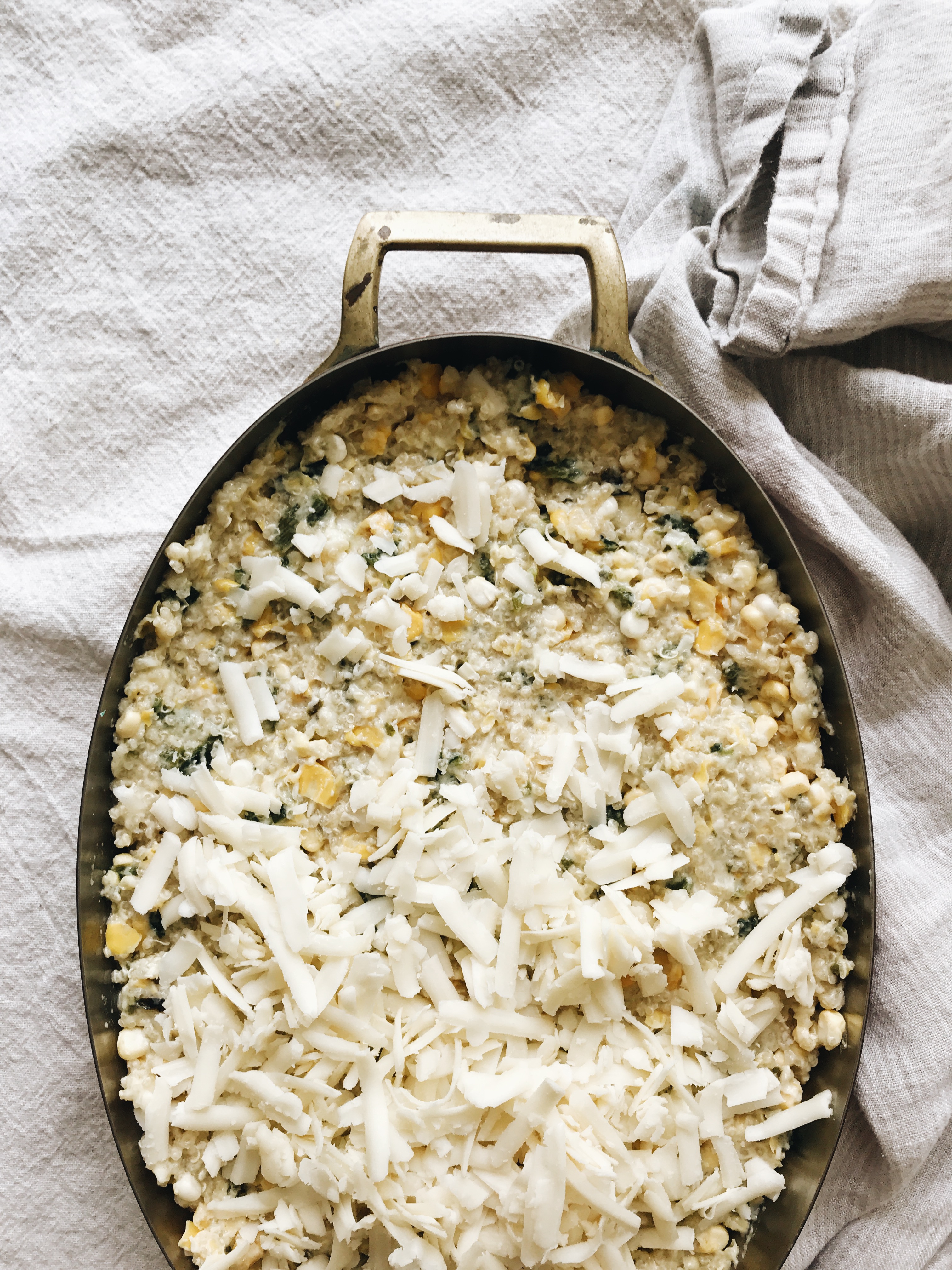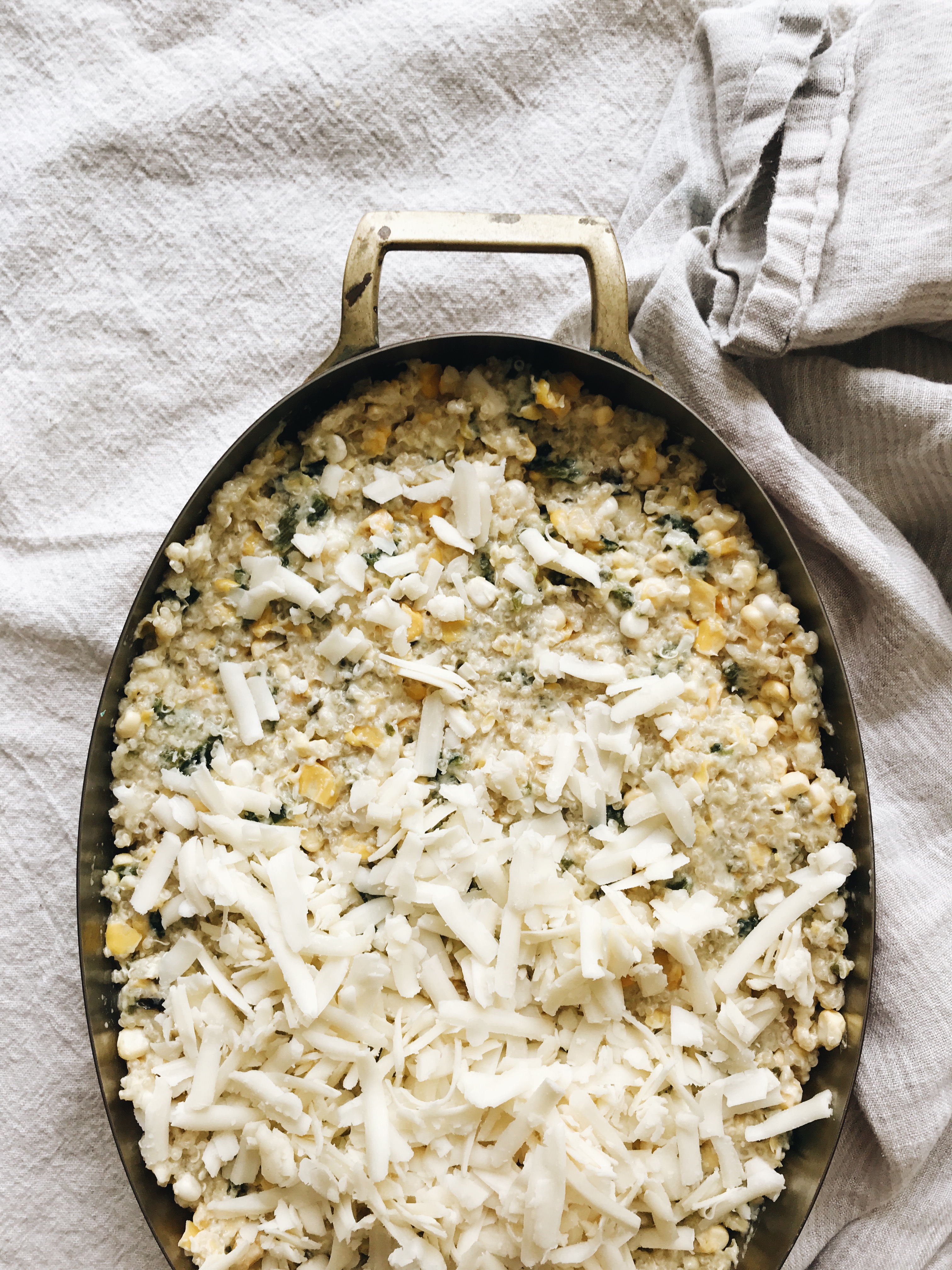 Then violently plop her in a casserole dish, and sprinkle with the rest of that CHAYSE. Also known as cheese.
You're already completely losing your mind, I can tell.
Thirty minutes in the oven, aaaaand….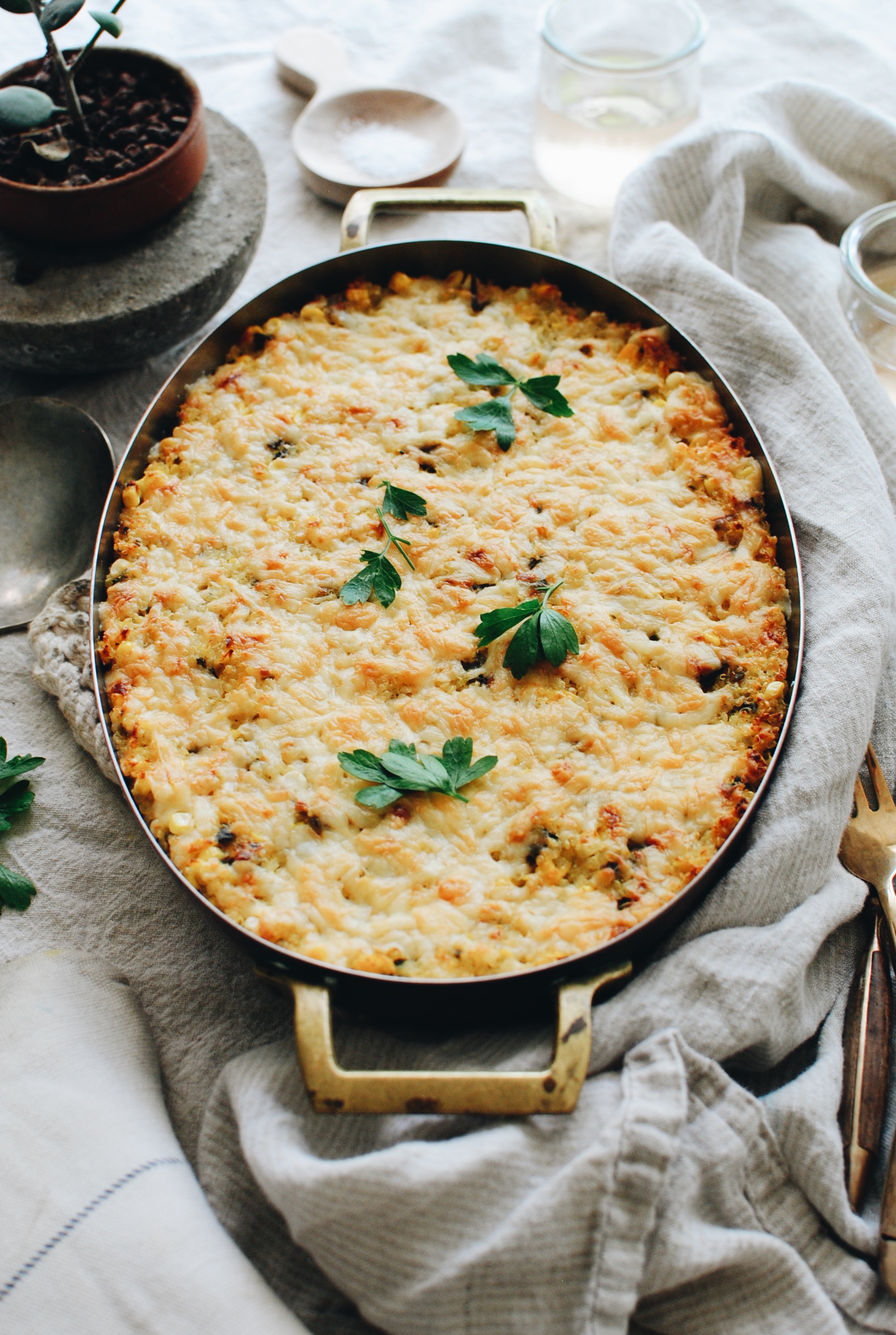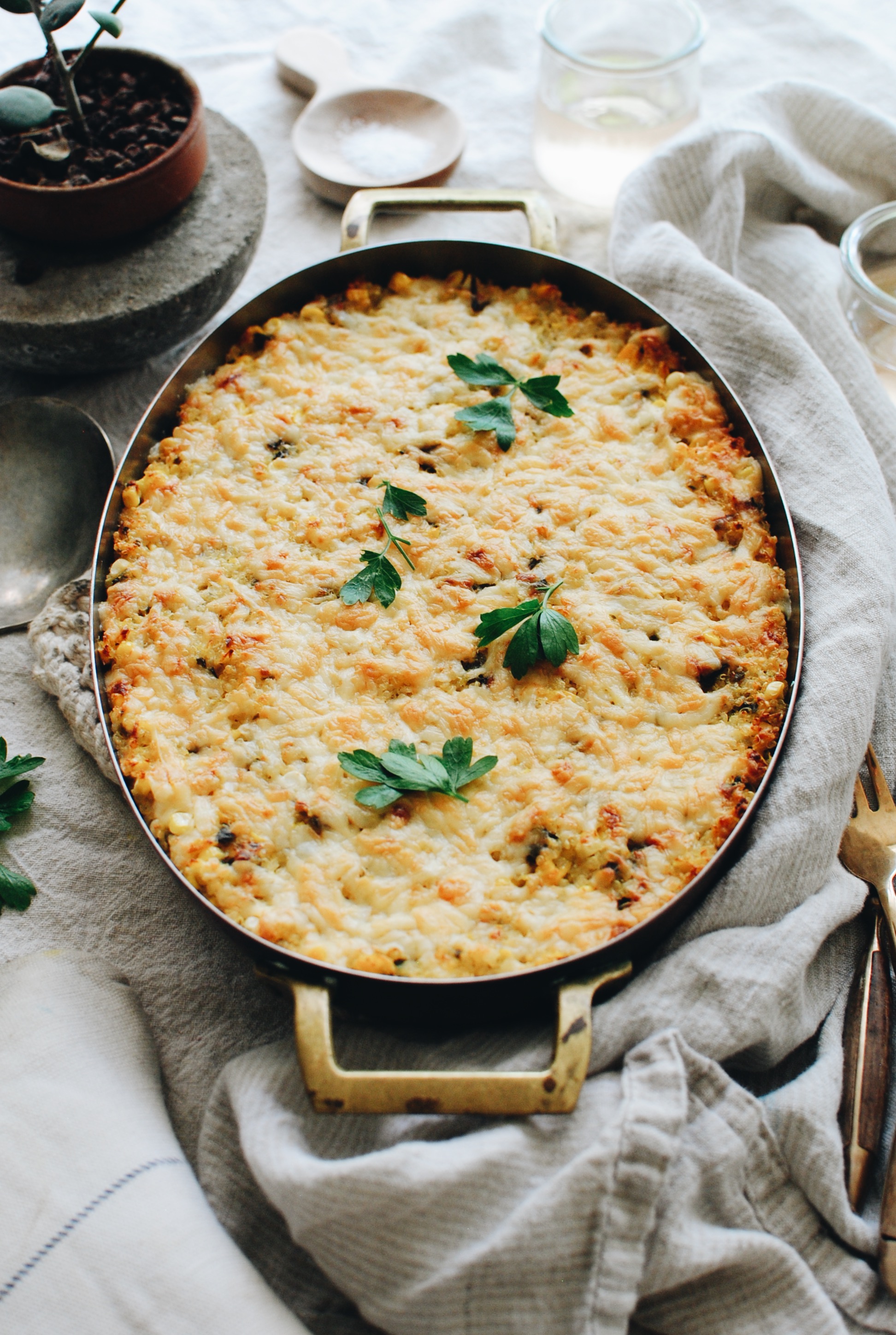 Ha-bam.
Boom.
Ha-boom.
Something.
You can even broil the cheese to get it browned and bubbly on top! This is a good direction for your life to take.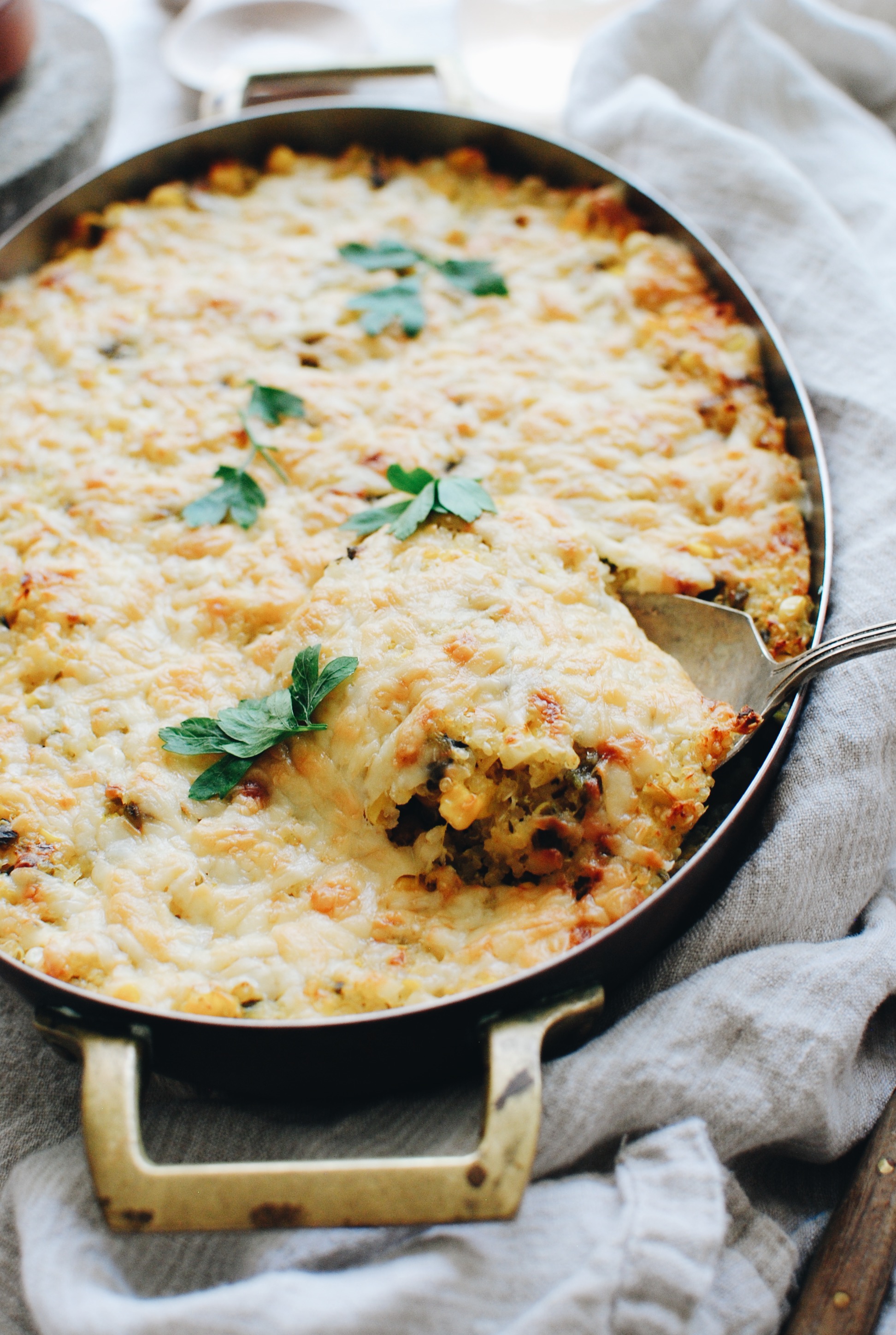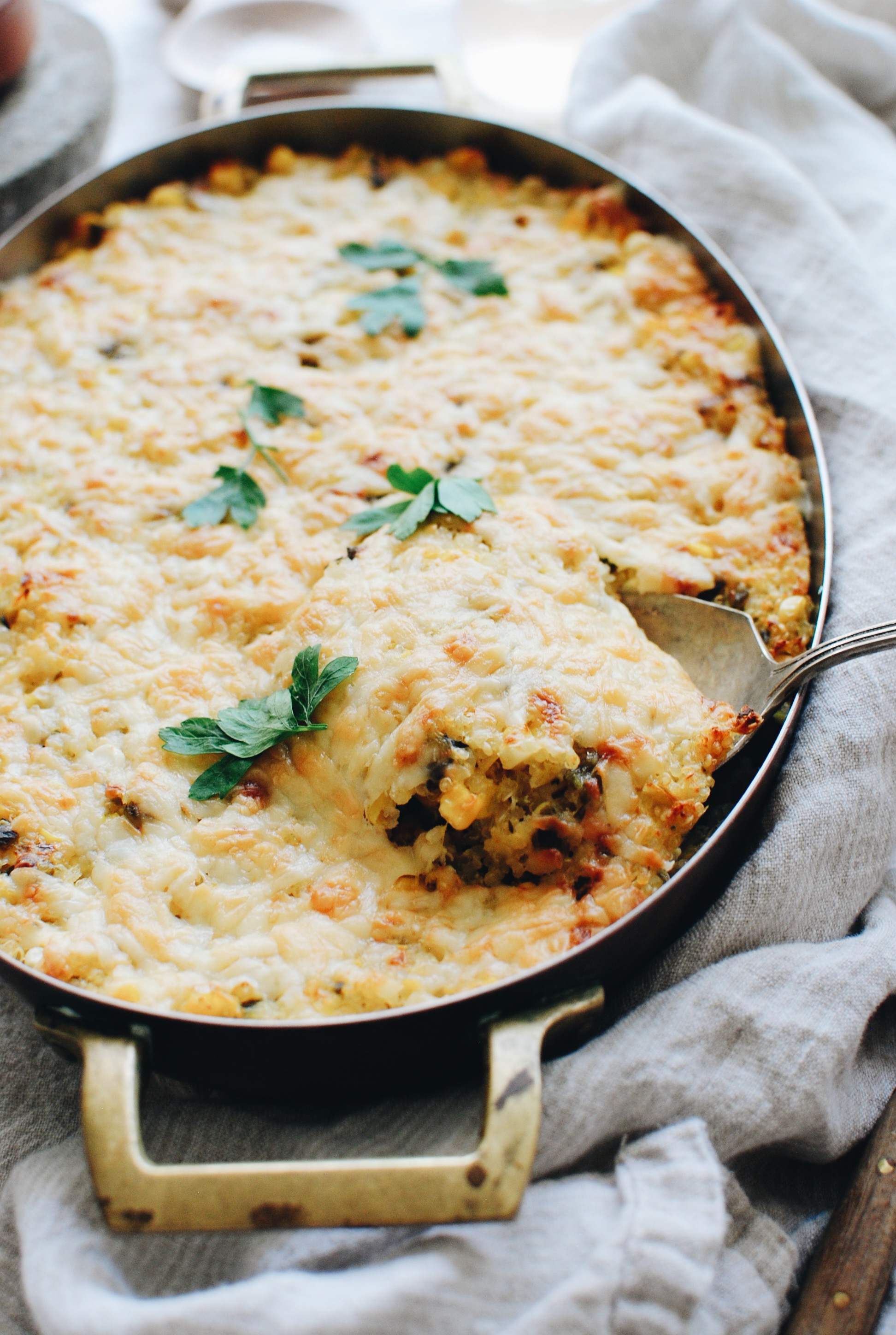 Are you seeing this?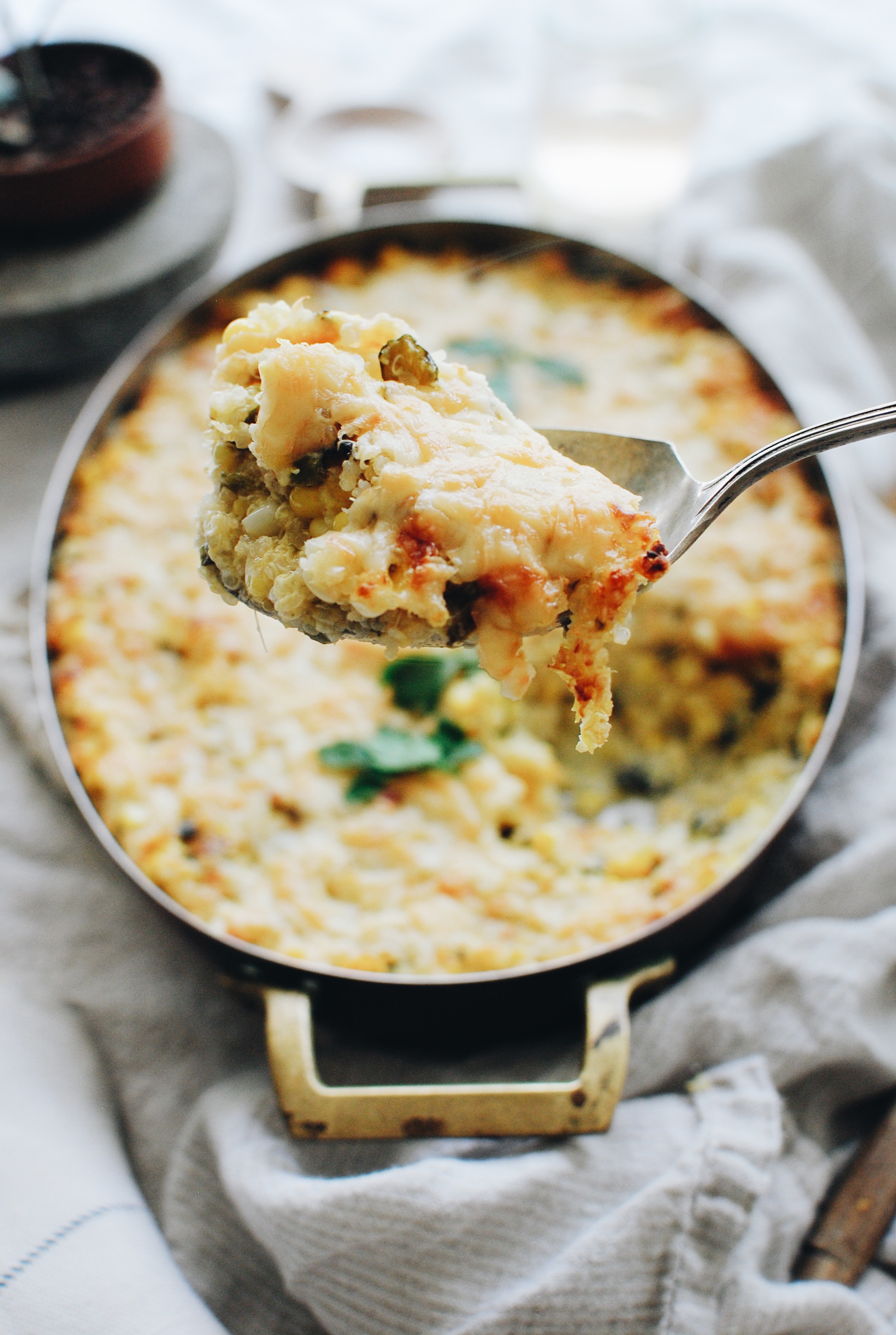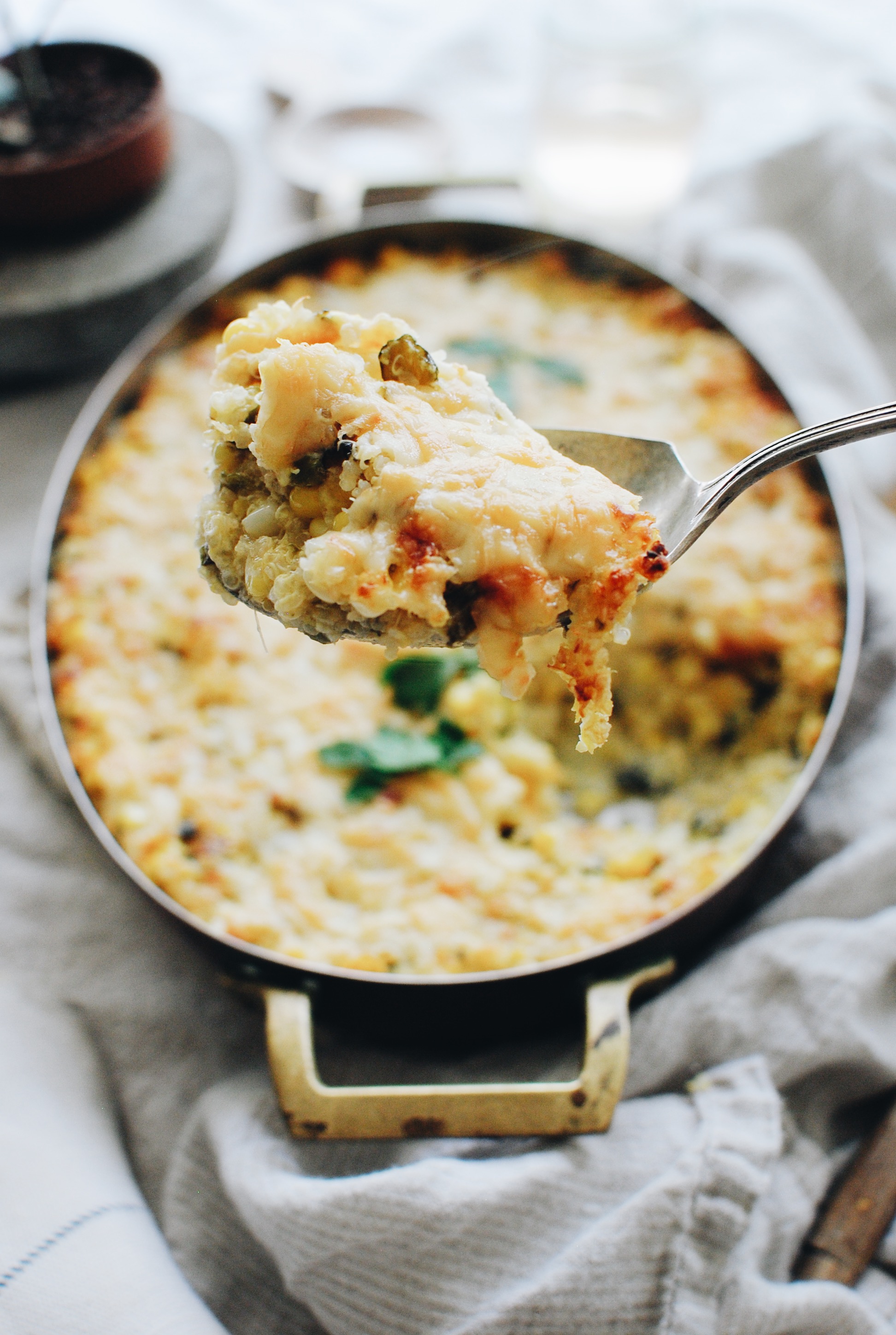 Insanity. The cheese and yogurt and creamed corn really bind up the innards, so that it's not so crumbly and loose, ya know? The roasted peppers add this GORGEOUS kick-in-the-face flavor, but it's not overpowering to the point that you want to scream at something.
And that cheese on top? Girlfriend please.
I ate this as dinner, with nothing else. But it's a fabulous side dish to ANYTHING really. Or a pot luck! Or lunch. Or now.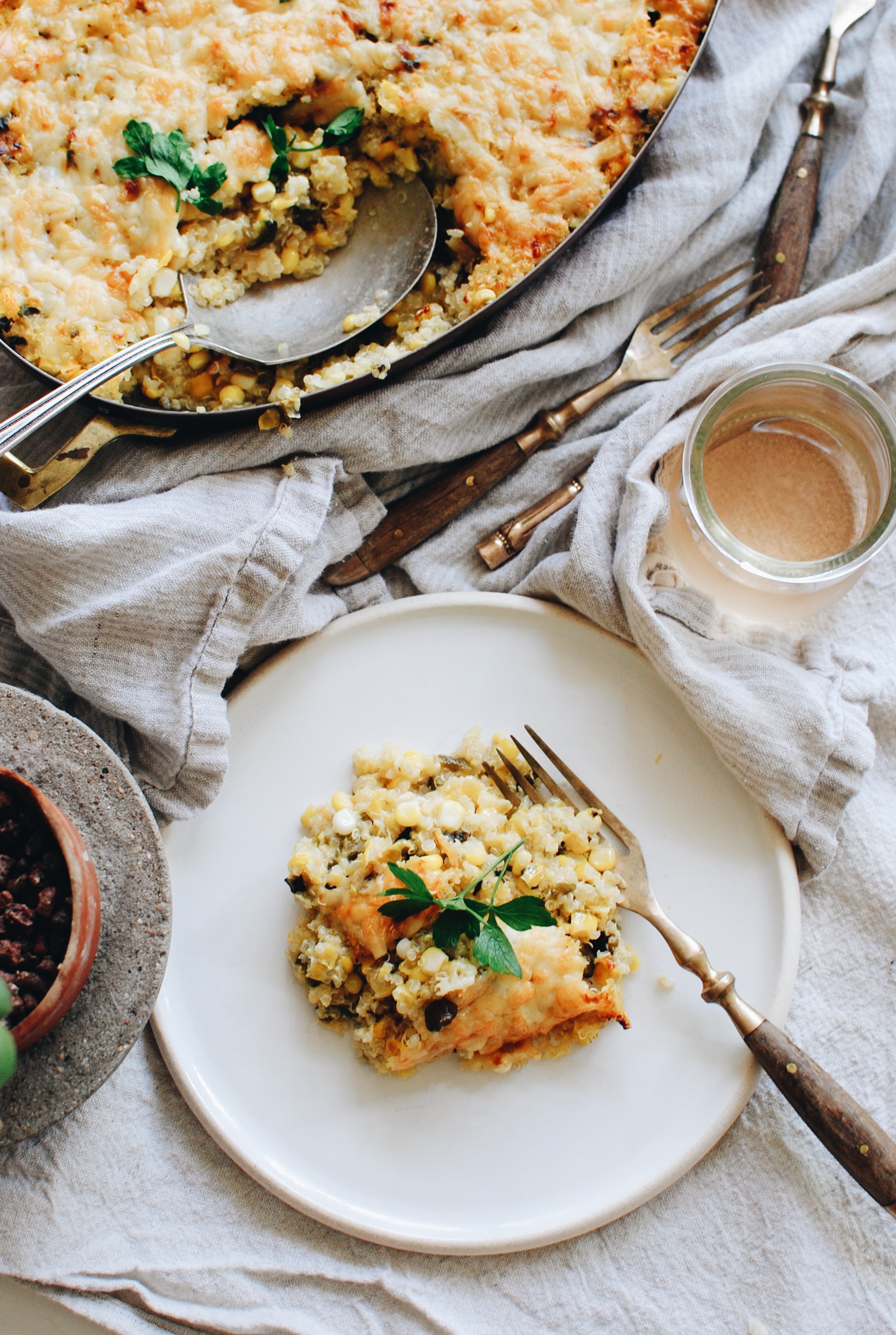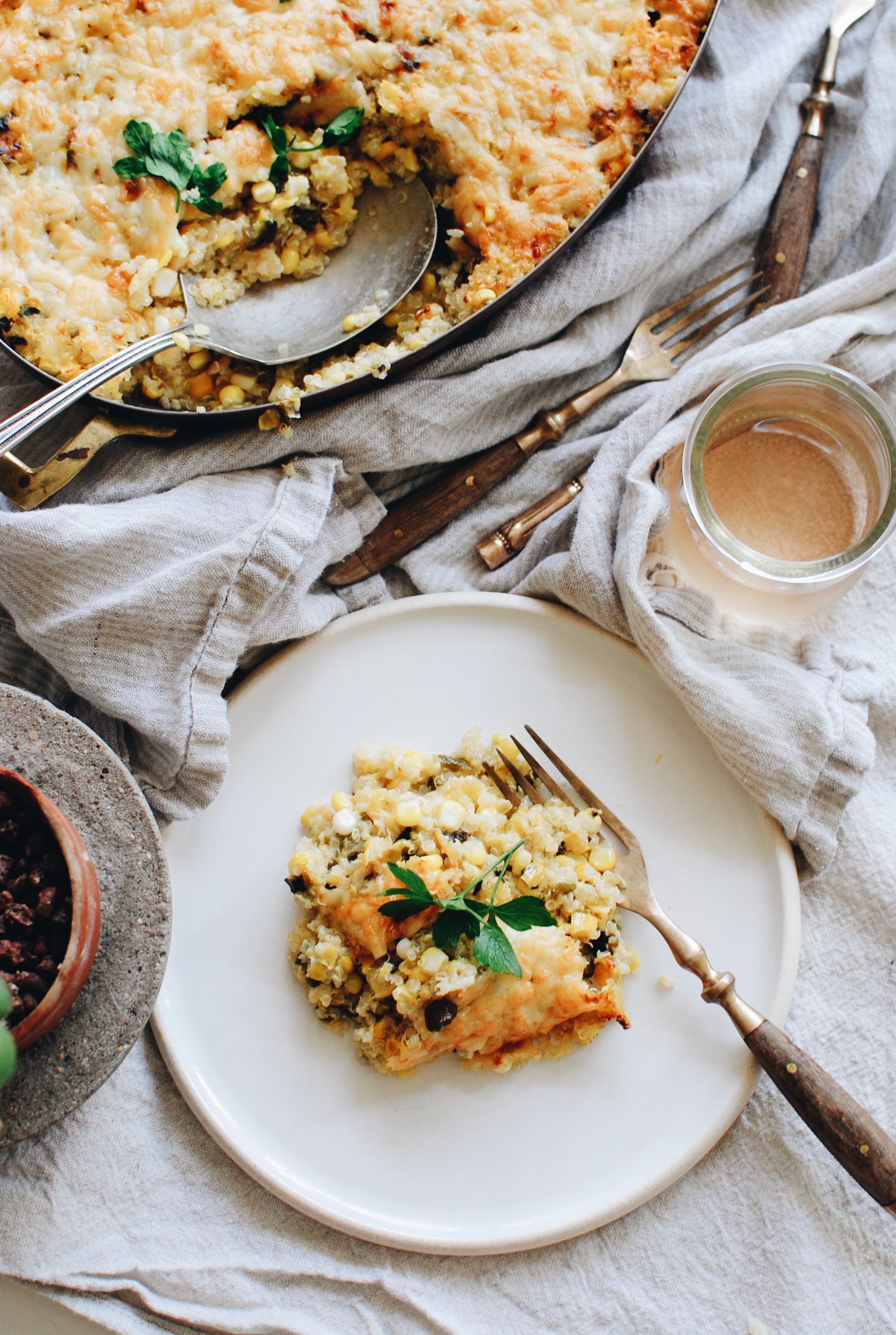 Marry me?
Roasted Poblano Corn and Quinoa Casserole
Ingredients
1 cup quinoa
3 poblano peppers
2 ears fresh corn, kernels sliced off
1 cup Greek yogurt
1 (15 oz) can creamed corn
1 (8 oz) block white cheddar cheese, grated
Pinch of salt
Instructions
Set your broiler to high. Place the peppers on a baking sheet and place them right under the broiler. Char them all over, rotating every few minutes, to blacken them completely. Once blackened all over, transfer them to a plastic baggie and let steam for five minutes, or until slightly cooled. Pull back the skins (they'll come loose easily), along with the stems and seeds, and give the peppers a good chop.
Now flip that oven to 350.
In the meantime, boil your quinoa in a medium pot of salted water, until the spirals open up, 10-15 minutes. Drain the quinoa of excess water.
In a large bowl, combine the cooked quinoa, fresh corn, creamed corn, yogurt, chopped peppers, and a third of the grated cheese. Season with a pinch of salt and stir everything together until fully combined. Transfer to any casserole dish you dig. Anything works here. Sprinkle the remaining cheese on top of the casserole, and bake for 30 minutes. If you want the cheese to be deliciously browned and bubbly, broil the dish for 4 or 5 minutes right at the end.
Serve immediately, if you can even handle it.
Serves 4-6, as a side!
7.8.1.2
178
https://bevcooks.com/2018/09/roasted-poblano-corn-and-quinoa-casserole/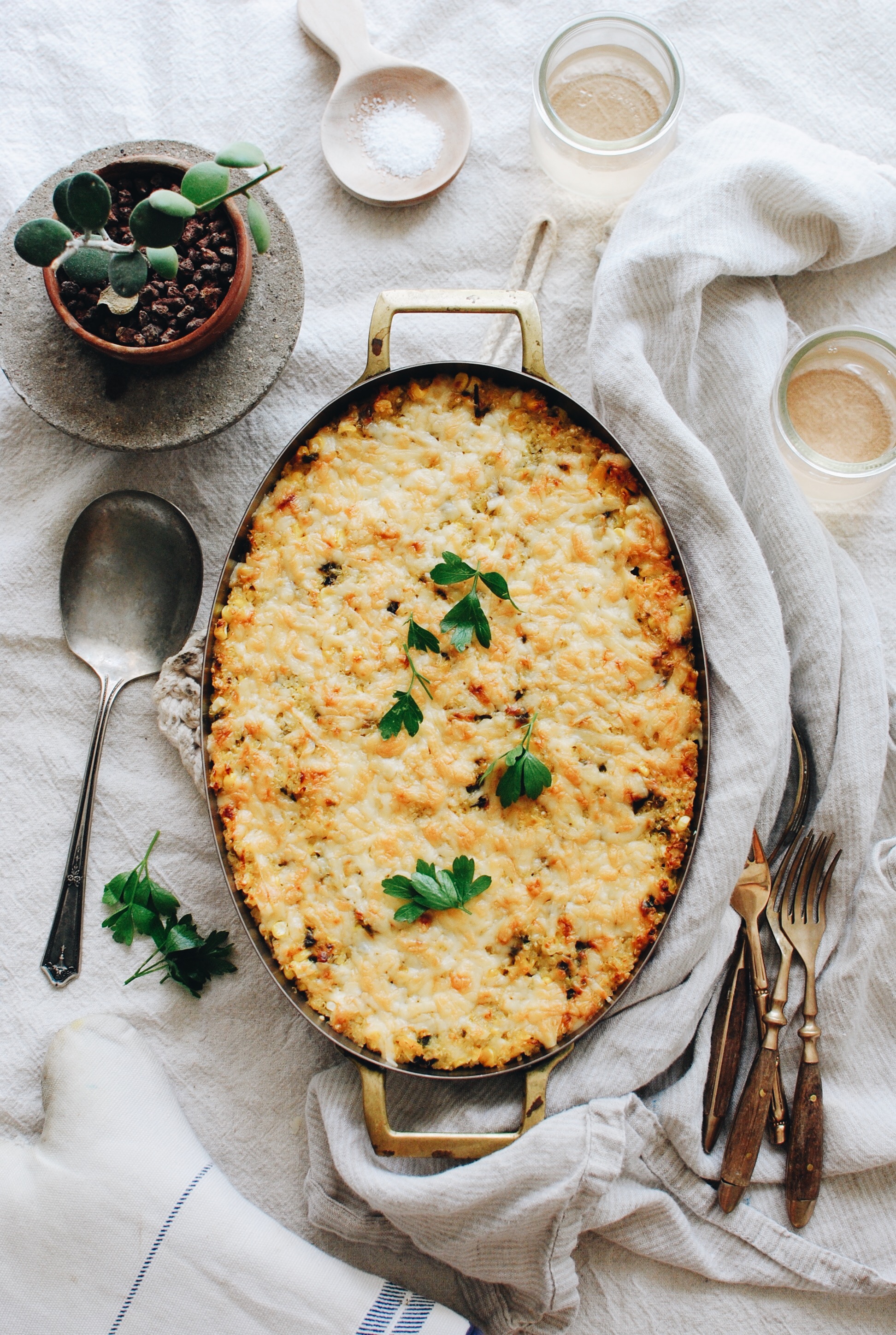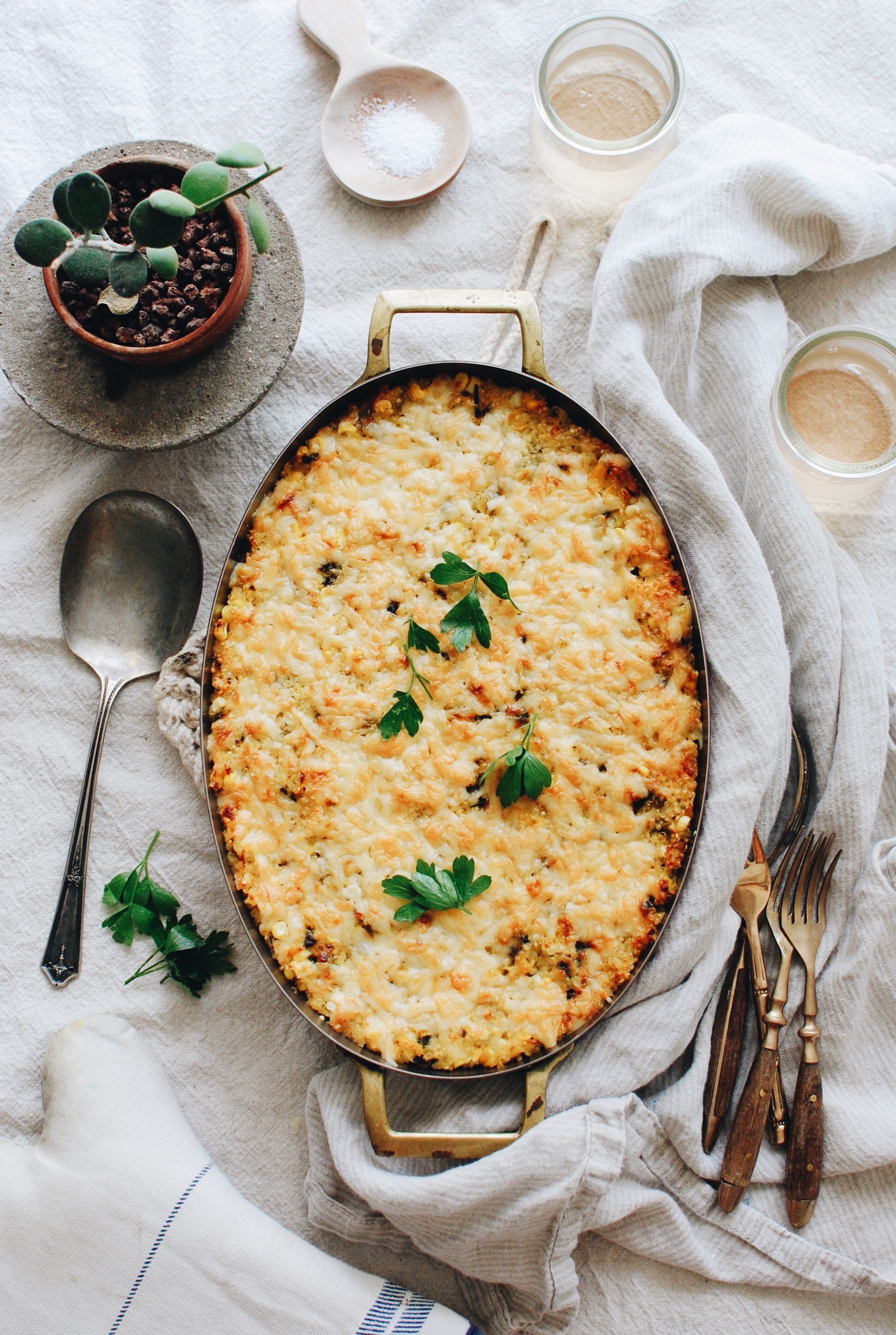 I do.