AS IN, I BAKED A MUFFIN.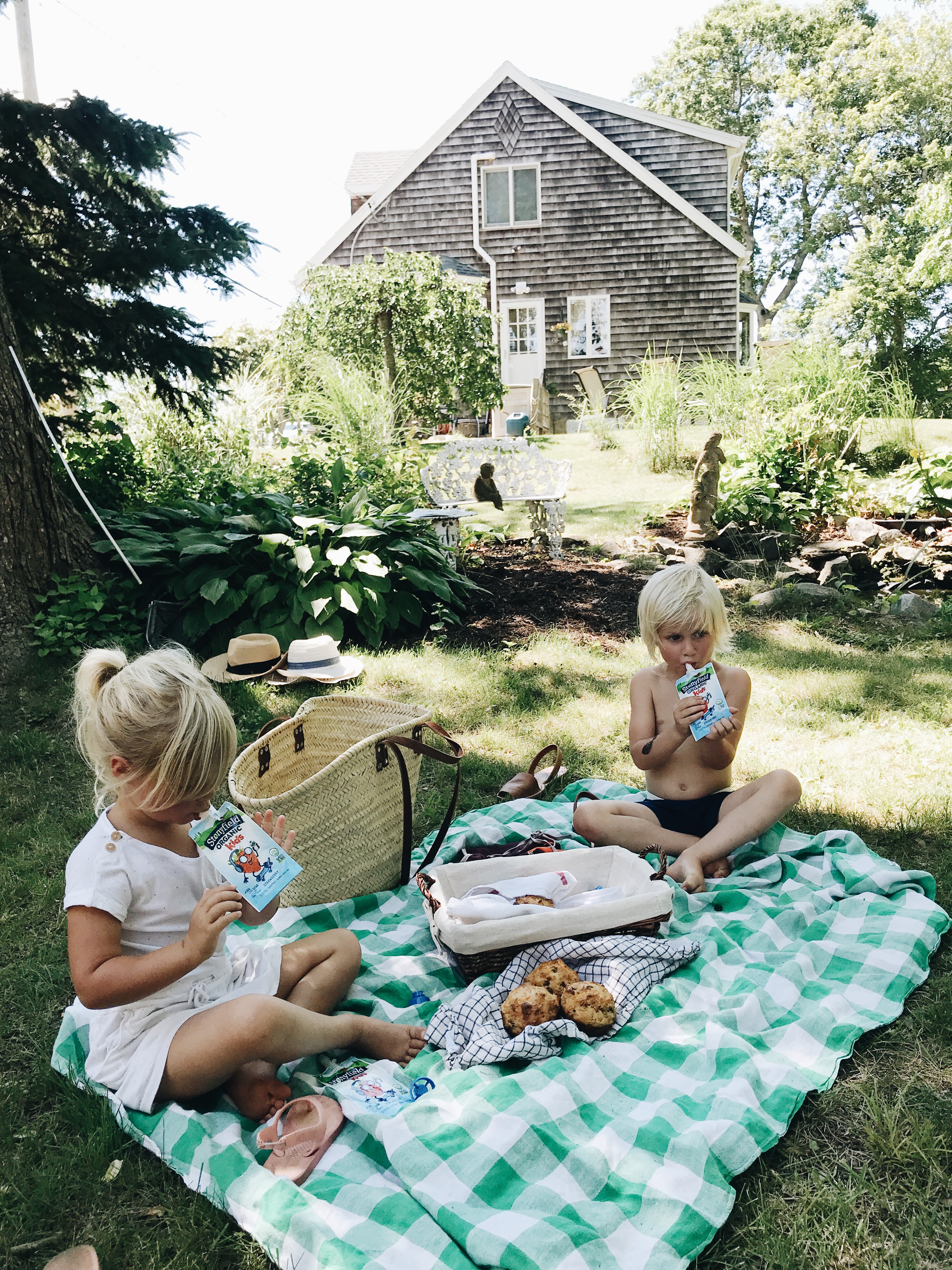 There is one thing I have surely learned on this month-long relocation. (BESIDES ALL THE THINGS)
And I knew it and practiced it before, but it is now so ingrained in my day-to-day, small-humans-all-around-me-all-the time-so-help-me-God life.
SNACKS. Have snacks. Have so many snacks. Snacks on the counter, snacks in my purse, snacks in my shoes, snacks in my backpacks, snacks in their backpacks, snacks in their faces ALL THE TIME.
Soooo I got all rebellious last week and made MUFFINS. But like, anytime muffins. On-the-go style. They're not super breakfast-y. They're the kind you bake, then stick in a cute basket and take to a picnic on a beach or next to a pond because EVERYTHING IS SO STINKIN' PICTURE PERFECT IN NEW ENGLAND.
I'm fine.
Let's talk about these muffins.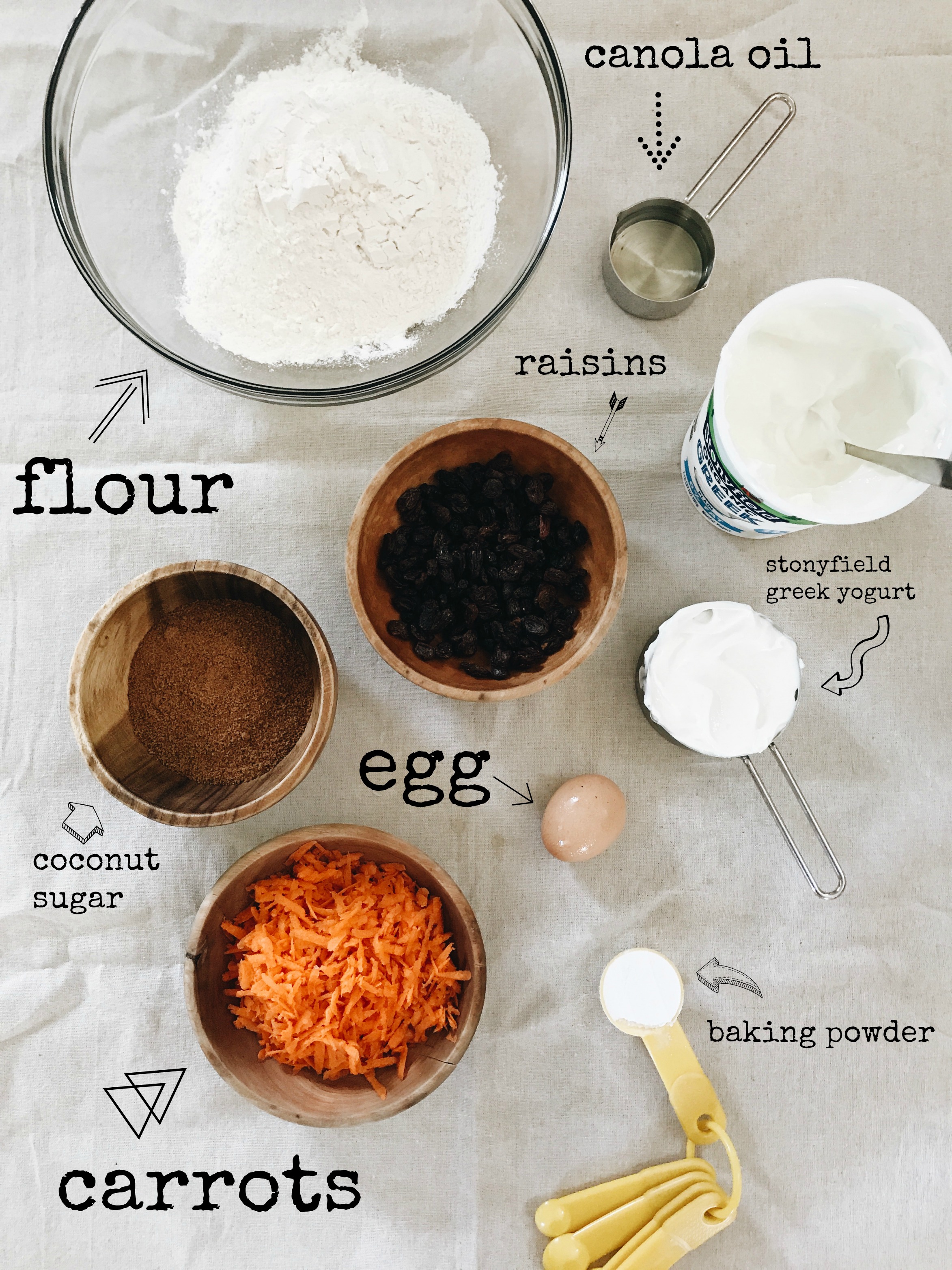 Very straightforward. Because you know me, I don't bake. So this had to be easy to understand, no wonky ingredients, and I wanted Stonyfield Greek yogurt in it for that taaaaang, man.
Also! I used coconut sugar in these, but you can swap in regular sugar if you want. I dig the coconut sugar because it's more mellow in flavor, and a little healthier than regular sugar, but make your life good! Use what ya fancy.
Also, carrots. HASHTAG HAYELTH.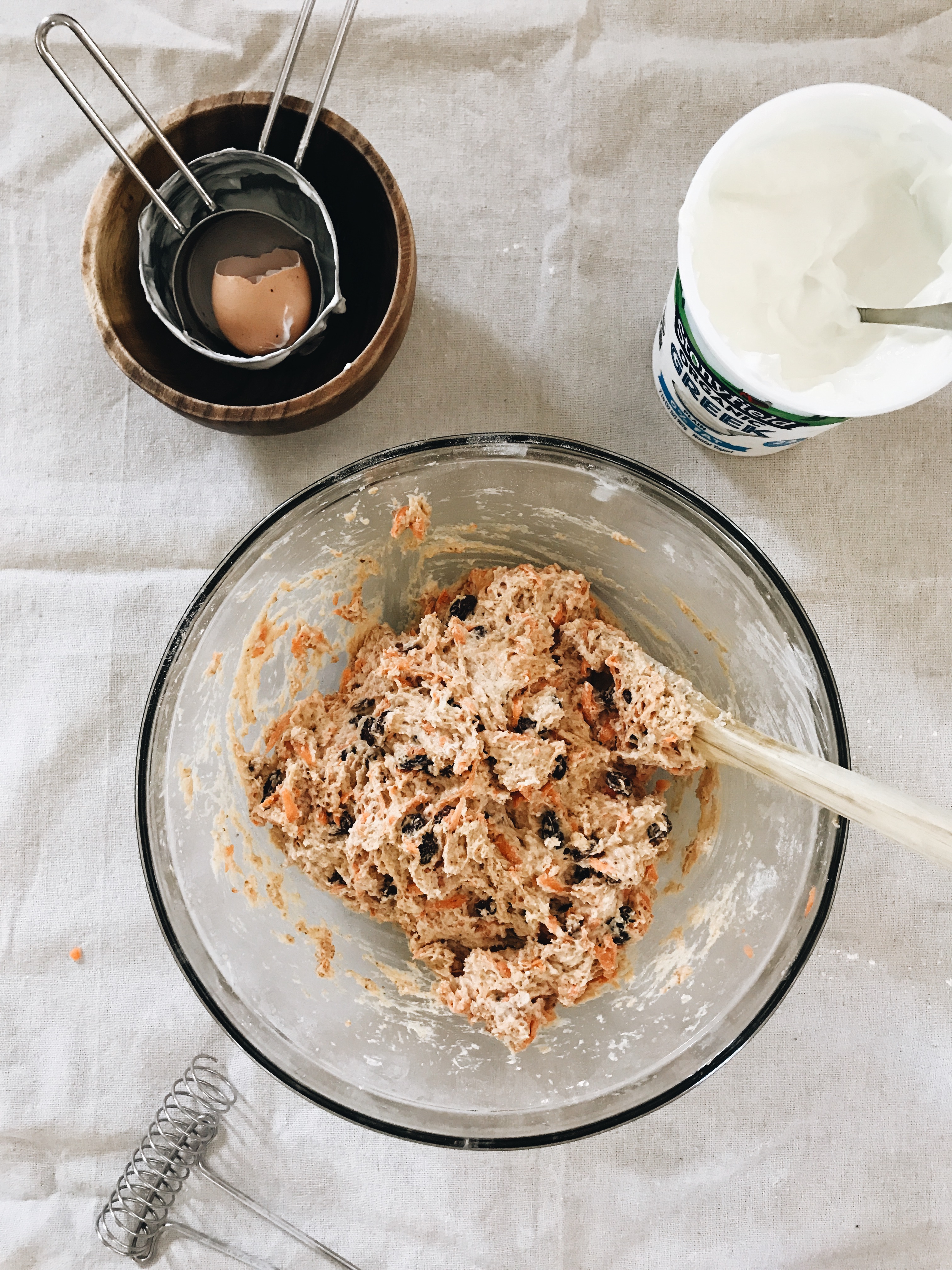 Crazy easy. Mix the dry ingredients. Mix the wet. Add the wet to the dry, yadda yadda YADDA.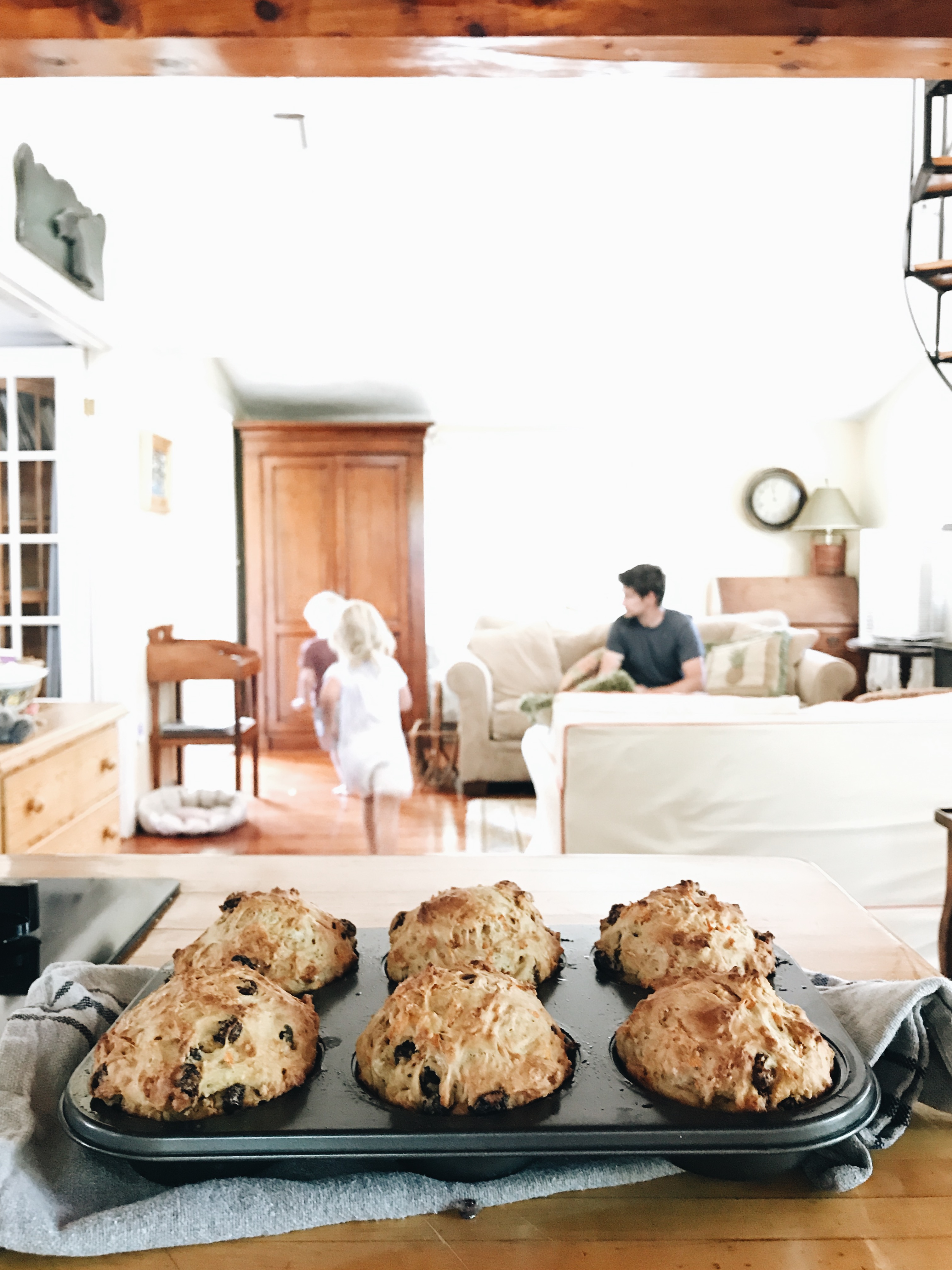 About thirty minutes later aaaaand, look at those little crests and peaks!
We should start a band called Crests and Peaks. (You're like, "Let's not and say we did.")
Also – I didn't have those paper muffin liner thingies, so I just poured a tiny bit of canola AWL in each cup and swirled it around. Worked like a freakin' dream.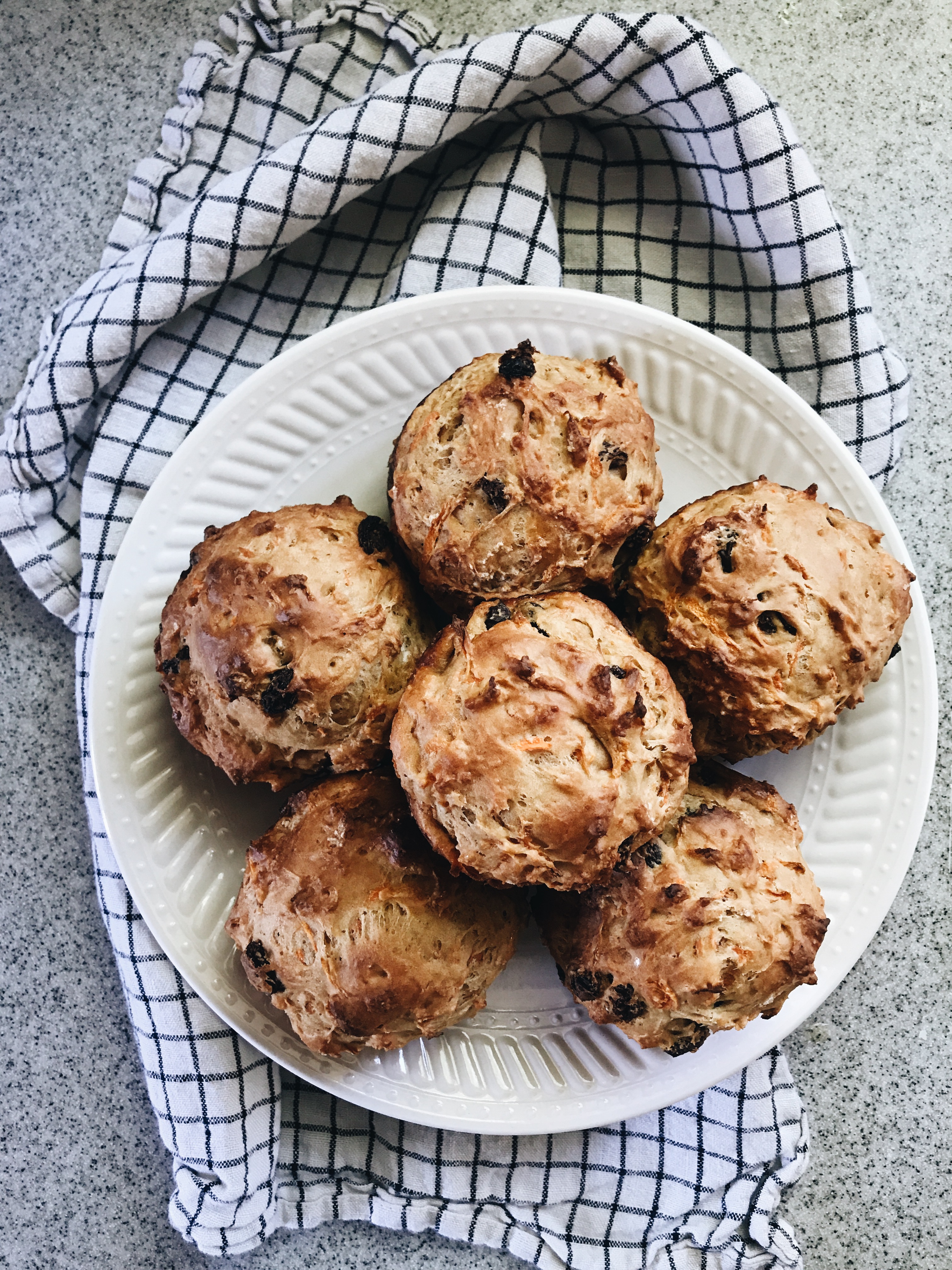 GUHHH.
The raisins add little pockets of sweet here and there, the carrots add a delicious, delicate moisture (sorry), and Stonyfield's Greek yogurt adds this gorgeous subtle tang that takes these straight to 11. (<–name that movie.)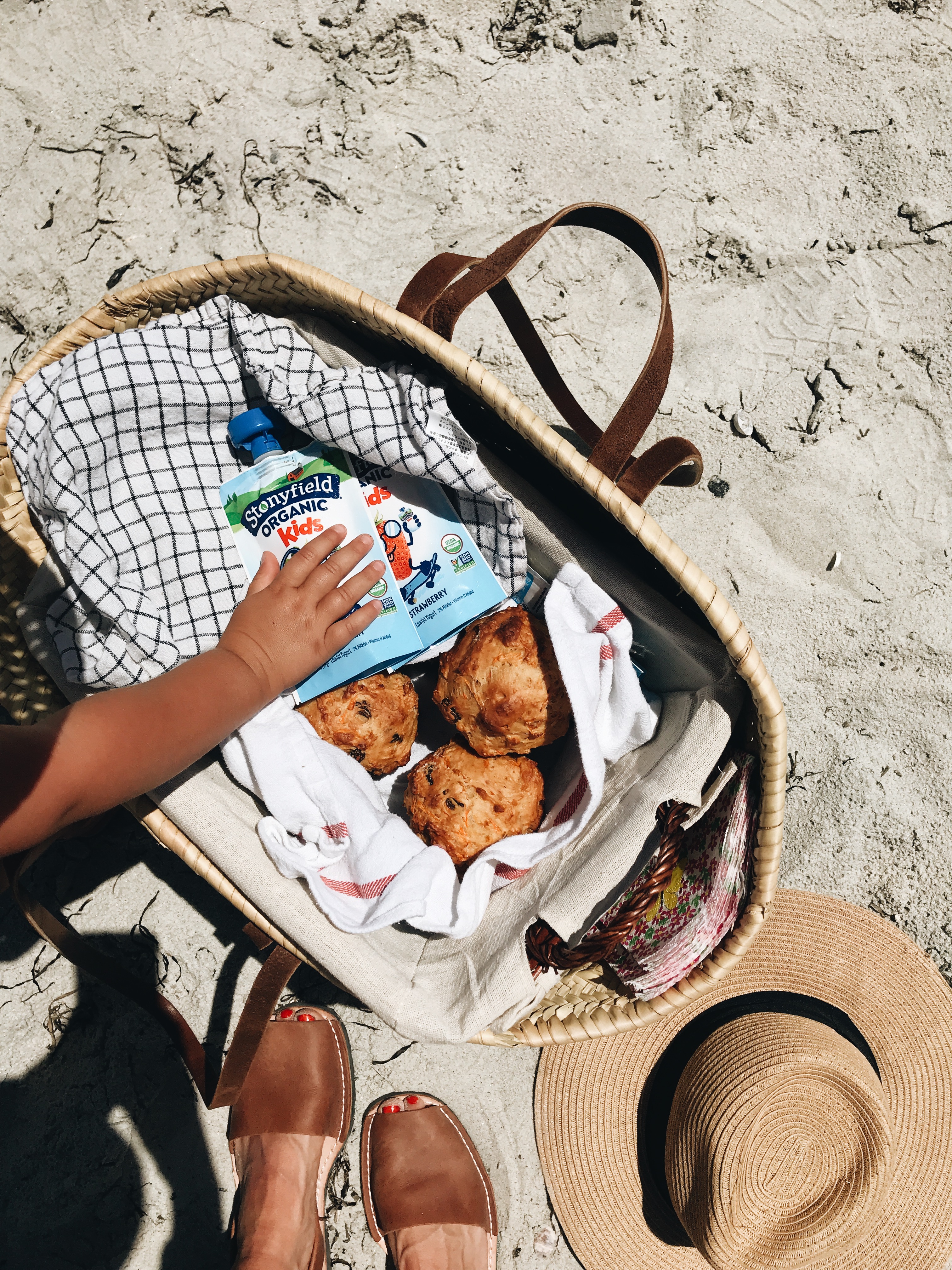 OKAY SO, they wanted to picnic on the beach. So we walked all around Lord's Point, looking for the perfect spot to squat. (I MEAN SIT DOWN, you weirdos.) Except, as soon as we found a sunny space, Will complained that it was too hot and that he desperately needed shade.
So I said, "I know, dude. We need an umbrella, don't we?"
Then Nat laughed and said, "MOM'S WHITE UMBRELLA WOULD NOOOOOT WORK HAHAHAHAHAAH."
And I go, "What? Oh. Because it's a rain umbrella. Right. Smarty pants face."
So we trecked back home and had a little picnic in our little quaint back yard by a little kiddie pool and the little pond WITH A NOT-SO-LITTLE BULL FROG IN IT. But I was okay.
At a distance.
Far away.
Like, way down the road.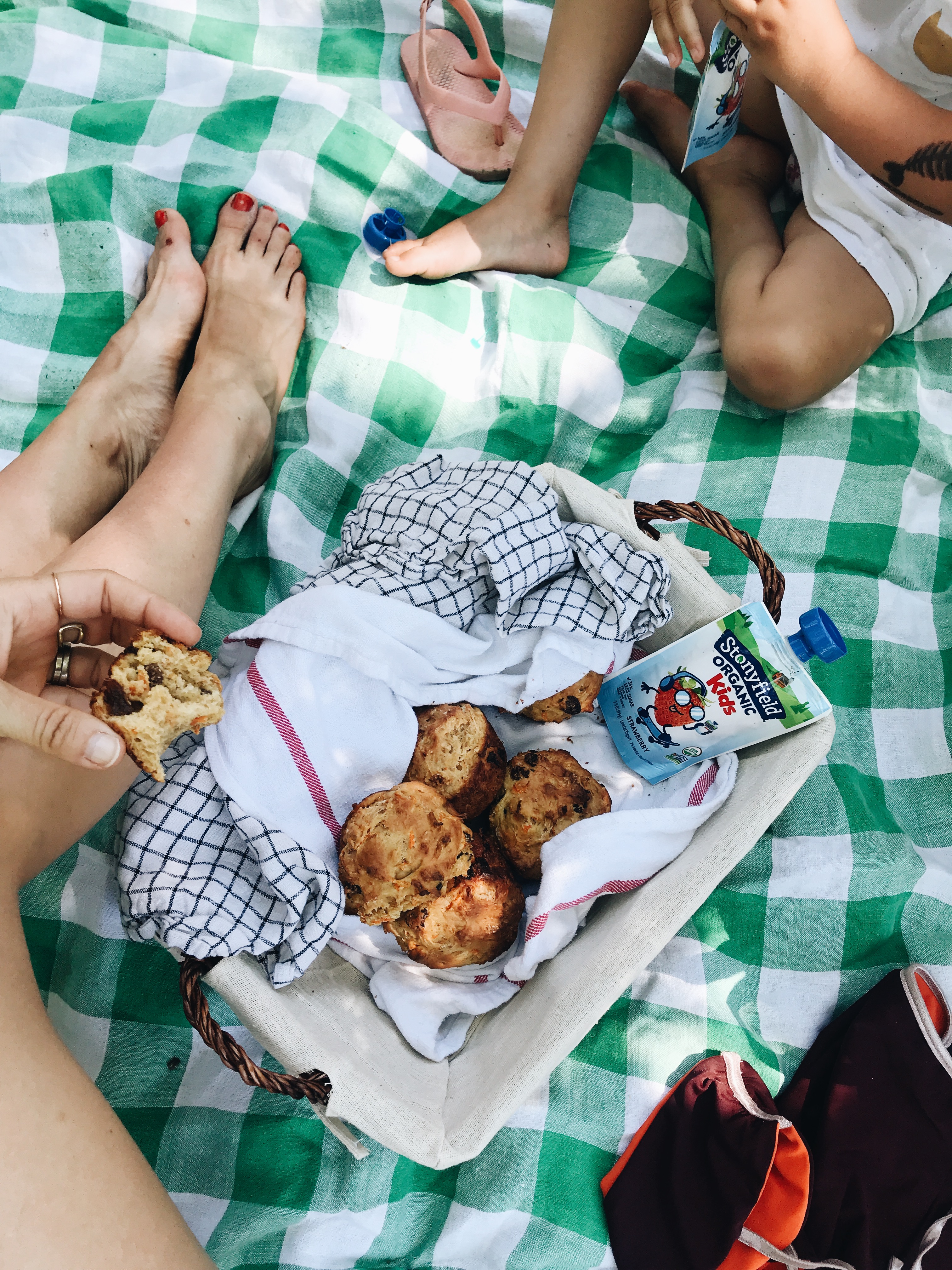 Pair these with any Stonyfield organic yogurt pouch and it's kind of like you've solved all of life's mysteries.
Or at least, the mystery of your gremlin's gnarly grumbling gut.
And that's enough for today.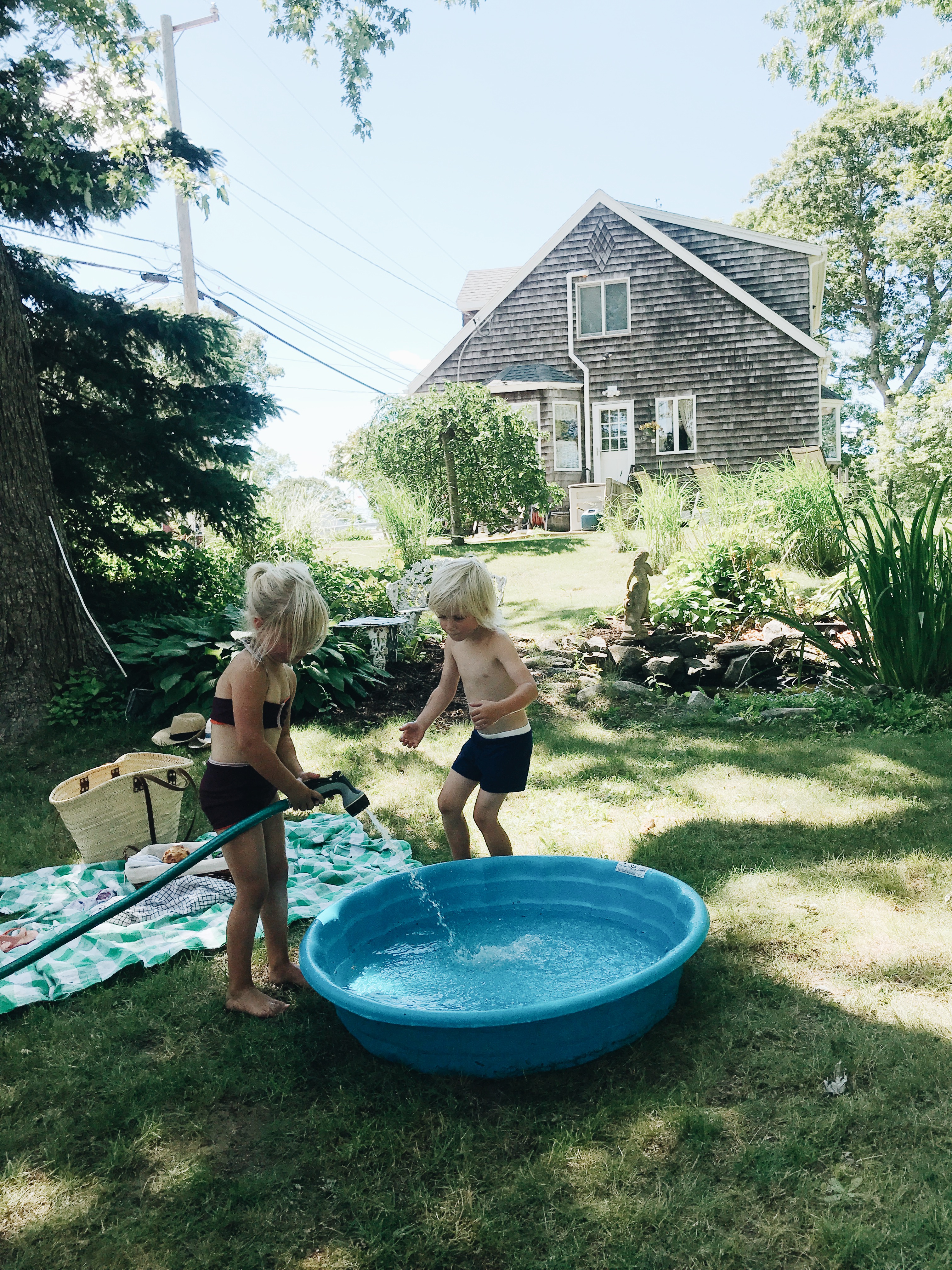 Recipe is Bevified from this one! (sorry I just said Bevified.)
Anytime Yogurt Carrot Muffins
Ingredients
2 cups all-purpose flour
1/2 cup coconut sugar (regular sugar is fine)
1 Tbs. baking powder
1 pinch coarse salt
1 cup Stonyfield organic Greek yogurt
1 cup grated carrots (from 2 medium carrots)
3 raisin packets
1/4 cup canola oil
1 egg
Instructions
Preheat your oven to 400.
Coat a muffin tin with a little bit of canola oil, or use muffin liners.
In a large mixing bowl, mix together the flour, sugar, baking powder and pinch of salt.
In another mixing bowl, stir together the Greek yogurt, grated carrots, raisins, canola oil and egg. Once the wet ingredients are pretty incorporated, pour them into the bowl with the dry ingredients. Stir together, using a wooden spoon, until just incorporated. But not TOO too much.
Then evenly divide the mix among six muffin cups, and bake for 20 to 30 minutes, until the tops are puffed and golden brown.
Let rest for a few minutes, then pop them out and eat as you want! Which is obviously now.
Makes six big muffins, or 12 tiny ones. Depending on the size of your cups. Which came out wrong.
7.8.1.2
165
https://bevcooks.com/2018/06/anytime-yogurt-carrot-muffins/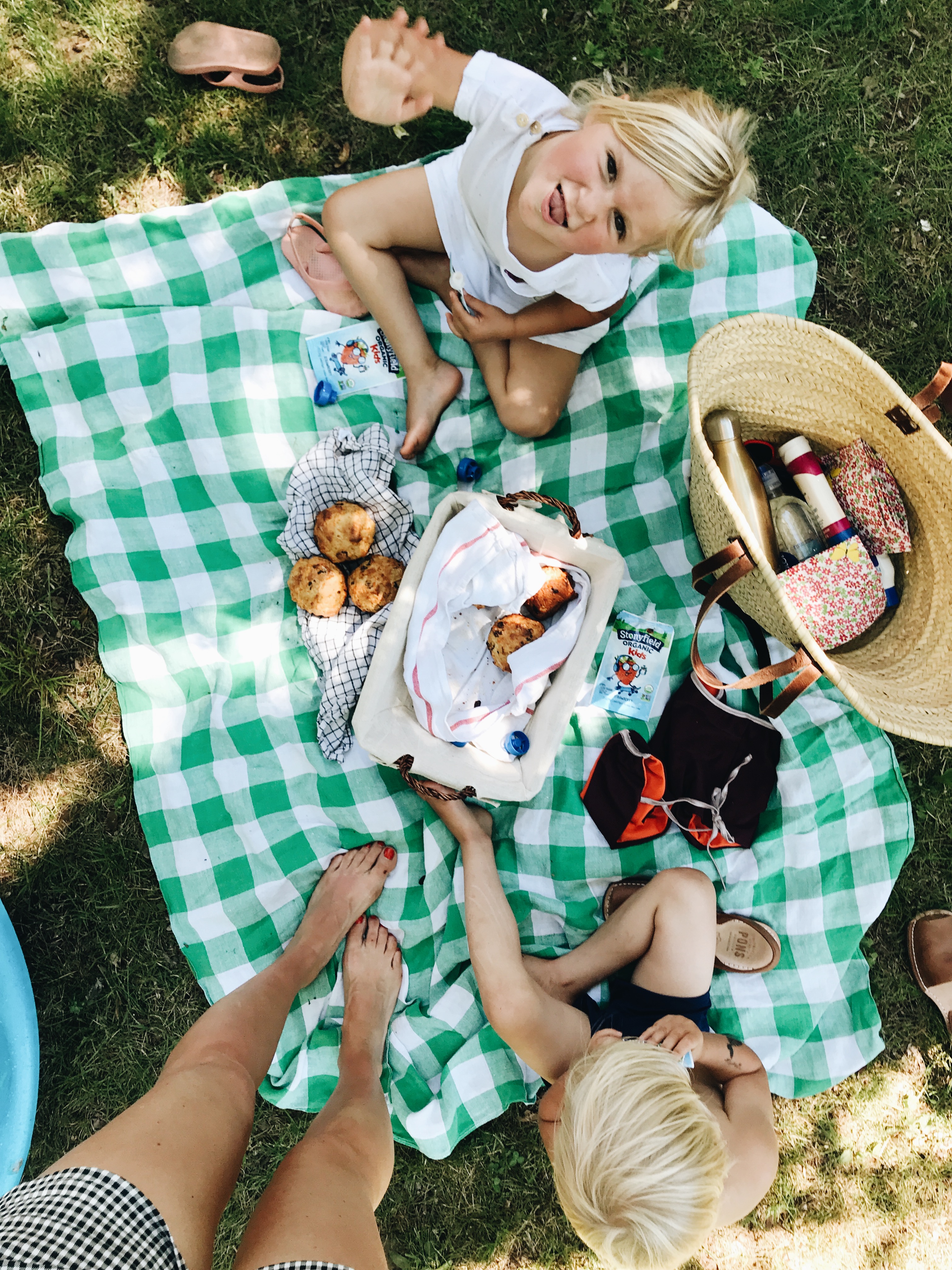 Toe blisters sold separately.
(This post is definitely in partnership with Stonyfield Organic Yogurt. But all ramblings and yogurt slurpings are totally my own. We coo?)