And by part four I mean WEEK THREE. Don't hate me.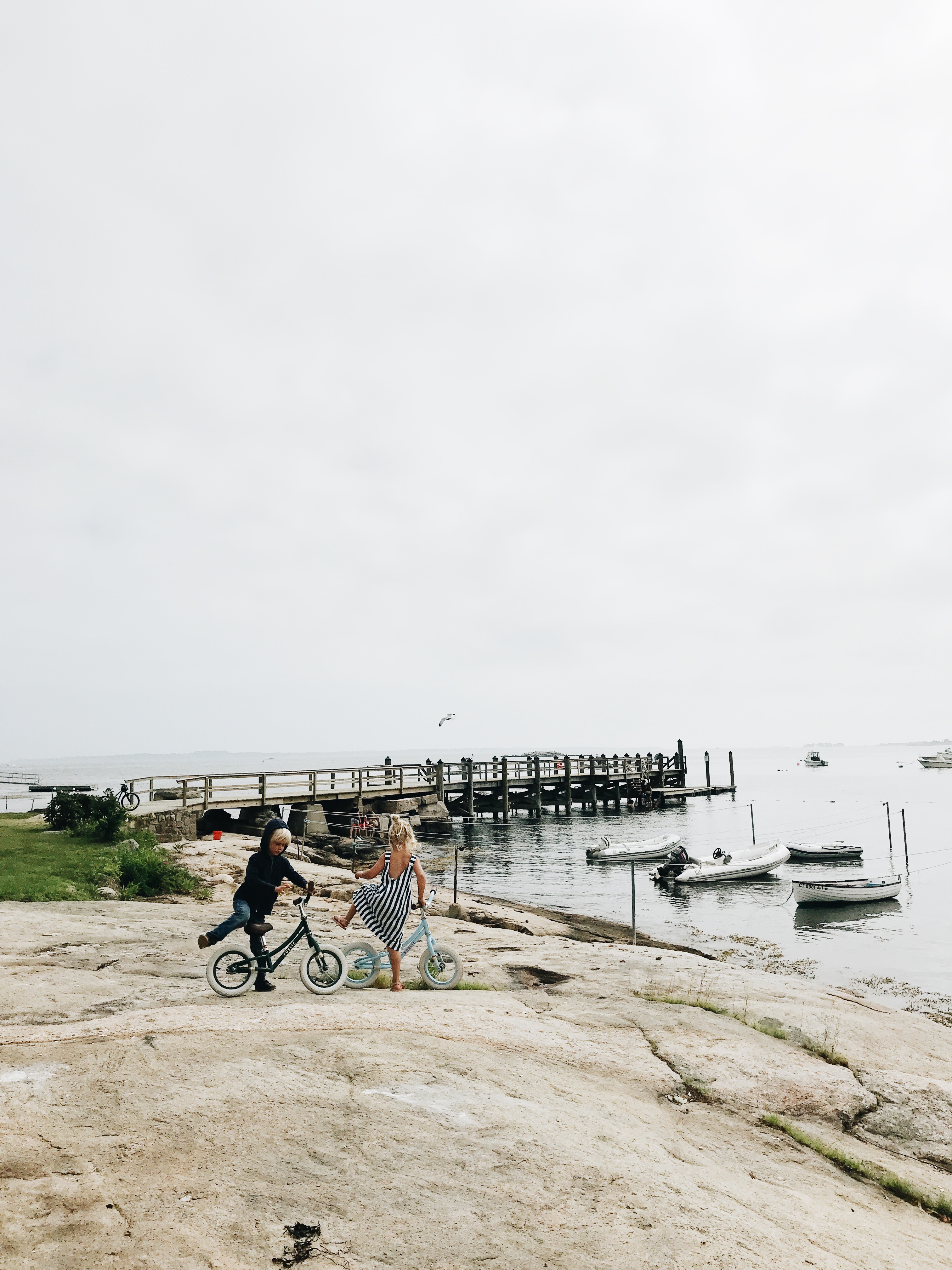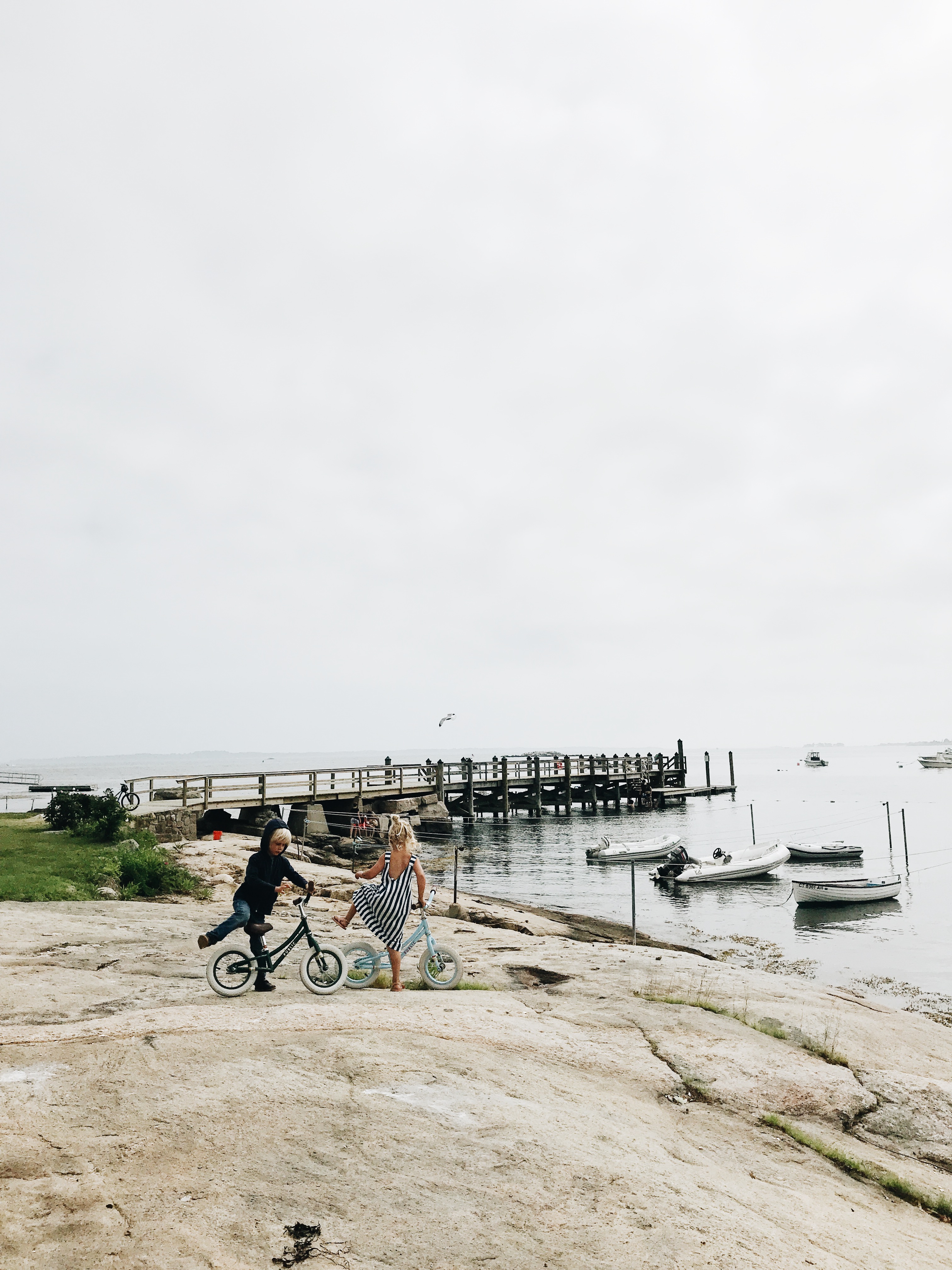 And let me warn you now. This is a MONSTROUS post. With a LOT of boats. Like, so many boats. And a train!
But more boats. And Will basically wears this navy blue hoodie in almost every single photo because BOY LIKES ROUTINE. But you should know he does have other clothing that he ignores.
Okay. Let's go.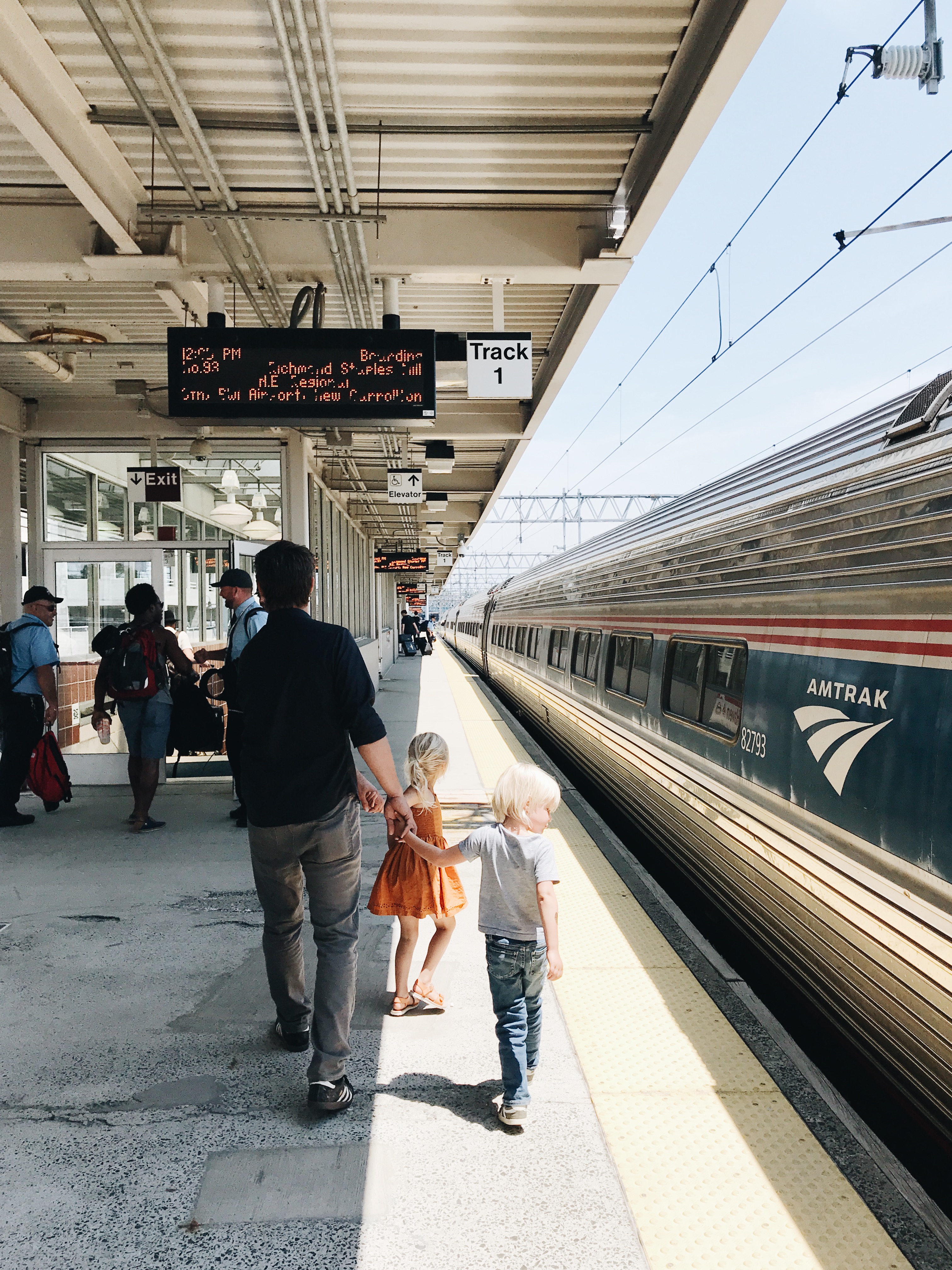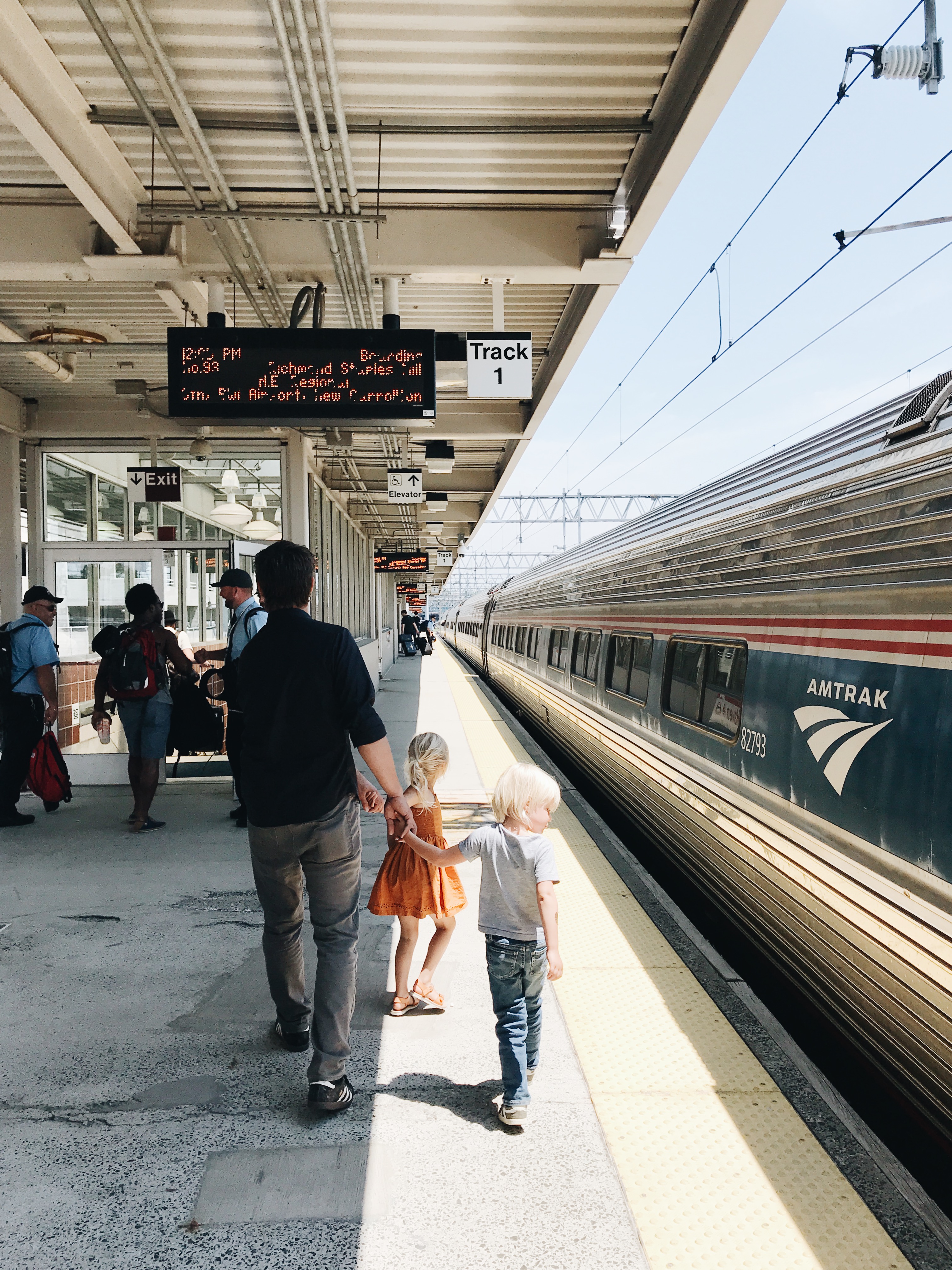 On Monday, we ate through three pears.
Wait, that's not it.
On Monday, we took a train trip! Hopped on the good ol' Amtrak in Westerly, which is like 10 minutes from here (EVERYTHING IS SO CLOSE HERE), and headed slightly west to New Haven. For PIZZA.
Famous pizza.
Because pizza.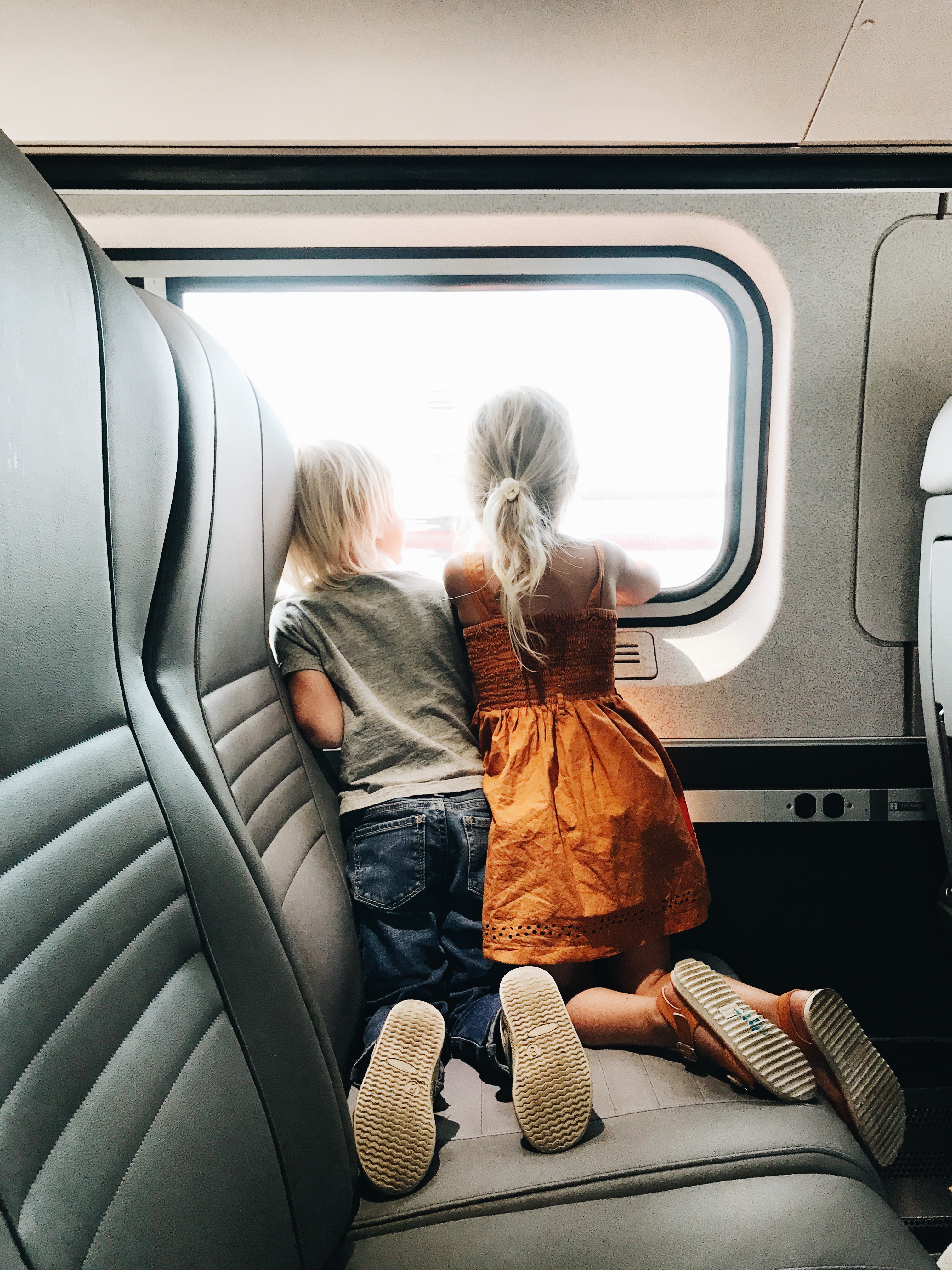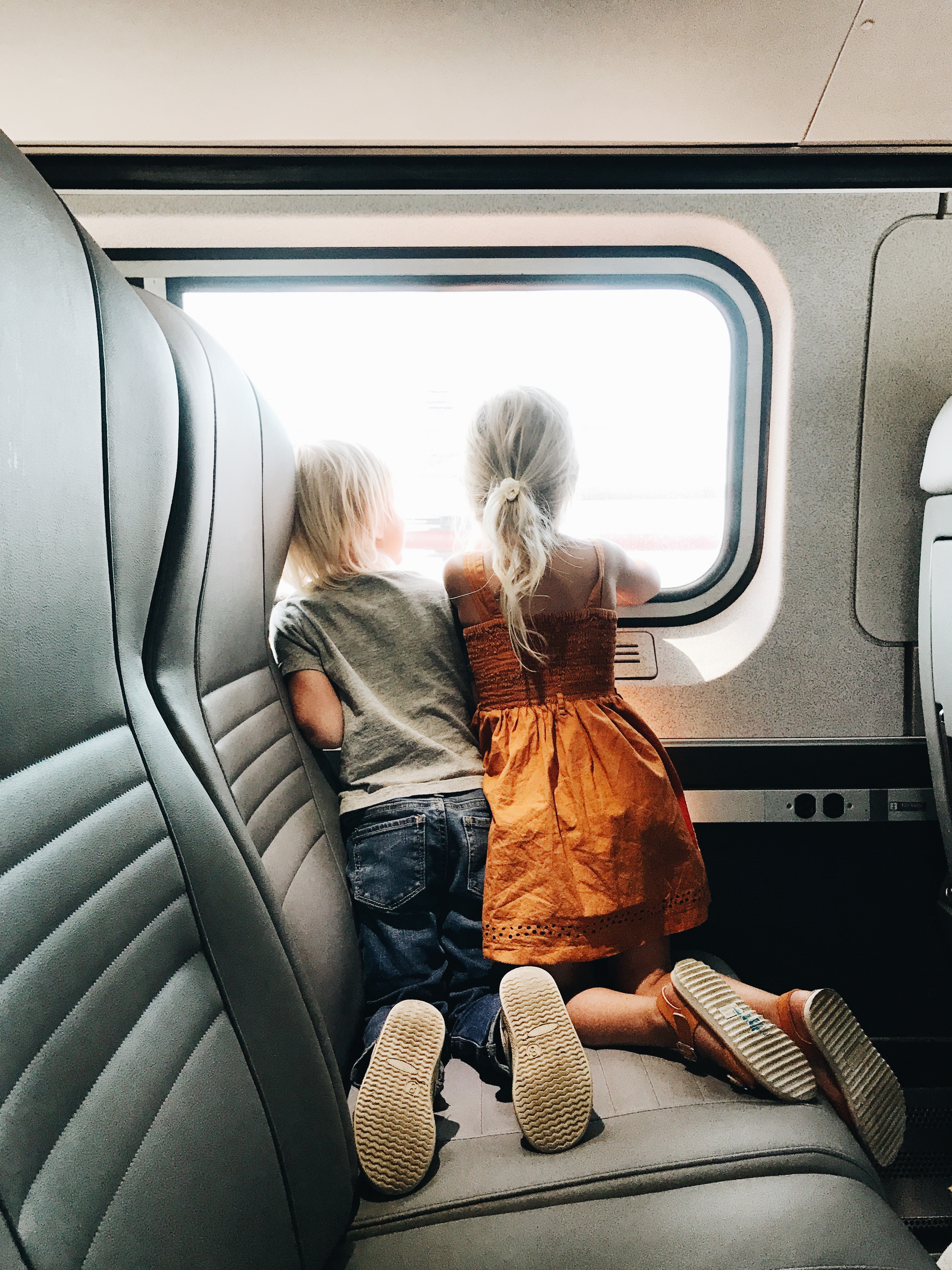 This was the grems' very first time on a train, and they. were. in. heaven. The whole world speeding by right outside their window, but at a smooth, relaxing pace. You know I like a good train.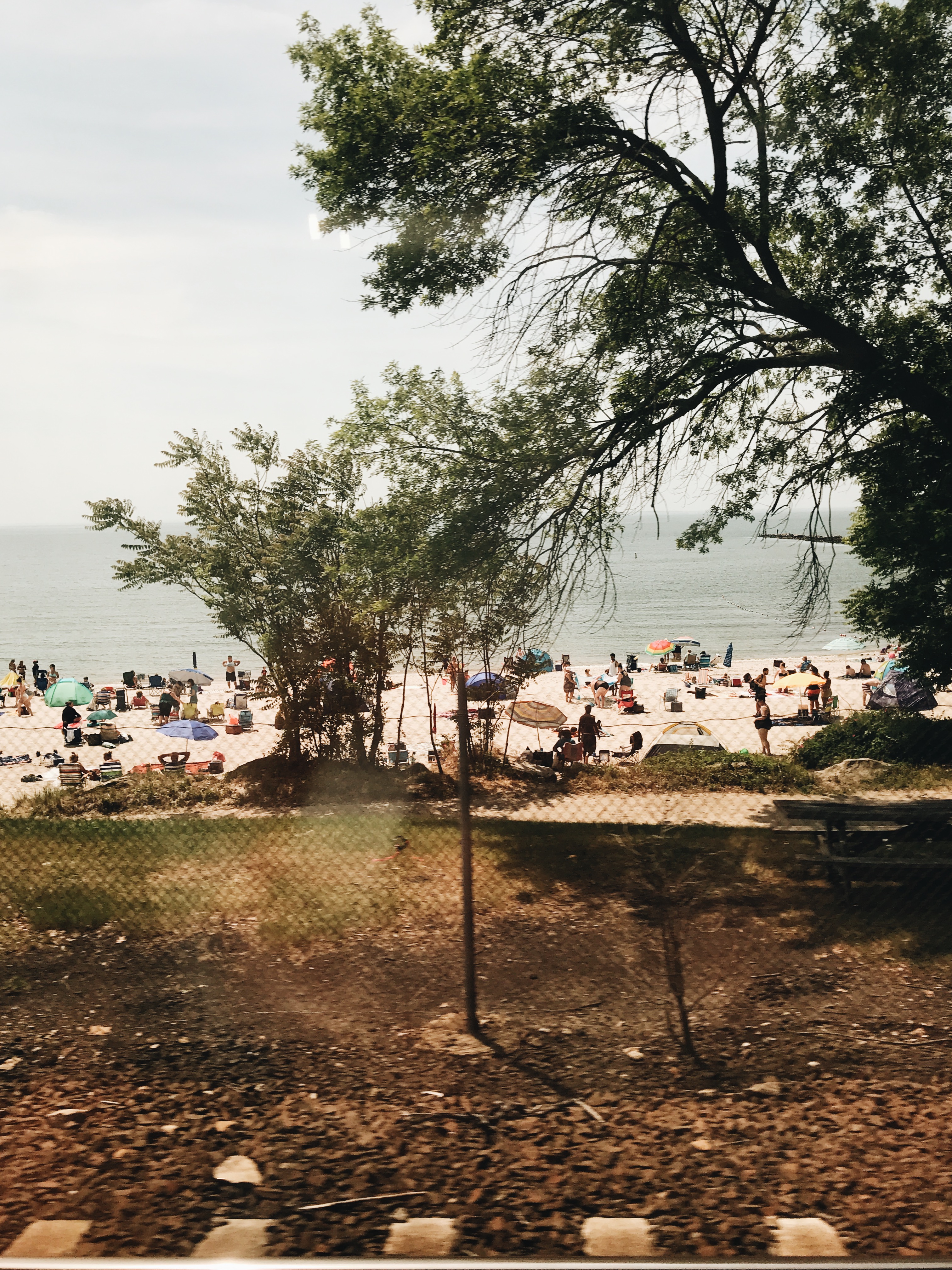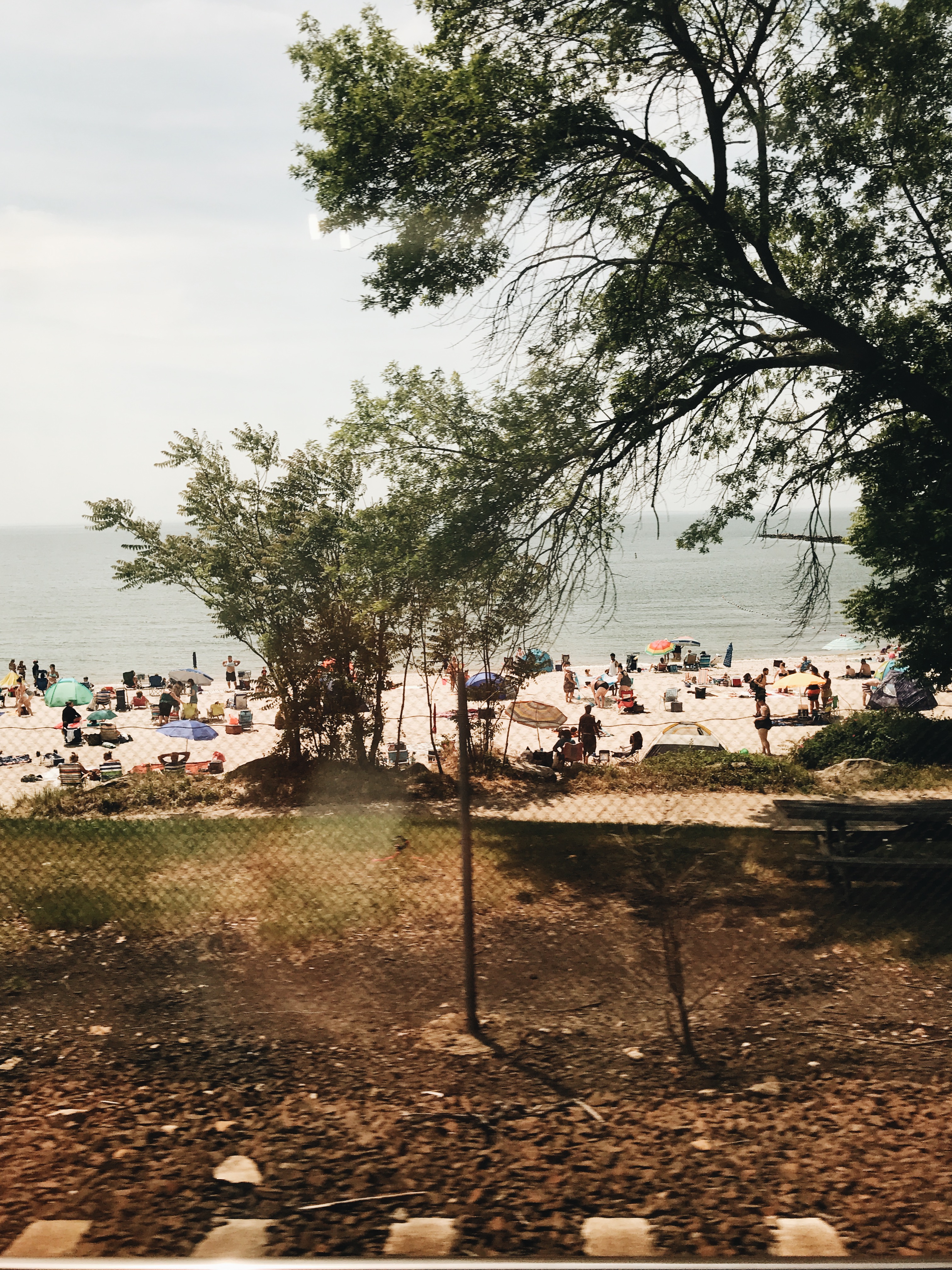 This was my window train view for a hot second! Something about the vintage, muted brownish tones in this photo (that were there even before editing) makes me feel like this is a beach scene right out of 1954. So I had to show you.
Okay bye.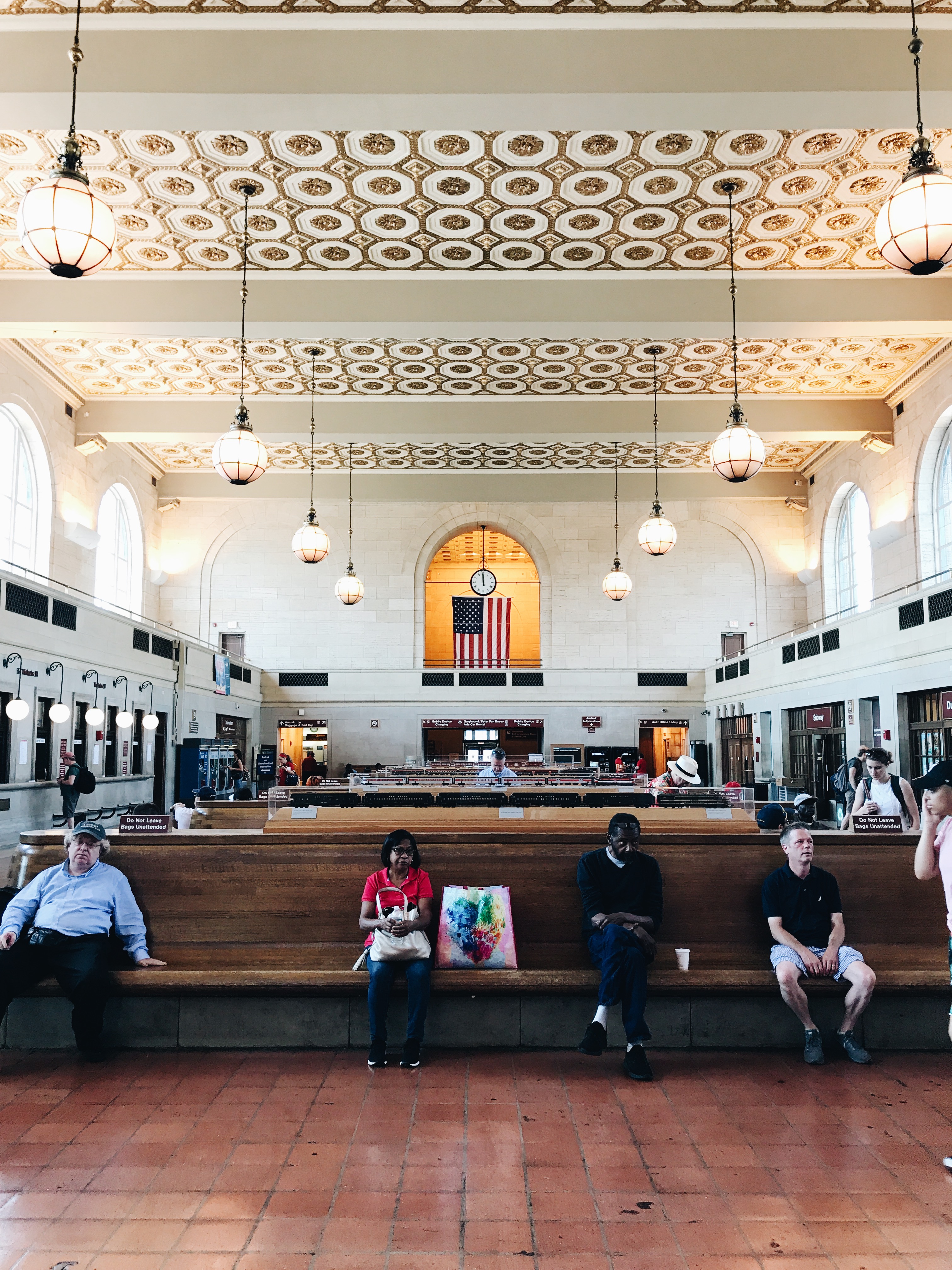 Arrived in New Haven!
These folks were suuuper pumped that a total weirdo stranger was taking their photo.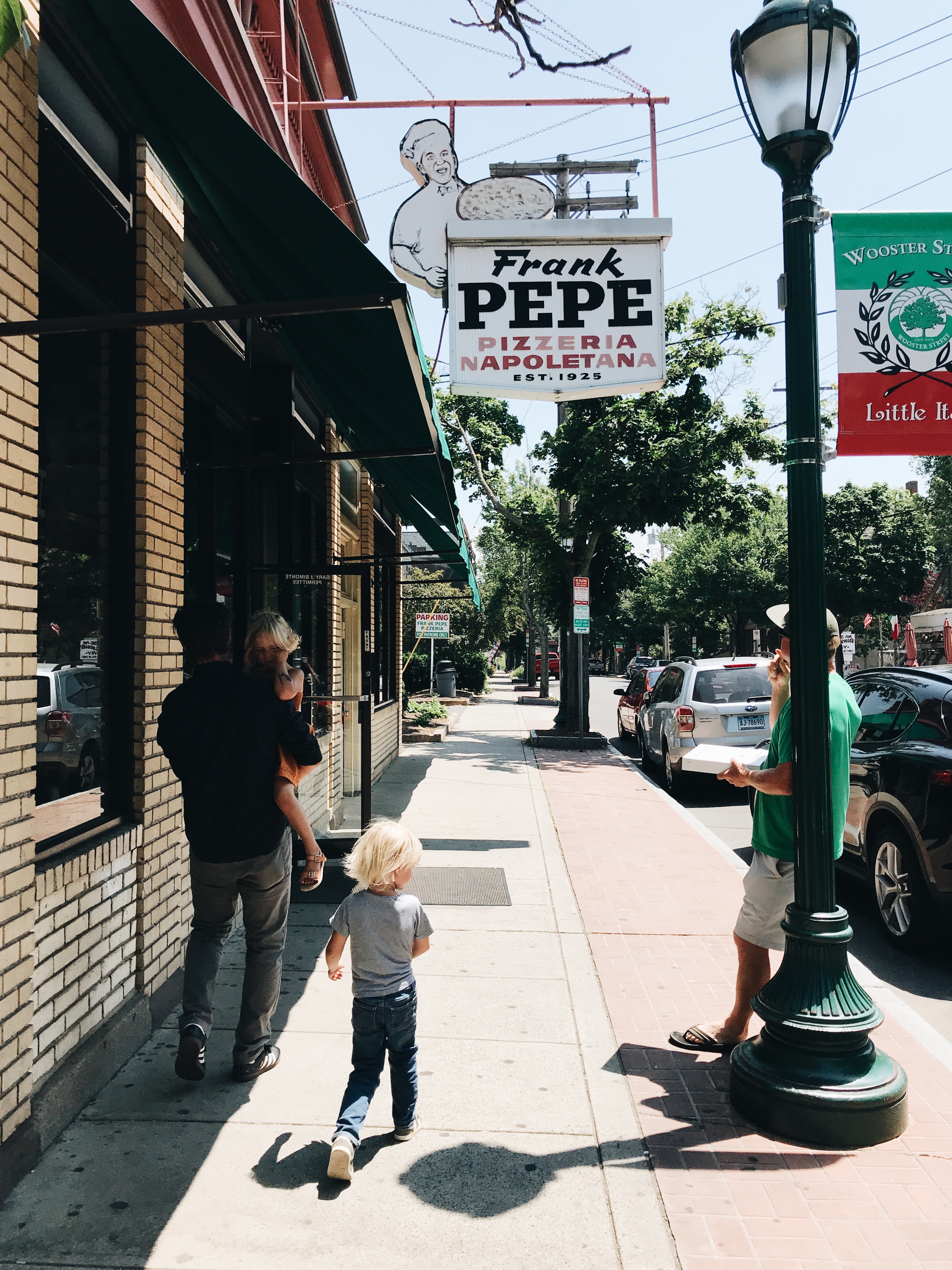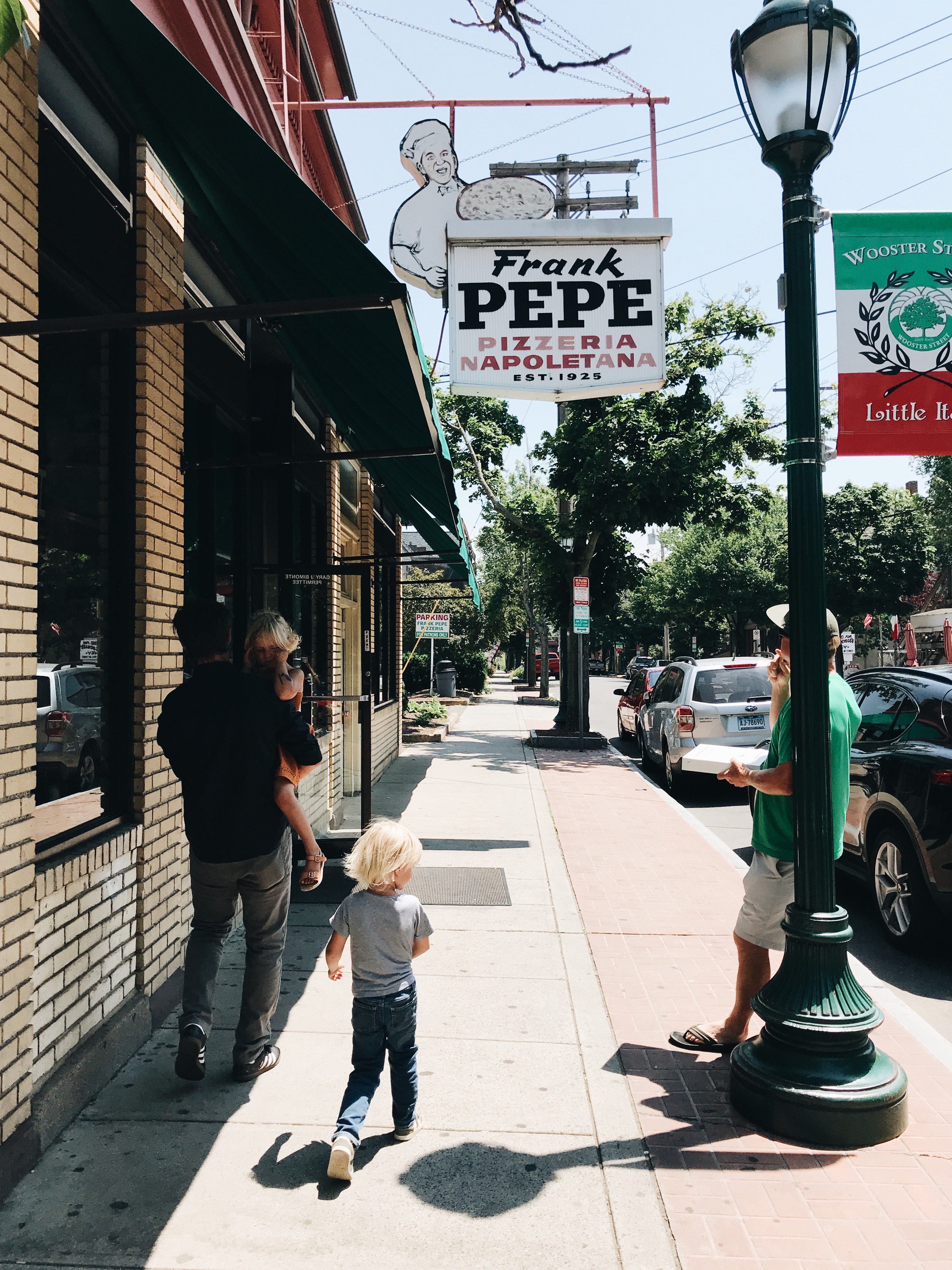 So listen to this, we get off the train and walked to Frank Pepe's, because I have no idea how Ubers work with small kids. But it was really only about a 10-15 minute walk, so if you plan to do this, you CAN DO THIS.
Now, Frank's is famous. You all know this. Have you seen Ugly Delicious? The pizza episode? It's because of that show that we made this train trip over to sketchy New Haven.
Well, that and Yale University because RORY GILMORE.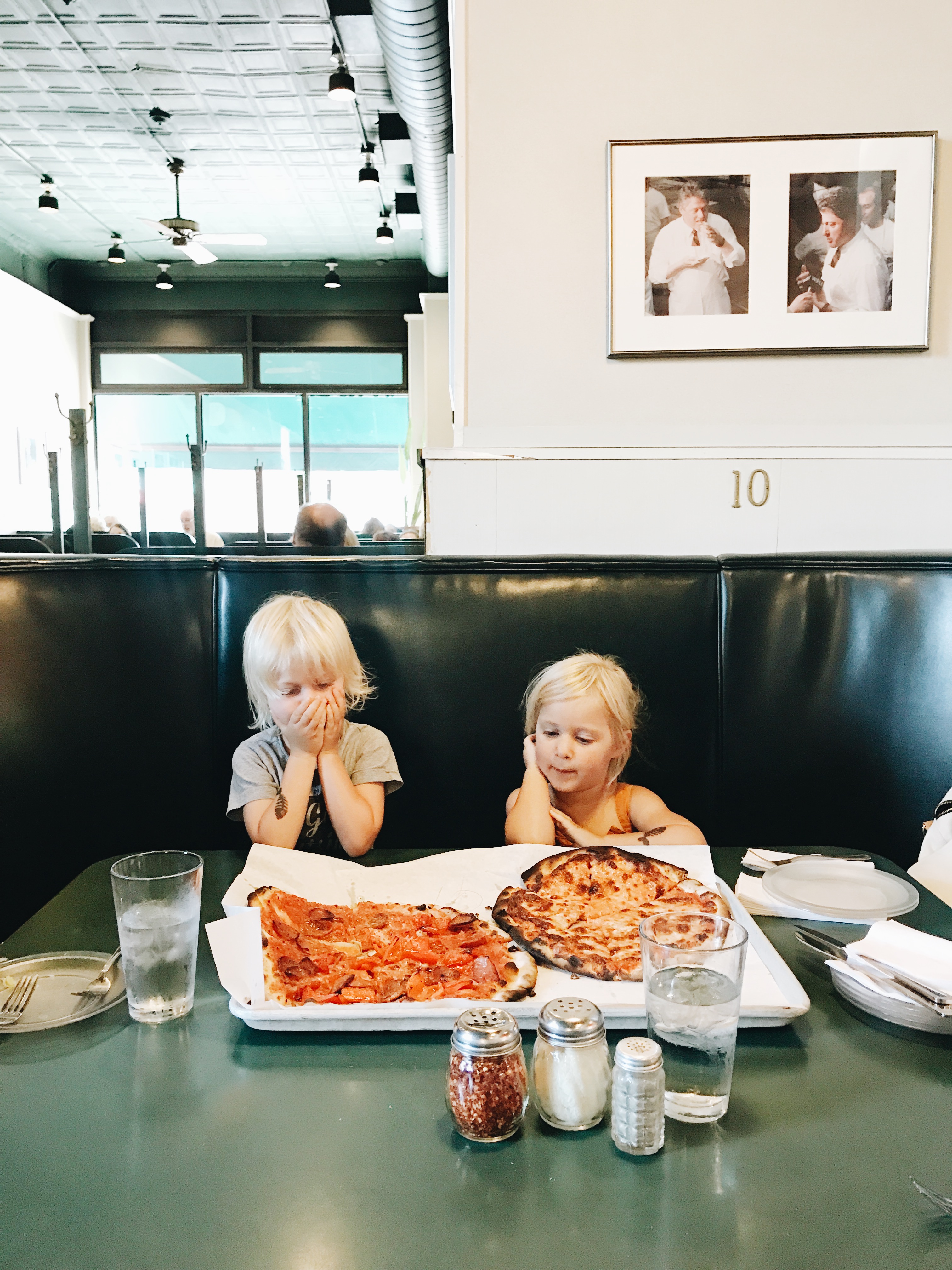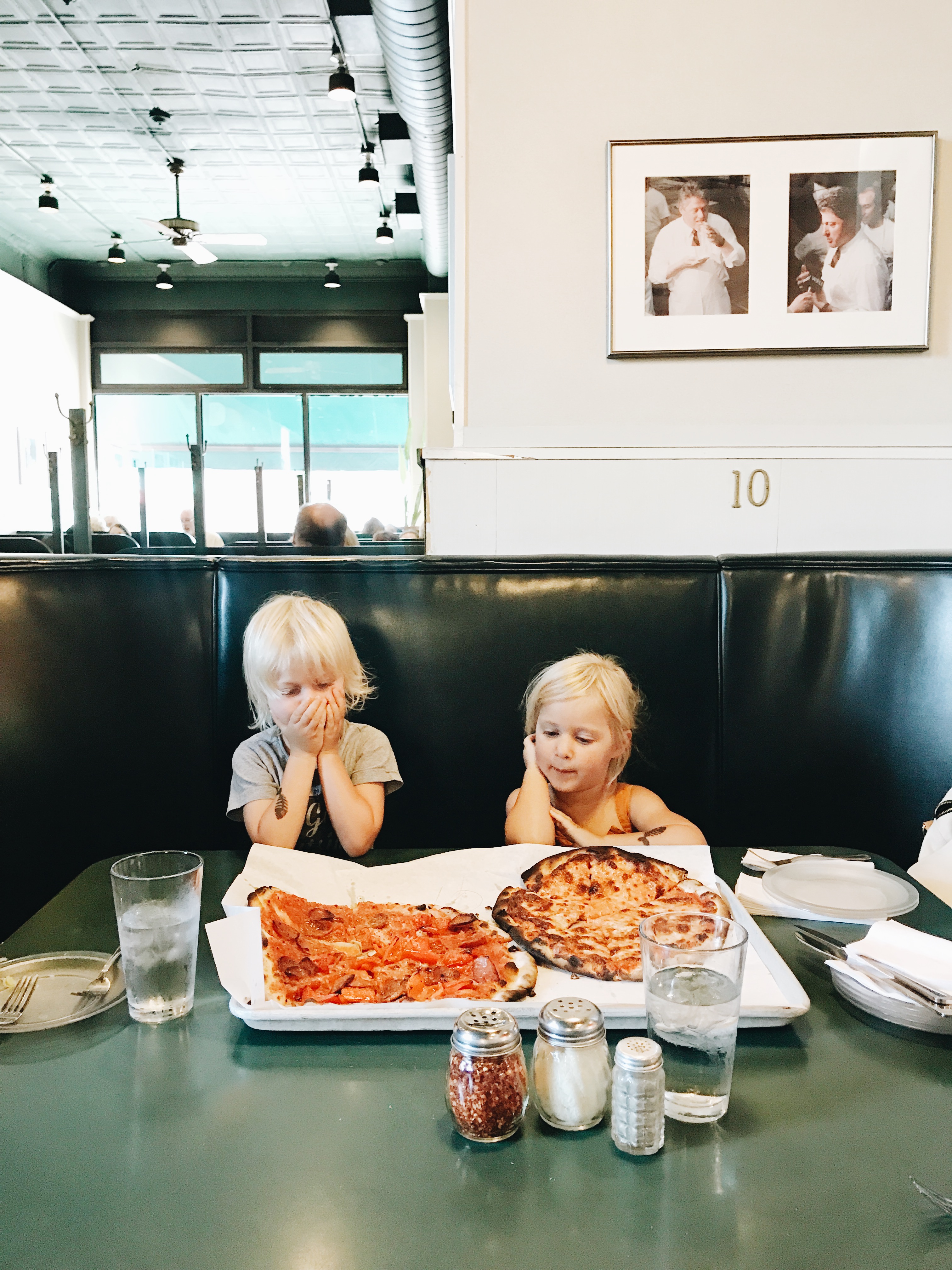 OMG.
Yes, Aaron's and Will's pizza has zero cheese. I've accepted this about my life (and yes I'm making it about me), and have moved on.
The pizza! Guys, it comes out on these giant baking sheets with parchment paper underneath and the world is good. Some pizzas are so giant that they flop over the sides of the pan but you don't rightly care because this pizza is pretty dang magical. Some of the best I've EVER, ever had.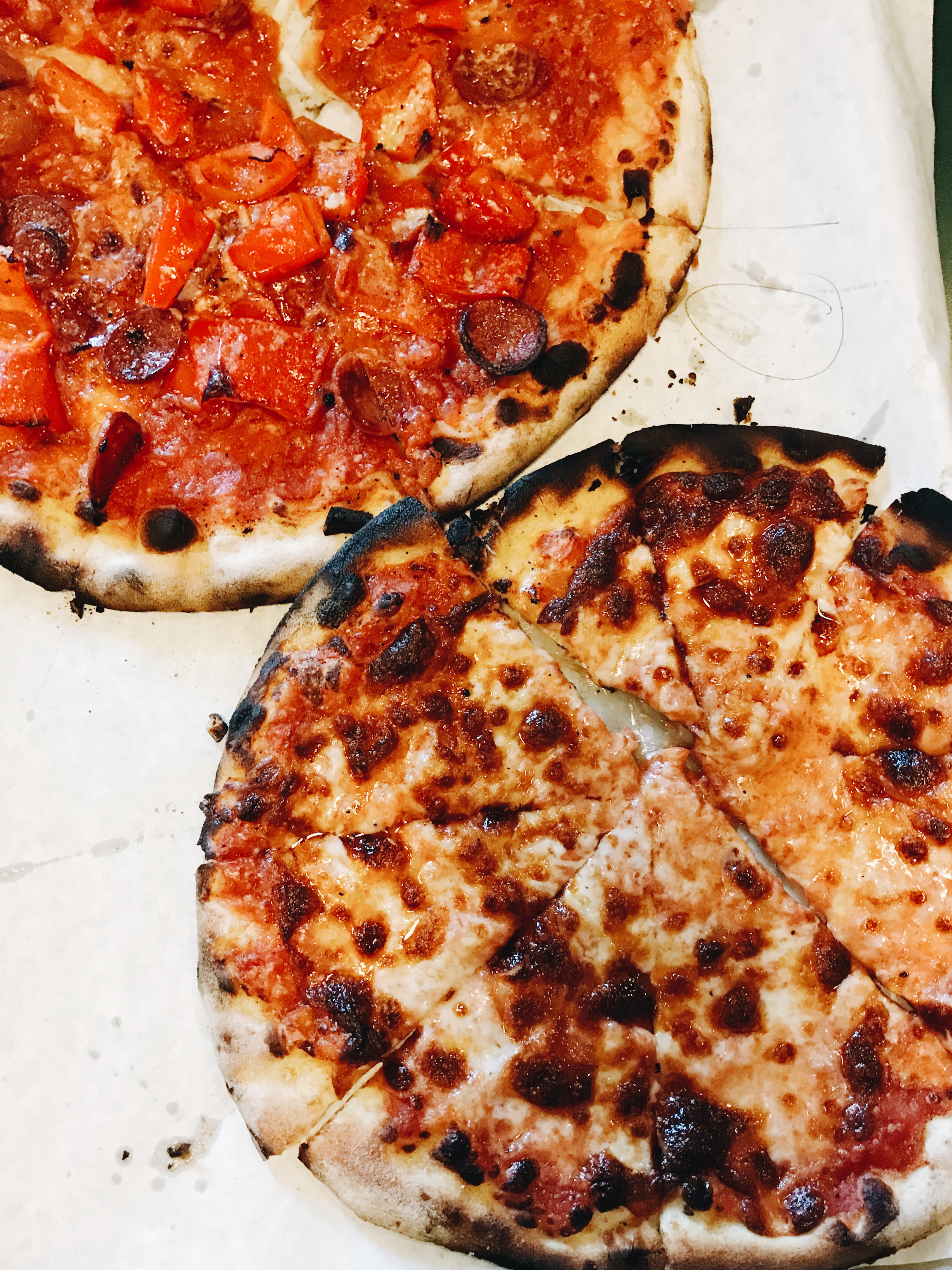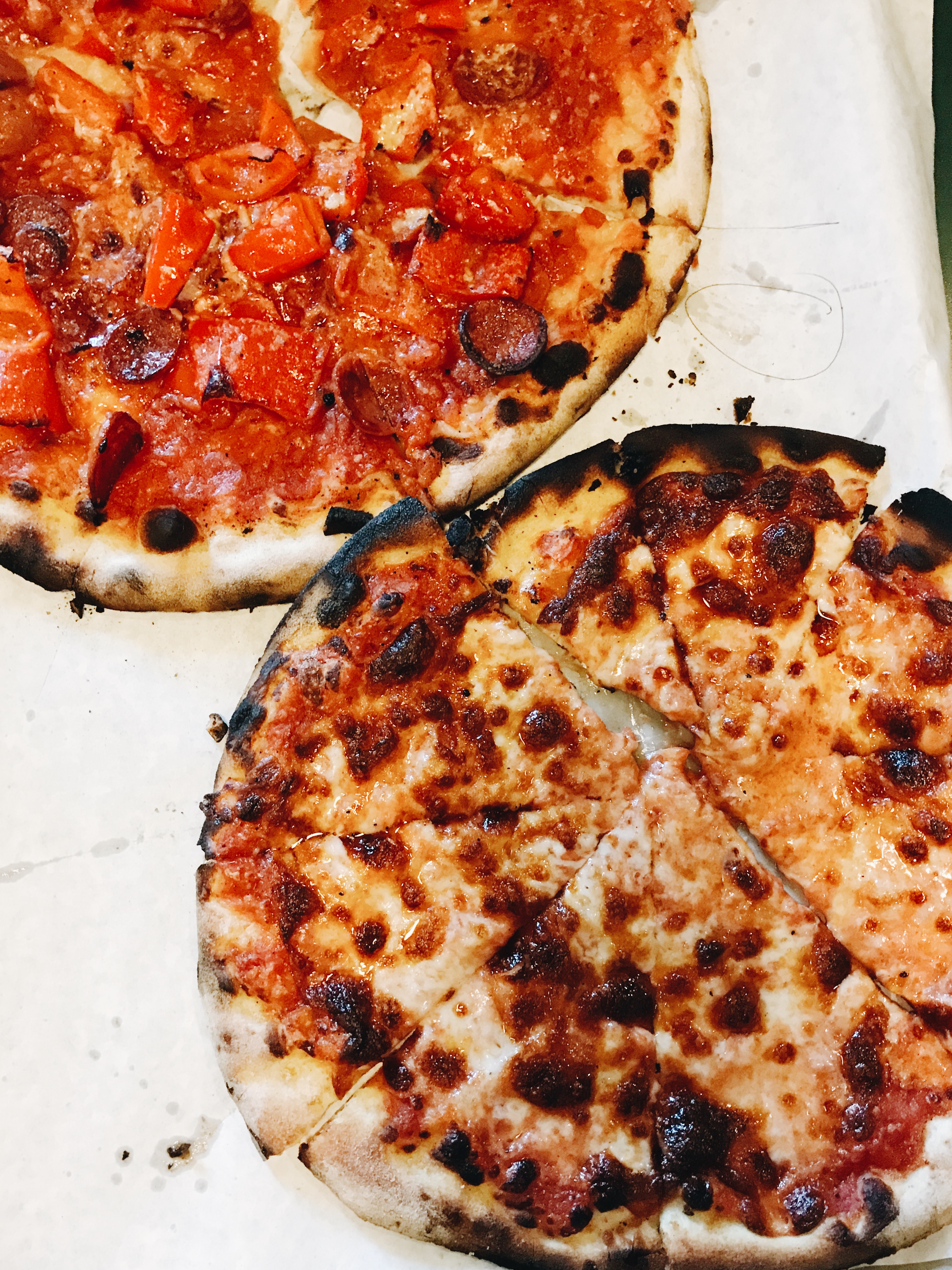 Are you even seeing that? Nat and I split their famous tomato pie and I can barely look at this photo without pushing the tears back down to their eye caves.
INCREDIBLE.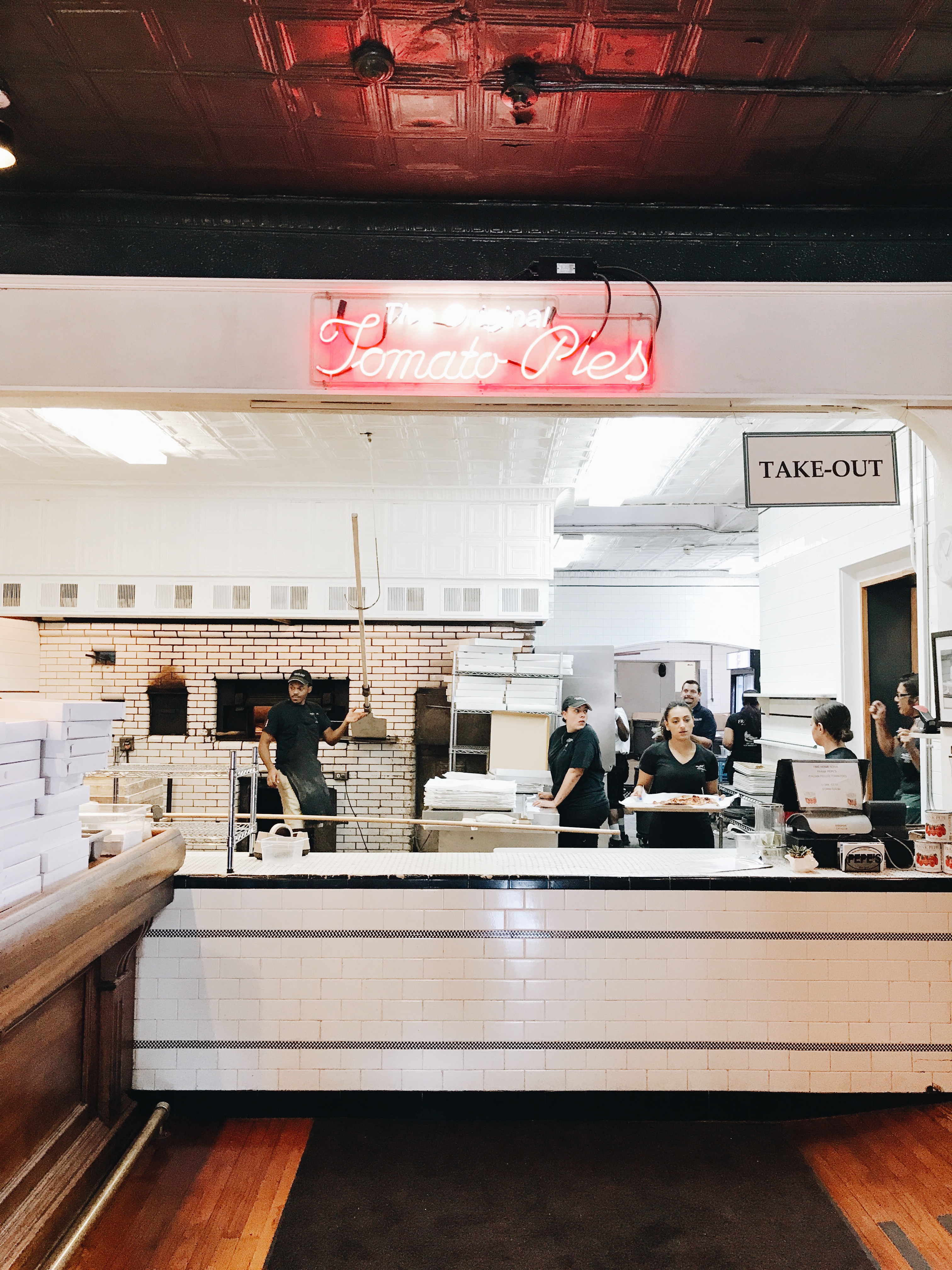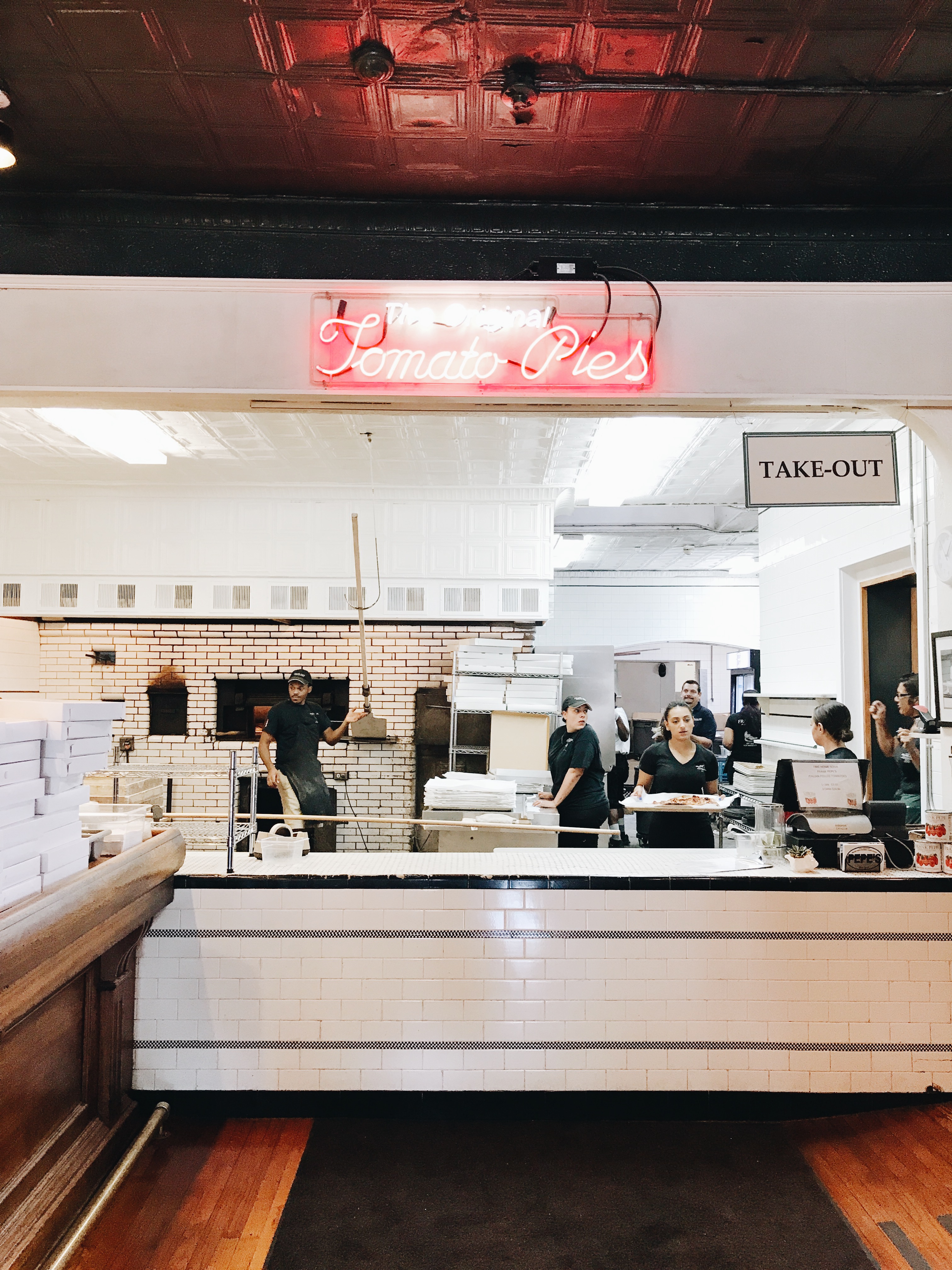 And such a lively place! Going on a Monday at 12:30pm was a good idea. The wait was surprisingly only five or so minutes, and we got that whole circle booth to ourselves! Okay, us and Bill Clinton.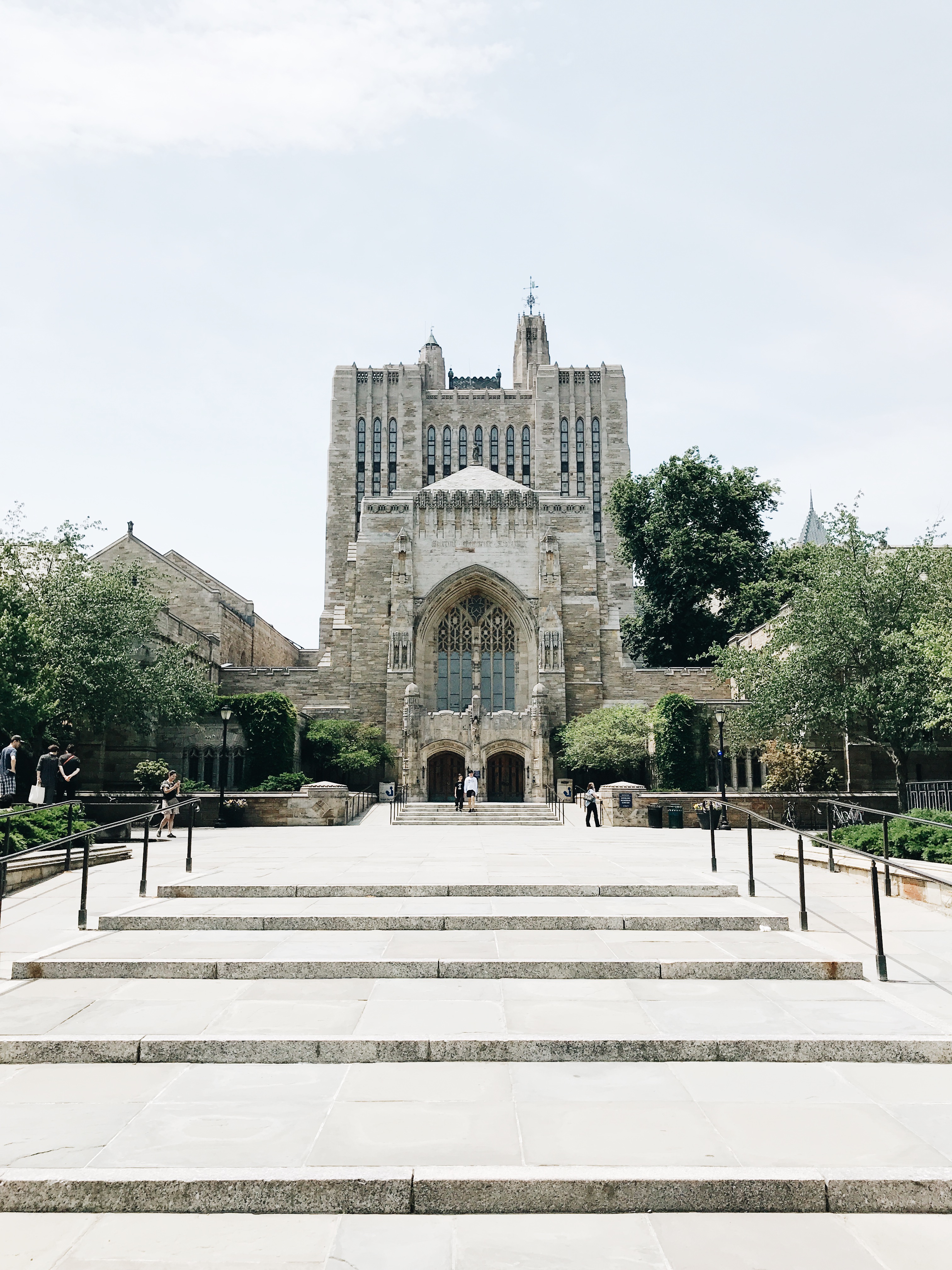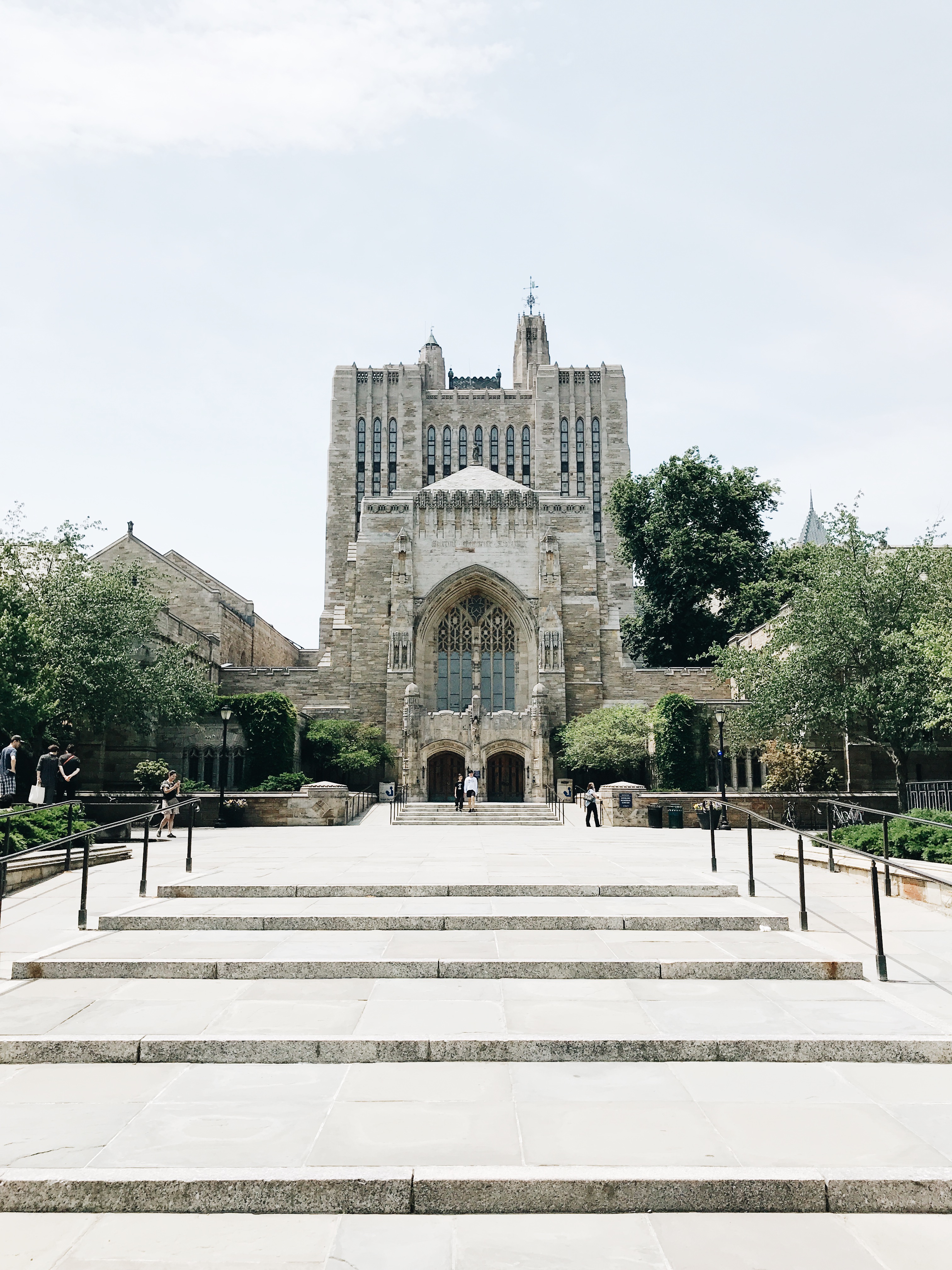 After pizza, we Yale'd.
And by we I mean we all four stopped at some huge fountain at a park, and I took off and let Aaron and the kids play by the water while I went and found Rory and Logan. Obviously.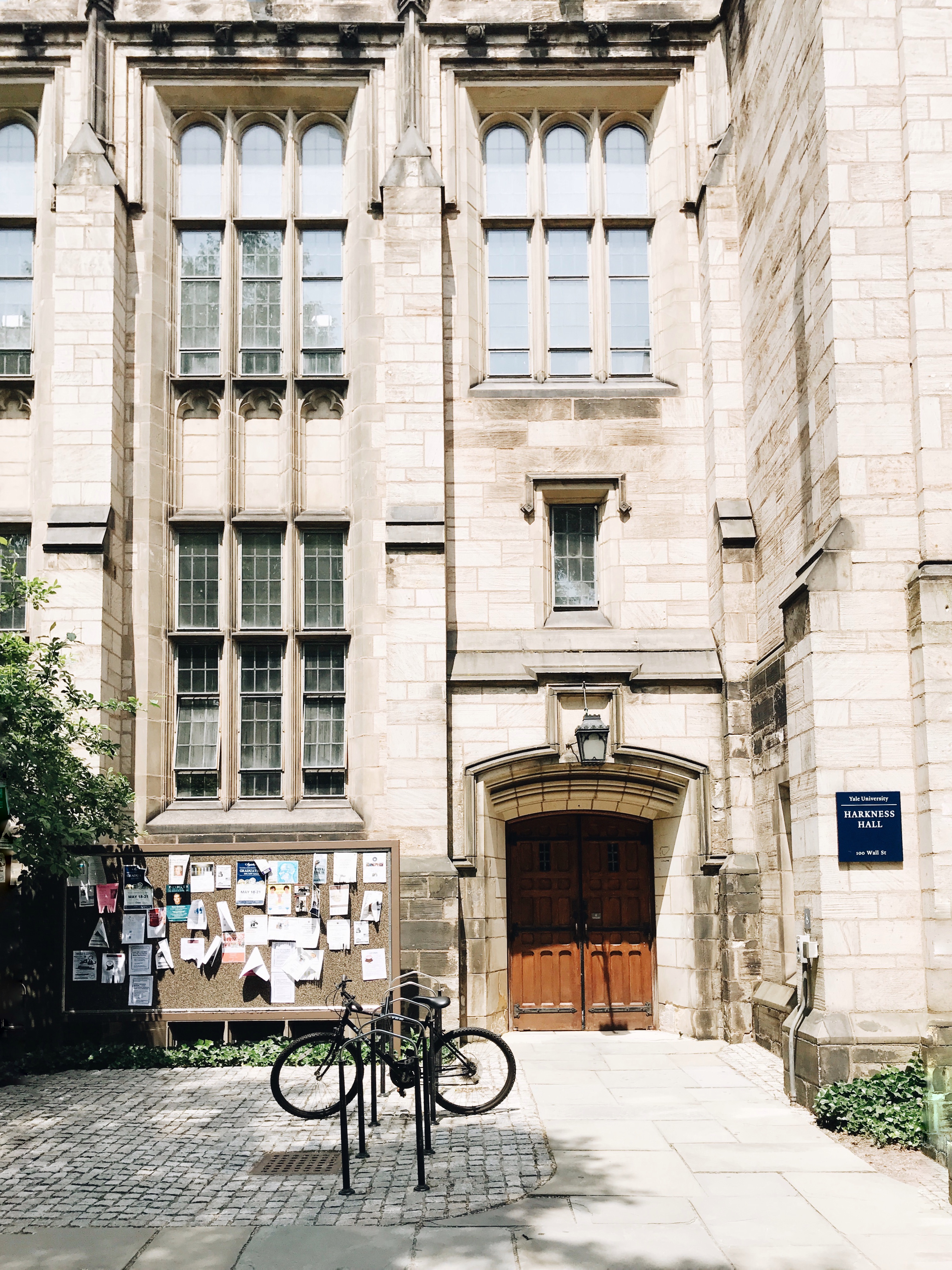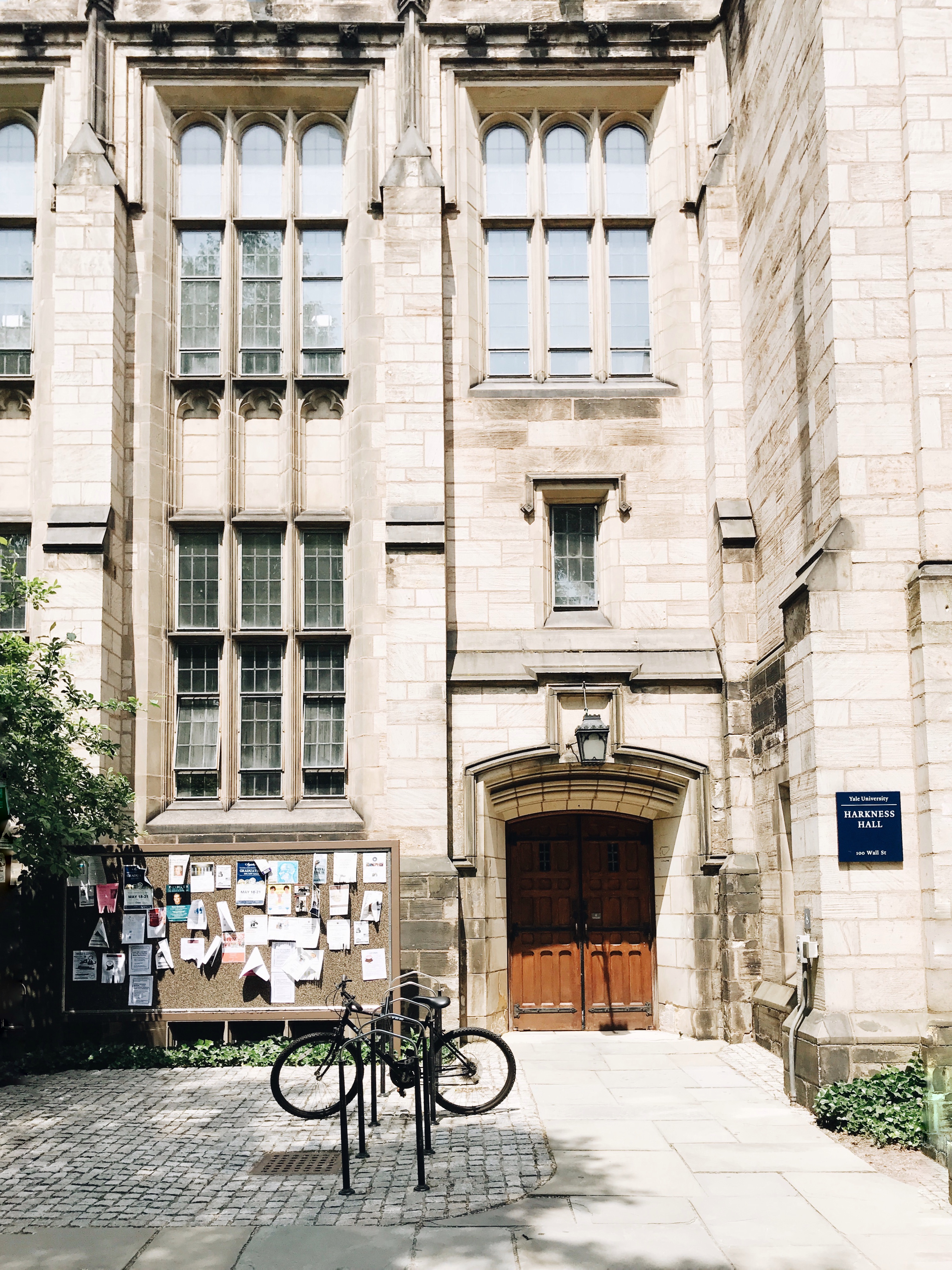 Here's Rory's dorm! Remember the scene when dreamy Jess surprises Rory at her dorm and practically begs her to take off with him and start new lives together on their own? THAT WAS RIGHT HERE!
It wasn't right here.
But it could have been.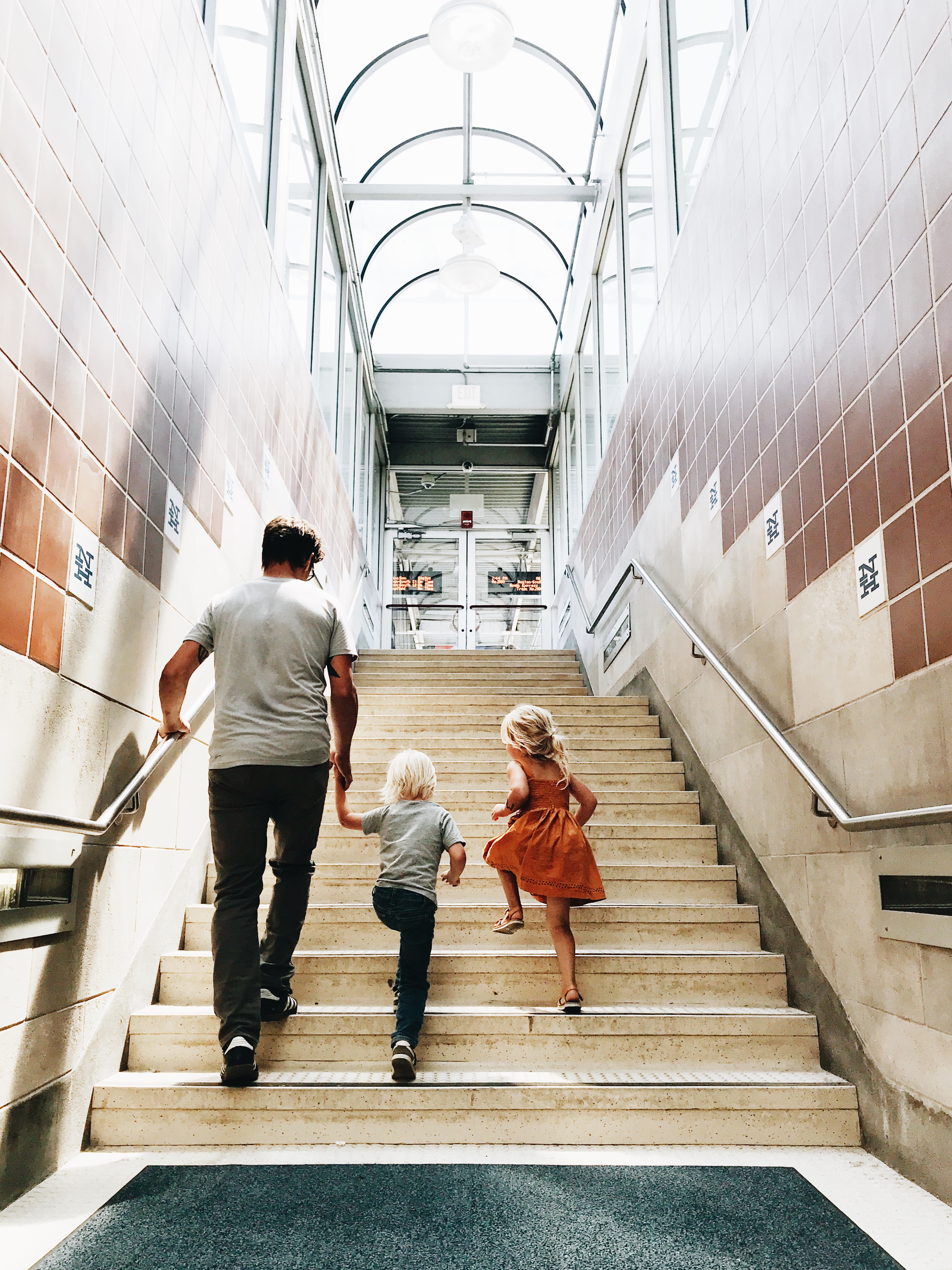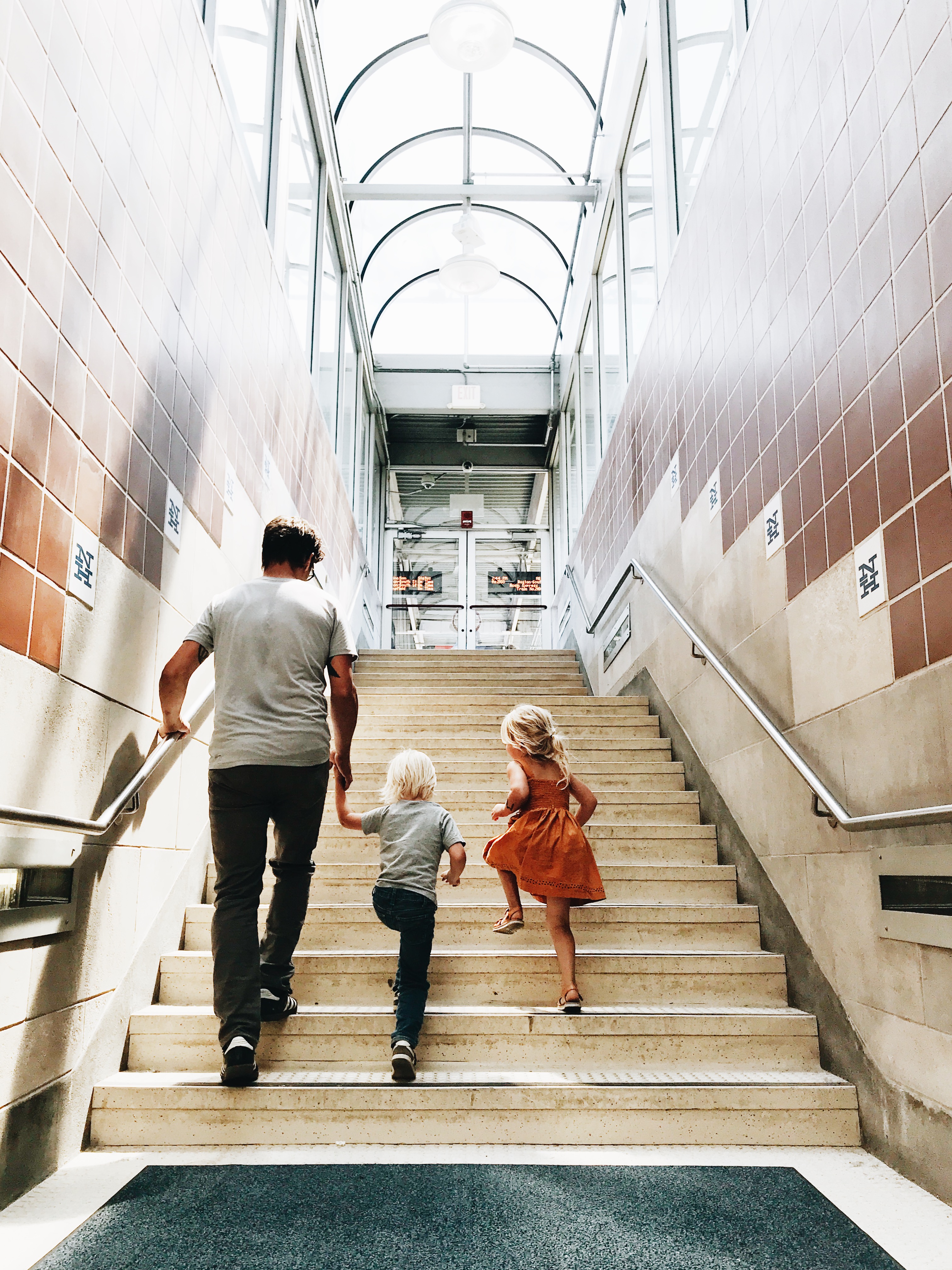 Back to the train!
Aaron looooves when I take photos of his backside.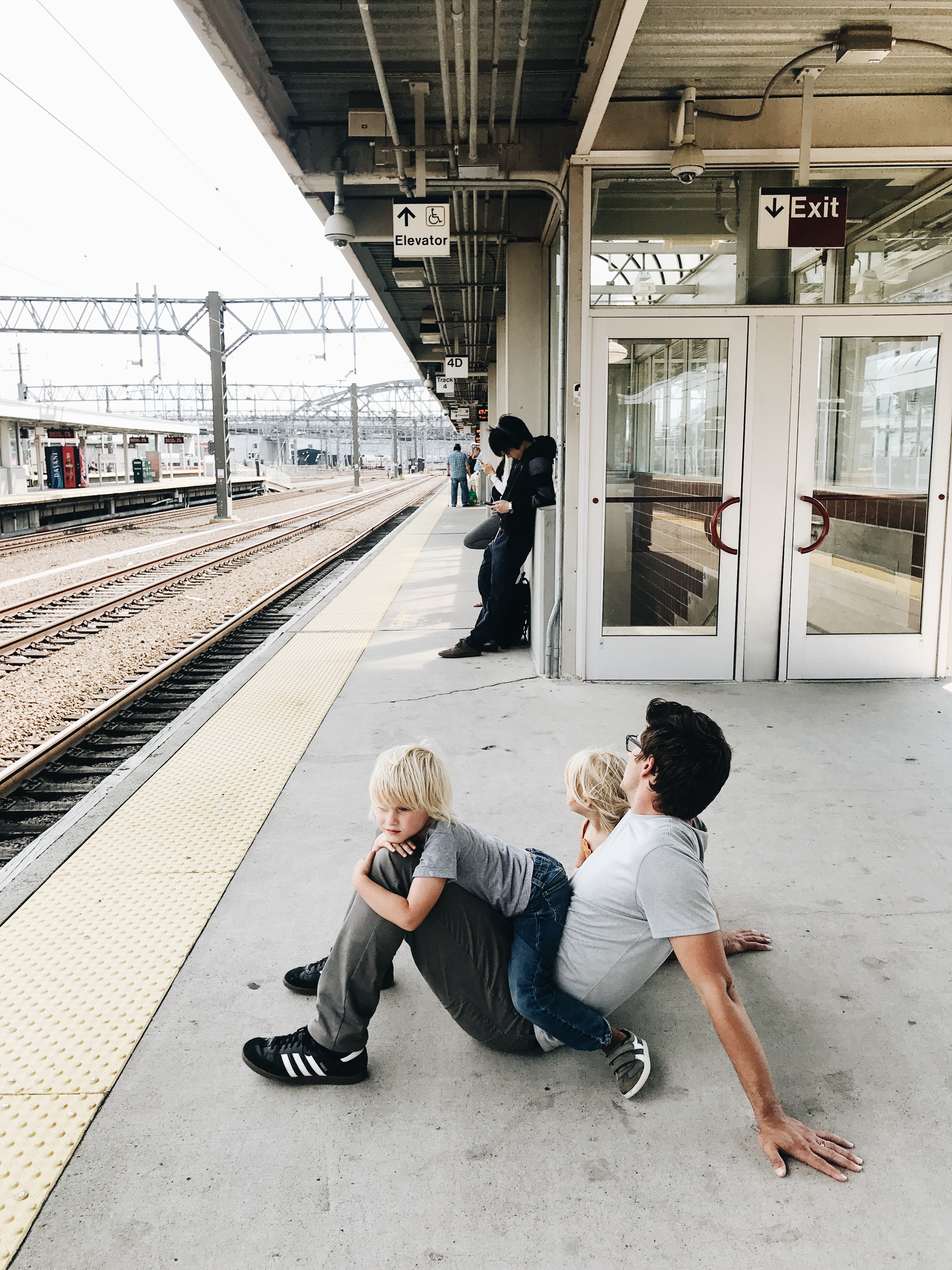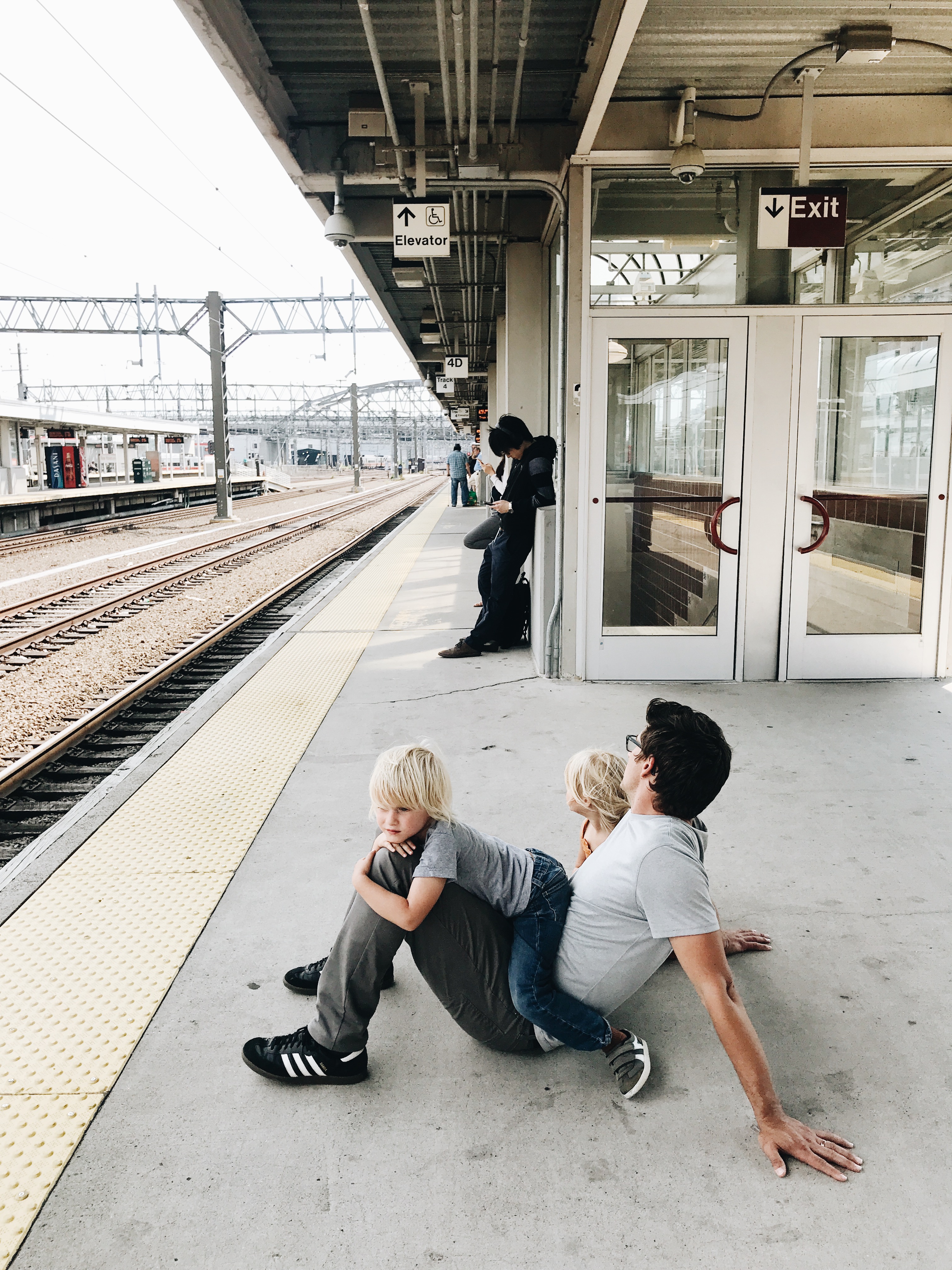 This is what real life looks like when traveling with little kids.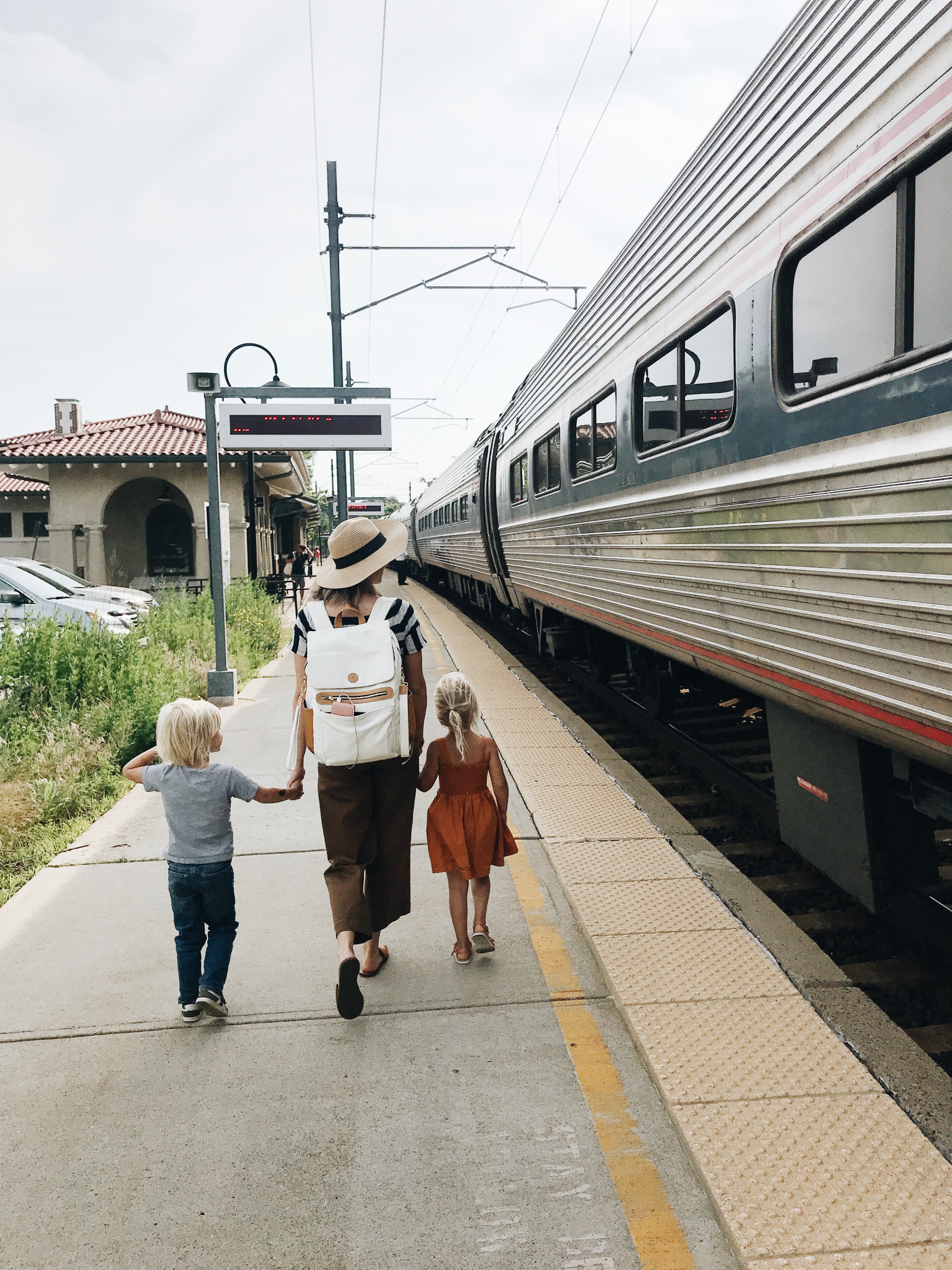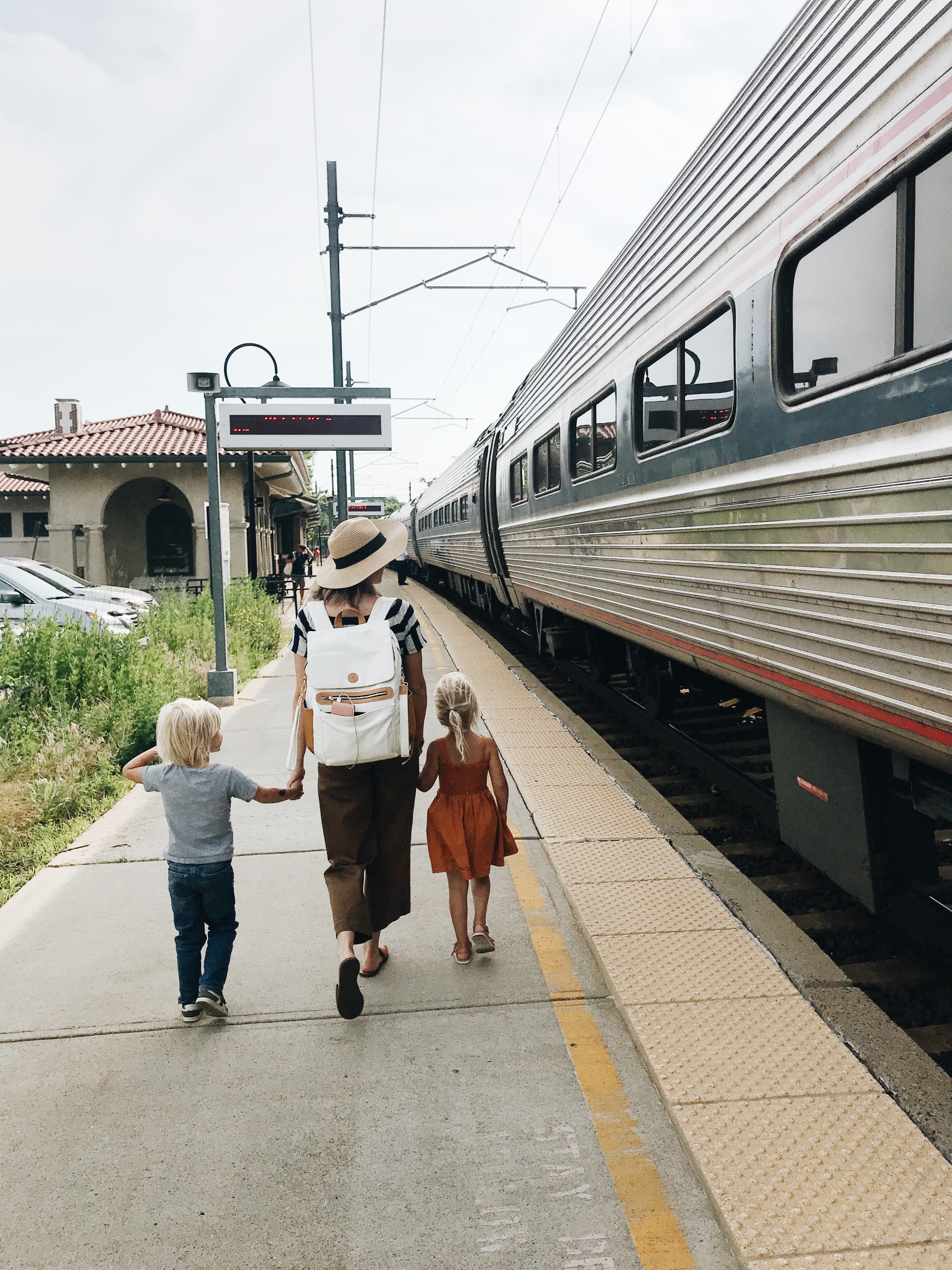 Would you believe it's only an hour train ride! EVERYTHING IS SO CLOSE HERE.
Also, I'm including this photo because soooo many have asked about the backpack. It's from Humble Hilo, and absolutely perfect for day travel like this. Not sponsored! I bought it with my own dough a long time ago.
Also, the pants are Everlane, the top is oooold Madewell, and the massively-asked-about sunhat is the mall (HAHAHAHA) years ago!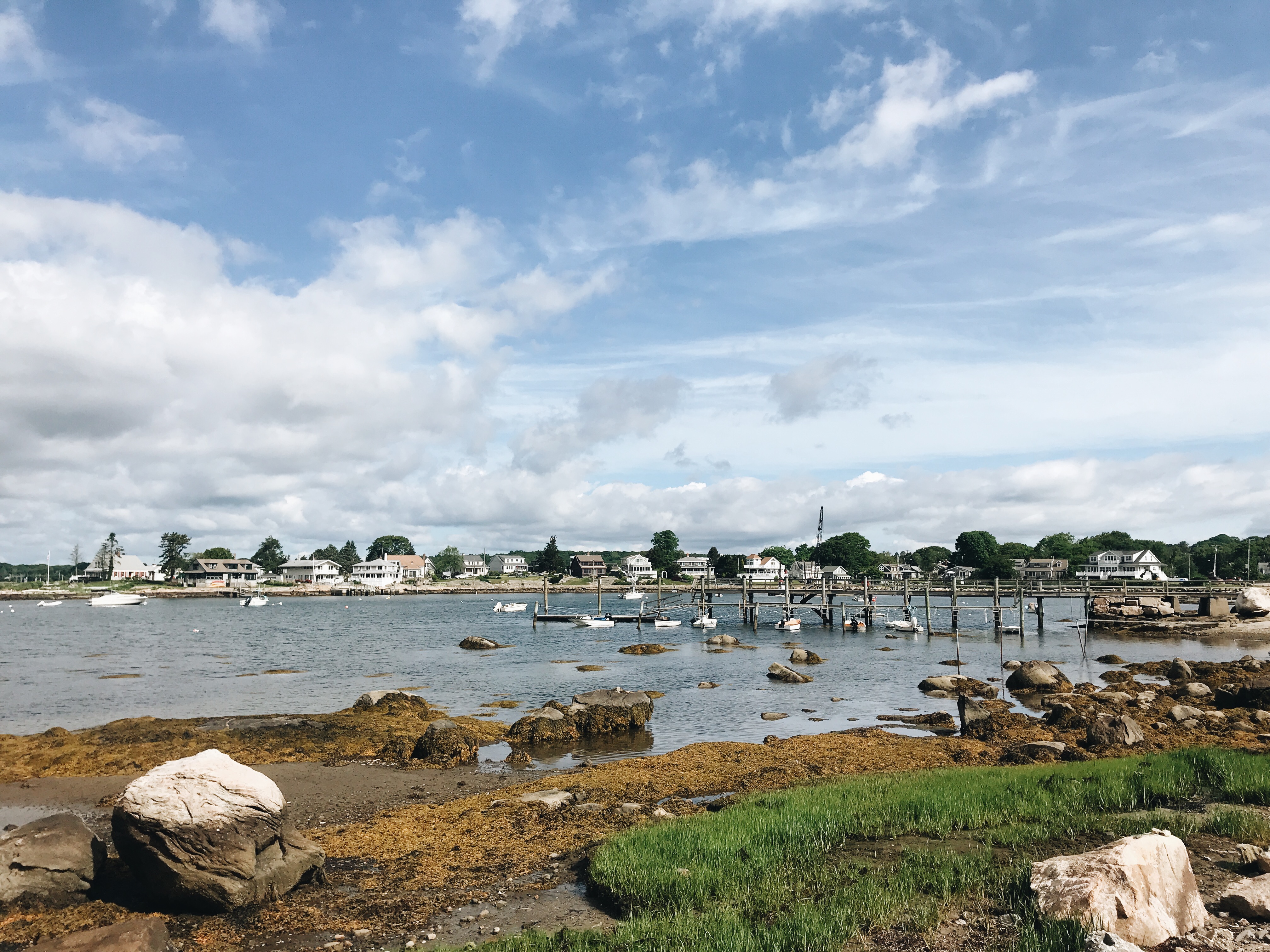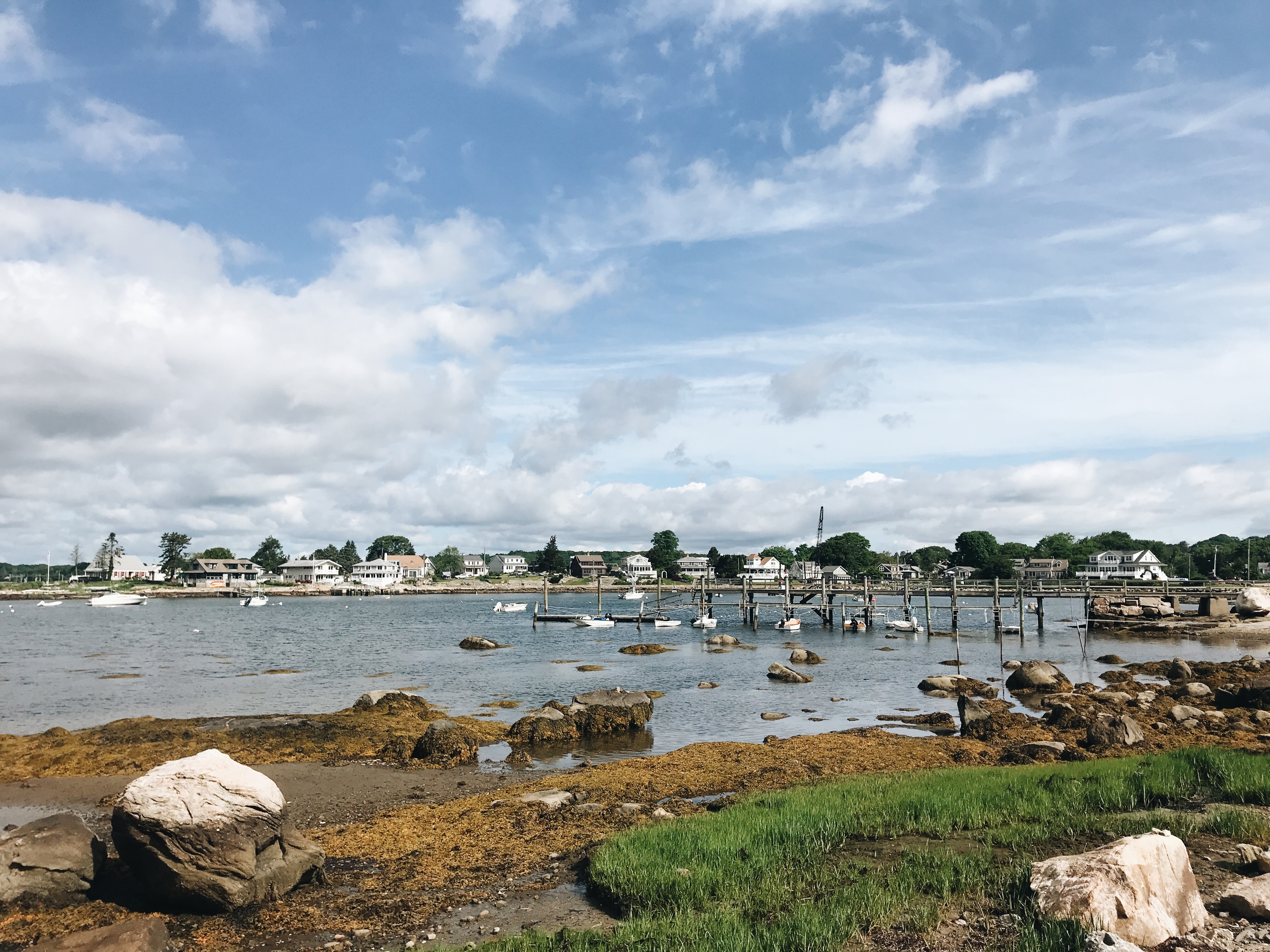 THIS IS WHERE WE'VE LIVED ALL MONTH. (All caps completely necessary.)
I took this photo on my Tuesday morning run, and it takes my breath away, every single moment we step out on that beach. Should I frame this?
Haha! Just kidding.
Should I?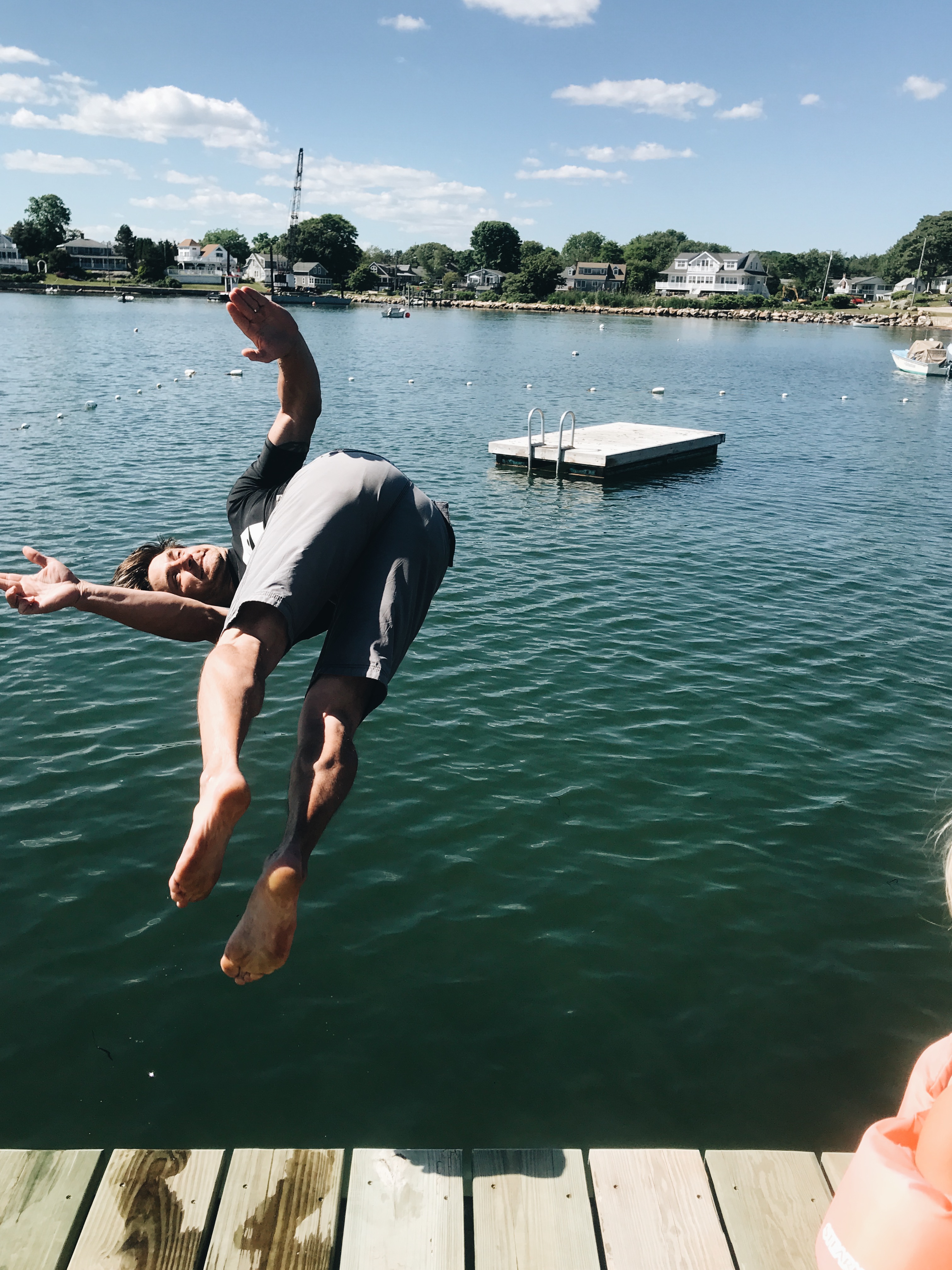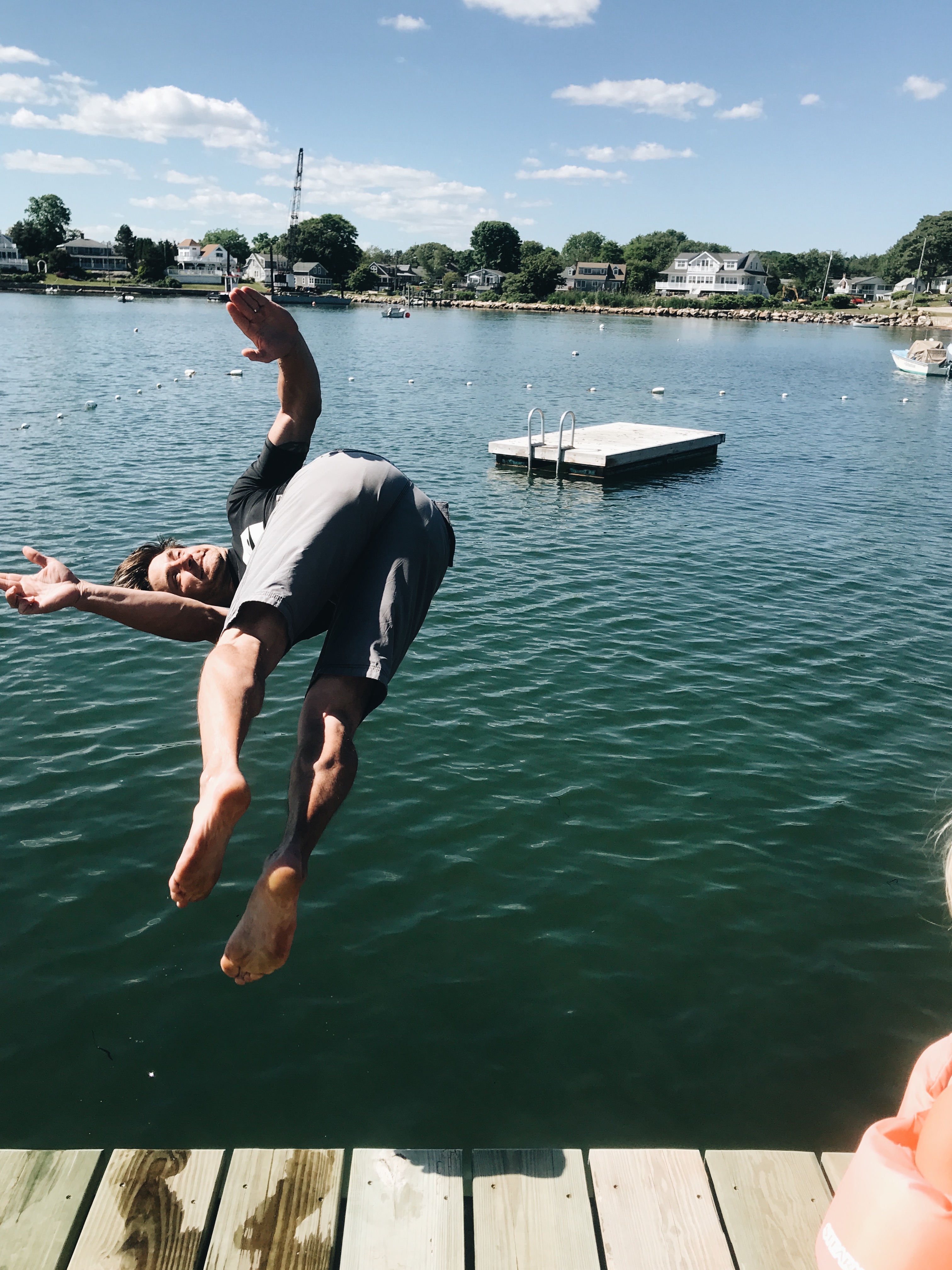 That afternoon it really warmed up, so aside from the much-needed down time we all soaked up that morning, we (and by we I mean they) spent the afternoon in the water!
Aaron looooooves when I take photos of his backside.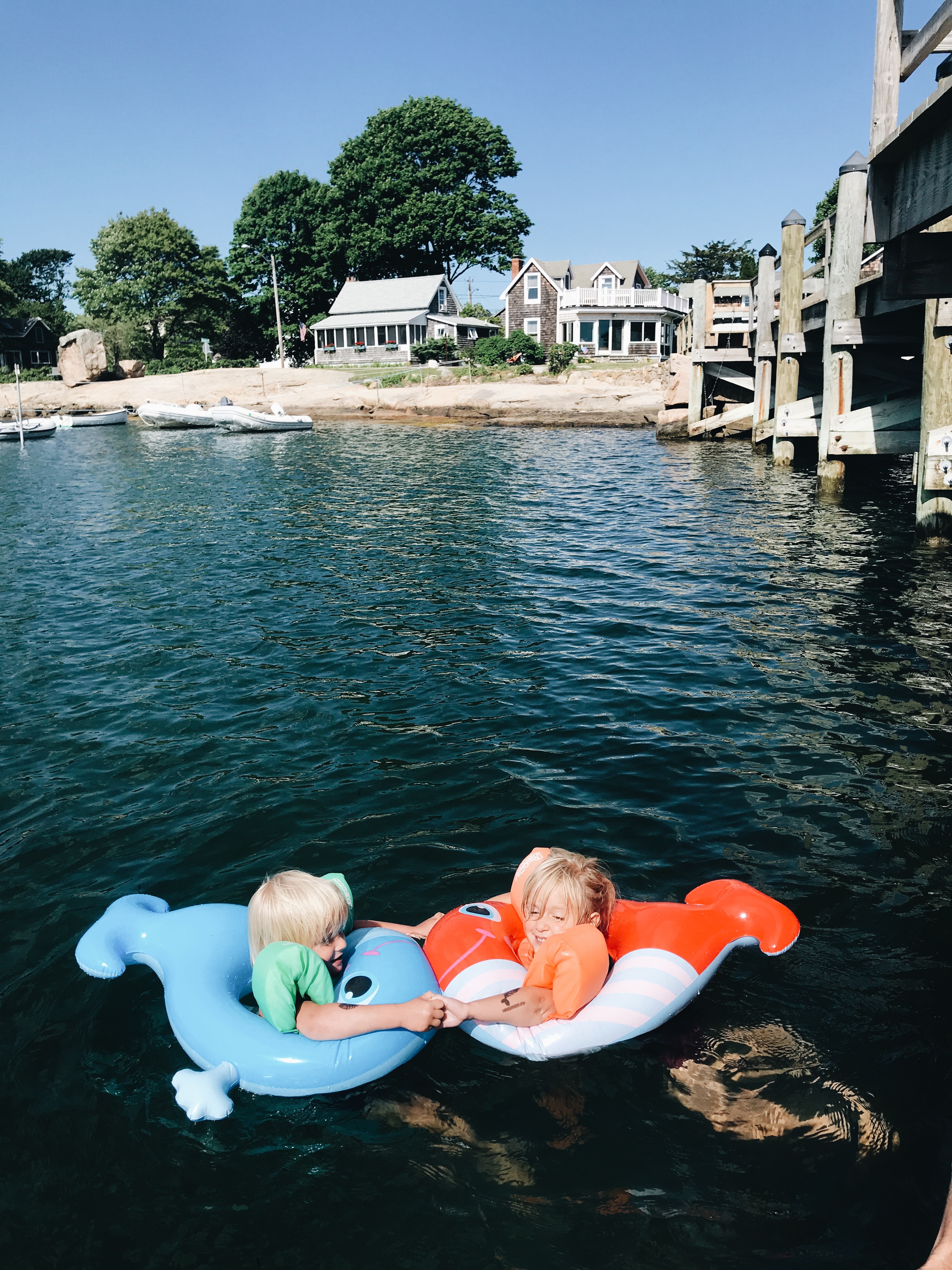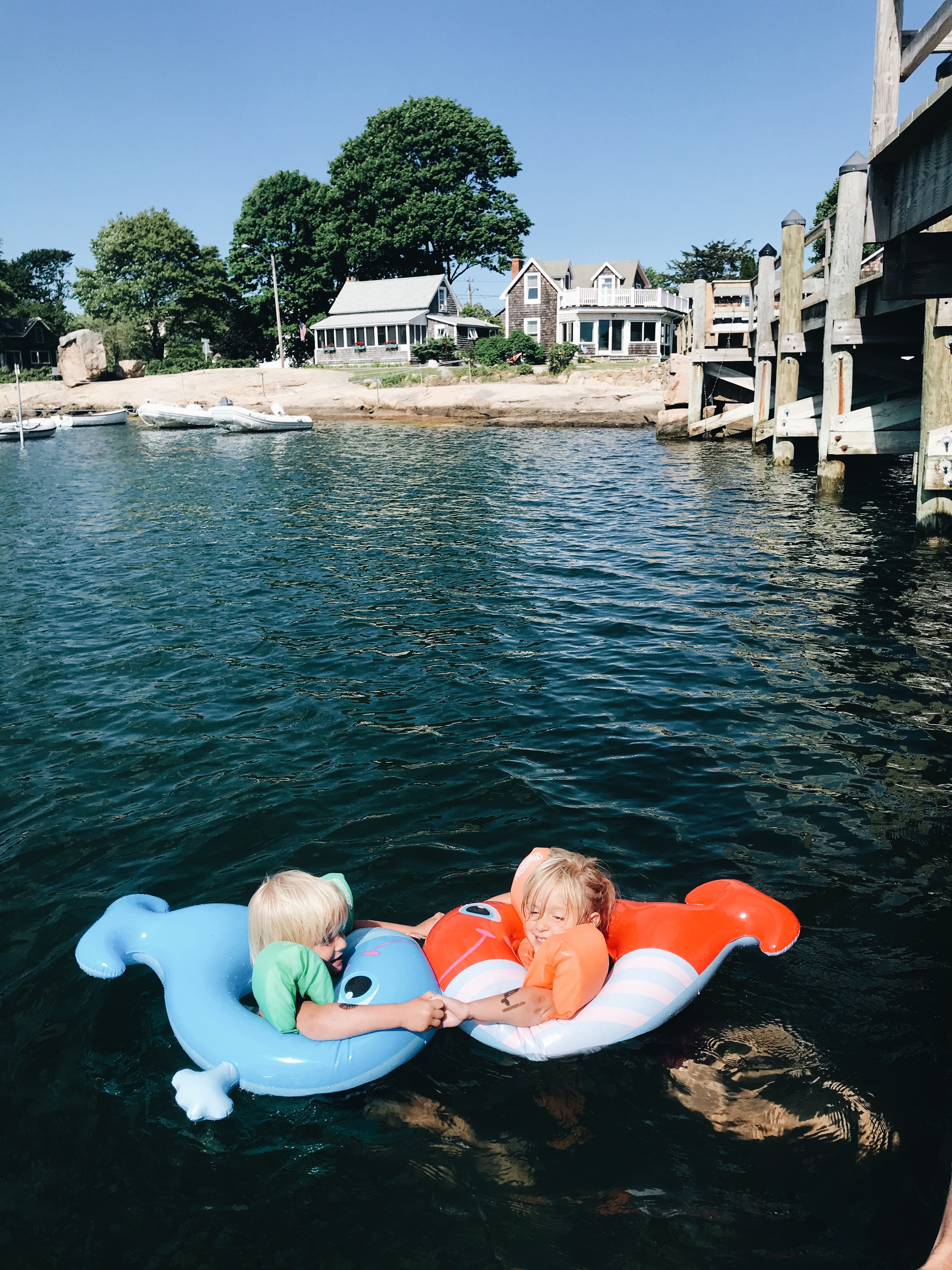 I mean come on.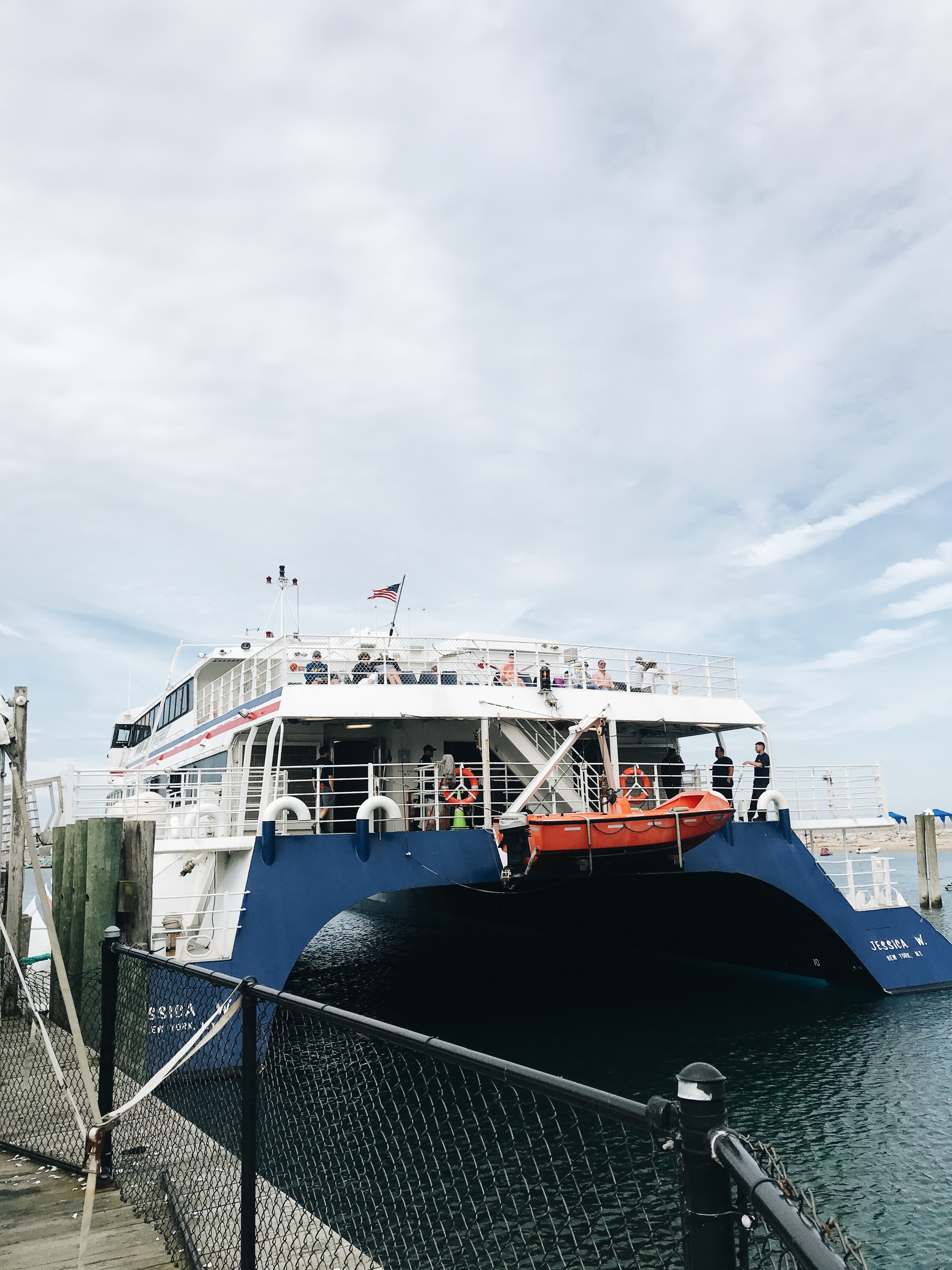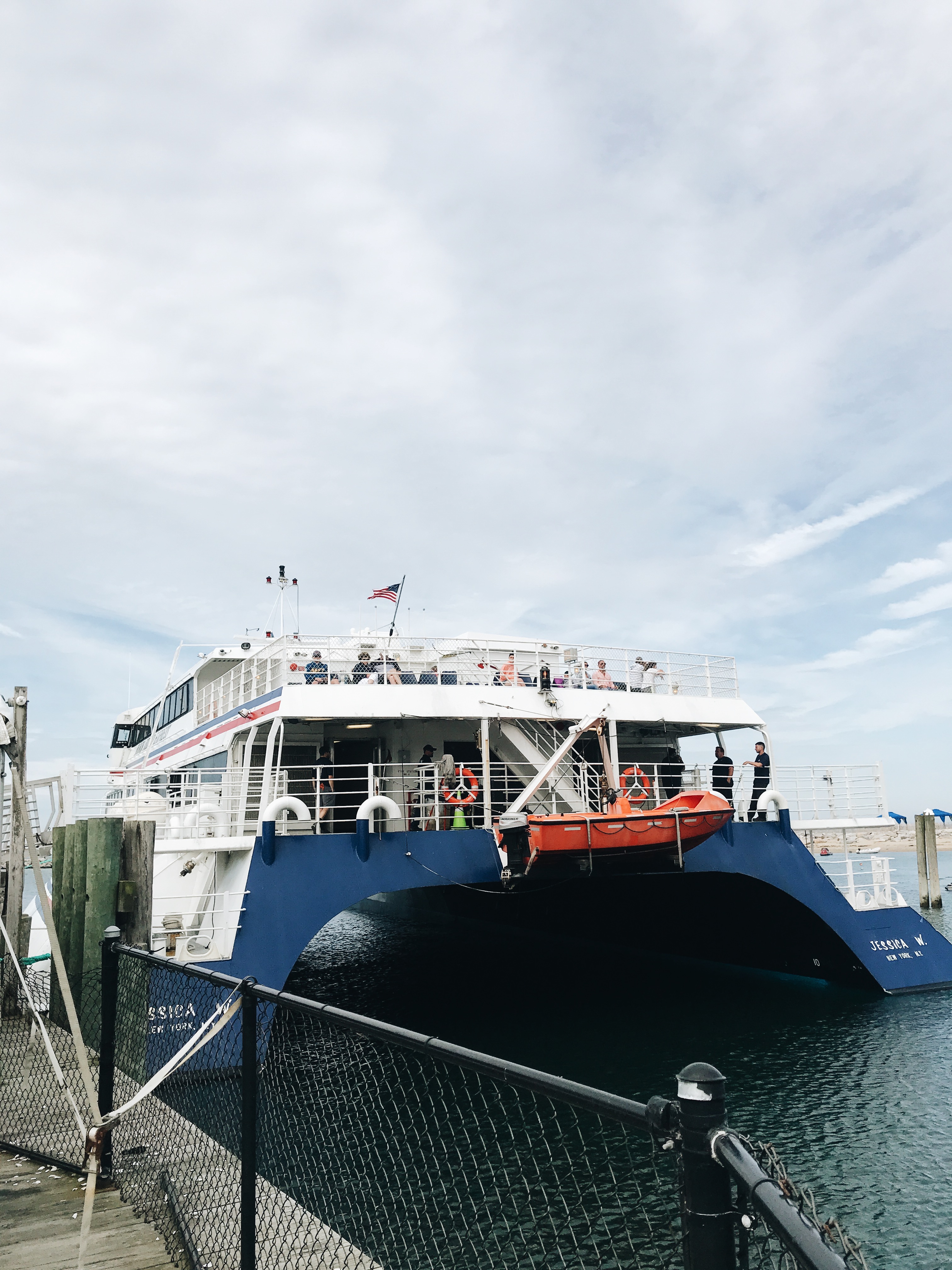 Wednesday morning, we hopped the 8:30 ferry to Block Island! So so sososos ososos many people had highly recommended this day trip, so of course we obeyed.
BECAUSE FERRY.
Also, if you do this, we took the Block Island Express straight from New London, which is only like 10 minutes from here. (EVERYTHING IS SO CLOSE HERE.)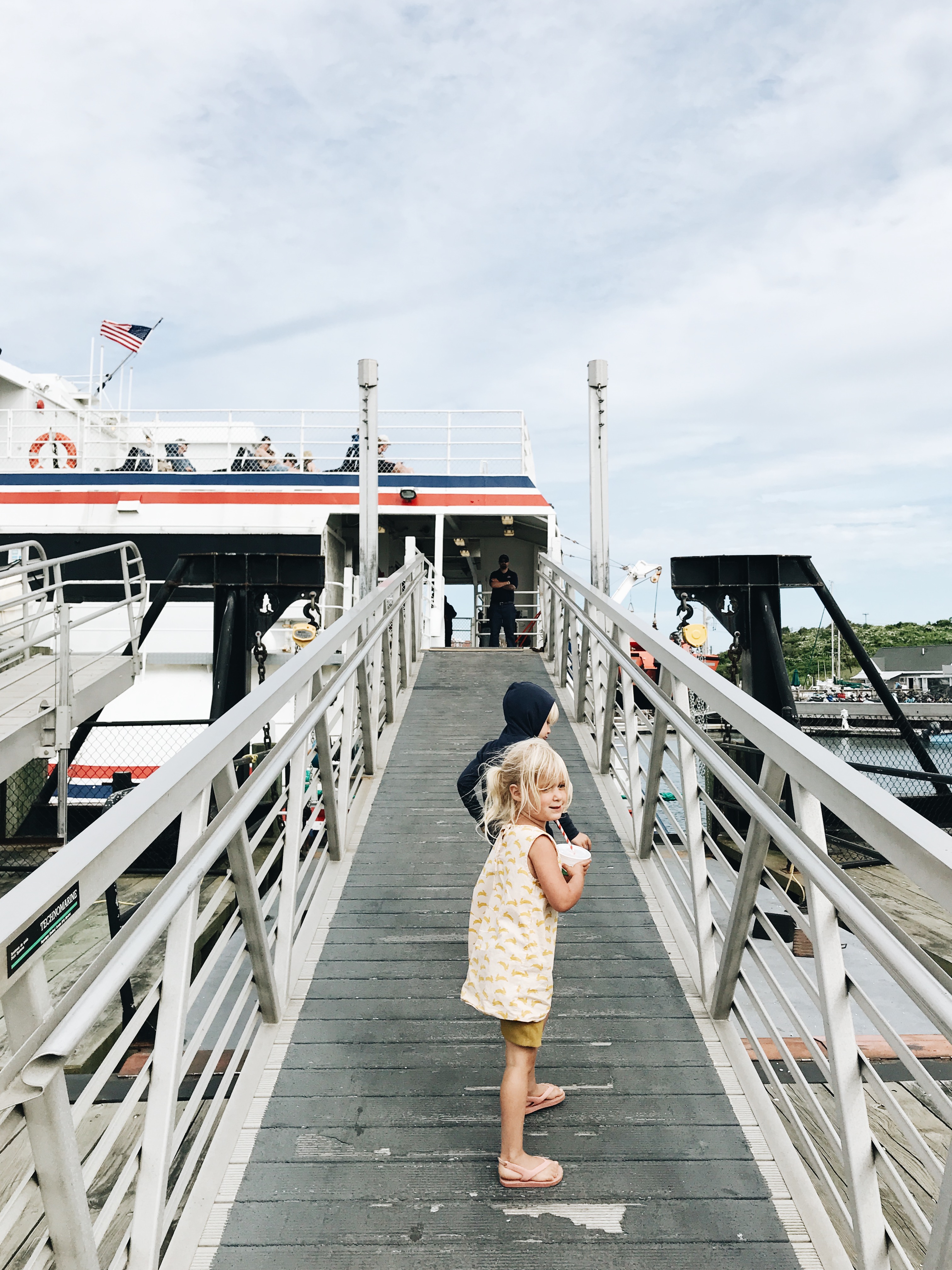 Y'all wanna watch me get on a boat?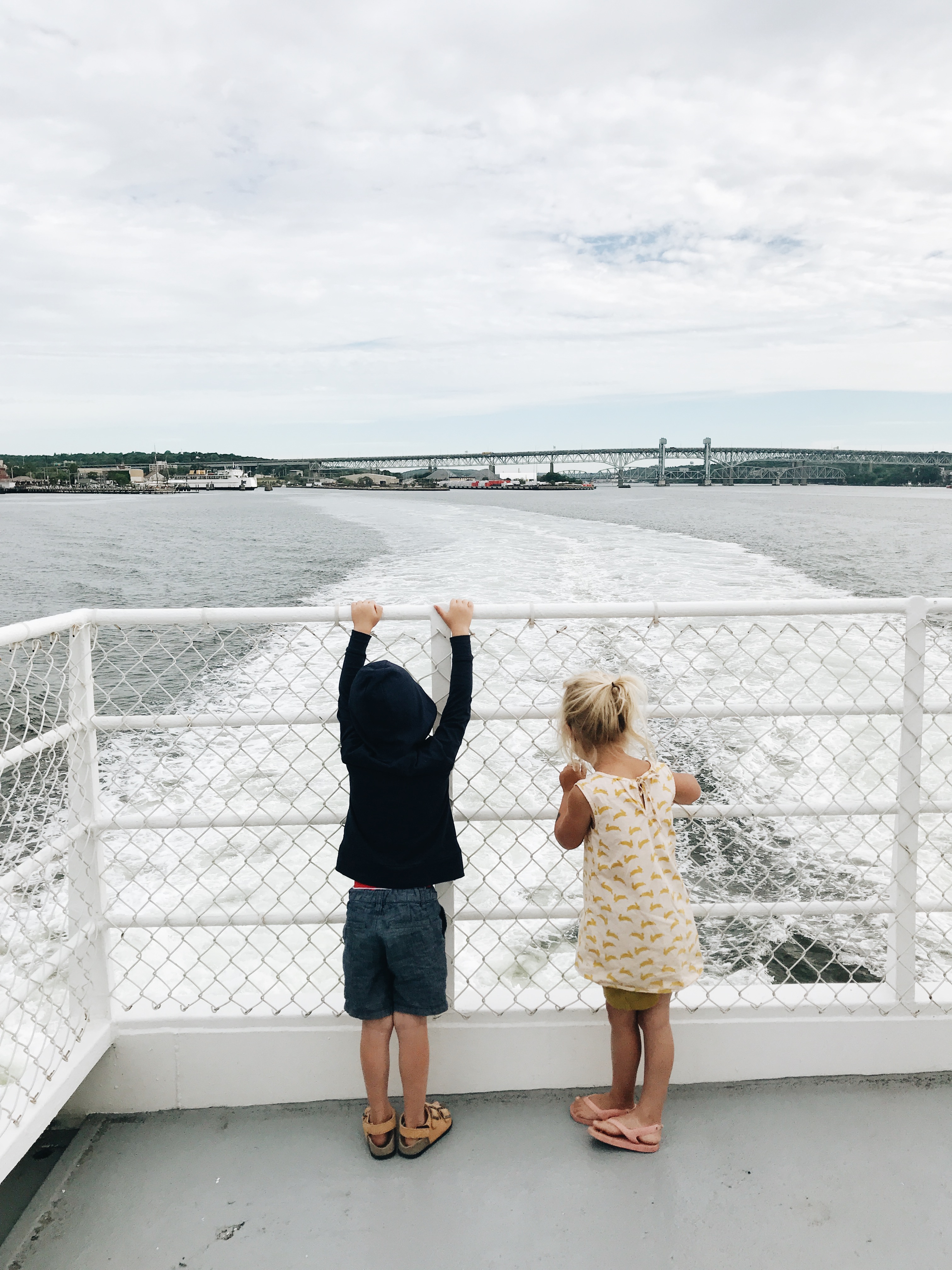 Duh.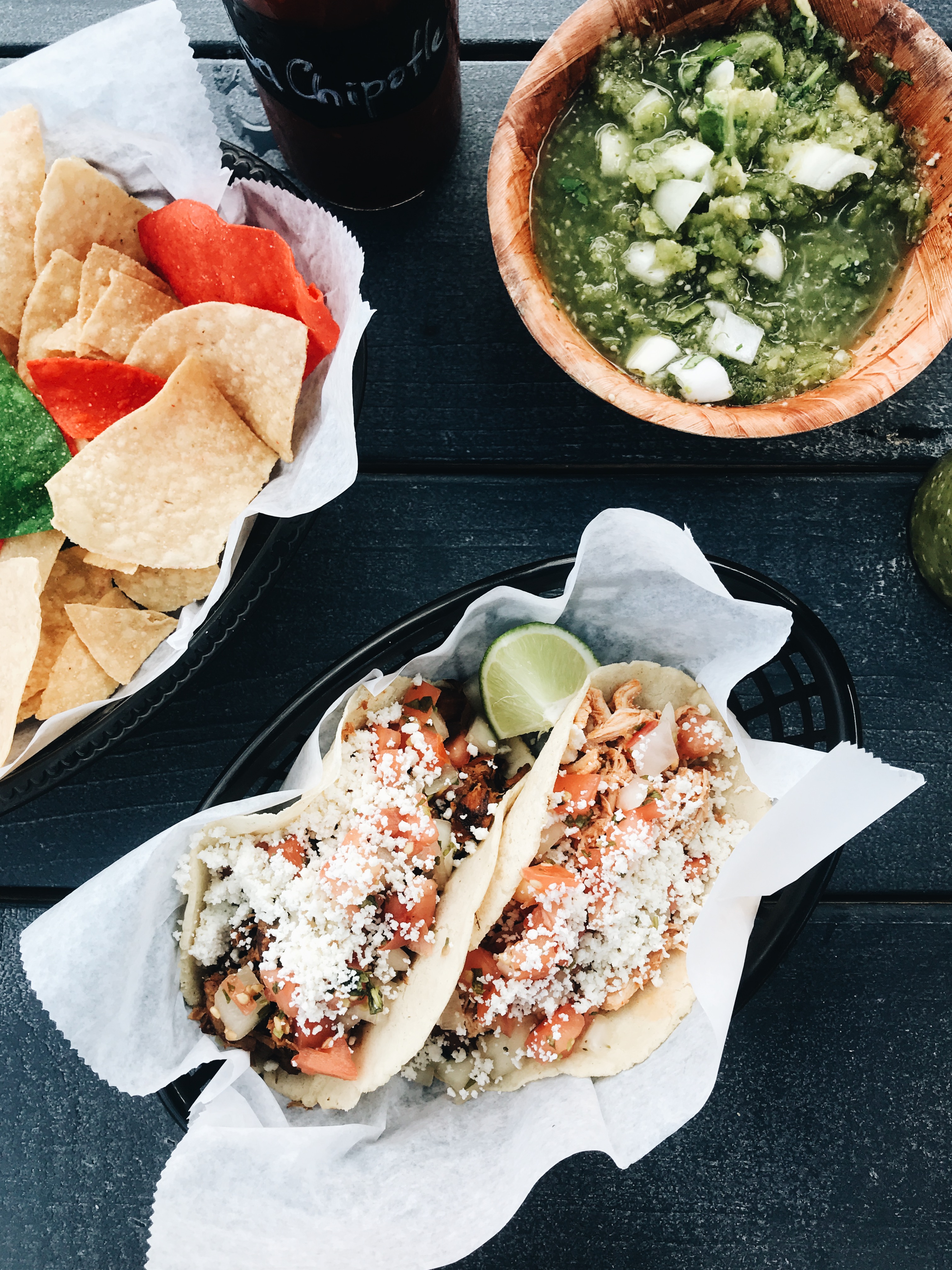 After we rented bikes and got our island bearings, the first stop was FOOD. Right there on the water was this cuuuute, festive Mexican joint, complete with bright blue outdoor picnic tables, and the BEST salsa verde I've ever had. Totally fresh, right-then made, and freaking tasty.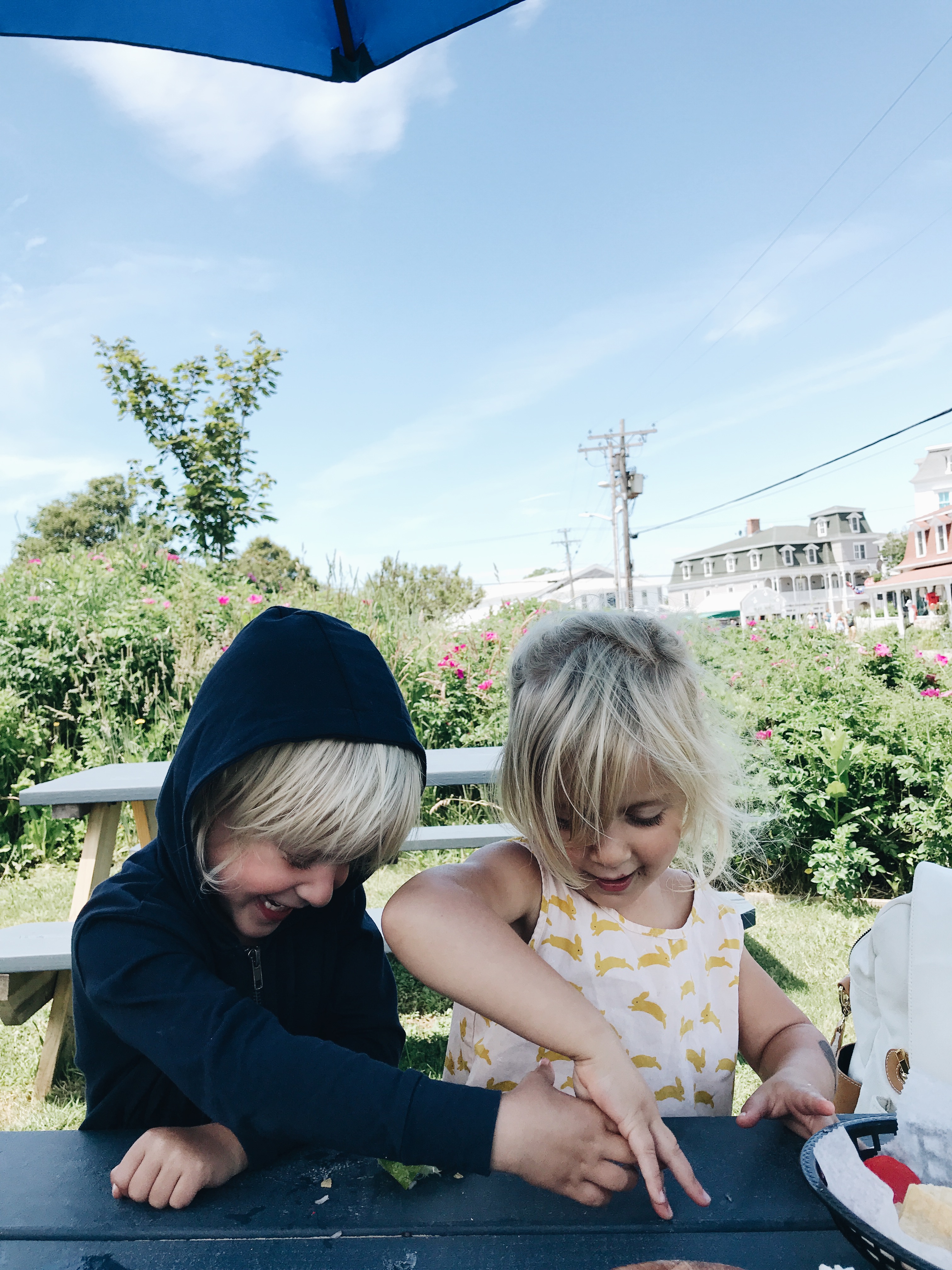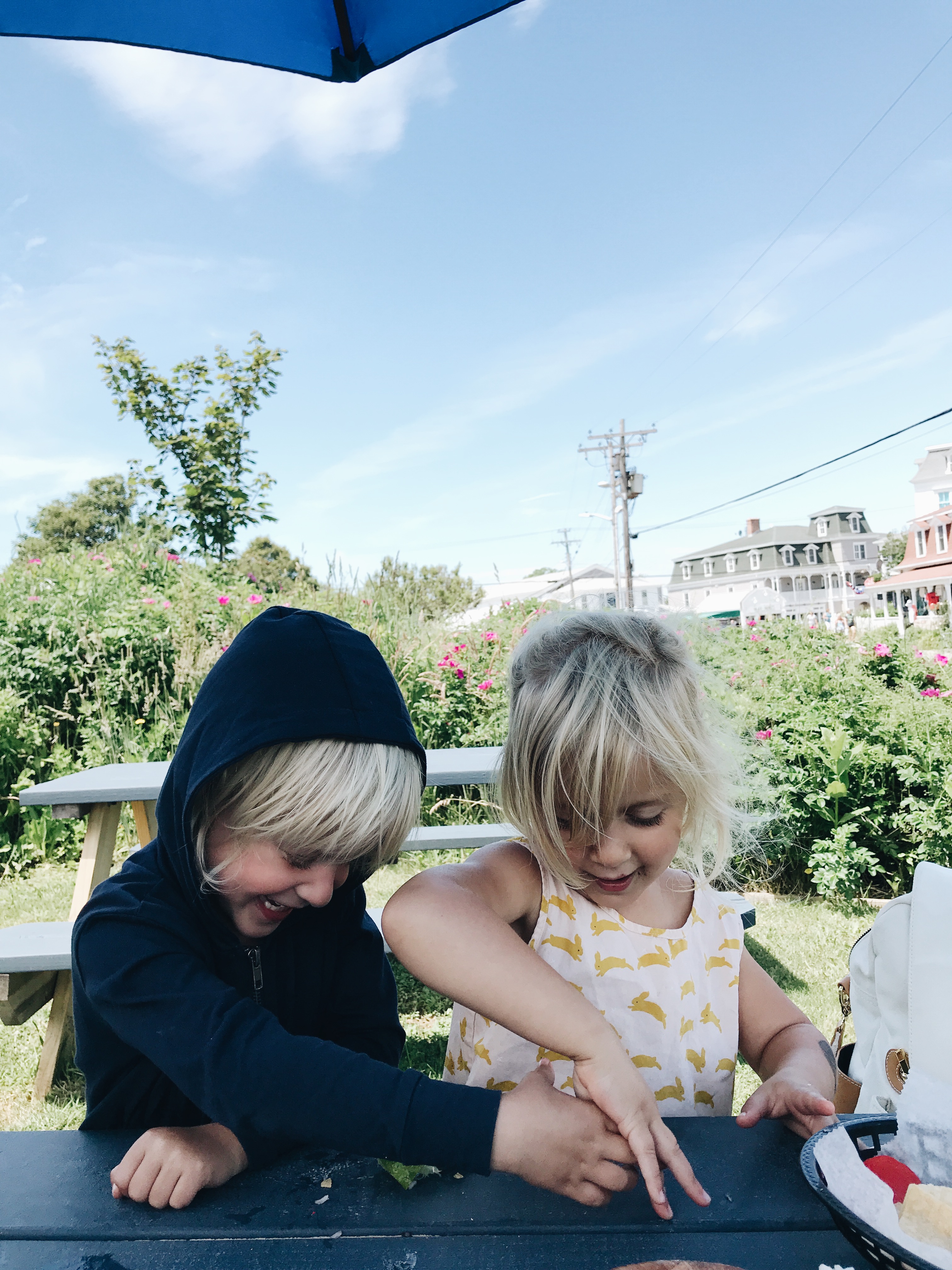 Gremlins approved.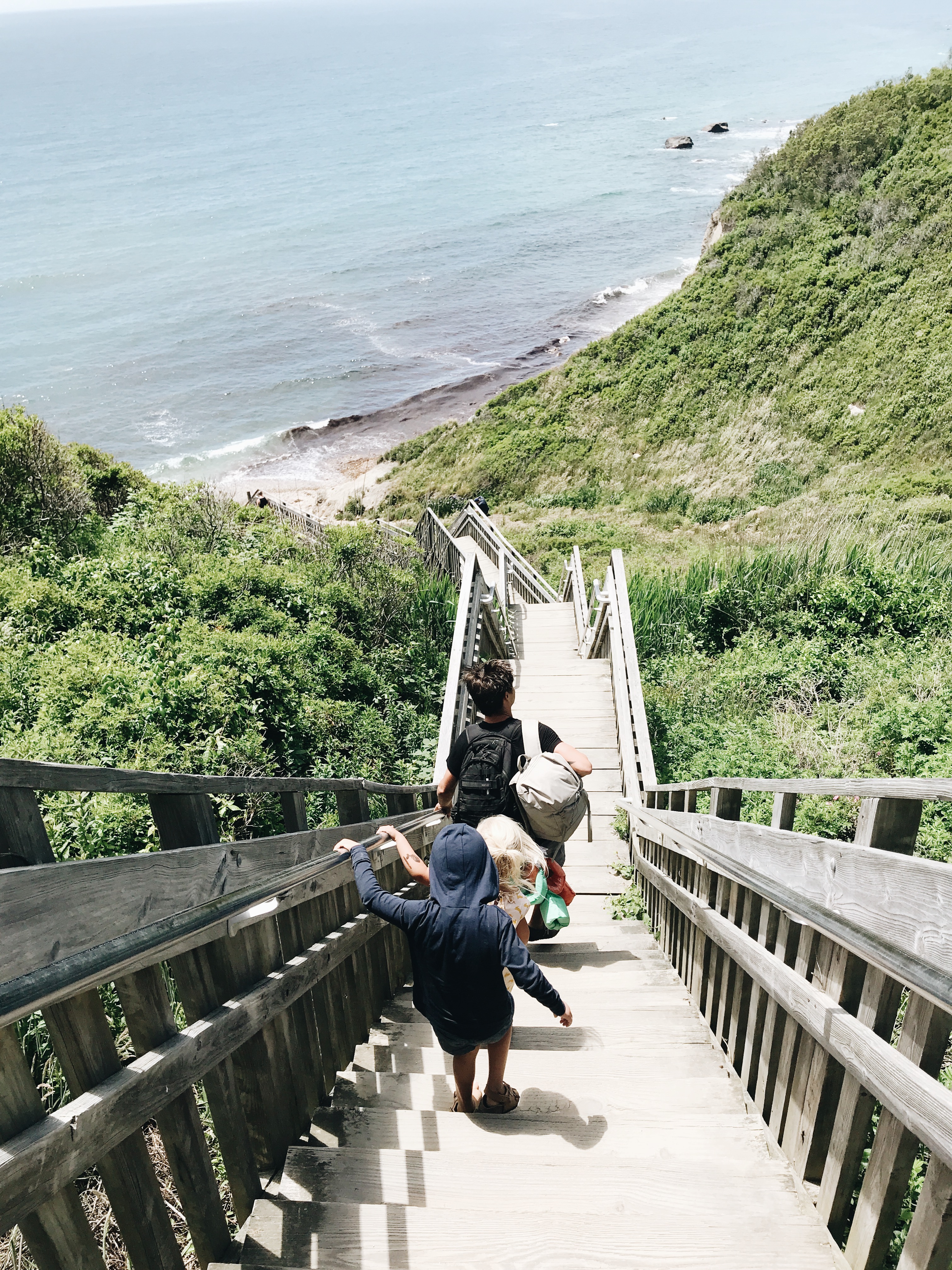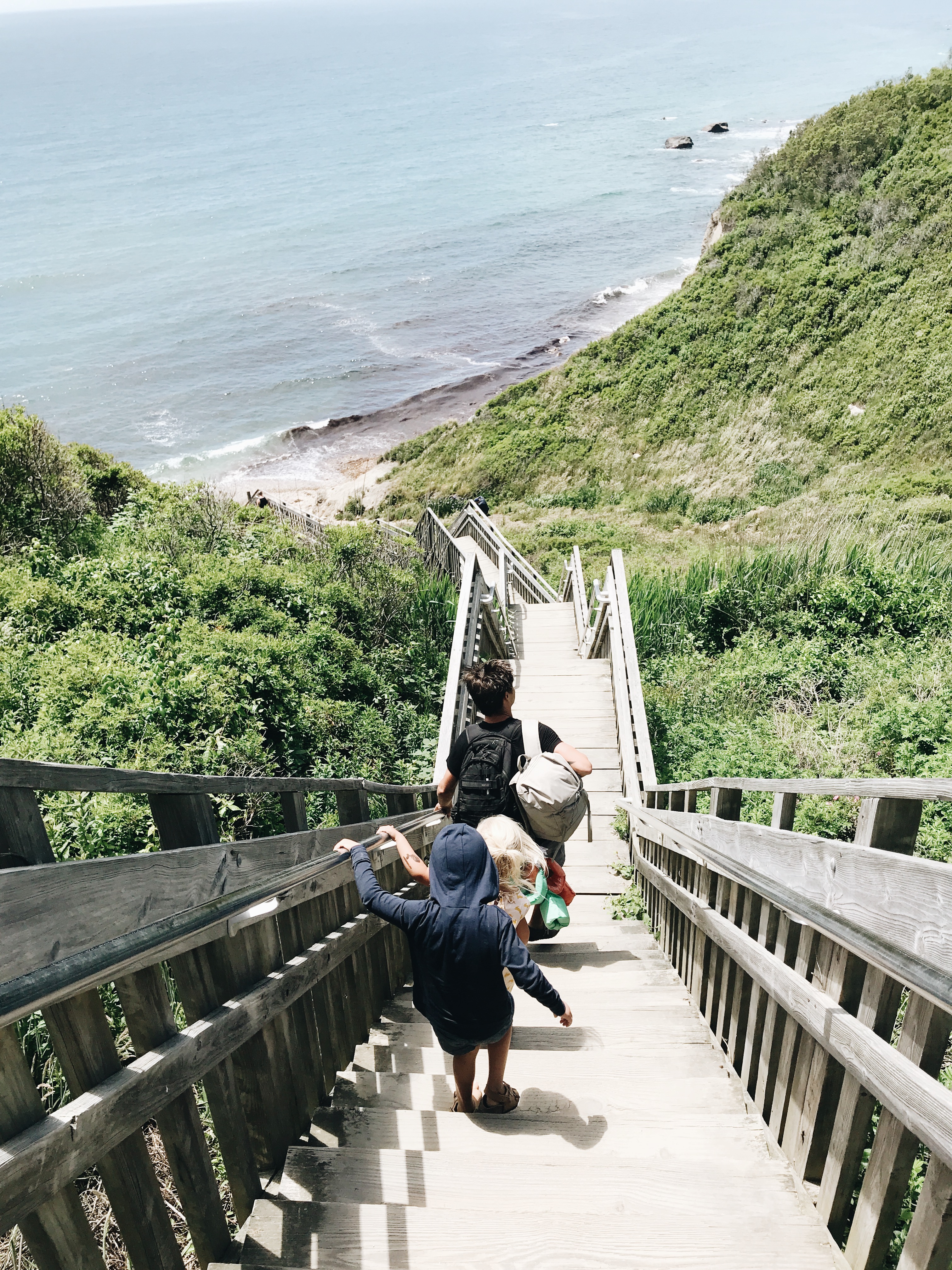 OKAY.
So after lunch we hopped on our bikes (the kids were in our burley bee that we brought from KC, which is seriously the greatest gift to parenting.) and made the unbelievably scenic trek up some rolling hills and along the coast to this big, beautiful lighthouse with a hundred billion steps down the path from it.
BREATHTAKING. Jaw dropping.
So we took a deep inhale and made our way down. All the way down those creaky wooden steps.
Alllllll the way down.
Guys.
The VERY BOTTOM STEP, Will looks at Aaron, "Dad, I have to poop."
….I'm sorry, what?
Not only did Aaron walk us all the way down, he THEN had to walk Will BACK UP two hundred billion steps, get him back in the Burley, get on his back and ride to the lighthouse down the street, and then convince him to use the rotting porta potty just outside.
Meanwhile, I was all the way down by the rocky shoreline, pebble picking with Nat, while the sunscreen was in Aaron's backpack and not mine, so my shoulders crisped up like bbq'd shrimp.
Yaaaay parenting!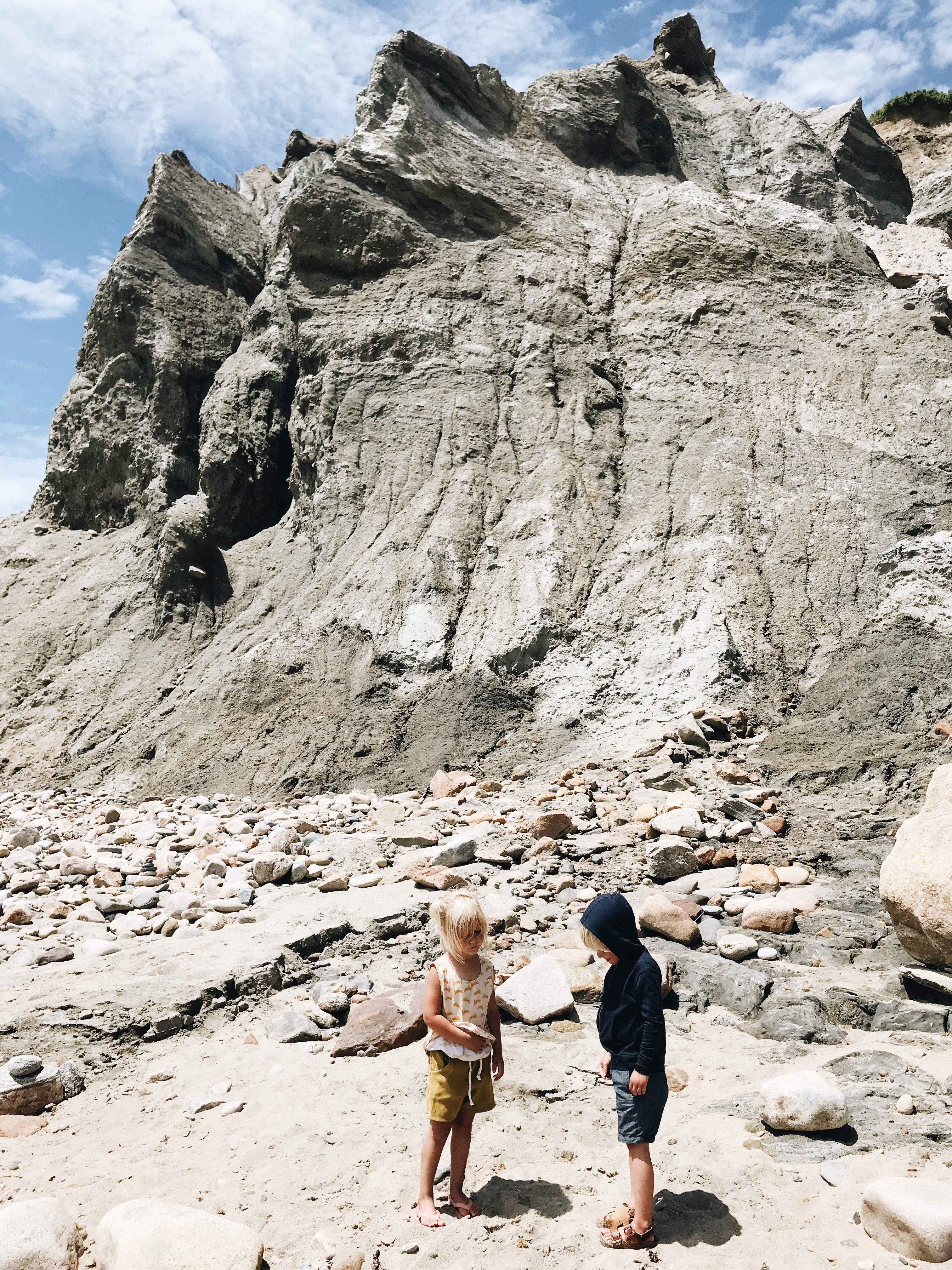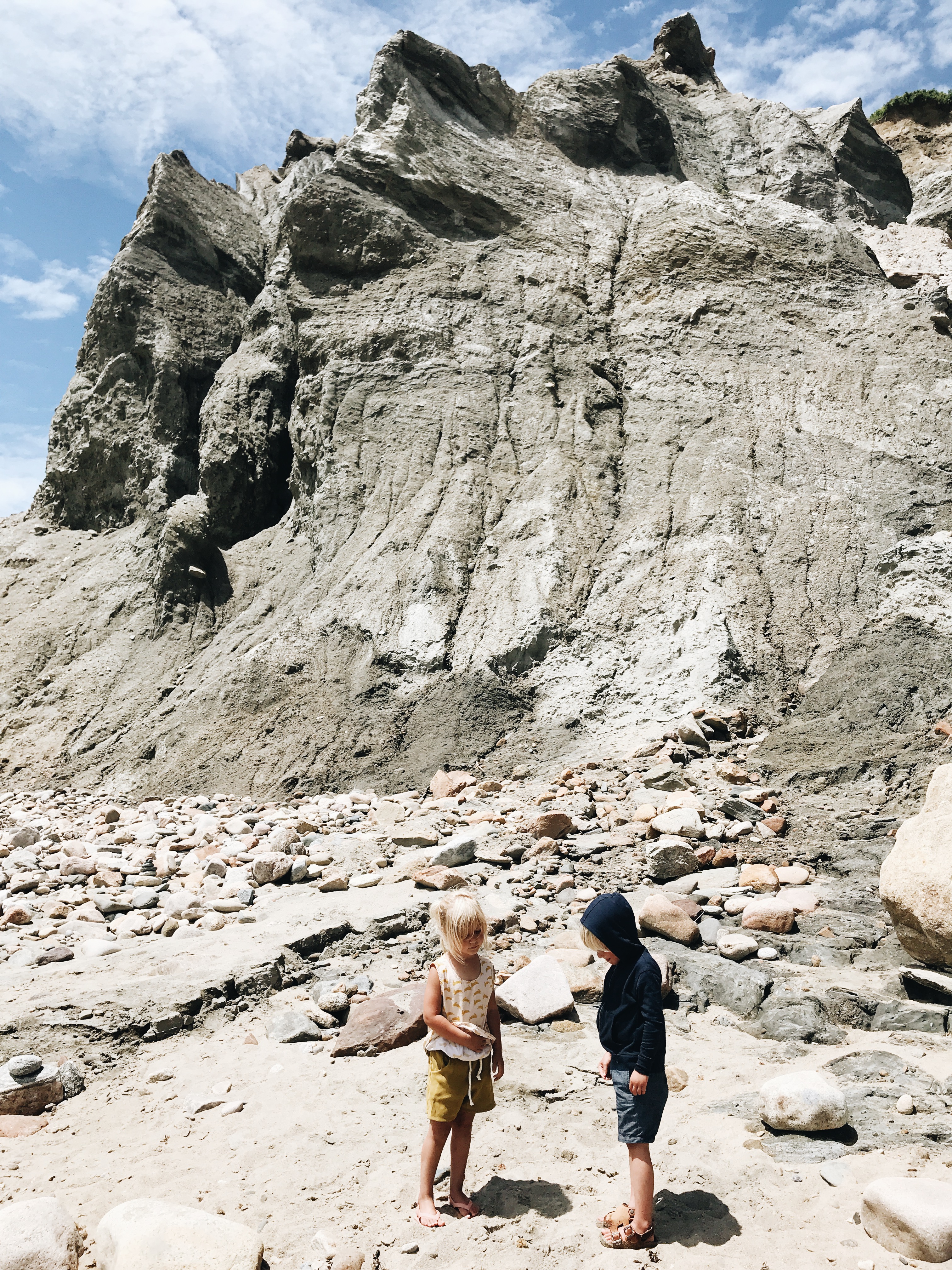 I still love you, Will.
For now.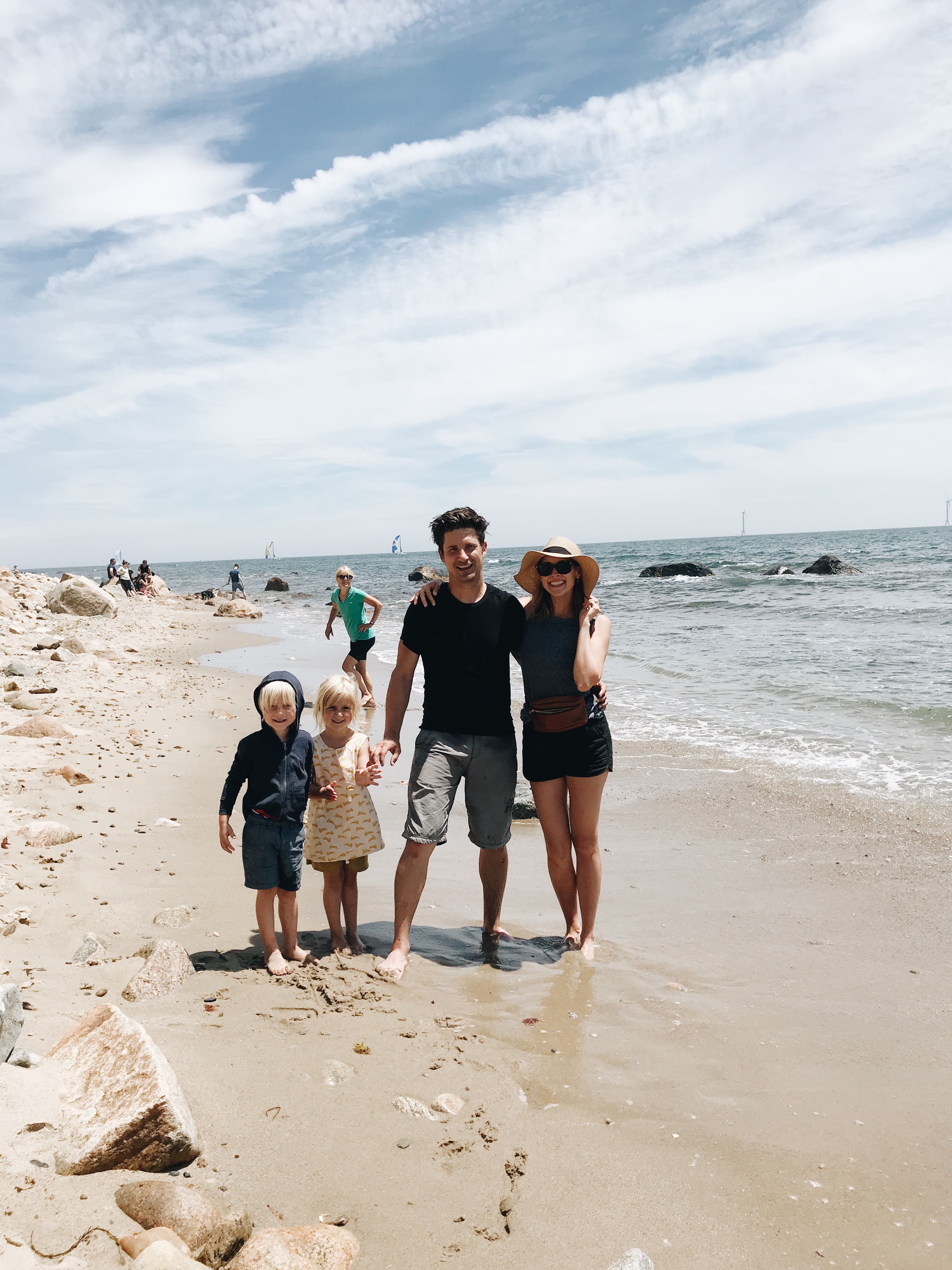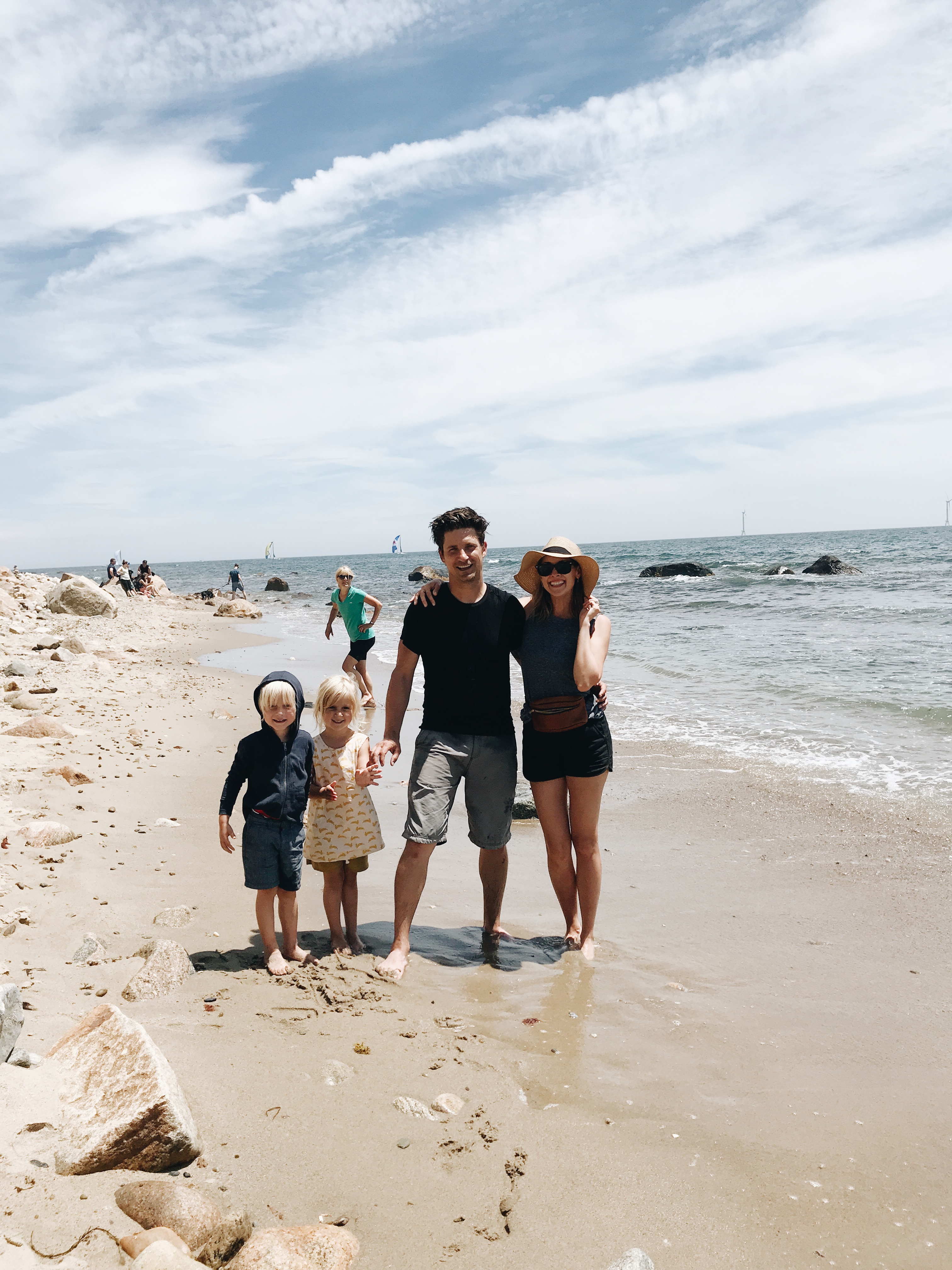 Awwww look at the happiness! The pure jubilation and excitement of being outdoors in the fresh, salty air.
Wait, I'm talking about the lady behind us.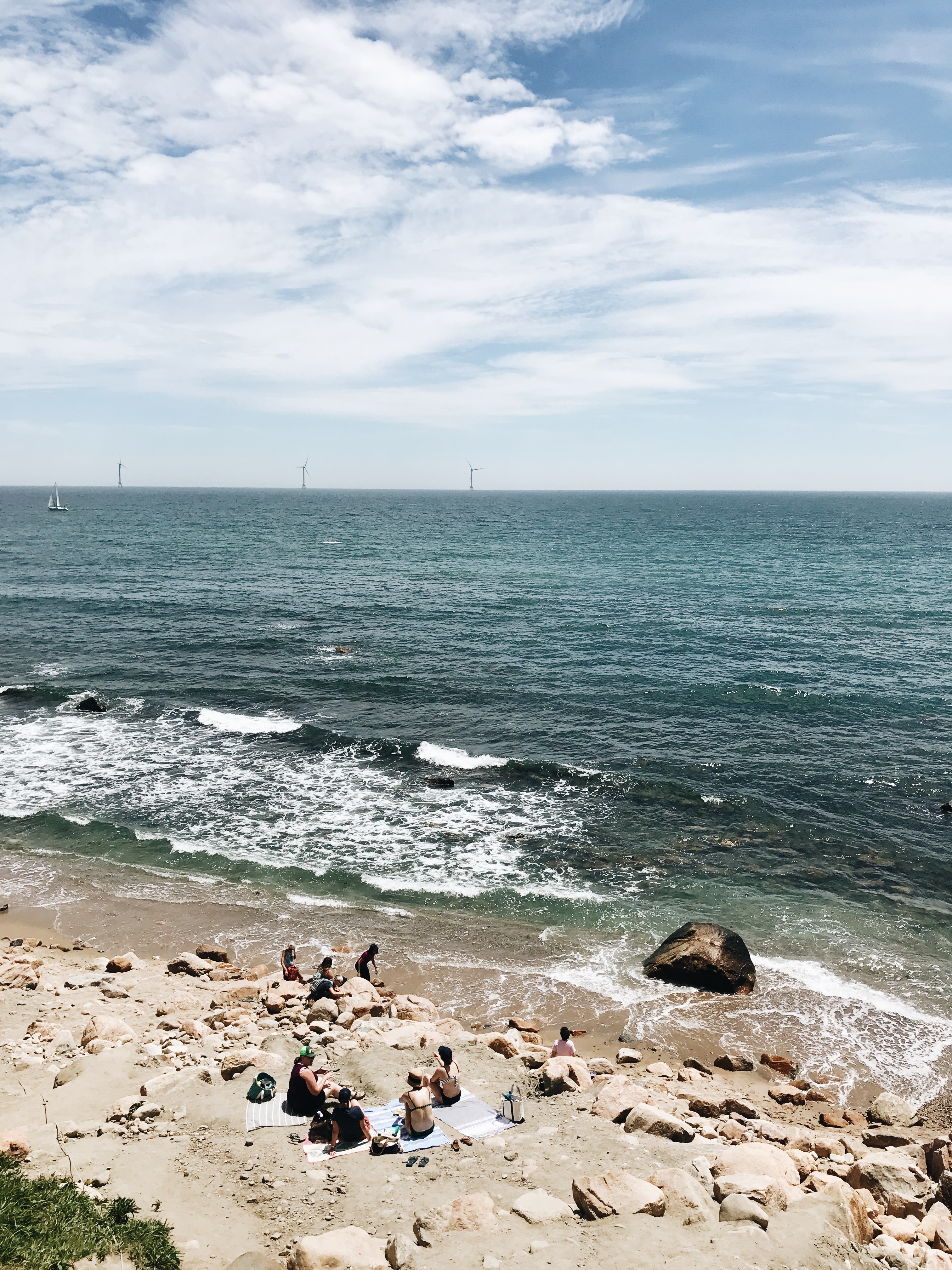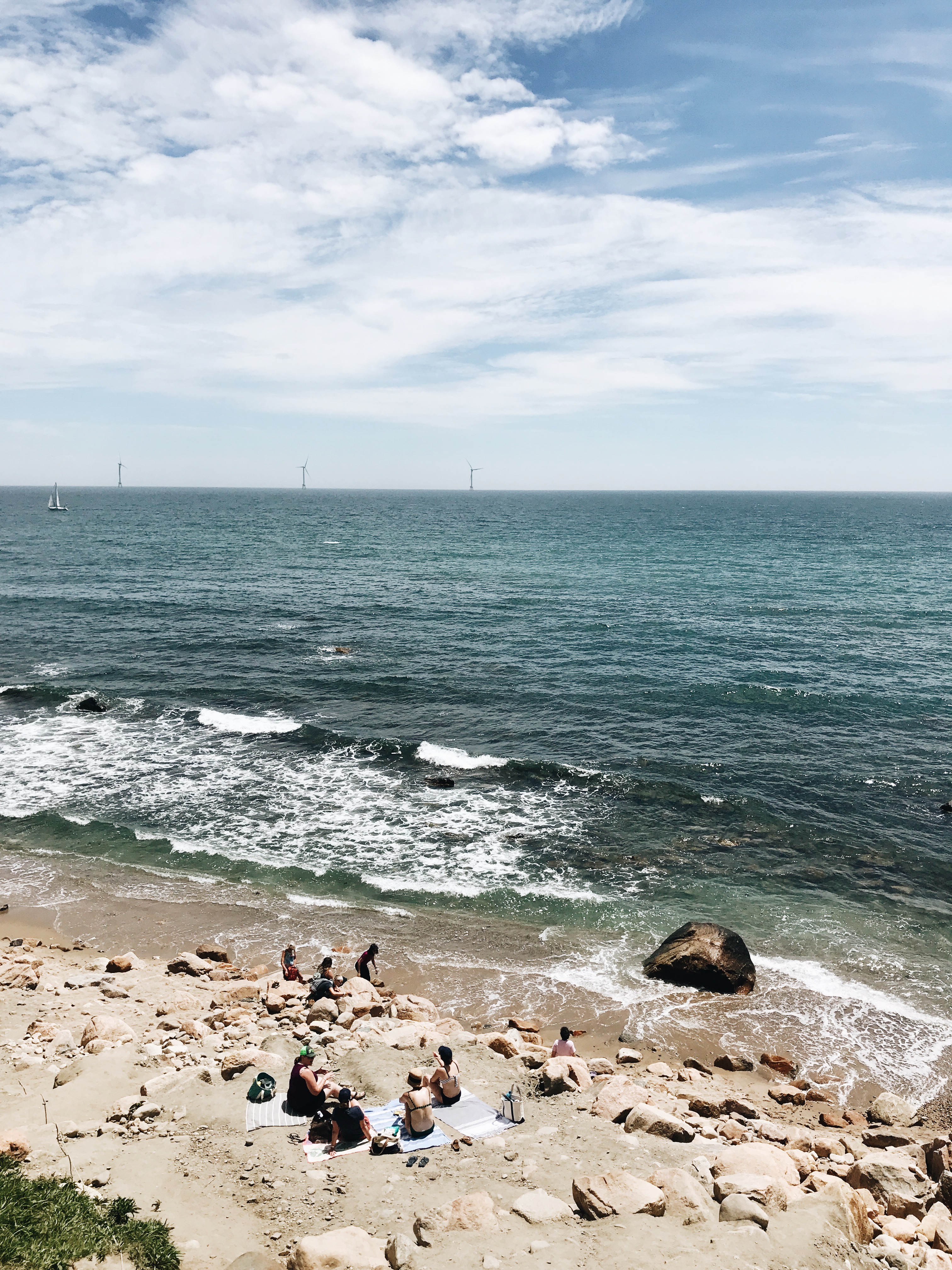 I have nothing to say about this other than I loved watching this gaggle of sass sunbathing on those rocks and gossiping about some girl named Julie who showed up at at some rager with some dude named name Joel and that was a huge NO NO.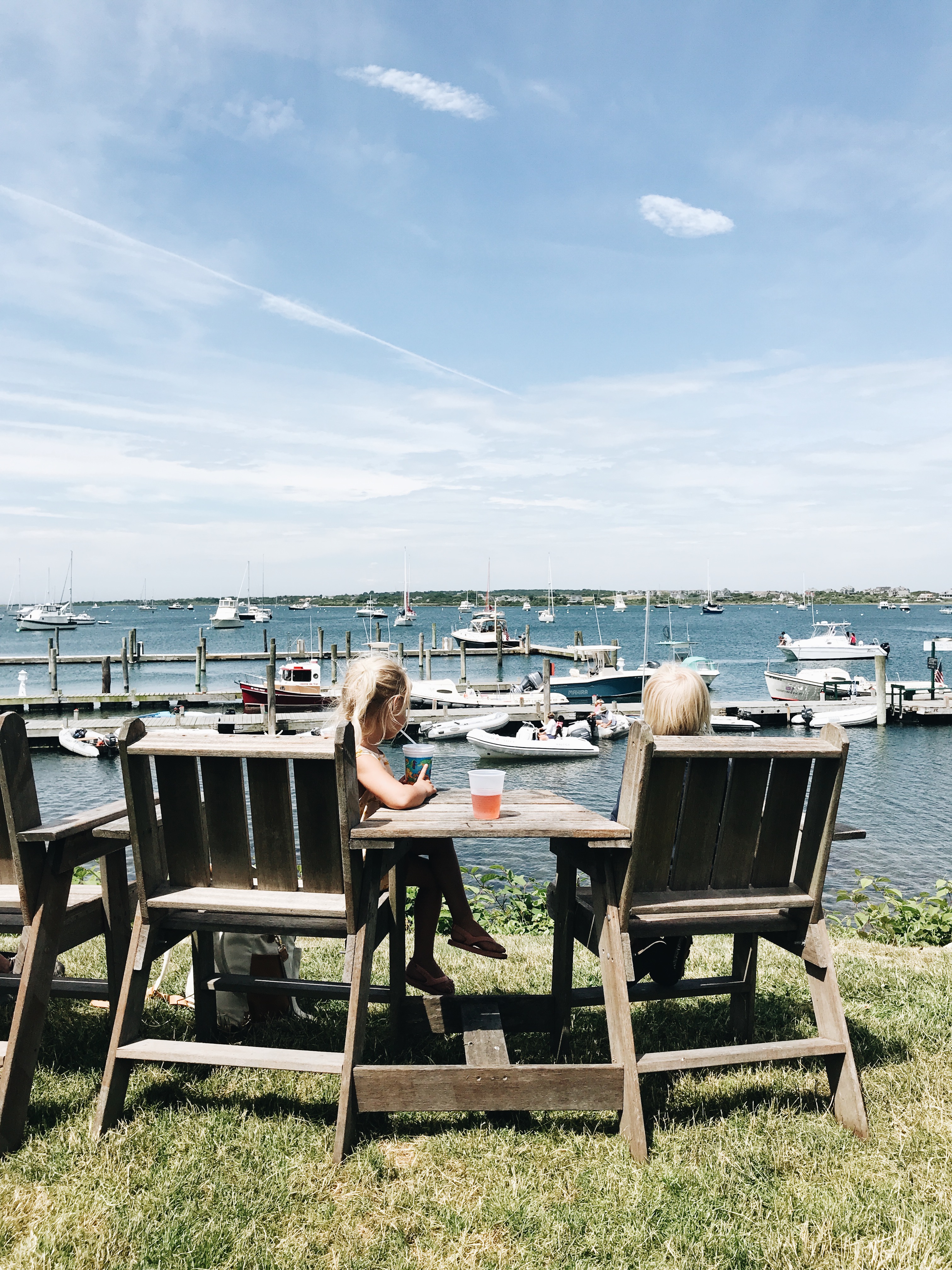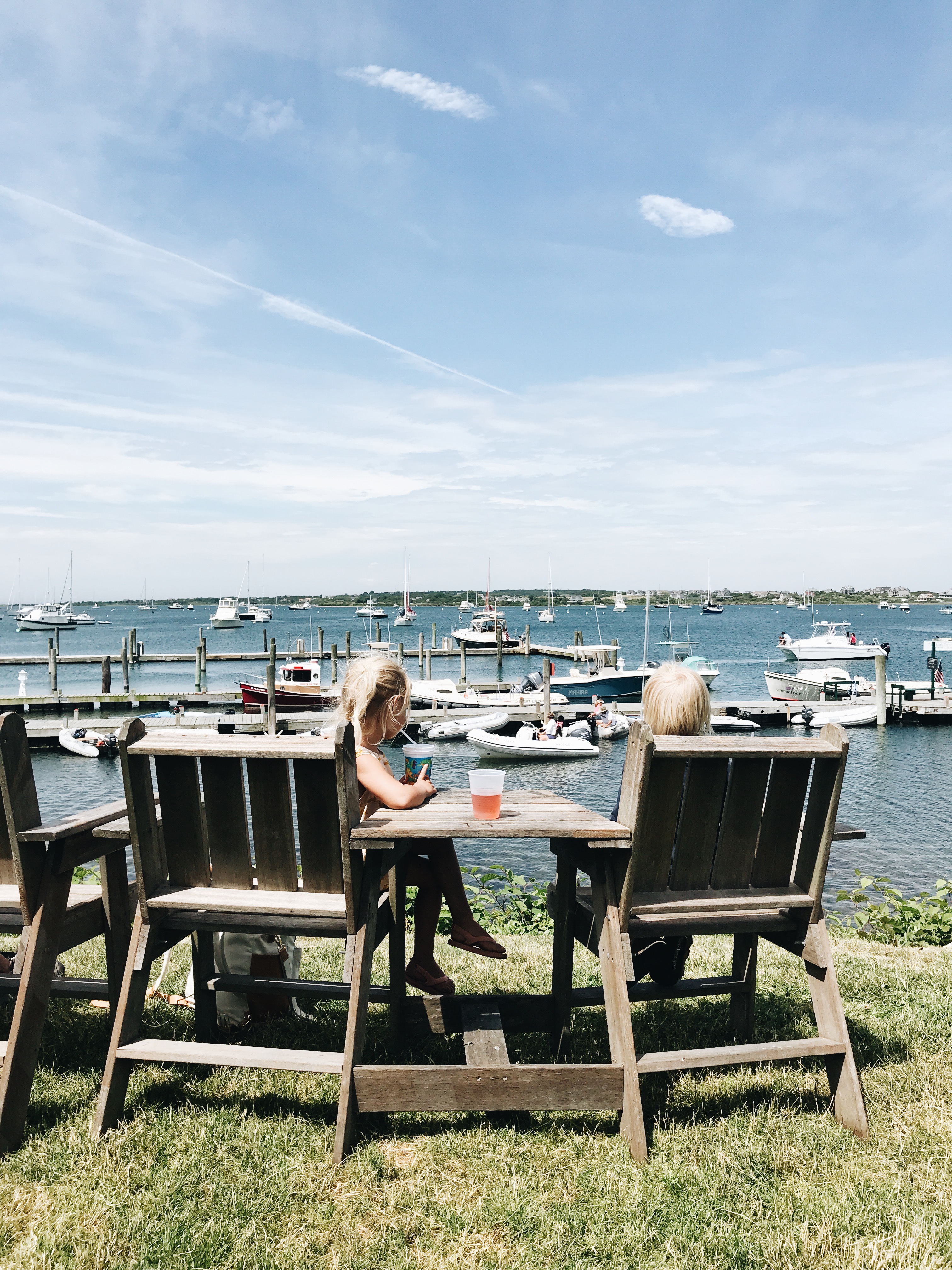 One rocky beach and 340 billion steps later, we biked over to a highly-recommended restaurant on the water, The Oar. And it was GORGEOUS.
We sat in tiny wooden chairs all in a row, overlooking the picture-perfect docks and the locals getting on their little boats with their perfect lives.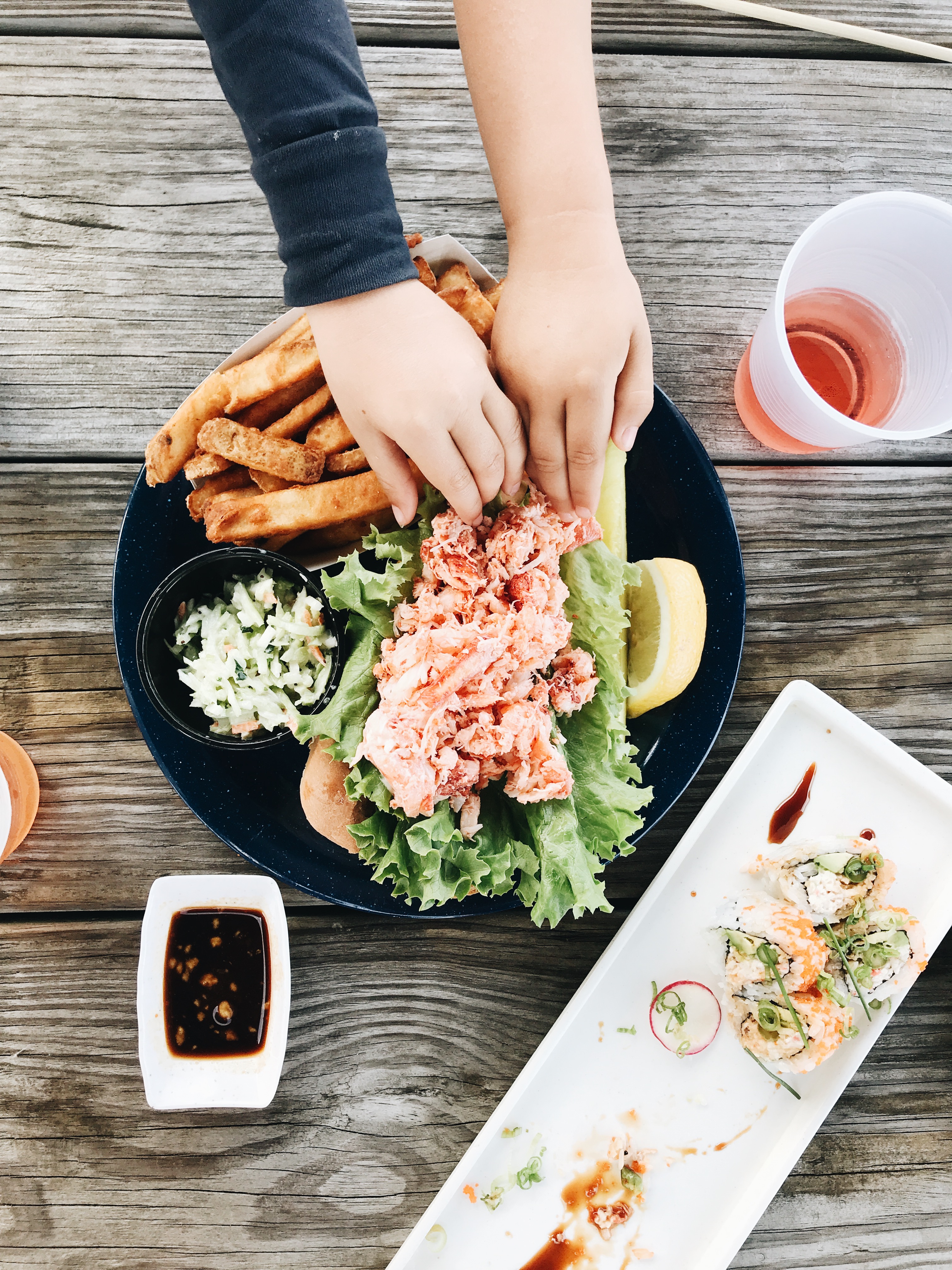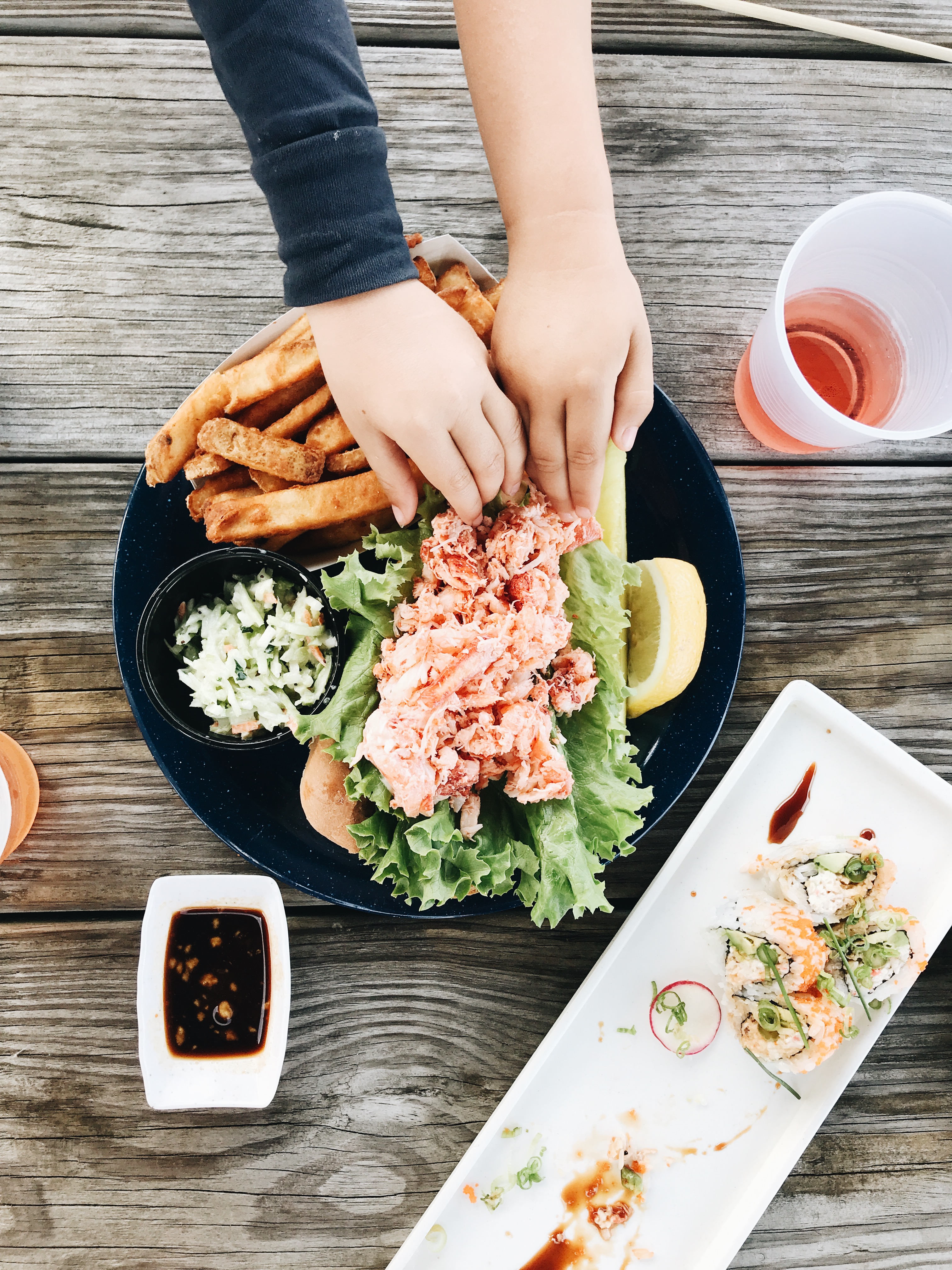 I WILL SAY, skip the lobster roll. It was good, but not GREAT. Now, the sushi that's half eaten? OMG, it was the crunch roll, and I'll have dreams about it for the rest of my life.
Really.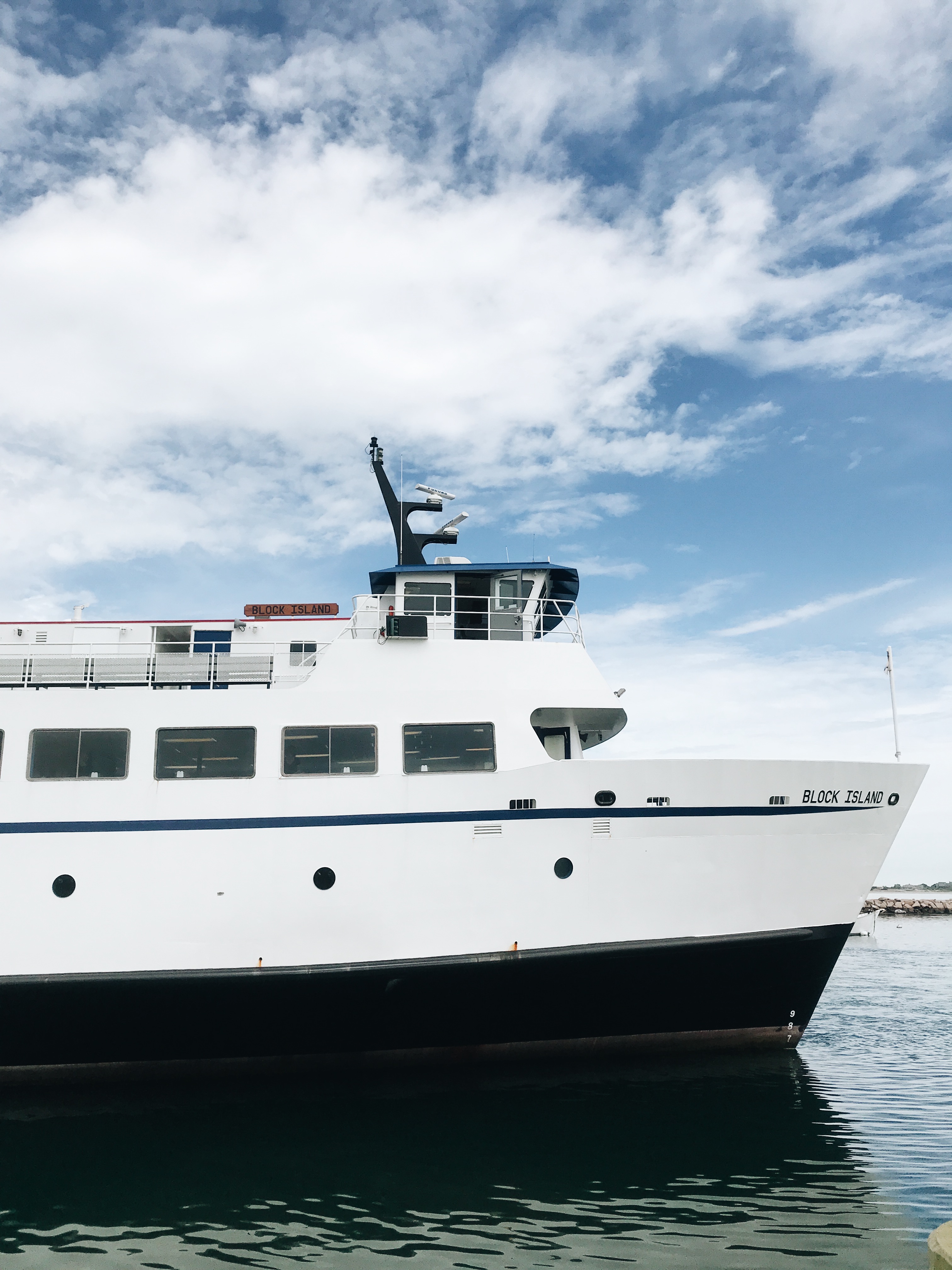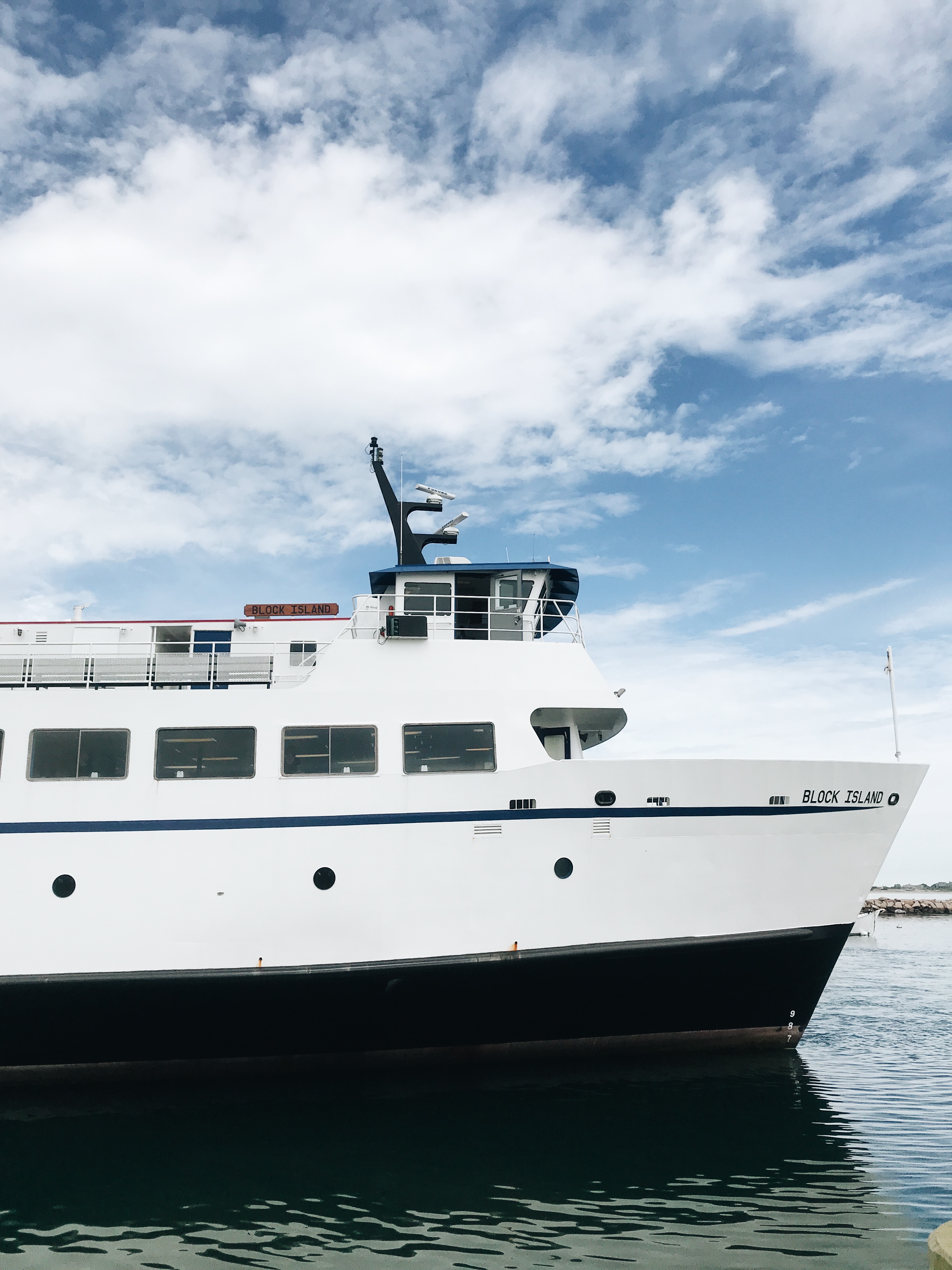 While we were there we bought a boat!
…no.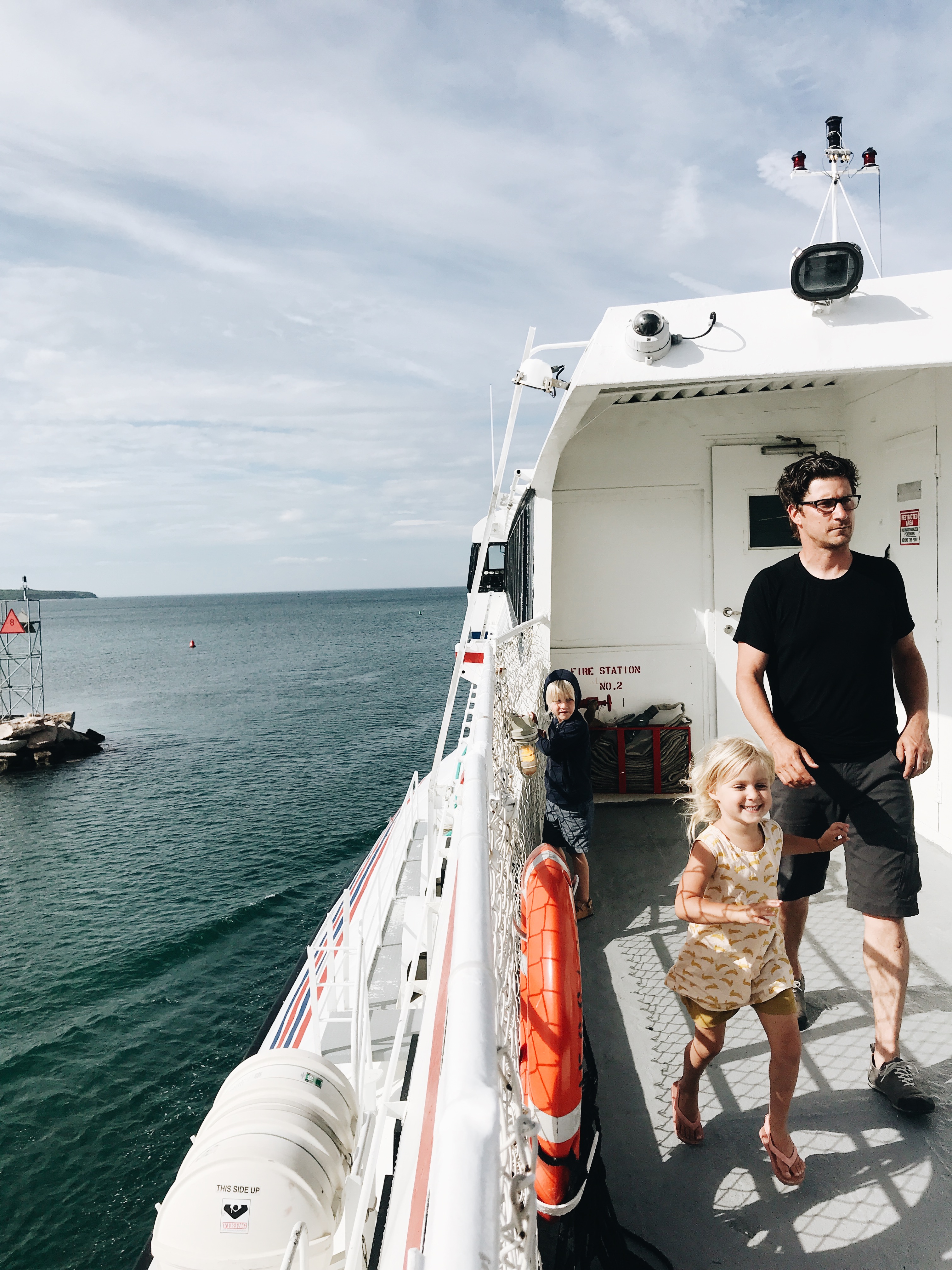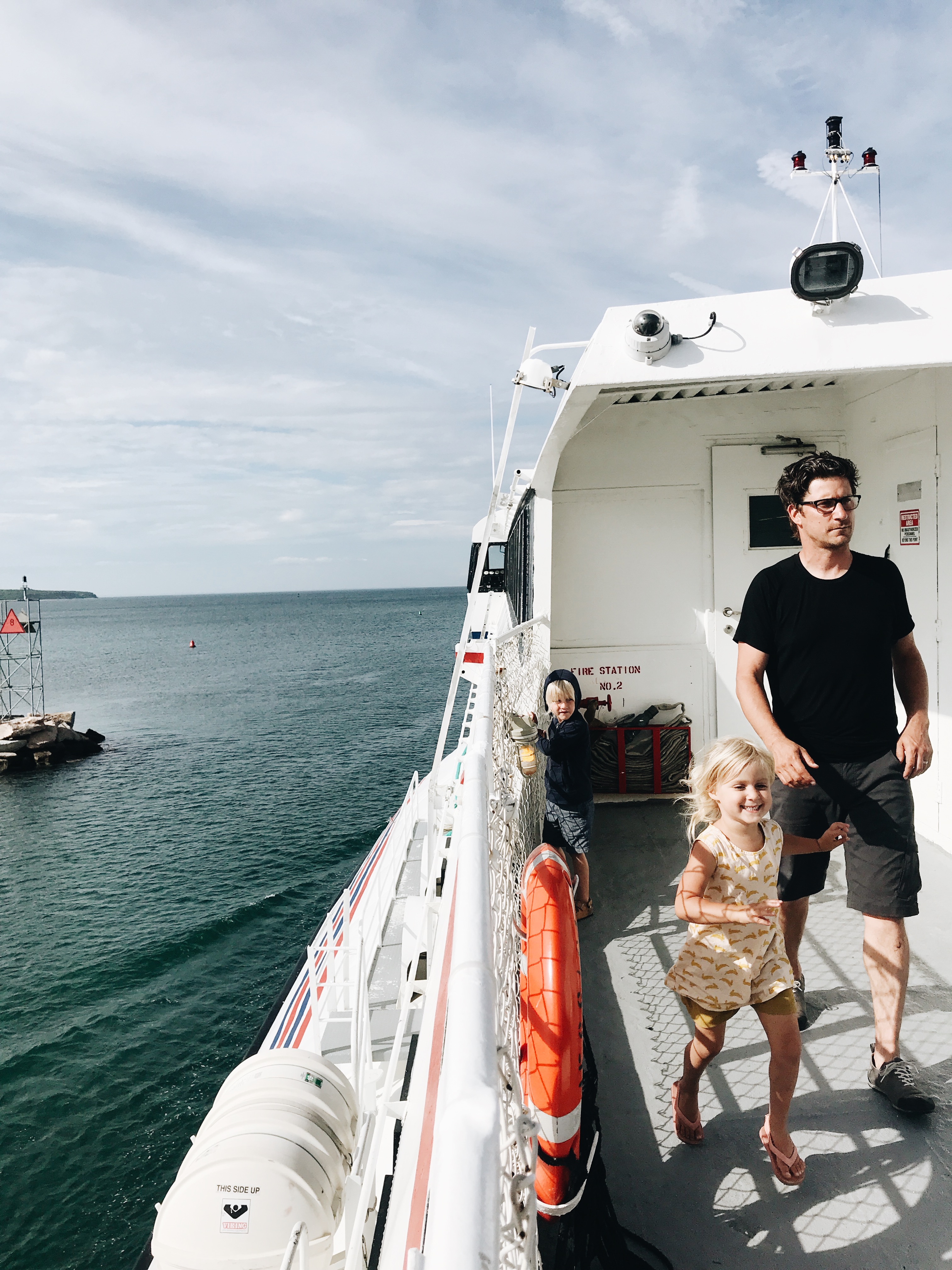 After a quick alone dip into the Glass Onion for a cute keepsake, and maaaaybe another rosé at Finn's restaurant, we boarded the ferry for our trip home. Which only took an hour! (EVERYTHING IS SO CLOSE HERE.)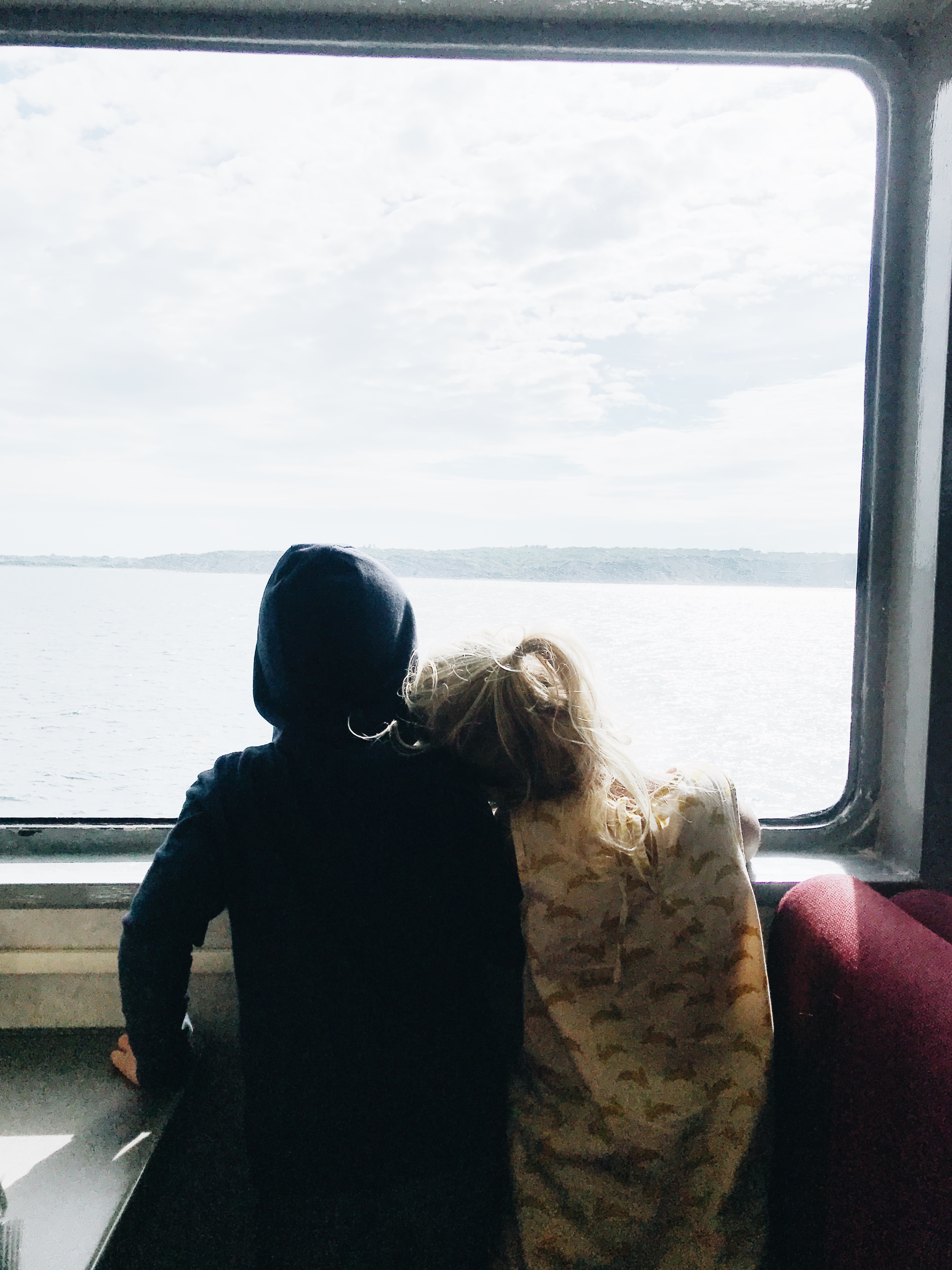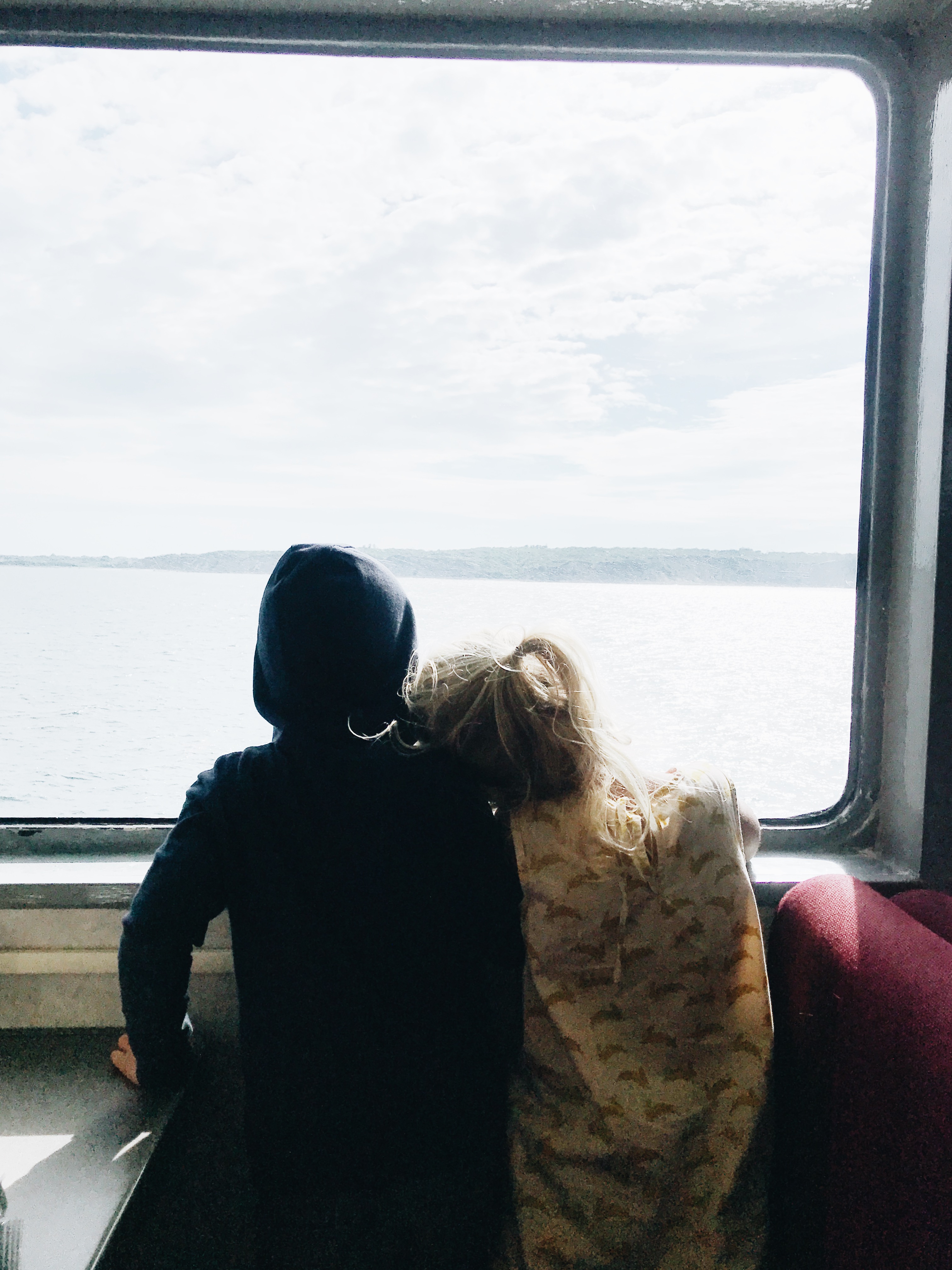 I mean come on.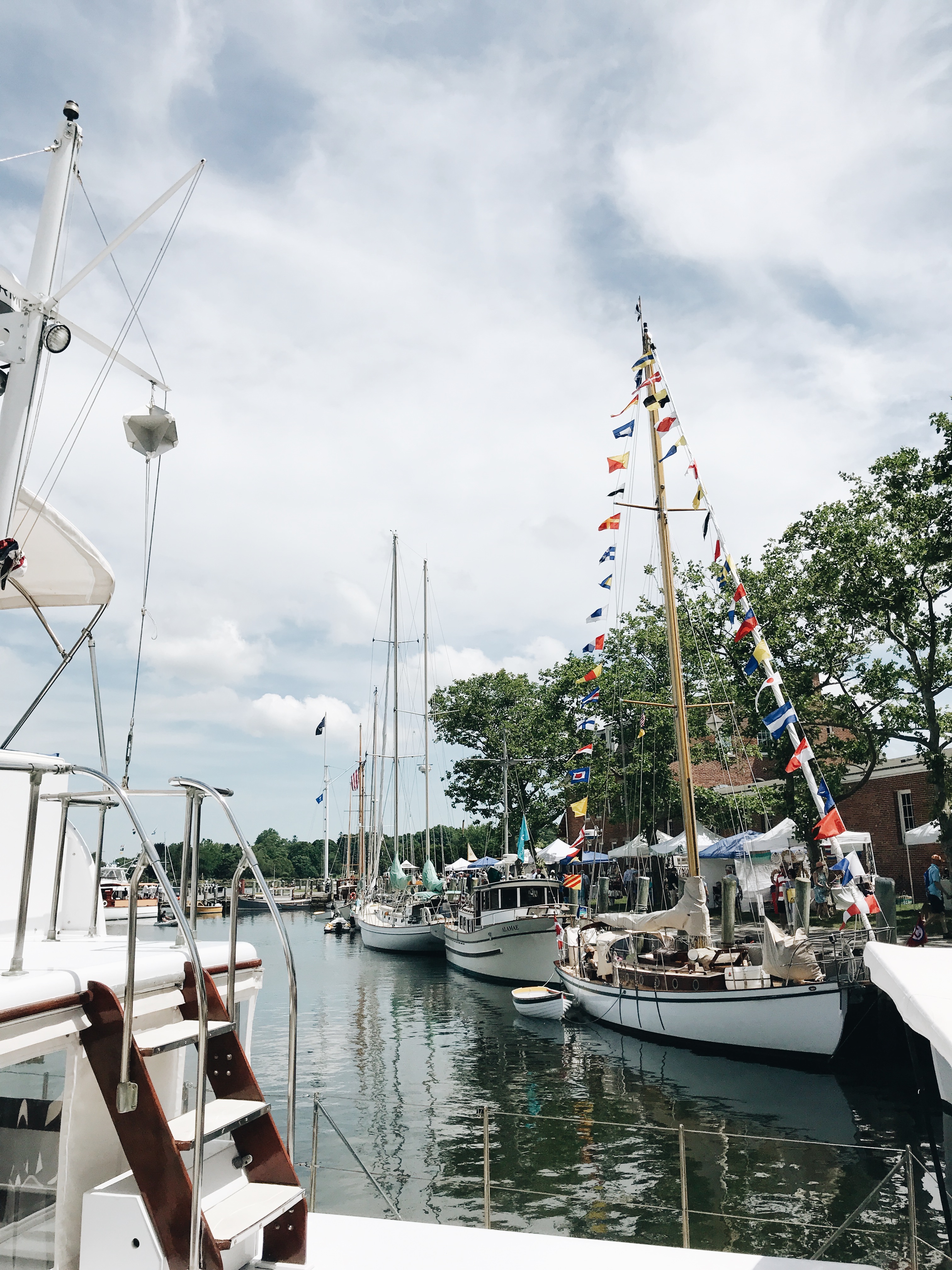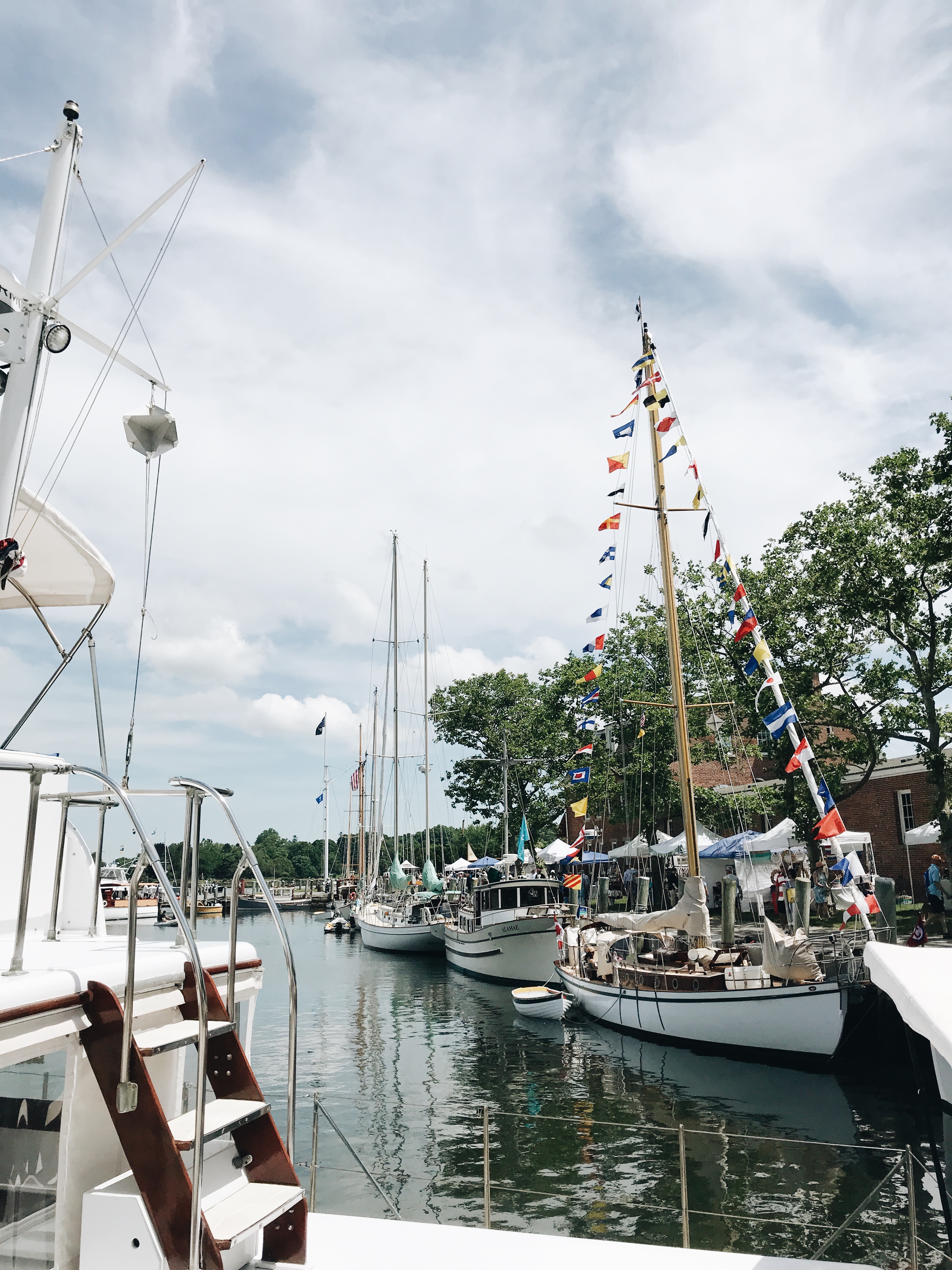 After a low-key Thursday (which is VITAL to this type of trip, especially with little kids) we finally made it to Mystic Seaport on Friday, for the wooden boat show!
AND I HAVE TO SAY, Mystic Seaport is one of the most incredible experiences, holy cow.
Look at those boats!
We had to get on one.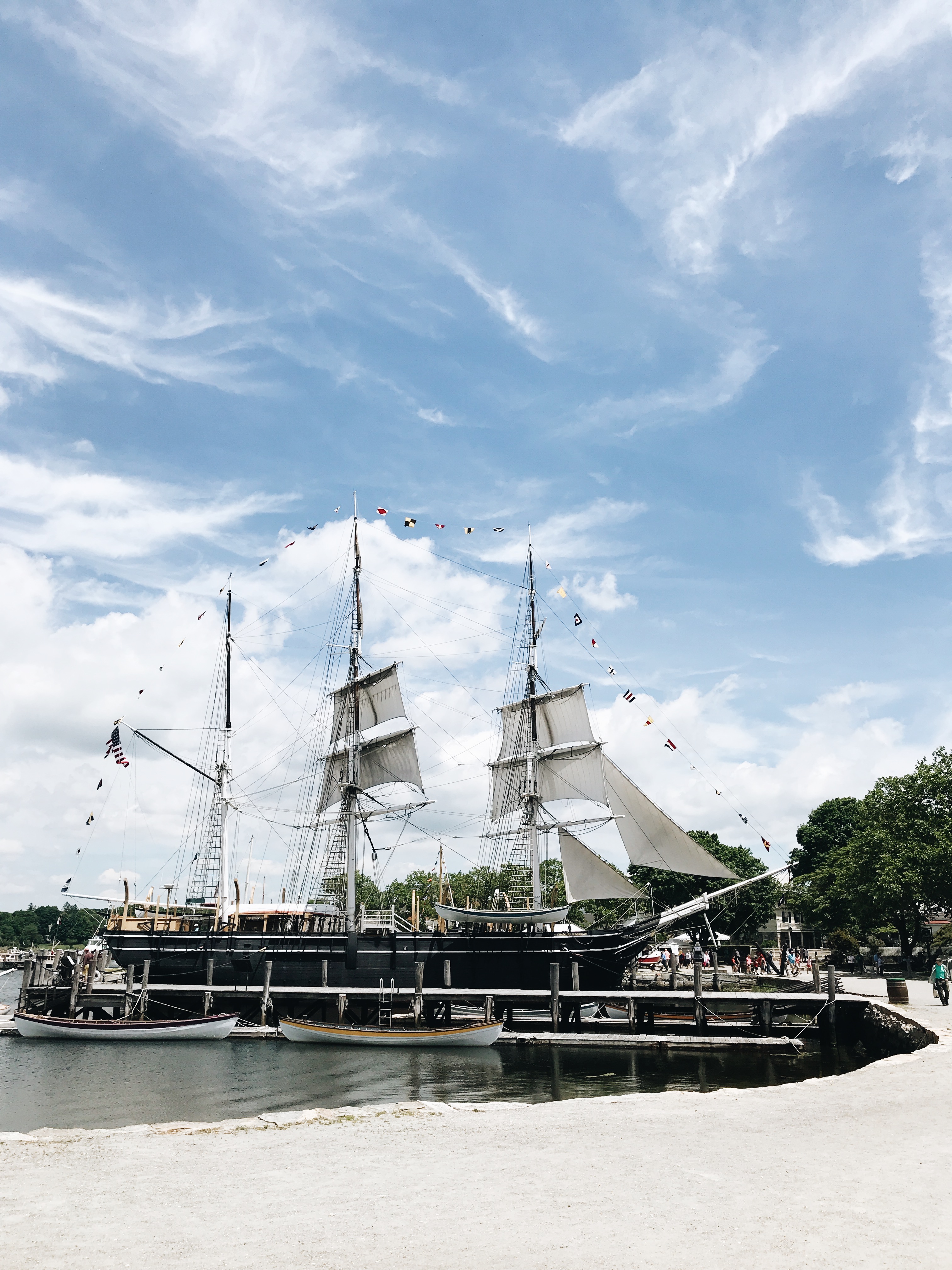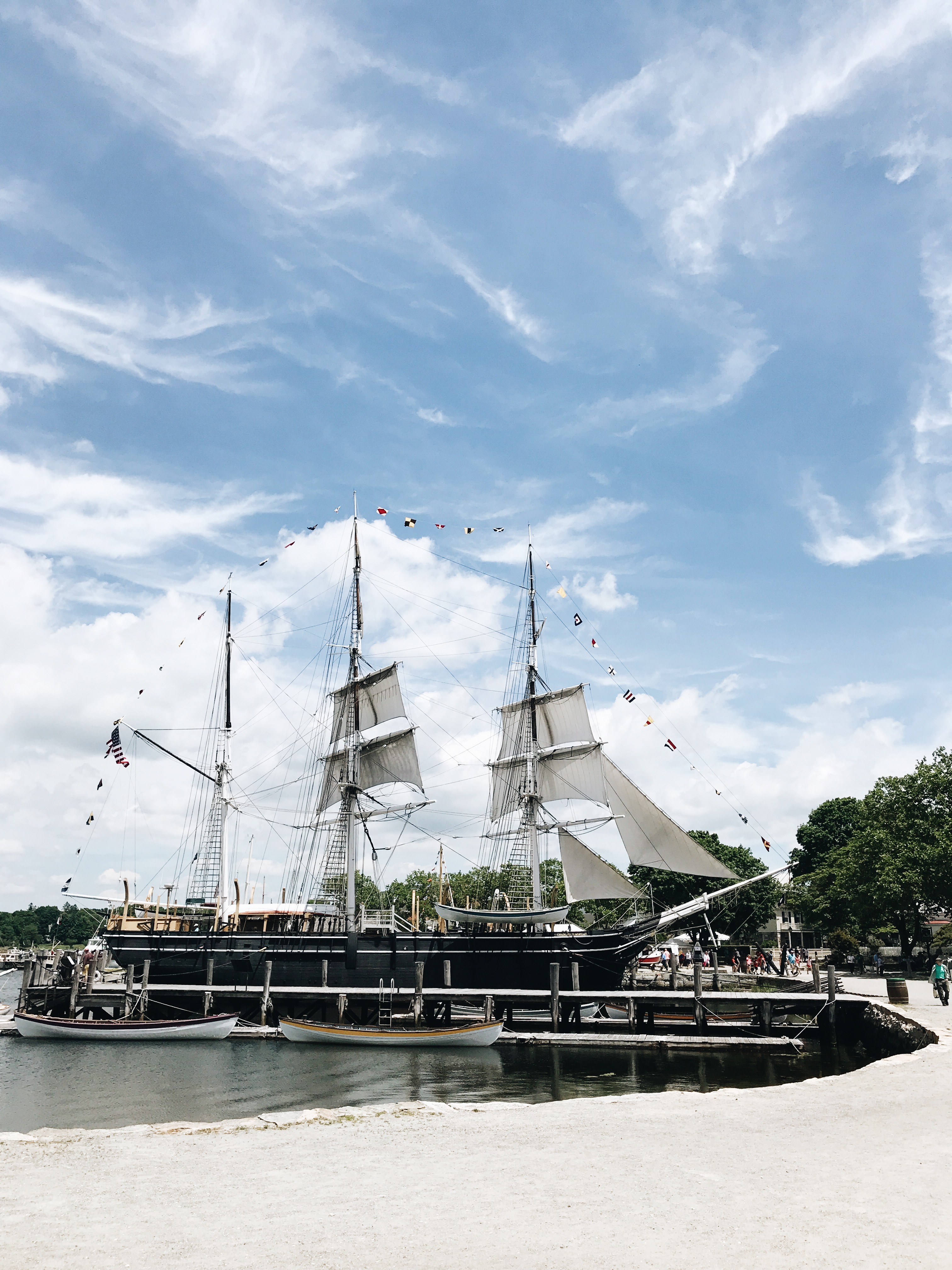 So we got on that one. Which I thiiiink was technically a whaling ship, but I told Will and Nat that it was Prince Eric's boat from the Little Mermaid and LIFE WAS MADE.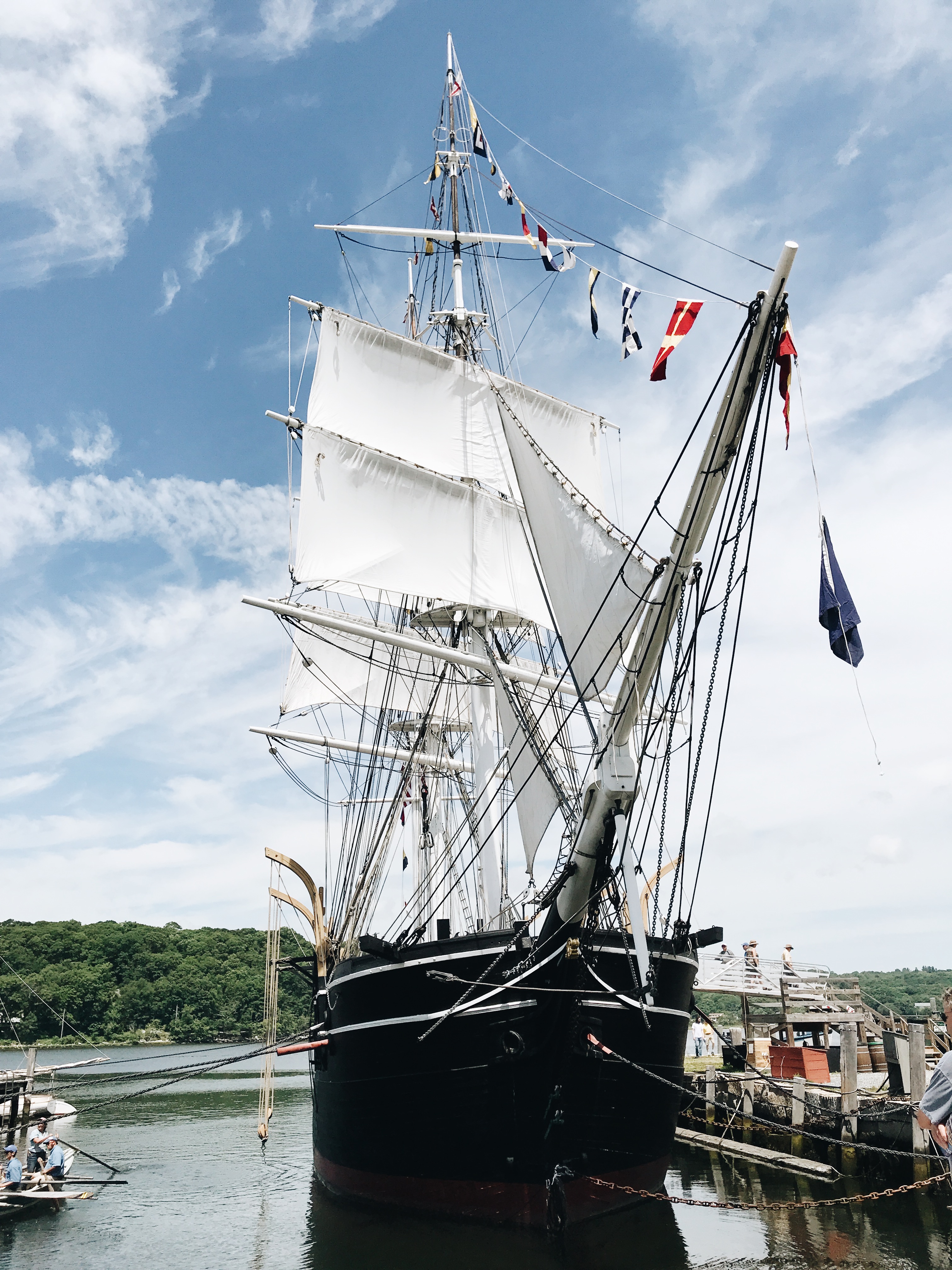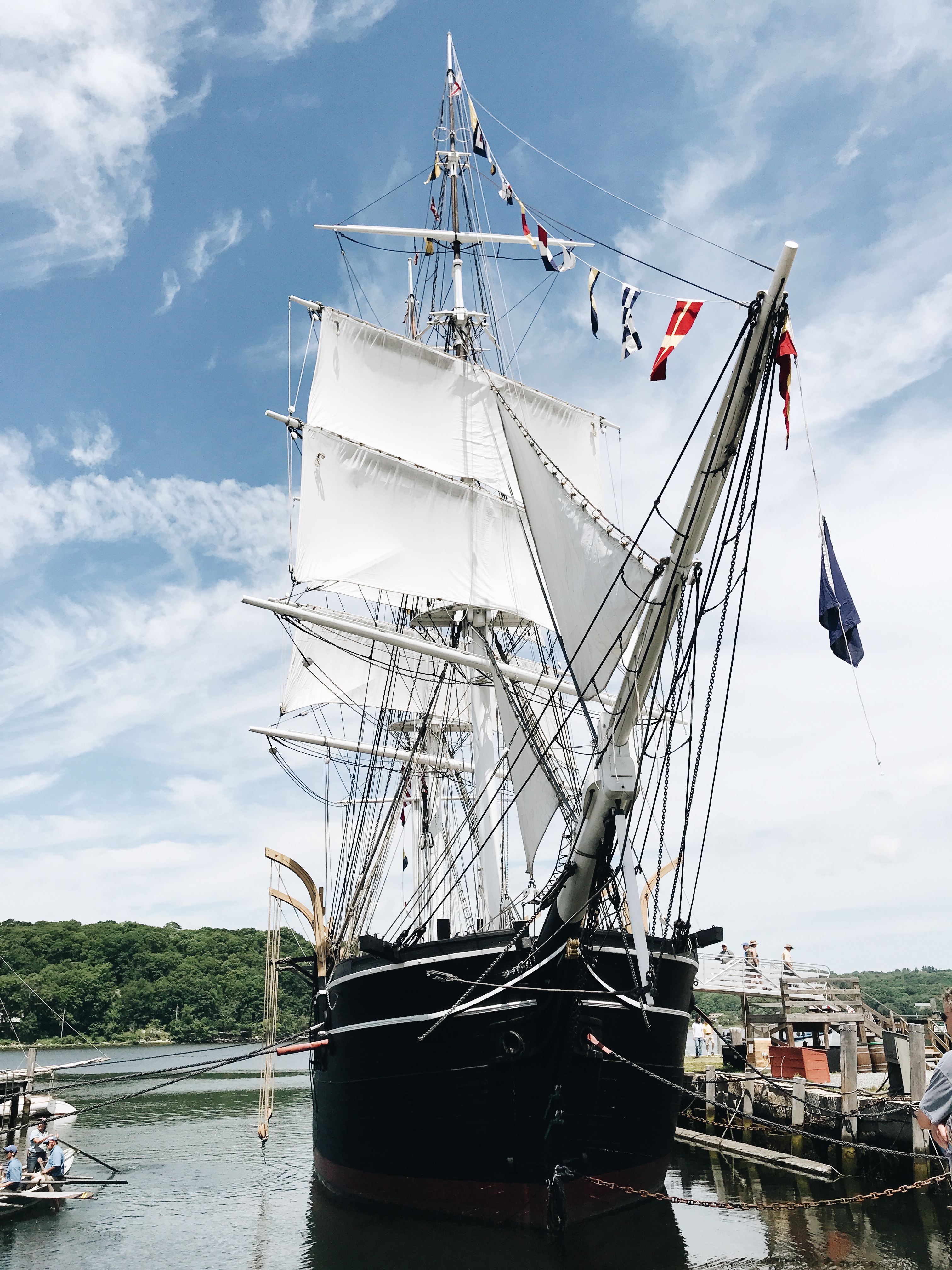 Look at that ship!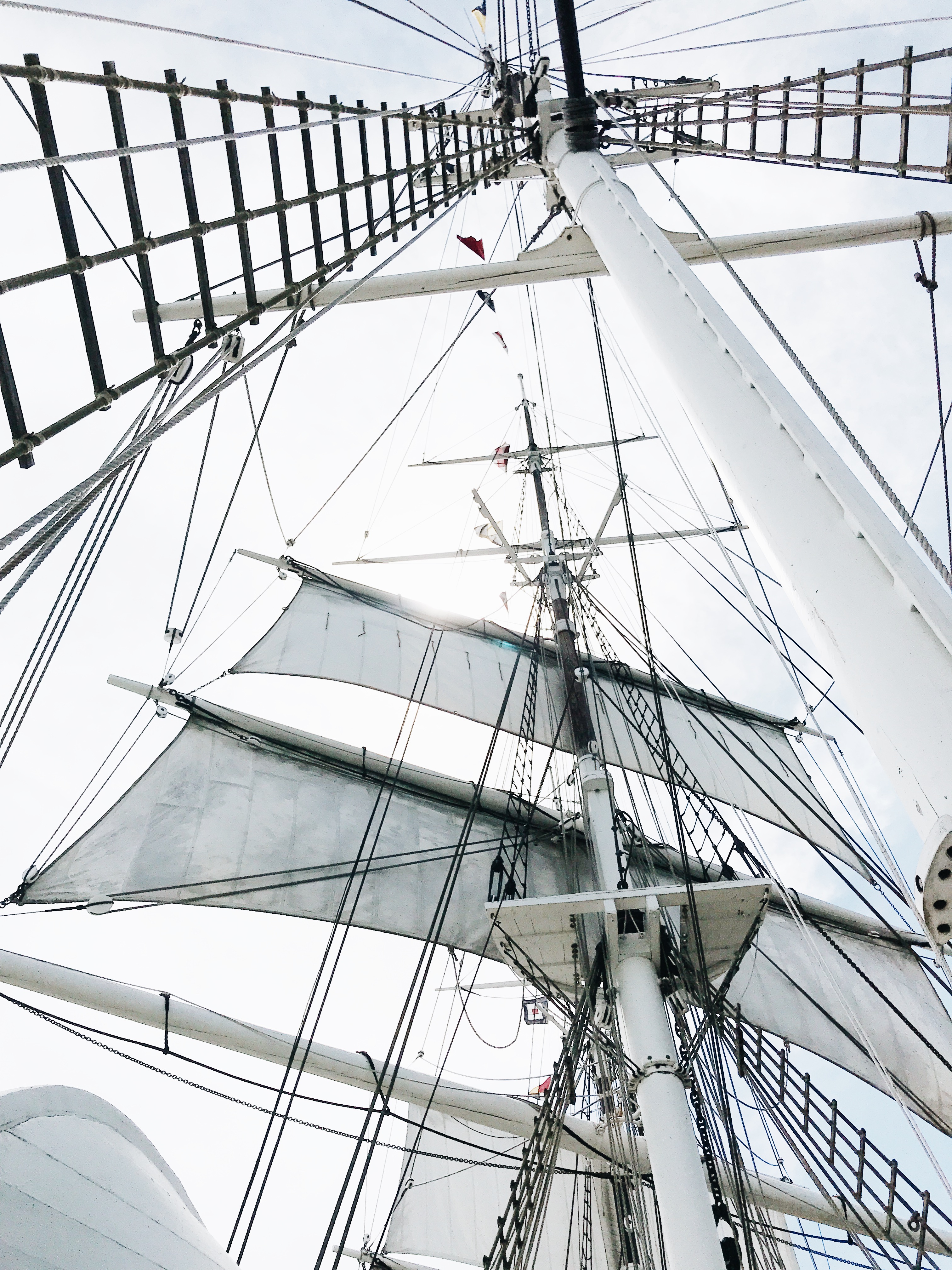 LOOK AT IT.
"I'll tell you a tale of the bottomless blue and it's hey to the starboard, heave-ho. Look out lad a mermaid be waiting for you in mysterious fathoms below. FATHOMS BELOOOOOOOW."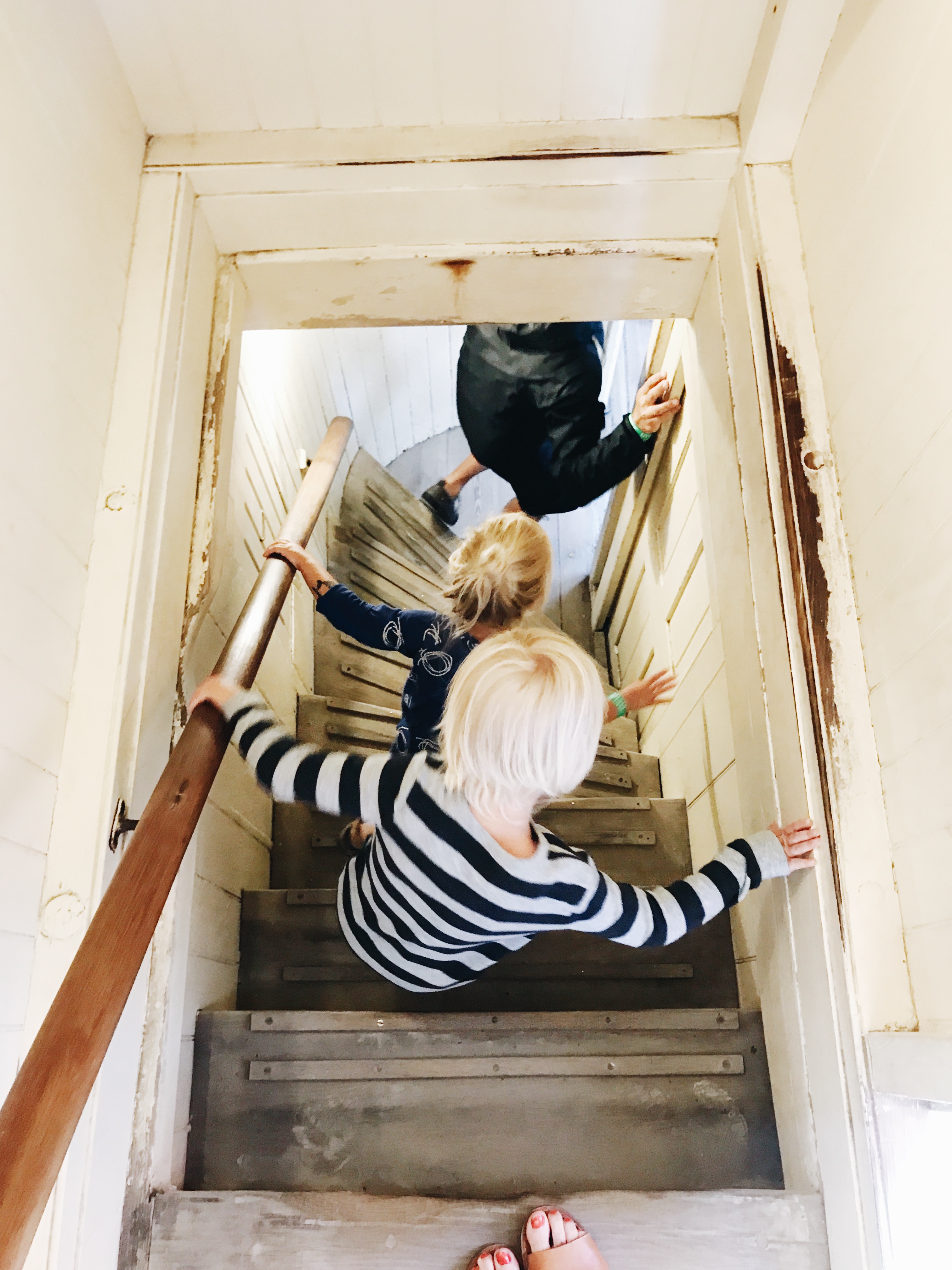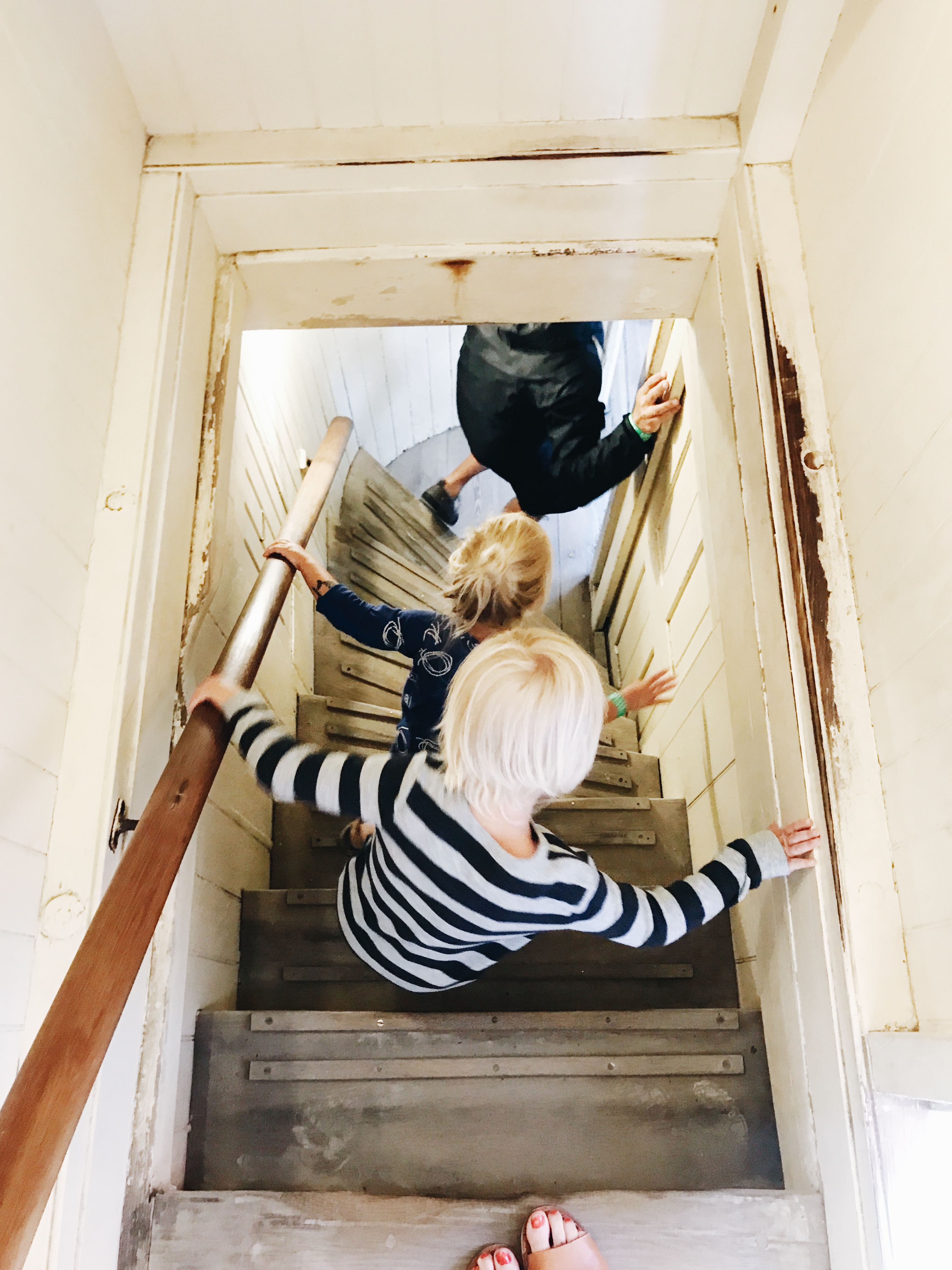 We got on it. And then we got to explore almost every room on this historical monument. And I was VERY LOUD about how cool it was.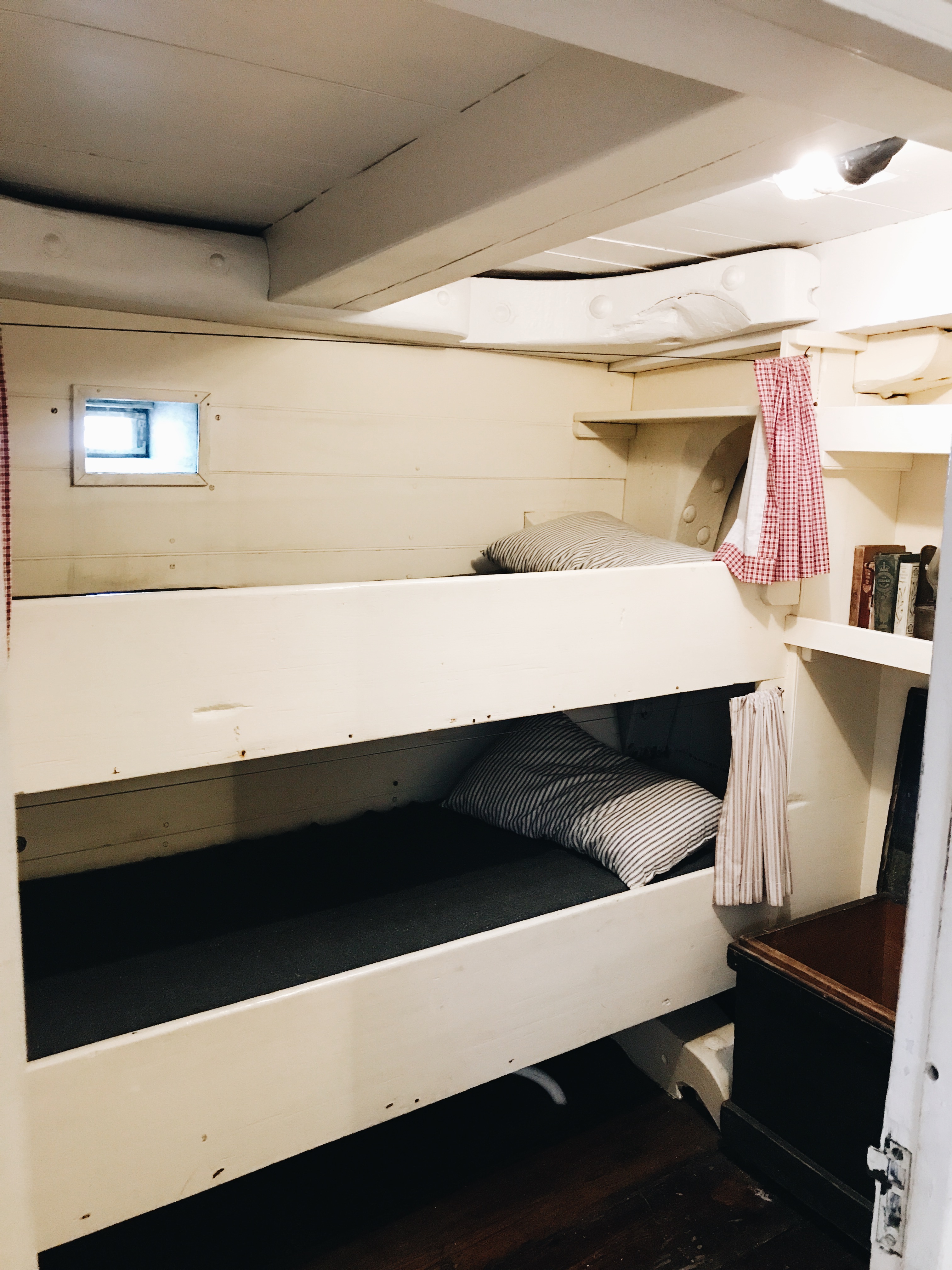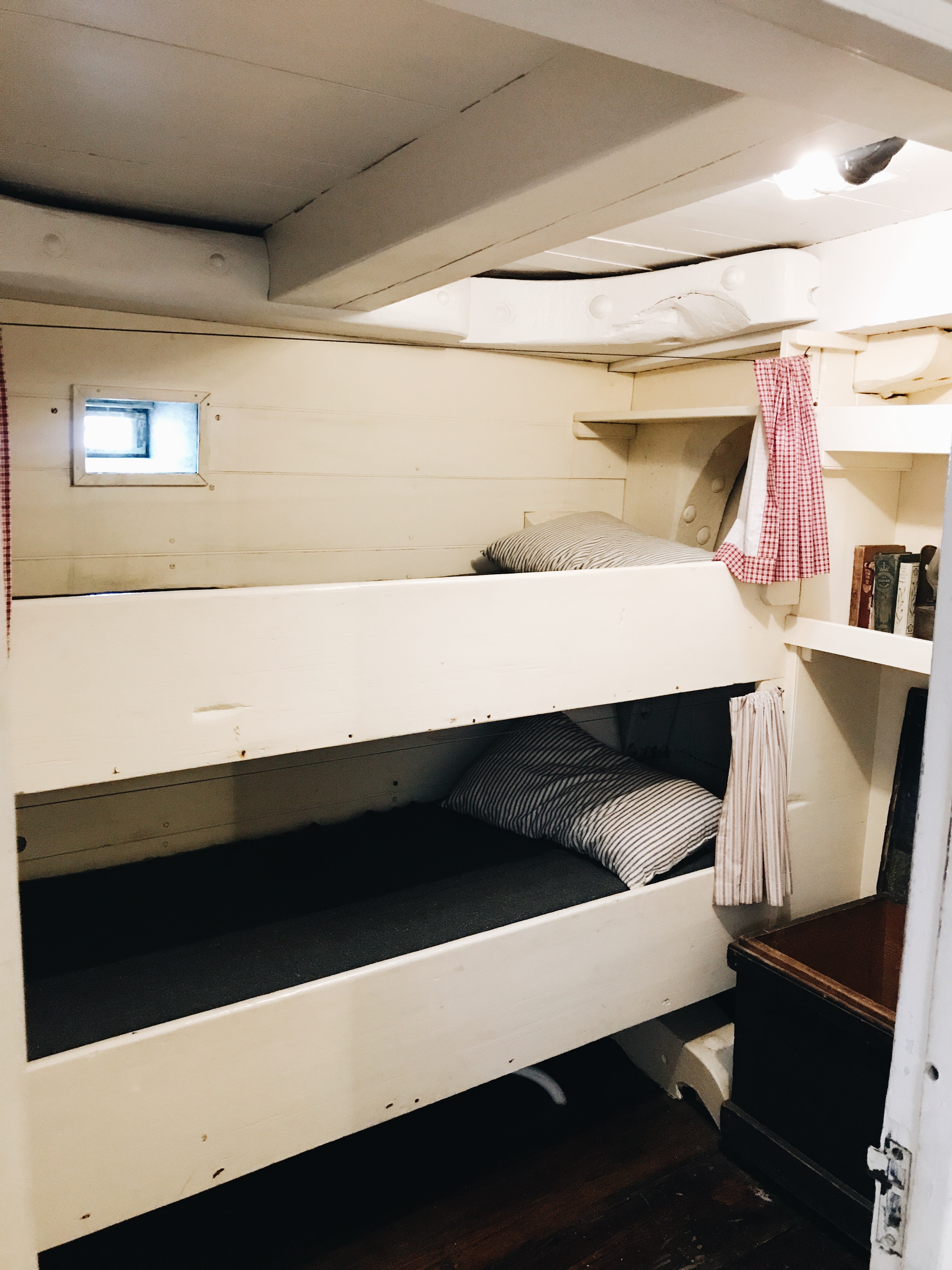 These are the beds! Are you claustrophobic just looking at that? I know.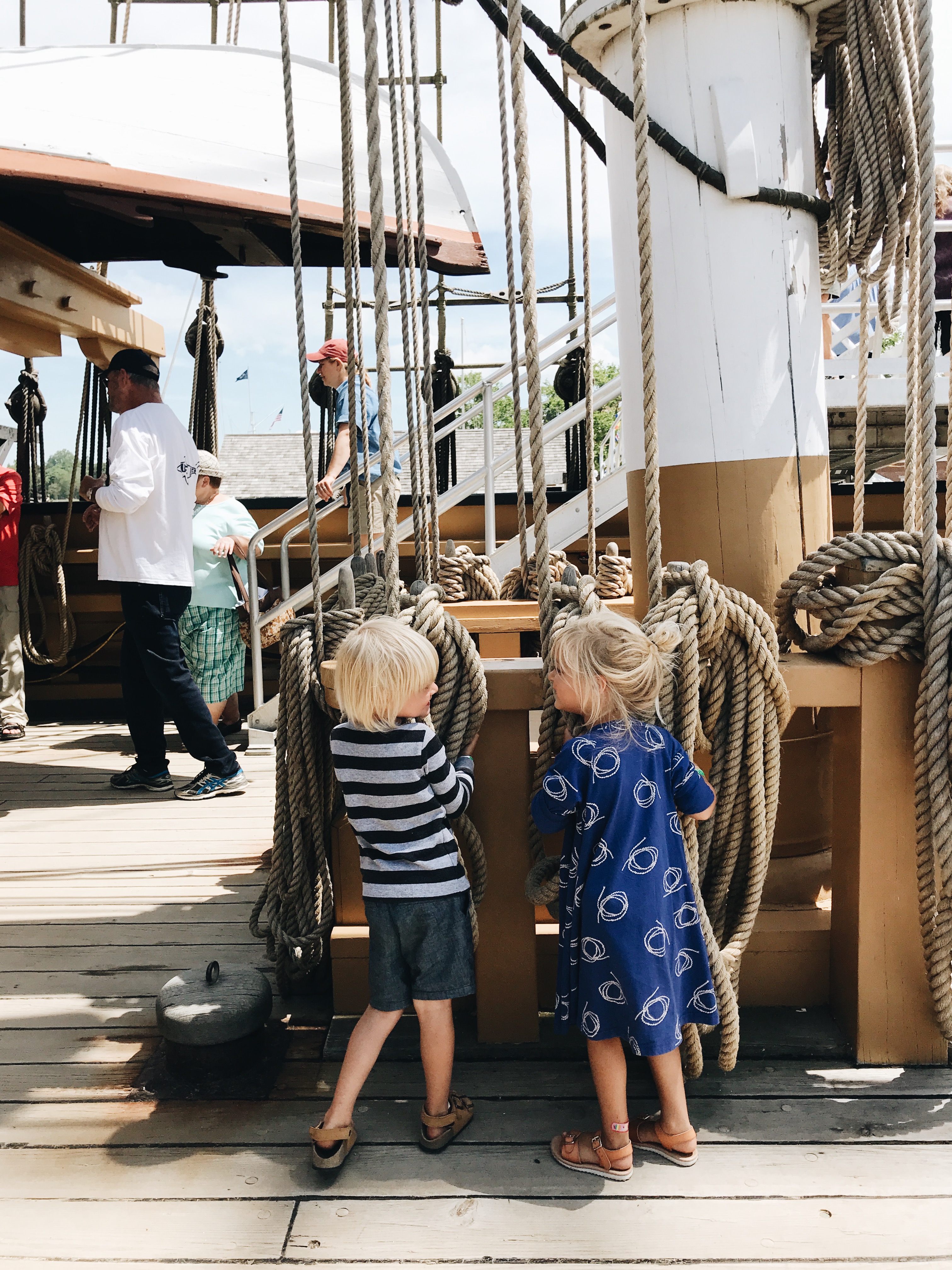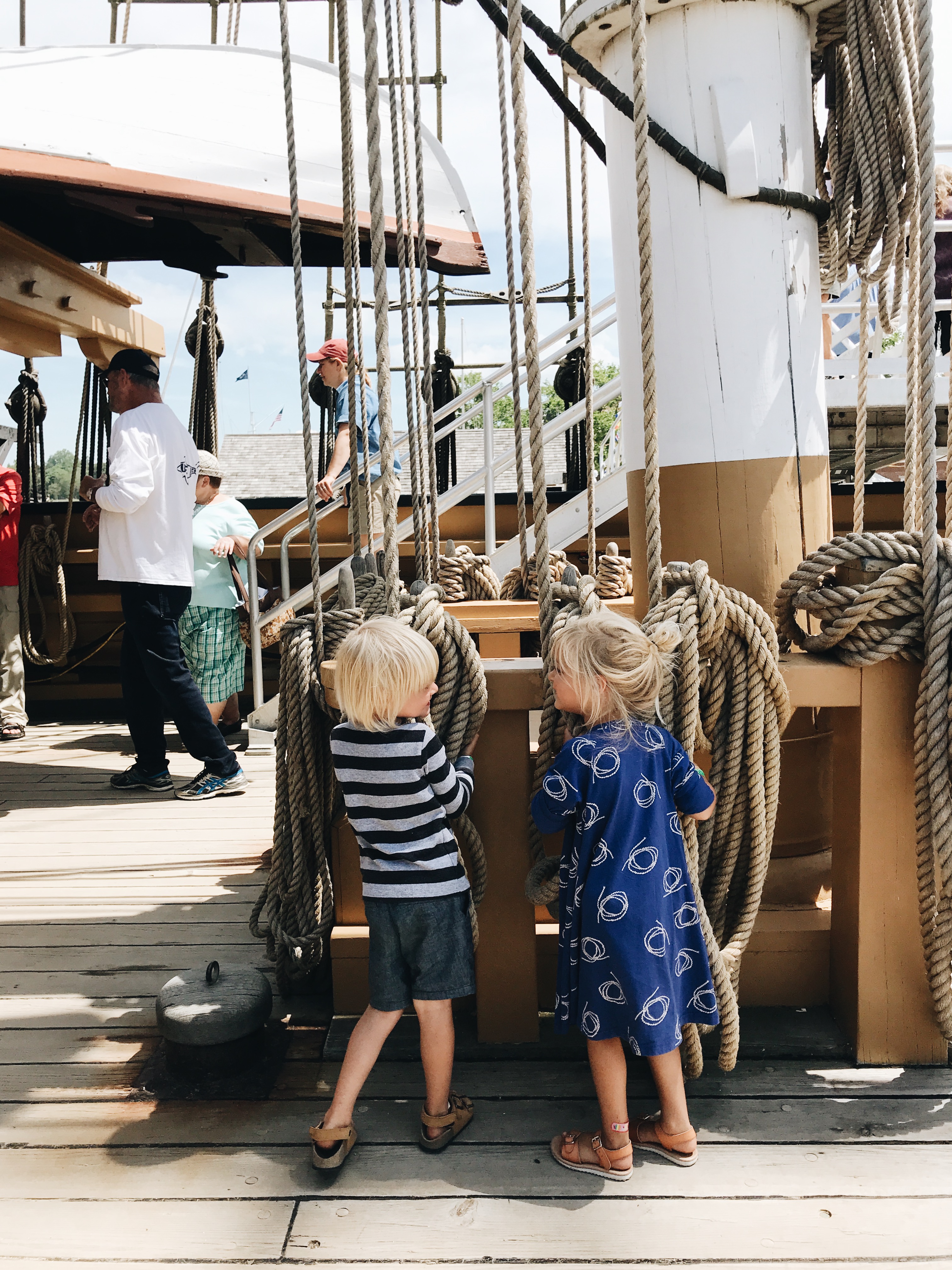 "From whence wayward westerlies blow where Triton is king and his merpeople sing in mysterious fathoms below. "
"BELOOOOOOOOOW, BELOOOOOOOOOOOOOOOW."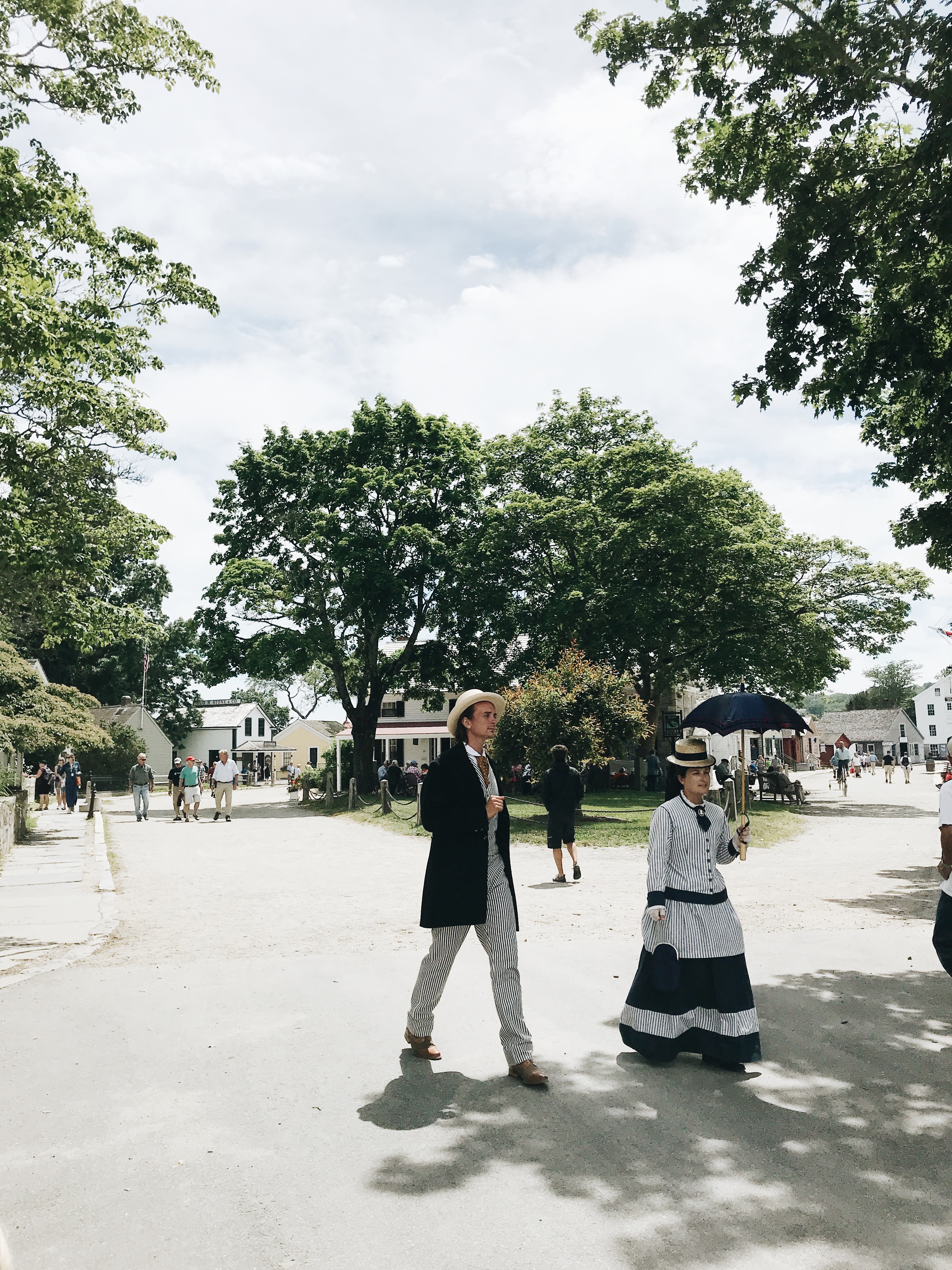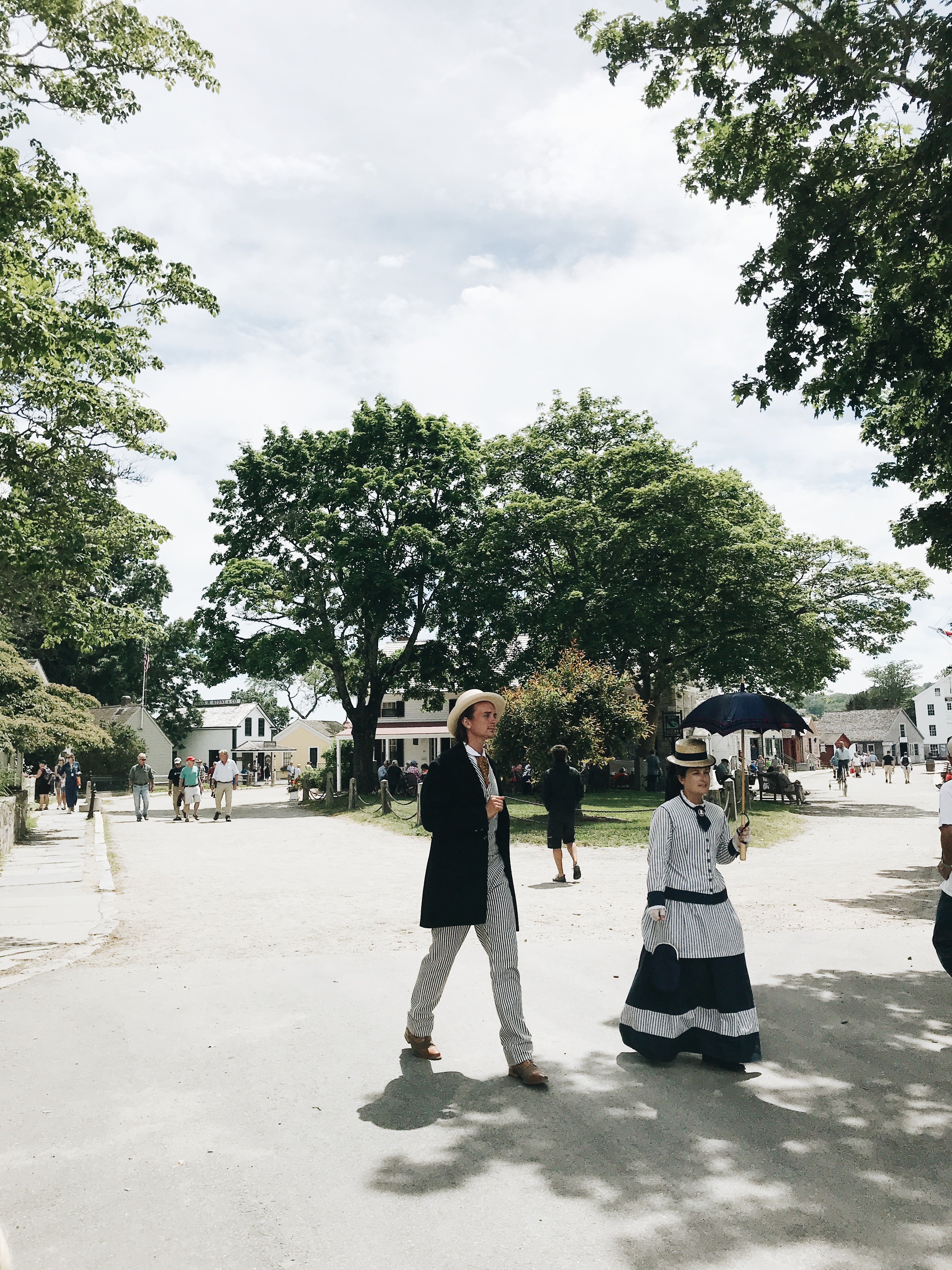 These are seriously some peeps walking around Mystic Seaport. WHAT IS THIS LIFE.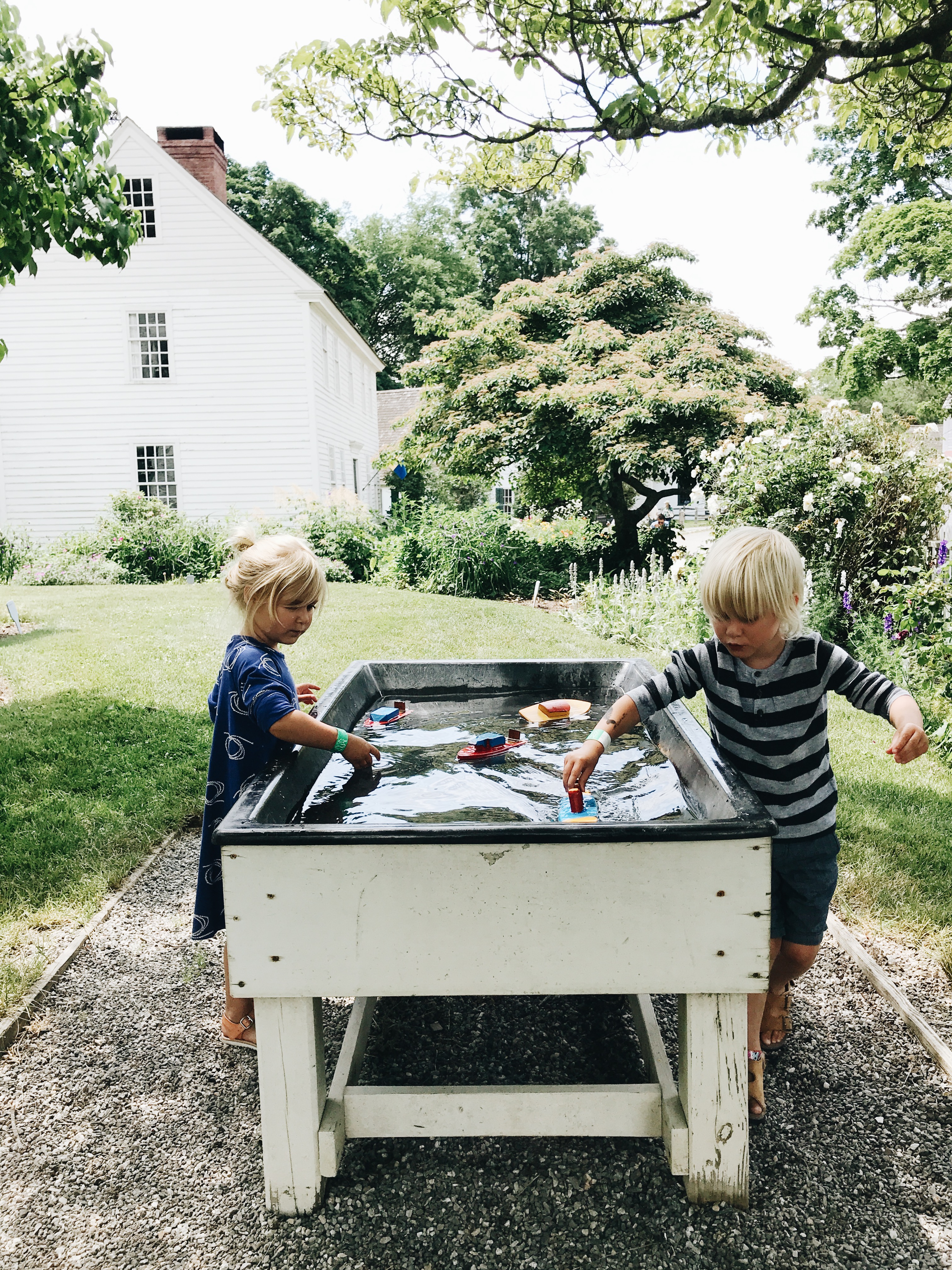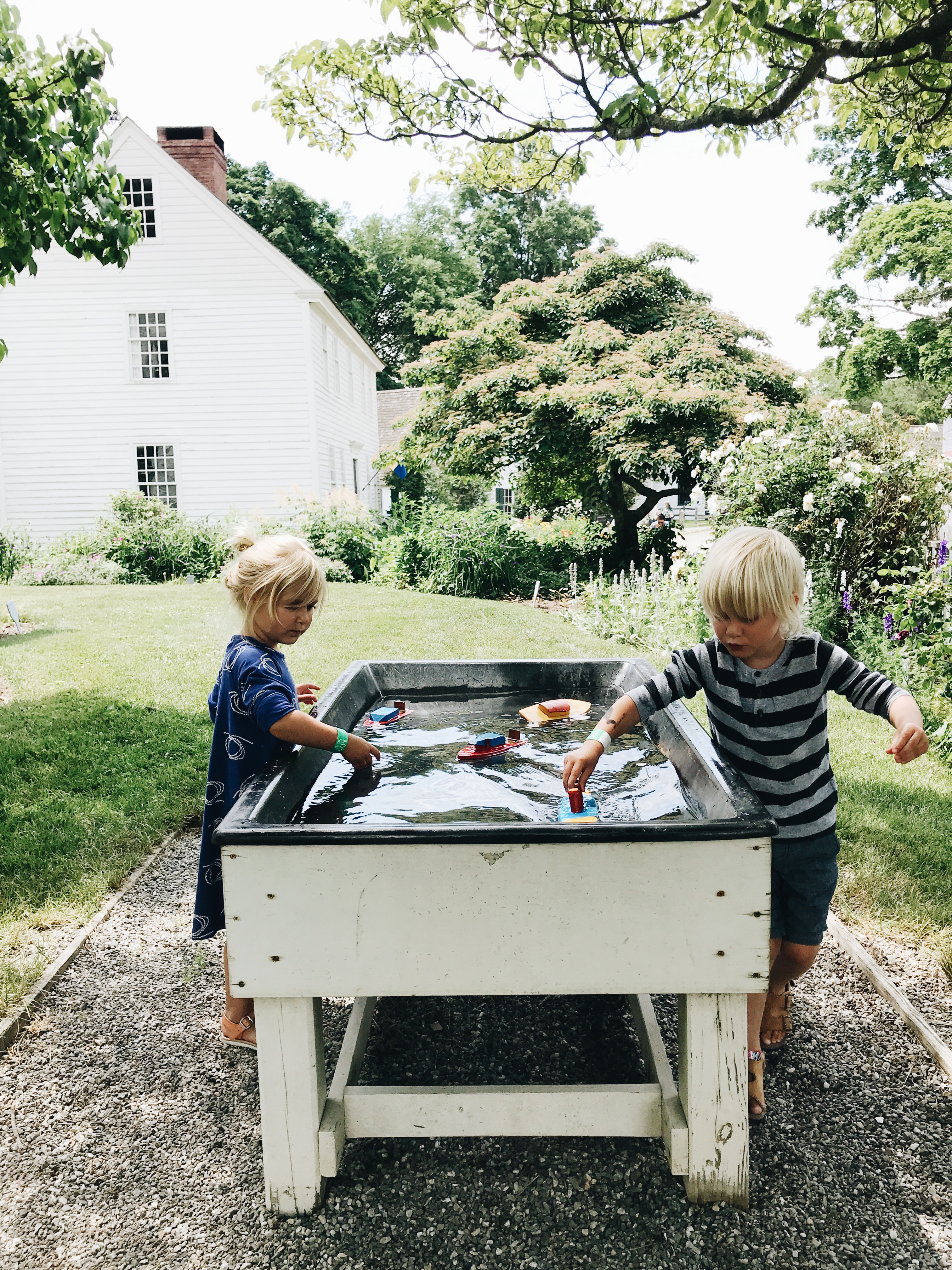 They even have a darling, old school kids' museum, if you need a break from all the whining.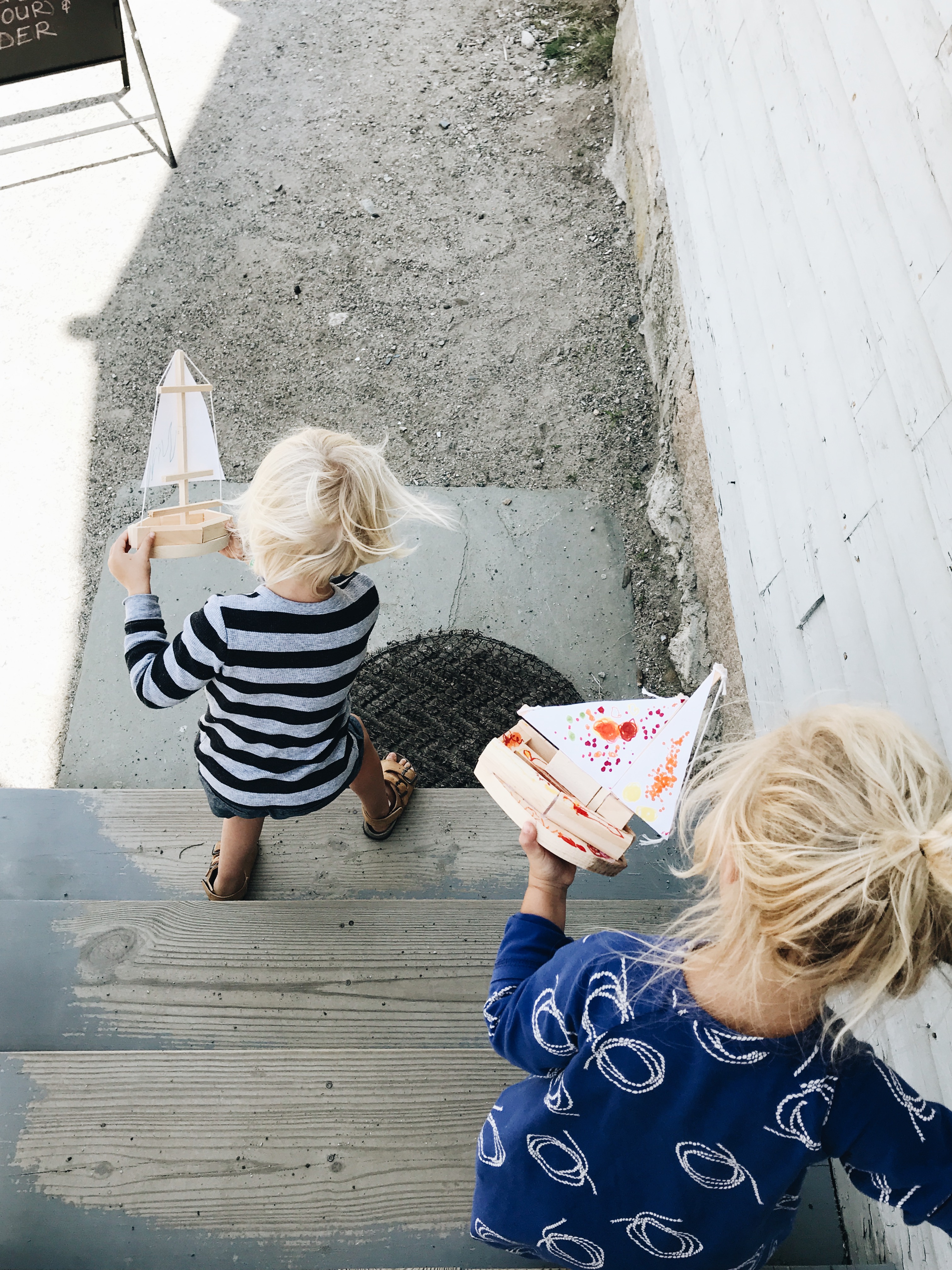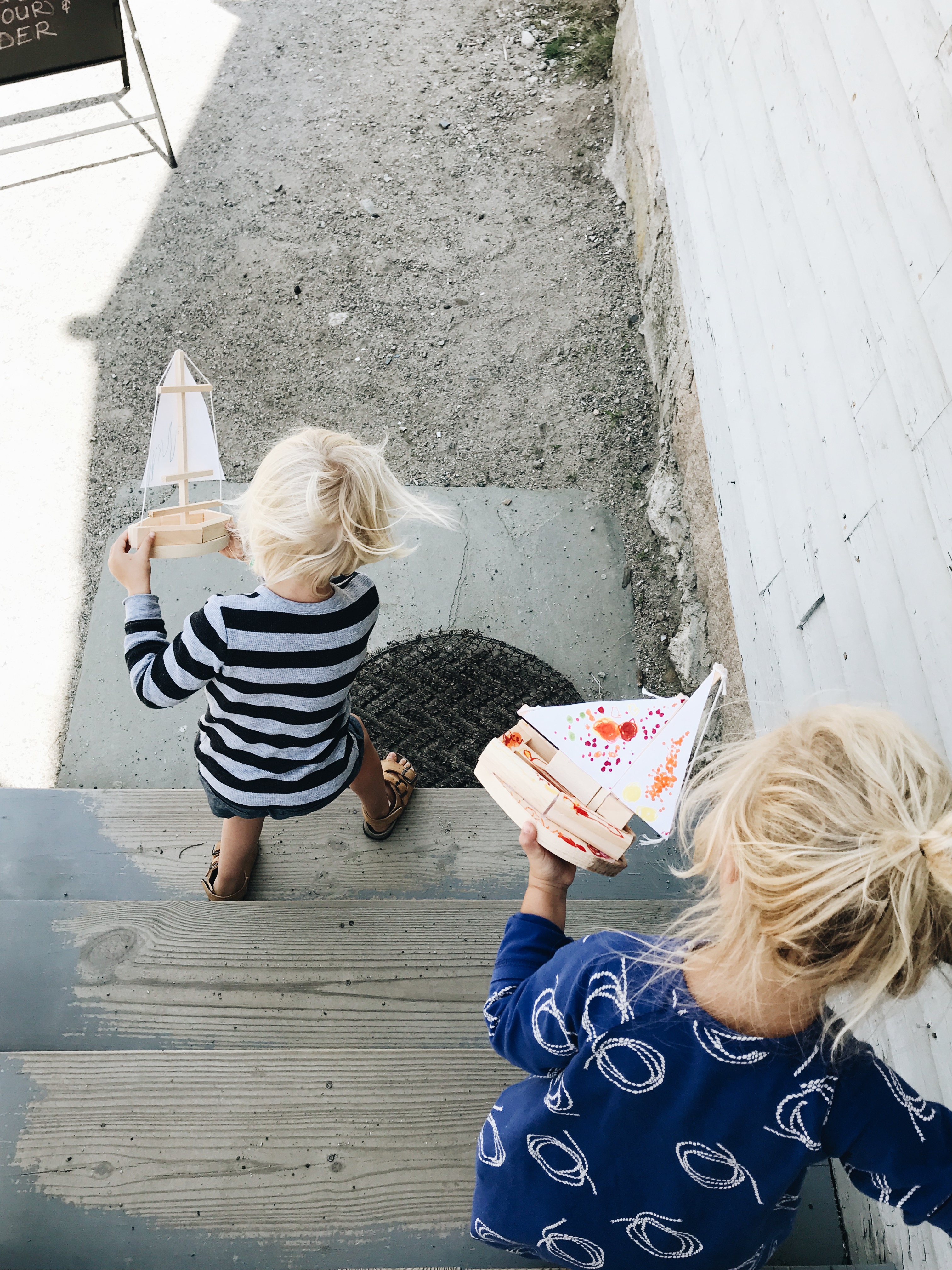 Aaaand they have a little build-your-own toy boat workshop!
I helped Will with his. Ours was better. Don't tell Aaron and Nat I said that.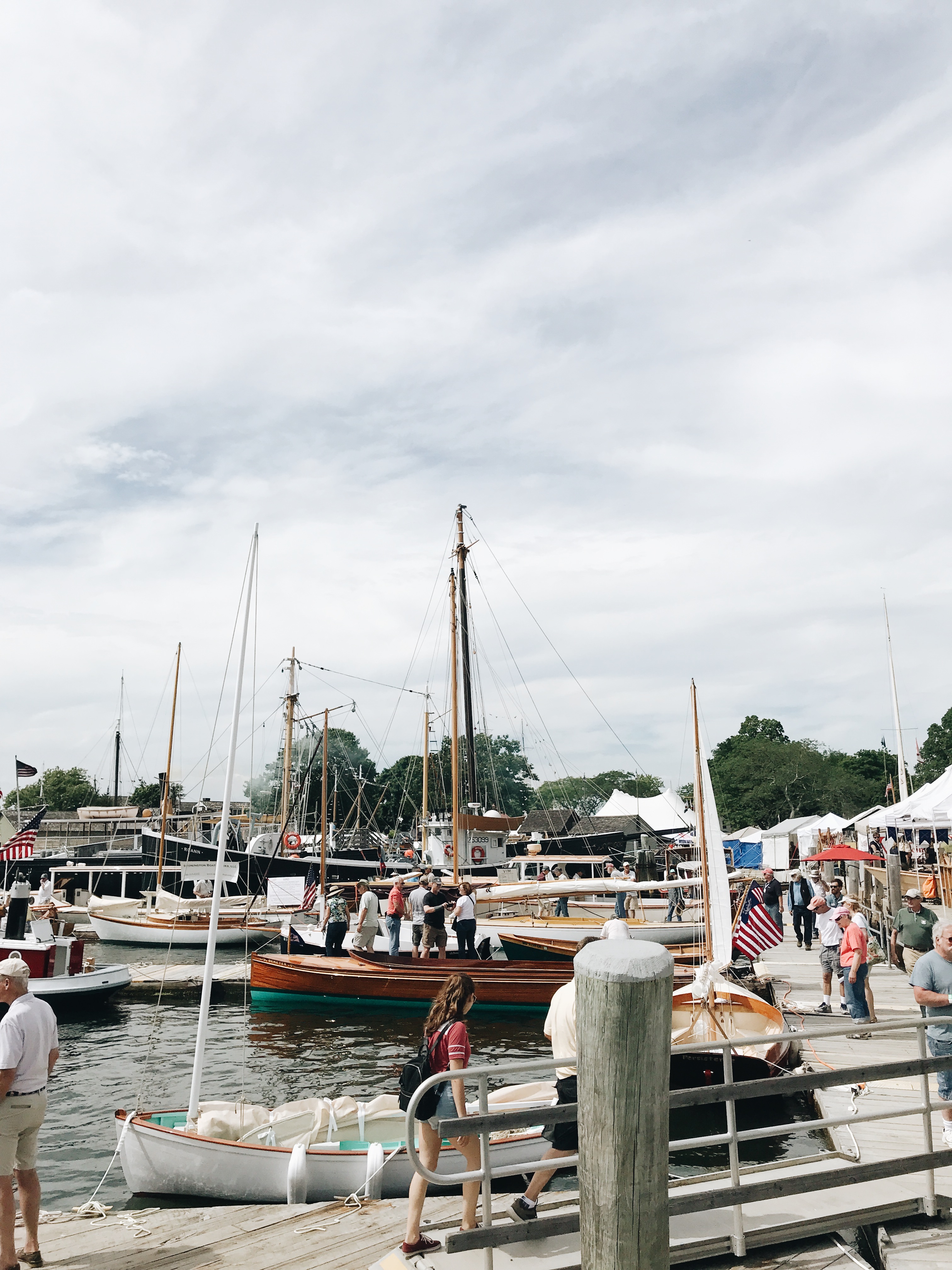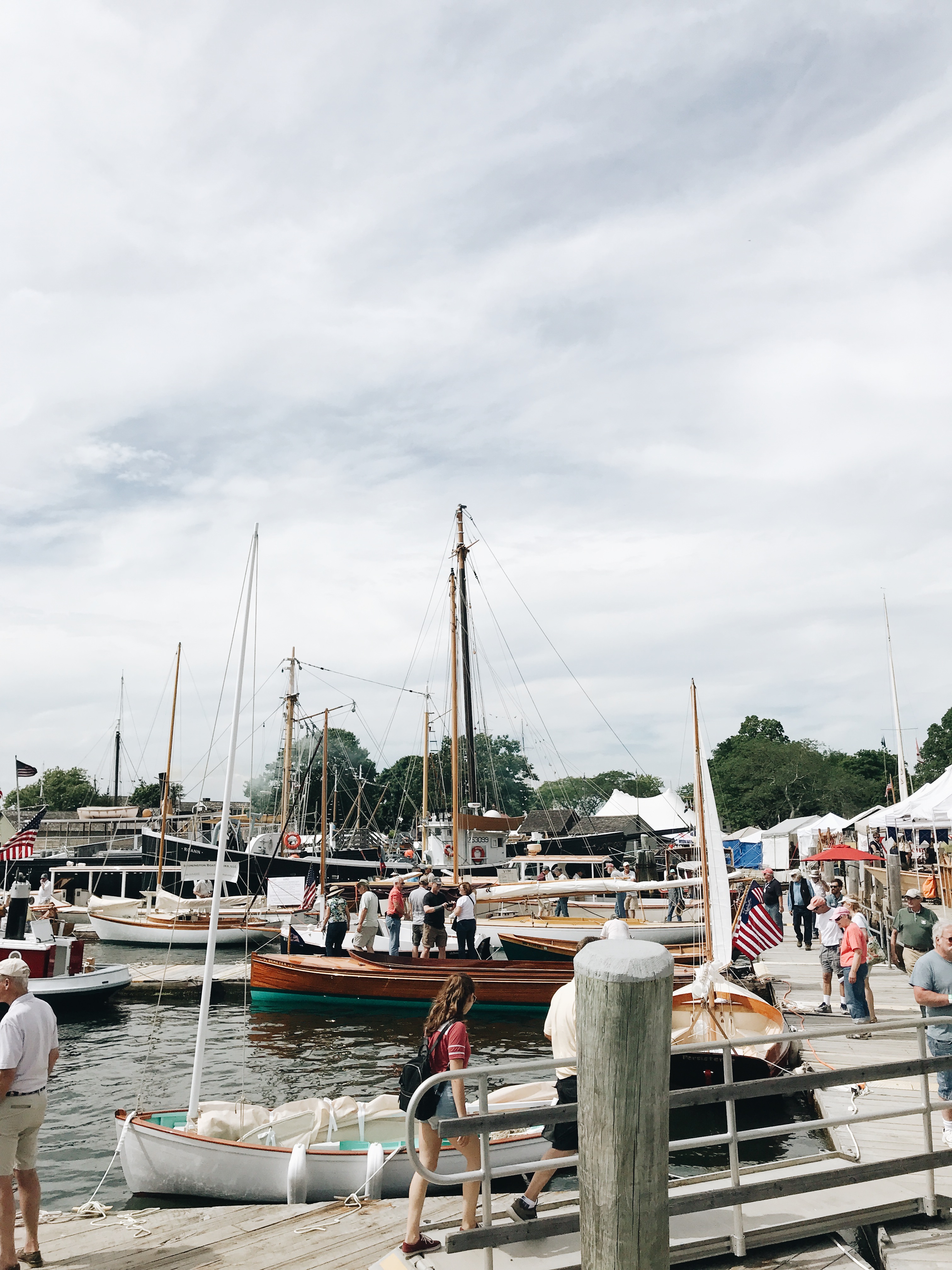 Like, this is Mystic Seaport. So freaking cool.
I highly, HIGHLY recommend this.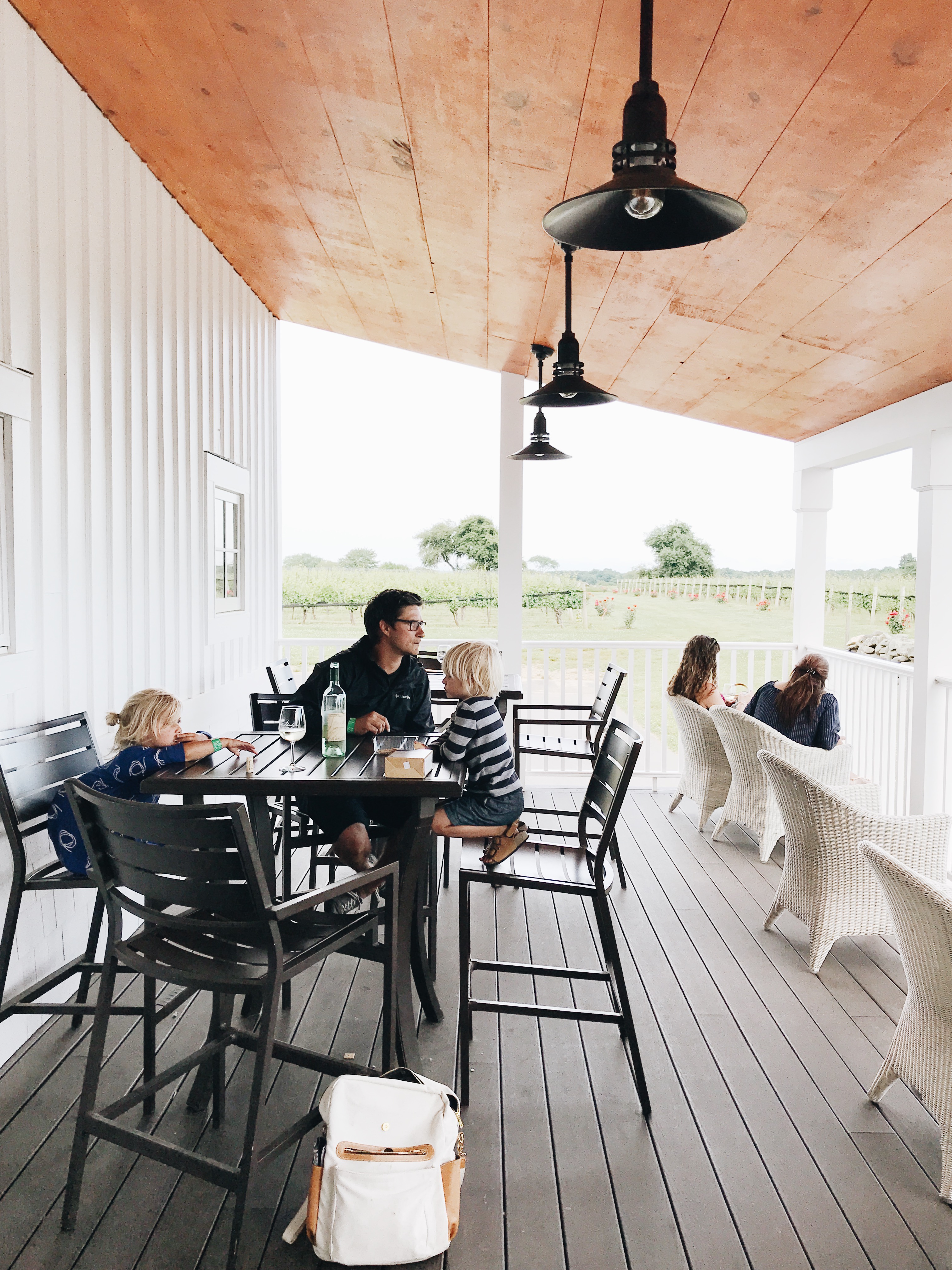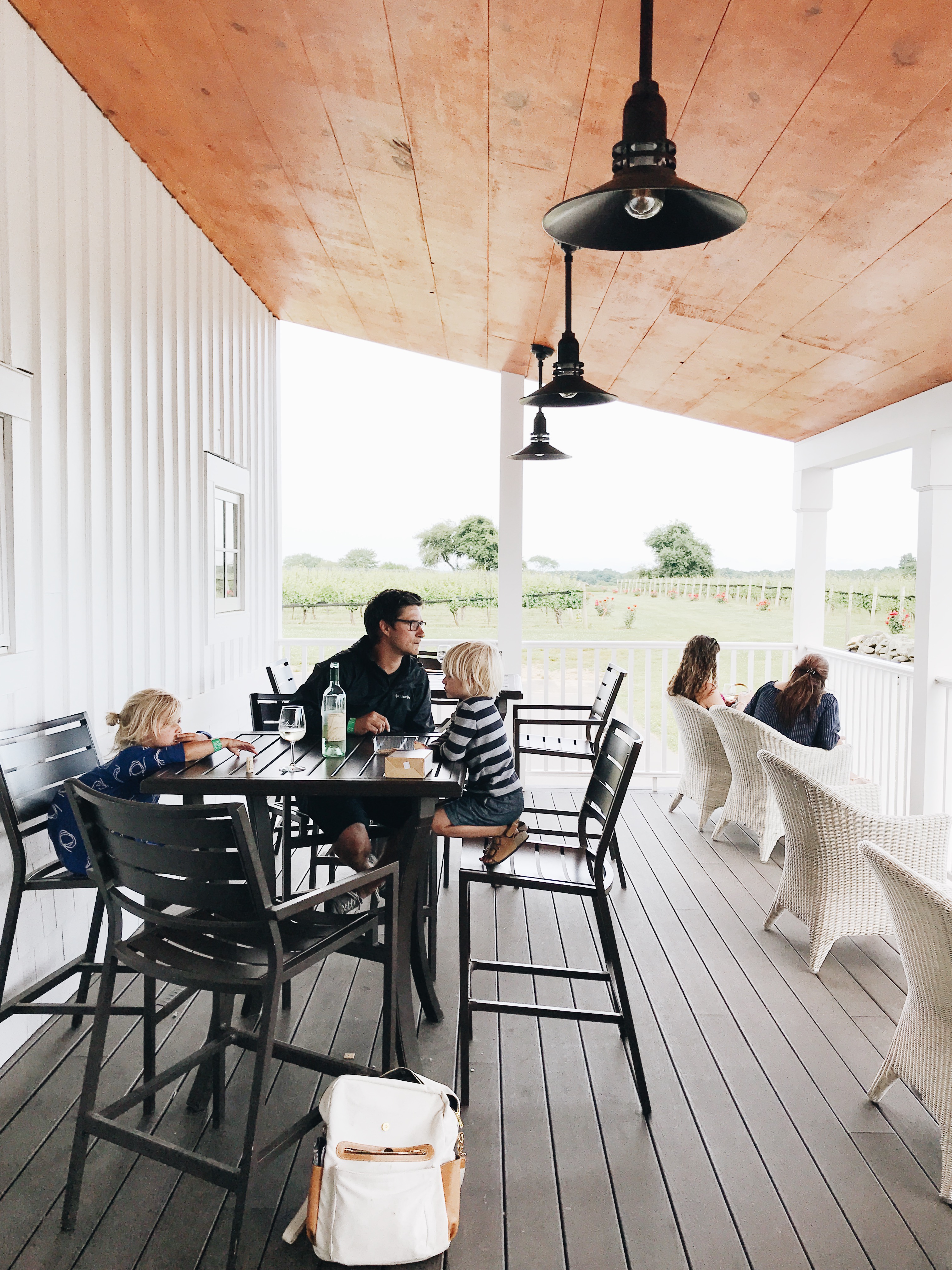 And then I highly recommend trecking up to Jonathan Edward's vineyard right after. #RIGHT?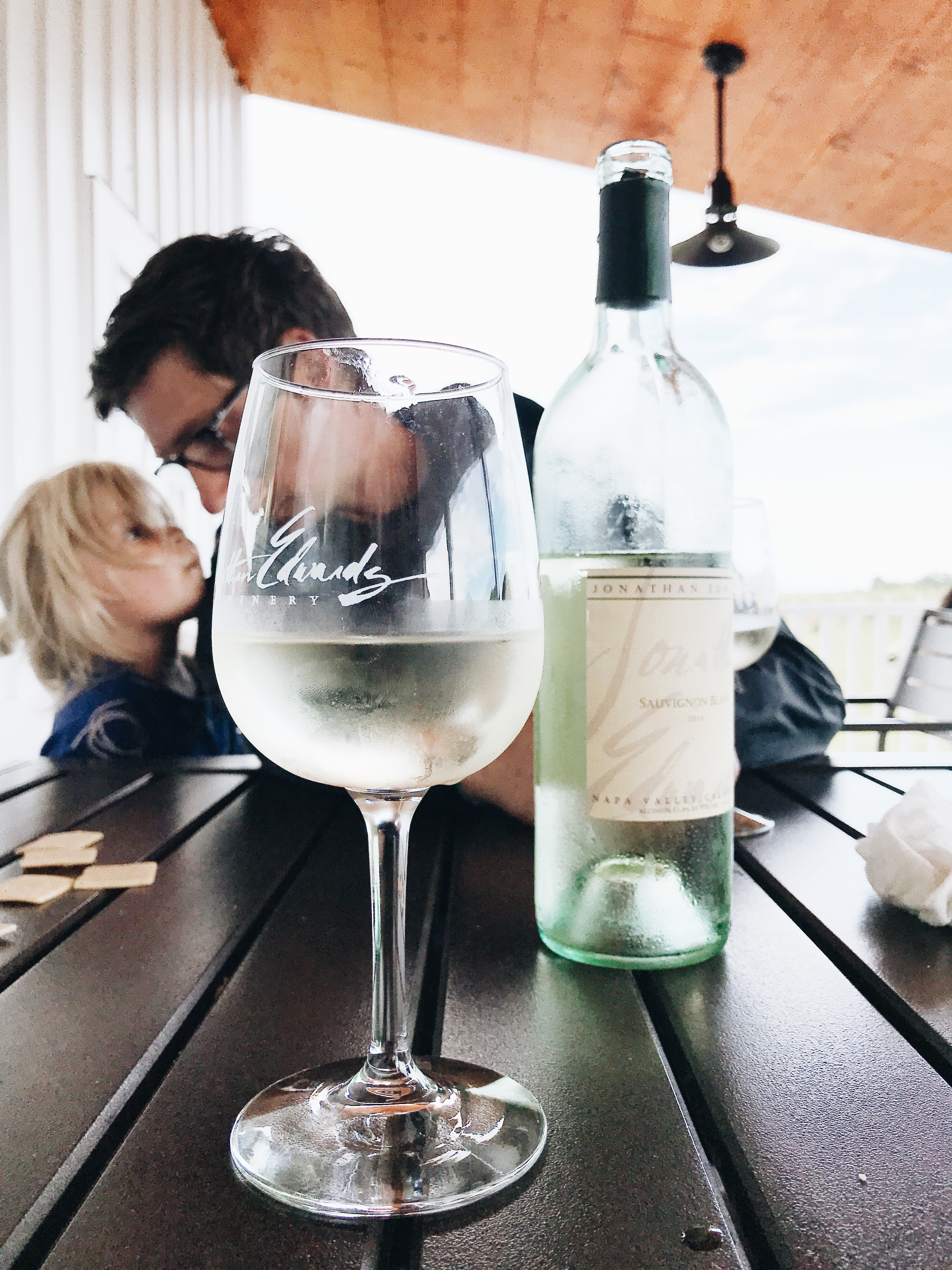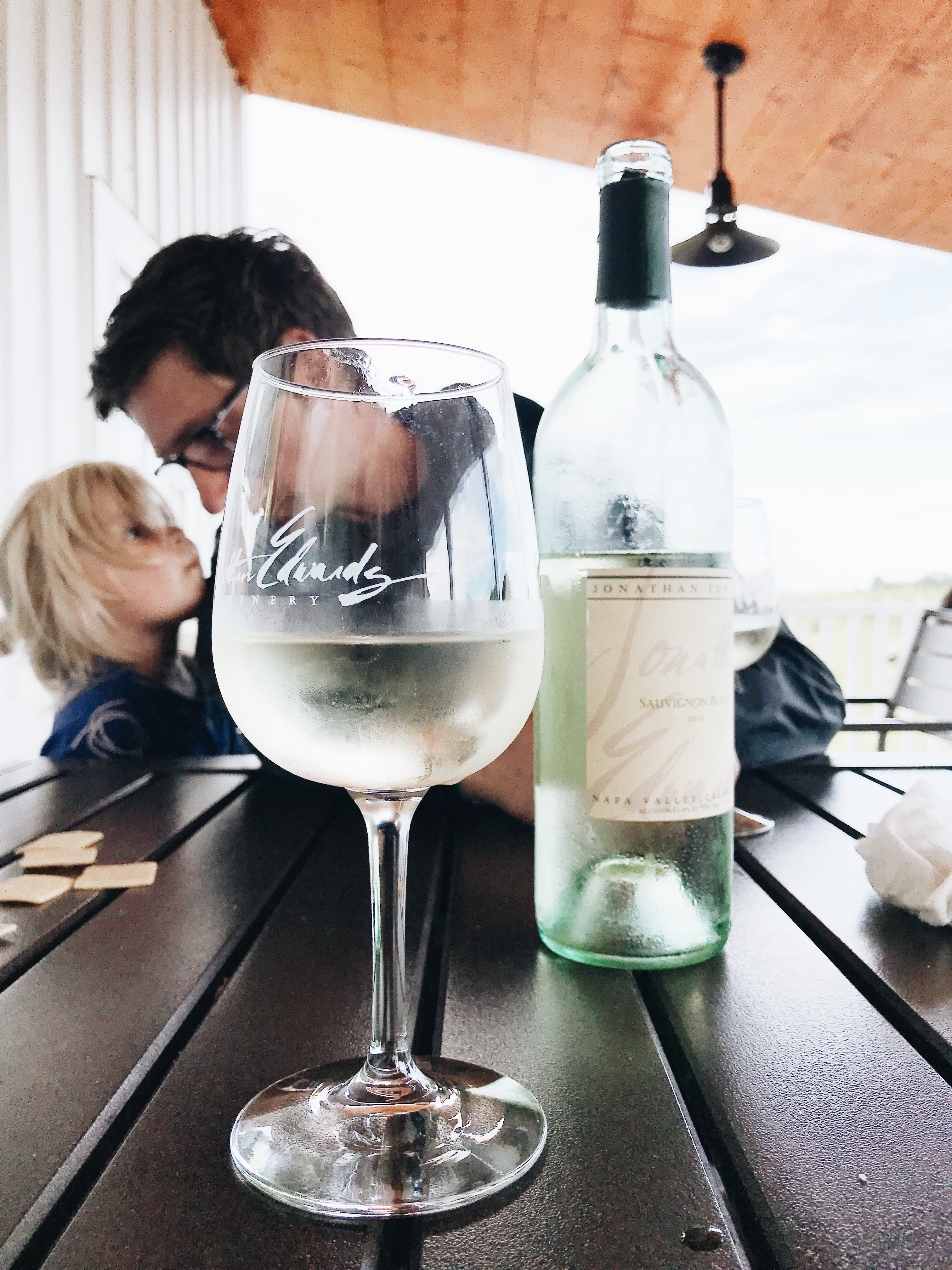 Stunning views, nestled in the hills right above North Stonington, this place was spectacular.
And their Sauvignon Blanc was perfection.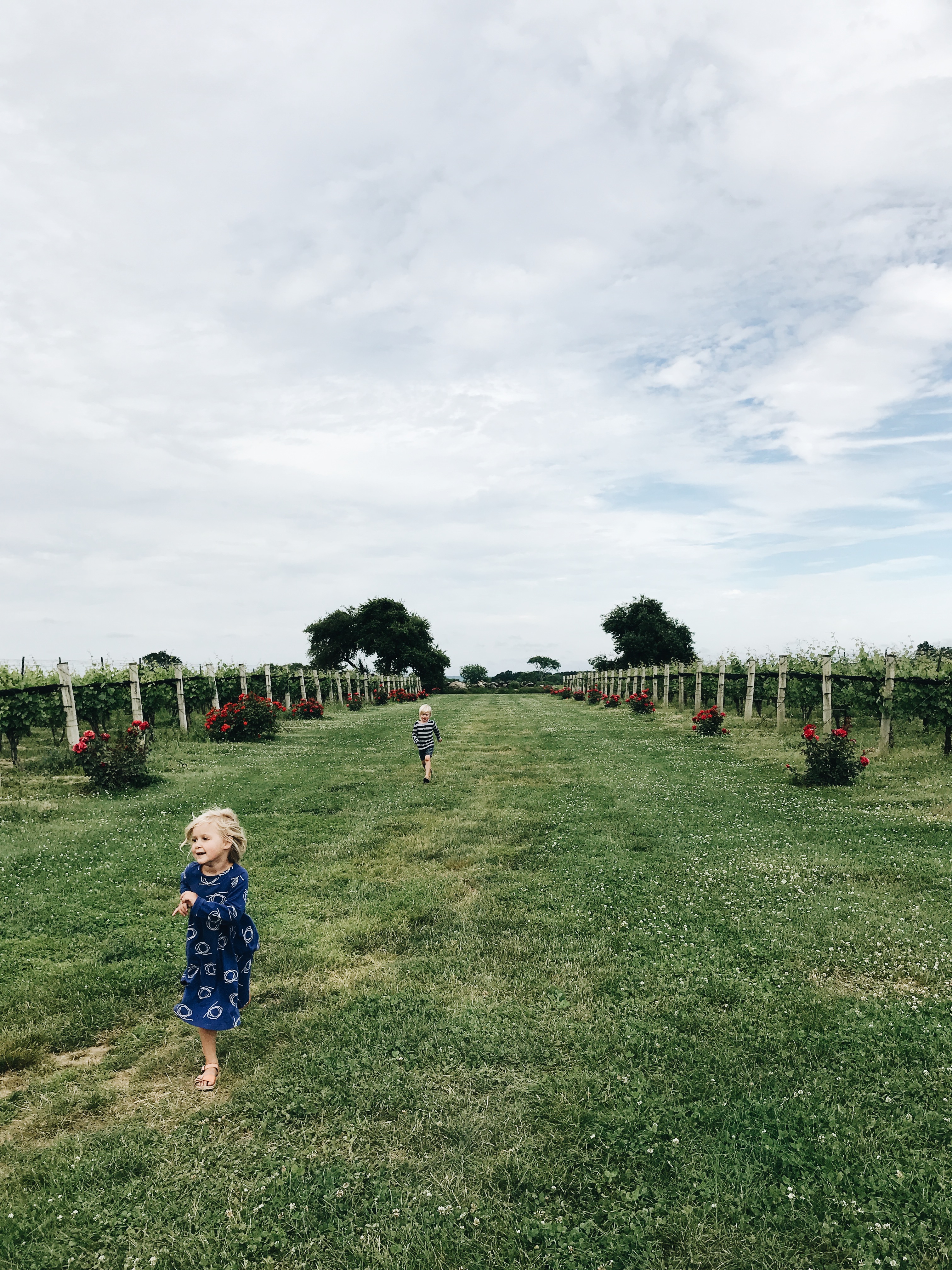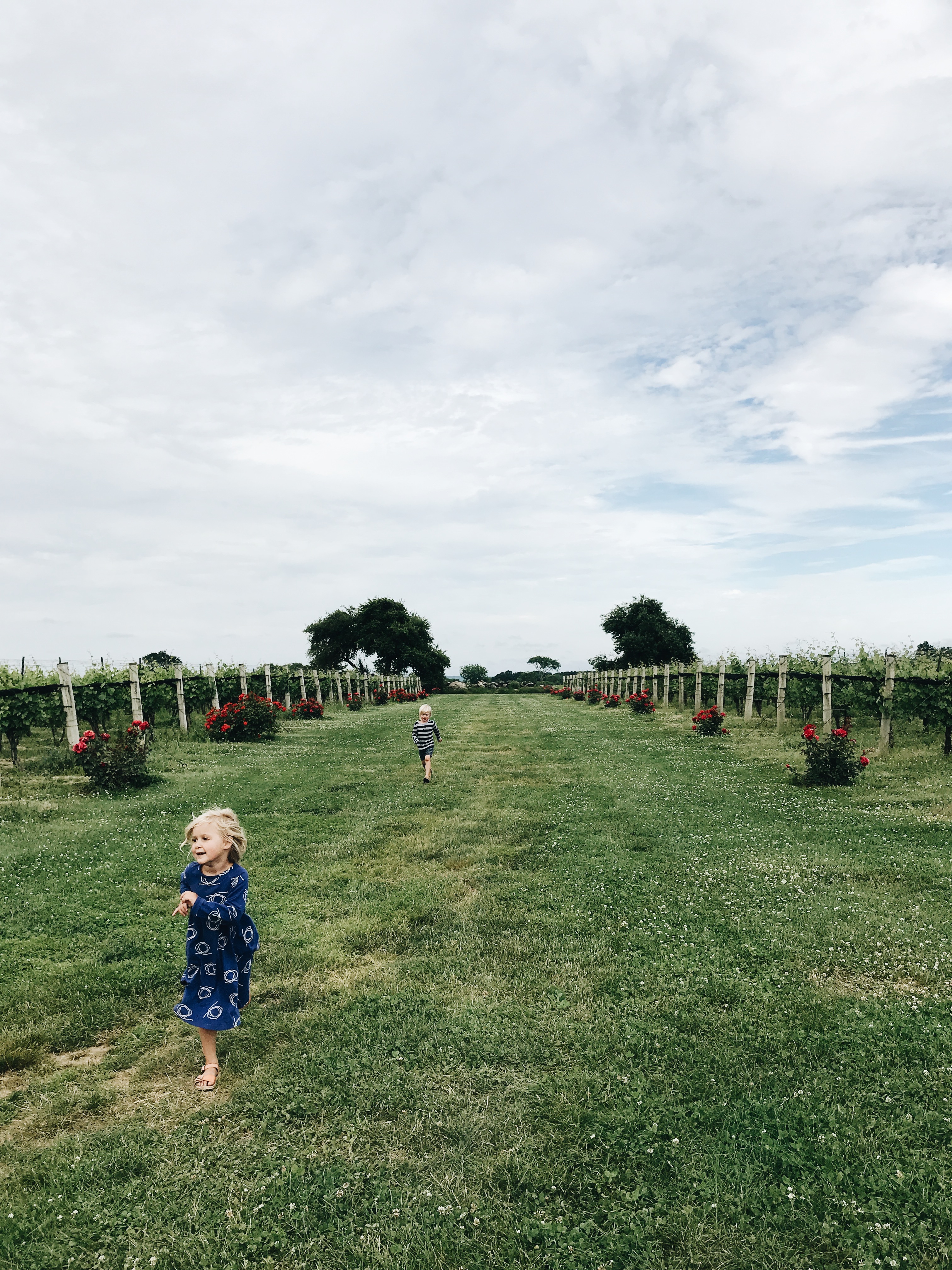 Nat's a much faster and better runner than Will.
Don't tell him I said that.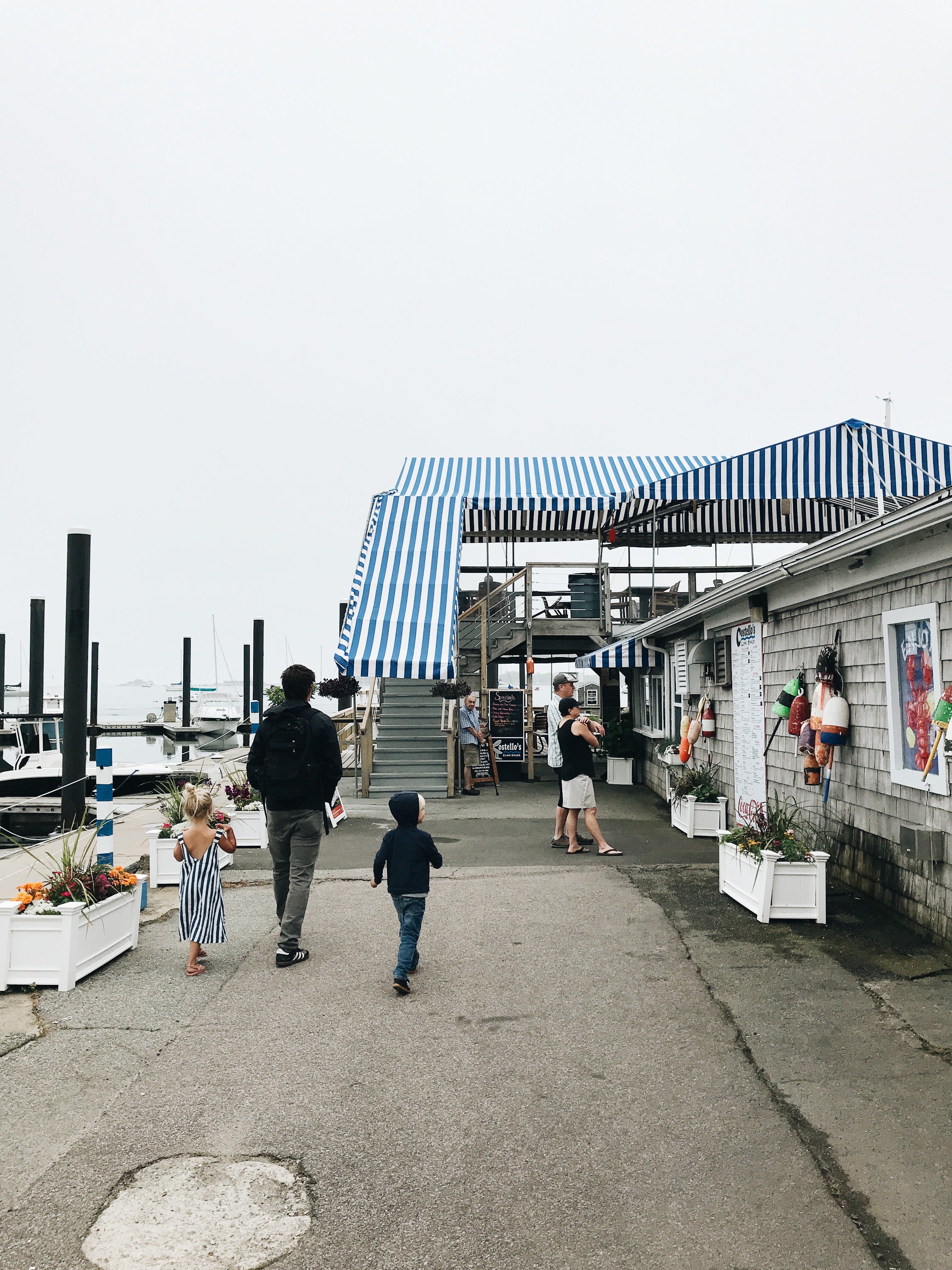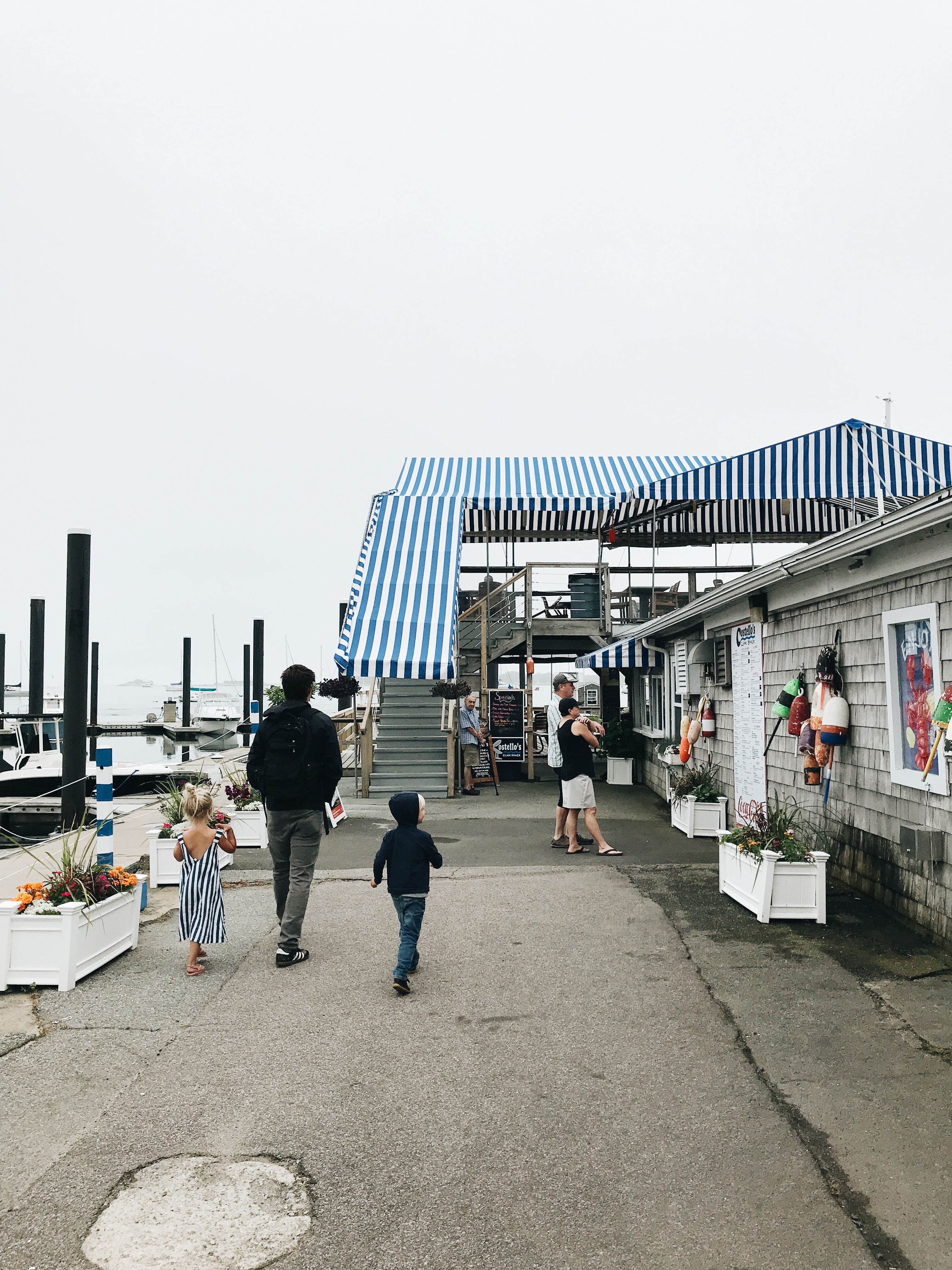 Sunday ended up being one of my favorite days of this whole month. It started off as one of those, "Let's go eat clams and see where the day takes us"- kind of plans. We began in darling Noank at the famous Costello's Clam shack, where the chowder was eh, but the CLAMS WERE DIVINE.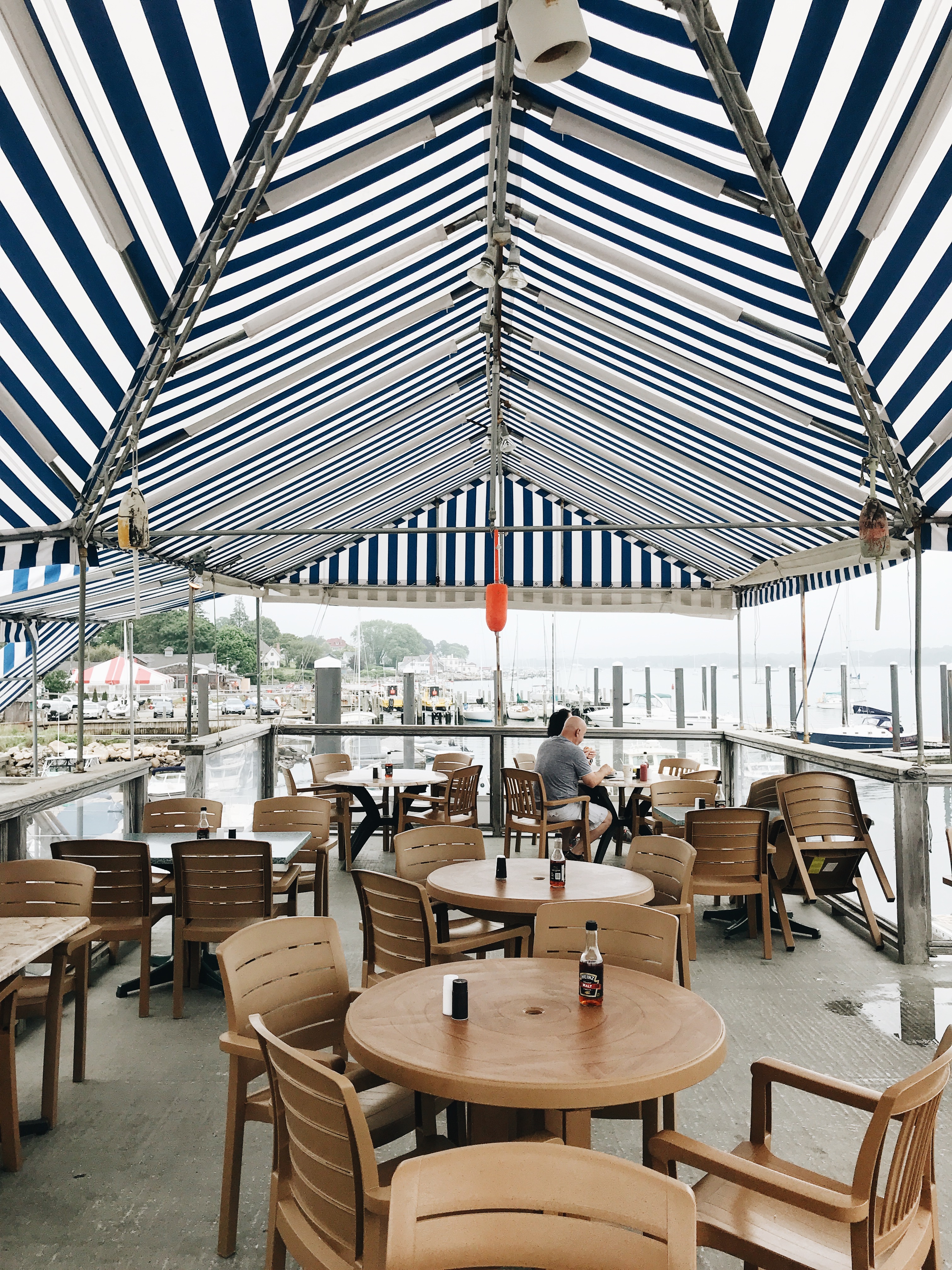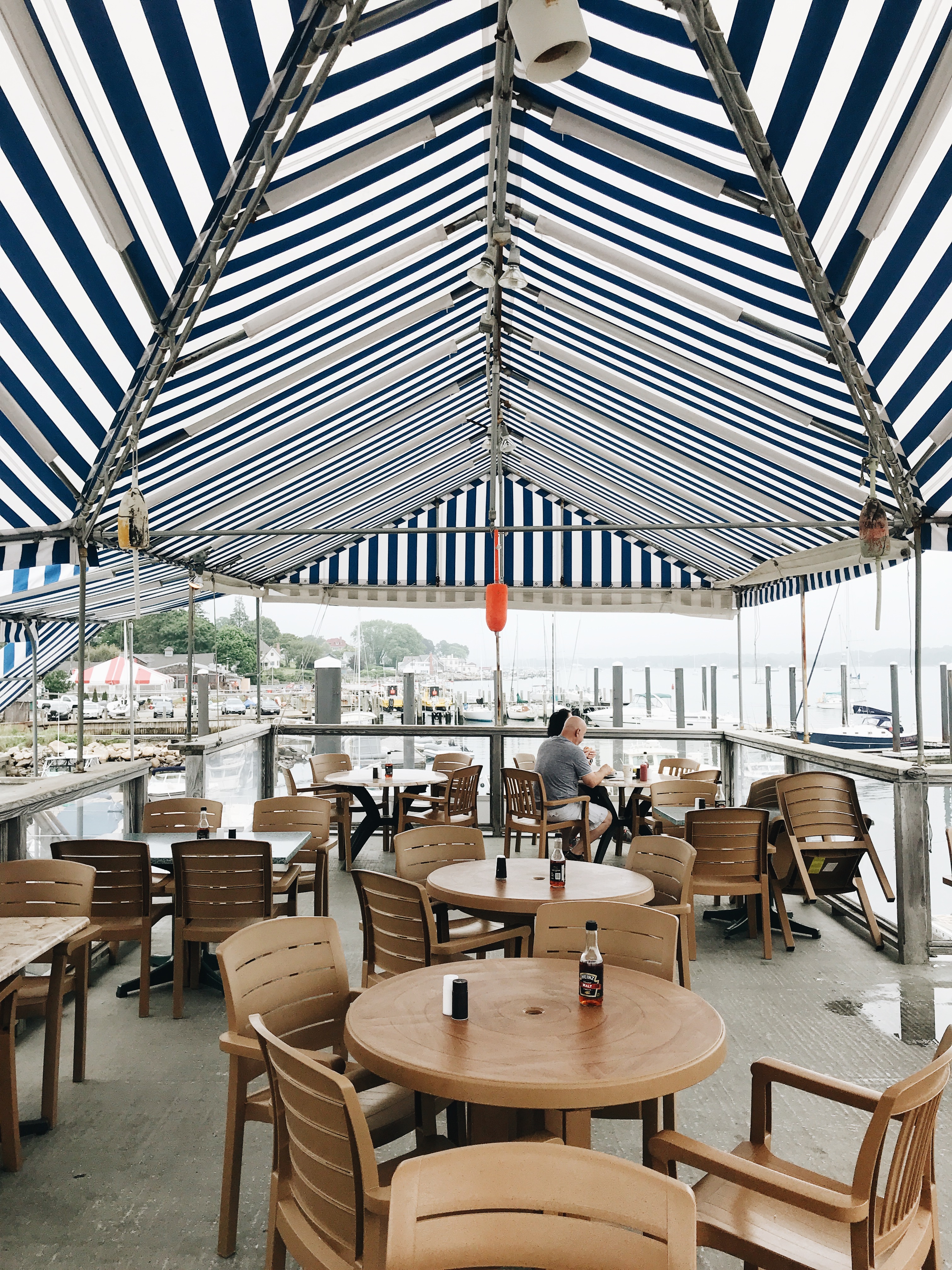 This place is right in the shipyard on the water, so the views do NOT suck.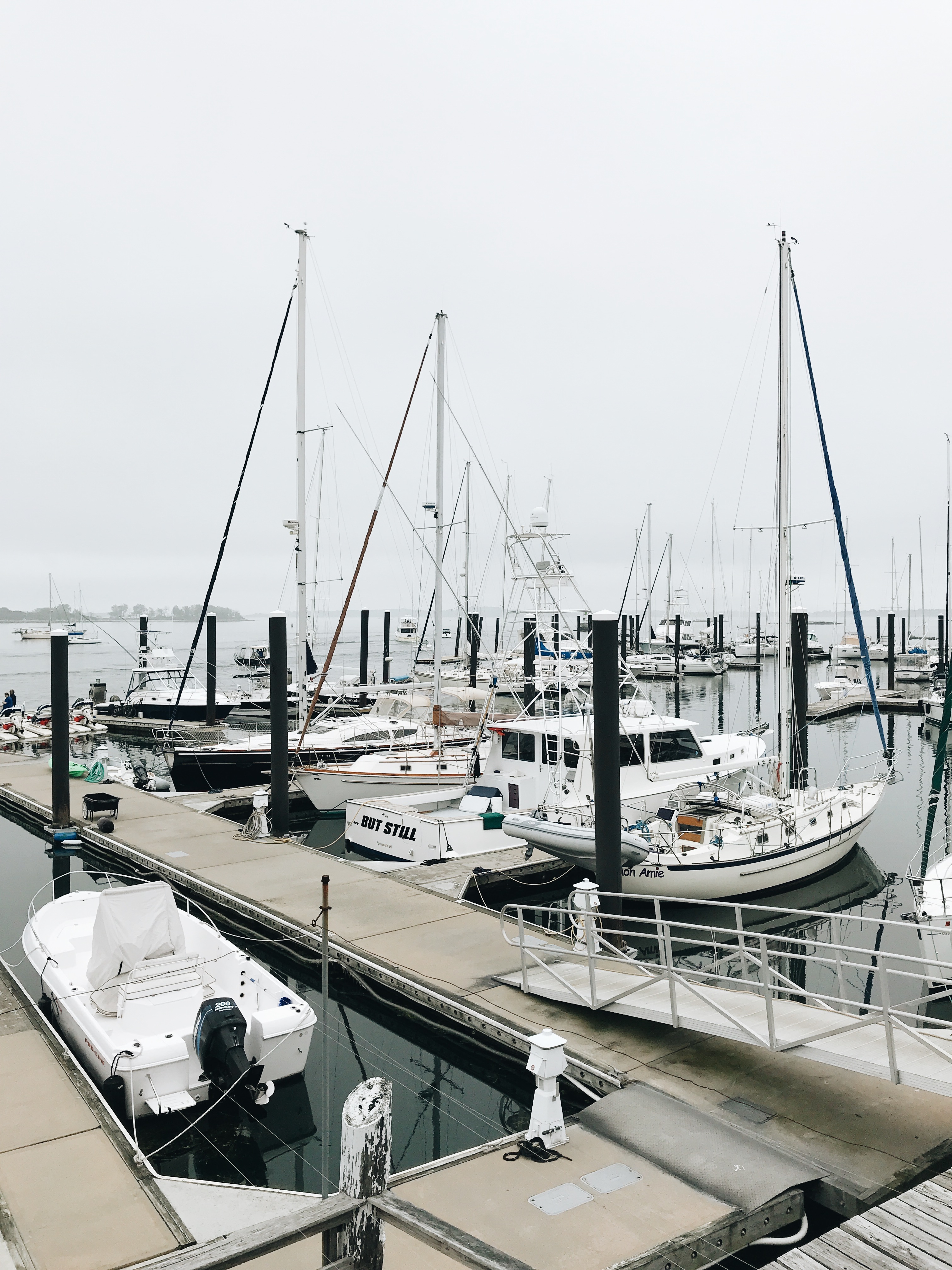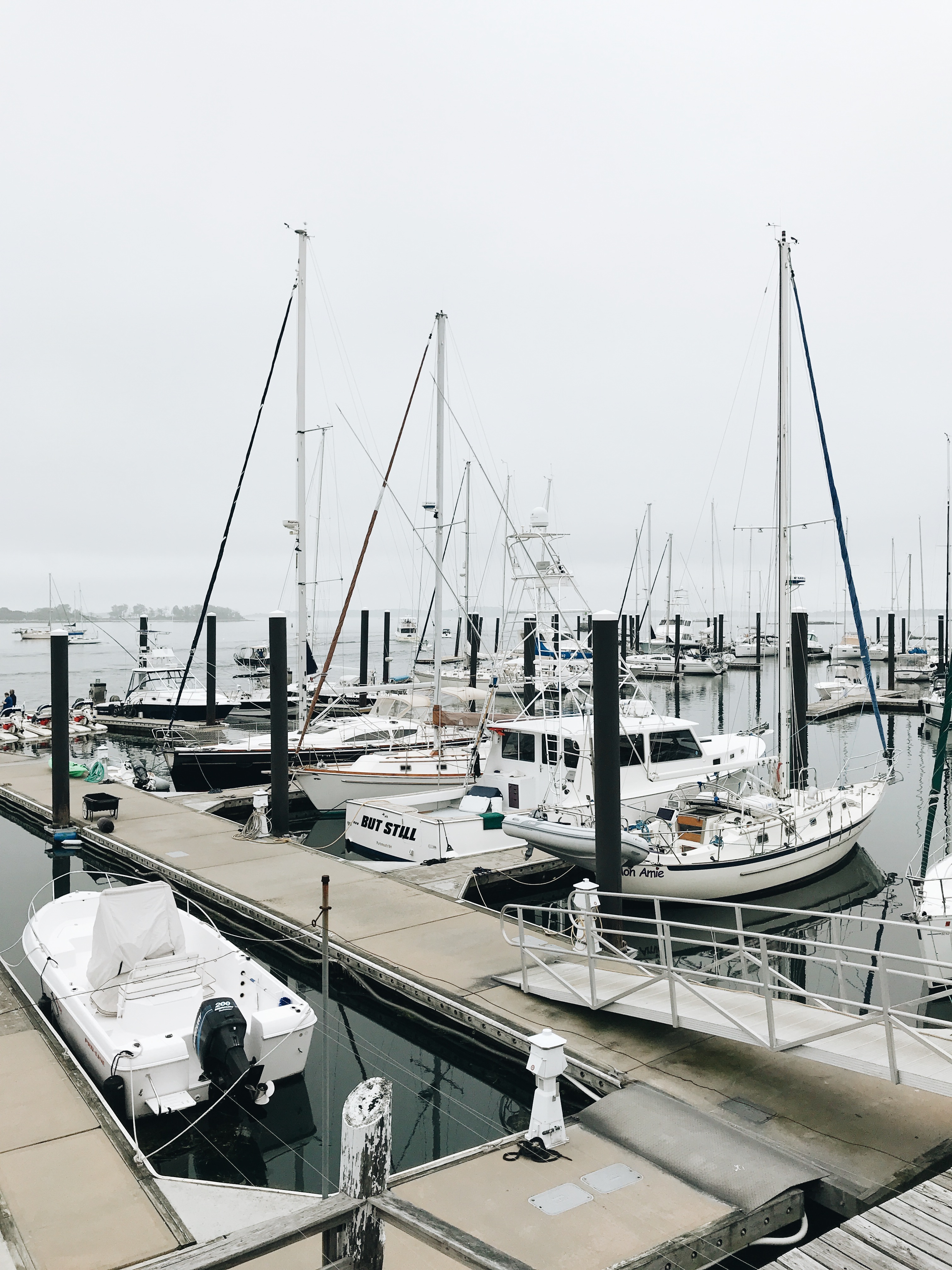 See?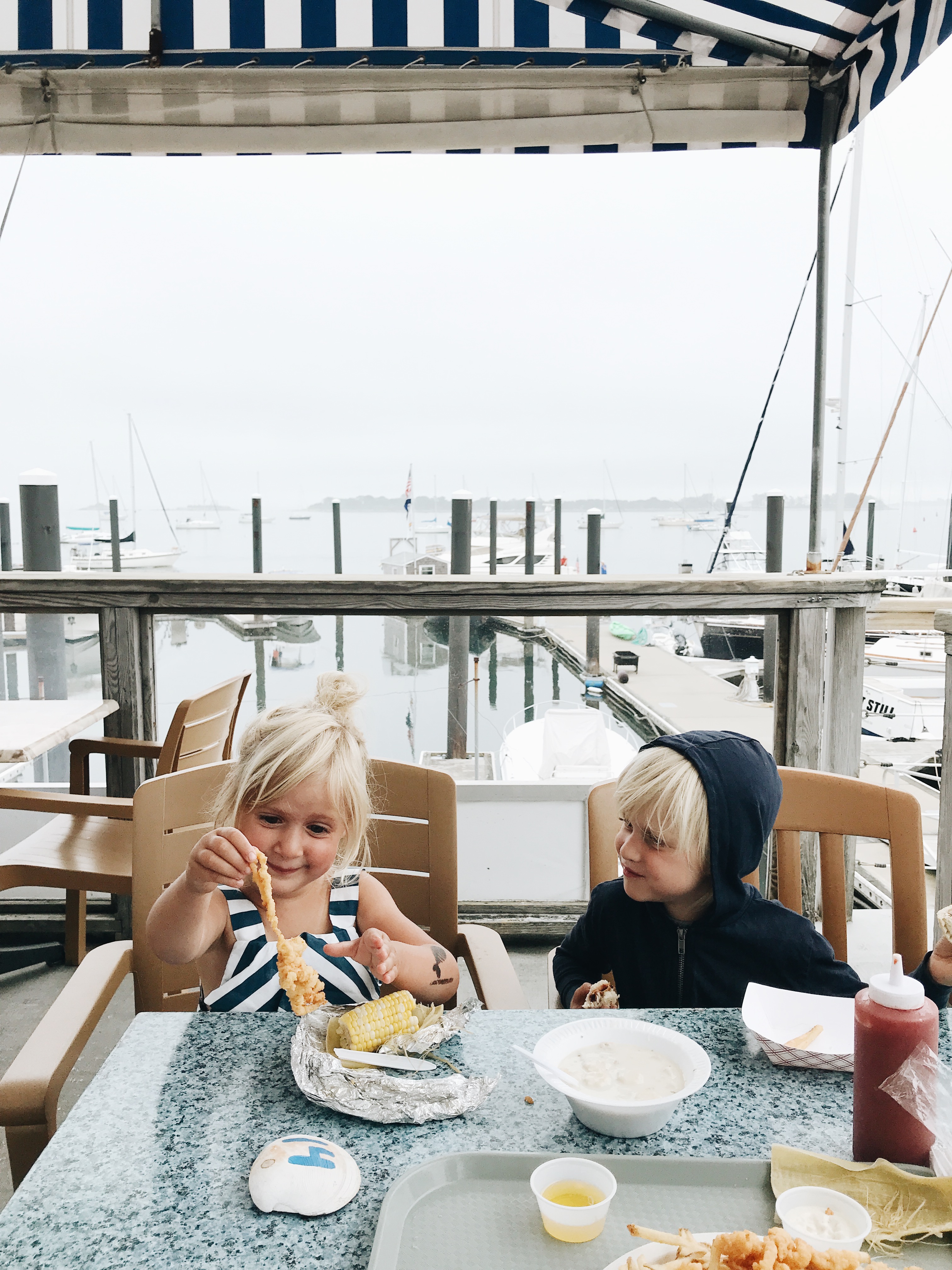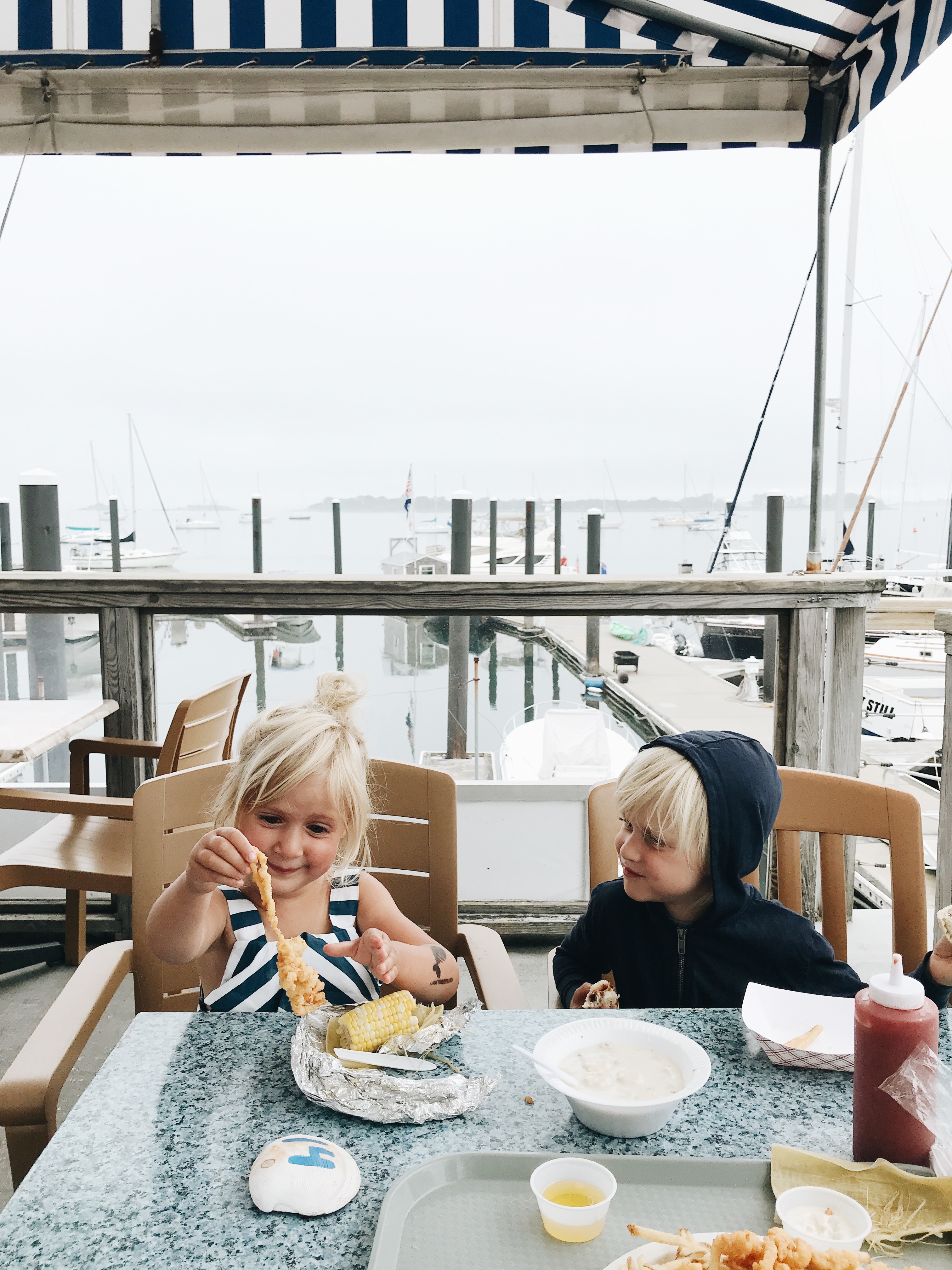 Hugest. clam. on. earth.
(I'm trying to go fast here because I have a feeling you're asleep by now.)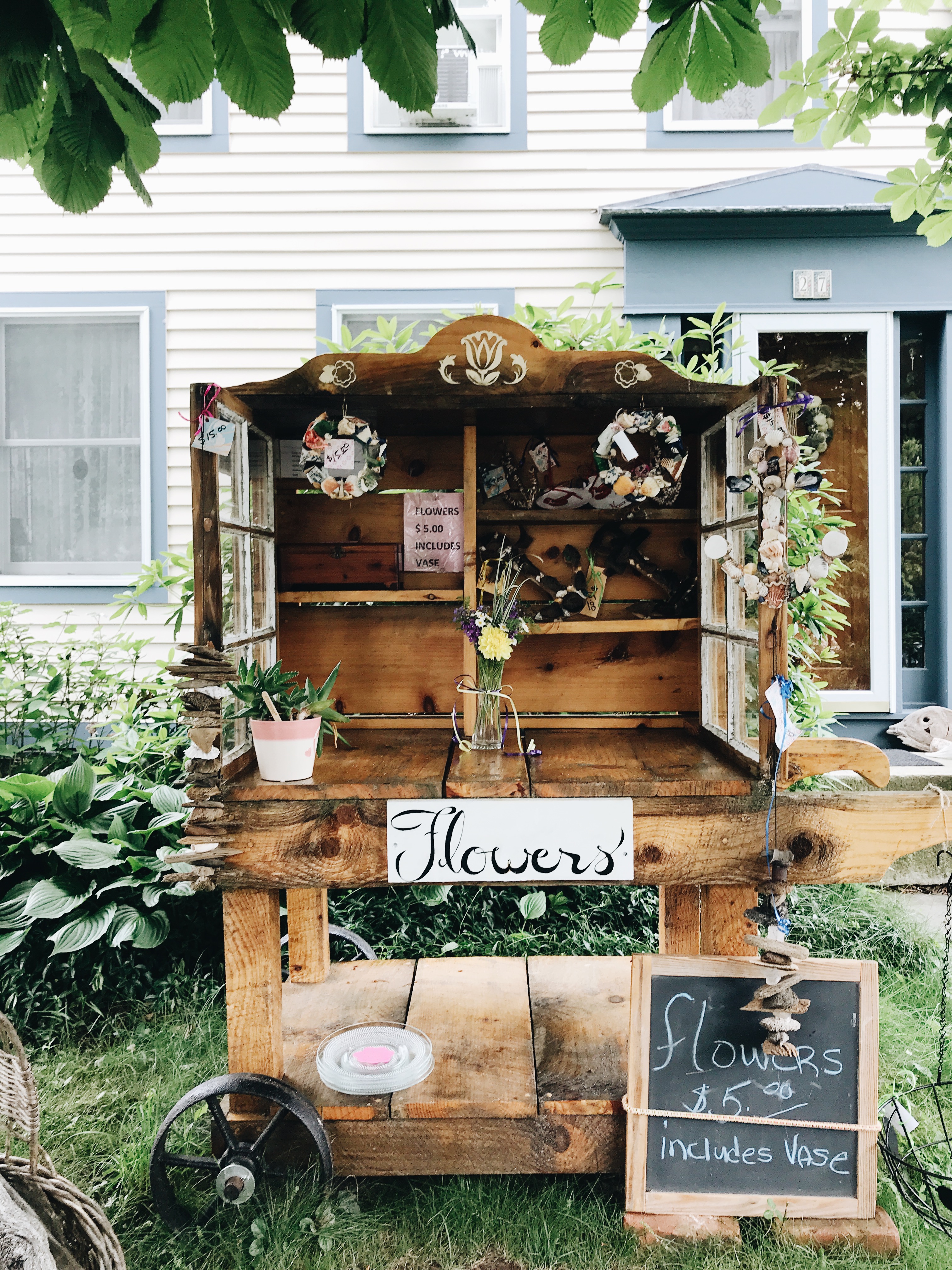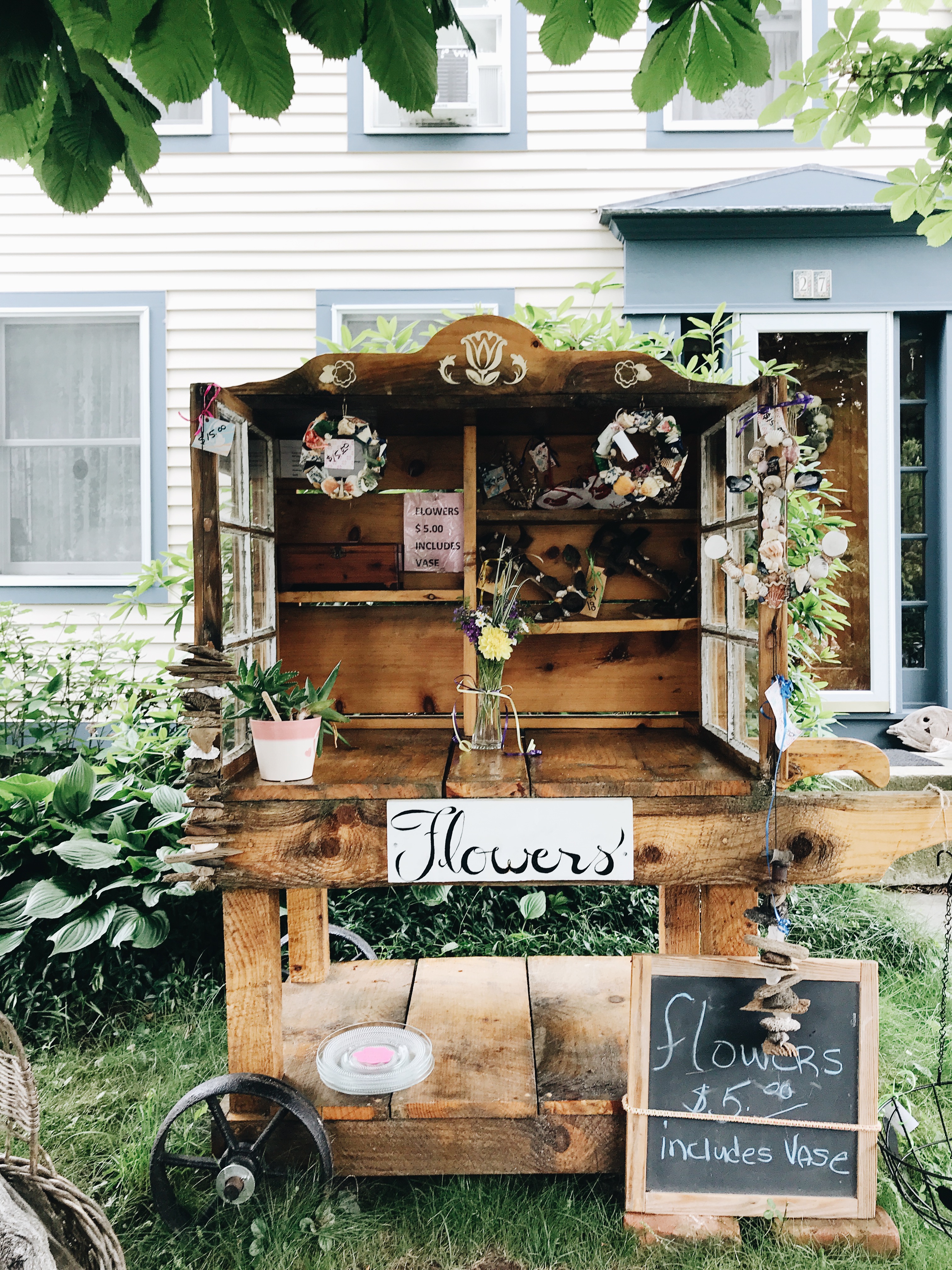 After a quick drive over to New London to check out their scene (which was only another 10 minutes west. EVERYTHING IS SO CLOSE HERE.), we stopped back by my favorite little flower shop of all time. Right in the front yard of a quaint home in Noank, this wooden flower stand sits out in the lawn, and is strictly by the honor system. I dropped my $5 in her little flip-up box, grabbed my tiny bouquet of wild flowers in an ornate, clear glass mug with a handle, and my life was complete.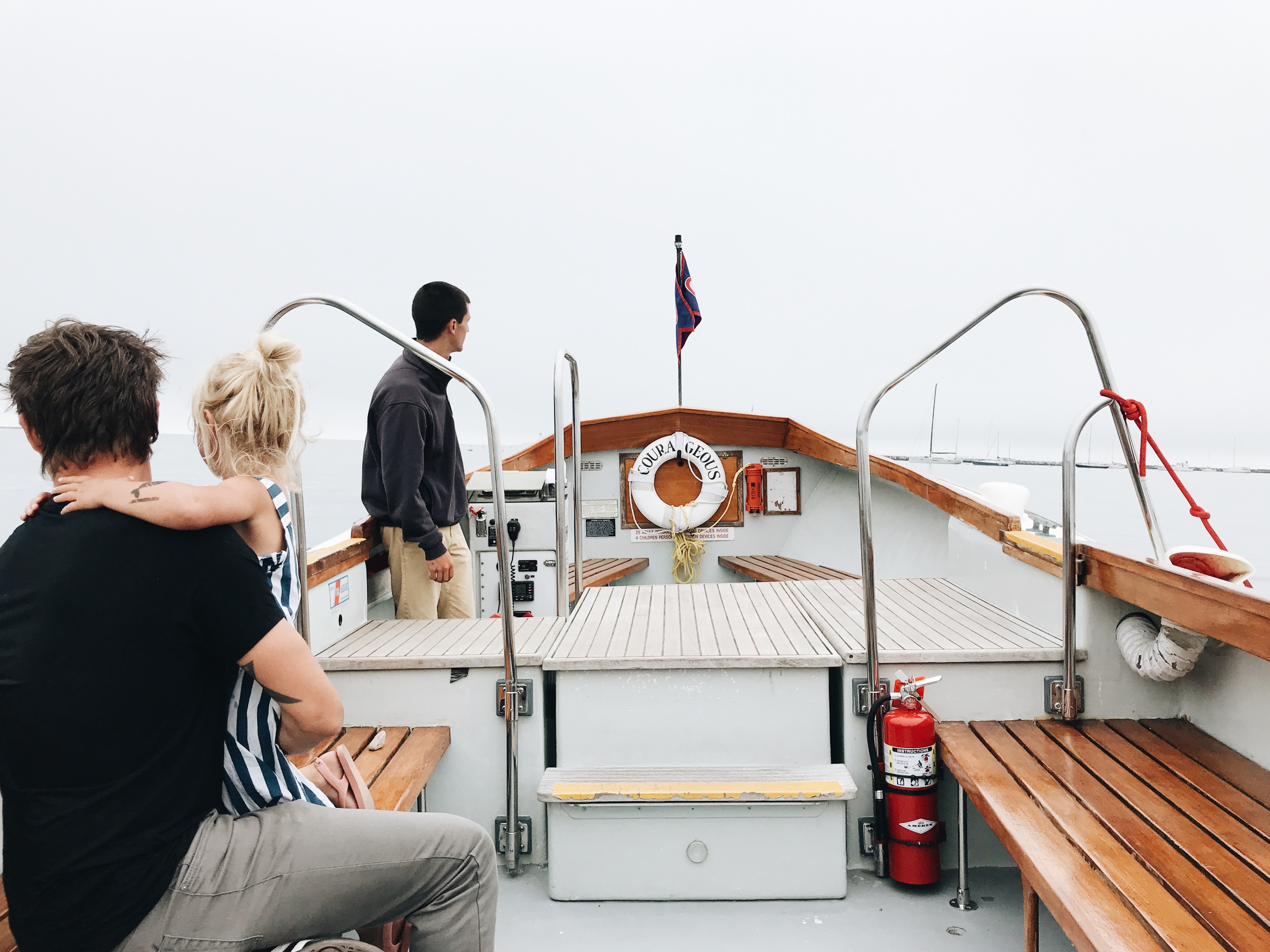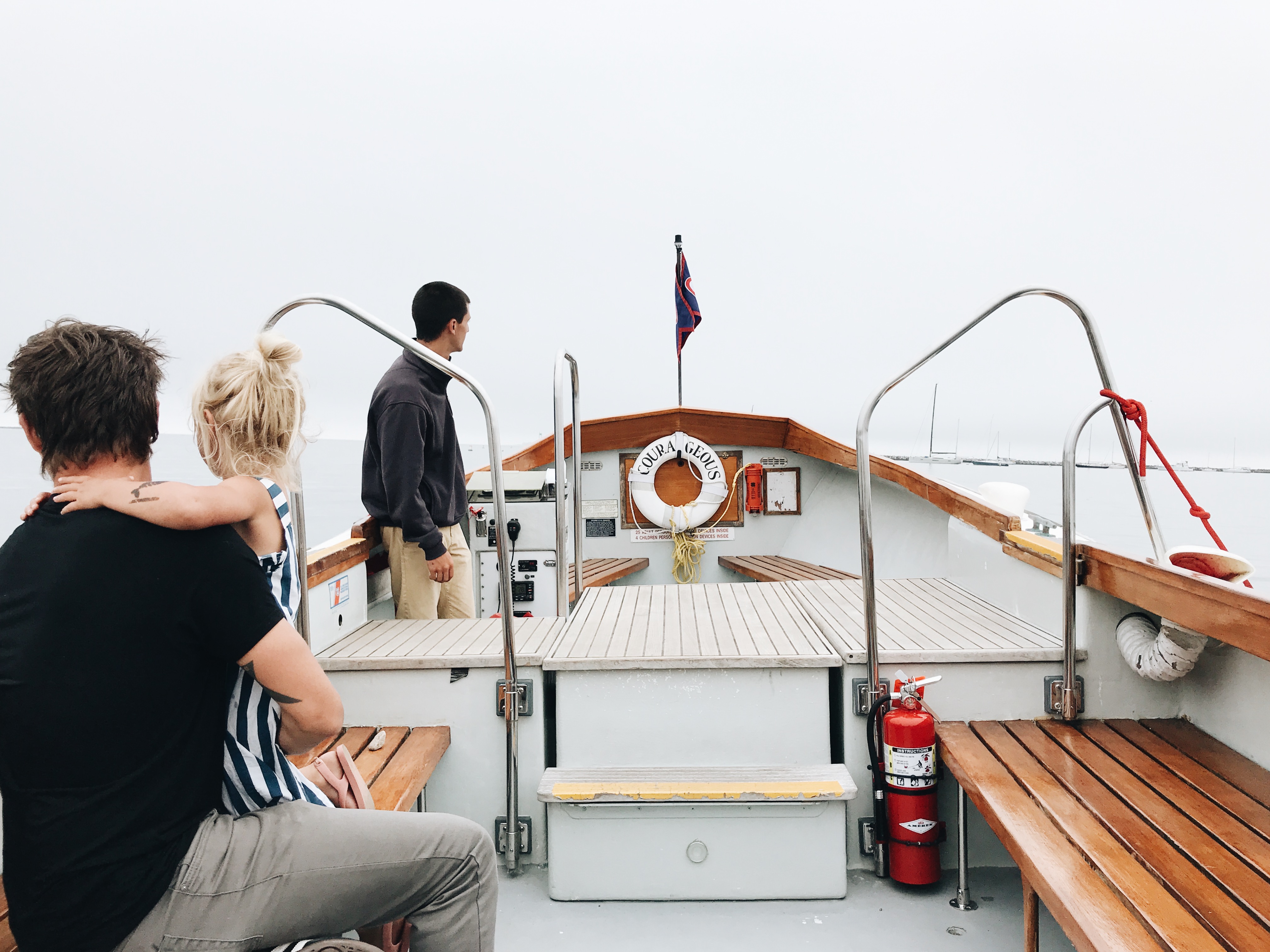 After that we stopped by Dog Scoop (I call it Dog Lick) for some ice cream. And then I maybe flirted with a teenager working the dock next door to see if he'd take us all out on his boat for a spin. AND HE DID.
He did!!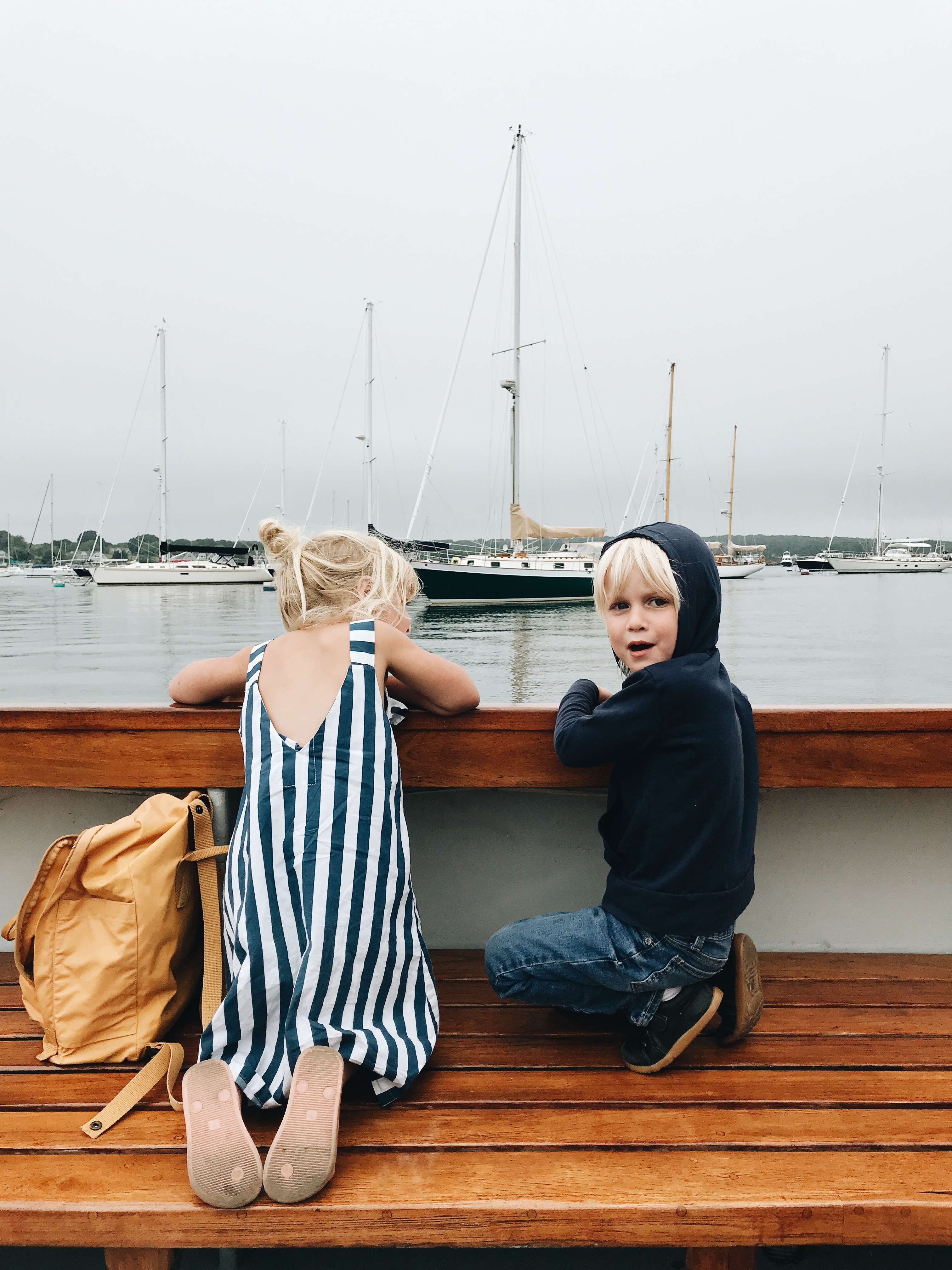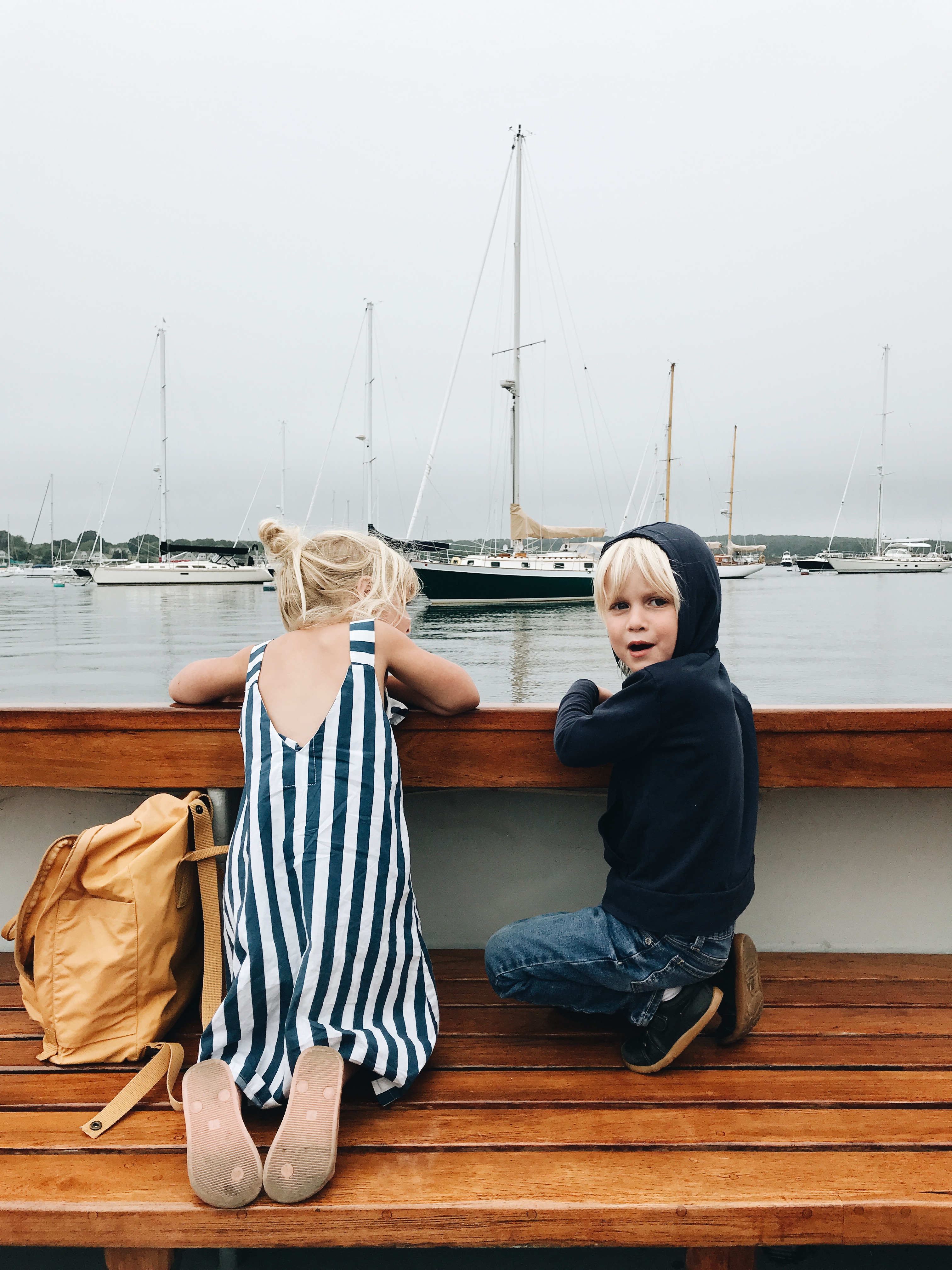 Total highlight of the day. Week!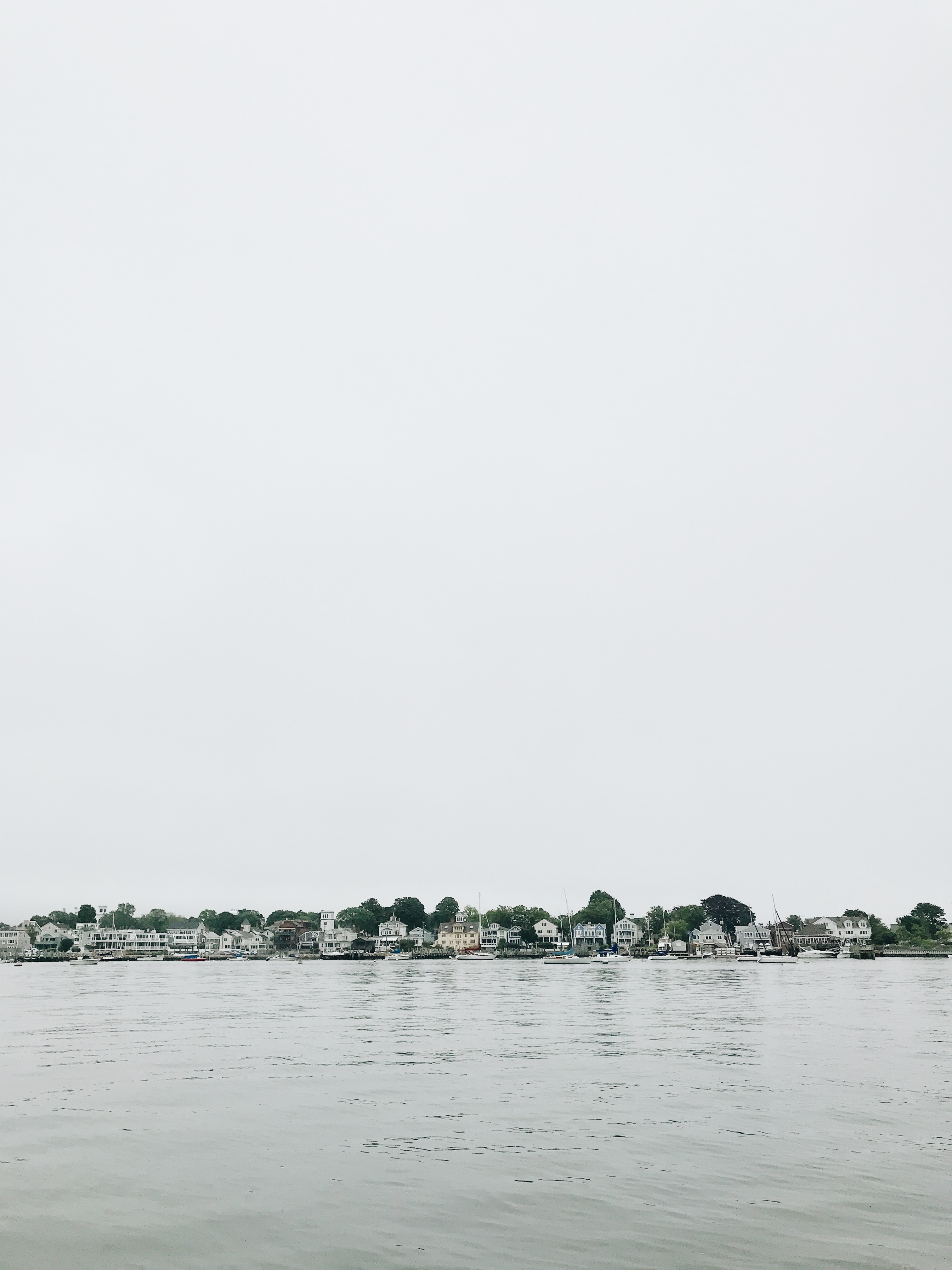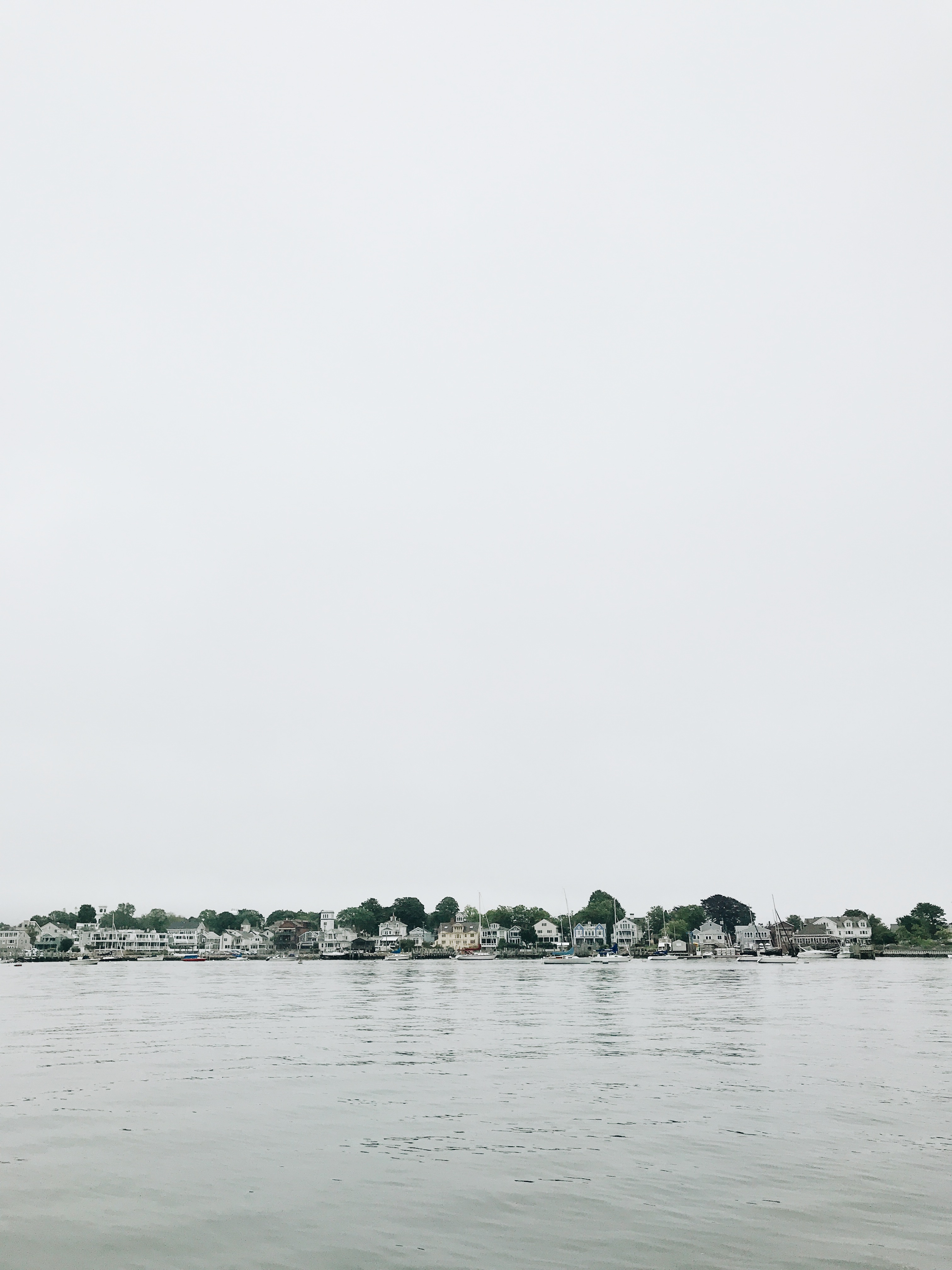 This is the magical view of Stonington from the water. I was in heaven.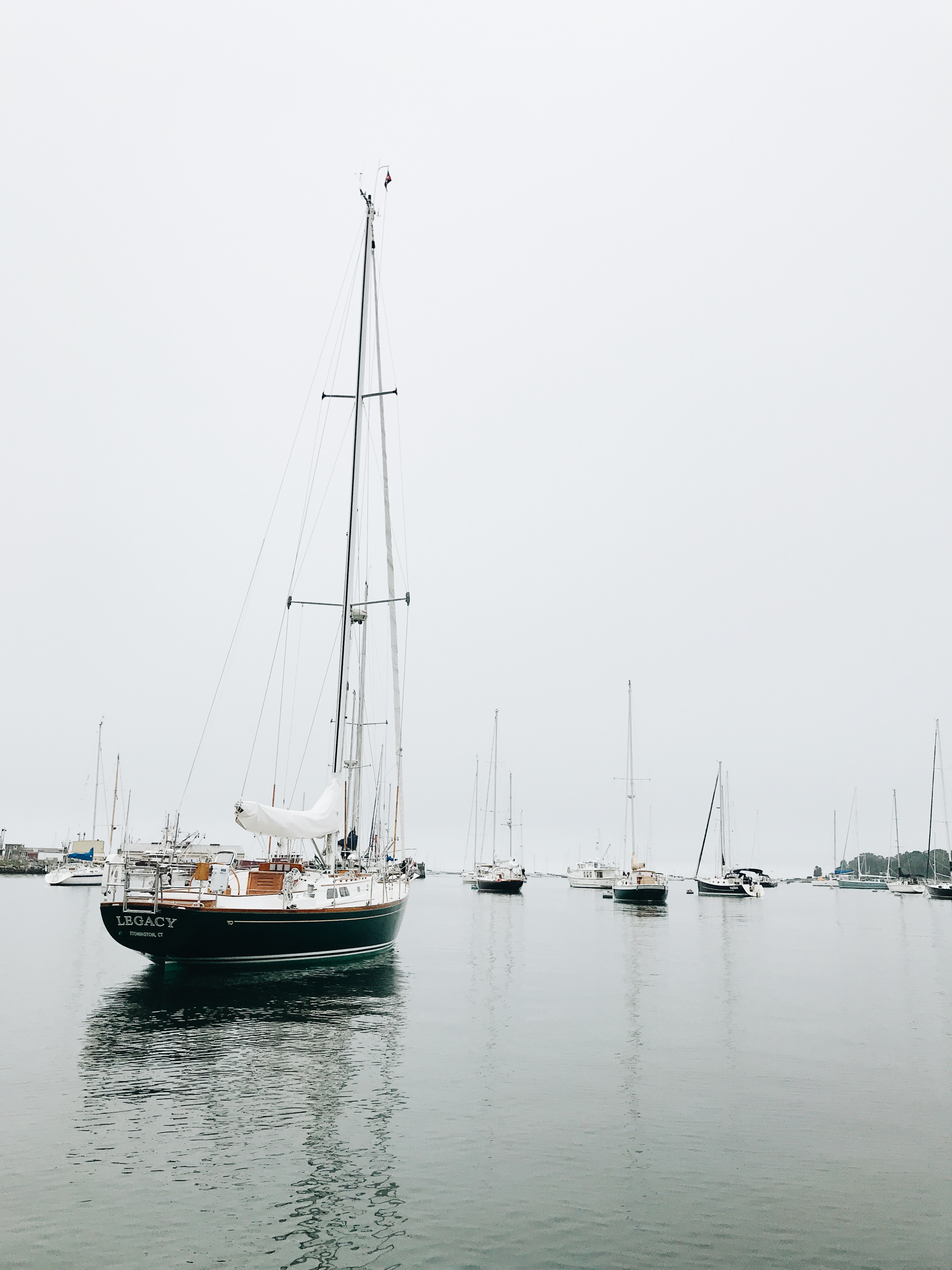 BOATS. I can't.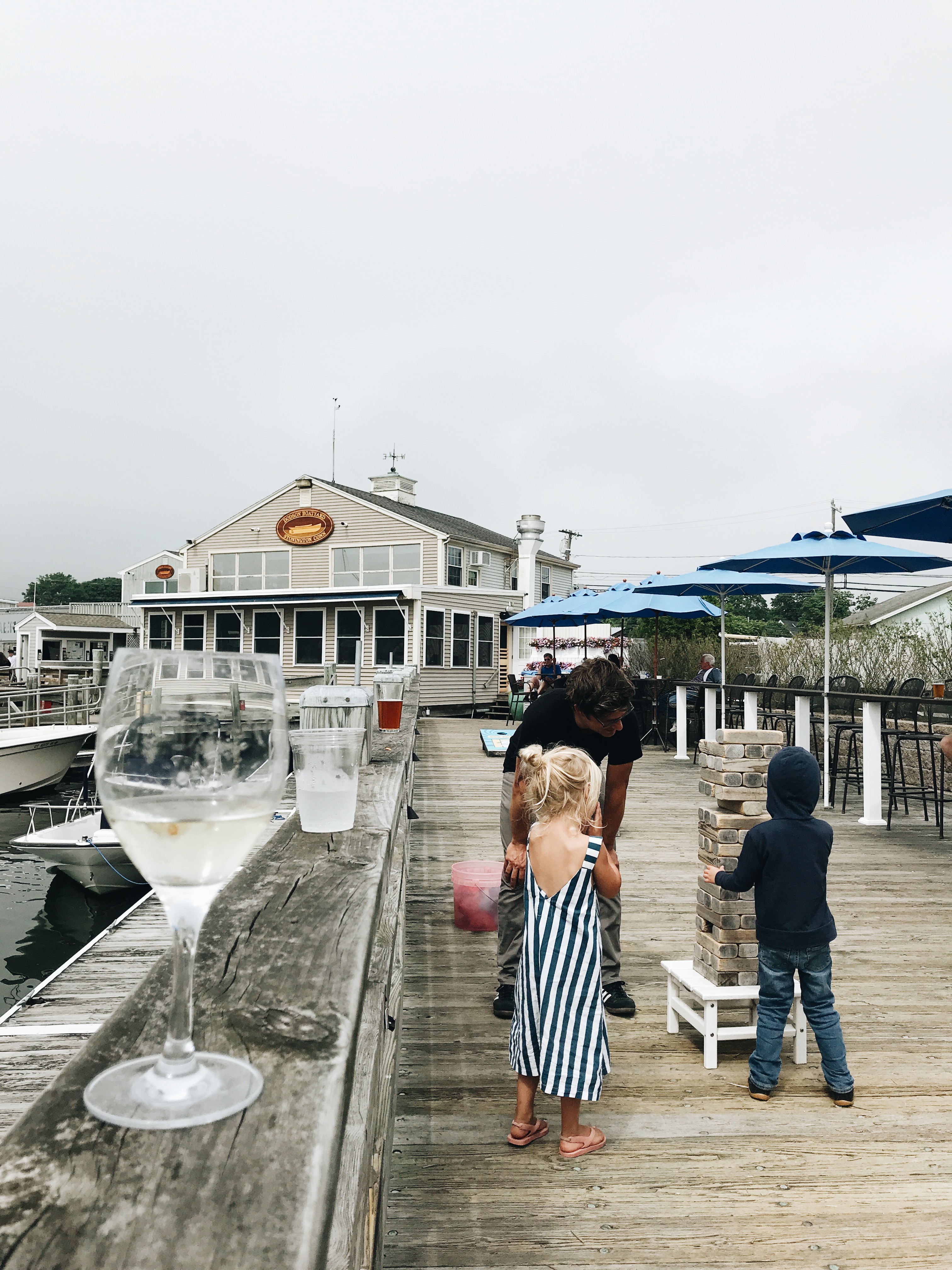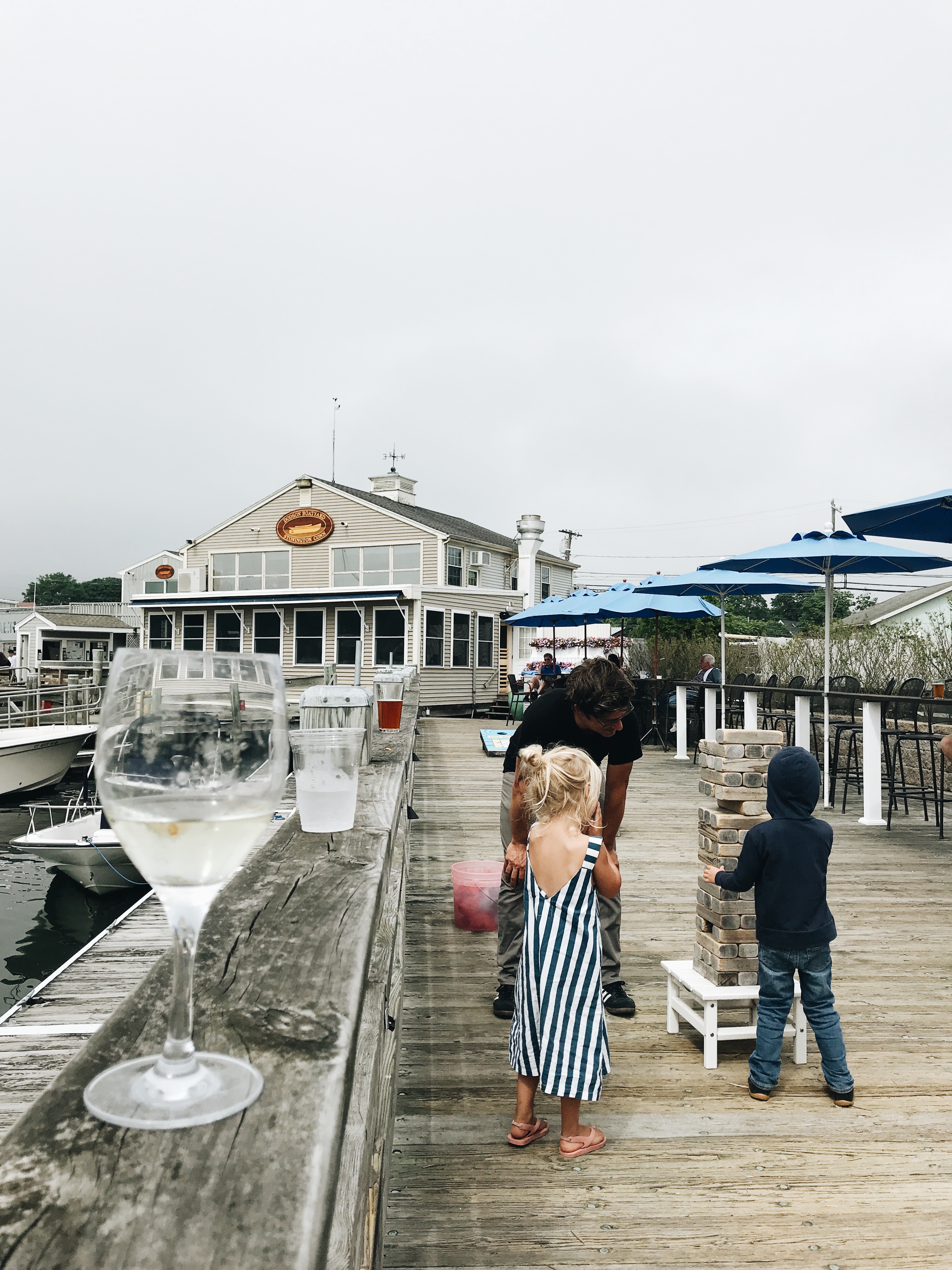 We finished the day at my fave little seaside bar, Dog Watch cafe, where the giant jenga is stressful and the wine totally fixes that.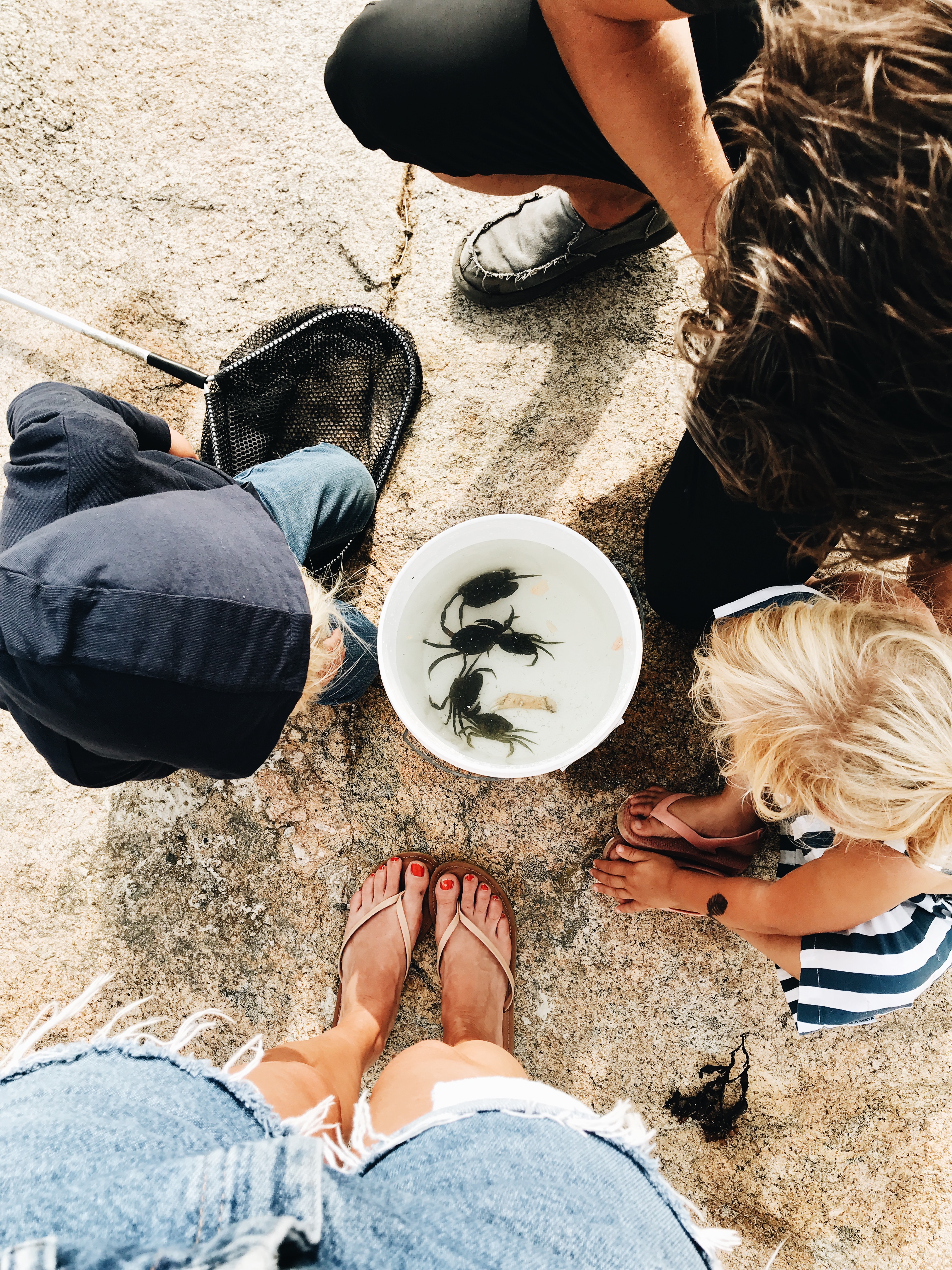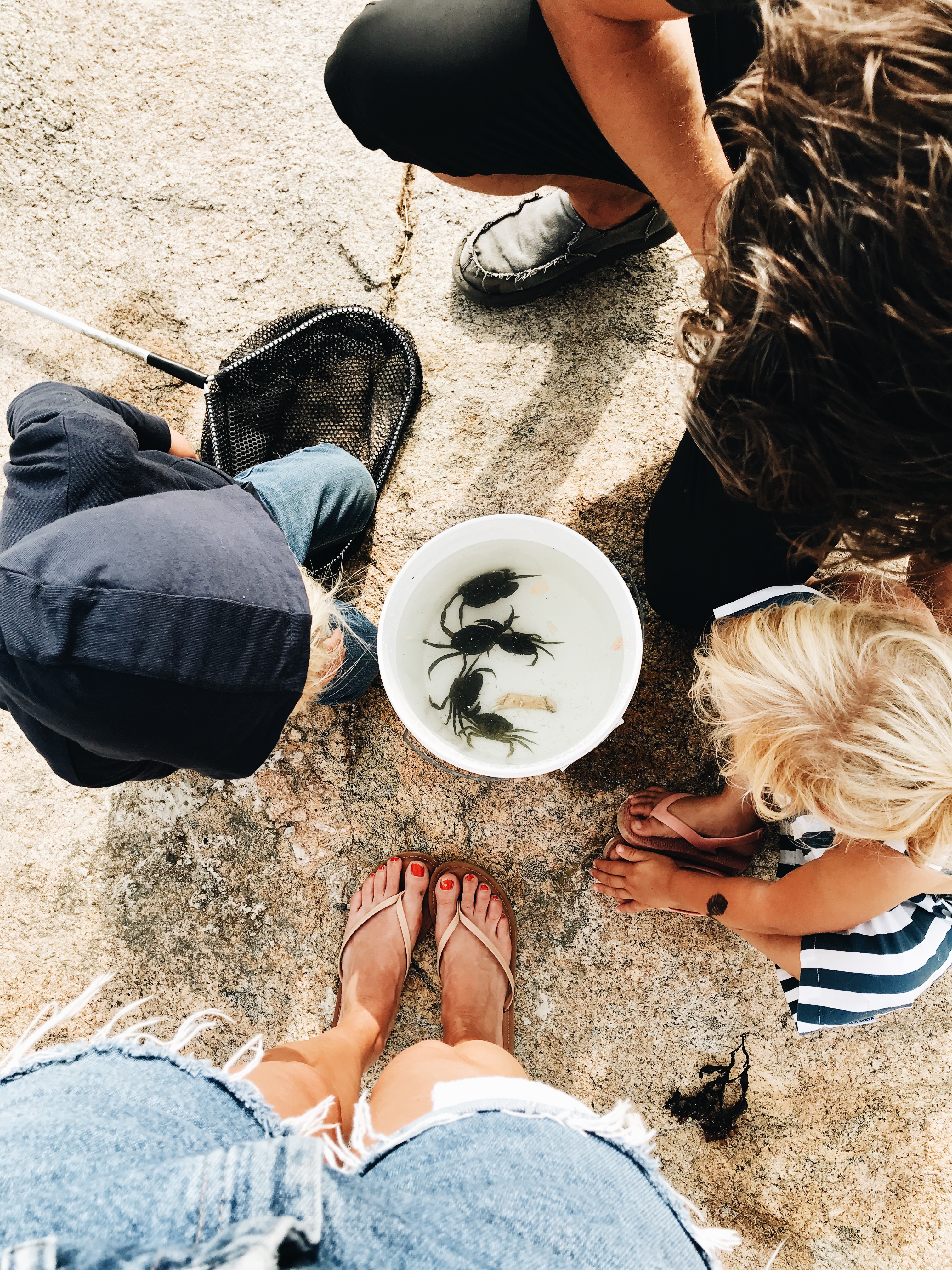 Oh! After that we made it home, filled our water bottles with a smidge more vino, and walked down to our beach to try our hand at crabbing. And by our hand I mean their hand. Do you know me at all?
Surprisingly, crabbing is simple! Stick a hot dog Dexter finger nub on the end of some string, dangle them in the water, and they come a runnin'.
And they look like evil, gnarly tarantulas of the sea. Not terrifying at all.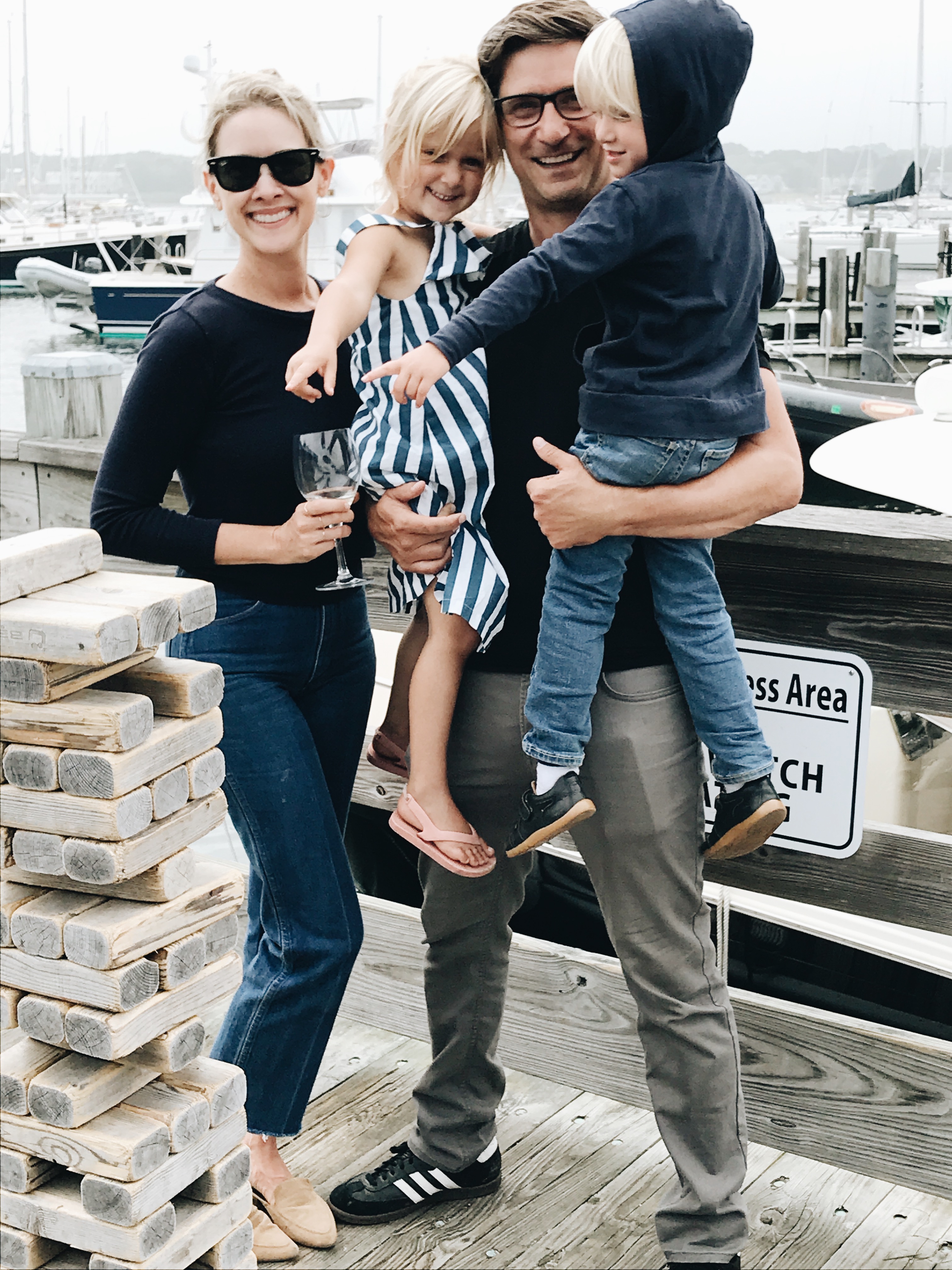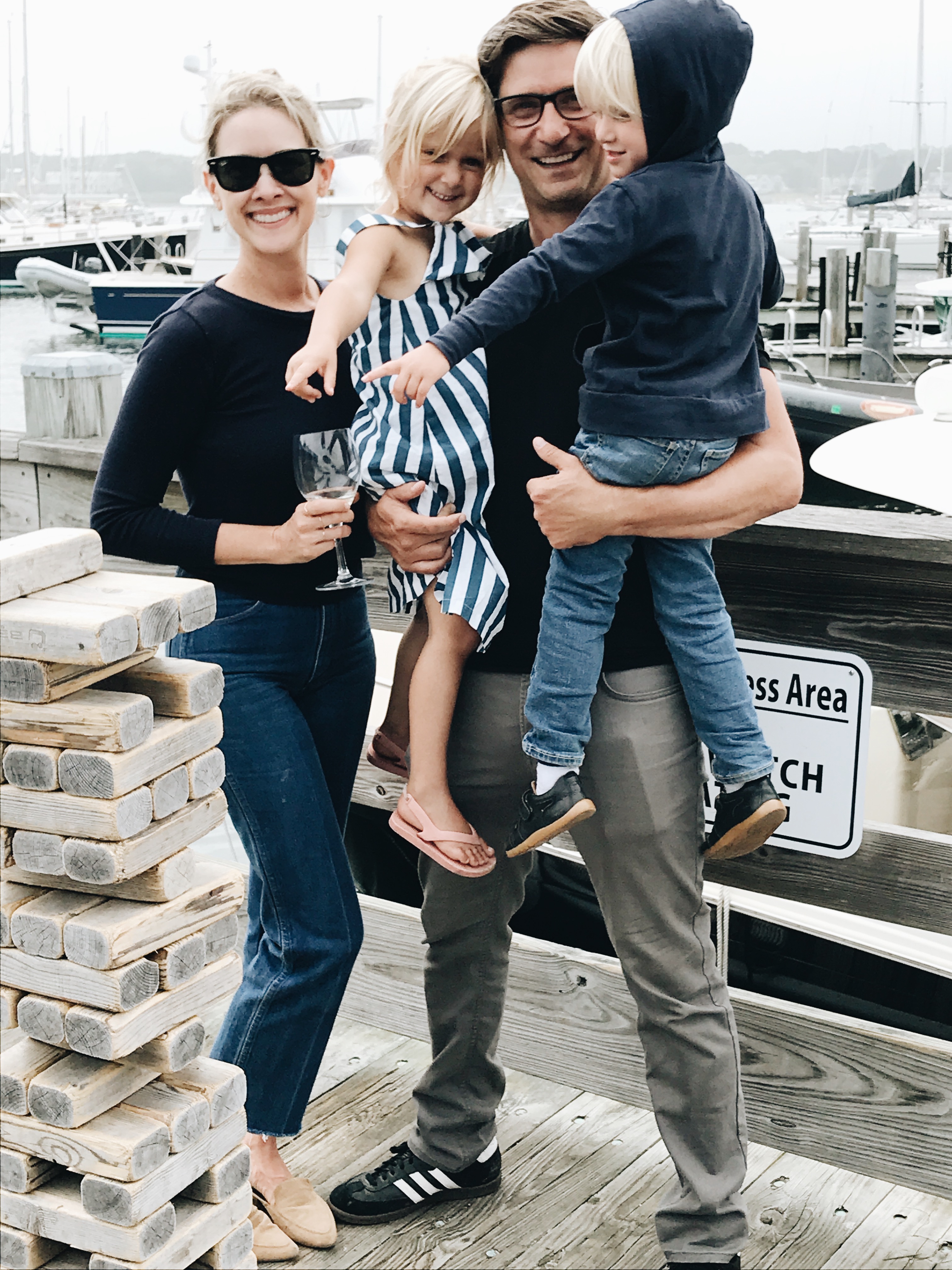 THE END.
Omg, how are you holding up?
Final post coming next week waaaaaaah!
(I don't even want to know how many typos are in this post.)