Well LOOK WHO MADE US DESSERT. (spoiler alert: me.)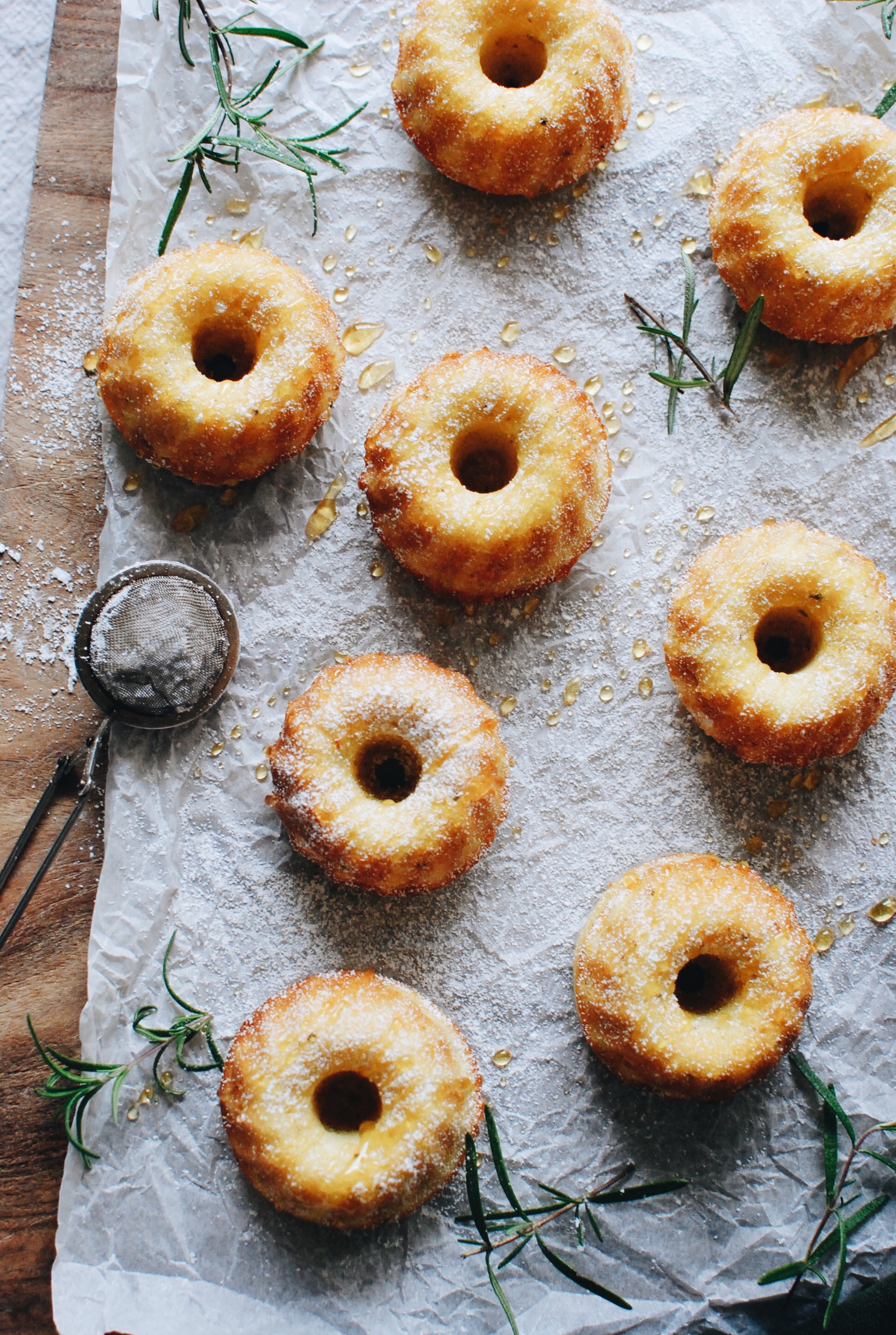 Remember olive oil cakes?? Not that they used to be a thing and no longer are a thing. But I feel like olive oil cakes would fit into that "just like my grandma used to make" category. Along with pink sponge hair rollers and Virginia Slims in the shower.
So I made them mini. And in bundt cake form. And added cornmeal because fall. And rosemary and lemon because fall again. And they're scrumptious and savory and rustic and a little sweet and I MADE DESSERT, DID YOU EVEN CATCH THAT?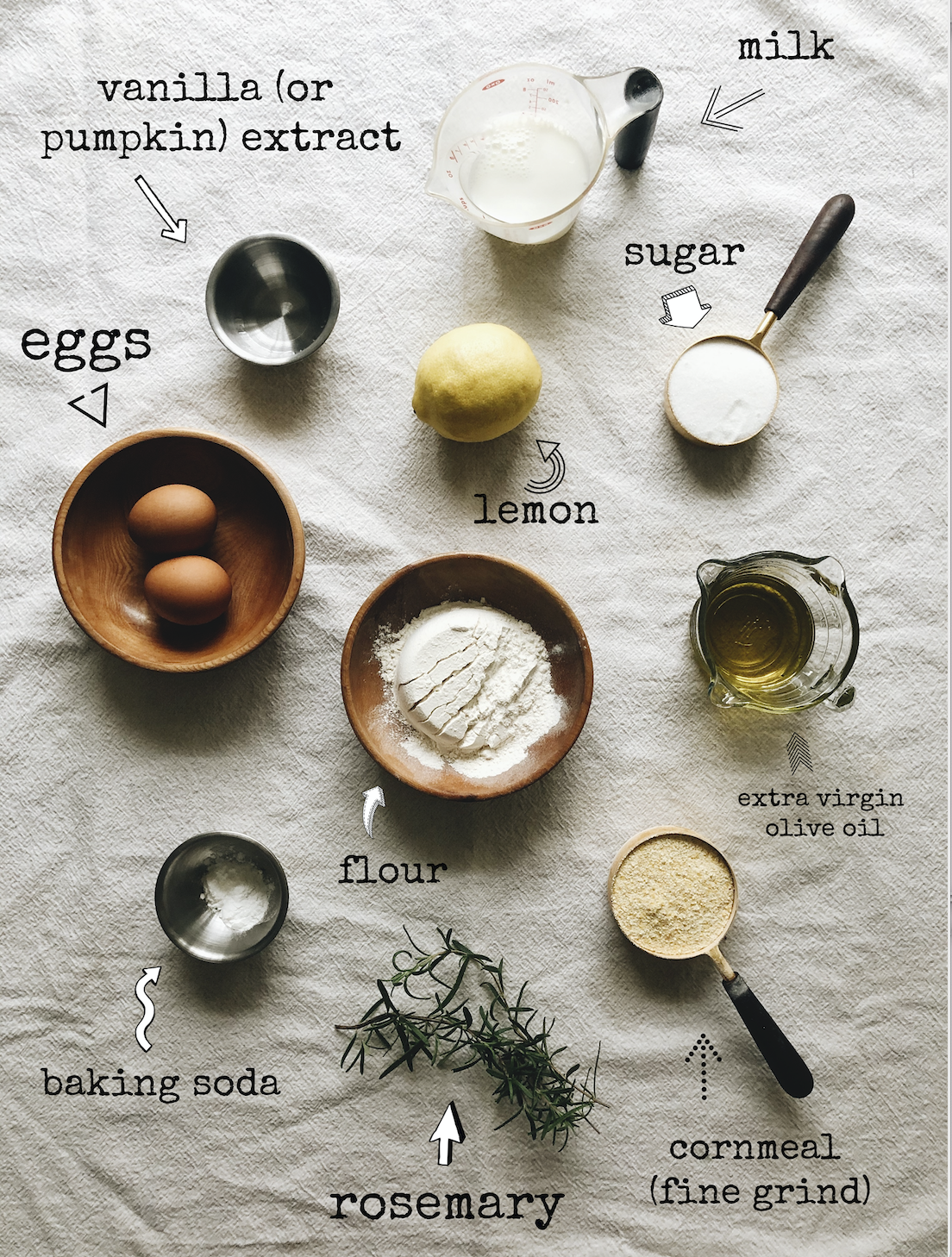 This all started about a year ago when I was flipping through my newest Fine Cooking magazine. They had an olive oil cake recipe in it. And it looked so harvesty and fally and beautiful. . . y and I was dying to make and I can't remember now why I never got around to it. Good story, Bev.
So I researched a BUNCH of different ways to make an olive oil cake, but with cornmeal in it. And I feel like it's pretty common! Some use WAY more flour than I did, just a touch of cornmeal. Others use WAY more sugar than I did, but I didn't because I like my teeth.
So I met in the middle. Half this, half that, lil' bit of sugar, lots of chopped rosemary, a bit of olive oil, a bit of milk, some lemon juice and zest and BY GEORGE I THINK SHE'S GOT IT! (<–name that movie.)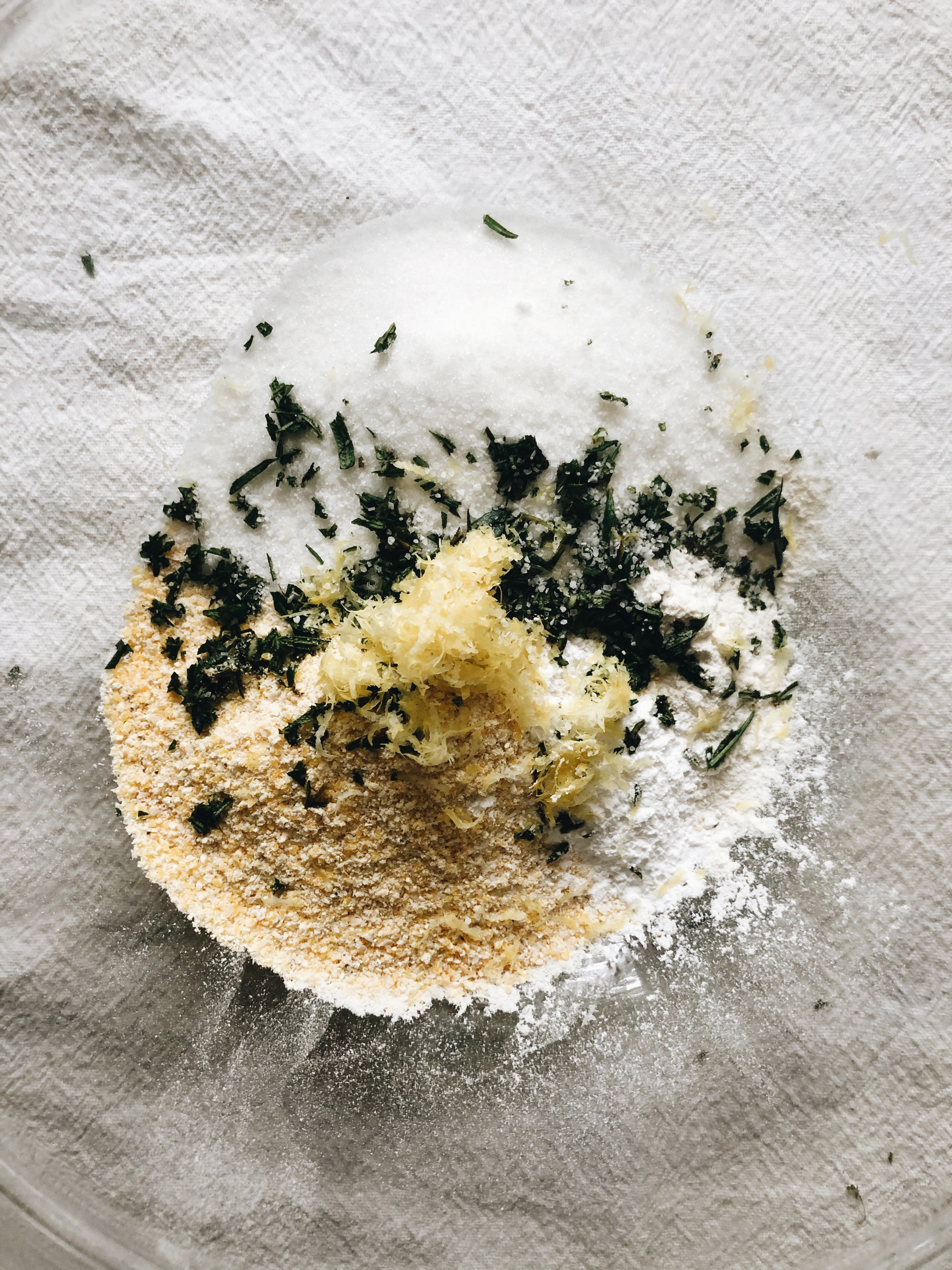 One thing I did tweak in my testing – use a fine cornmeal. For my first round I used these rustic corn GRITS that I got the farmer's market over the summer. And they were, well – too gritty. So go with a fine grind, man!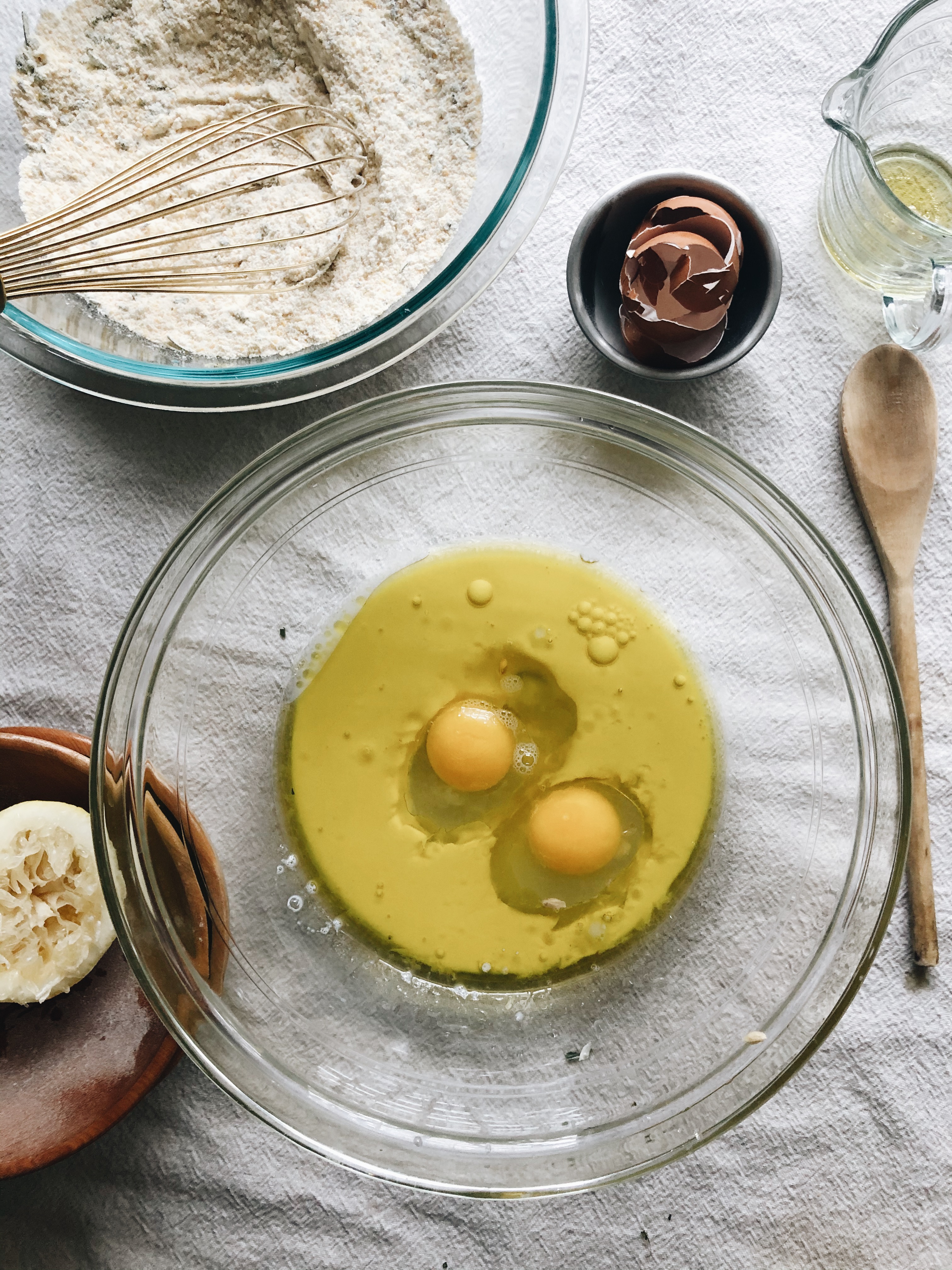 You know the baking game: mix your dry ingredients. Then mix your wet ones.
Not wet ones likes wet wipes. But wet ones like wet ingredients. I know you know. "They don't know that we know they know we know." (<–name that show.)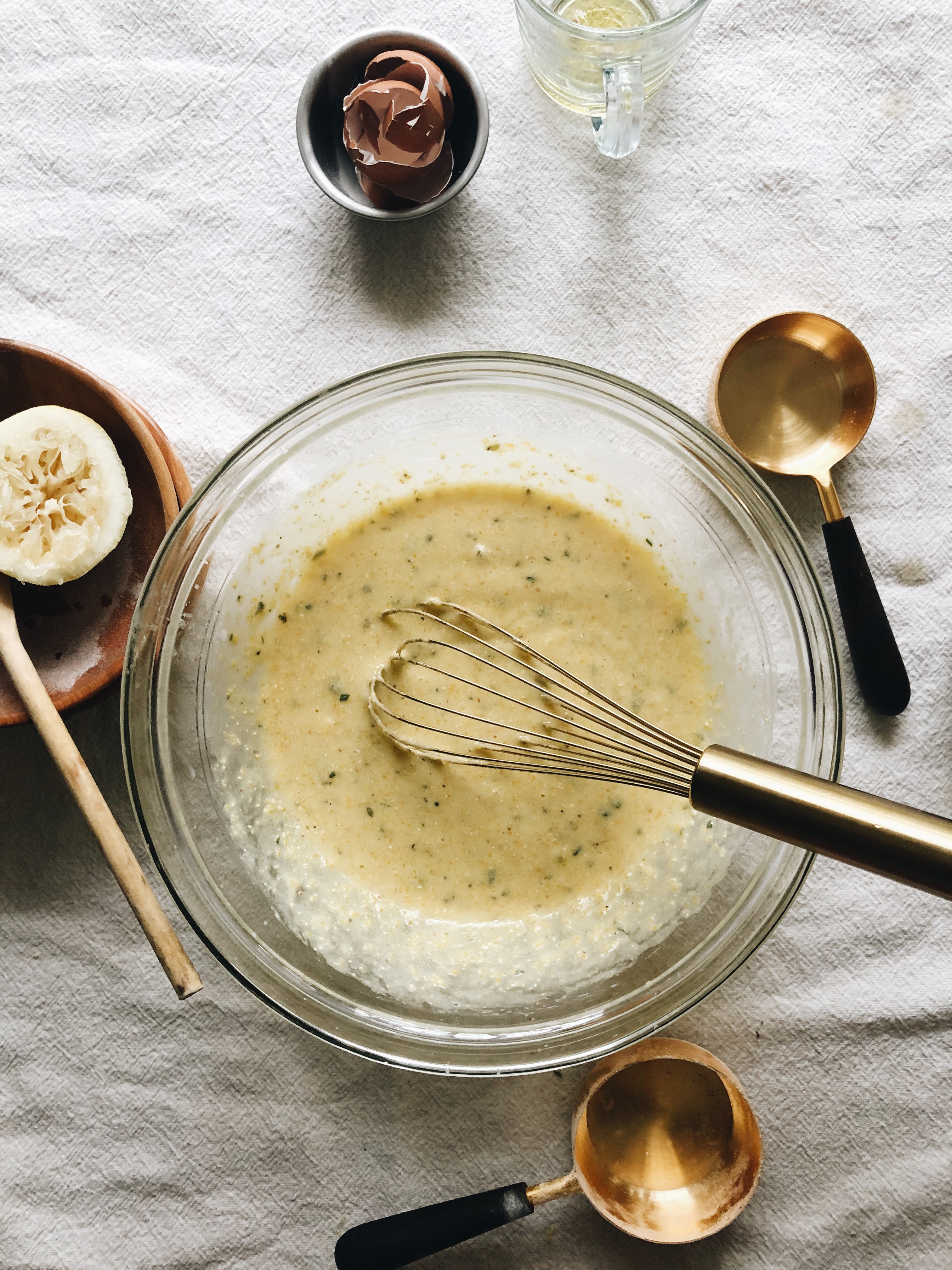 Mixy mixy. (<–you want to hate it.)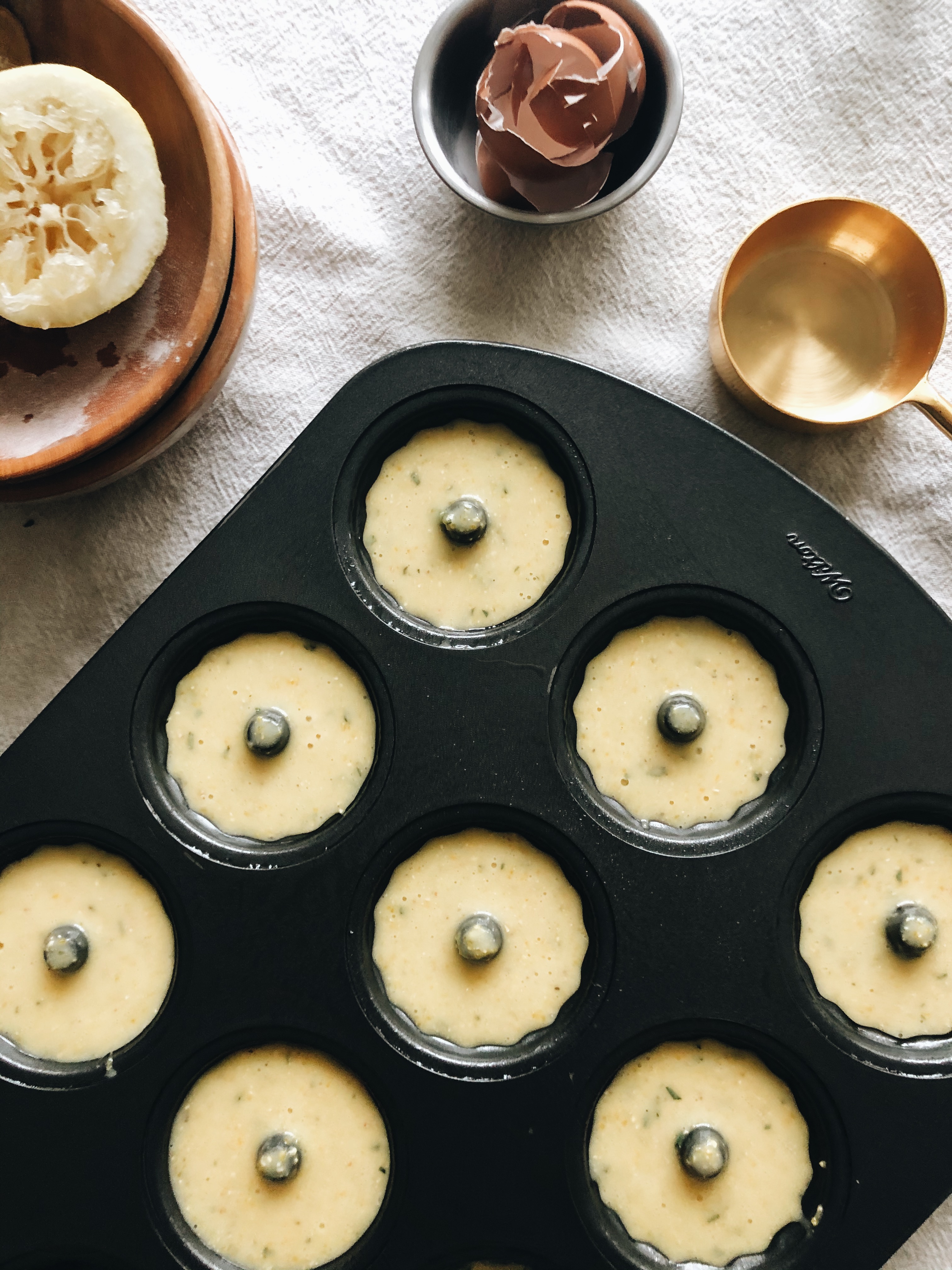 I used a mini bundt cake pan, but hon, a muffin tin is just faaaahn.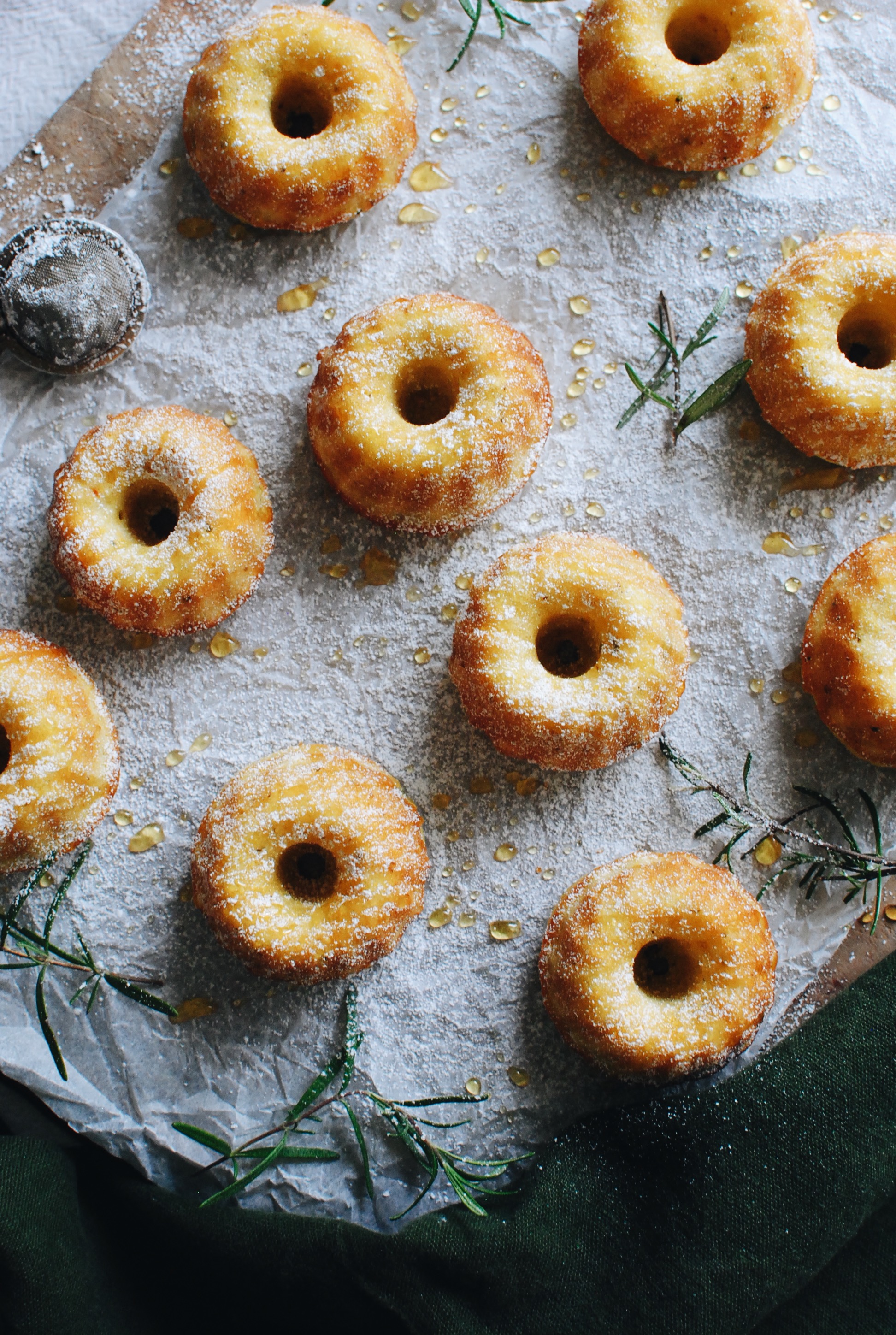 Well hey, cuties!
Look at 'em, all dusted with powdered sugar and a baby drizzle of honey.
We're definitely starting a band called Baby Drizzle of Honey.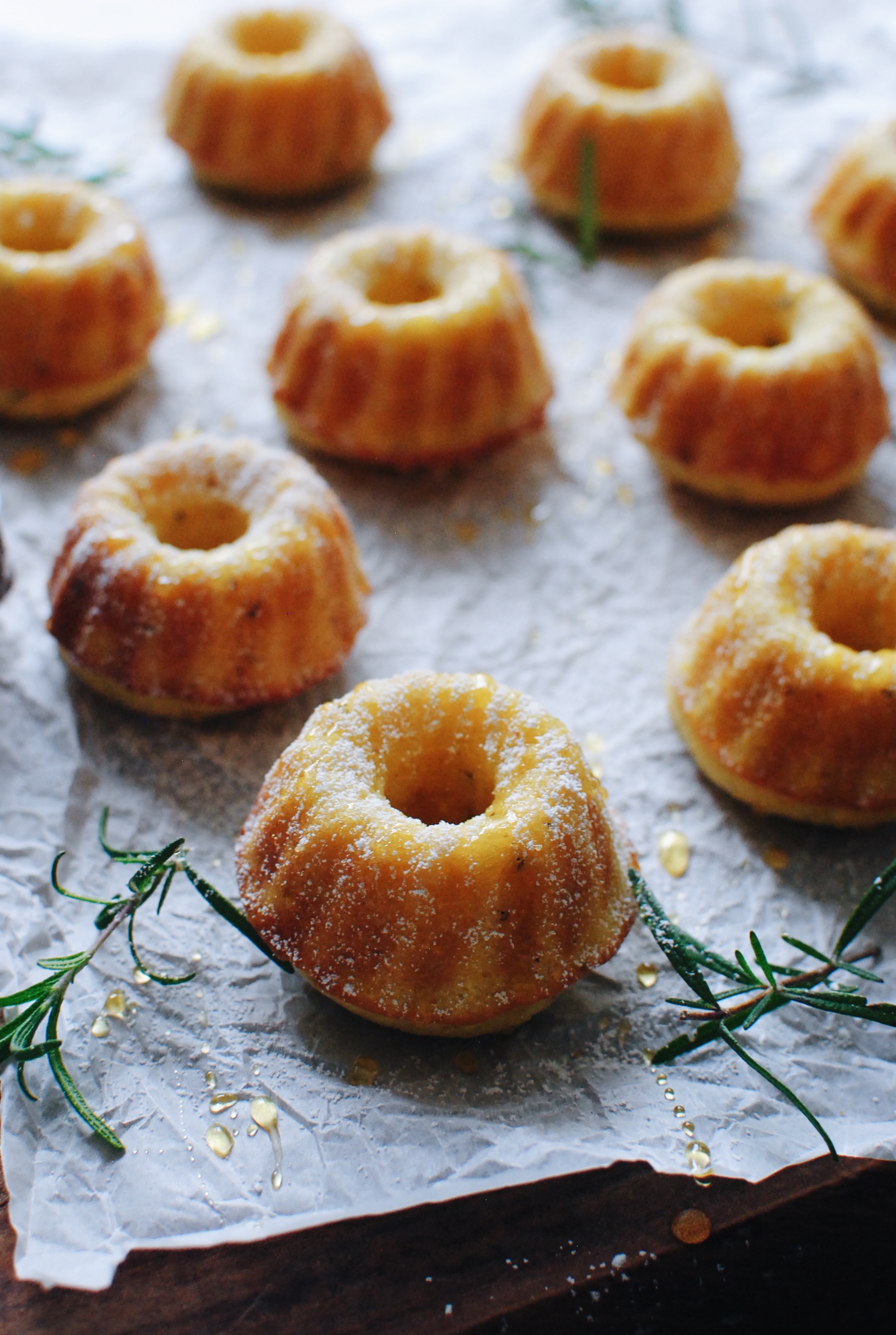 So guys, this is what you end up with and I can NOT get enough. The flavors balance delicately between savory rustic with the rosemary, corn and oil, and sweet-ish with the sugar and honey on top. And the lemon in it? Unexpected and just the right amount of zing to play with the herby essence. They're so yummy you will cry forever.
I'm absolutely 100% taking these to our annual Fakesgiving with our friends this year and not even looking back.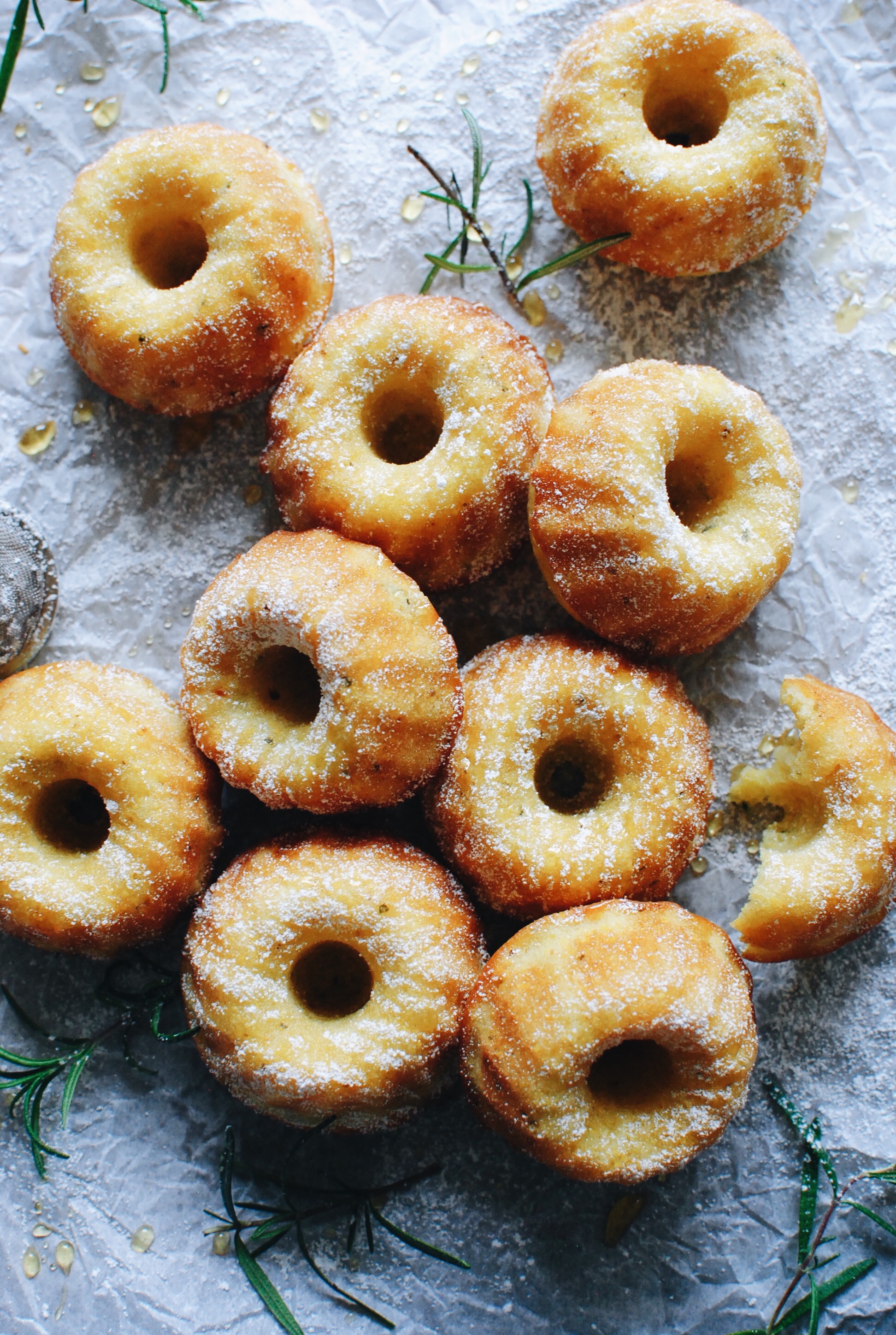 Make 'em! THE END.
Olive Oil and Corn Mini Bundt Cakes
Ingredients
1/2 cup all-purpose flour
1/2 cup finely ground cornmeal
2 tsp baking powder
1/3 cup sugar
1/2 tsp coarse salt
1 Tbs. chopped fresh rosemary
1 lemon, zested and juiced
1/2 cup extra-virgin (or regular) olive oil
1/2 cup milk
2 eggs
1 tsp vanilla (or pumpkin) extract
Powdered sugar and honey, to garnish
Instructions
Preheat your oven to 350.
In a large bowl, combine the flour, cornmeal, baking powder, sugar, salt, rosemary and lemon zest. Whisk to combine.
In another large bowl, combine the oil, milk, eggs, extract and a Tbs. of lemon juice. Whisk until smooth. Pour the dry ingredients into the wet and whisk again until fully combined.
Lightly grease a muffin or mini bundt cake tin, and evenly pour the mixture into each cup. Bake anywhere from 15-20 minutes, until puffed and golden brown. Let sit in the tin for a few minutes to cool, then gently tip them out onto a cutting board or serving platter.
Dust with powdered sugar and drizzle with honey before serving.
Makes about 10 cakes!
7.8.1.2
385
https://bevcooks.com/2019/10/olive-oil-and-corn-mini-bundt-cakes/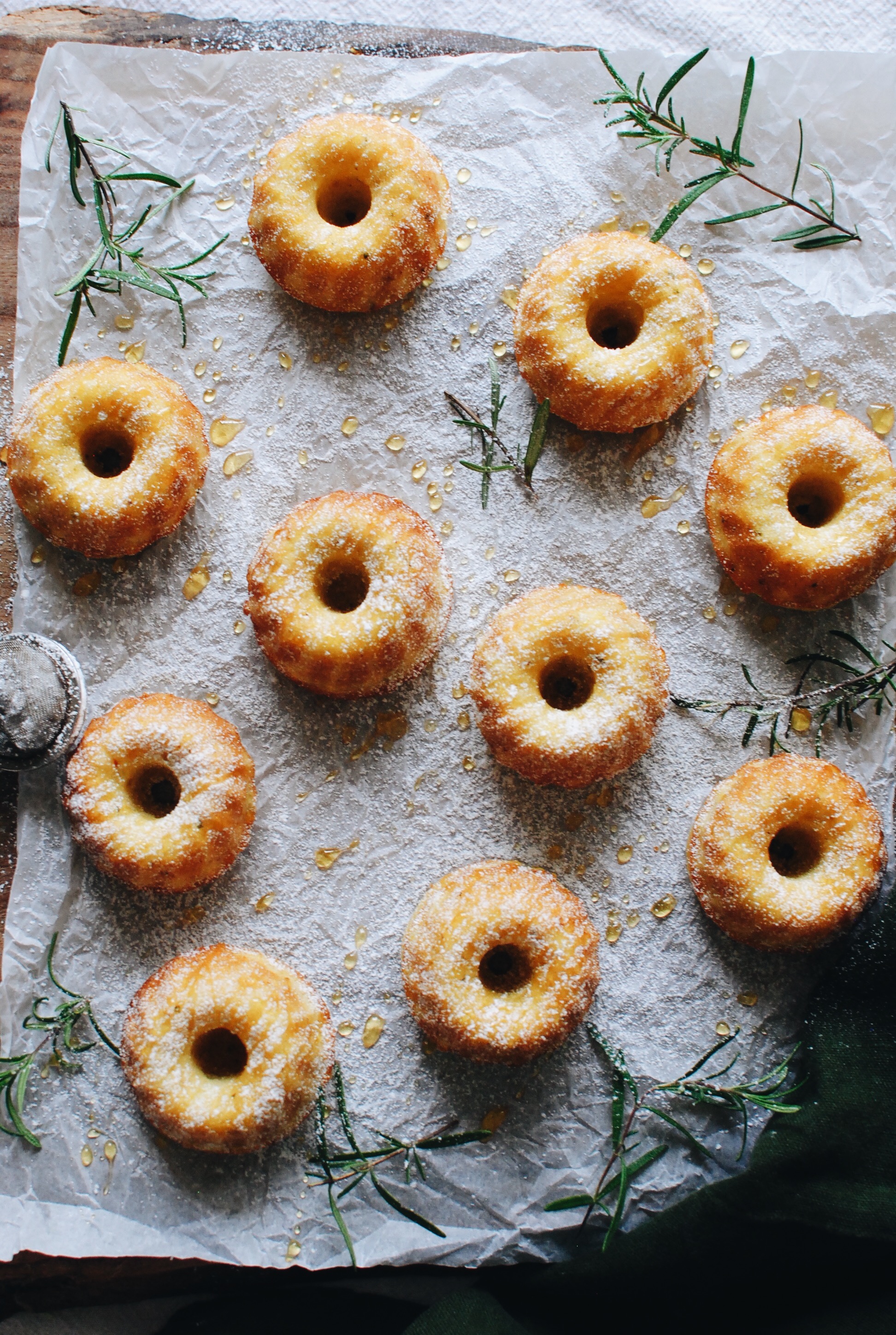 These could easily end up on your Thanksgiving table. Matter of fact, if they don't, what are we even doing here?