I basically have your Valentine's Day dinner figured out. And you don't have to tip! Ha.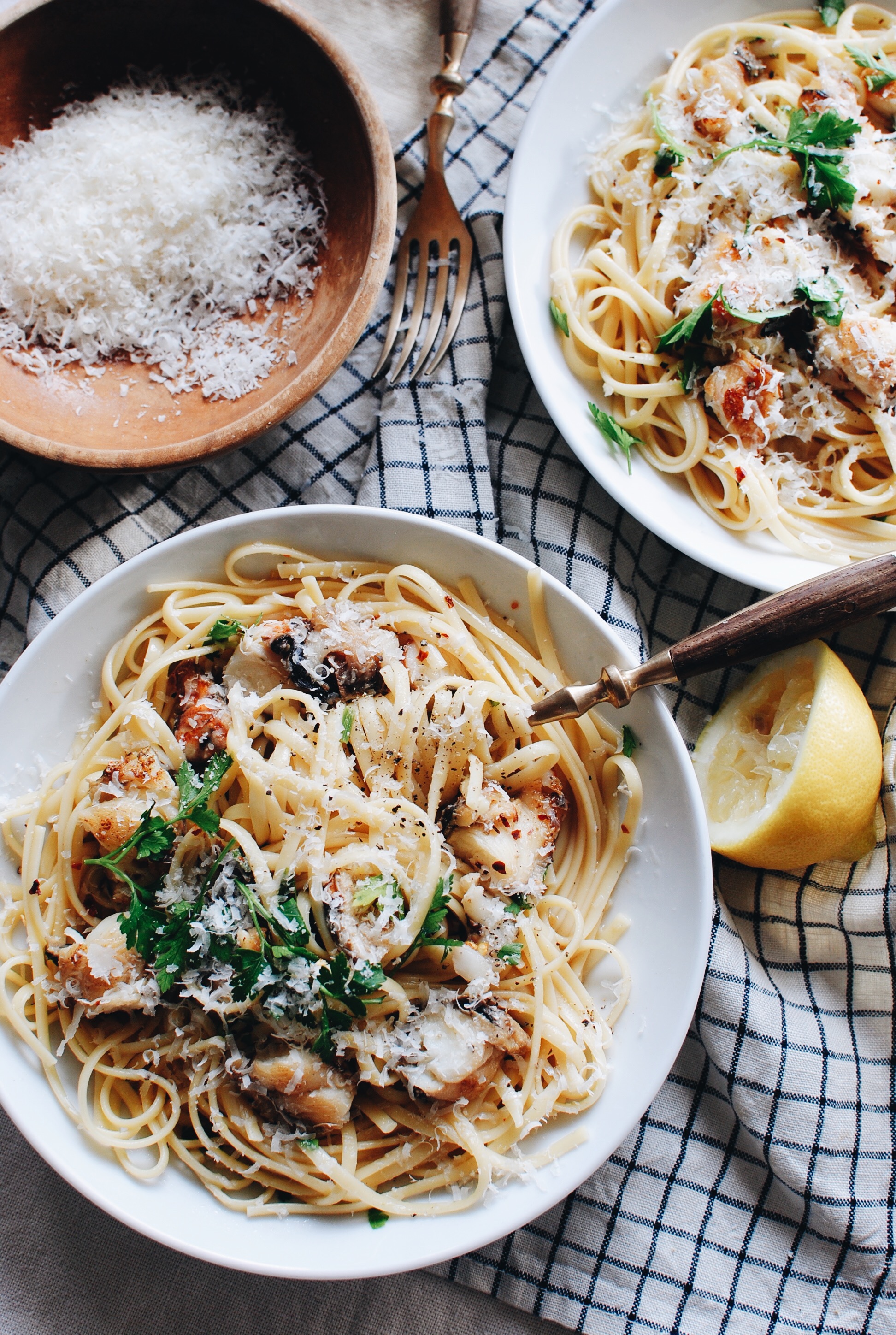 It's loooobstah. But not like, the whole guy. Just the tails. The murdering is already done.
And I'm telling you, this recipe is EASY. And not scary! And very buttery. Because it's Valentine's Day, and I read online that in the old ancient days of folklore, the literal translation of Valentine is butter. But in Latin it's Valenbutra. Which then became two words years later: Valentine and butter. But the old story is that the cupid's arrow is made out of a stick of butter. So when he'd shoot the lovers, it was actually with butter sticks, which immediately softened on their skin and made them fall in love. I SWEAR THIS IS TRUE. But don't try to look it up because I think that site is down.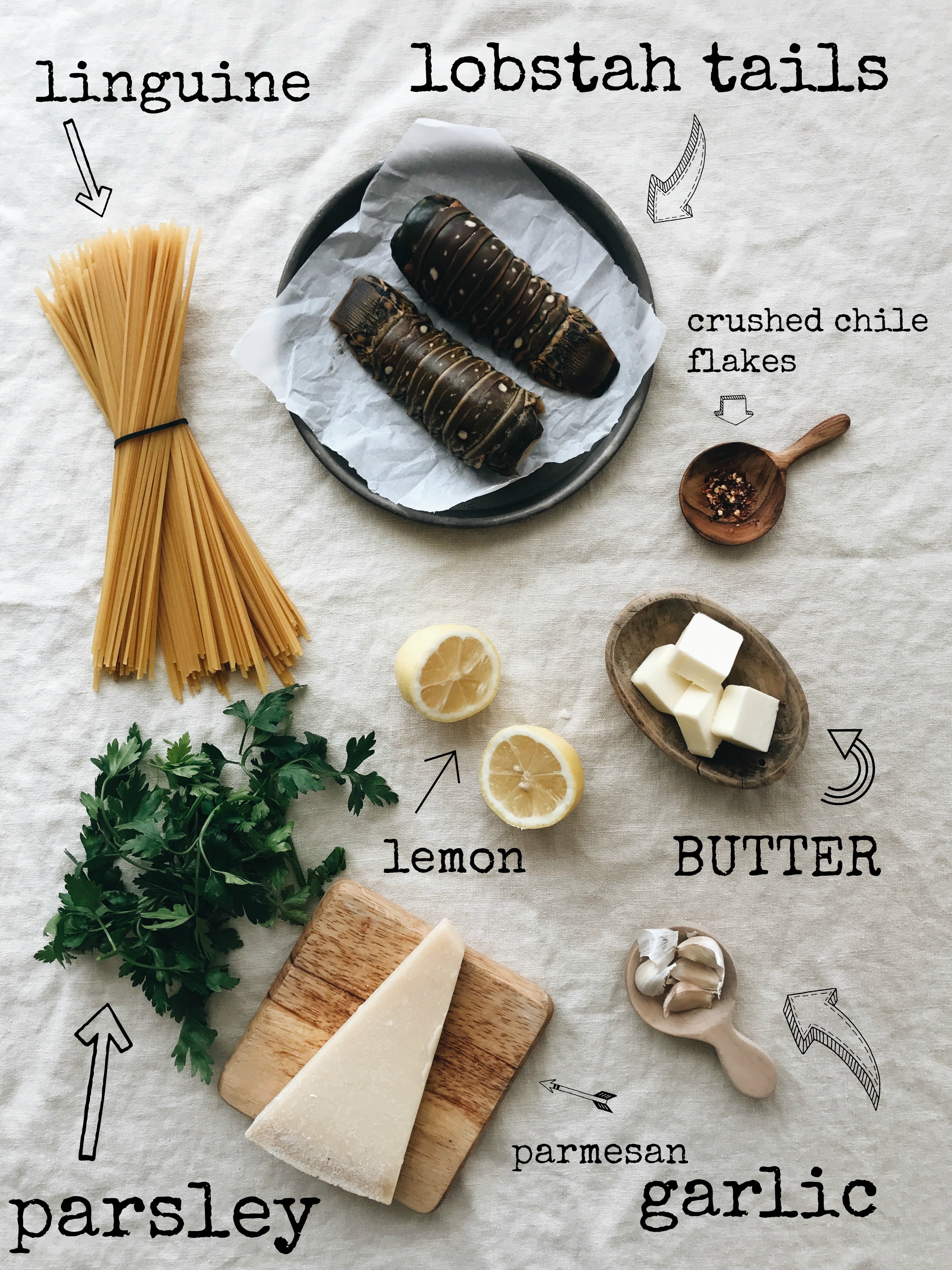 Also, REAL butter. Not that fake globby alien stuff in tubs. Get the real stuff. The good stuff. MAMA BEGS. (<—omg sorry.)
This meal is kiiiind of like a chicken piccata. But without the capers. You can pretty much treat the lobster like you do the chicken. Cut the tails in half (okay so that's not like a chicken), and place in them in a hot buttery pan, meat side down, and shells up (again, not like a chicken). Let 'em sear for two whole minutes, then flip them on their shells. Just flip 'em real good.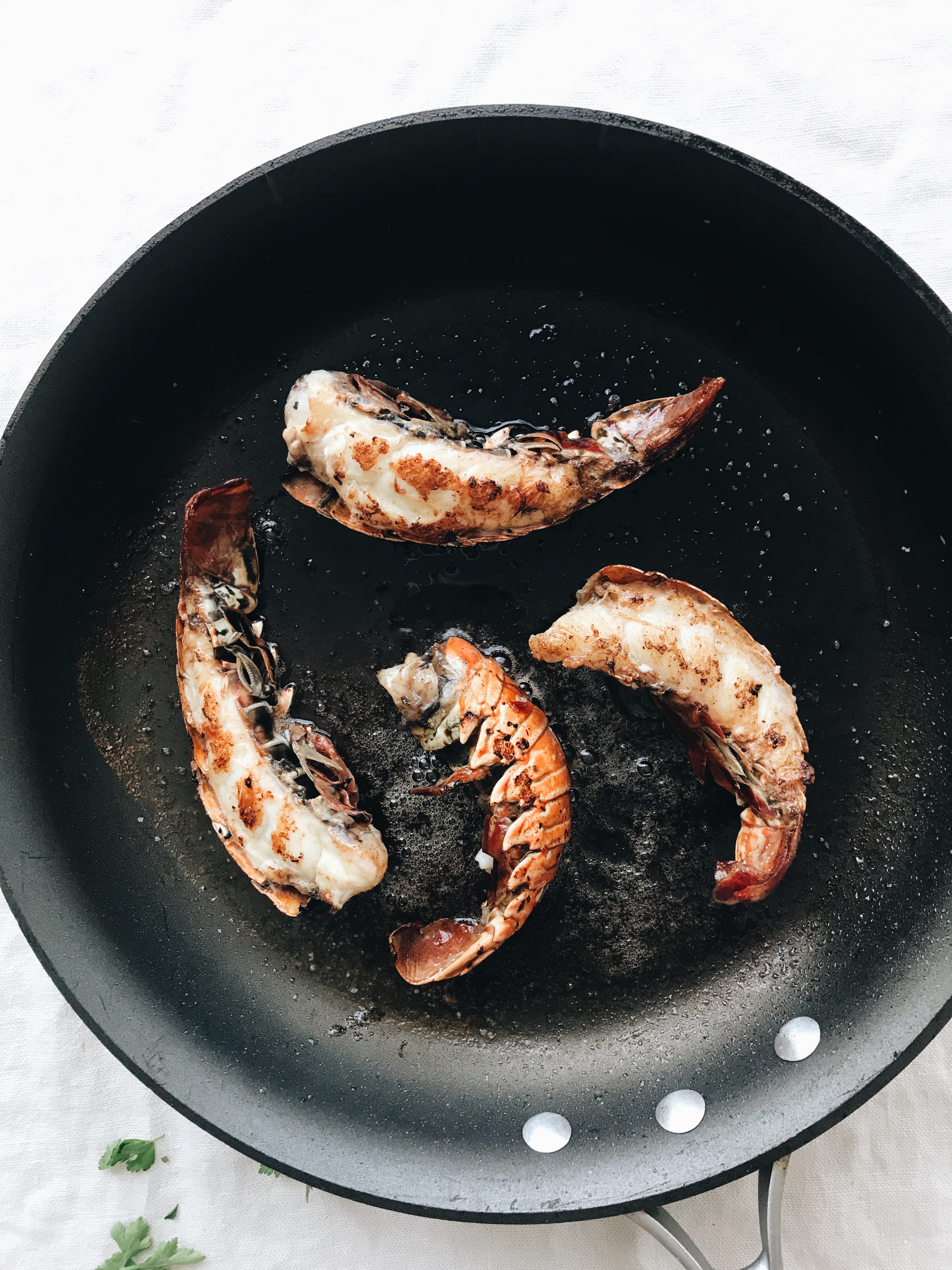 Now, the trick is to NOTTTT overcook that meat. Not trying to be bossy here. But you just dropped pretty pennies on these tails and you don't want to eat rubber chunks of play doh and regret.
Oh! We should totally start a band called Rubber Chunks. No one likes us.
Once the shells turn red, about a minute in, YANK THAT MEAT OUT. Well I mean, if you can without burning your fingers off. Maybe put a paper towel on the shell and fork the meat out. It should give pretty easily. And you'll be brimming with jubilation at tender lobs of lobbies.
I probably should never say it like that again.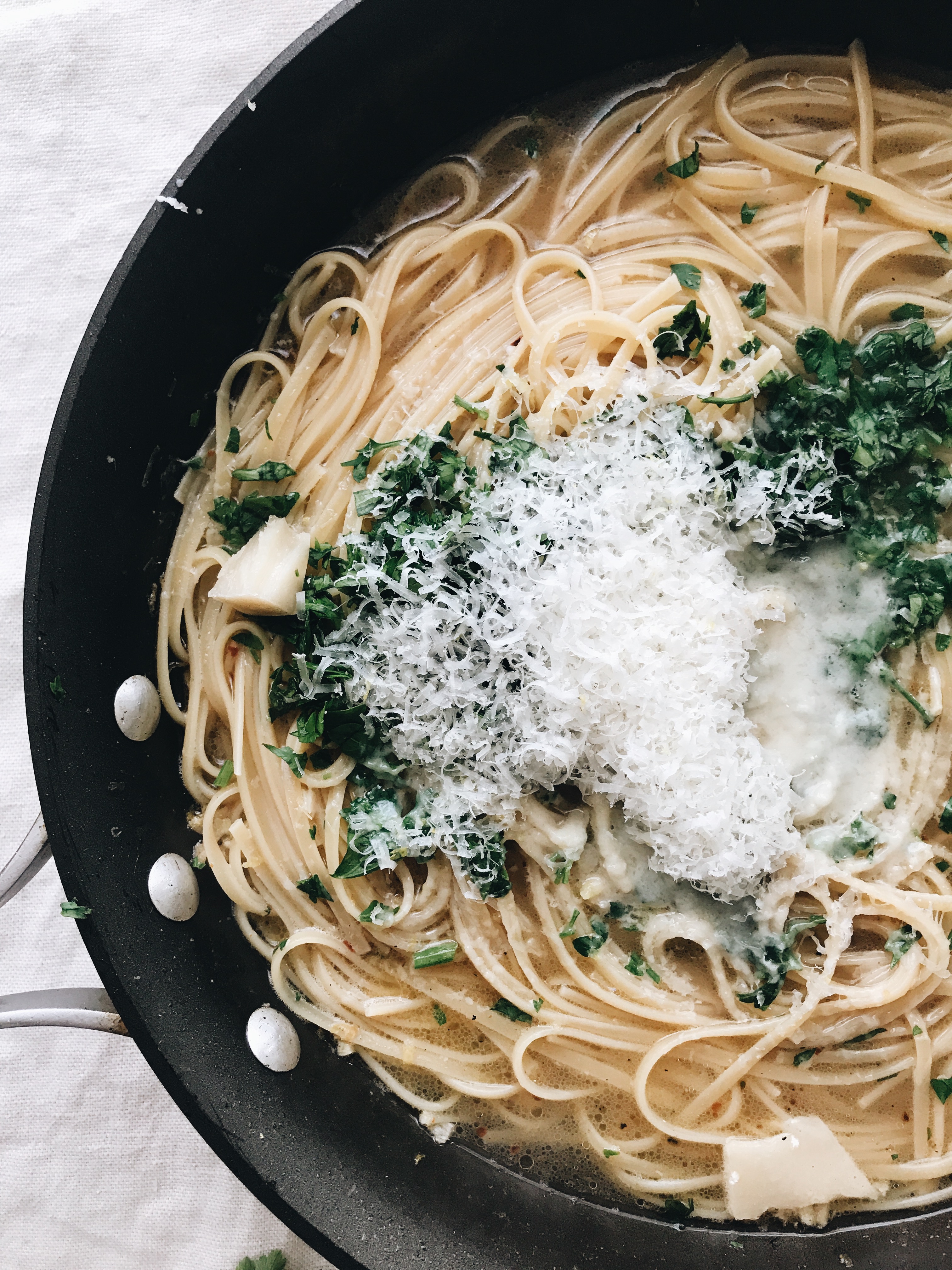 While the lobster is cooling, make the rest! You've boiled some linguine in a big pot of salted water, so now you're going to transfer the al dente noodles into the pan with mooore buttah, chicken stock, lots of lemon and parsley. And parmesan. And minced angel wings.
You know.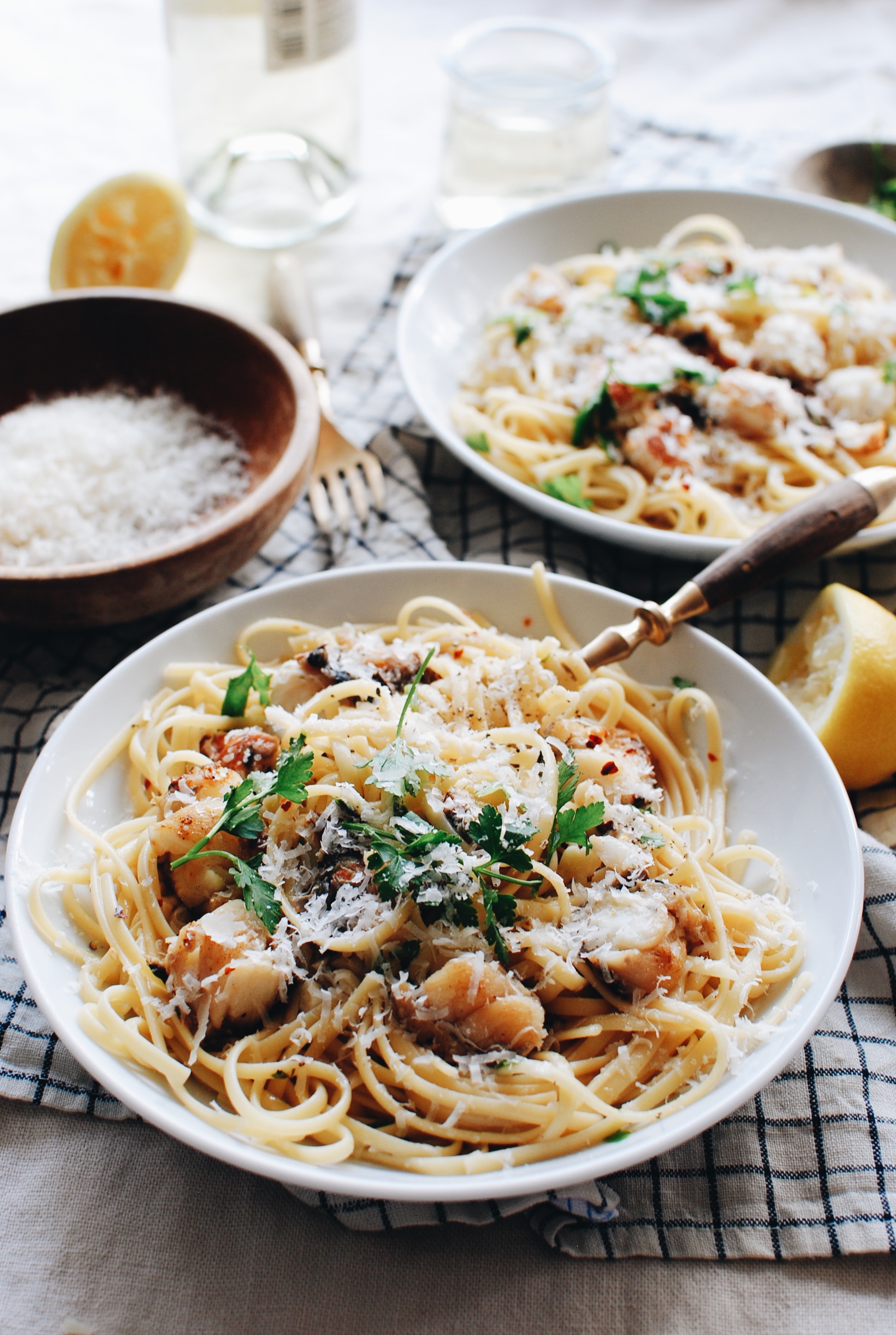 Then cut up the lobster meat into bite-sized chunks and throw or nestle or place or toss or arrange or hurl or propel or catapult or cast or sling them right on in the pasta! Give it all a jiggle toss, and you're set.
More cheese? Obviously.
More parsley? Please.
More lemon? Duh.
Your face? Uh huh.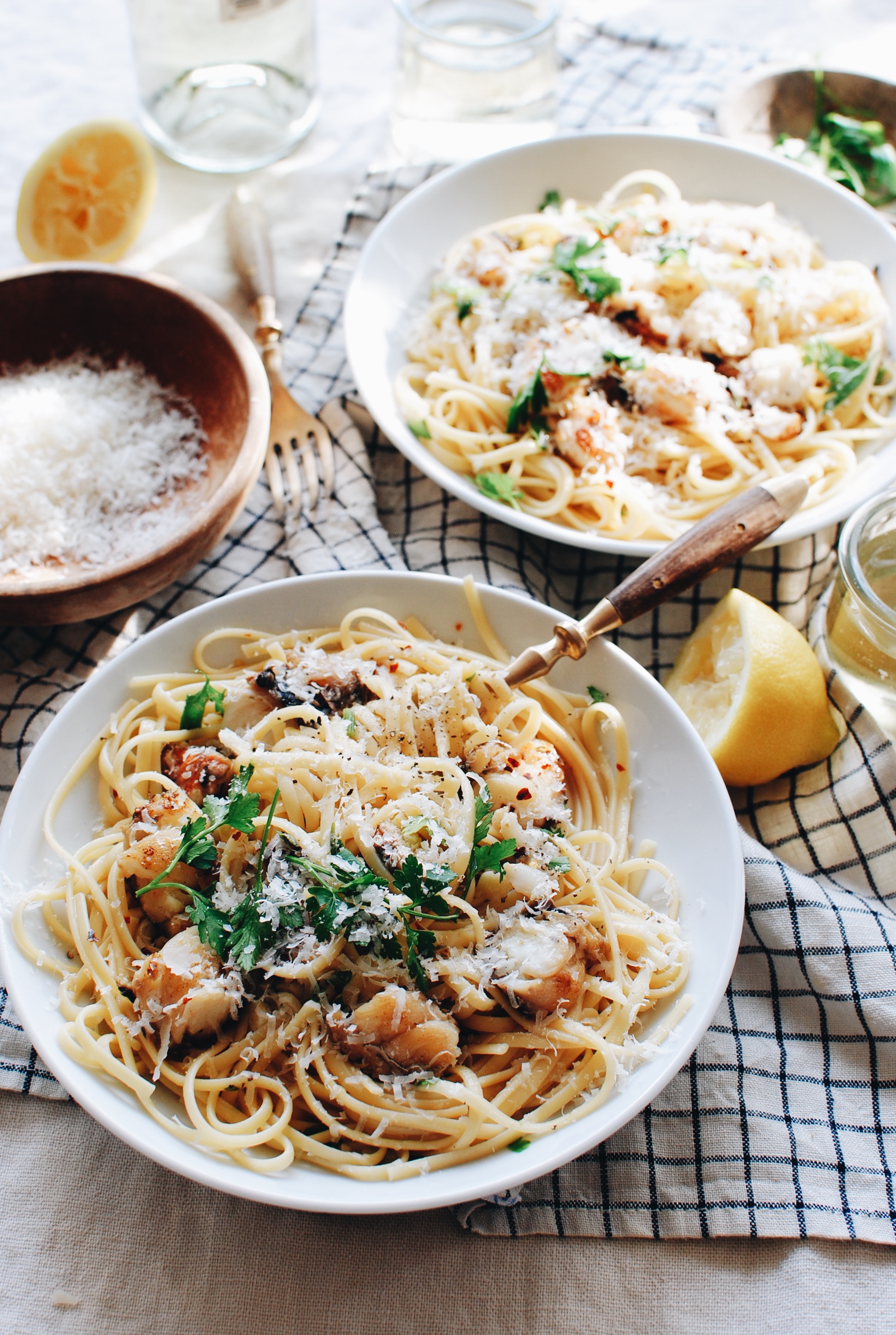 Valentine THAT.
Ingredients
1/2 pound linguine
4 Tbs.real butter, divided
2 (4-5 oz) lobster tails, cut down the center lengthwise
4-5 garlic cloves, minced
2 cups chicken stock
1 lemon
1 tsp crushed chile flakes
1/3 cup freshly grated parmesan
1/2 cup chopped parsley leaves, plus more for garish
Salt and pepper
Instructions
Bring a large pot of salted water to a boil. Cook the linguine until just shy of al dente, 6-8 minutes.
In the meantime, melt 2 Tbs. butter over medium-high heat. Season the tail meat with a pinch of salt and place them flesh side down. Sear for a solid two minutes, then flip the lobsters on their shells, and sear another 1 to 2 minutes, until the shells turn a bright red. Immediately transfer the tails to a cutting board, and fork the meat out, before it overcooks. Leave the meat to rest while you make your sauce.
Back in the pain, heat the remaining 2 Tbs of butter. Add the minced garlic and sauté about 30 seconds, until fragrant. Add the chicken stock, juice from half the lemon, the chile flakes and another pinch of salt. Simmer for about five minutes.
Now, off the heat, add the cooked linguine and the parmesan cheese. Cover the pan and let it sit for about five minutes, allowing the pasta to absorb more of the liquid. Take the lid off and add the parsley, and the remaining lemon juice. It still may feel a little soupy, but the longer that pasta sits, the more it will absorb, and you'll be giddy to the max that you have that sauce here in a minute when you serve. Taste it. Maybe another pinch of salt? No? You good? K!
Add the lobster meat to the pasta and give it one more good toss.
Divide the pasta among two dinner bowls, garnish with more parmesan and parsley! And more lemon wedges? ALWAYS.
Makes two dinner servings!
7.8.1.2
137
https://bevcooks.com/2018/02/lobster-linguine/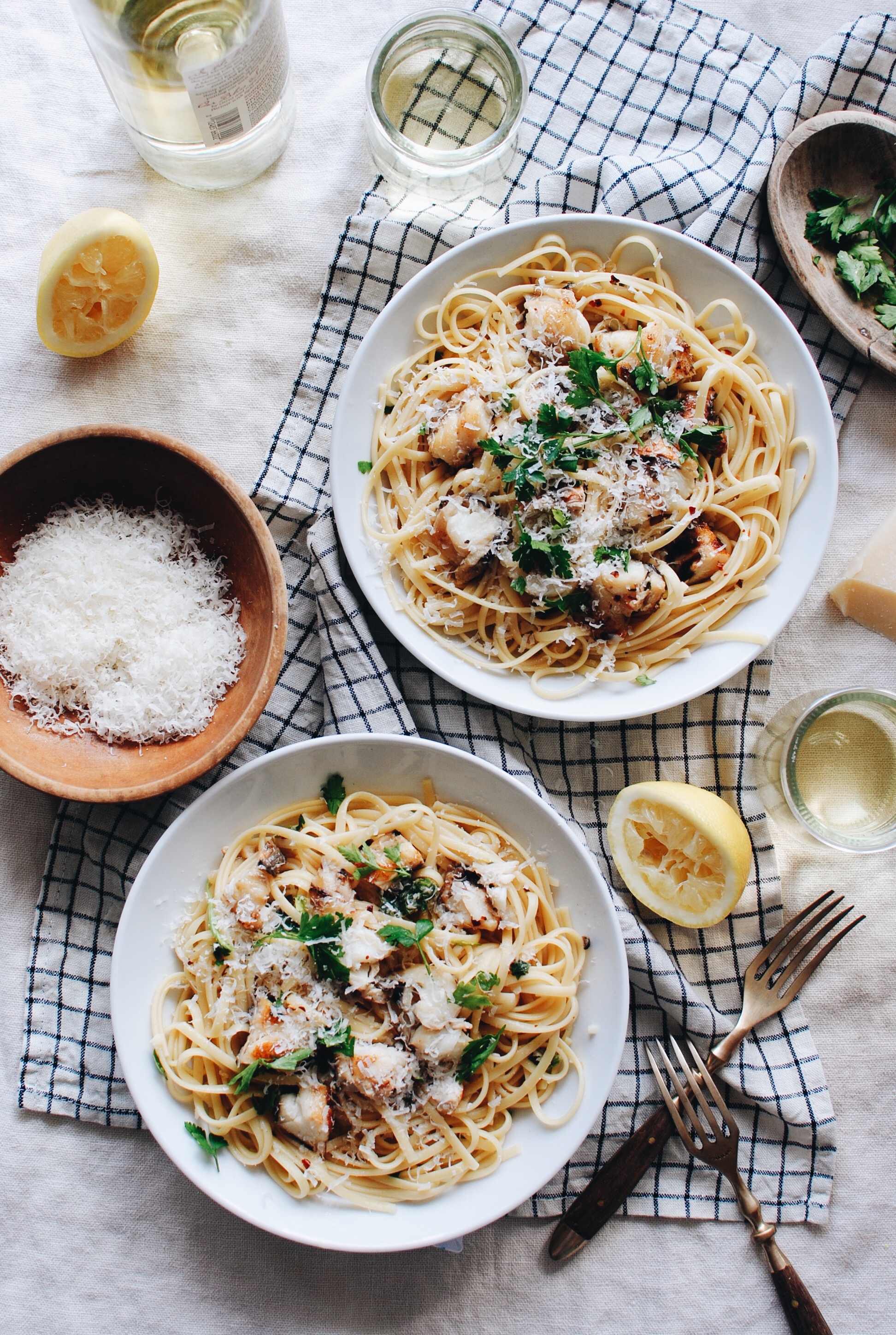 Also, butter.
(This post is definitely in partnership with REAL BUTTER. But all ramblings and butter slurpings are totally my own. We coo?)