It just feels like a pasta day.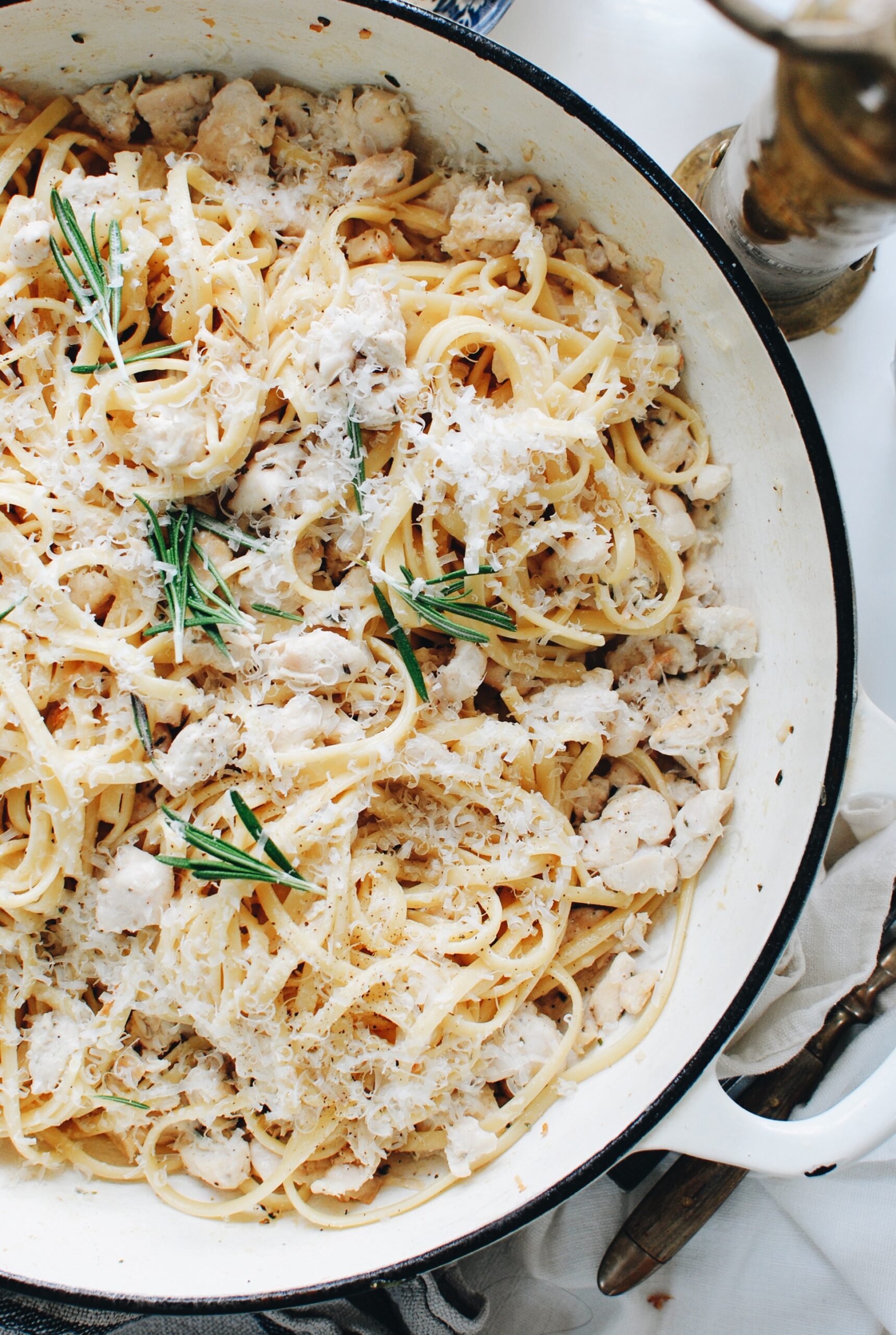 Okay. Yes. I heard it, too. Every day feels like a pasta day.
But! There's something about (rosemary? haha) this RAIN today that oozes pasta in the face.
The pasta's not oozing in the face. The vibe is.
Nothing is coming out right today. We need pasta is all!
Let us peepeth.
As far as the cream goes, use what you prefer. Milk, half and half, heavy cream, anything works here. It won't be the exact same, but give your inner soul fairies what they deserve. It is December.
As far as the pasta, I went with linguine but anything you have hiding on the third shelf of your pantry is absolutely perfect.
The marinade, we'll go over here in .23 seconds. Hold your horses, Chachi!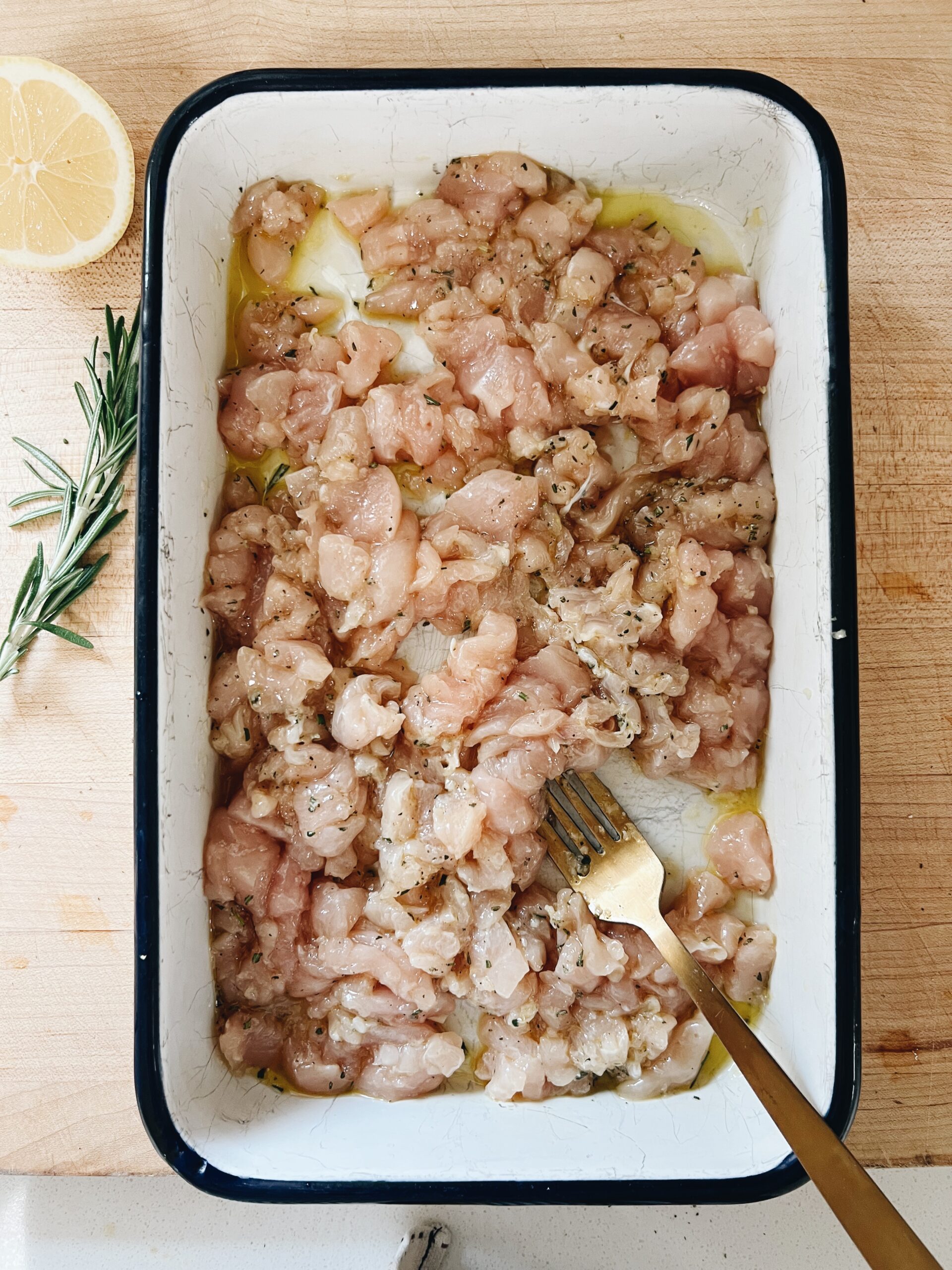 See?
What we'll do is chop up some chicken tenders. I went pretty small because I felt it in my bones. Then we'll add extra virgin olive oil, finely chopped rosemary, garlic, lemon zest and juice. That's all she wrote. And you can let this sit for an hour, or up to four. Rock it out, sis. (<–huh?)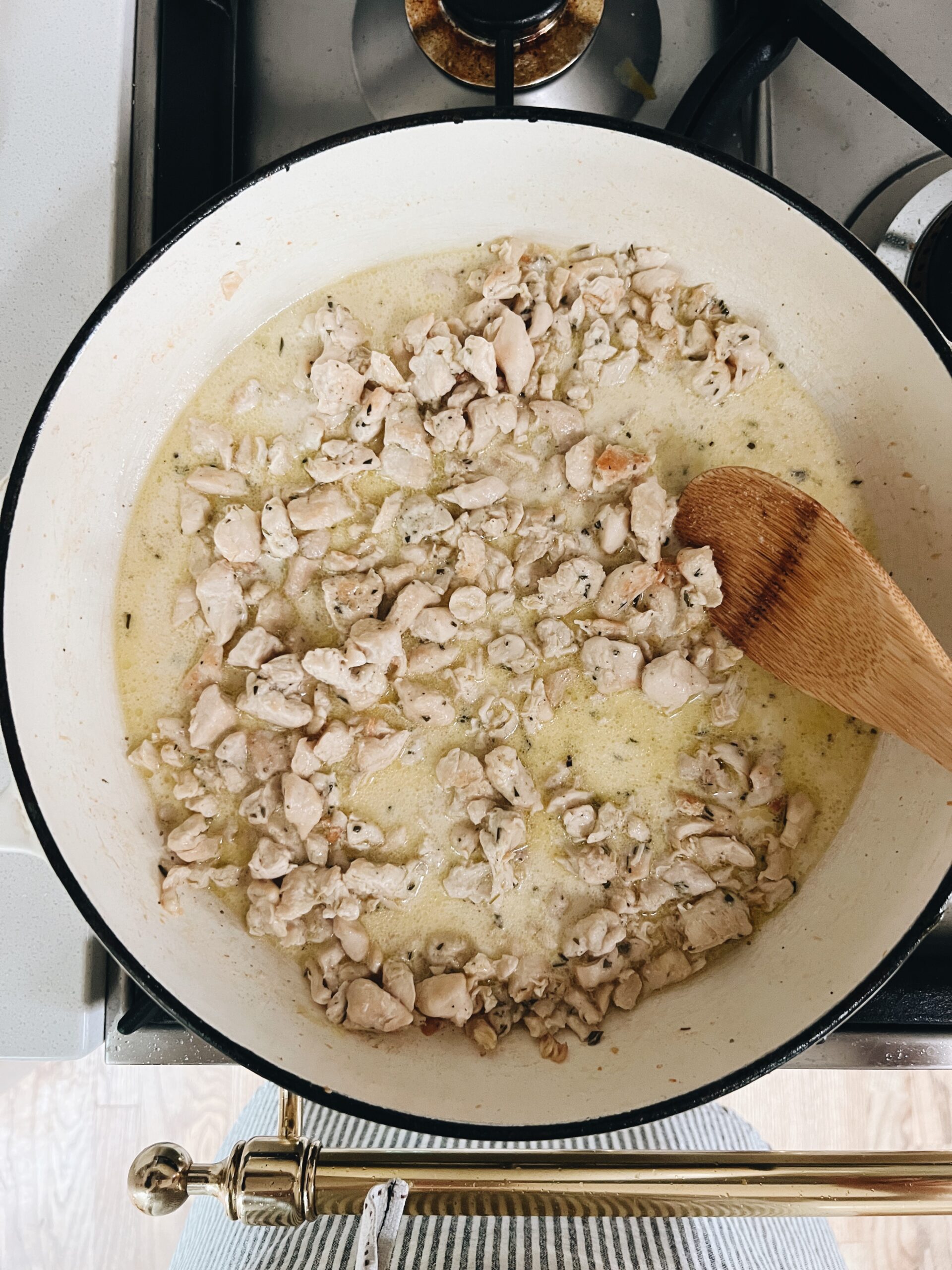 We've seared our chicken (you just want a little color all over) and now it'll simmer in the stock and cream. The pasta cooks. The sauce bubbles. All is right in the world.
And then you'll just tong over the pasta INTO the sauce and let it marry and soak up a bit of the liquid. The longer it sits, the more it absorbs. You know how it goes. Just toss and toss and add more lemon and some parmesan cheese and watch it all come together.
You've salted along the way, too! Get it just right.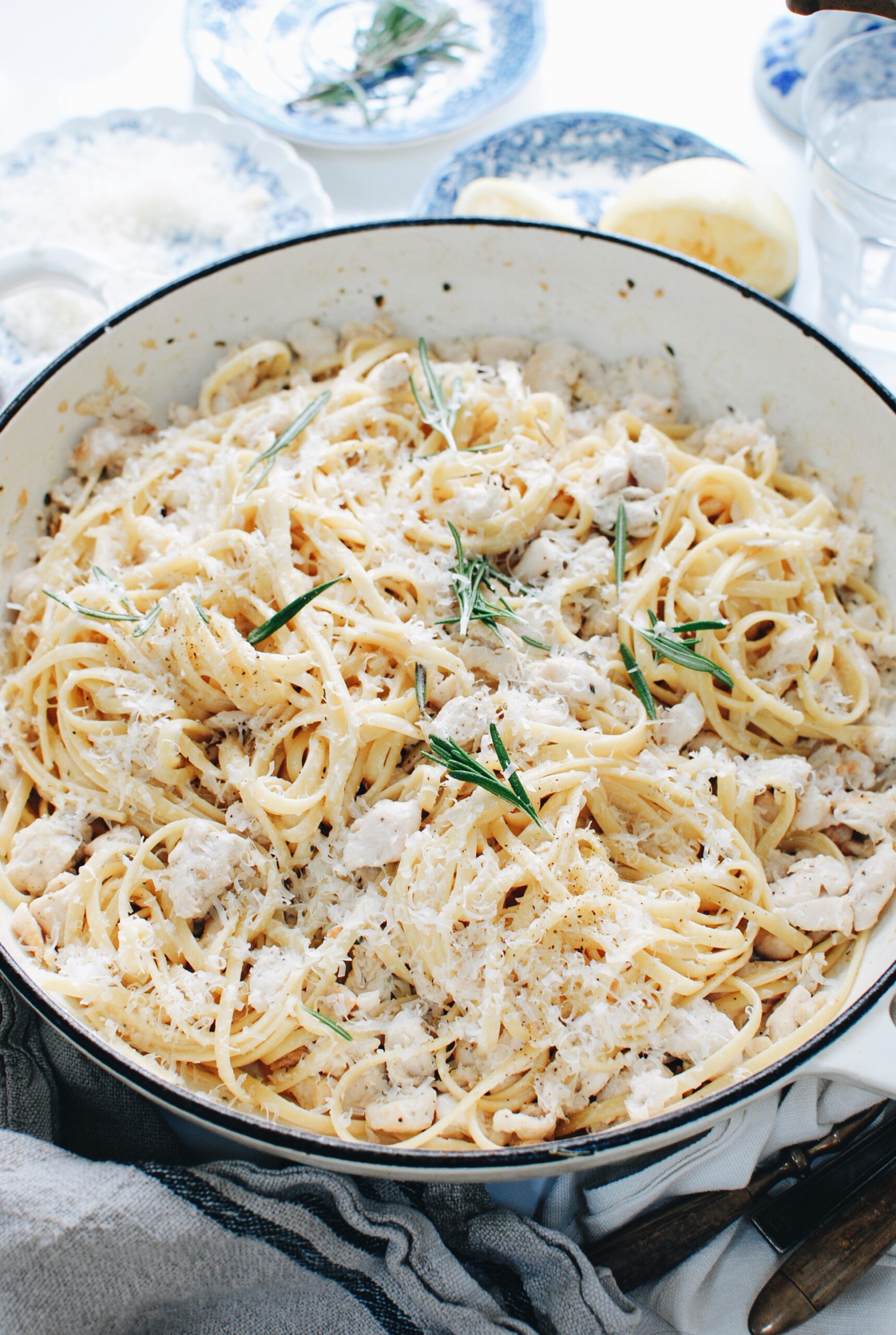 It's probably bad luck to say this on a food blog, but the photos don't do it justice. It looks dry. But you must know that under that pasta that is posing for a photo, there's a luscious silky sauce just waiting to win you over. And it will.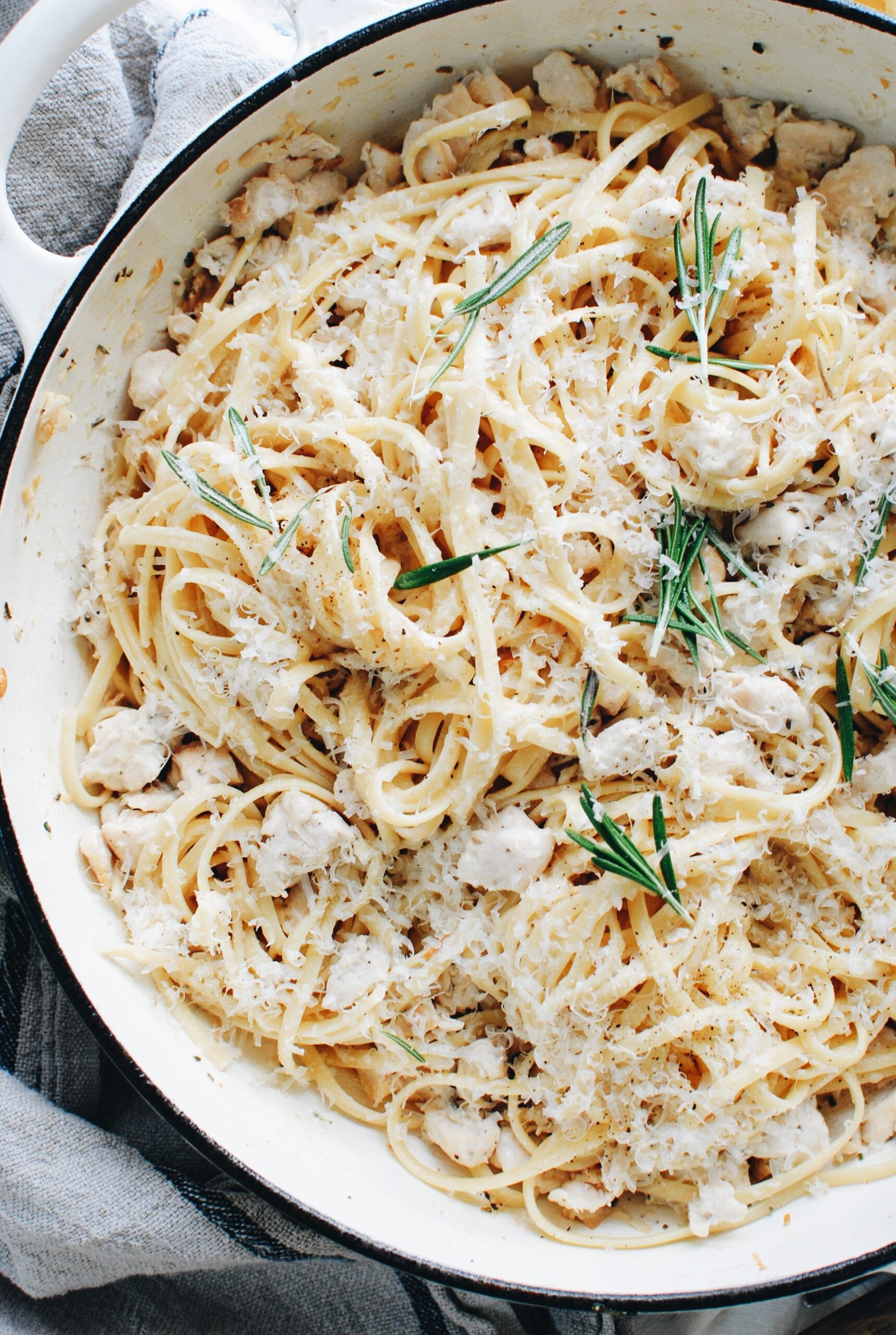 It's so simple yet so elevated. The lemon. The fresh rosemary. The GARLIC. You didn't forget the garlic, right?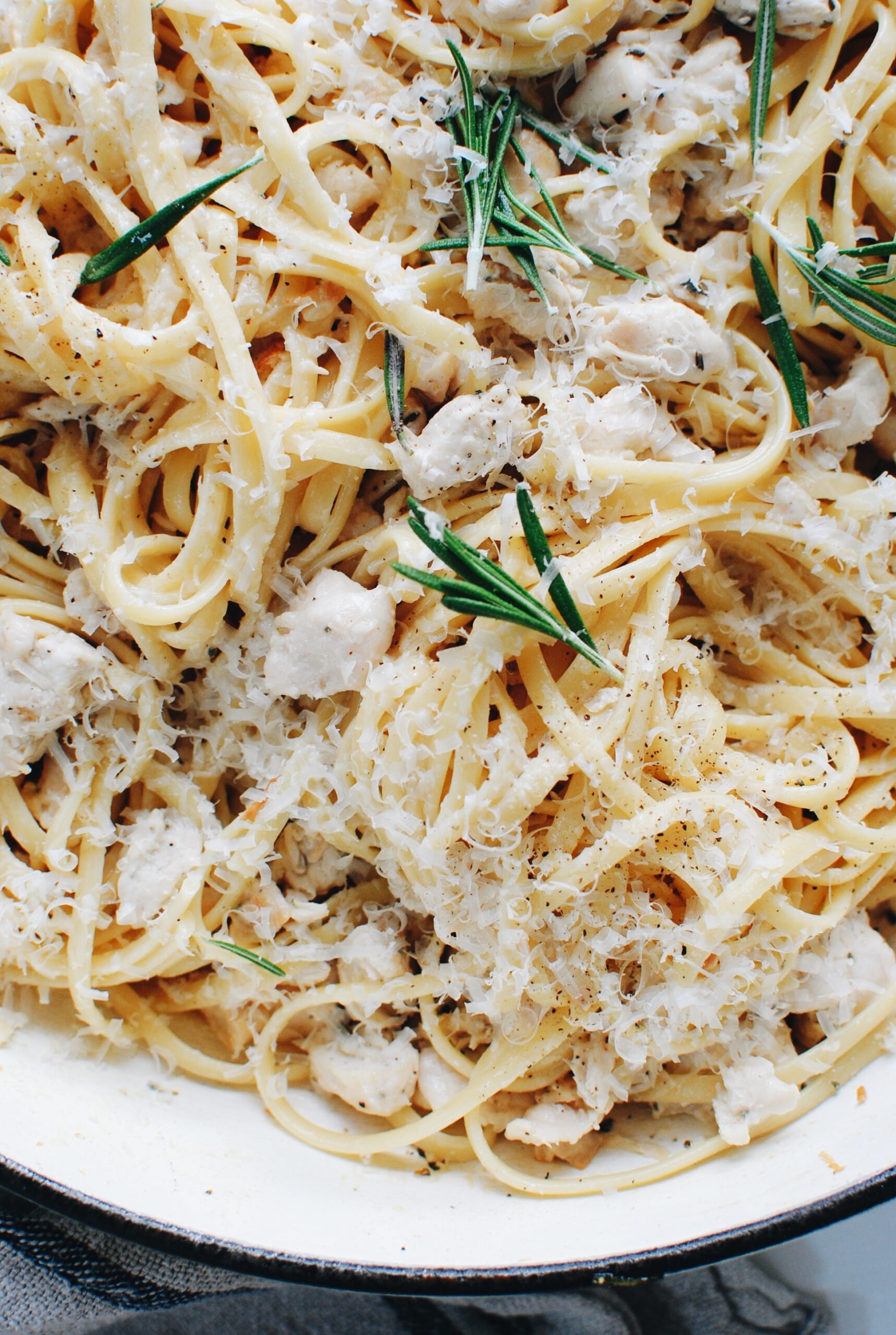 It's everything for a cozy winter's night.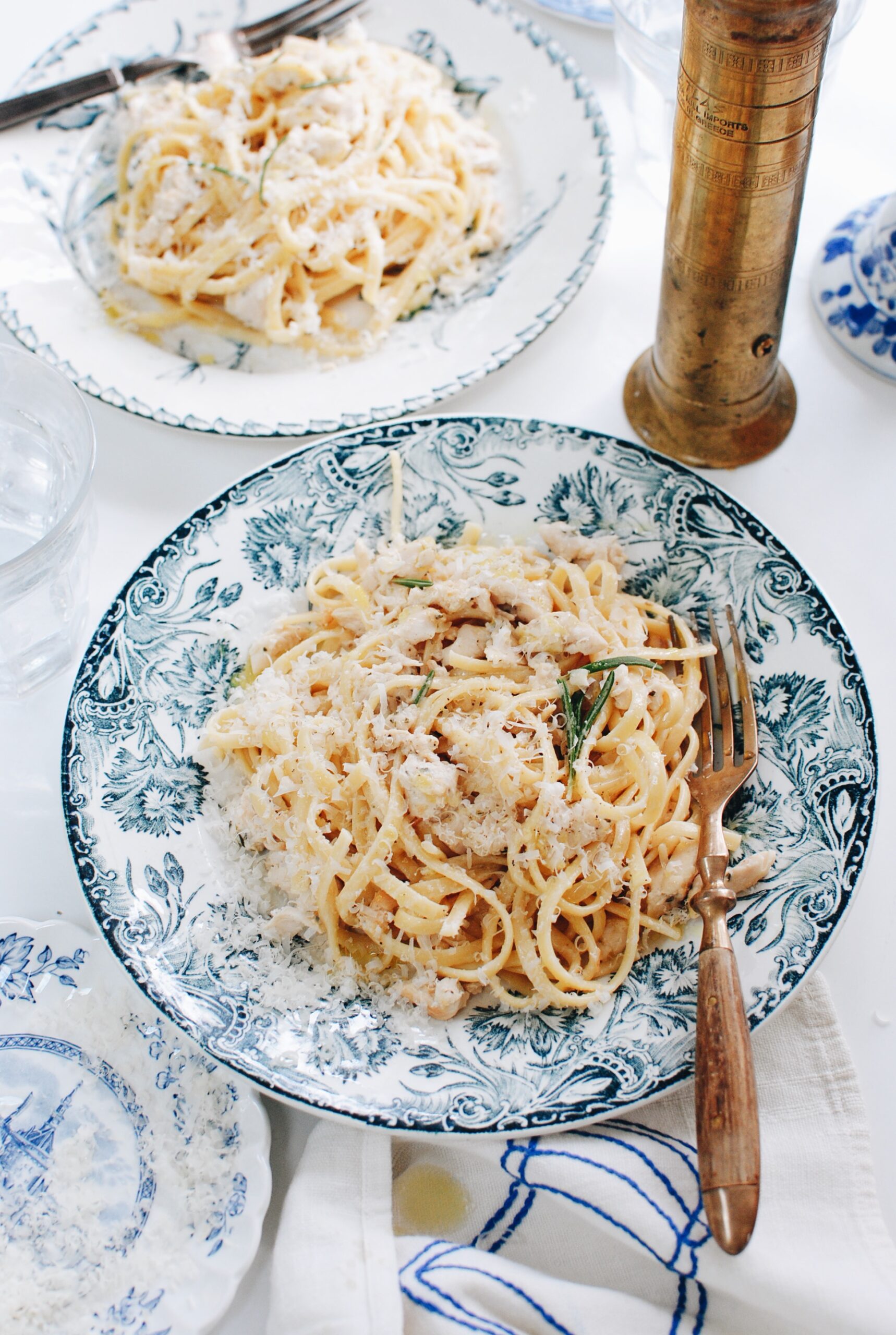 Sub clams for the chicken if you need a Christmas Eve dinner idea!
Or keep it chicken if that idea wigs you.
Either way, you're winning.
More lemon and parm to top, please!
Creamy Rosemary Chicken with Linguine
Ingredients
1 pound chicken tenders, cut into small chunks
3 Tbs. Extra-virgin olive oil
2 cloves garlic, finely minced
2 tsp freshly chopped rosemary
1 tsp lemon zest
1 Tbs. lemon juice
Pinch of salt and freshly ground pepper
1 pound linguine
1 cup chicken stock
1 cup cream (or milk)
1 Tbs. Fresh lemon juice
Fresh rosemary to finish
Freshly grated parmesan, for garnish
Instructions
In a bowl or shallow dish, combine the chicken, oil, garlic, rosemary, lemon zest and juice. Give that a good pinch of salt and pepper and gently toss the chicken in the marinade. Let this sit at least an hour, or up to four hours.
Salt a large pot of water and bring to a boil. Add the linguine and cook until al dente, according to package directions.
In the meantime, heat a wide skillet over medium high. Add the chicken (including the marinade) and sear on one side for about two minutes. Flip the chicken around and go another couple of minutes, until you see a little color. The marinade will bubble up and burn off, so just let it do its thing. Add the stock and cream and let this simmer for a little bit, while the pasta cooks. Season the sauce with another pinch of salt.
Off the heat, transfer your cooked pasta into the chicken skillet, tossing into the sauce as you go. Once you get enough pasta over into the skillet, add the remaining lemon juice. Taste it. Need more salt? Maybe another small pinch.
Serve with fresh rosemary and freshly grated parmesan cheese!
Serves 4-6.
7.8.1.2
617
https://bevcooks.com/2022/12/creamy-rosemary-chicken-with-linguine/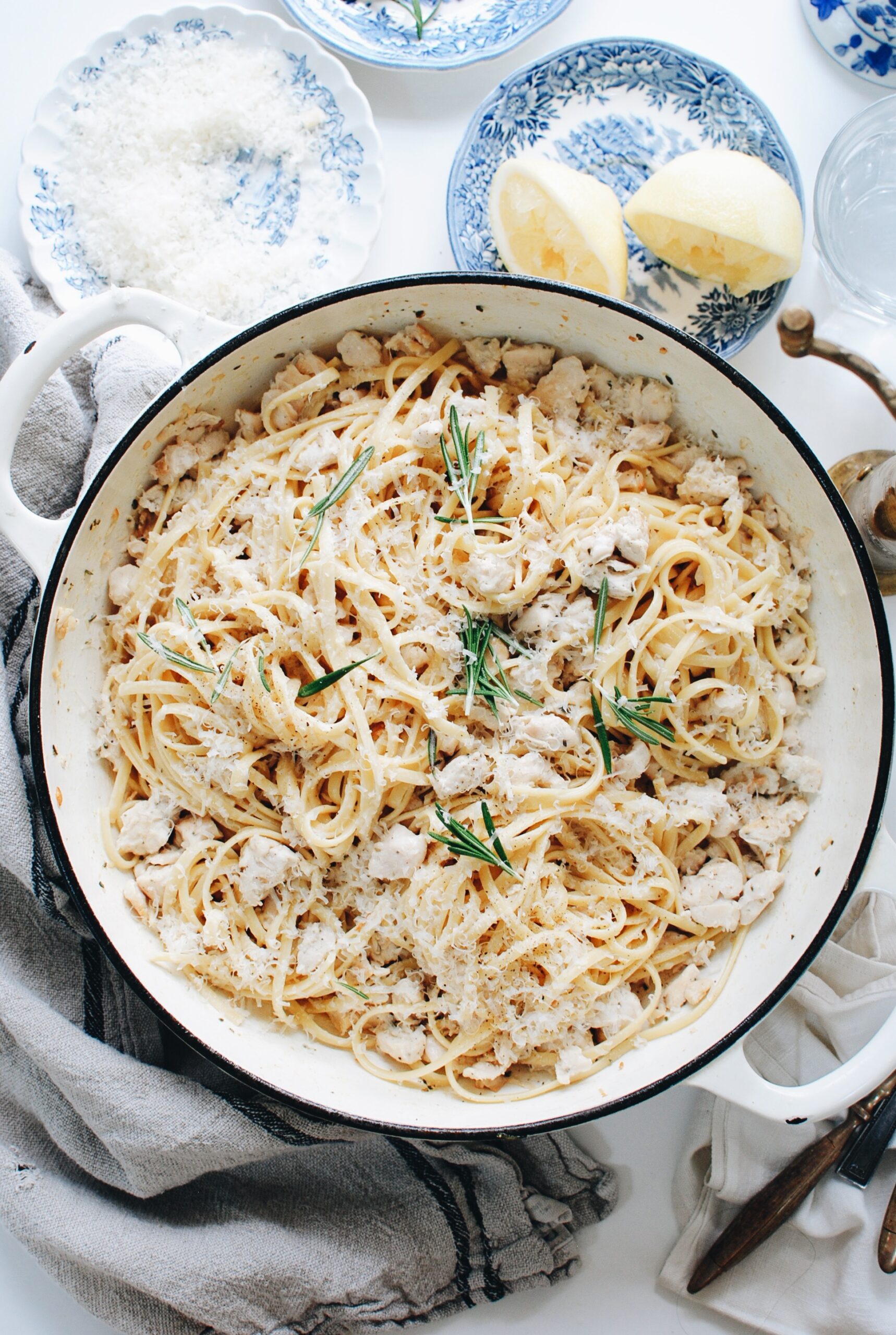 Yes. All winter. Yep.
Also, I think you can comment again on my posts! Friday was jank, but we're back. I think. Let me know!