More soup! I didn't plan this at all, but I'm into it. This one is intensely spring, so let's hop (haha) in.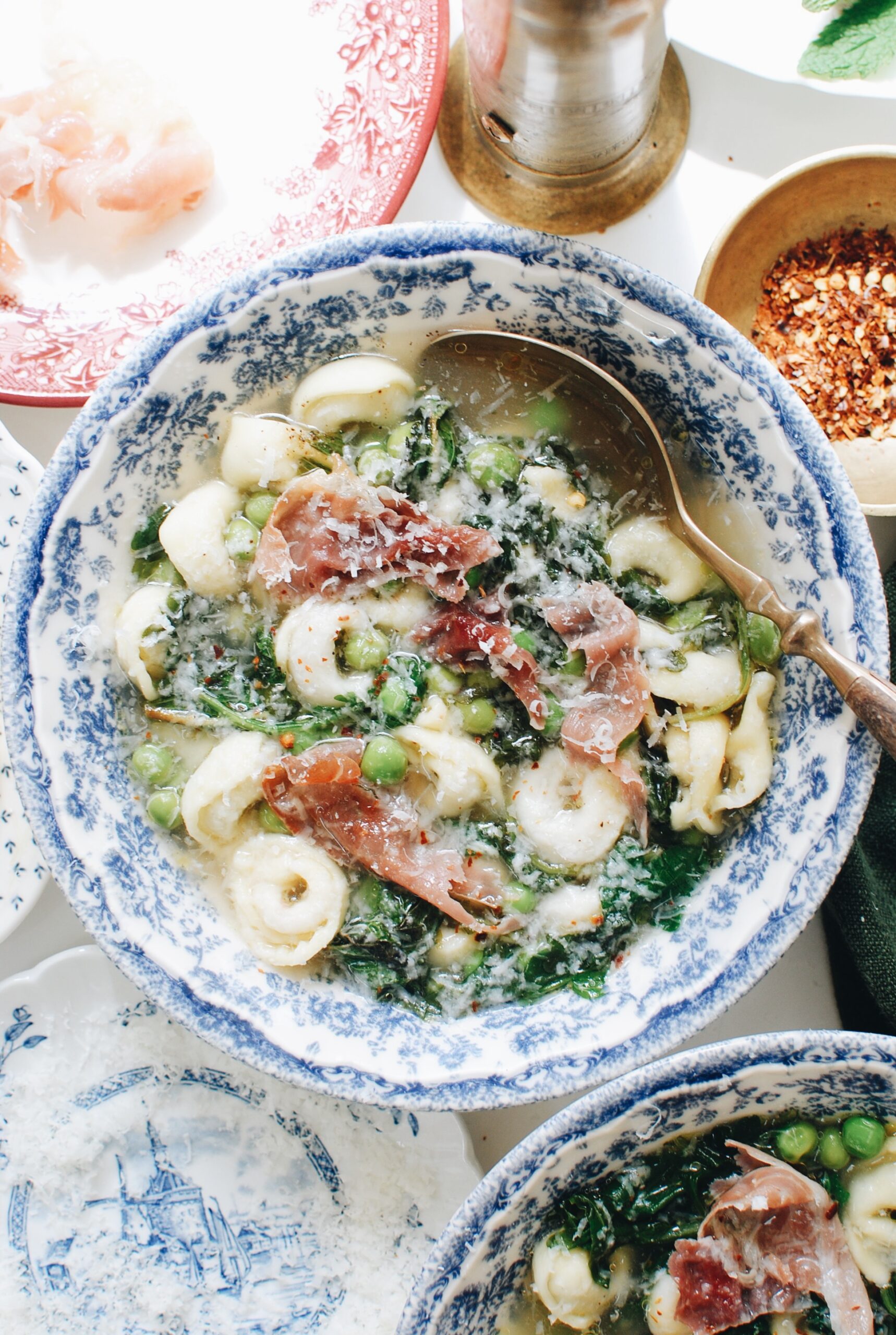 It's as simple as can be, but once together the flavors are lively, delicate and creamy. And with that slight crunch of the crisped prosciutto right on top, just stop it. Spring perfection.
Let us peepeth.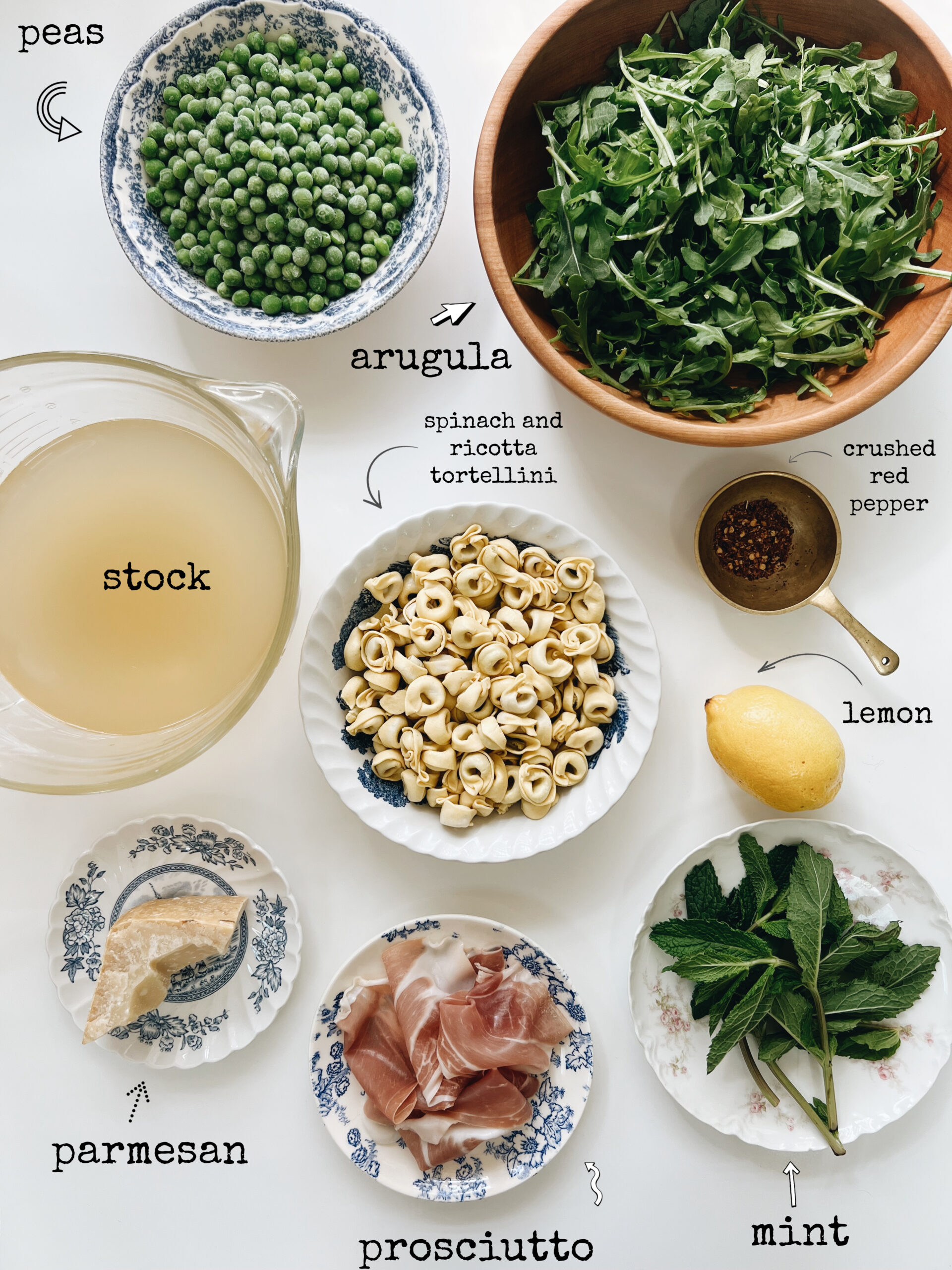 I love a situation where you just throw it together (Oh! This is a Throw Together Meal! Quite right!) in a big pot and the flavors take care of themselves. Truly, a hit of lemon and some salty prosciutto and it's in the bag.
I mean pot.
I mean bowl.
I mean face.
Wait what?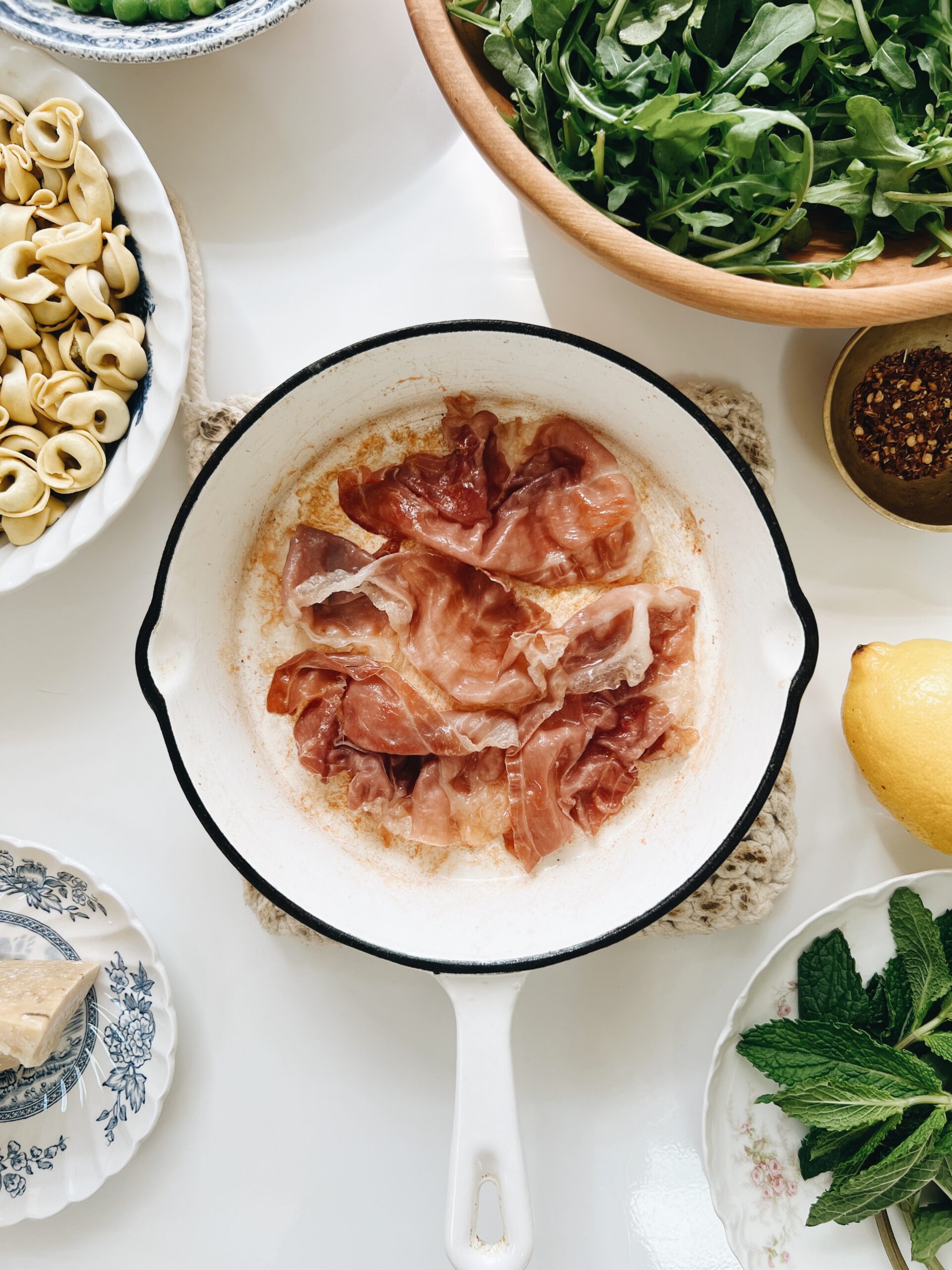 The prosciutto – just take the slices and pop them into a dry skillet for truly about a minute total. Flip the slices around a few times until they shrivel and darken and crisp up. Simple simple. And go with more if you want! I just cooked four slices, but get on in that.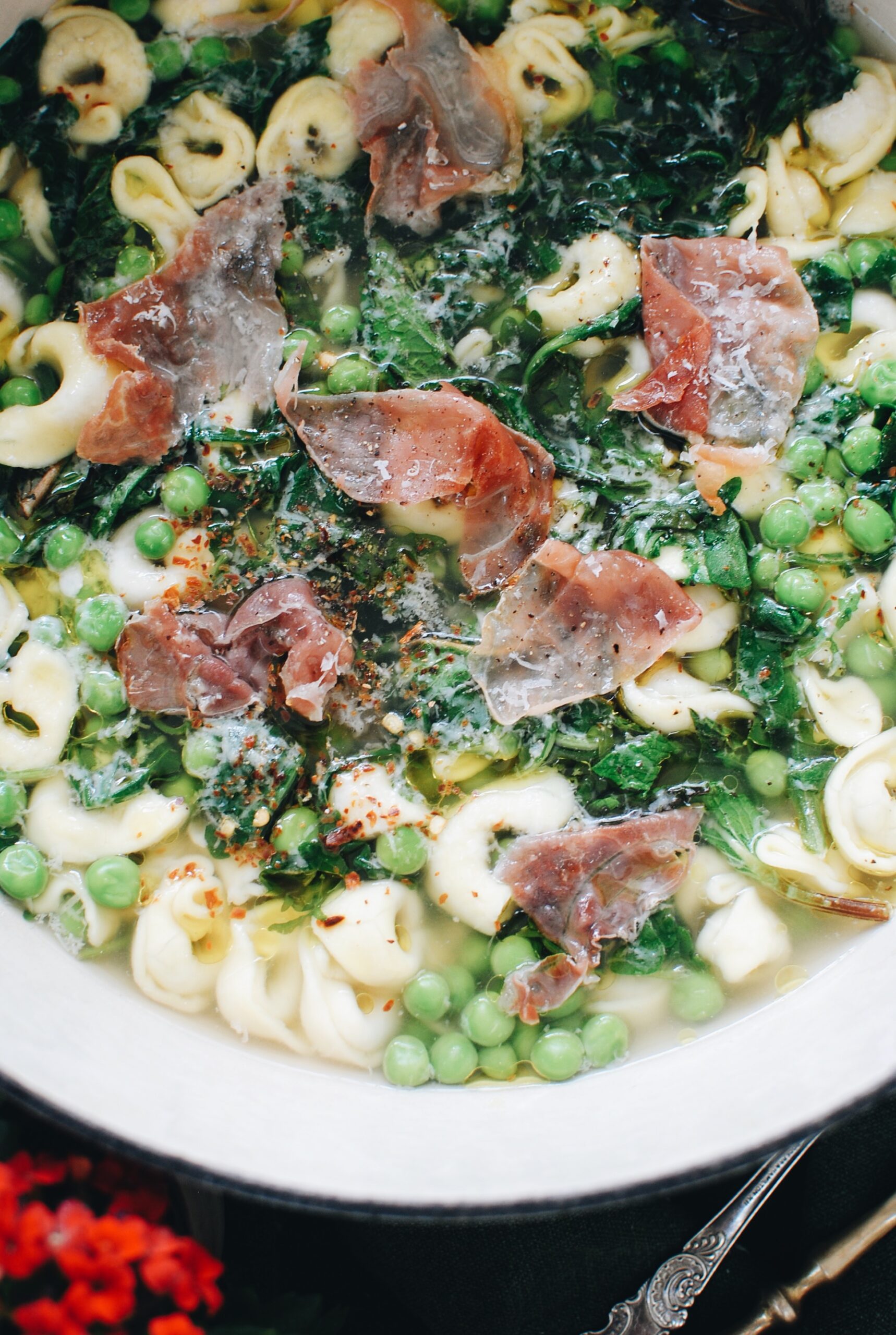 Okay I didn't get photos of the process because I shooting the video, but this is really it! Bring the stock to a simmer. Add the tortellini (any kind works here. dried, frozen, meat, cheese, mushroom – you fly) and let it cook about six minutes, until it starts to soften and rise to the top of the stock and dance around. Then violently add the peas and arugula, along with a generous pinch of salt. The peas will pop in color, the arugula wilts, it's all so good.
Now let's add a bit of the mint leaves and the juice from half the lemon. Taste that. YEA-YUH.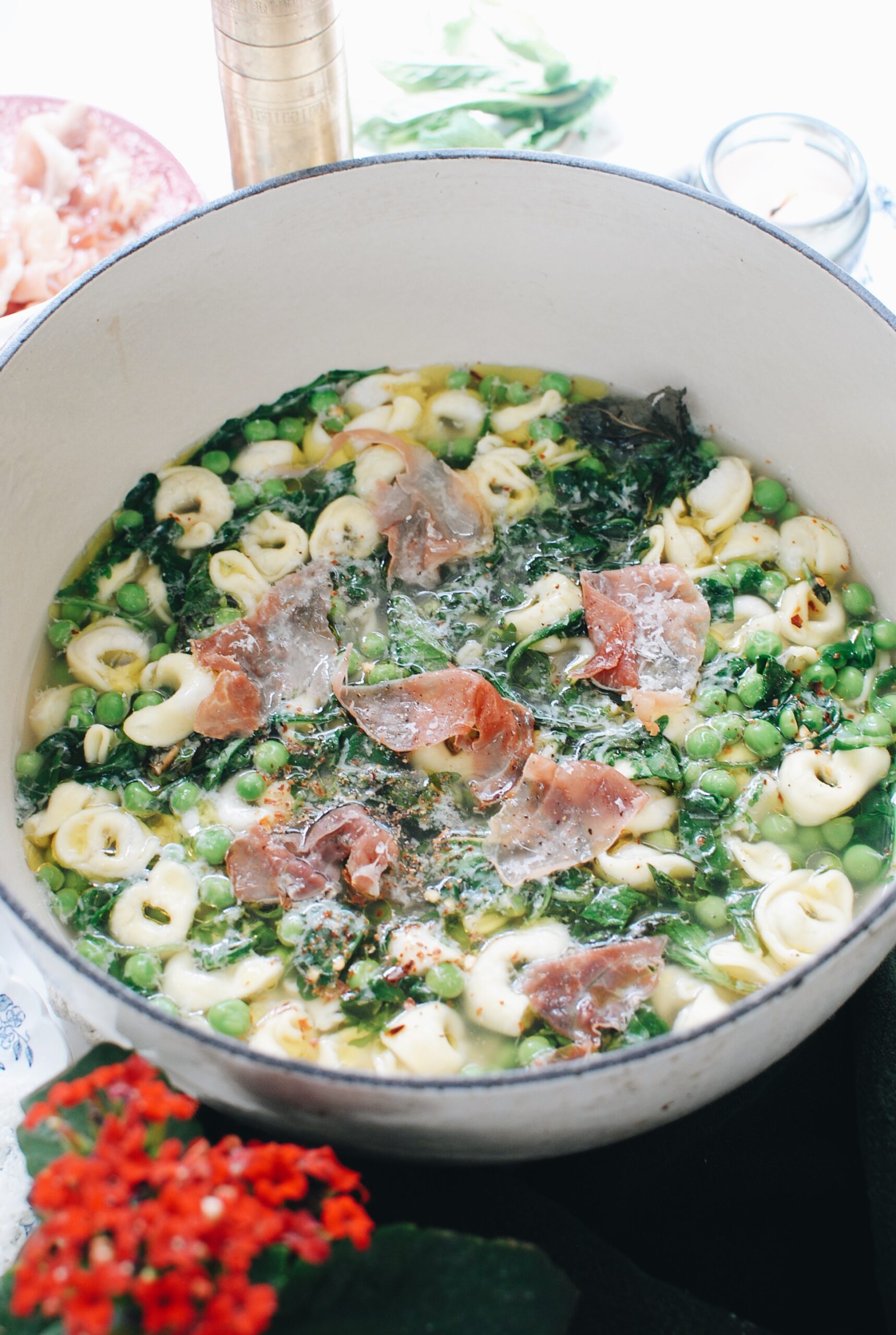 We'll garnish with loads of cheese and the crisped prosciutto. Look at that come together. We barely did a dang thing.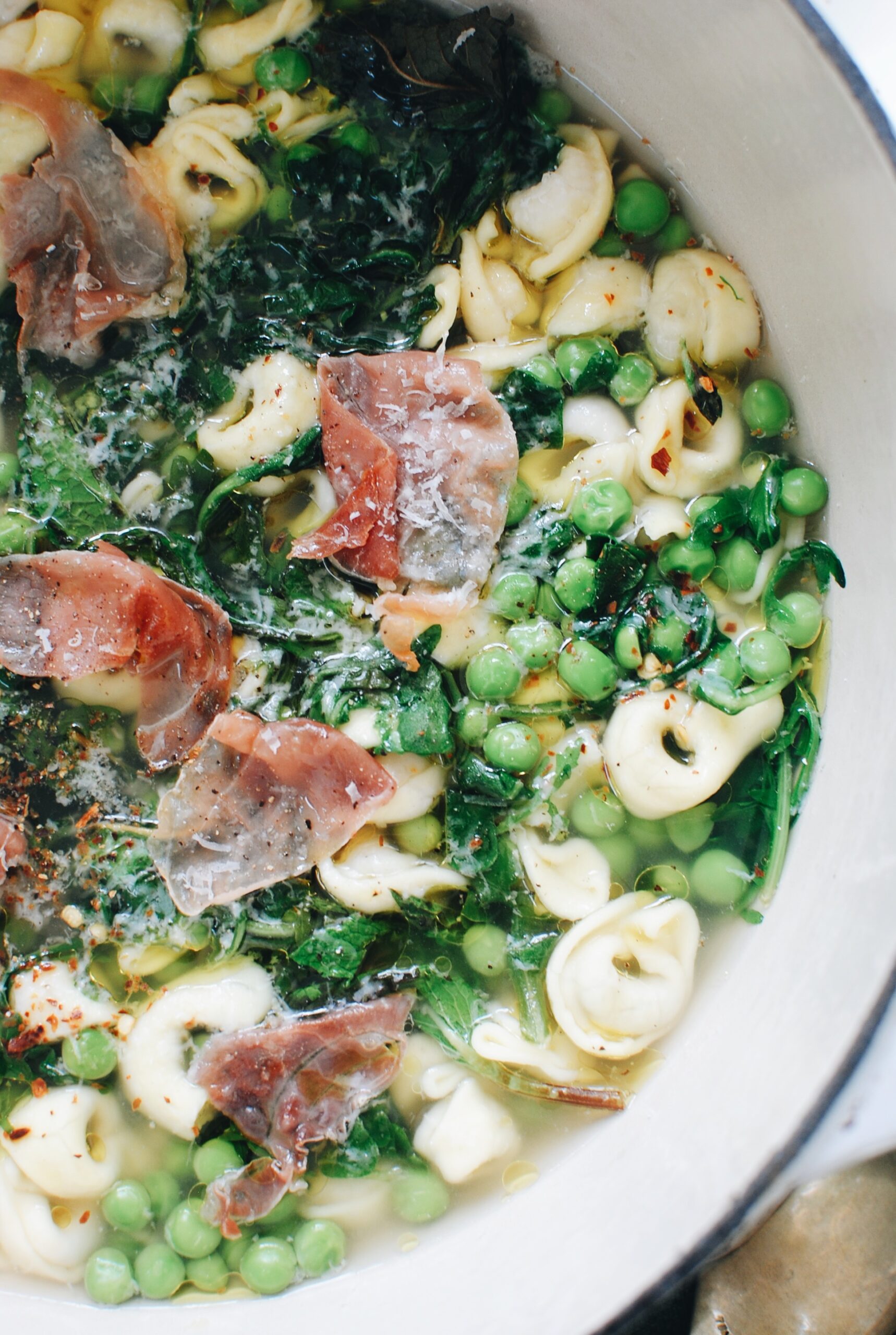 It's very earthy, very lemony, a delicate vibe going on with all the green and creamy tortellinis.
The crushed red pepper adds an irresistible level of heat that I always crave.
Look at this spring wonder! You just gotta.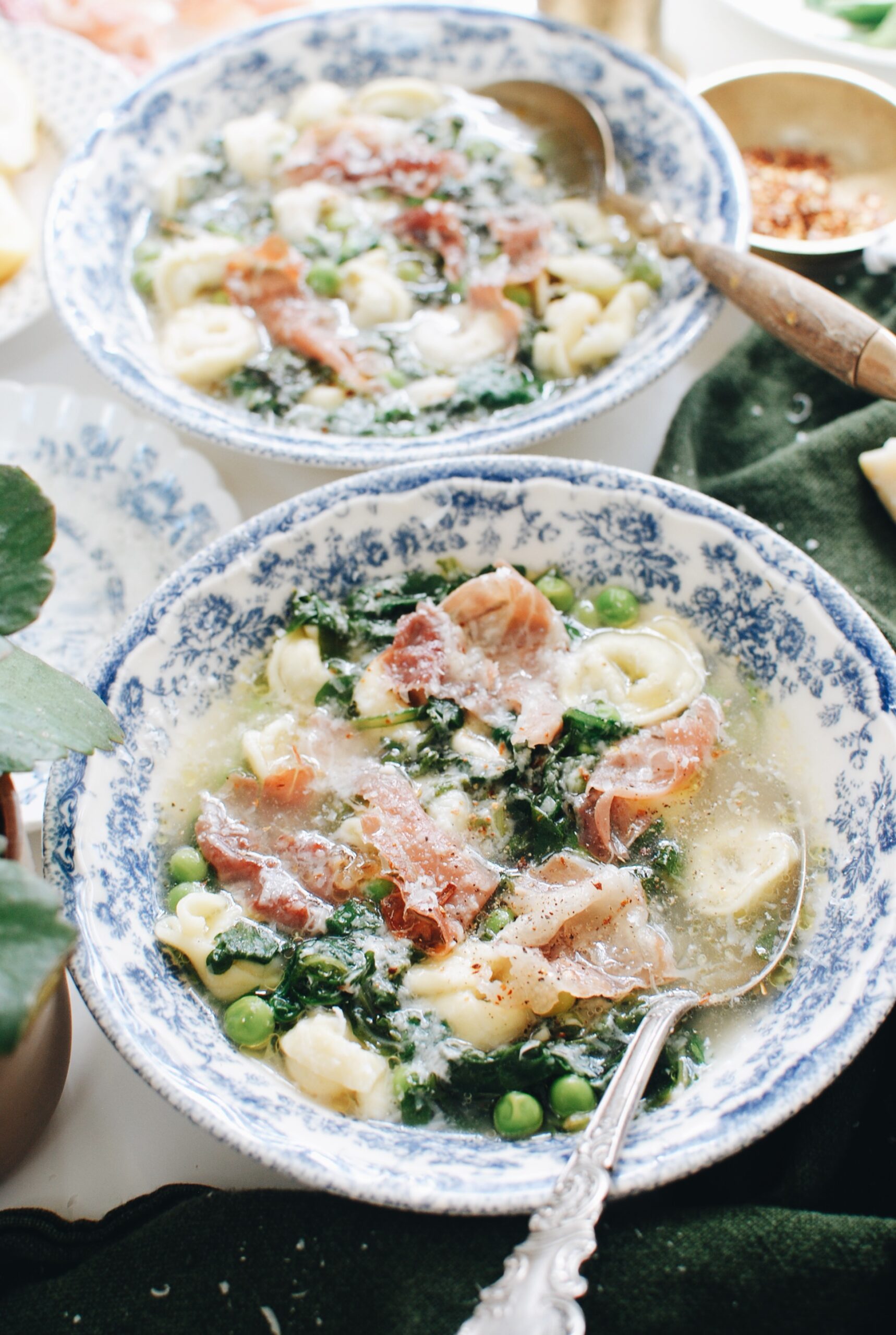 See you at the bottom.
Spinach Tortellini Soup with Peas, Arugula and Prosciutto
Ingredients
8 cups chicken stock
8.8 oz dried tortellini (I used spinach and ricotta) (frozen is fine too!)
10 oz frozen peas
5 oz tub baby arugula
4 sprigs mint
Crushed red pepper
4-5 slices prosciutto, lightly cooked in a skillet until crisp
1 lemon
Parmesan cheese, for garnish
Coarse salt
Instructions
In a large pot, bring the chicken stock to a simmer. Add the tortellini and cook roughly 6-8 minutes, or until they're tender. Add the peas and arugula and cook another two minutes, until the peas pop in color and the arugula wilts. Now add the mint in and stir to combine until it wilts. Takes no time at all. Season with a generous pinch of salt and add the juice from half the lemon. Now taste this. Did we get it just right? Add more lemon if needed!
Ladle the soup into bowls and garnish with a little crushed red pepper (optional!), a good scattering of freshly grated parmesan cheese. Arrange the crisped prosciutto on top as well. A drizzle of your best oil is a good idea too. Maybe one more squeeze of lemon? Yes!
Serves 6.
7.8.1.2
633
https://bevcooks.com/2023/03/spinach-tortellini-soup-with-peas-arugula-and-prosciutto/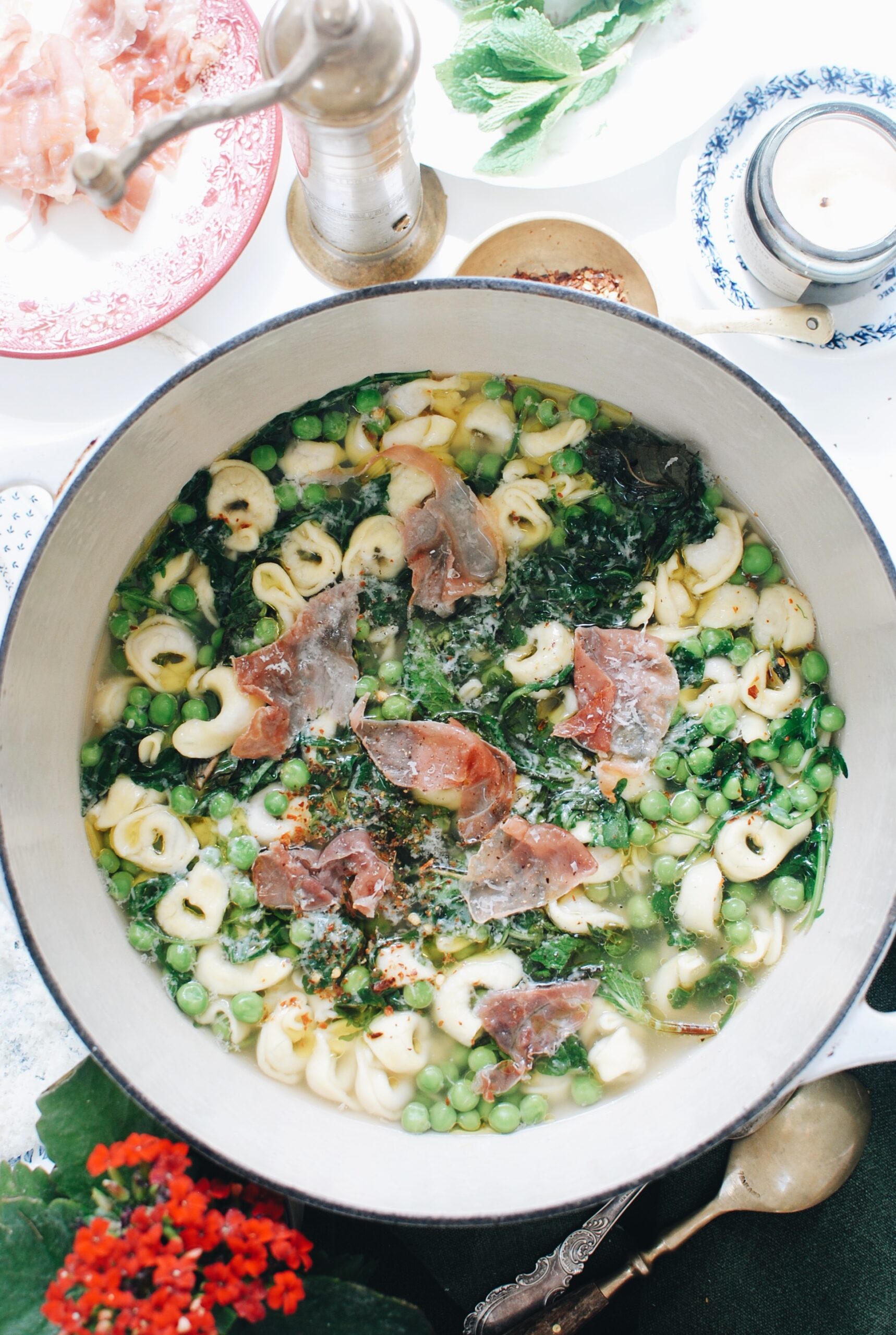 Make this tonight!