We haven't slurped enough this year.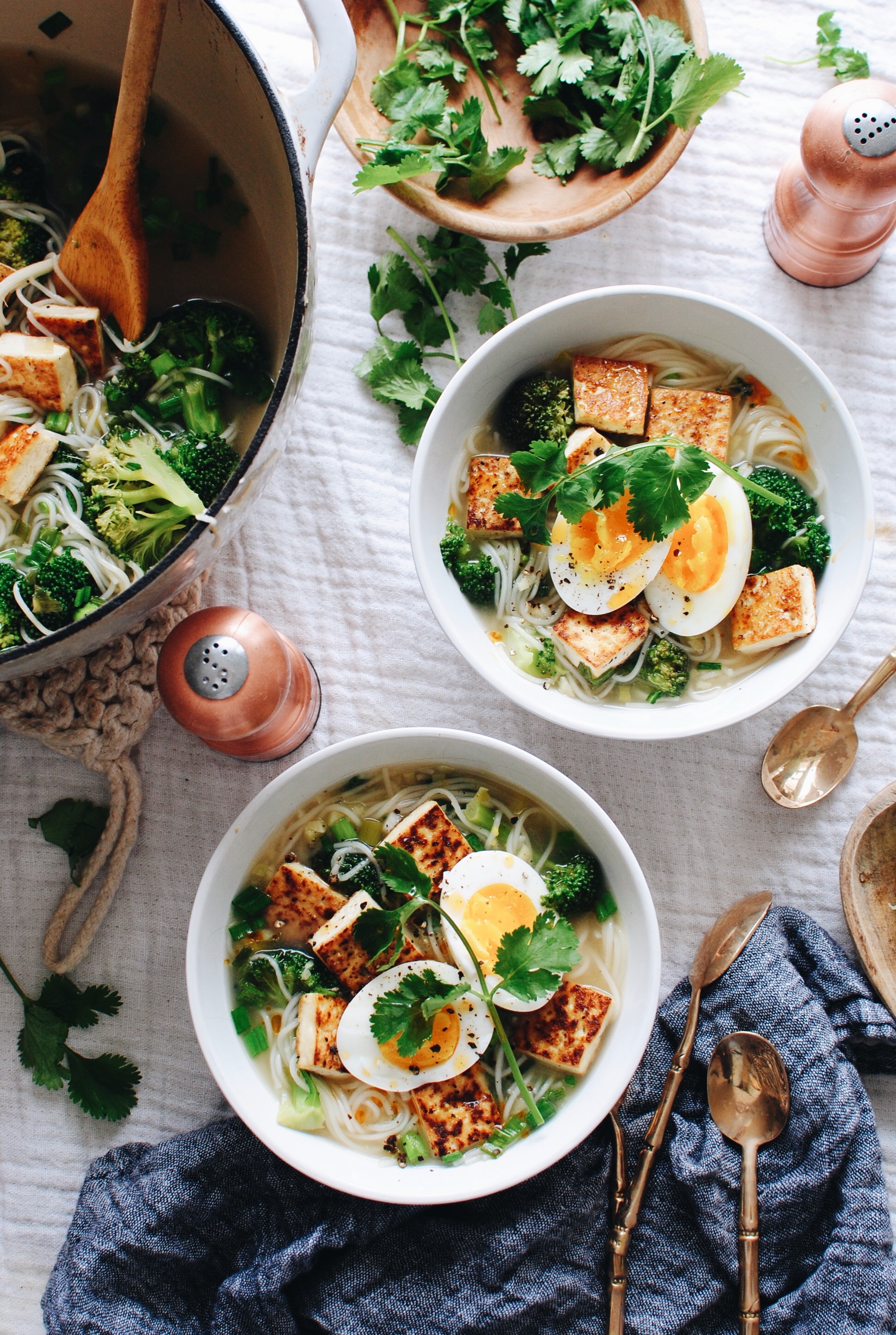 And this one goes out to my vegetarian peeps! Well, minus the whole chicken stock and eggs thing, but you get the point.
I made this soup on a whim a couple of weeks ago, because I spotted these thin, dainty white noodles wrapped in crepey black ribbon at my local Asian market and I knew we were destined to be together.
The ribbons, not the noodles.
Just kidding.
I think.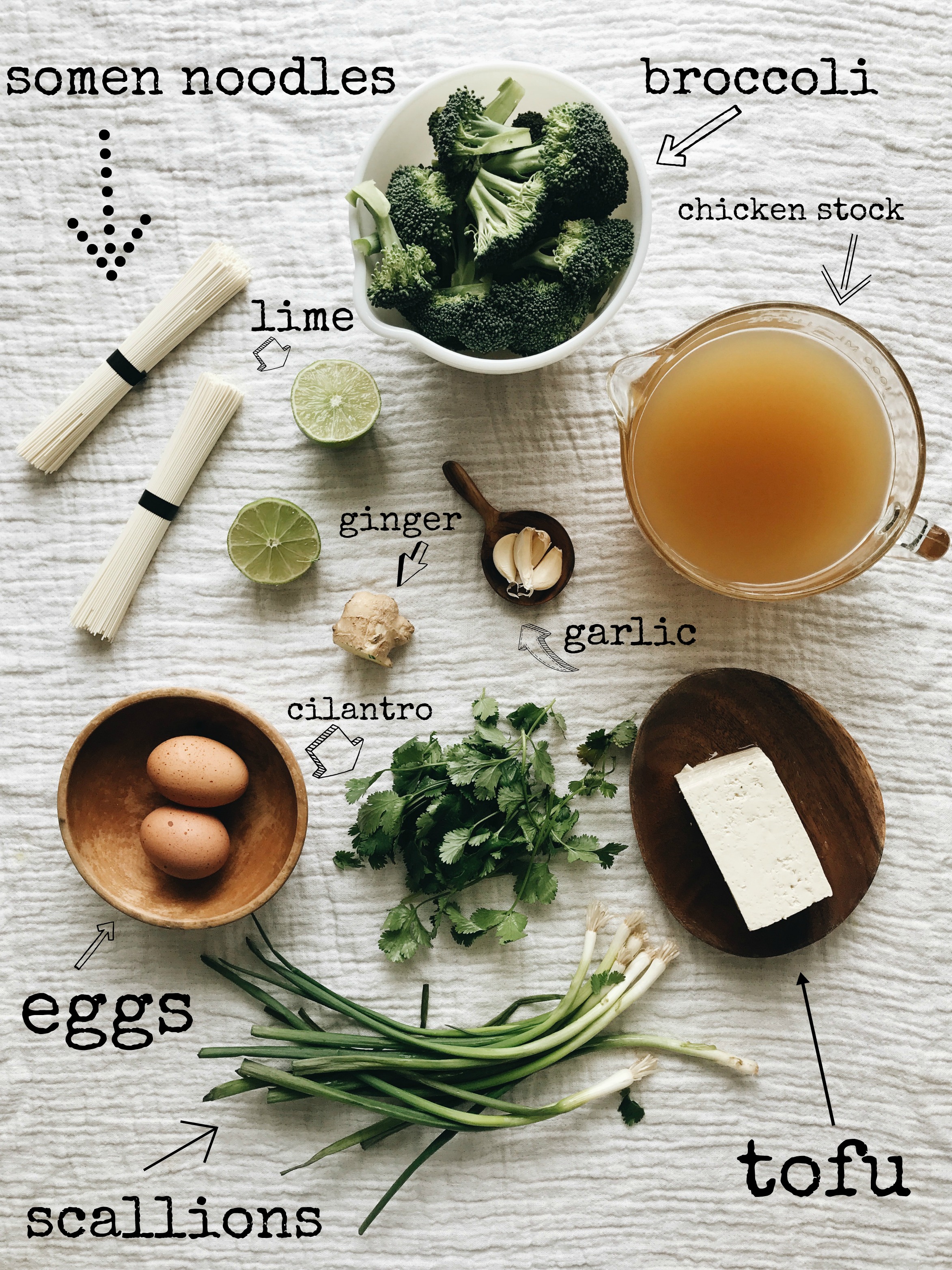 Super simple situation we got here.
And can we talk about tofu real quick? I gotta tell you, I've never been a huge fan of tofu. I always likened it to vegetarian SPAM. This alien block of crumbly, flavorless glob. Why would anyone do that to themselves?
WELL, guys.
Guys.
I've had a (slight) change of heart. I'm no way ready to become the spokeslady for tofu, but I've finally made it in a way that doesn't make me hate everything. Searing! SALTING and searing. Which you probably do all the time and were keeping this secret from me on purpose. Searing on a high heat until you get those good char marks all over – this is the way! It's got texture all around, but the insides stay slightly spongy and I DON'T WANT TO PUNCH A KITTEN.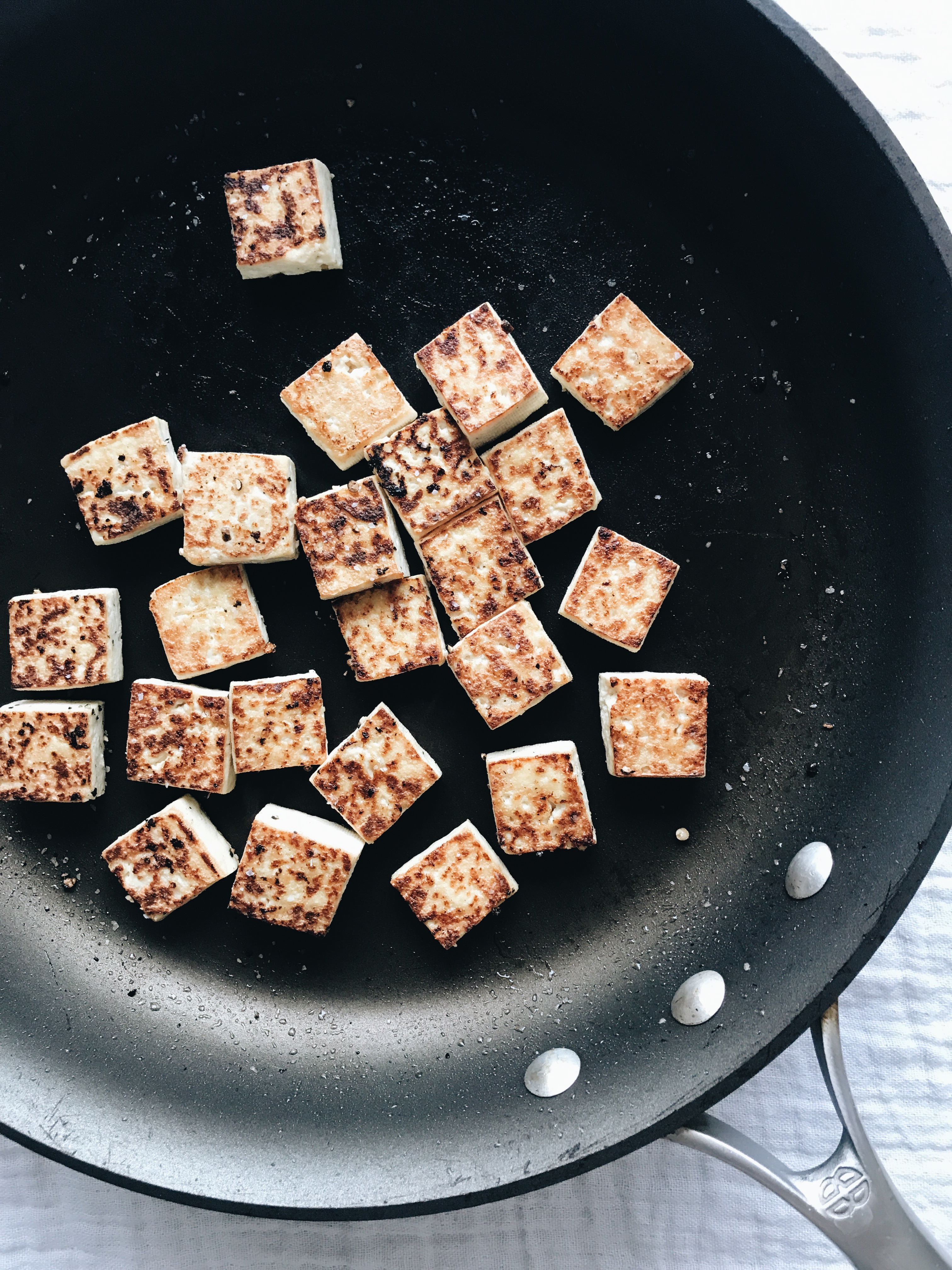 Look at that! I've got half a block left, so for lunch today I'm going to brush hot sauce on it and sear long flat squares and slip it into a grilled cheese and kale sandwich. Have you done this?
I'll keep you posted.
I'm scared.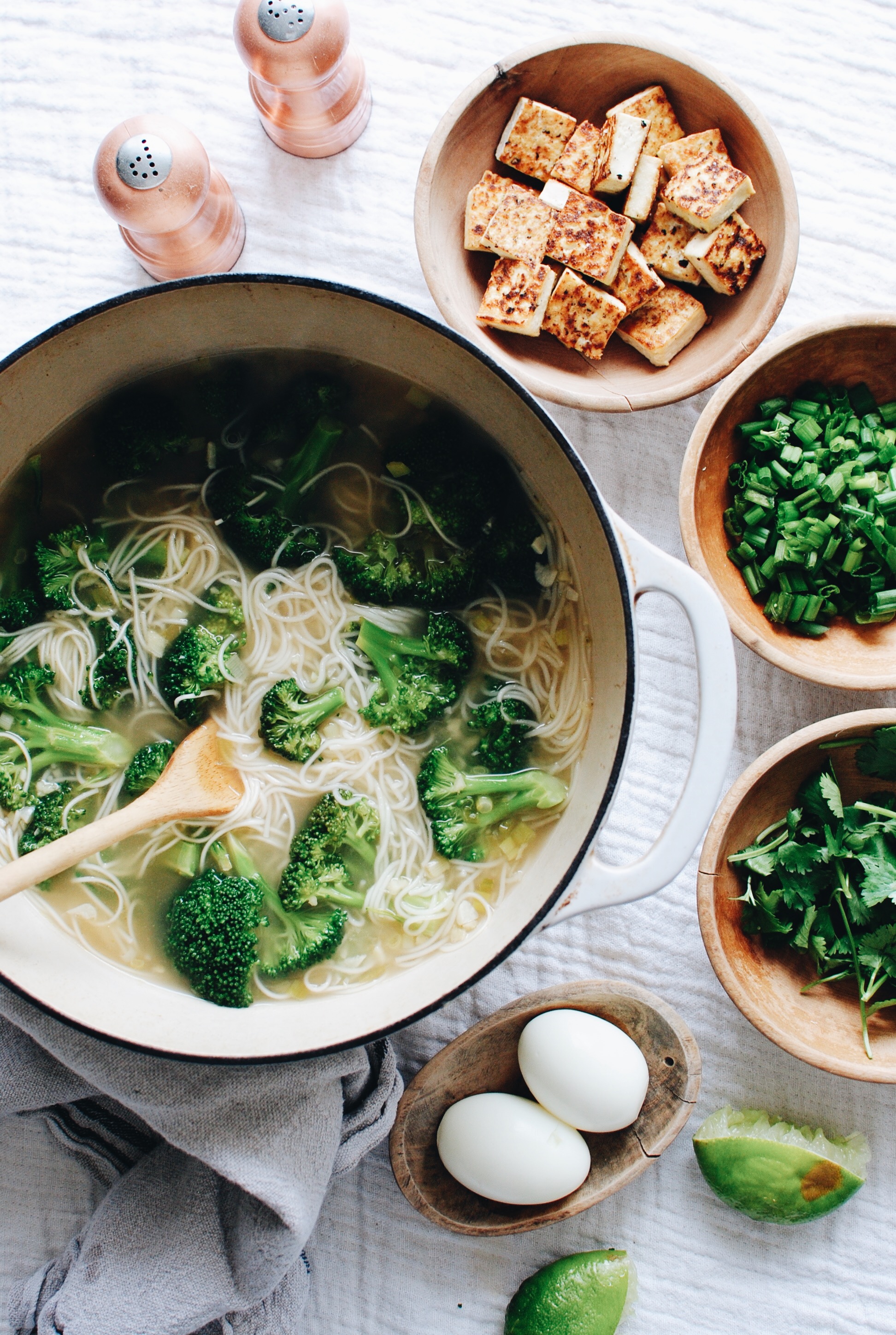 The soup is simple, but powerful. You start by sautéed minced garlic, ginger and scallion whites in a big pot, then you'll add stock (swap in veggie stock to make it FULL-ON veg), and boil some eggs in it (leave the eggs out to make it FULL-ON veg). Set a timer for nine minutes once it starts to simmer. You'll get super lovely soft-boiled eggs to nestle on top in the end. These are the good things in life.
Once you take eggs out, drop the broccoli florets and noodles in and simmer 2-3 minutes, while you peel the eggs.
Then add the juice of a whole lime to the soup, and a honkin' mama pinch of salt.
Last second, drop the scallions greens in, along with the seared tofu! You're done!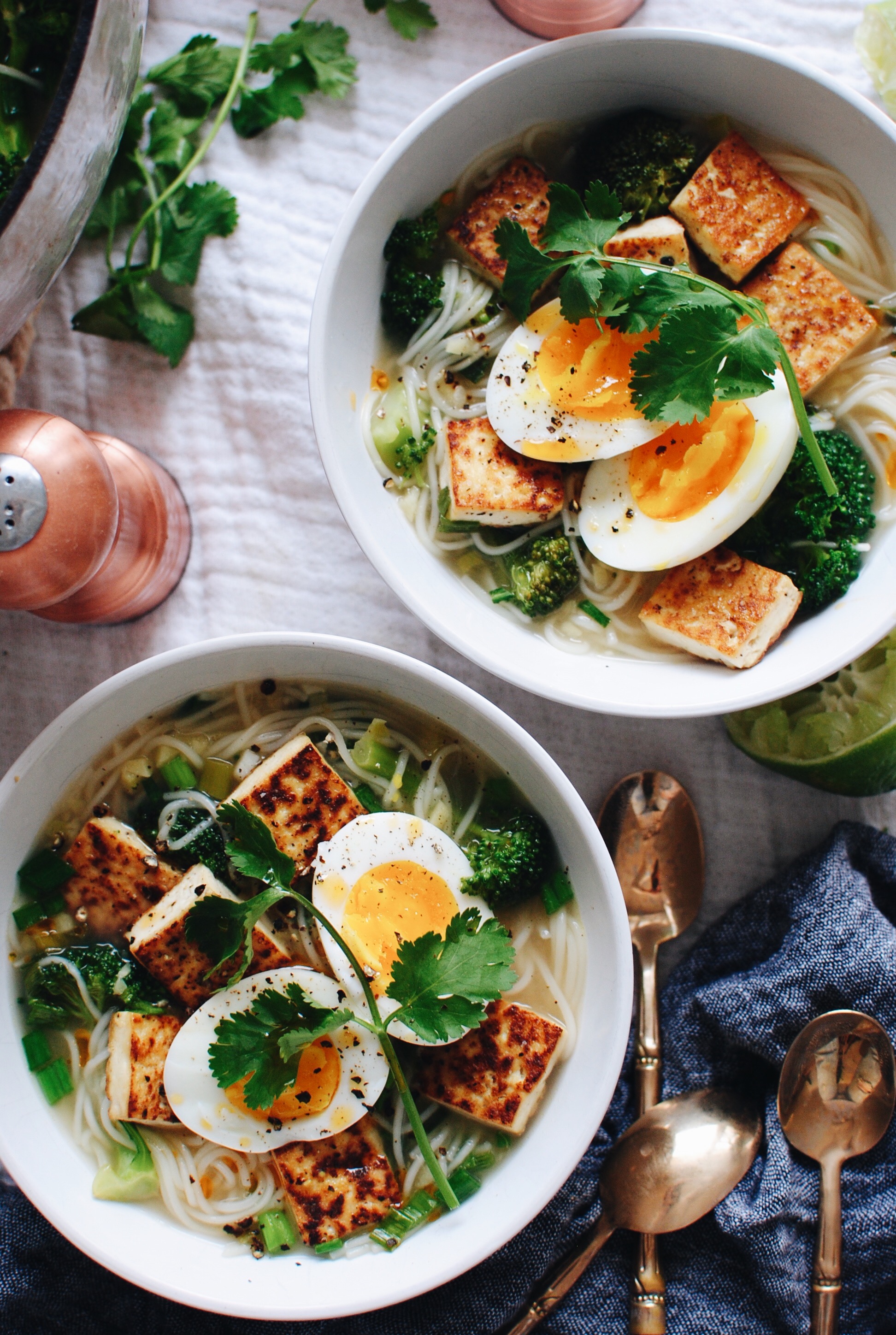 NOW, the magic comes in the finesse. I drizzled some hot chile oil on top because I'm a lunatic, but you could also swirl in a simple drizzle of soy sauce if you want.
More lime juice, a few sprigs of cilantro, even sambal oelek would be magical! Basically do all of it.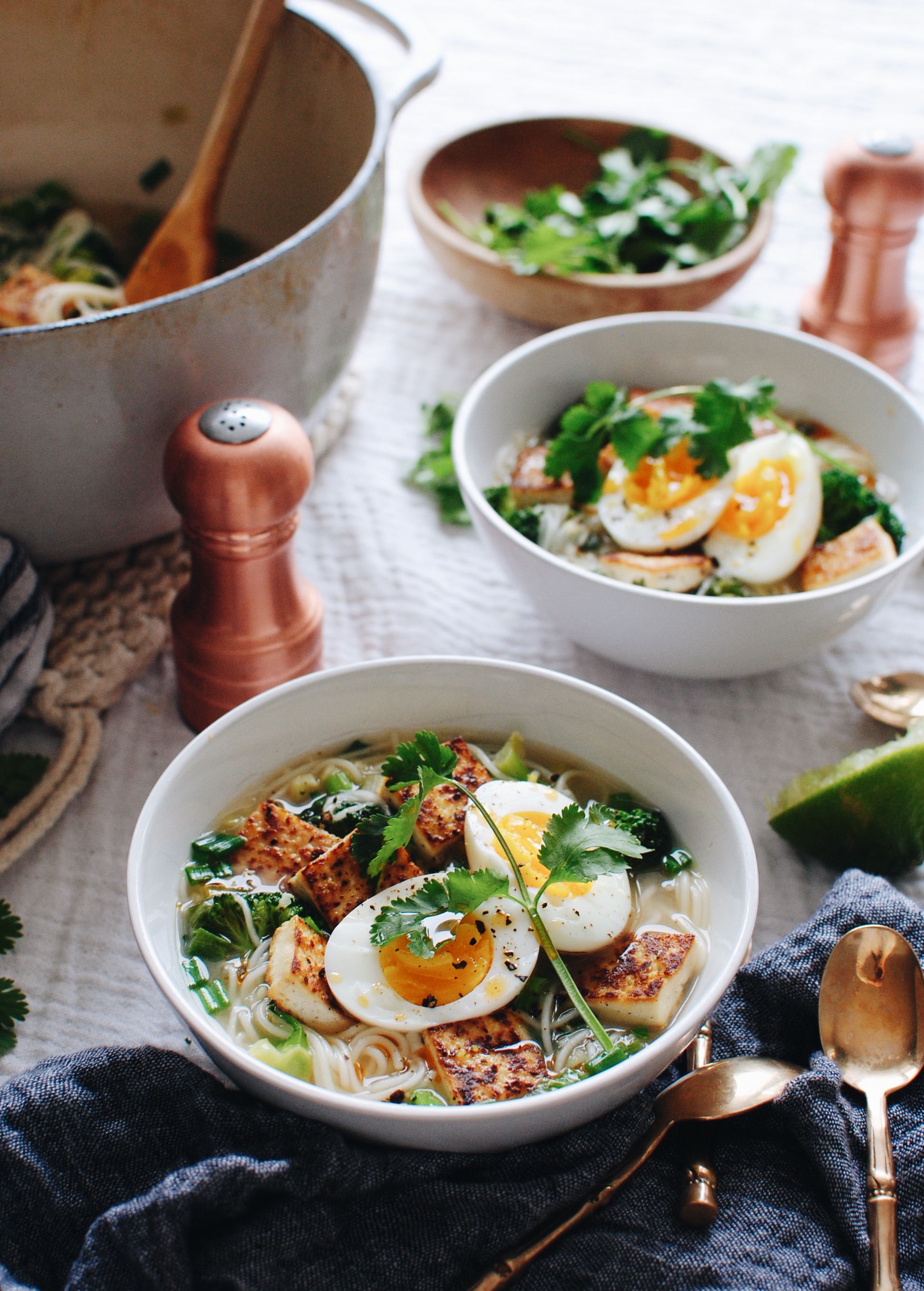 This is souuuuuper (sorry) ideal for those of you stricken with the flu, or a pesky winter cold. It's healing. WARM. Zingy. Slurpalicious to the max.
And that tofu is violently seared so I promise you won't gag.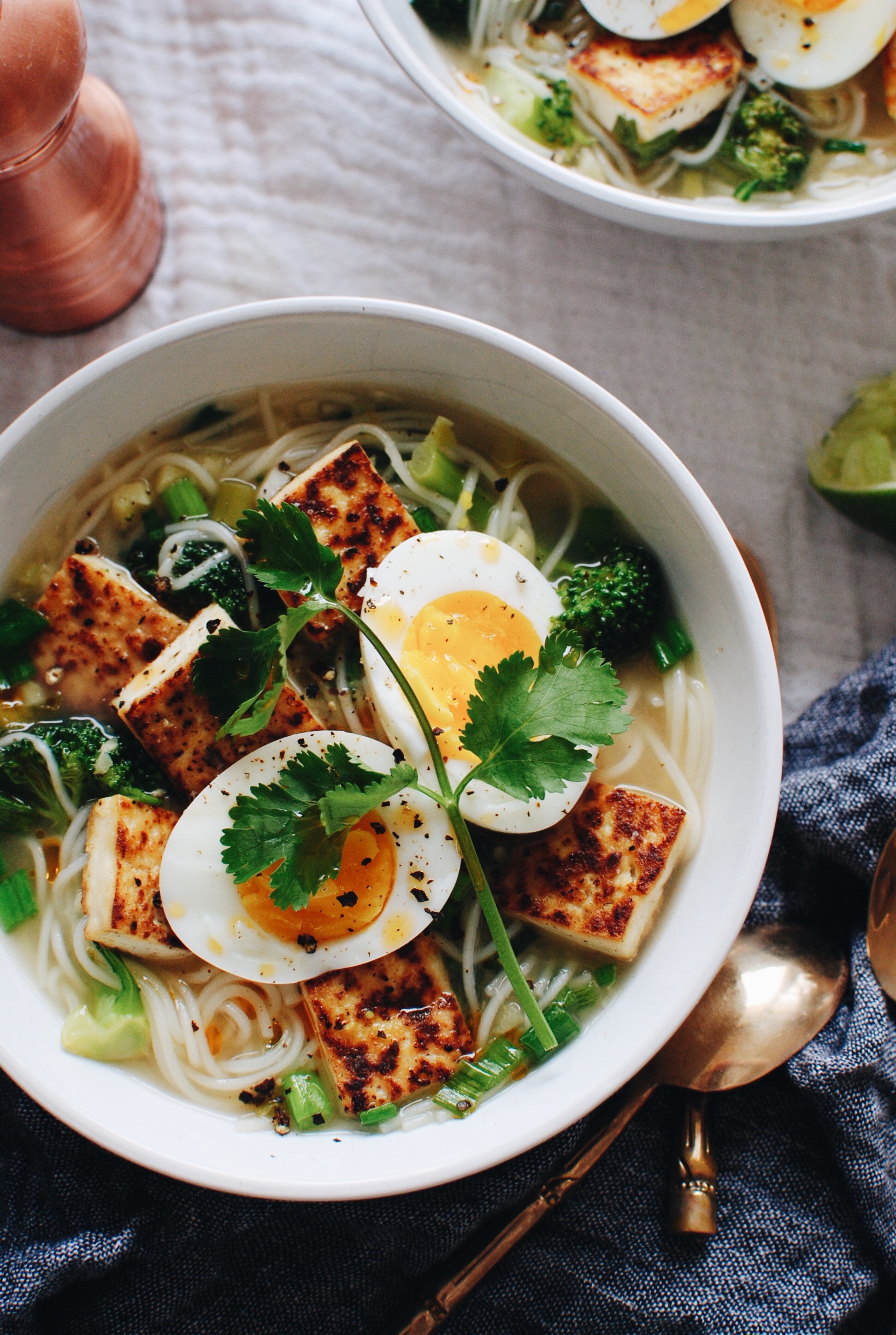 Get slurped!
Somen Noodle and Tofu Soup
Ingredients
2 Tbs. extra-virgin olive oil, divided
1 Tbs. sesame oil
1/2 a block extra firm tofu (you can use the whole block if you want), cut into small squares
4-5 garlic cloves, minced
2 Tbs. minced ginger root
One bunch scallions, sliced (whites and greens separated)
8 cups chicken (or veggie) stock
4 eggs (one egg per eater)
2 heads broccoli, cut into florets
2 bundles somen noodles
a lime or two
Torn cilantro for garnish
Salt and pepper
Hot chile oil and soy sauce for garnish (optional)
Instructions
Heat a Tbs. of olive oil in a large skillet. Season the tofu squares with salt and place in the skillet. Sear on both sides until nice and charred, about four minutes per side. Take off the heat and set aside.
Heat the sesame oil and the other Tbs. olive oil in a large soup pot. Add the garlic, ginger and scallion whites to the pot, and sauté until fragrant, about a minute. Add the chicken stock and bring to a simmer. Gently place the eggs in the soup and set a timer for nine minutes. Simmer on a medium heat until the timer goes off, and plunge the eggs into a bowl of ice cold water.
Drop the somen noodles and broccoli into the soup and simmer another three minutes while you peel the eggs.
Add the juice from one lime, the scallions and seared tofu, and a nice pinch of salt. Taste it. Need more salt? More lime juice? Adjust it until you're basically freaking out happy.
Serve the soup garnished with the halved eggs, torn cilantro sprigs, lime wedges, a grind of black pepper, and a drizzle of hot oil or soy sauce or both or neither! Make your life good.
Serves four.
7.8.1.2
136
https://bevcooks.com/2018/02/somen-noodle-tofu-soup/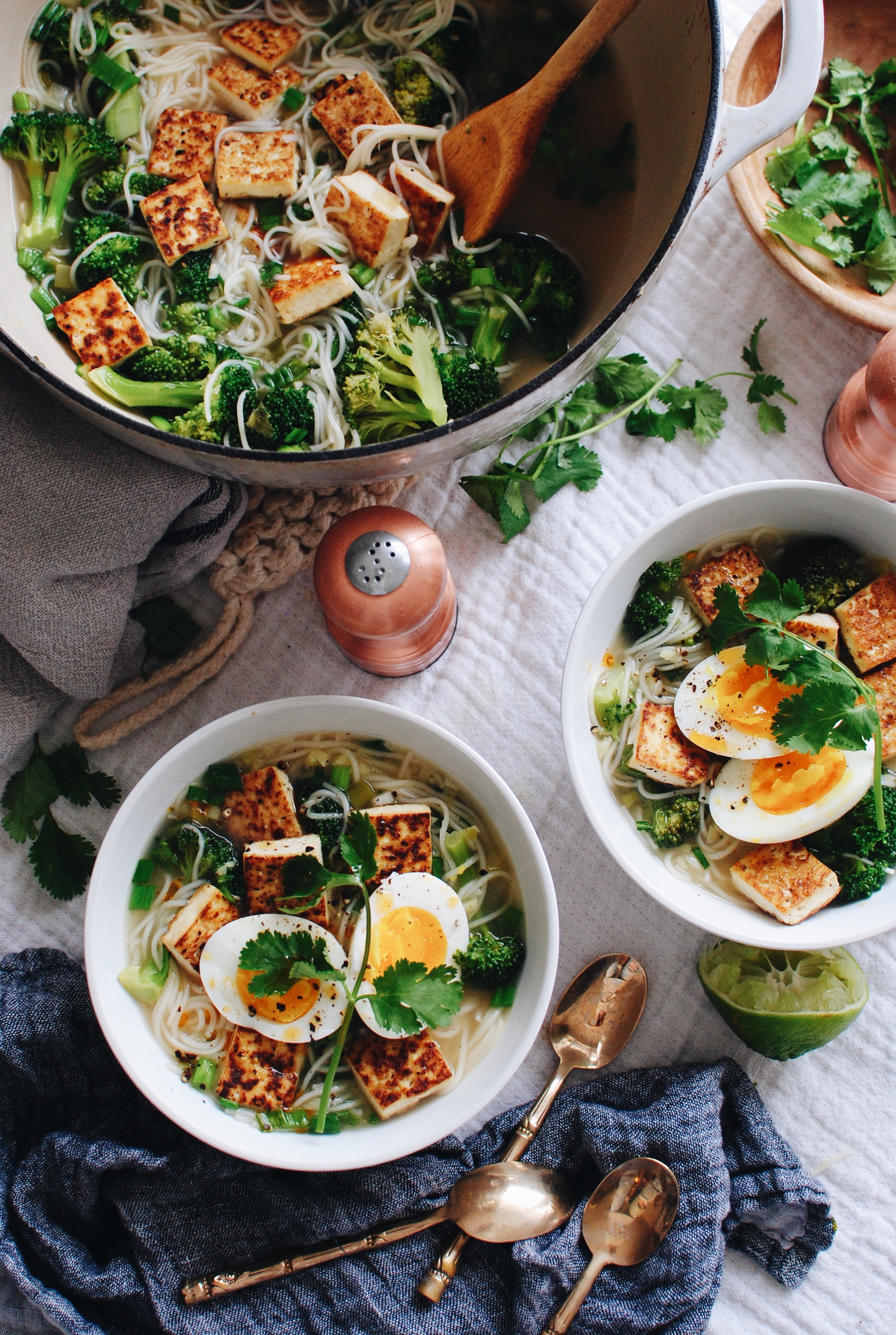 Distressed jeans in spoons sold separately.